Tres Leches Cake is an authentic Mexican cake soaked in three kinds of milk, topped with whipped cream and cinnamon. The ultimate indulgent dessert recipe!
Sheet Cake desserts are a fun and easy way to make desserts to serve for a crowd and even easier to decorate! We've topped this one with Easy Whipped Cream but you could easily use Cool Whip too!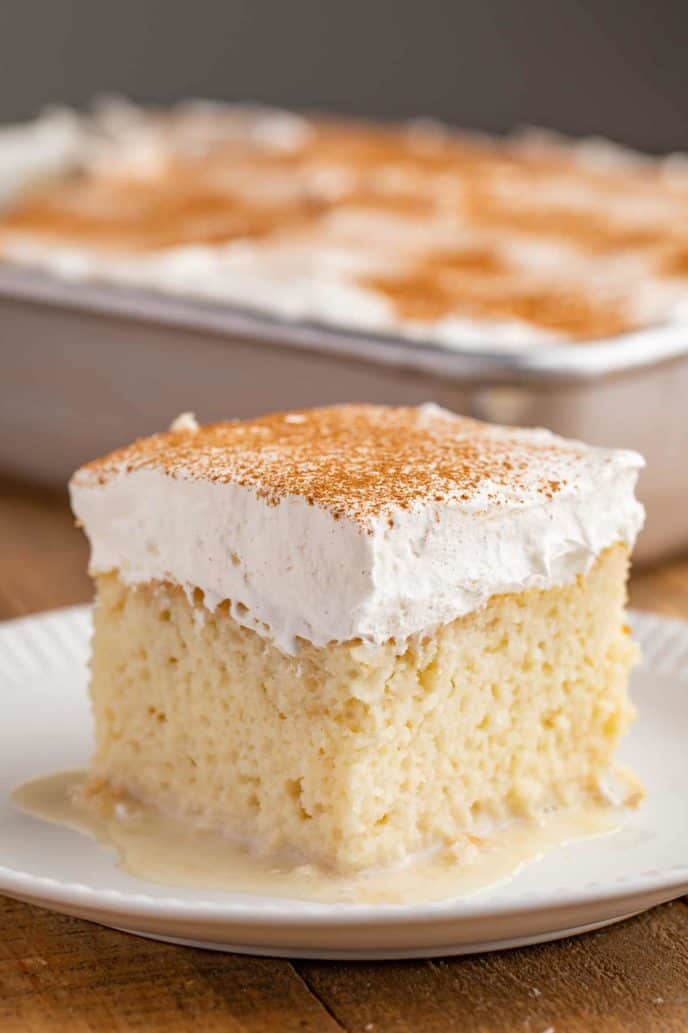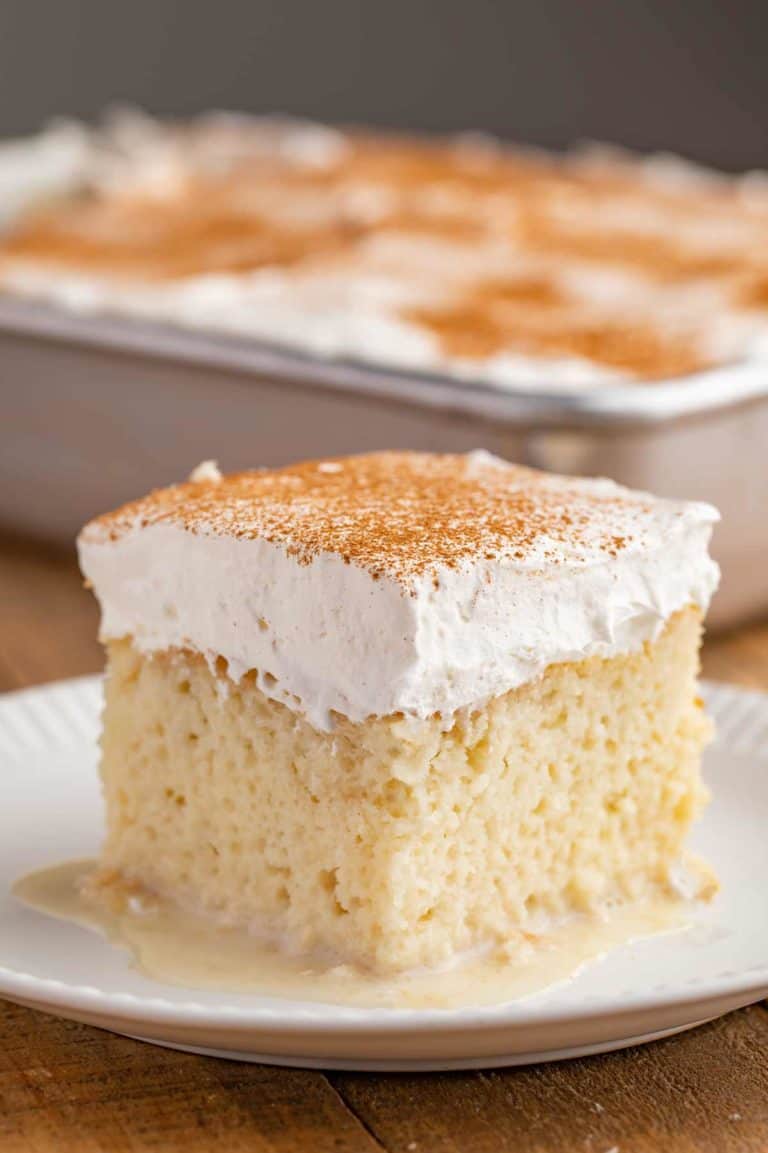 TRES LECHES CAKE
Tres Leches Cake isn't your regular sheet cake. It isn't even close. It's like your classic Easy Vanilla Cake recipe/sponge cake (this is my favorite cake) that's been taken up about 5 notches because you add condensed milk, evaporated milk, heavy cream, whipped cream, cinnamon and extra eggs for richness. Did I mention a cup of sugar to round things out? We don't hold back in this recipe. Next time I'll share an Angel Food Cake recipe with you all to even things out.
Tres Leches Cake translated literally means "three milks" because the cake itself is soaked with three types of milk: Condensed milk, evaporated milk and heavy whipping cream (some people prefer to use whole milk here, coconut milk or even half and half).
This Tres Leches Cake also happens to be extra light while having all these rich flavors because we are using a sponge cake as the base of the cake. A sponge cake is a cake that is made by separating the eggs and beating the egg whites to create a lighter batter. This helps to give the batter extra lift.
Make sure you use a nice high walled cake pan for this recipe, we are adding a lot of ingredients to this cake batter and to the cream topping! We don't want to lose any of the deliciousness along the way.
Because we are beating the egg whites and the butter/sugar mixture I highly recommend using an electric mixer for this recipe. Trying to make it with a whisk and a bowl will result in a sore arm and you will probably not get the airy mixture we need for the cake.
And this recipe is much more authentic than my Sopapilla Cheesecake Bars, but I won't say the cheesecake bars aren't just as delicious. We actually baked these on the same day and they both were eaten about as fast as each other.
This isn't diet friendly, but it doesn't have to be because it is an indulgent once in a while amazing dessert you can serve to guests for a special occasion. Or, you know, a Wednesday after you've had a salad for lunch and dinner.
While this cake would be an obvious perfect dessert for Cinco de Mayo, we also love serving the Tres Leches Cake with other fun toppings. On top of the cake you can add toppings like shredded coconut, maraschino cherries, Vanilla Ice Cream, Strawberry Topping, Pineapple Topping or any other fun dessert toppings you love.
How to make Tres Leches Cake:
Bake a rich vanilla cake in a 9×13 cake pan.
Remove from oven while hot and poke holes with fork all over.
Whisk together condensed milk, evaporated milk and heavy cream and pour over cake.
Let cake cool completely in the fridge.
Top with whipped cream and ground cinnamon before serving.


Create a free account to Save Recipes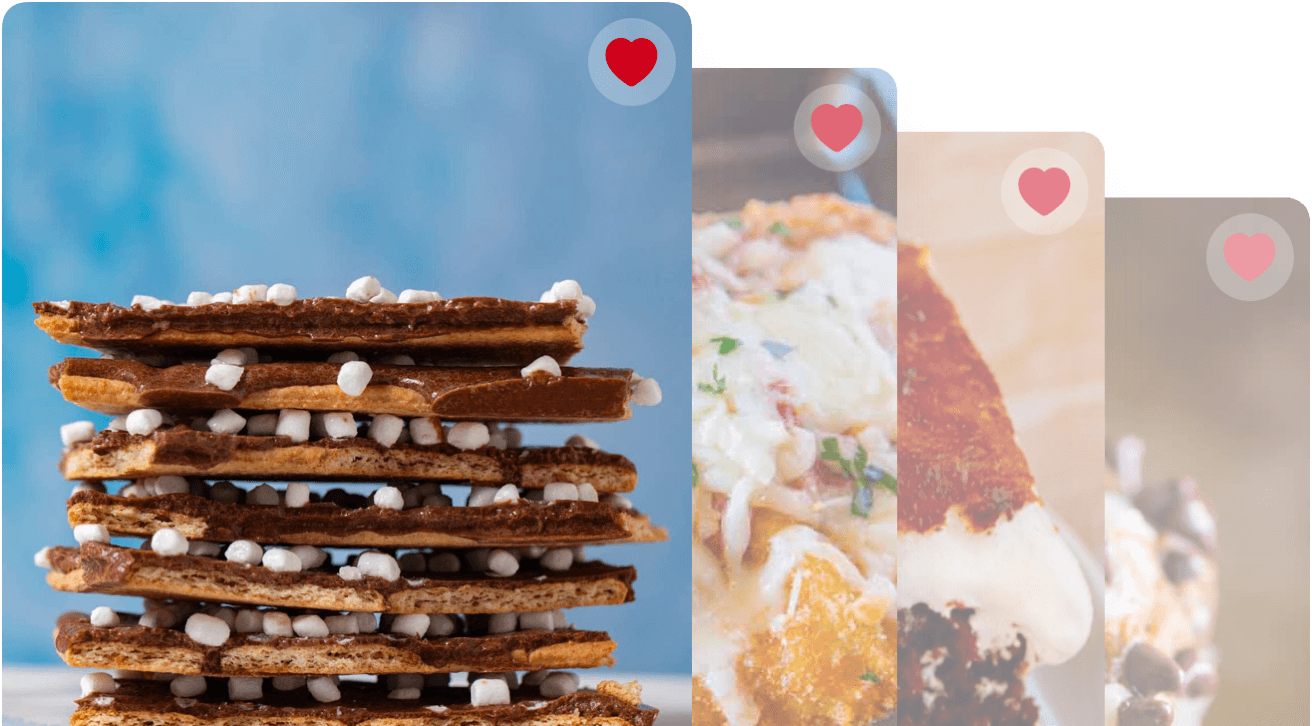 Tres Leches Cake Milks:
Let's take a quick minute to understand the differences in the milks you're going to be using to soak this Tres Leches Cake.
Condensed Milk:
What is condensed milk? Condensed milk is cow's milk that has had about 60% of it's water removed like evaporated milk, but it has had sugar added to create a syrupy texture to the milk. Condensed milk is often used to flavor desserts and make caramels, sauces and when cooked properly it can also be turned into and easy dulche de leche.
Condensed milk is generally about 40-45% sugar so when trying to remember the difference between condensed milk and evaporated milk remember it comes down to the sugar content. Evaporated milk has no sugar added while condensed milk does.
If you are shopping in the store and you see cans that say "sweetened condensed milk" or "condensed milk" you can buy either one. They are both the same product. There is no unsweetened version of condensed milk or it would be labeled evaporated milk.
Evaporated Milk:
Speaking of evaporated milk, this is a product that is the healthier cousin to condensed milk. It is a cow's milk that has had 60% of it's water removed. It contains 6.5% milkfat compared to whole milk which contains 3.5 % milkfat so if you want you can use it in recipes for an added indulgence where you would be using whole milk.
We sometimes like to use evaporated milk in Easy Mashed Potatoes during the holidays to add an extra indulgent kick to the recipe or to our Baked Mac and Cheese for the same reason.
Many people don't think about the additional uses for evaporated milk, but it is really an unsung hero in your pantry (and less expensive than it's higher milk fat cousin heavy whipping cream). While I wouldn't drink it like a glass of milk, you can add it to coffee, or to your recipes in place of milk when needed, so keeping additional cans as a backup is always a good idea (we keep 6 extra cans on hand at all times).
You can also reconstitute evaporated milk to make it more like whole milk by adding water (again I don't recommend drinking it like a glass of milk) if you'd like. Uses are endless. One thing that I don't recommend it using it in place of heavy whipping cream as heavy whipping cream contains 36% milk fat.
Heavy Whipping Cream:
Heavy whipping cream is the king of all dairy when it comes to indulgence. With the highest content of milk fat, second to only butter, it will be doing double duty in this recipe in the milk mixture and as a topping in the form of whipped cream.
Heavy cream is best kept as cold as possible before using, so keep the heavy whipping cream in the refrigerator until just before making your whipped cream. Since it doesn't have any ingredients to stabilize it, if your cake sits out at room temperature the whipped cream will begin to break down.
If you'd like to have your cake sit out longer you can use Cool Whip or a stabilized Whipped Cream in it's place. The recipe below includes cream cheese and powdered sugar to add stability, and the added sugar will help to offset the tangy flavors of the cream cheese. The mixture has enough heavy cream in it that the flavors won't be nearly as thick or as pronounced as a New York Cheesecake.
Stabilized Whipped Cream (with Cream Cheese)
8 ounces cream cheese (room temperature)
¾ cups powdered sugar
2 teaspoons vanilla extract
2 ½ cups heavy whipping cream, ice cold
In a stand mixer beat the cream cheese, powdered sugar and vanilla on low until just combined then on high for 1 minute until completely smooth, then remove from the bowl.
Add in the heavy whipping cream and beat on low-medium speed until soft peaks form, add in the cream cheese mixture then turn on the mixer to medium-high until light and fluffy, for 30 seconds.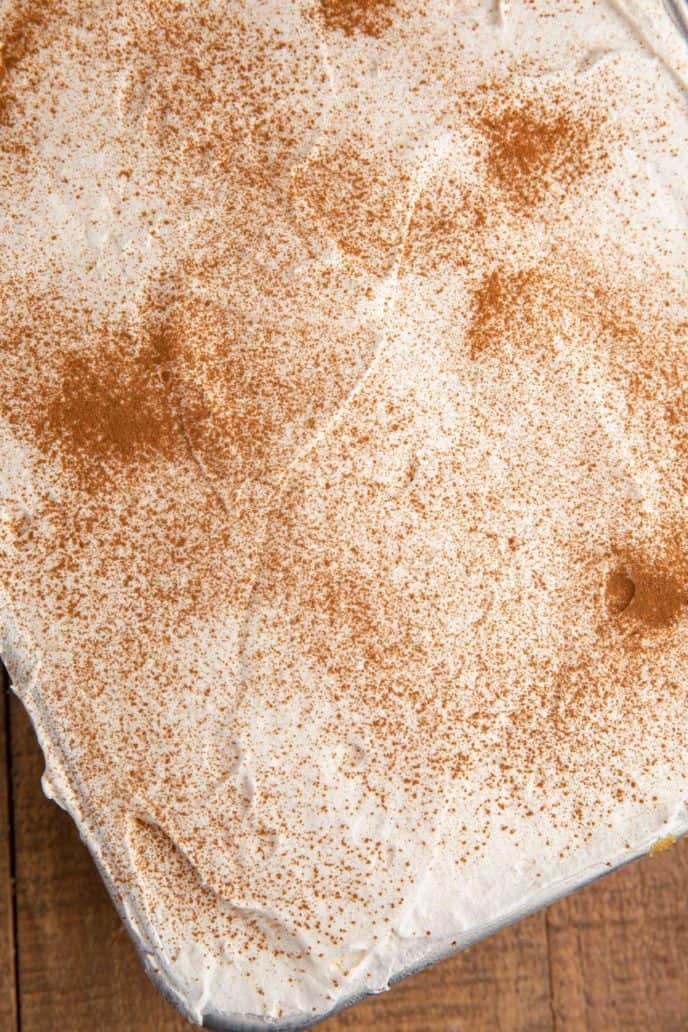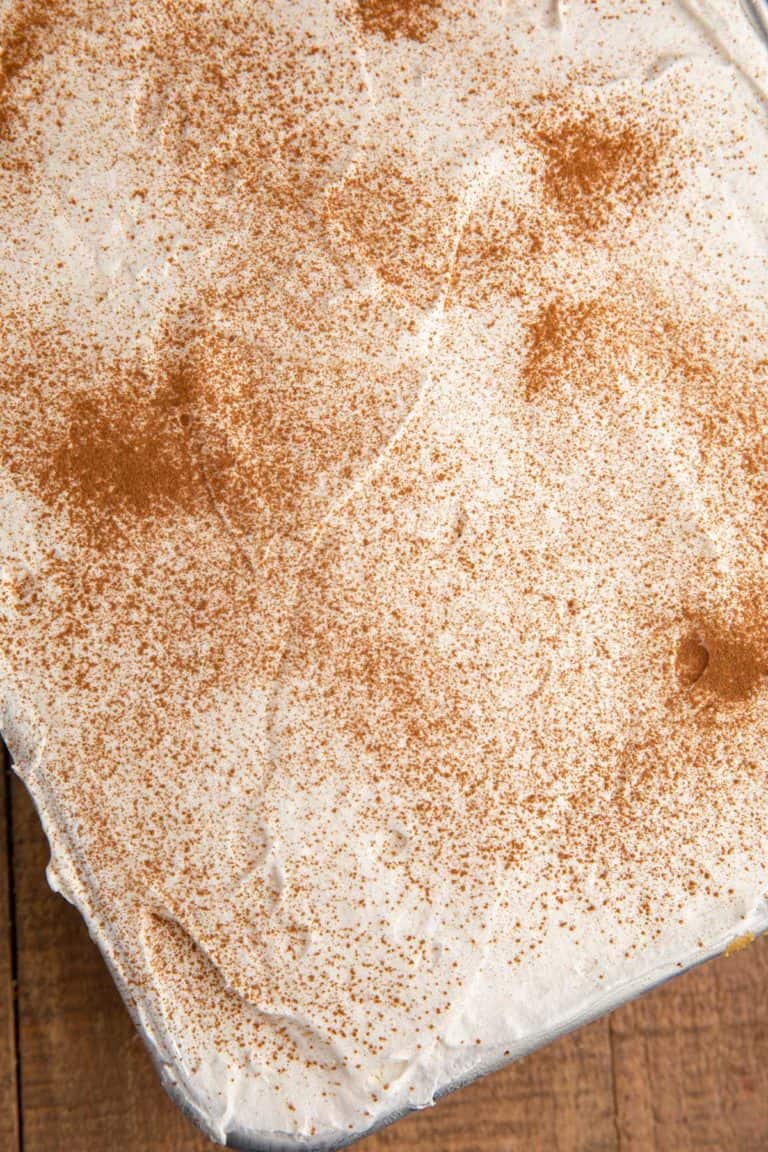 Ingredients
1 1/2

cups

flour

1

teaspoon

baking powder

1/4

teaspoon

baking soda

5

large eggs

, separated

1/2

cup

unsalted butter

1

cup

sugar

1

teaspoon

vanilla extract

1/3

cup

whole milk

1/2

cup

heavy cream

14

ounces

sweetened condensed milk

12

ounces

evaporated milk

4

cups

Whipped Cream

(recipe)

1/4

teaspoon

ground cinnamon
Instructions
Preheat oven to 350 degrees and spray a 9x13 pan with baking spray or butter and flour it.

Sift together your flour, baking powder and baking soda

In a large stand mixer whip your 5 egg whites to stiff peaks form(if you remove the whisk the tip of the egg white stands instead of fallon medium-high speed.

Remove the egg whites to a large bowl and add the butter and sugar to your stand mixer on medium speed until light and fluffy, about

1-2 minutes

.

Add in the egg yolks one at a time, then add in the vanilla and milk.

Add in the flour mixture until just barely combined, then fold into the egg white mixture gently.

Pour into the baking pan and bake for

30-35 minutes

.

While the cake is baking whisk together the heavy cream, condensed milk and evaporated milk.

Remove from the oven, pierce all over with a fork and pour the milk mixture over the cake, then cover and chill for at least

3-4 hours

.

Top with whipped cream and sift ground cinnamon on top before serving.
Nutrition
Calories:
338
kcal
|
Carbohydrates:
40
g
|
Protein:
7
g
|
Fat:
17
g
|
Saturated Fat:
10
g
|
Cholesterol:
103
mg
|
Sodium:
98
mg
|
Potassium:
248
mg
|
Fiber:
1
g
|
Sugar:
30
g
|
Vitamin A:
590
IU
|
Vitamin C:
1.1
mg
|
Calcium:
174
mg
|
Iron:
0.9
mg