Mexican Caramel Flan is a delicious traditional Mexican Dessert recipe. Easy creamy vanilla egg custard with a sweet homemade caramel sauce.
This classic Mexican Dessert has all the rich, creamy texture of a New York Cheesecake, topped with a delicious thick, sweet caramel sauce.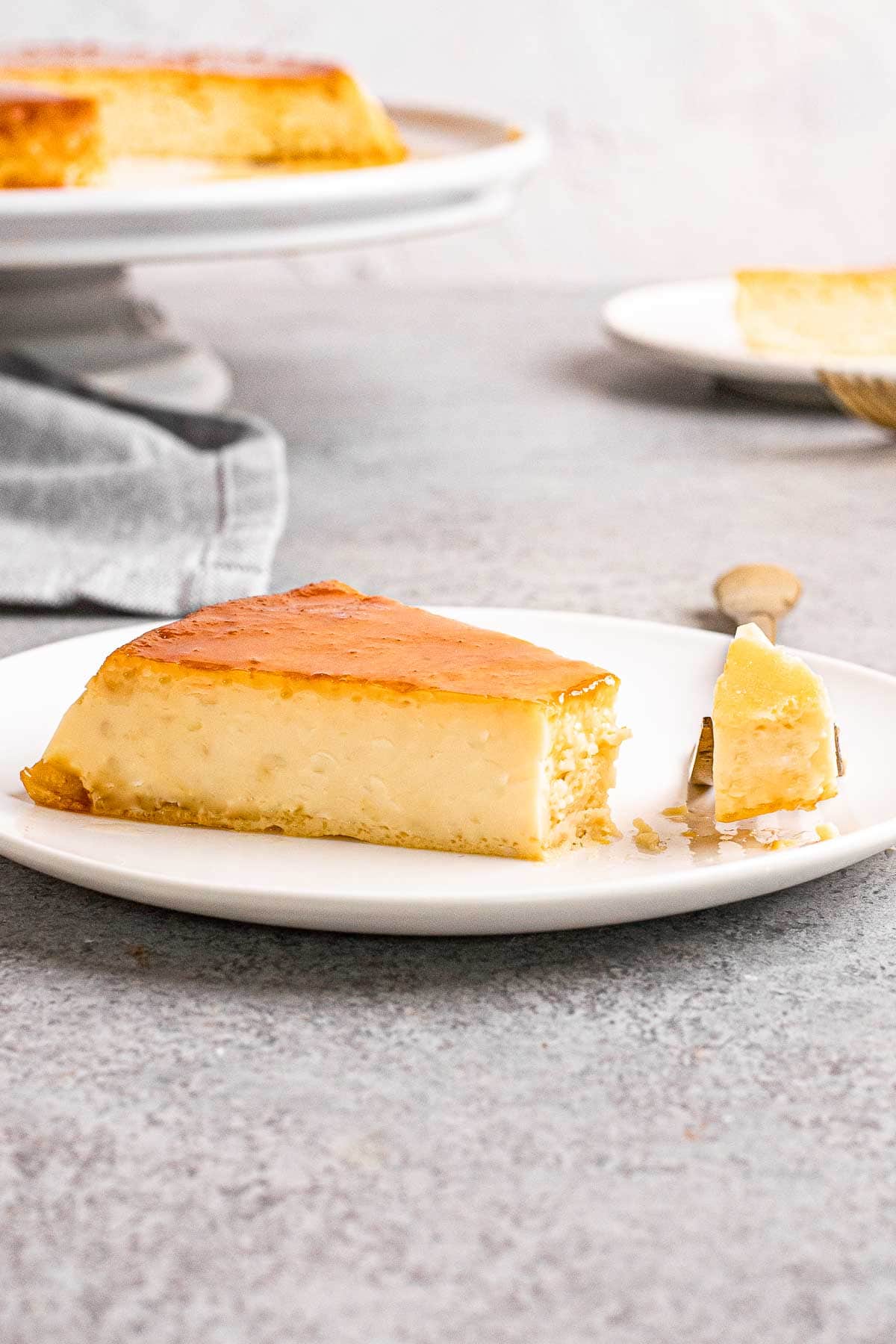 You can find versions of this popular Mexican-style custard dessert all over the world, under different names, with many flavors and styles. They all start similarly with an eggy, milk custard cooked low so it melts in your mouth and have a caramel topping that gives it the perfect amount of sweetness.
Unlike a creme brûlée, with it's crispy sugar crust that you finish after it cooks, the sauce for Caramel Flan is cooked on the bottom and then the custard is inverted. The result is a perfectly creamy custard dessert with a thin sauce that completely covers the flan, for caramel flavor in every bite.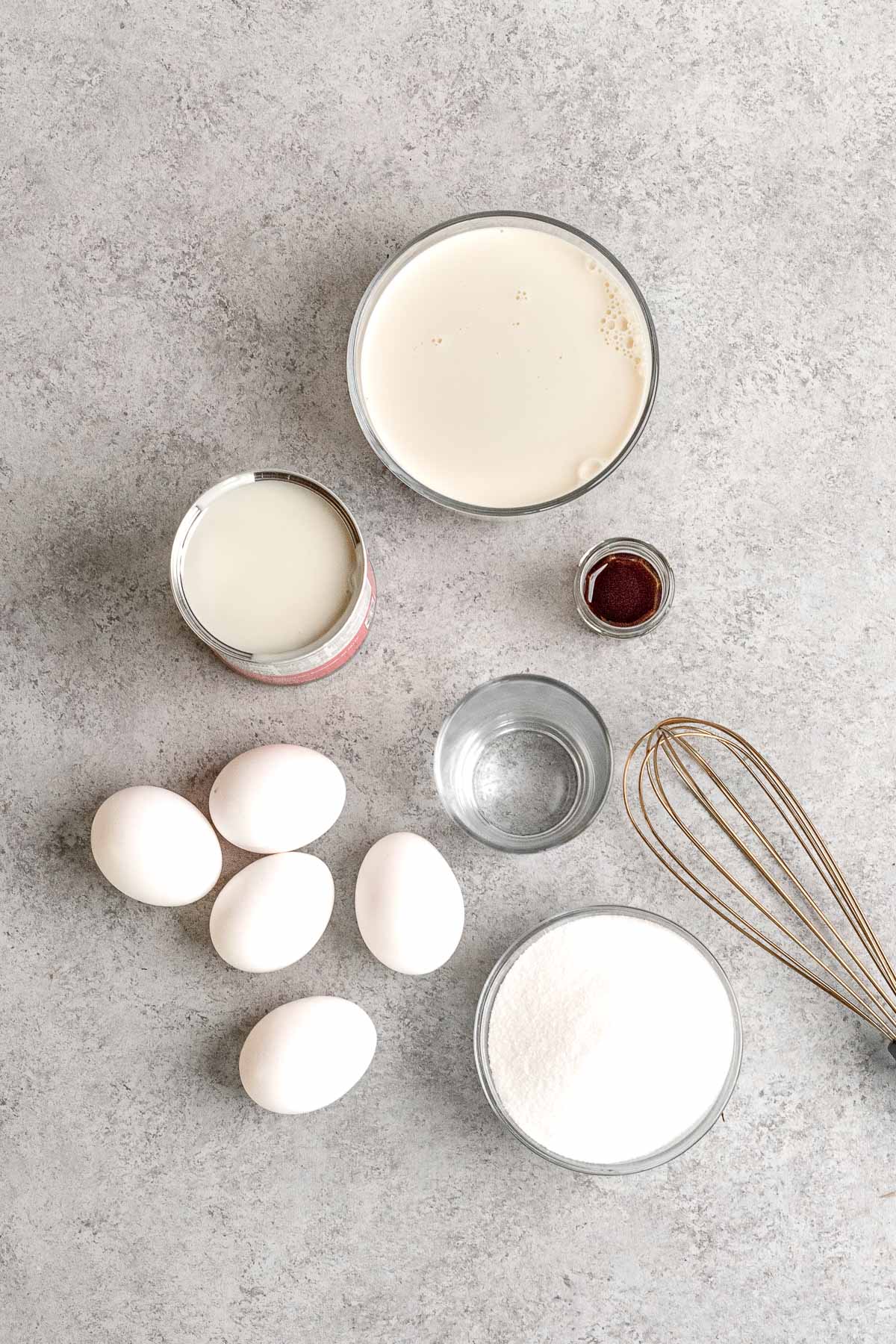 The liquid caramel heaven that is the sauce for this baked flan is what really makes this Mexican-style dessert special. As fancy and complicated as is seems, Mexican Caramel Flan is actually pretty easy to make. All you need are a few pantry ingredients and some patience. This step by step recipe gives you perfect Caramel Flan every time, but be sure to read it all the way through and take it one step at a time.
Caramel Flan is made in a water bath, similar to a cheesecake or creme brûlée. The difference is that you remove the baked flan from the oven to cool instead of just cracking the oven door. Since a Mexican Flan is flipped upside down and covered in caramel sauce, you don't have to worry about cracks.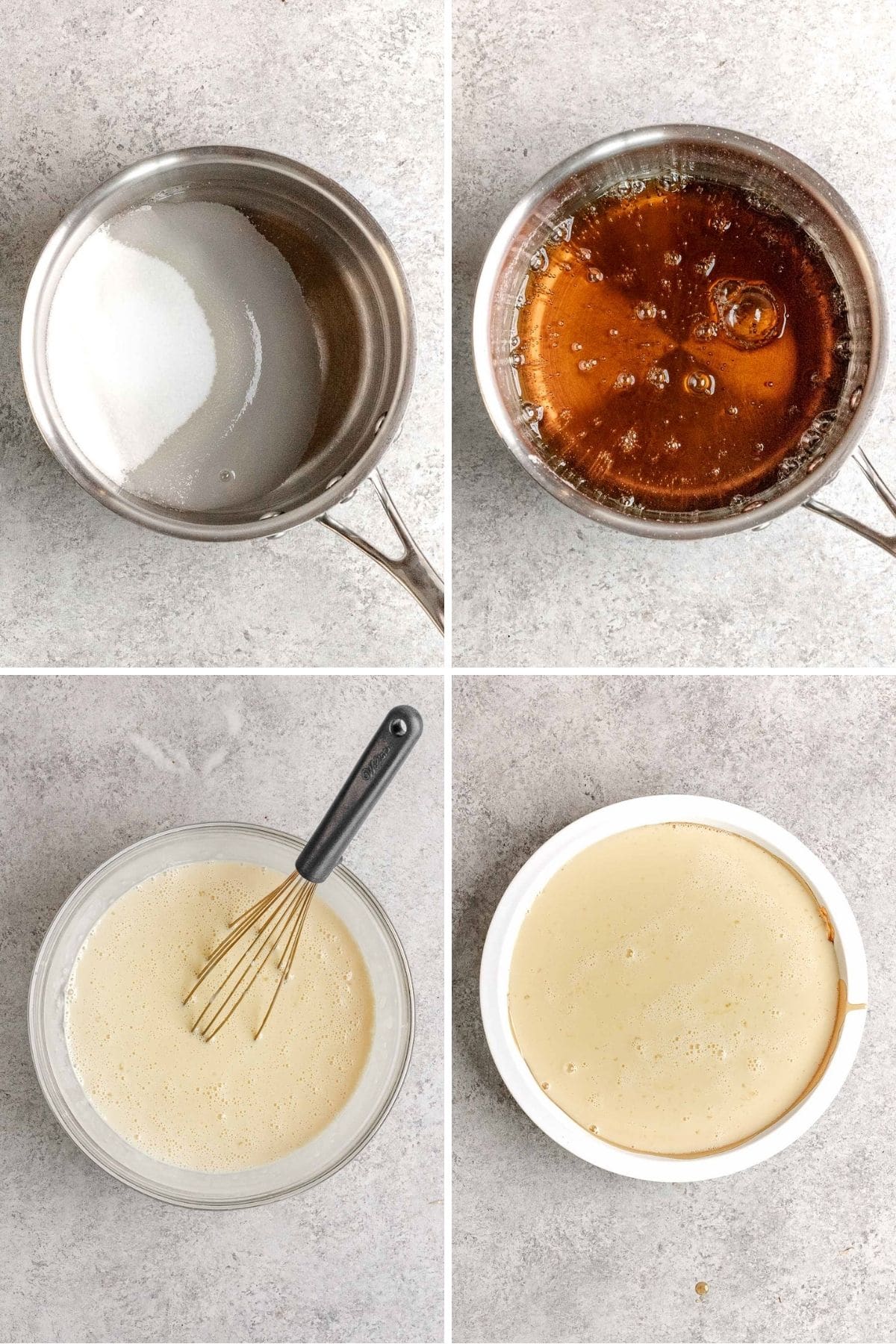 Flan comes with it's own delicious topping baked right along with the creamy custard. However, you can always bring out the vanilla flavor of flan with Vanilla Ice Cream or Whipped Cream, or add texture with crushed nuts or chocolate chips. It is the perfect finish to your favorite Mexican Dinner, especially with  Cinnamon Tortilla Chips to dunk into the creamy, rich vanilla custard.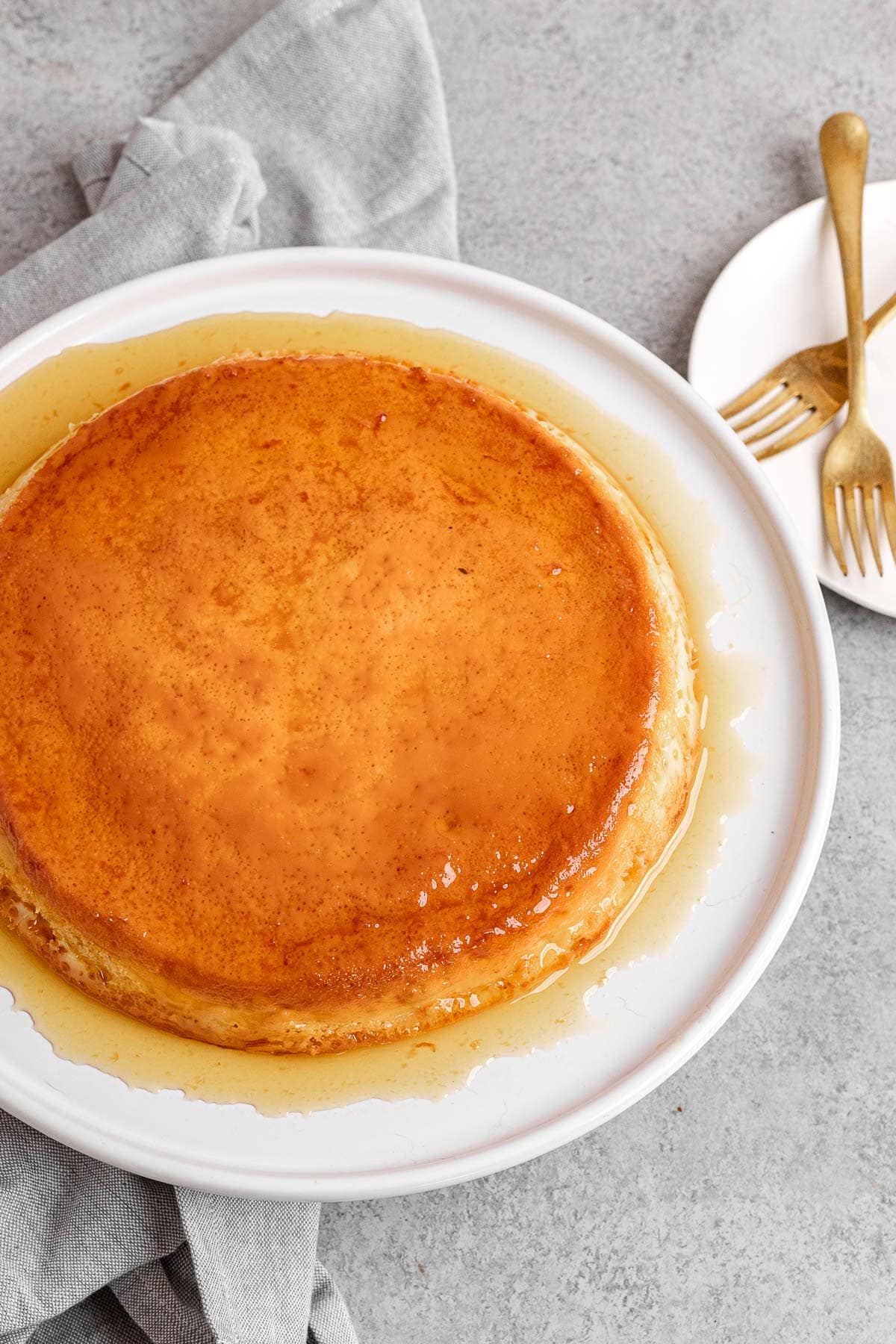 Some Delicious Toppings for Flan
Baking Tips
If you've ever watched a cooking show, there's always that one contestant that turns their back and burns the caramel. So the number one tip is stay focused – don't take your eyes of it or move on to other tasks until it's done!
The water bath is key to any Caramel Flan recipe. The water keeps the temperature around the pan even so the egg mixture cooks slowly and doesn't curdle.
Be sure to use hot water in the water bath so that the water comes up to the right temperature quickly. You don't want to get any water in the egg mixture, so pour the boiling water in slowly and carefully.
No need for a fancy flan mold, you just need a shallow baking dish that will fit inside a large baking dish or roasting pan.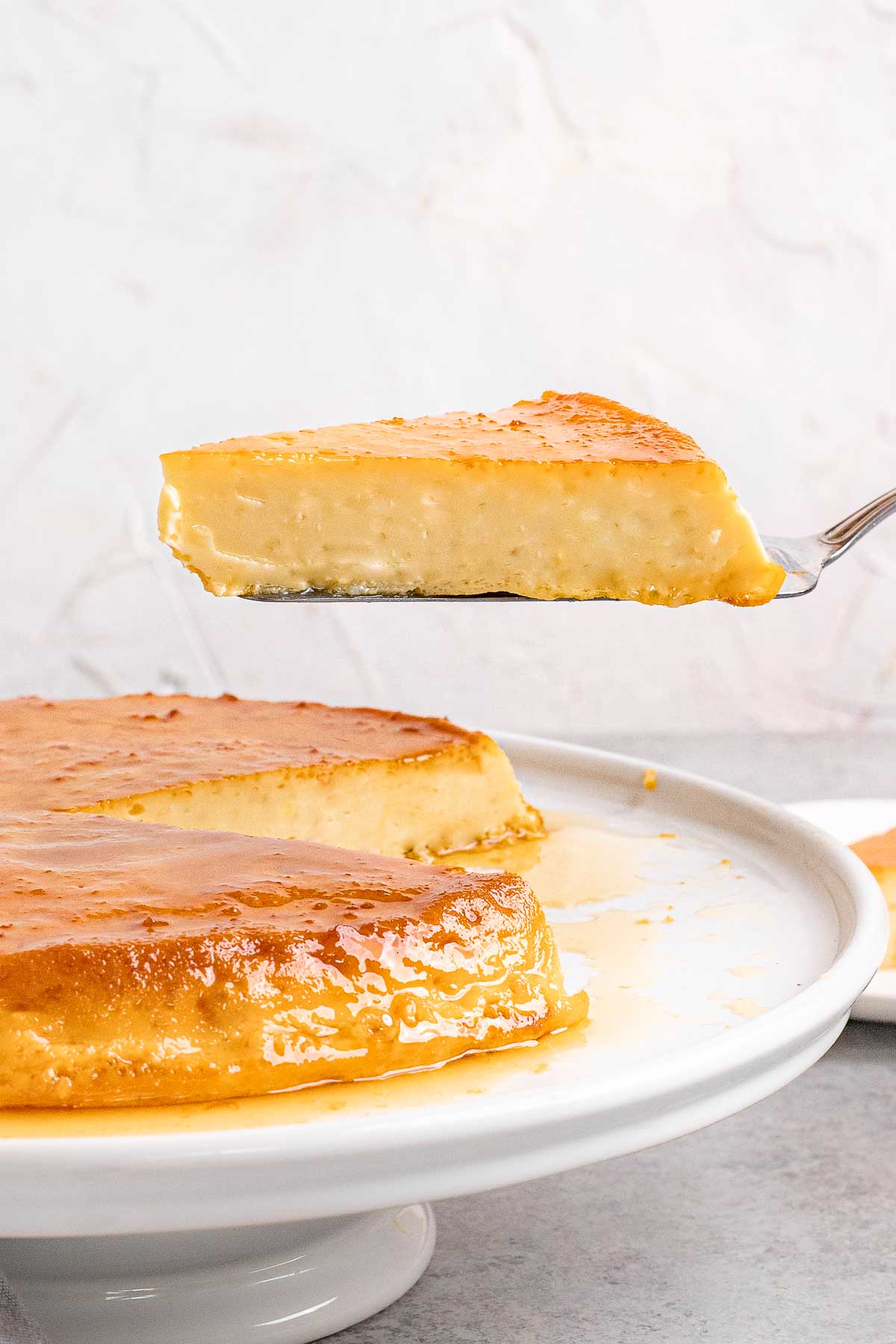 Create a free account to

Save Recipes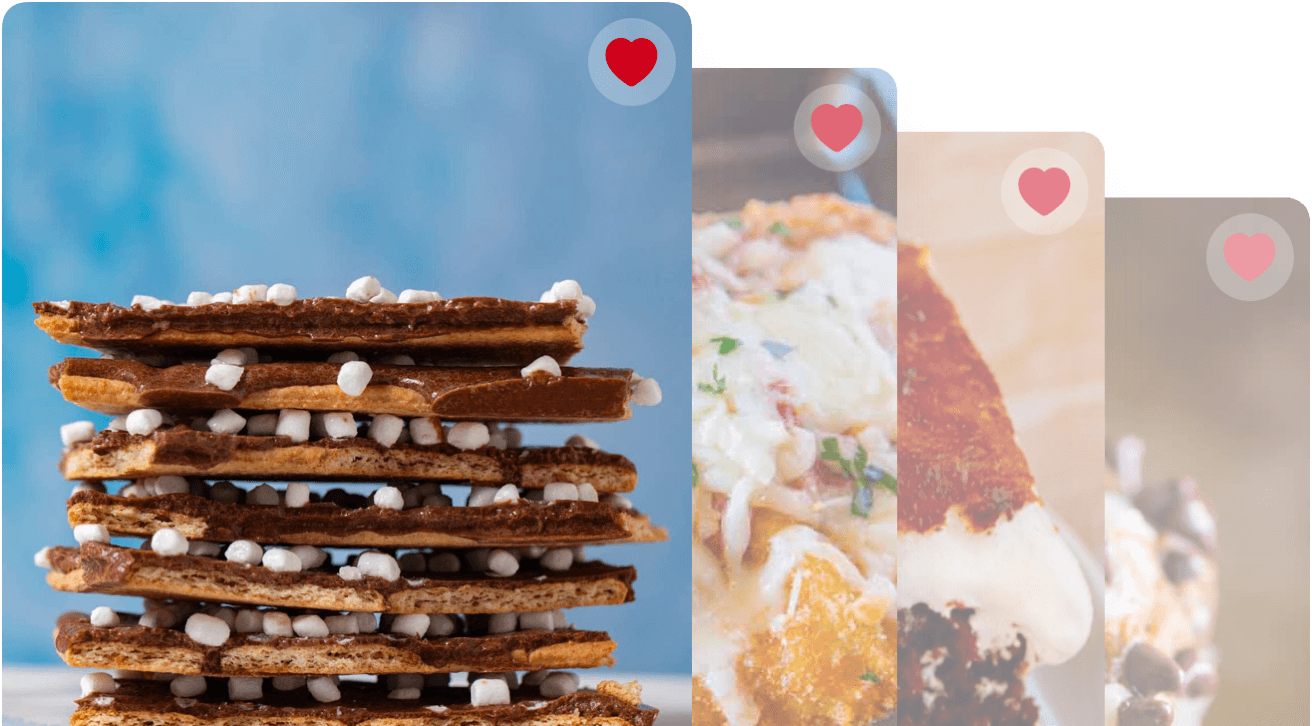 Variations
Eggnog Flan: Replace the sweetened condensed milk with 1 cup eggnog, and add 1 tablespoon dark rum and ½ teaspoon ground nutmeg. In the caramel sauce, add 2 tablespoons rum. Prepare as usual.
Chocolate Flan: Melt 4 ounces semi-sweet chocolate chips and stir into evaporated milk until smooth and combined. Use the evaporated chocolate milk in the recipe as usual for a rich Chocolate Caramel Flan.
Flavoring: Use fresh Mexican vanilla bean instead of the vanilla extract for extra rich vanilla flavor. You can use other flavorings like brandy, almond extract, or up to ½ cup strong brewed coffee.
Mini Mexican Flan: Divide the caramel sauce and flan mixture between individual ramekins. Place ramekins in one large baking dish and pour hot water until reaches ¼ inch below ramekin lip. Bake for 45-50 minutes, until set and slightly jiggly.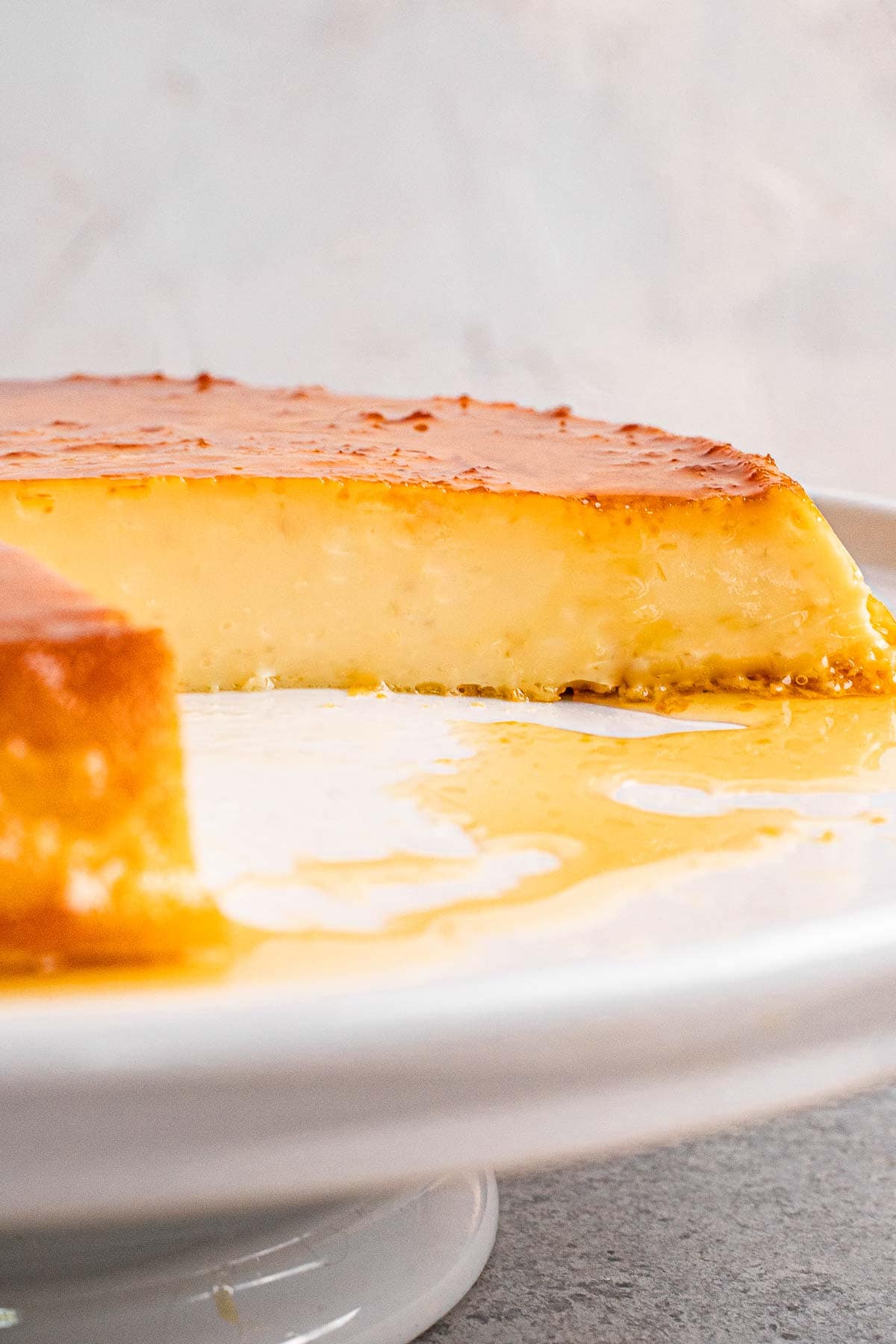 Decadent Cheesecake Recipes
How to Store
Serve: Serve Mexican Caramel Flan chilled and keep at room temperature for no more than 2 hours. It's best to keep this custard dessert cold so it holds together.
Store: Refrigerate baked Mexican Caramel Flan up to 2 days before removing to serve. Store flan for up to 1 week in an airtight container, preferably with space so the lid doesn't stick to the sauce.
Freeze: The best way to freeze Mexican Caramel Flan is before flipping it, with the sauce in the bottom of the pan. Cover the pan with plastic wrap and aluminum foil. Thaw overnight in the refrigerator before flipping over, removing from the pan, and serving.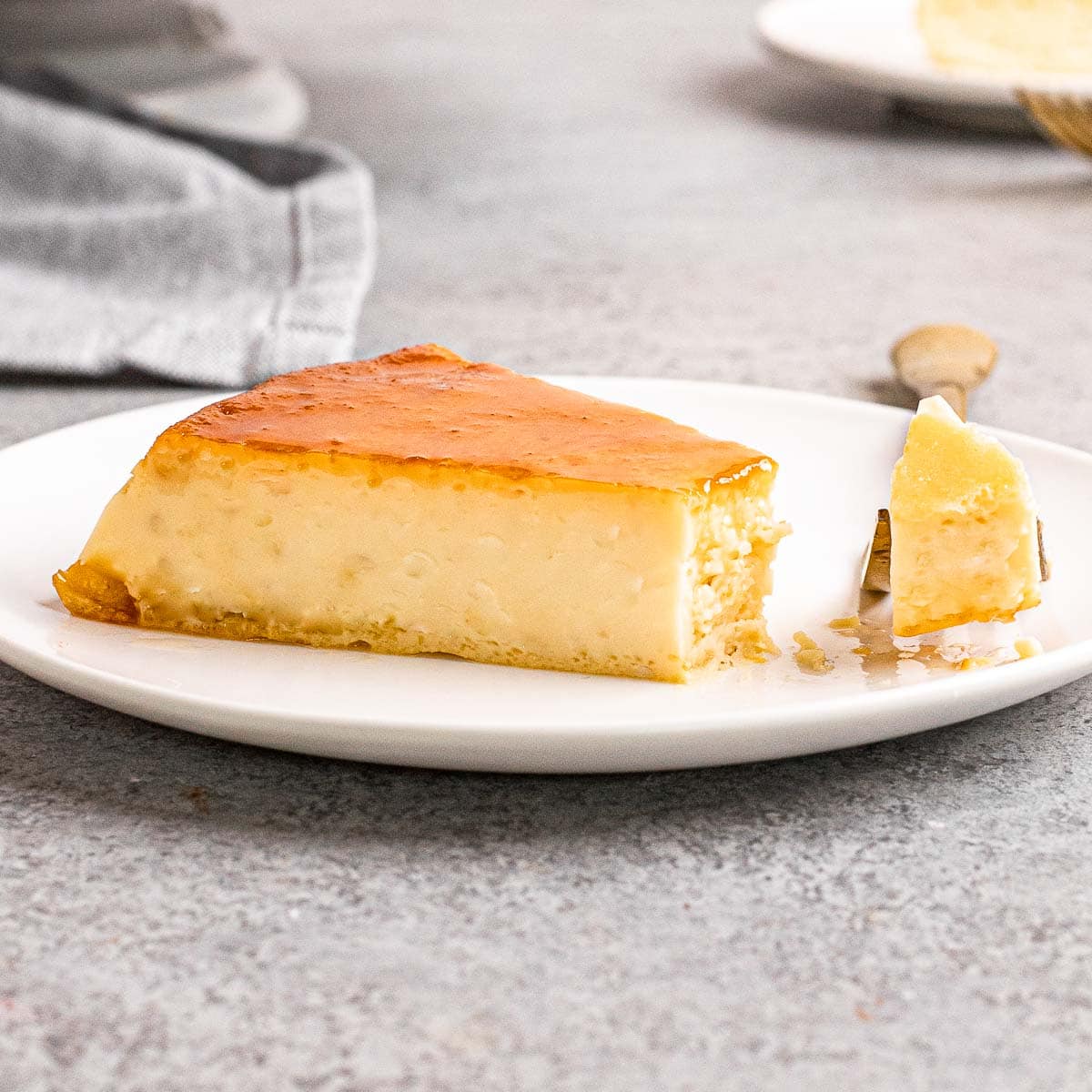 Ingredients
3/4

cup

sugar

1/4

cup

water

5

large

eggs

8

ounces

cream cheese

, softened

14

ounces

sweetened condensed milk

12

ounces

evaporated milk

2

teaspoons

vanilla extract
Instructions
Preheat oven to 350 degrees.

Add sugar and water to a medium saucepan on medium low heat and stir.

Cook until golden brown (if sugar crystals start to form around the edges, brush the edges with water).

Pour caramel into a 2 quart baking dish and tilt all around to spread the sauce.

Whisk the eggs until well beaten.

Add in cream cheese, sweetened condensed milk, evaporated milk and vanilla extract until smooth.

Pour over the sauce evenly.

Place baking dish into a larger baking pan and fill pan with 1" of boiling water.

Cook for

55-60 minutes

until the edges are set and the middle just jiggles.

Cool on a cooling rack, then cover and refrigerate overnight.

Run a knife around the inside of the baking dish, place a plate upside down over the baking dish and quickly flip over.
Nutrition
Calories:
311
kcal
|
Carbohydrates:
42
g
|
Protein:
10
g
|
Fat:
12
g
|
Saturated Fat:
6
g
|
Cholesterol:
117
mg
|
Sodium:
225
mg
|
Potassium:
337
mg
|
Sugar:
41
g
|
Vitamin A:
431
IU
|
Vitamin C:
2
mg
|
Calcium:
247
mg
|
Iron:
1
mg