Rich Chocolate Hazelnut Cheesecake made with Chocmeister Milk Chocolatey Hazelnut Spread, a chocolate cookie crust and a thick, glossy chocolate ganache.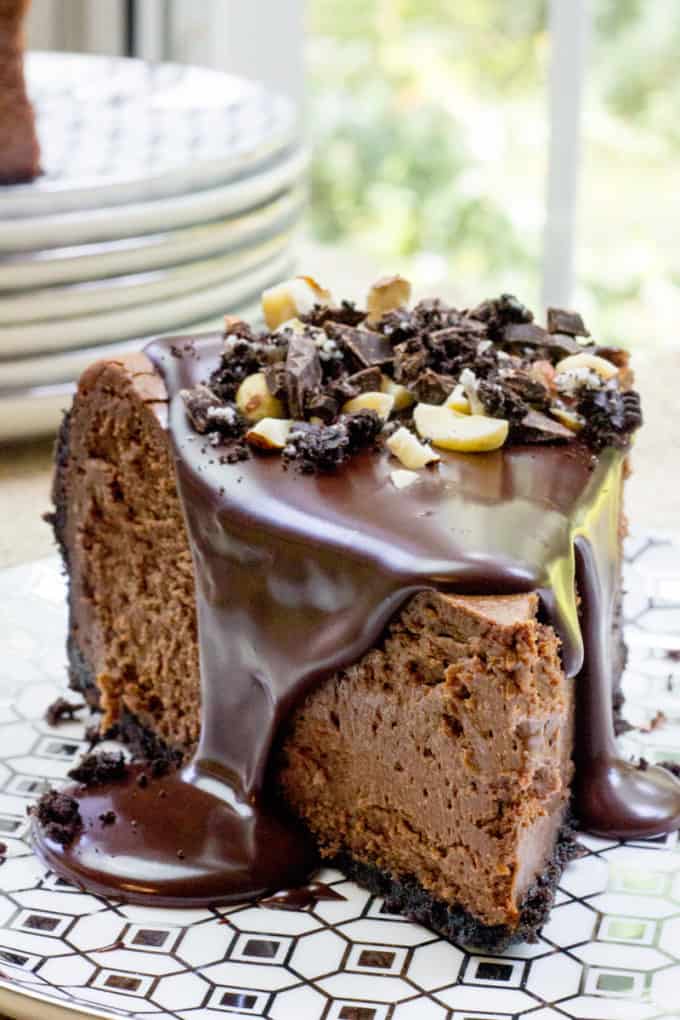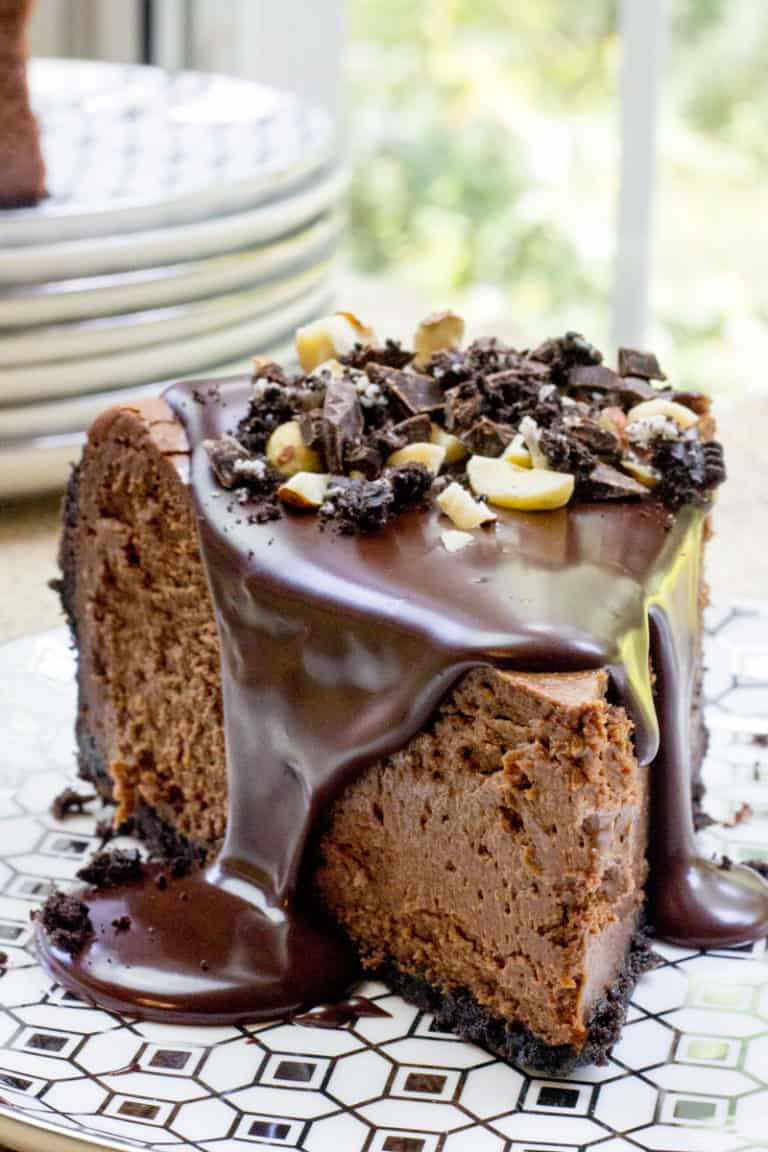 Chocolate Hazelnut Cheesecake covered in an amazingly thick and rich chocolate ganache is pretty much the best dessert I've ever made – this according to my husband who loves chocolate and cheesecake above all else. So when Chocmeister/Peanut Butter and Co. reached out to me to be a brand ambassador and create a recipe for their new Chocmeister Milk Chocolatey Hazelnut Spread I was completely honored (plus I shamelessly angled for some of their peanut butter too because we've been addicted to it for over five years).
This Chocolate Hazelnut Cheesecake is thick, rich, not overly sweet and a showstopper of a dessert. It looks like it was made in a bakery or your favorite fast casual restaurant, but if you follow this recipe you'll be pleasantly surprised with how amazing it turns out. Heck, you may even want to invite some people over and charge them $8.95 a slice it will look so professional.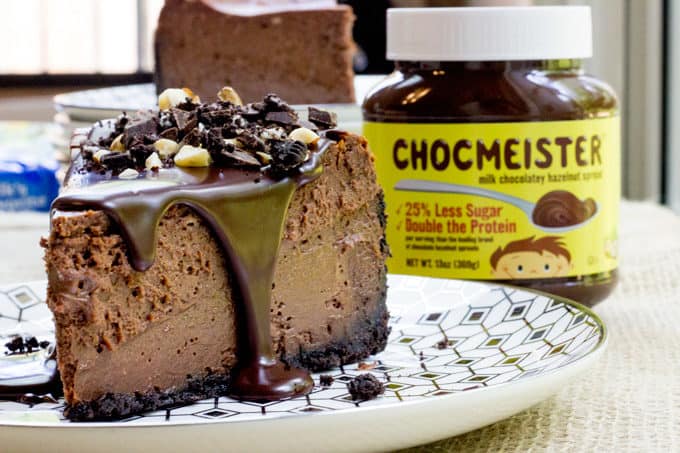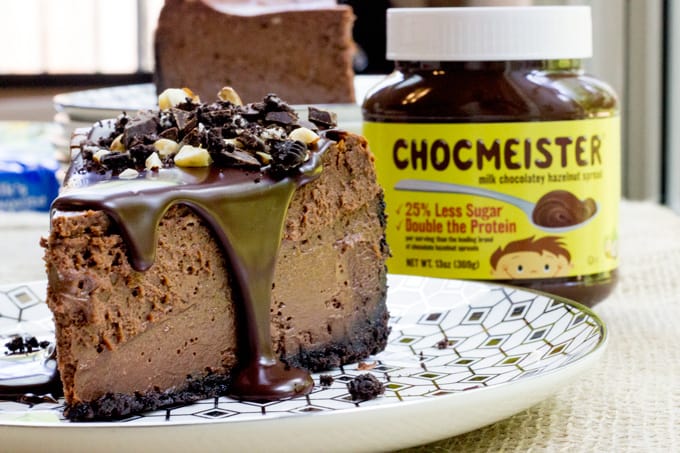 Totally rich and delicious, with the familiar chocolate hazelnut spread taste you're used to…except healthier!

Chocmeister is made with 25% less sugar than the leading brand of chocolate hazelnut spreads.

It has double the protein of the leading brand of chocolate hazelnut spreads.

Tastes great on whole grain toast & bagels, with fruit like bananas & strawberries or in your favorite cookie or brownie recipe.

Most importantly, for a dark chocolate fiend like me, it comes in DARK CHOCOLATE too!
Oh, and I totally did you all a favor and made this recipe call for the exact amount in one jar, so go ahead and get two, that way you can snack while baking. Did I mention it comes in dark chocolate too?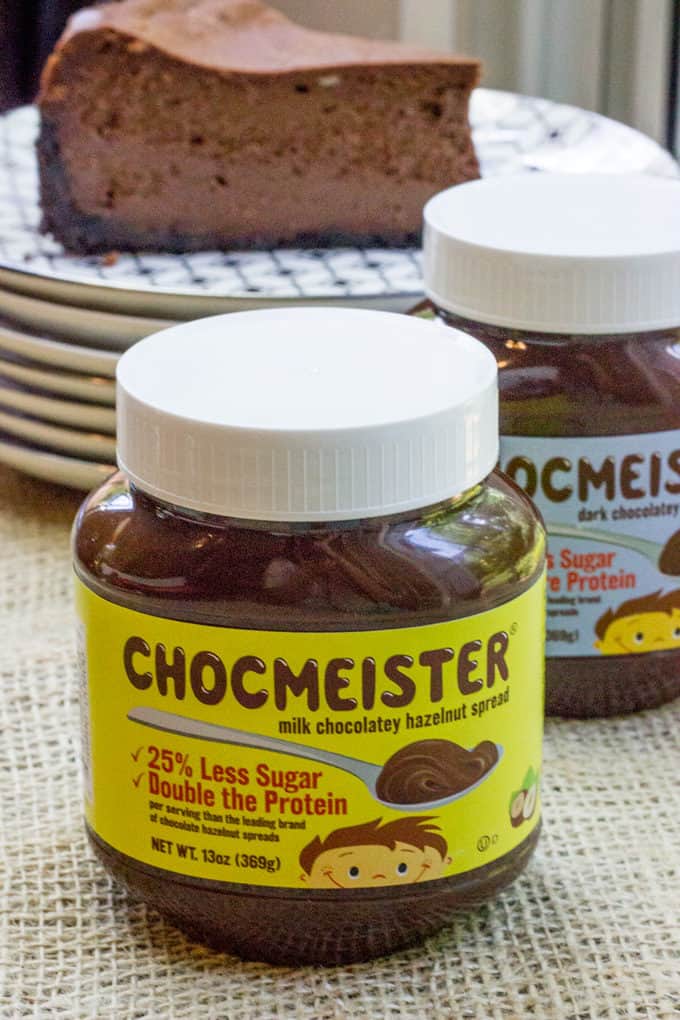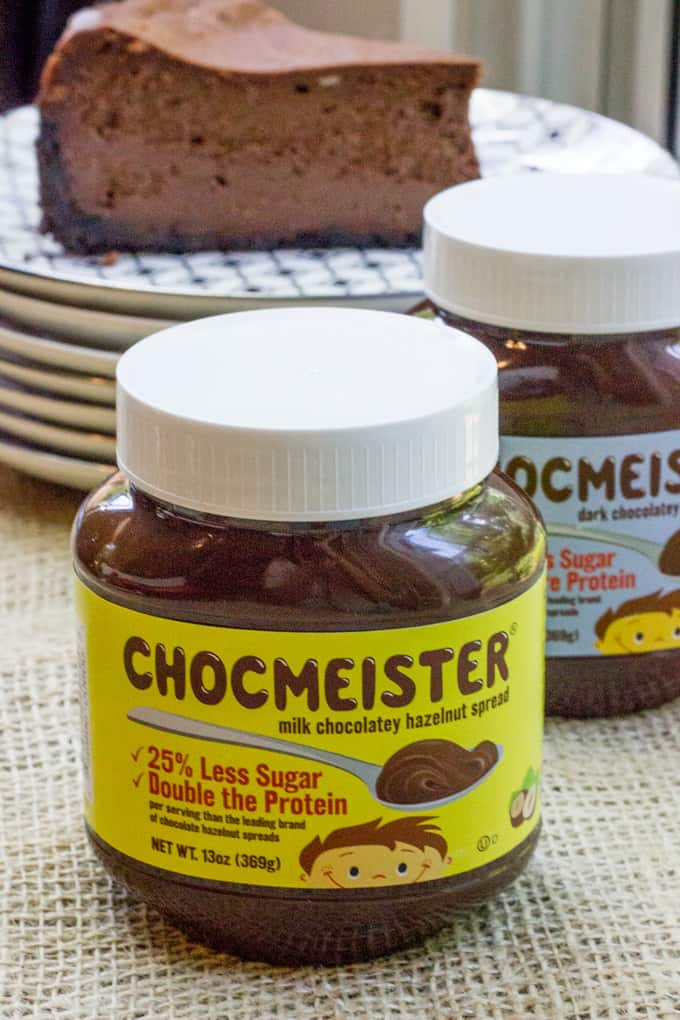 Dressing up your Chocolate Hazelnut Cheesecake to look ready for its closeup is easy too, pour on some of the chocolate ganache in this recipe and top with chopped chocolate wafer cookies, hazelnuts and chocolate disks. Easy tip, I combined all three toppings together and chopped all at once.
Don't use a food processor for this, the crumbs will be way too small, a nice rough chop is all you need. I also made a chocolate whipped cream for the recipe, then even my chocolate obsessed husband had thought I went over to the dark side of too much chocolate (<– does that even really exist?) and so I suffered through a few bowls of berries and chocolate whipped cream instead of using it in this recipe. I know, I lead a super rough life.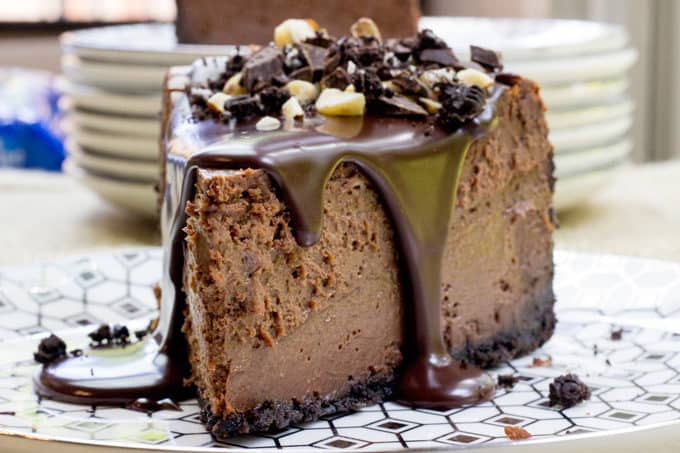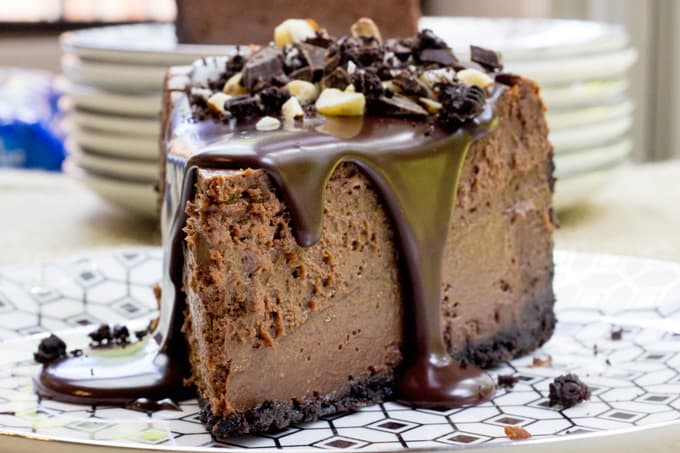 I mean, c'mon doesn't looking at it just make you smile? I had a husband holding a fork behind me waiting for me to finish the photo shoot. Why didn't he eat any of the rest of it you ask? I hadn't "added all the extra liquid chocolate to it yet" – his words, not mine.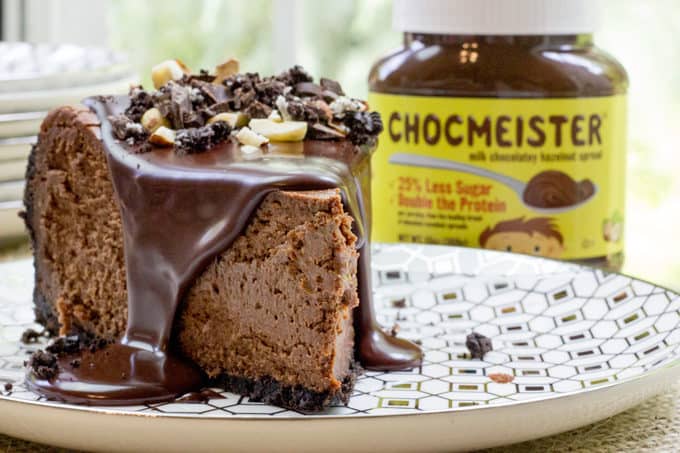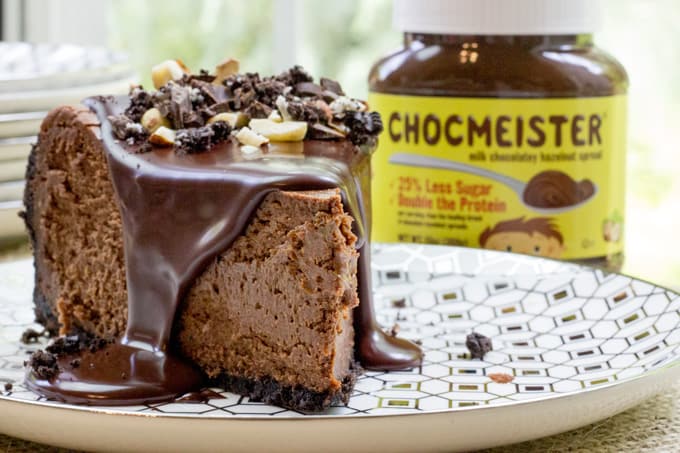 Tools/Ingredients used in this Chocolate Hazelnut Cheesecake recipe:
Springform Pan
– This one is my favorite because it is leakproof and navy blue! Plus, super inexpensive.
Stand Mixer
– Trust, old, reliable stand mixer! It helps ensure your filling is smooth and completely cream cheese lump free.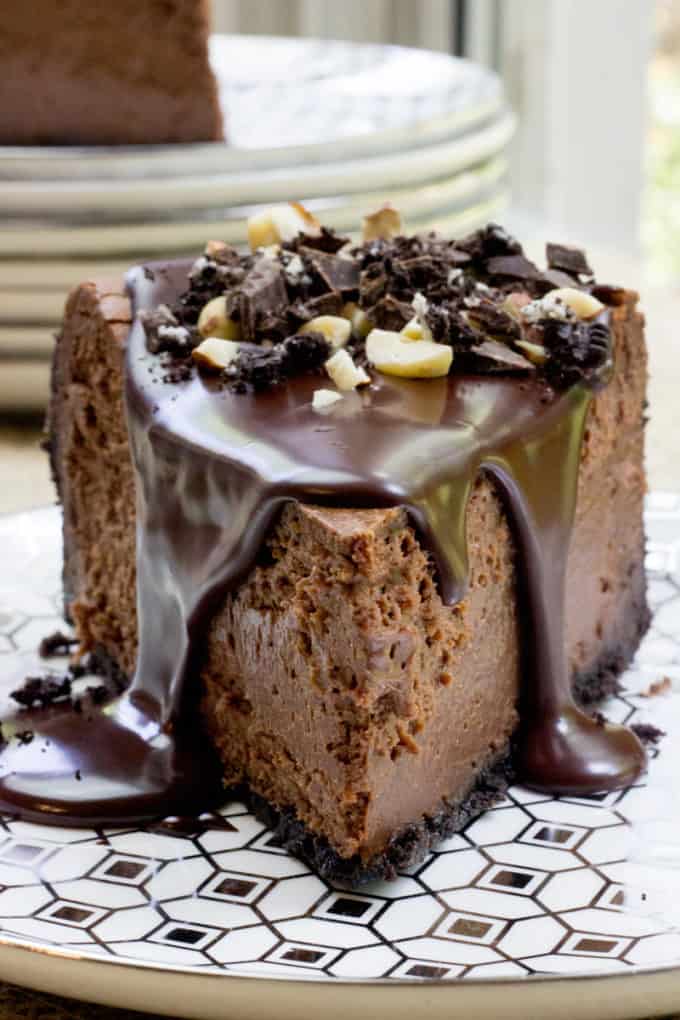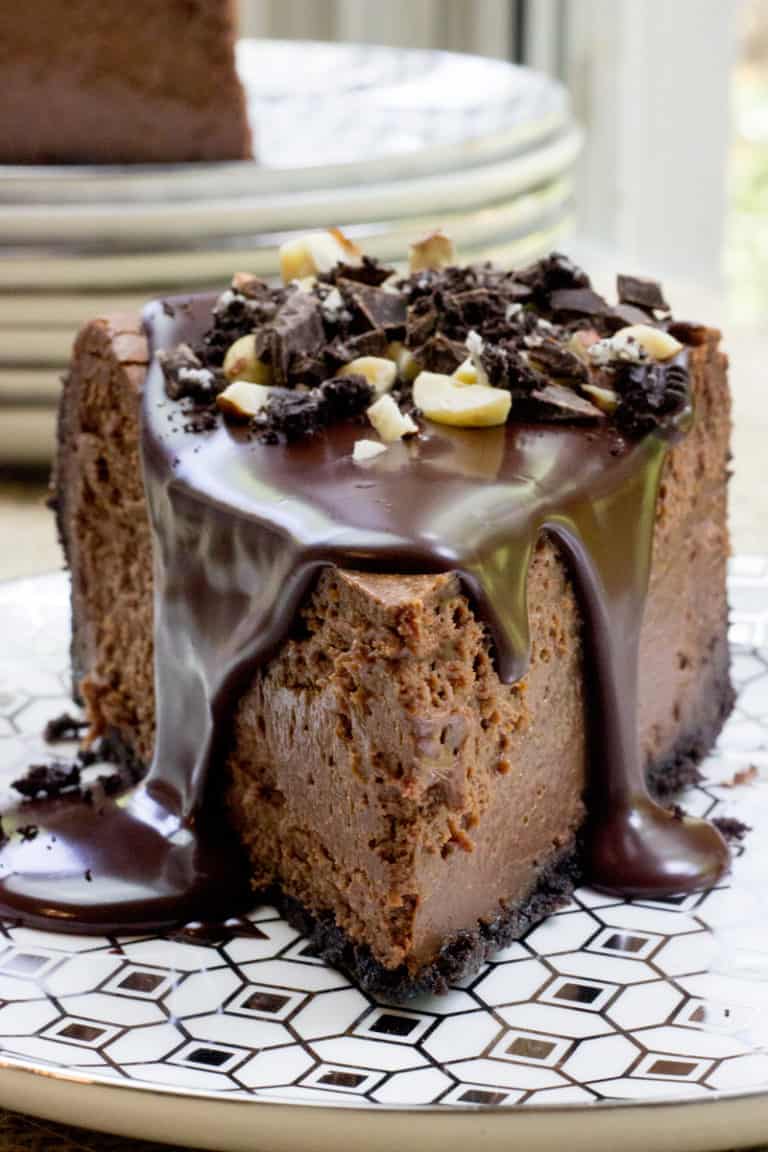 Ingredients
36

chocolate wafer cookies

, finely crushed (about 3 cups)

6

tablespoons

unsalted butter

, melted

1

cup

milk chocolate chips

4

(8 ounce) packages

cream cheese

, at room temperature

1

cup

white sugar

1/2

cup

milk

4

eggs

1/2

cup

sour cream

1 1/4

cups

Chocmeister® Milk Chocolatey Hazelnut Spread

1

tablespoon

vanilla extract

1/4

cup

cocoa powder

1/4

cup

all-purpose flour

1

cup

milk or semisweet chocolate

3/4

cup

heavy cream
Instructions
Preheat oven to 350 degrees.

Press onto bottom of springform pan and up the sides by an inch or so (a ½ cup measuring cup normally works great for tamping down the crust and pressing it against the sides).

In a small bowl melt your chocolate chips in the microwave in 30 second increments (took me two times) and stir until fully melted.

In your stand mixer, cream the cream cheese and sugar together on medium speed until completely smooth (lumps are your enemy here).

Add in the milk, eggs, melted chocolate and sour cream and turn on stand mixer on medium speed until well combined.

Add in the Chocmeister® Milk Chocolatey Hazelnut Spread and vanilla and combine again on medium speed.

Add in the cocoa powder and flour and combine until the flour is just absorbed.

Using a spatula, add the filling carefully into the crust.

Bake for

60-75 minutes

, until the center is just barely jiggly.

Turn the oven off, open it an inch (where is naturally sits open, but not all the way) and let it cool completely.

Being gentle with the change in temperature will prevent cracking the top.

Once completely cooled you can store in the refrigerator until ready to serve.

To make the ganache, add the 1 cup of milk or semisweet chips to a microwave safe bowl with the ¾ cup heavy cream and microwave for one minute.

Let sit untouched for

2 minutes

, then whisk to combine.

Pour over the whole cheesecake or slices.

Optionally garnish with chopped hazelnuts, more crushed cookies and chopped chocolate disks.
Notes
Thank you to Chocmeister/Peanut Butter and Co. for being so awesome and sponsoring this post!
Nutrition
Calories:
638
kcal
|
Carbohydrates:
71
g
|
Protein:
7
g
|
Fat:
36
g
|
Saturated Fat:
24
g
|
Cholesterol:
99
mg
|
Sodium:
189
mg
|
Potassium:
335
mg
|
Fiber:
4
g
|
Sugar:
54
g
|
Vitamin A:
595
IU
|
Vitamin C:
0.2
mg
|
Calcium:
110
mg
|
Iron:
3.9
mg

Thanks again to Chocmeister Milk Chocolatey Hazelnut Spread/Peanut Butter and Co. for sponsoring this Chocolate Hazelnut Cheesecake post. I loved making it and loved eating it even more!