Chocolate Caramel Pizookie (Cookie Pizza!)
This post may contain affiliate links. Read my disclosure policy here.
A Chocolate Caramel Pizookie with a dash of sea salt is a delicious giant deep dish cookie pizza just asking to be covered in ice cream and melted chocolate much to the delight of your loved ones!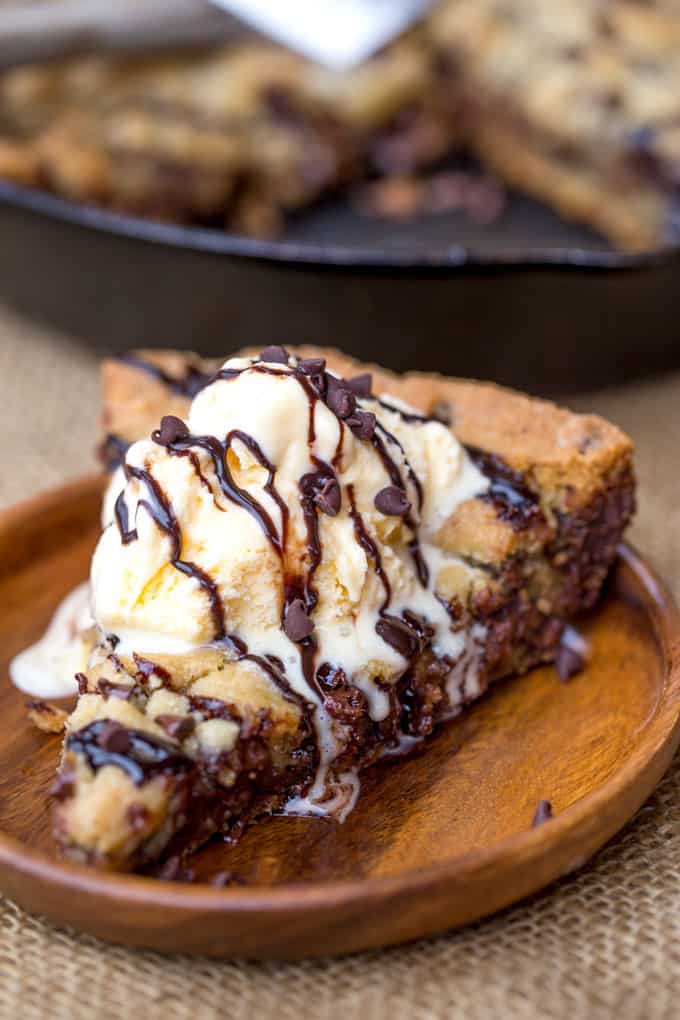 Chocolate Caramel Pizookie may sound like a made up name but the concept of pizza shaped deep dish cookies should make you and your guests smile with excitement as soon as you see the skillet come out of the oven. The perfect deep dish cookie pizza to help you and your friends with your game day celebrations.
This post is sponsored by Nestle. When we are pressed for time and want to have friends to watch the game we don't have to pick up the phone and wait for pizza delivery. We run to the freezer, turn on the oven and pop a few DiGiorno pizzas in the oven.
They're easy, delicious, cheesy and a hit with a crowd. My favorite flavor is Spinach Garlic and Mushroom Pizza and luckily most of the rest of our friends and kids are pizza classic lovers so I end up with most of that pizza to myself.
The biggest hits in our house are Italian Sausage and Pepperoni flavors. Not hard to see why with such delicious looking pizzas.
Since you're making pizzas for a crowd with no effort at all you can concentrate your baking and cooking efforts on this delicious cookie pizza to round out your meal!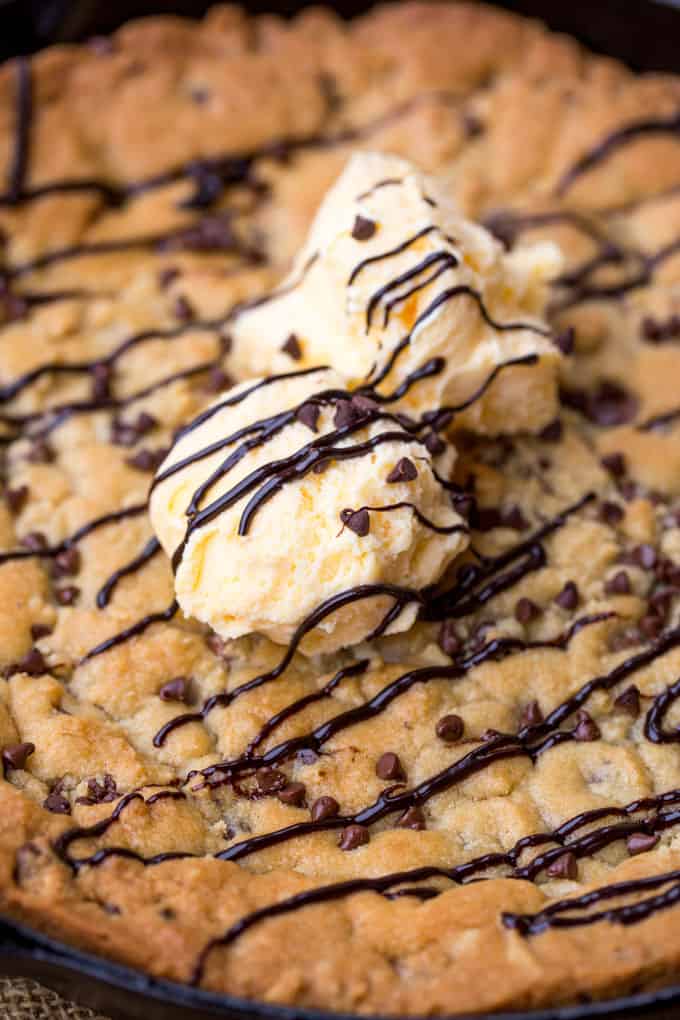 This cookie is crispy on the outside, fully cooked yet still molten on the inside and with a scoop of ice cream you will not regret the extra cooking time you waited instead of just baking a batch of normal cookies.
MY OTHER RECIPES
The idea being this Chocolate Caramel Pizookie is that it's basically like a molten cookie for a crowd. By using a cast iron skillet you also retain a lot of the heat when it comes out of the oven so even if your crowd finishes eating pizza at different times the Chocolate Caramel Pizookie will stay perfectly warm (just keep it covered with a piece of foil) for 15-20 minutes.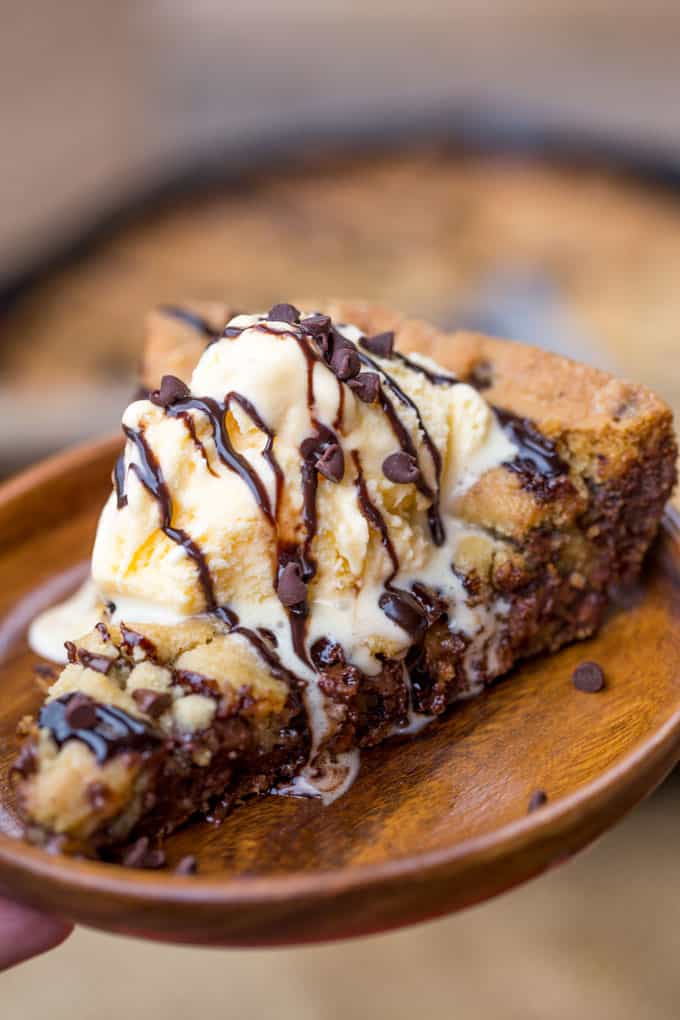 There are a few ways you can customize this Chocolate Caramel Pizookie to your needs:
If you like the unbaked cookie dough flavor, cook for 20 minutes uncovered. The outside will be crisp and the inside will be undercooked.
If you want to pump up the caramel filling get 2 cups of caramels and a couple of tablespoons of heavy cream and melt them in the microwave together. Then put half the cookie dough on the bottom layer, pour over the cooled caramel sauce and the rest of the cookie dough. Refrigerate again until you need to bake and the caramel layer will stay in the middle as long as you sealed all around the poured caramel.
Experiment with different flavors. Want to pump up the holiday flavors? Add in some chocolate with mint filling and top with crushed candy canes for a peppermint take on this Chocolate Caramel Pizookie.
Most swaps are easy enough, ditch the caramels and add in more chocolate, nuts or raisins. Oats and cinnamon with some raisins and boom awesome oatmeal raisin skillet (please top this with cinnamon ice cream)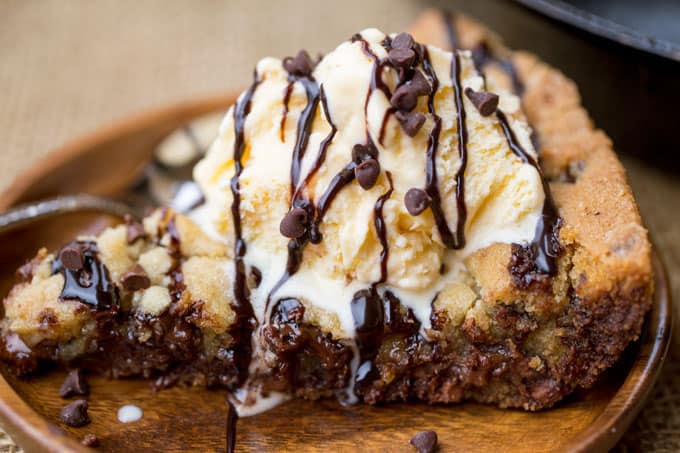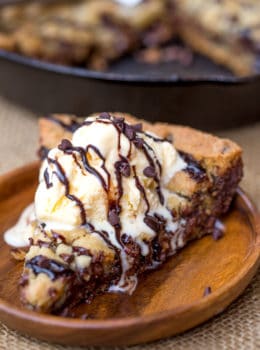 Chocolate Caramel Pizookie (Cookie Pizza!)
A Chocolate Caramel Pizookie with a dash of sea salt is a delicious giant deep dish cookie pizza just asking to be covered in ice cream and melted chocolate much to the delight of your loved ones!
Prep Time 15 minutes
Cook Time 35 minutes
Total Time 50 minutes
Ingredients
1 cup butter, softened
1 cup granulated sugar
½ cup packed brown sugar
1 tablespoon vanilla
2 eggs
2¾ cup flour
1 teaspoon baking soda
½ teaspoon table salt
1 cup Nestle Semisweet Chocolate Chips
½ cup Nestle Milk Chocolate Chips
1/2 cup chocolate covered caramel candies
coarse sea salt to finish
Vanilla Ice Cream and melted Chocolate Ganache to serve with
Instructions
Preheat the oven to 350 degrees and spray a 10" cast iron skillet with baking spray.

Cream the butter, sugar and brown sugar on high in your stand mixer until pale and fluffy (2-3 minutes).

Add in the vanilla and eggs and combine on medium speed until fully incorporated.

Add in the flour, baking soda and table salt until just combined.

Add in the chocolate chips (yes it is totally fine to use all of one variety if you'd like) and mix for just a few seconds.

In the cast iron skillet add half your cookie dough.

Sprinkle on the chocolate covered caramels.

Add the rest of the dough evenly to cover all the caramels.

Sprinkle a few more chocolate chips if desired.

Cover with foil and bake for 20 minutes.

Uncover and bake for an additional ten minutes.

Let cool for five minutes so slices can be easily served.

Top with Vanilla Ice Cream, Chocolate Ganache or extra Chocolate Chips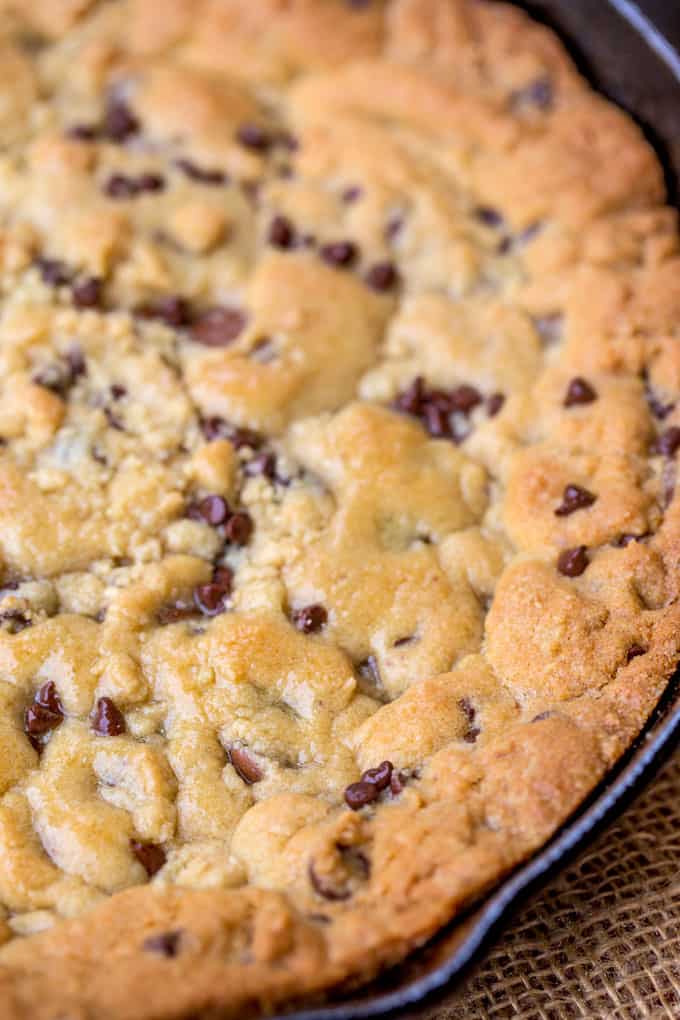 Dinner, then Dessert, Inc. owns the copyright on all images and text and does not allow for its original recipes and pictures to be reproduced anywhere other than at this site unless authorization is given. If you enjoyed the recipe and would like to publish it on your own site, please re-write it in your own words, and link back to my site and recipe page. Read my disclosure and copyright policy. This post may contain affiliate links.