Easy Homemade Chocolate Milk recipe for the richest, creamiest glass of chocolate milk ever. A decadent twist on a favorite childhood treat!
Whether it's a cup of Hot Cocoa in the winter or a cold glass of Chocolate Milk on a warm afternoon, drinking Chocolate is a sweet Treat kids love! This creamy, homemade version is a Drink adults will love too!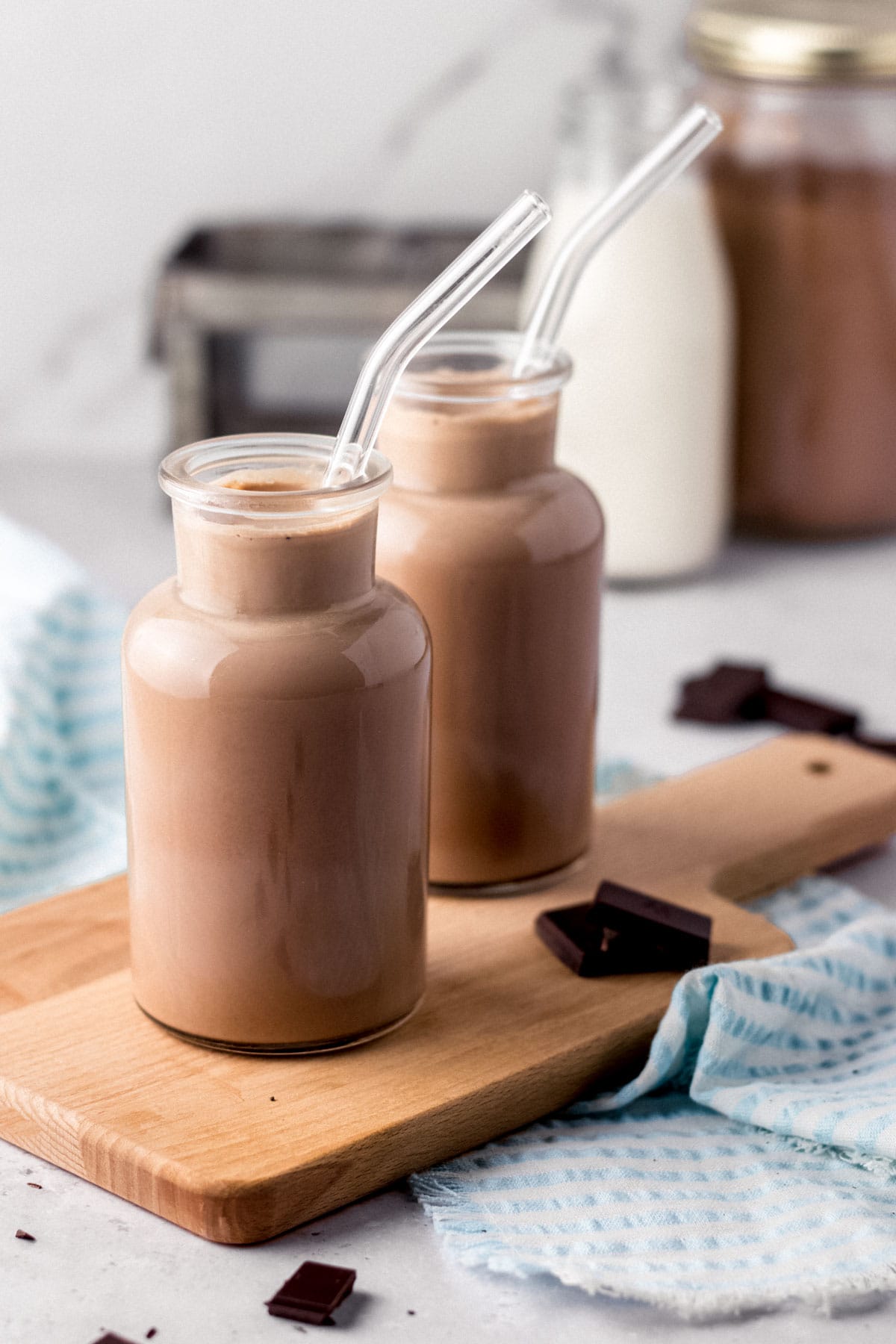 There's nothing quite as refreshing as a glass of perfectly chilled chocolate milk on a hot day. But this Chocolate Milk isn't the same store-bought syrup squirted in a glass you grew up with. This from-scratch version is so much richer and creamier than any type of milk you could make with a mix. You can this amazing chocolaty cold milk on its own or pair it with other chocolate treats like Chocolate Chip Cookies or Brownies.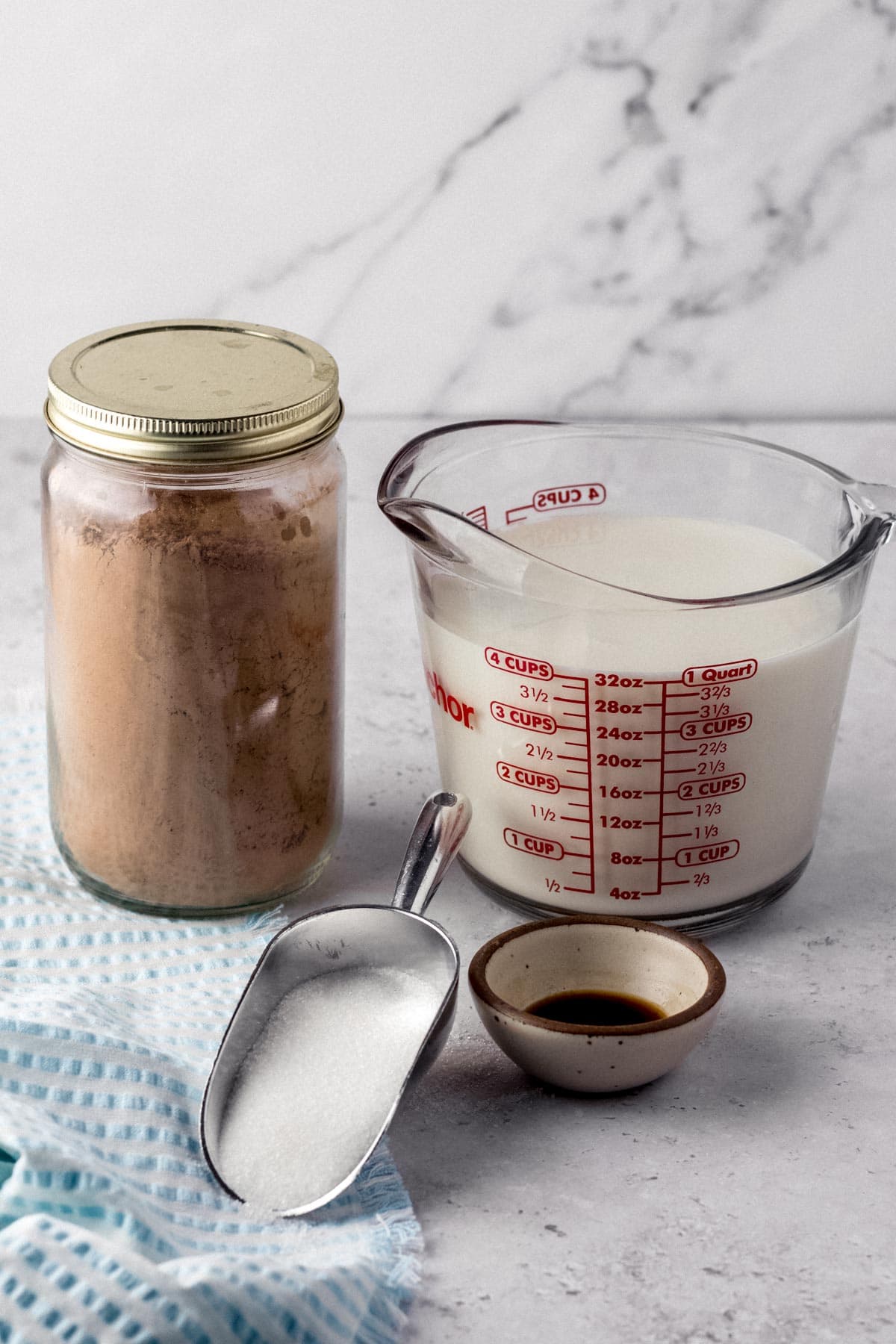 If it seems like we're over-hyping this drink, then you probably haven't had chocolate milk quite this delicious before. Instead of making it with a quick mix or chocolate syrup like chocolate milk is usually made, this recipe uses real cocoa powder to make fresh, homemade chocolate syrup. It does take some extra time, but it is so worth it! Making your own chocolate mixture results in the most perfect chocolate drink ever.
Milk is a good source of protein, calcium, and other nutrients that make it especially great for kids to drink. This chocolate version is a delicious way to get your kids enjoying their glass of milk. Plus, it's so delicious it works for a fun snack or easy dessert recipe.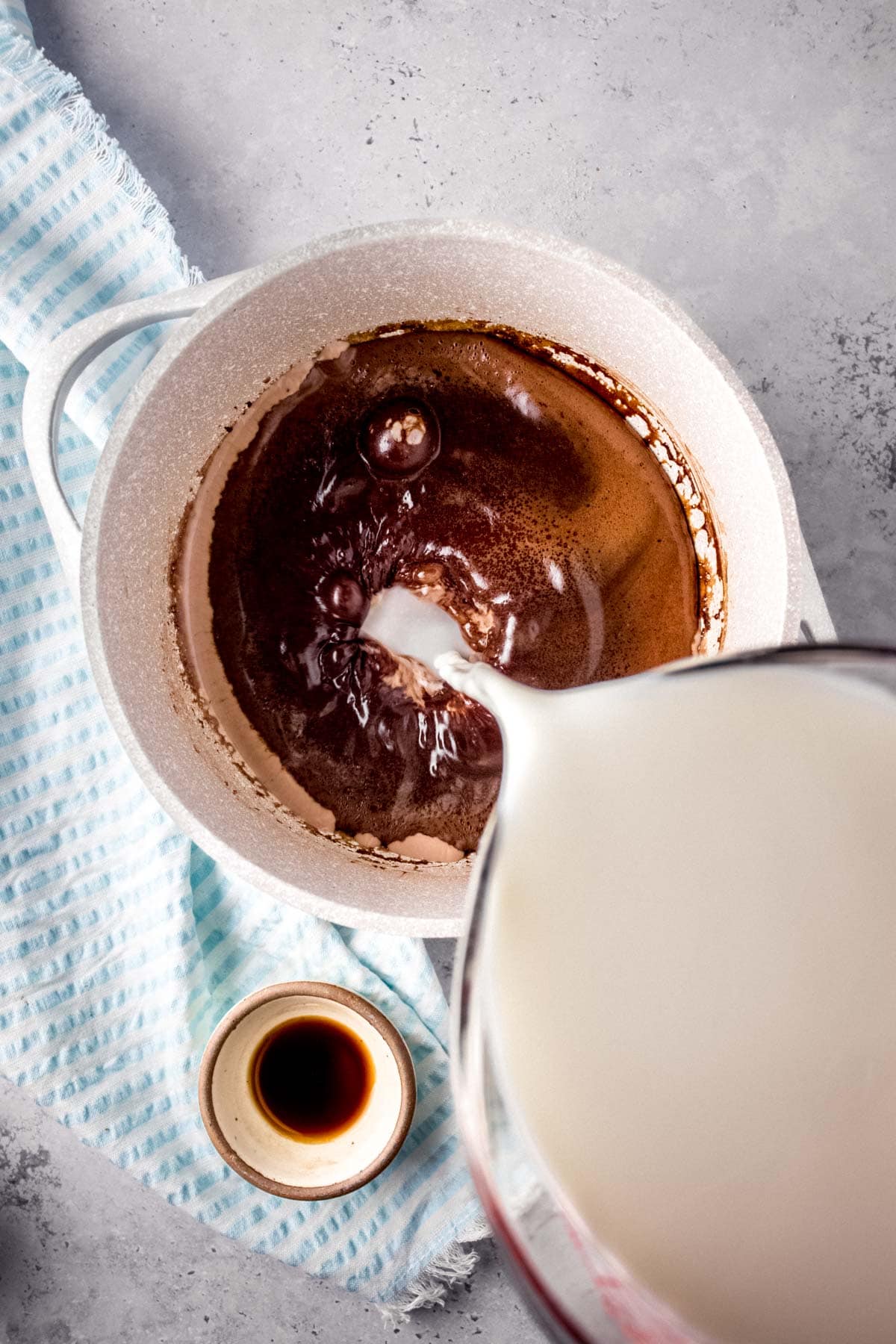 You can also serve a glass of chocolate milk with other kid-favorite foods. It tastes great with peanut butter and jelly sandwiches for lunch. And of course, breakfast gets extra special when you serve Pancakes and Waffles with a cold glass of chocoalty milk. No matter when you make Chocolate Milk from scratch it's sure to hit the spot every time.
How to Make Chocolate Milk
Syrup: Add water, cocoa powder, and sugar to a small saucepan. Over medium heat, stir until the cocoa powder and sugar are blended into the water, then turn off the heat.
Milk: Whisk in the vanilla extract and milk until the chocolate is fully absorbed and the mixture is smooth. Top with sea salt if desired.
Chill: To get perfectly chilled chocolate milk, refrigerate it for at least an hour, preferably 2 hours or overnight. Then serve it in a cold glass. For quicker serving, pop it in the freezer for about 20 minutes until it's cold and serve in a cold glass.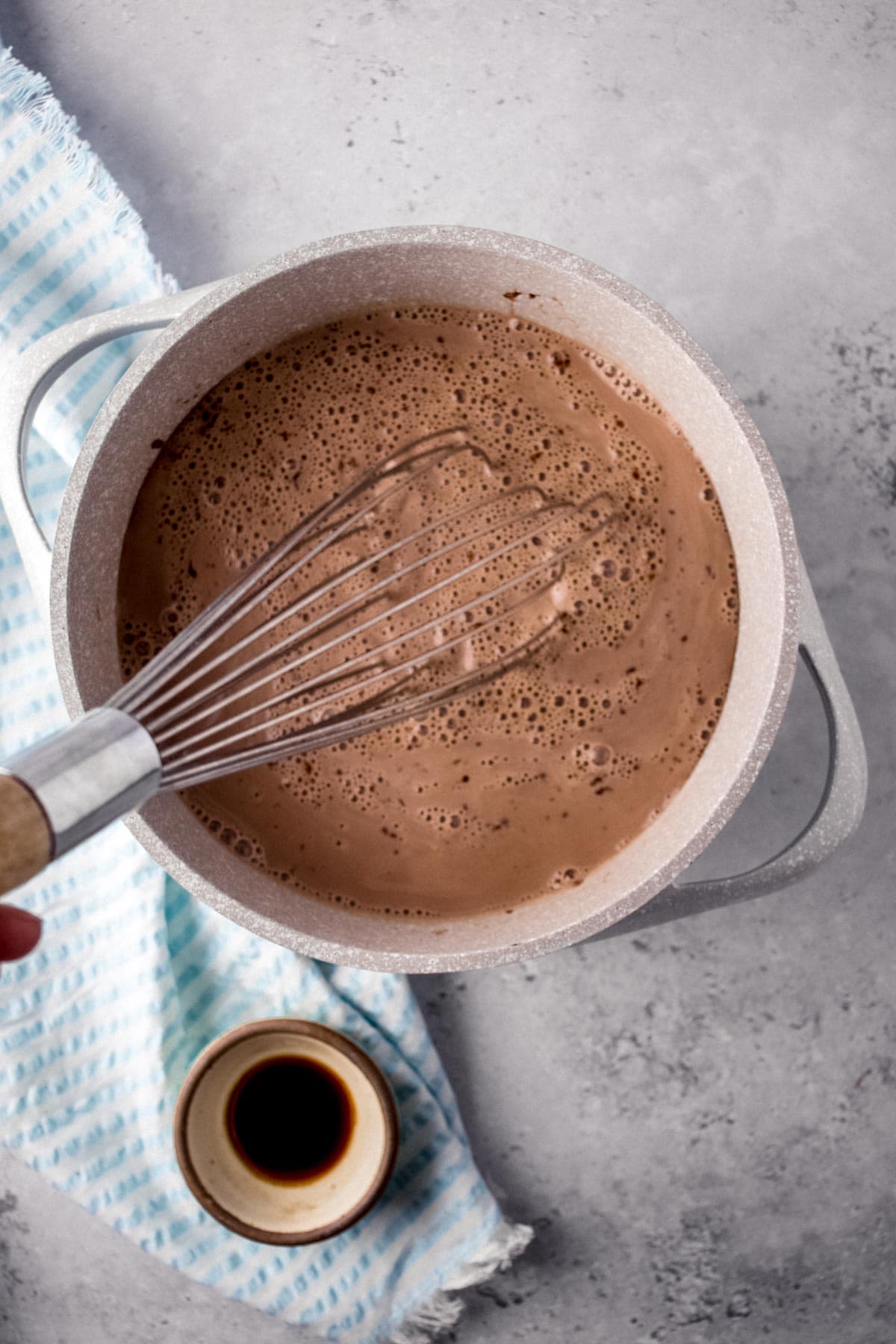 Easy and Fun Treats for Kids!
FAQs for Chocolate Milk
Does Chocolate Milk have a lot of sugar?
Chocolate Milk can often have a lot of sugar, especially store-bought or packaged mixes, but this homemade recipe actually only has a ¼ cup sugar for 4 cups of milk. You can make it sweeter if you want, but try it with less sugar first, you might be surprised that you don't miss all that extra sweetness.
What is the shelf life of homemade chocolate milk?
Homemade chocolate milk will last about a week in the refrigerator as long as it is stored properly in an airtight container. It's best to keep drinks in the back of the fridge where it is coldest.
Is Chocolate Milk good for you?
While "good for you" is subjective, this homemade chocolate milk recipe can definitely be considered healthier than store-bought or even other sweet drinks. It has a lot less sugar plus you get to control the ingredients to make it fit your dietary needs.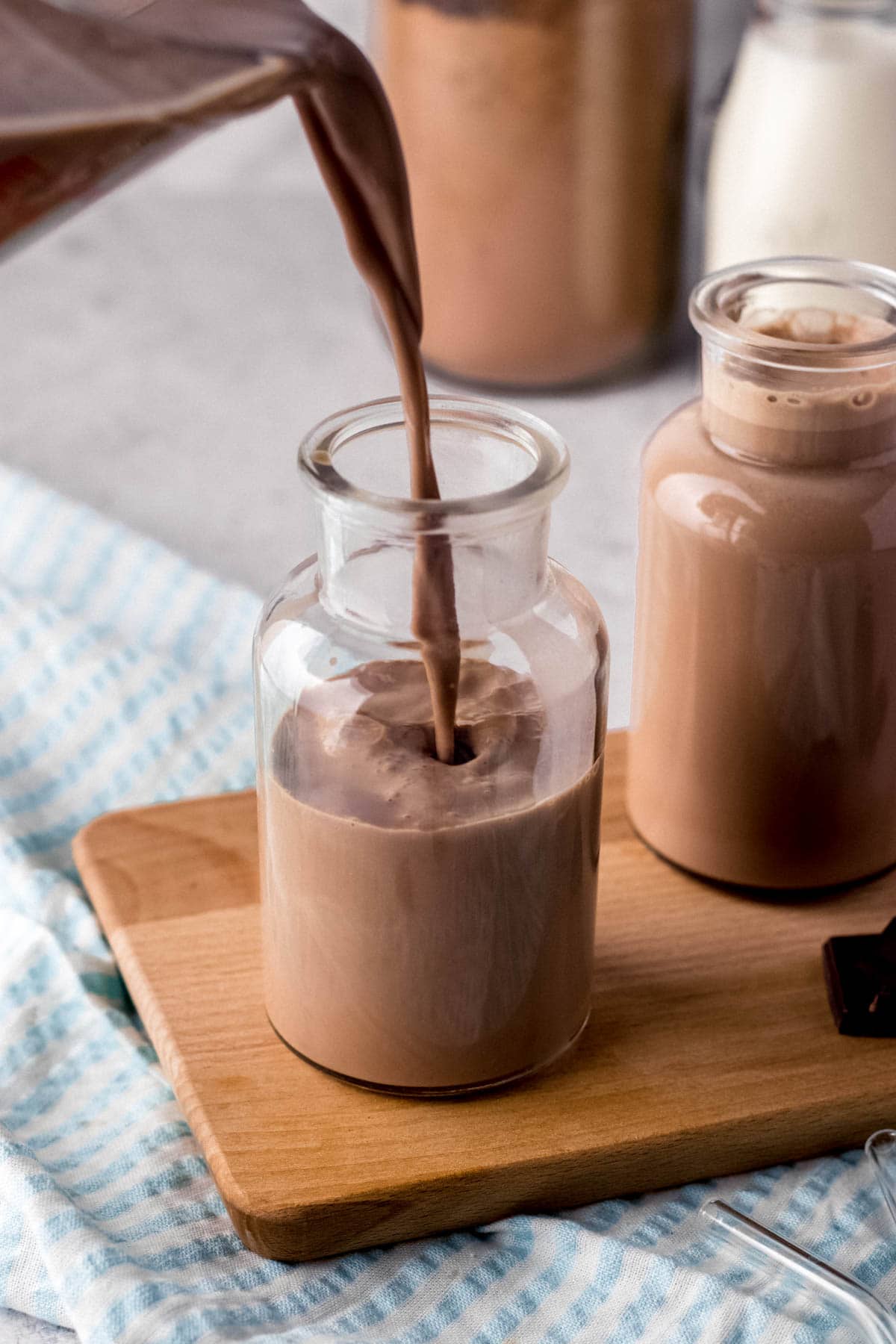 Create a free account to

Save Recipes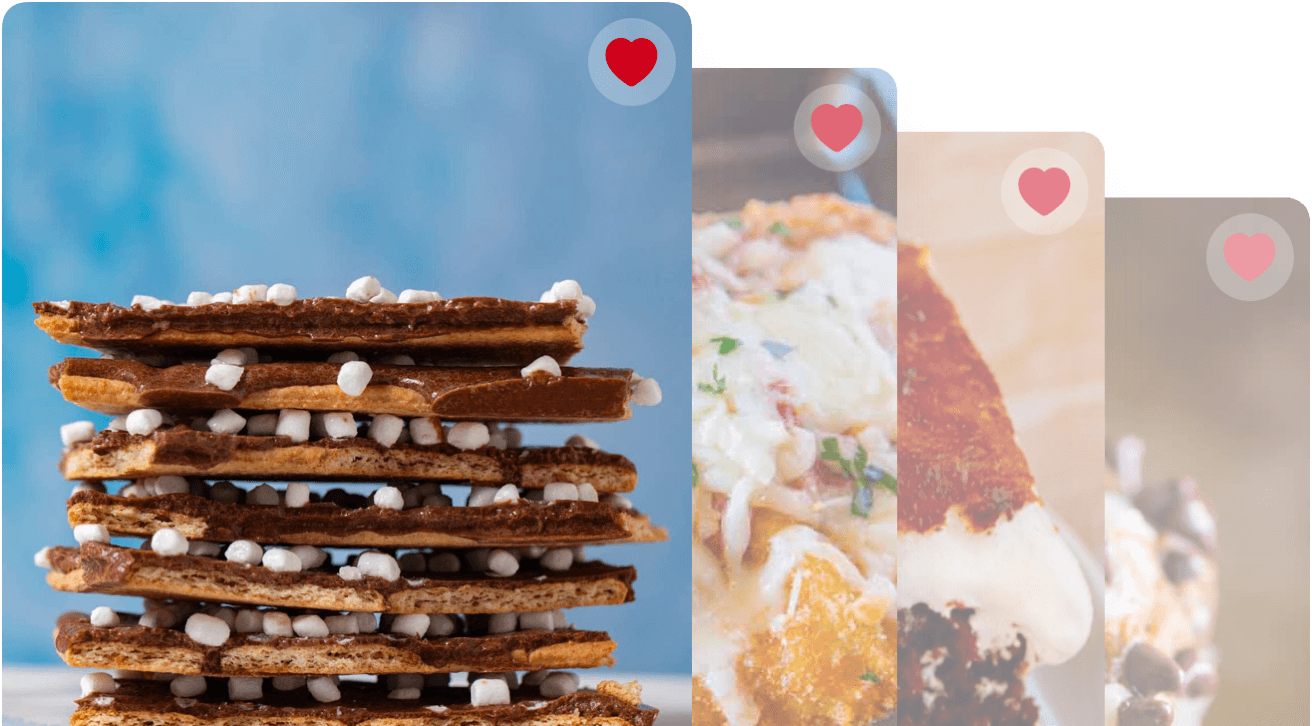 Key Ingredients
Chocolate Syrup: A mixture of unsweetened cocoa powder and sugar is dissolved into water to make an easy homemade chocolate syrup that is flavorful and perfectly sweet and chocolaty.
Vanilla: Some warm vanilla extract brings out the cocoa butter in the chocolate for a rich, decadent chocolate taste.
Milk: Whole fat milk is going to make the creamiest chocolate milk with the best flavor! Low fat or non-fat milk won't be as rich or flavorful, and just using heavy cream will make it way too rich to drink. You can add a little heavy cream for flavor but whole milk by itself is just perfect.
Salt: A little pinch of sea salt at the end will enhance all the chocolaty flavor and add a delicious balance to the sweetness. It sounds wild to add salt to milk but trust us, it makes such an amazing difference!
Can Chocolate Milk be made ahead of time?
Homemade Chocolate Milk can definitely be made ahead of time, especially since it will need at least 30 minutes to chill. It will last about a week in the fridge, but it's best in the first few days. The cocoa mix may settle but you can just blend it up with an immersion blender or milk frother before serving and it's good to go. You can even freeze Chocolate Milk! It will be a little watery, but again you can just froth it with some fresh milk or use it for milkshakes or baking recipes.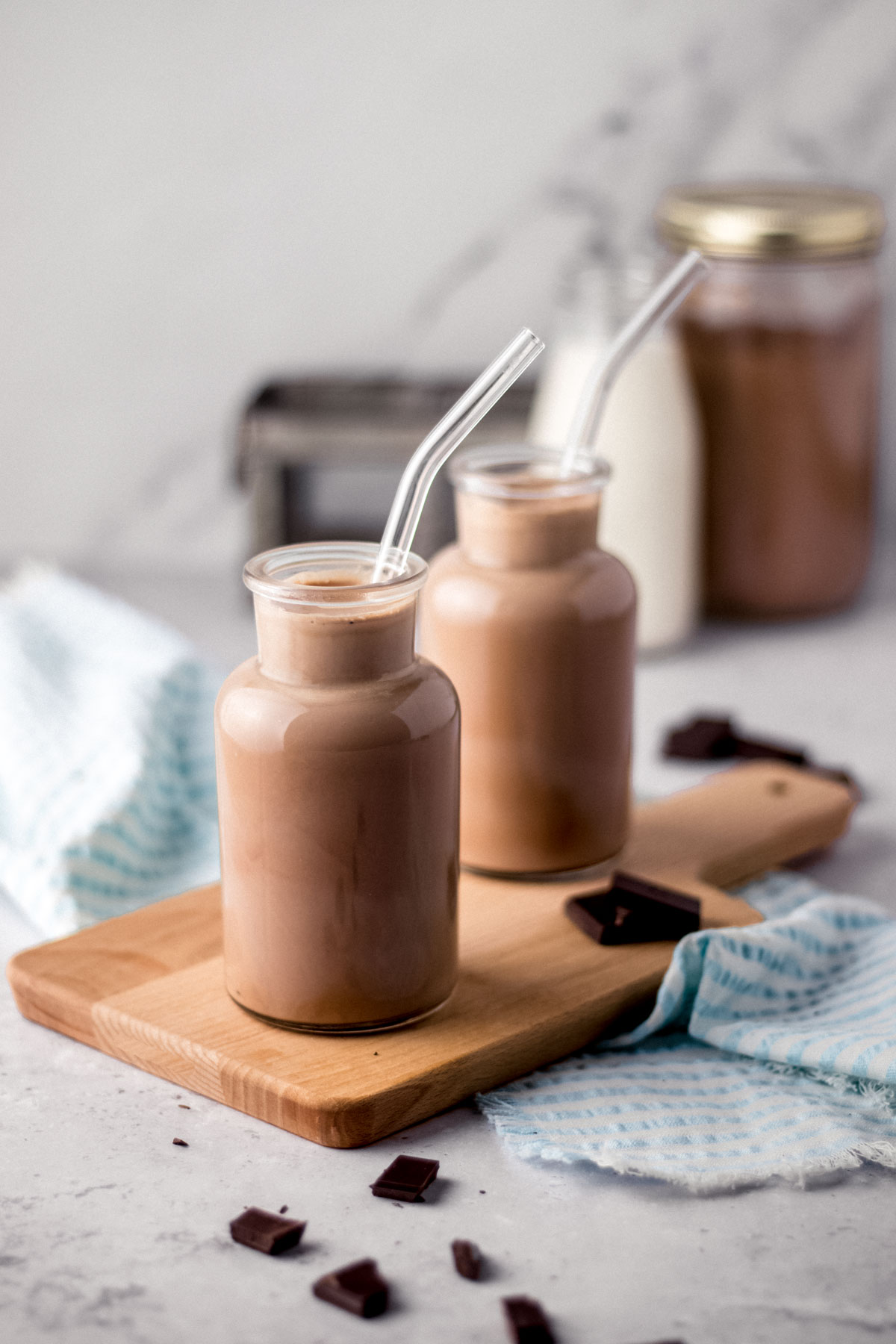 Variations
Extra Creamy: For a richer version of this recipe, you can add a tablespoon or two of heavy whipping cream. Whisk it into the recipe at the same time you add the milk and vanilla.
Vegan: If you want a vegan version of this drink, you'll just need to use a non-dairy milk substitute. Use any of your favorite non-dairy milk options like almond milk, soy milk, coconut milk, or oat milk. The rest of the ingredients are already vegan so you don't have to worry about any more substitutes.
Healthy: If you want to cut back on calories, you can change the type of milk to low fat milk, nonfat milk or skim milk. Just keep in mind that the final result won't be as rich or creamy. You can also reduce the amount of sugar, or use sweetener alternatives for a slightly healthier chocolate milk.
Flavors: For some extra flavor in your Chocolate Milk recipe experiment with adding cinnamon, caramel sauce, honey, maple syrup, or peanut butter powder. Try some Strawberry Sauce for a deliciously fruity and sweet Chocolate Strawberry Milk.
How to Serve Chocolate Milk
Chocolate Milkshake: Use chocolate milk instead of regular milk in your milkshakes. Add a ½ cup of chocolate milk and 2 cups of Chocolate Ice Cream to a blender and blend for a delicious frozen chocolatey treat!
Milk Float: Make an old fashioned chocolate milk drink by adding a scoop of Vanilla Ice Cream to a tall glass. Beat a cup of the warm milk mixture until it's frothy then pour over the ice cream. You can also add a bit of soda water to the mix for a super old-fashioned chocolate milk float.
Hot Chocolate: You can easily serve this chocolate milk hot if you want! Instead of cooling it down, serve it right away. During the holidays, double the recipe and pop it in the slow cooker to serve a crowd.
Iced Coffee: Let your chocolate milk mix cool completely then freeze in ice cube trays until solid. Store chocolate milk cubes in a freezer bag and add to prepared Cold Brew Coffee for a tasty mocha drink ready to go all week long.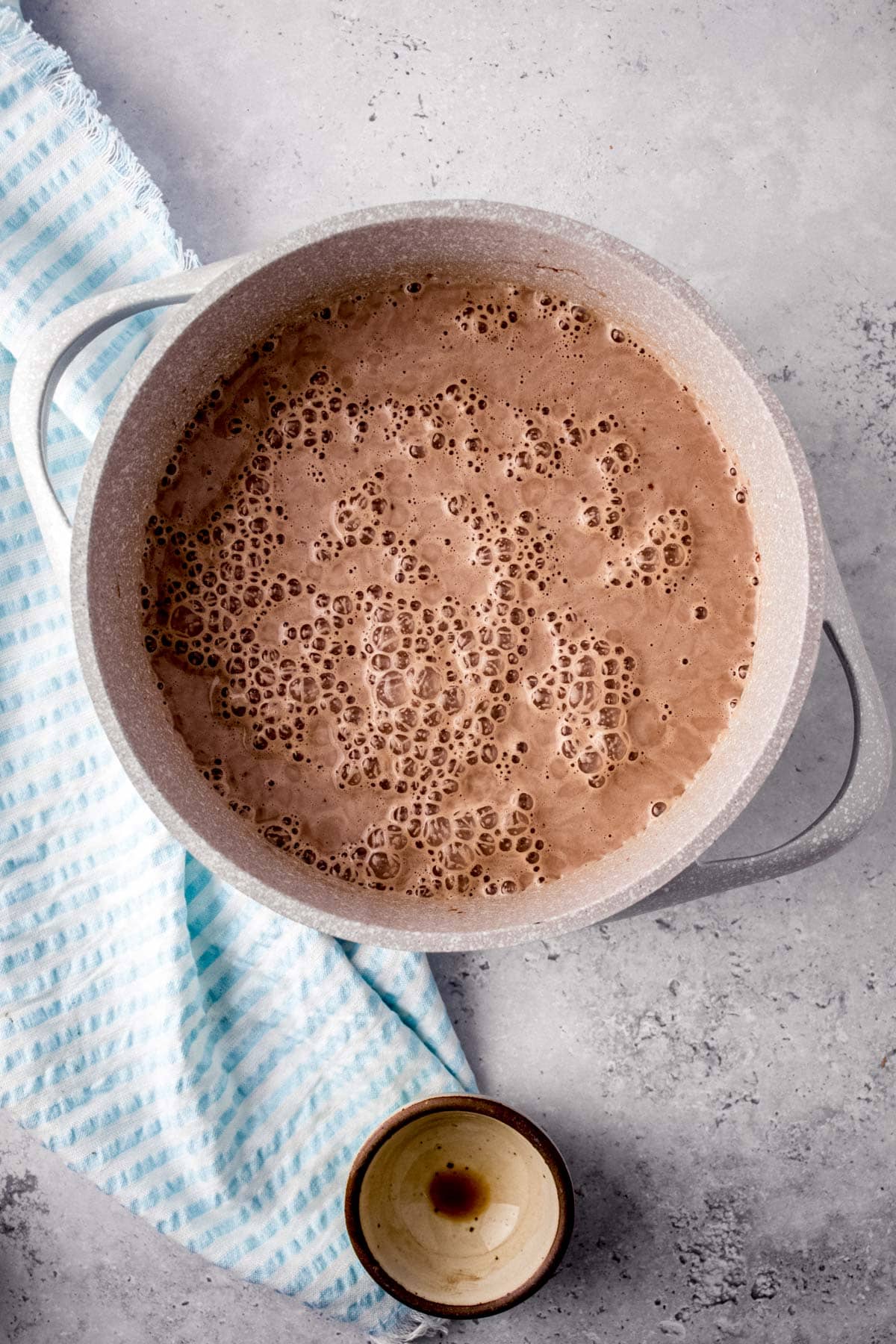 More Delicious Cold Drink Recipes
How to Store
Serve: Pop it in the freezer for 20-30 minutes and serve in an ice-cold glass for super cold milk. Like regular milk, it is best to keep it chilled as much as possible, and do not leave it at room temperature for more than 2 hours.
Store: Store any leftover batch of chocolate milk in a covered container in the fridge for up to 1 week. Give it a shake or use an immersion blender or milk frother to whip it back if it separates.
Freeze: Store it in an airtight container in the freezer for up to 8 months. Leave a couple of inches of space at the top of the container for it to expand. To prevent ice crystals, allow it to freeze, then press a piece of plastic wrap onto the surface of the milk, add the lid and freeze as usual.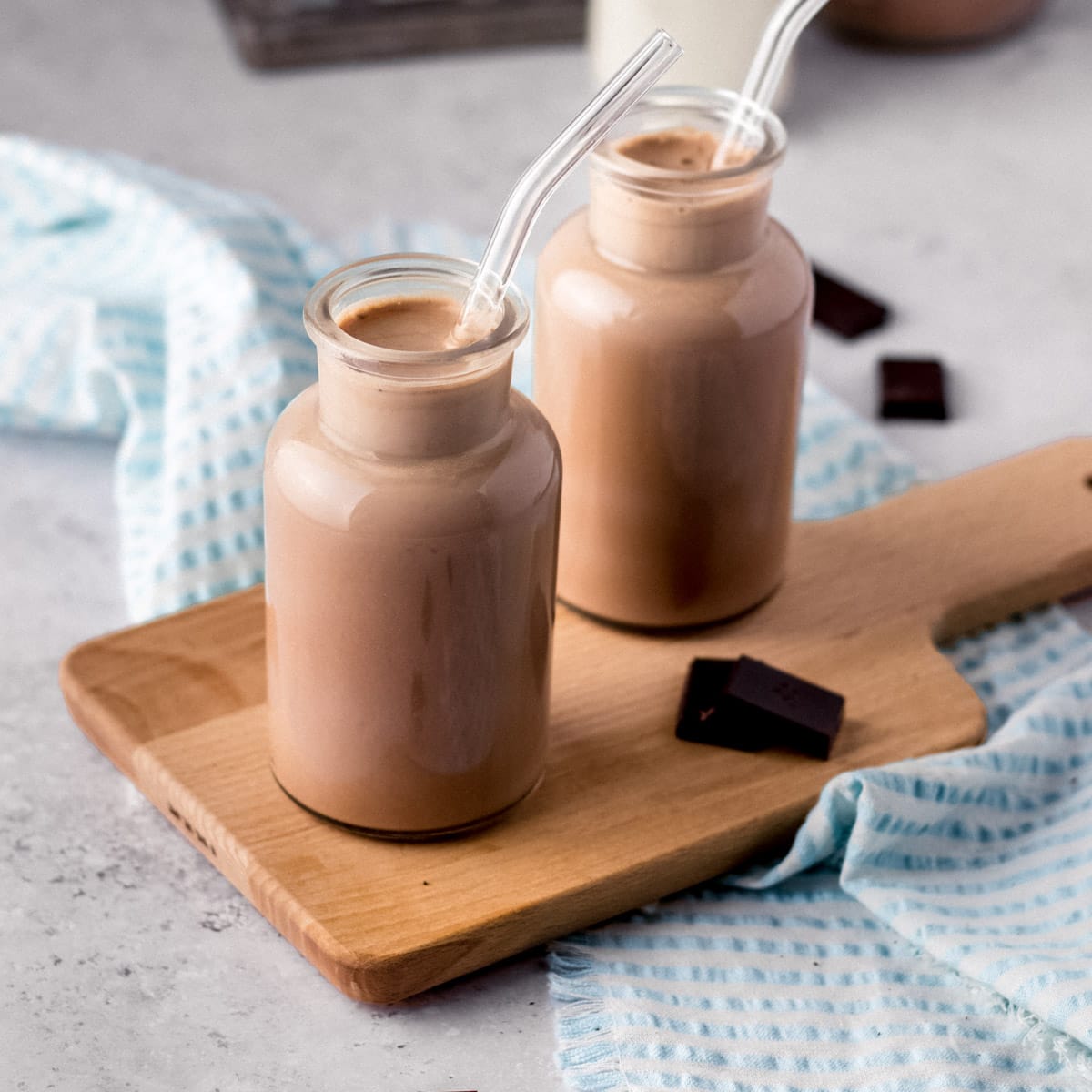 Ingredients
1/4

cup

water

1/4

cup

unsweetened cocoa powder

1/2

cup

sugar

4

cups

whole milk

1

teaspoon

vanilla extract

sea salt

, optional
Instructions
Add water, cocoa powder, and sugar to a small saucepan on medium heat.

Whisk until sugar is dissolved and cocoa powder is well mixed in.

Turn off the heat and add in the milk and vanilla extract.

Top with sea salt if desired.

For really cold chocolate milk refrigerate for 1-2 hours or freeze for

20 minutes

.
Nutrition
Calories:
258
kcal
|
Carbohydrates:
40
g
|
Protein:
9
g
|
Fat:
9
g
|
Saturated Fat:
5
g
|
Polyunsaturated Fat:
0.3
g
|
Monounsaturated Fat:
2
g
|
Cholesterol:
29
mg
|
Sodium:
95
mg
|
Potassium:
450
mg
|
Fiber:
2
g
|
Sugar:
37
g
|
Vitamin A:
395
IU
|
Calcium:
308
mg
|
Iron:
1
mg