All The Shamrock Shakes from McDonald's made in all three minty ways they've released this year! Classic, Chocolate Shamrock Shake and Shamrock Chocolate Chip Frappe.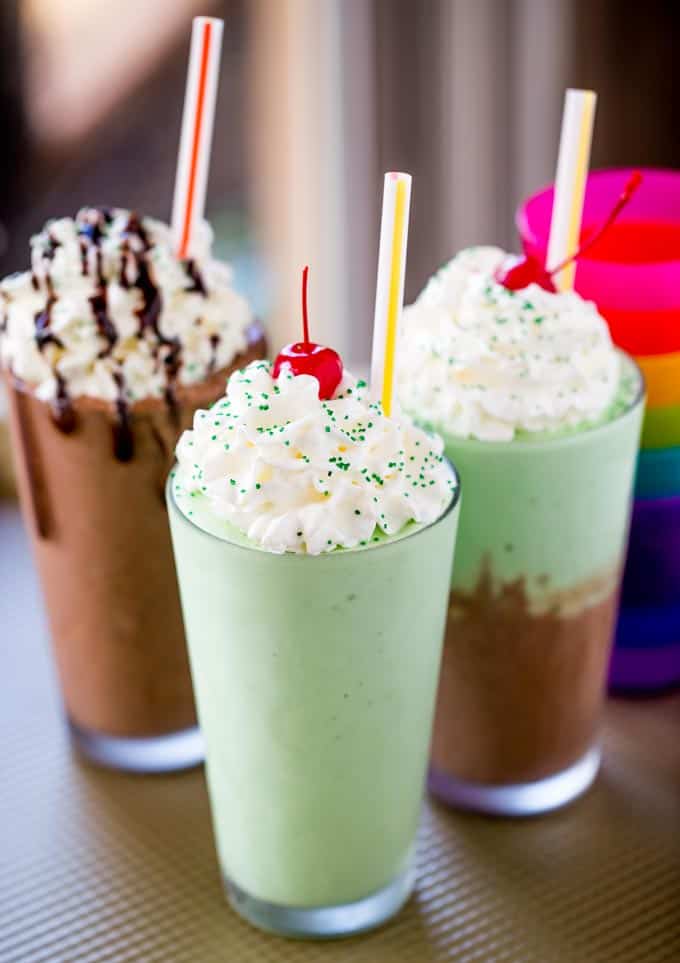 All The Shamrock Shakes are the rage here this month. The classic McDonald's Shamrock Shakes are of course back for the St. Patrick's Day holiday season, but the addition of two NEW McDonald's Shamrock Shakes has sort of taken all us suburban moms out here on the toddler sports circuit by storm.
I have to admit I was skeptical about these changes (and I was never 100% sold on the original McDonald's Shamrock Shakes) but the two new flavors are a huge flavor addition to the original!
Let's investigate the McDonald's Shamrock Shakes variations:
Original Shamrock Shake: A vanilla shake with mint syrup topped with whipped cream and a cherry. Nice enough (though I always wished there were chocolate chips in it).
Chocolate Shamrock Shake: We are starting to mix things up here. vanilla shake with chocolate syrup mixed in on the bottom half and classic shamrock on top. Add in the whipped cream, and more chocolate syrup on top and things are already starting to look up.
Shamrock Chocolate Chip Frappe: Hands down my favorite one, this "Frappe" has a mocha-caramel shake base, with mint added in topped with more whipped cream and chocolate. The best part about this one is the flavor has much less of a sugar assault on your senses because of the mocha. This was an absolute delight to drink! And hey chocolate chips!
Now you can enjoy these McDonald's Shamrock Shakes anytime you want. I'm all about the Frappe ones.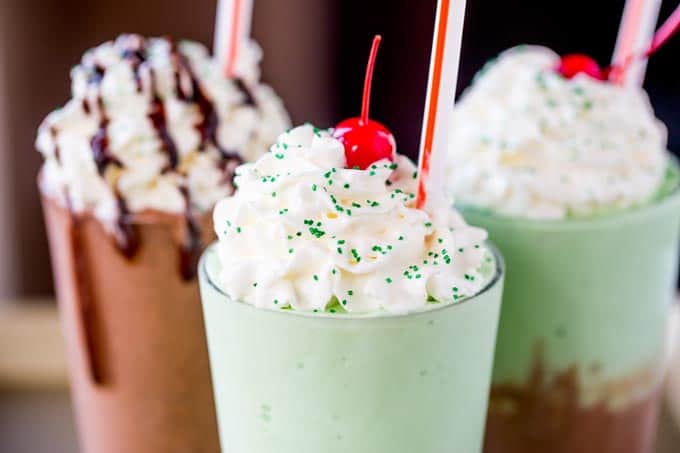 Tools Used in the Making of these McDonald's Shamrock Shakes:
Mint Extract: Make sure you are buying "Mint" not "Peppermint" here for authentic flavors.
Gel Colors: The green is easy to add, start in very small doses. For this recipe you can also totally use the Food Coloring Drops (and it may be easier to add one drop at a time as needed), I just always have gel on hand.
Maraschino Cherries: If you can source this in the store I would recommend doing that. Unless you want 74 ounces of Maraschino Cherries, I am linking more for you to see the type of Maraschino Cherries I mean.
Blender: Love my blender, we use it for smoothies 1-2 times a day (we drink smoothies non stop around here!).
Instant Espresso: Just a small spoonful into your chocolate shake will kick this up into the best mocha shake around.
Caramel Sauce: By far my favorite caramel sauce around, I use this anytime I want a hint of caramel and don't want to boil my own or if I don't have any heavy cream on hand to make some.
Chocolate Sauce: Same brand as the caramel sauce, tastes like homemade!
Awesome Straws you can't live without: I'm sure these are a limited time thing, don't miss out on all the awesome unicorn rainbow amazingness.