Rocky Road Candy is an easy recipe with just 3 ingredients. Yummy chewy holiday candy recipe made with melted chocolate, marshmallows, and toasted almonds!
This no-bake Candy Recipe is just as good as Rocky Road Fudge with way less work! Make a rocky road ice cream candy with just 3 simple ingredients.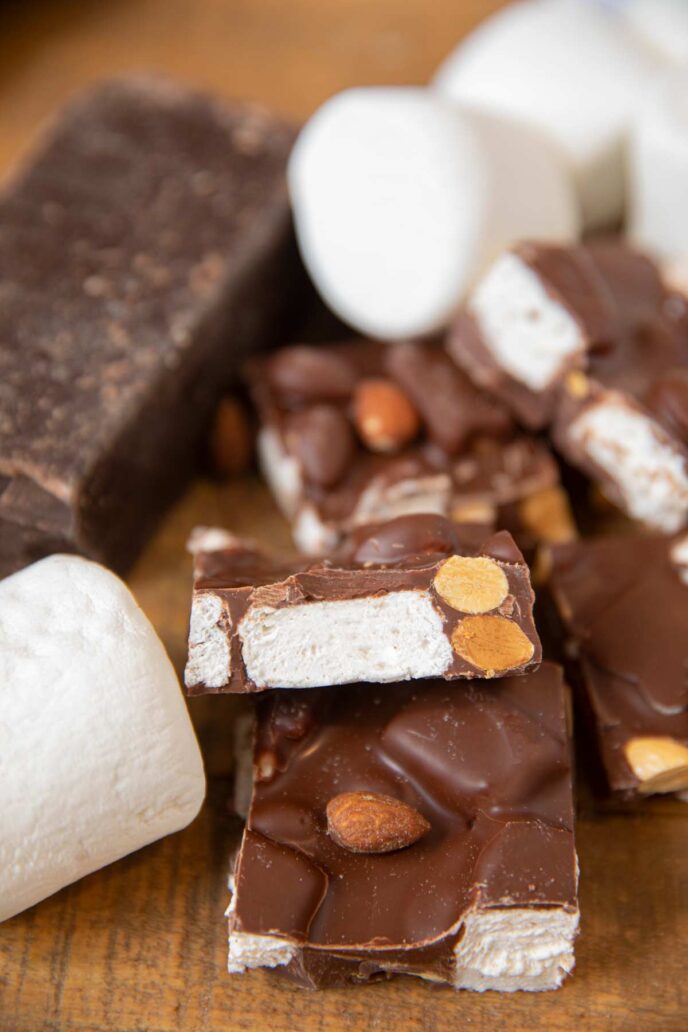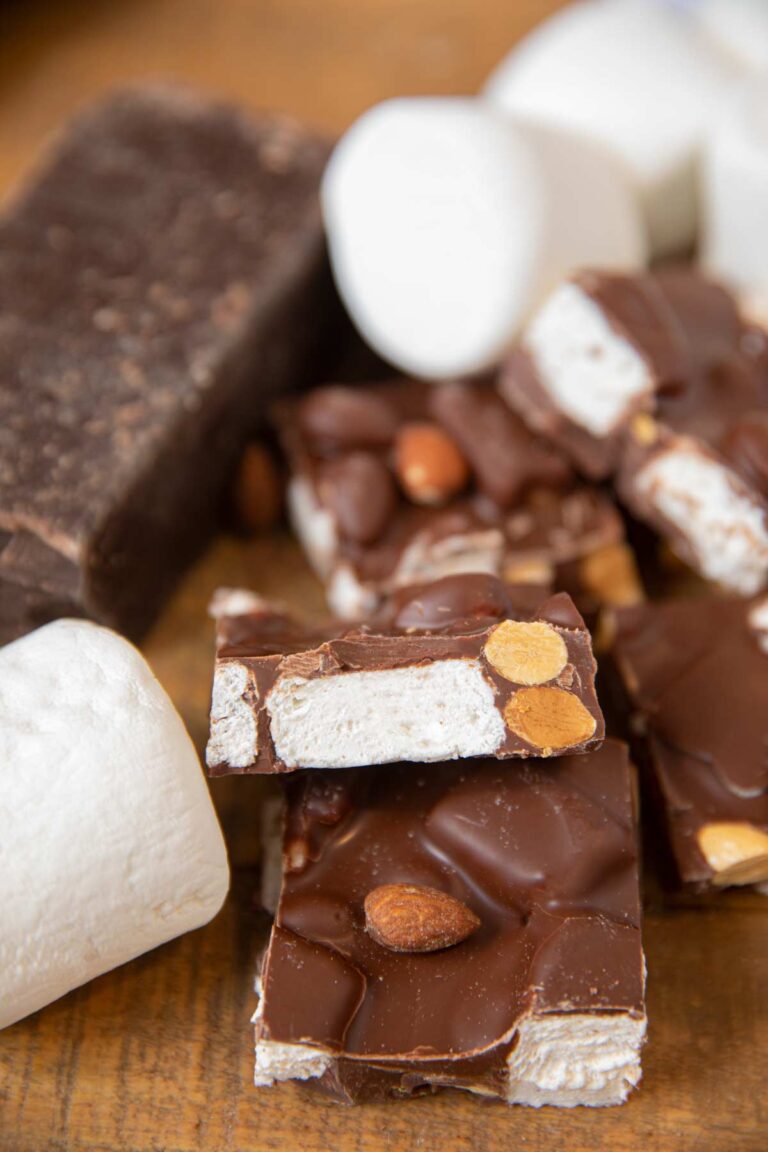 ROCKY ROAD CHOCOLATE CANDY
Rocky Road ice cream is hands down one the best flavors out there! Fudge ice cream, chewy mini marshmallows, crunchy almonds is a well-loved trio of flavors that taste perfect together. This delicious ice cream inspired candy recipe is a yummy, quick treat you can make all year long.
Rocky Road Candy proves that you only need 3 simple ingredients to make a dessert recipe everyone loves. Move over S'mores, there's a new marshmallow treat in town. This no bake candy has all the gooey marshmallows and creamy chocolate you love but way less messy!
For this Rocky Road Candy recipe you are going to use semi-sweet chocolate melting disks. You can find these in most grocery stores. This recipe gets even easier using a microwave instead of a double boiler. Just make sure to cool your chocolate for a few minutes before adding the marshmallows so they don't melt.
This Rocky Road Candy recipe uses jumbo marshmallows that have been quartered but you can easily use mini marshmallows too. Or if you are in an extra baking master mood, use Homemade Marshmallows. The best part of Homemade Marshmallows is that you can flavor and color them to match any holiday season!
The third ingredient in Rocky Road Candy (or trifecta of candy perfection) is toasted almonds. Either buy them already toasted or roast them in the oven yourself. Roast whole almonds in the oven at 350 degrees for about 12-15 minutes, shaking the baking sheet to flip about halfway through the cook time.
MORE DELICIOUS EASY CANDY!

Create a free account to

Save Recipes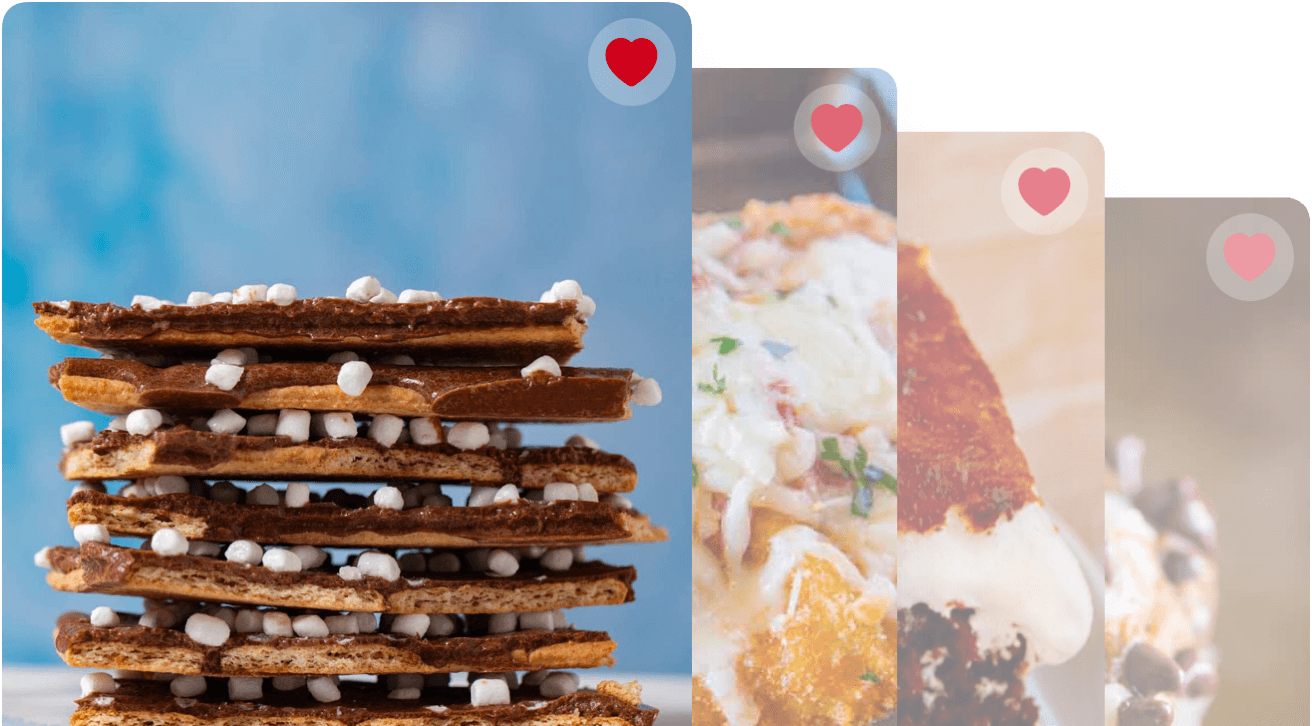 VARIATIONS ON ROCKY ROAD CANDY
Chocolate: Instead of melting chocolate disks, use semi-sweet chocolate chips, white chocolate chips or dark chocolate chips melted with a ⅛ cup butter. You can top your marshmallow chocolate mixture with chocolate chips.
Baking Chips: Top the chocolate mixture with your favorite baking chips like butterscotch chips, caramel chips, or peppermint chips when you add the toasted almonds.
Peppermint: For a festive Christmas Rocky Road Candy, sprinkle crushed peppermint candy canes on top before the chocolate sets.
Peanut Butter: Stir 2 tablespoons of creamy peanut butter into the melted chocolate and top with peanut butter chips for a classic chocolate peanut butter combo!
Marshmallows: If you have the time, try Homemade Marshmallows in this recipe! They are so delicious and chewy and full of flavor!
Nuts: Substitute other chopped nuts like roasted peanuts, toasted pecans, or chopped walnut pieces. If you want nut free candy, get the same salty crunch from pretzel pieces.
Oreos: Oreos go with pretty much everything. Sprinkle the top of the candy with your favorite crushed Oreo cookie bits before chilling.
Brownies: Chop up your leftover Rocky Road Candy into small chunks and add it to Fudge Brownie batter for an easy Rocky Road Brownie.
MORE EASY MARSHMALLOW DESSERTS
GIFTS!
These candies make great gifts. Wrap them up and gift them at Christmas or make them as homemade Easter Basket candy. They are best at room temperature, in a cool dry place, so that the marshmallows stay chewy. If you need to refrigerate, allow them to sit on the counter for a few minutes before serving.
It's also a perfect dessert recipe to make in large batches for parties or potlucks. Freeze your candy for later, it lasts up to 4 months! Use leftover Rocky Road Candy in Brownies Recipes (see variations below) or as a Vanilla Ice Cream mix in.
HOW TO STORE ROCKY ROAD CANDY
Serve: This candy can be kept at room temperature in a cool, dry place for up to 3 days in a plastic bag or covered with foil.
Store: Keep your Rocky Road Candy in the refrigerator for up to 1 week in an airtight container.
Freeze: This candy can be frozen for up to 4 months in a sealed container. Thaw in the refrigerator so moisture doesn't collect on the chocolate.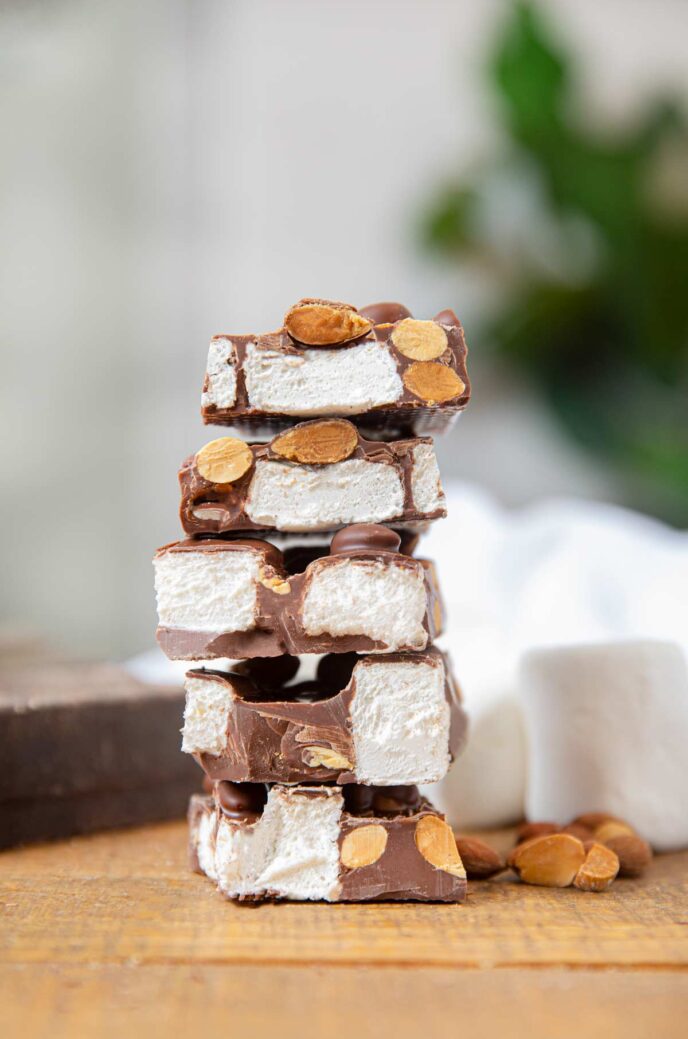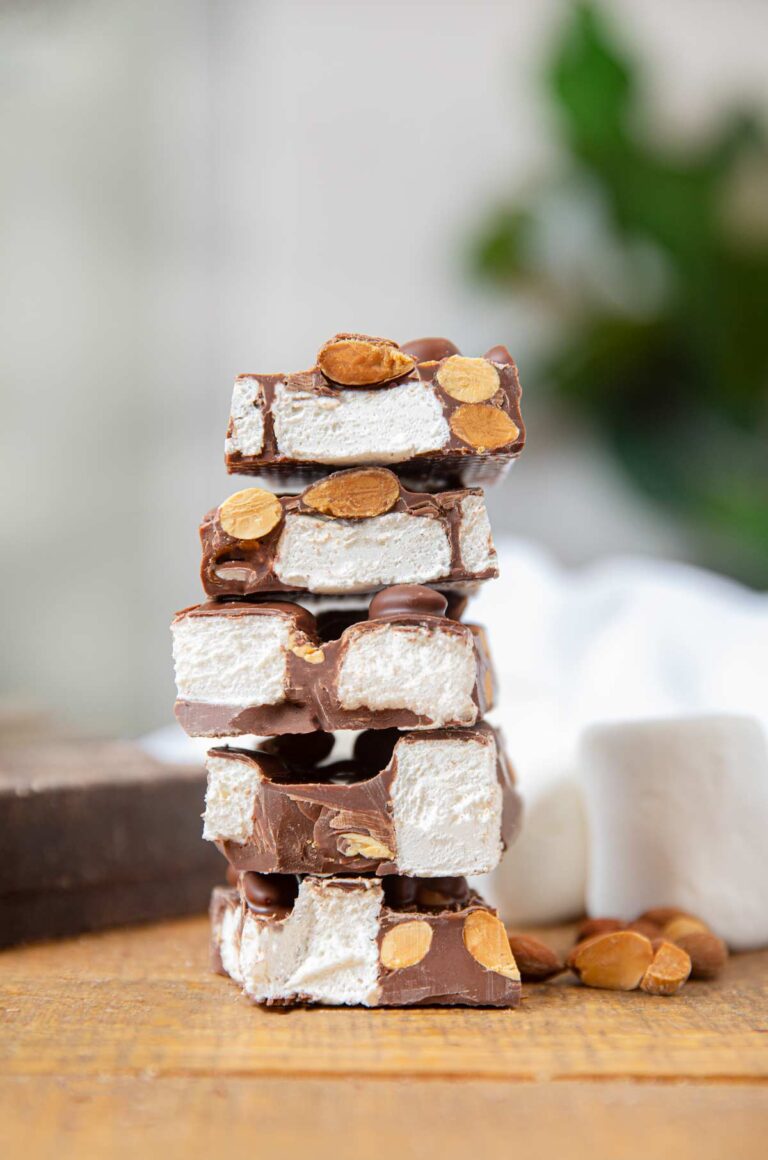 Instructions
Line an 8x8 inch pan with wax paper.

In a microwave-safe bowl, microwave chocolate disks stirring every

30 seconds

until melted. Allow to cool

2-3 minutes

.

Stir marshmallows into melted chocolate and pour into pan. Top with toasted almonds.

Refrigerate until hardened

15 minutes

, until firm. Break apart or cut into squares to serve.
Nutrition
Calories:
157
kcal
|
Carbohydrates:
13
g
|
Protein:
4
g
|
Fat:
11
g
|
Saturated Fat:
3
g
|
Cholesterol:
2
mg
|
Sodium:
10
mg
|
Potassium:
105
mg
|
Fiber:
2
g
|
Sugar:
9
g
|
Vitamin A:
32
IU
|
Vitamin C:
1
mg
|
Calcium:
56
mg
|
Iron:
1
mg