Rocky Road Ice Cream is a rich creamy homemade chocolate treat loaded with almonds and miniature marshmallows, made in an ice cream machine.
Enjoy this well-loved chocolate classic by the spoonful or with all your favorite recipes from the Dessert category. Like Vanilla Ice Cream which is a classic go-to recipe, you can easily recreate other flavors at home. You can also try Fried Ice Cream Dessert Casserole or the incredible No-Bake Banana Split Dessert!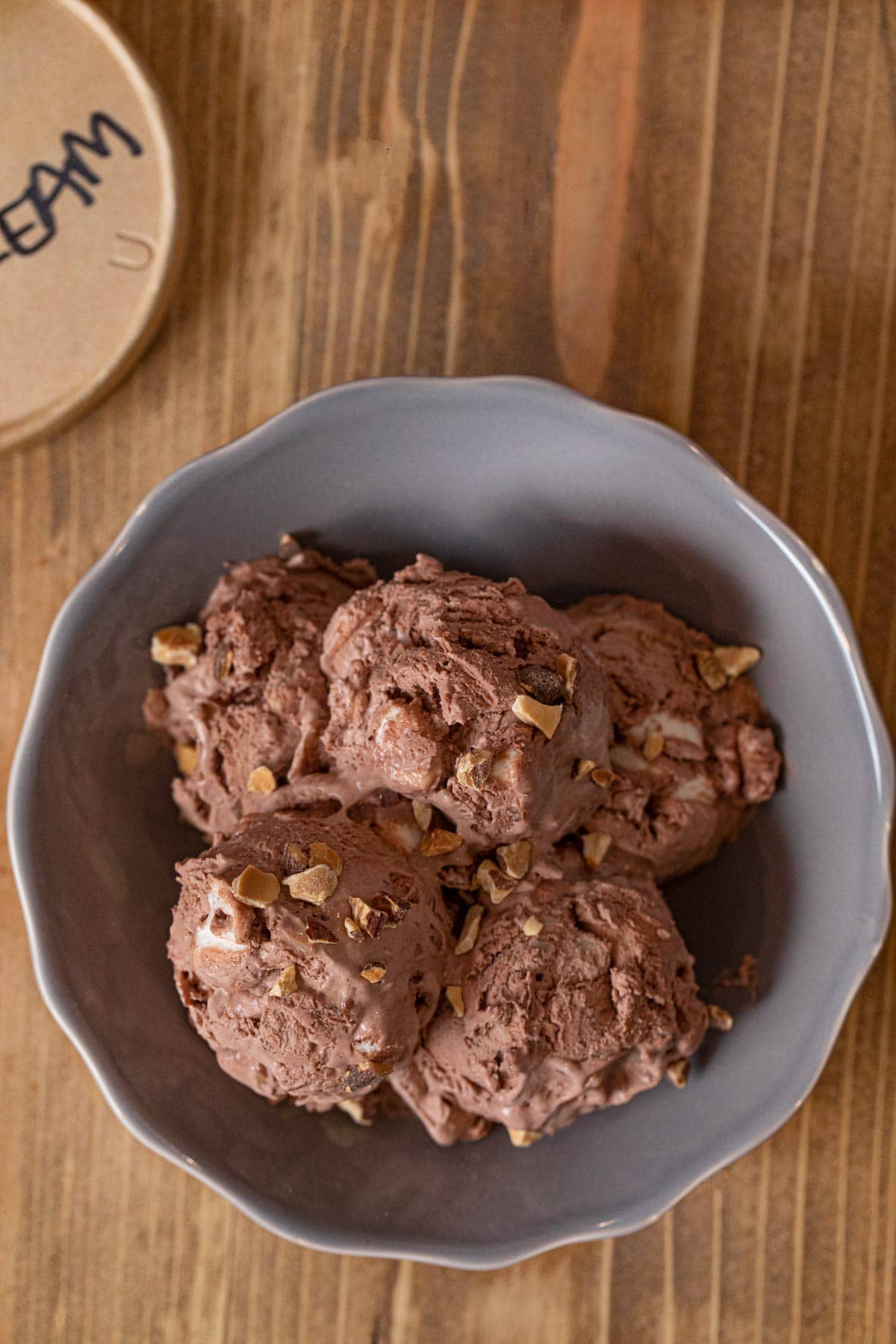 Once you start making ice cream at home, it's hard to stop. Homemade ice cream is way more decadent than anything you'll find in the freezer aisle. Plus the not-so-secret thing about ice cream is it's incredibly easy to make, especially if you have an ice cream maker. If you don't have an ice cream maker, we have you covered with two additional methods at the bottom of this post. Get ready for some churn-quality ice cream!
Our Rocky Road Ice Cream recipe results in a rich chocolate ice cream. It starts on the stove to make a quick custard, then cools down before letting the ice cream maker do all the work. Making a custard base can seem intimidating but it is worth the extra patience and attention. The rich custard base makes this creamy chocolate ice cream extra decadent, for the most indulgent Rocky Road Ice Cream ever! Plus, it's high fructose corn syrup free! 
Homemade Rocky Road Ice Cream is more than just a flavor combination, it's a perfect blend of every texture. The creamy, rich chocolate flavor is balanced with crunchy almonds and chewy marshmallows and makes the best chunky ice cream. This homemade custard ice cream stays slightly softer than regular ice cream so every heavenly bite melts in your mouth and just might easily become your favorite ice cream! And yes, we do add a pinch of salt to the mix which makes it even more delicious! 
How to Make Rocky Road Ice Cream
Making this basic ice cream recipe is not difficult, but there is a system to follow. And don't worry, if you don't have an ice cream maker, you'll find recipes for making this irresistible ice cream in other ways below. Check it out!
Step One: Whisk egg yolks and sugar together. Set the bowl to the side.
Step Two: In a saucepan, heat and mix the other ingredients on the stovetop to make the chocolate ice cream base. The key to making an egg custard base is to whisk constantly. If you stop stirring, the eggs will heat up and start to curdle. You need to keep the heat low so the hot milk isn't too hot and doesn't boil or scald. Scalding the milk will alter the flavor and your ice cream will not be as smooth and creamy.
Step Three: Take about a half cup of the chocolate mix and slowly pour it into the bowl of yolk and sugar mix, whisking constantly. 
Step Four: Pour that bowl mixture back into the pot while whisking constantly. It's also important to temper the eggs before adding them so they don't cook fast or scramble. Add a little hot chocolate mixture to the egg yolks first, then slowly add the egg mixture back to the pan in an even stream. Cook until thickened. 
Step Five: Turn off the heat and whisk until smooth. 
Step Six: Let it cool to room temperature, then cover and refrigerate for 2 hours. 
Step Seven: After it has cooled, whisk heavy cream and vanilla into the chocolate base. And then Stir in almonds and mini marshmallows.
Step Eight: Now, add the mixture to the ice cream maker and follow the machine's instructions. 
Step Nine: Once it has been in the freezer for at least 3 hours to harden, it will be ready to enjoy! 
More Awesome Ice Cream Recipes
Frequently Asked Questions
Are any special ingredients needed to make Rocky Road Ice Cream?
No. These are all common ingredients. To make Rocky Road Ice Cream at home, you need heavy cream, whole milk, granulated sugar, unsweetened cocoa powder, vanilla extract, salt, mini marshmallows, and chopped almonds. Having chopped chocolate pieces is optional. 
Can substitutions be made for any ingredients in the recipe?
Technically, yes substitutions can be made for some ingredients. For example, you can use coconut sugar or honey instead of granulated sugar. However, substitutions can affect the final taste and texture of the ice cream. We recommend only subbing the mix-ins. 
How long does it take to make Rocky Road Ice Cream at home?
It takes about 30-40 minutes to churn the ice cream in an ice cream maker, and then a few more hours to freeze it until it reaches the desired consistency. Overall, it can take about 6 hours to make Rocky Road Ice Cream at home. It's a fun all-day event the whole family can be involved in!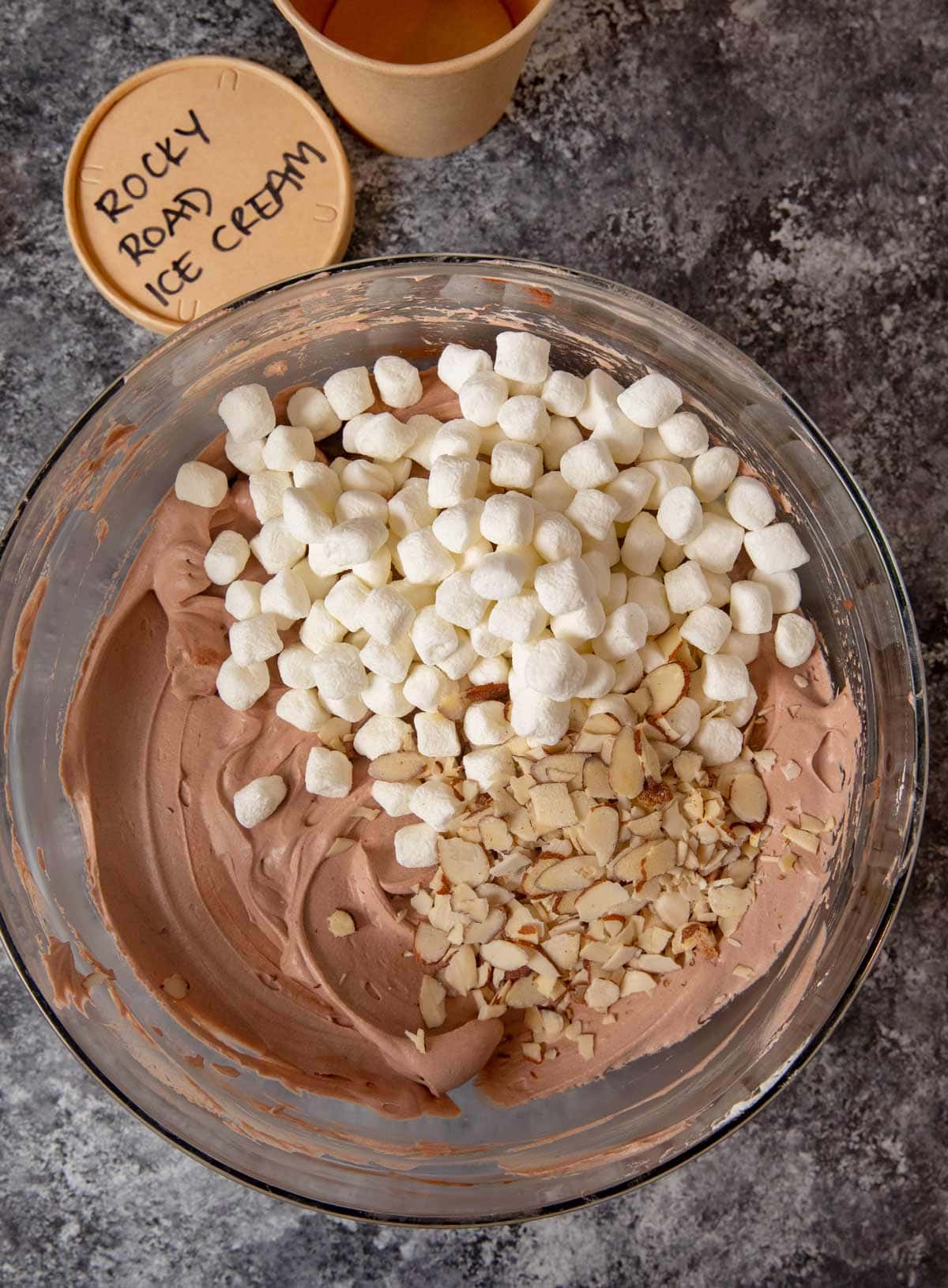 Create a free account to

Save Recipes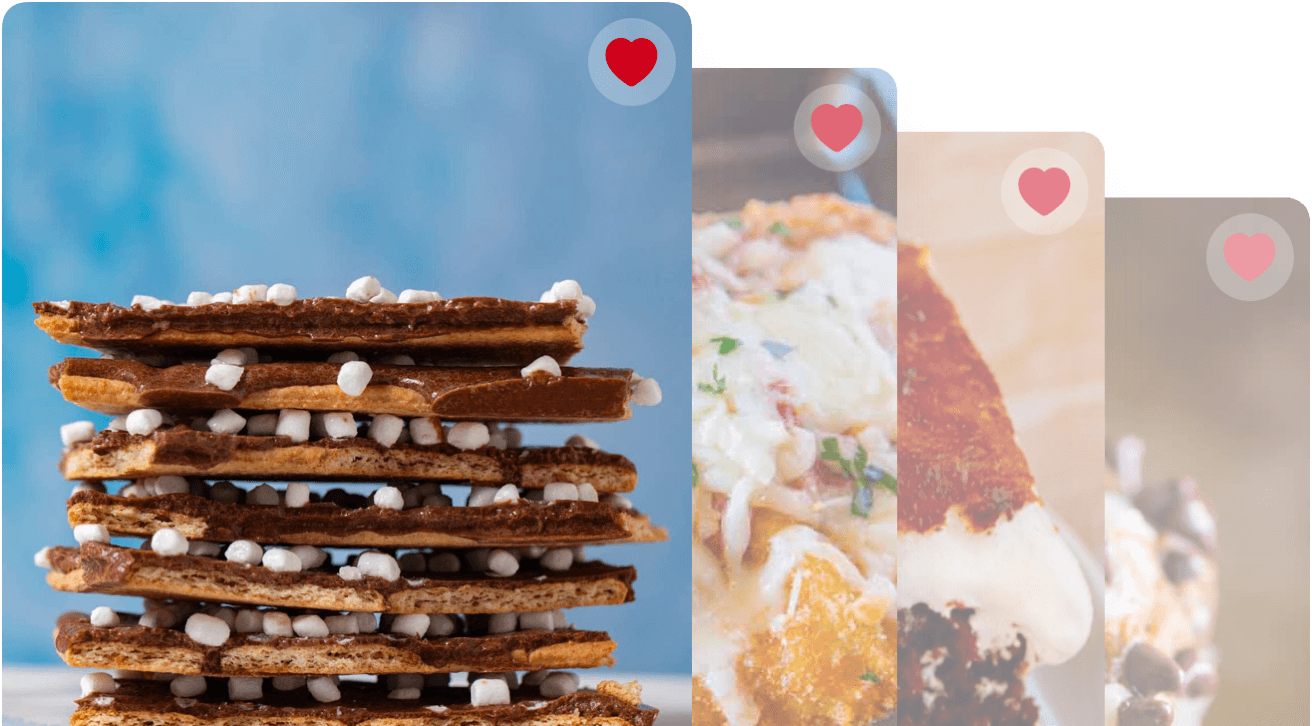 Key Ingredients in Rocky Road Ice Cream
Egg Yolks: Egg yolks are important for creating a smooth and creamy texture in the ice cream. They help stabilize the ice cream as it freezes.
Heavy Cream: Heavy cream also adds to the rich and creamy texture. Additionally, it adds fat to the mixture, which helps to give the ice cream a smooth and creamy mouthfeel.
Unsweetened Cocoa Powder: Cocoa powder provides the chocolate flavor in this recipe. It's important to use unsweetened cocoa powder, as the sugar in the recipe will provide the necessary sweetness.
Sugar: Sugar is essential for sweetening your ice cream. It's divided in this recipe and added to both the egg yolks and the warm milk mixture. You can use any regular granulated sugar. 
Add-Ins: The almonds and mini marshmallows add incredible texture and a bit of yummy flavor to the ice cream. The almonds provide a crunchy texture and nutty flavor, while the mini marshmallows add a chewy texture and sweetness. You don't want to skip these as they are essential to all things "Rocky Road". 
Variations on Rocky Road Ice Cream
Nuts: Swap the almonds for other chopped tree nuts like cashews, walnuts, or pecans, or use a mixed nut blend. For more chocolate goodness, add chopped Chocolate Covered Almonds.
Toasted Nuts: Use roasted almonds for a crunchier texture. Toasting the almonds will bring out the nutty, earthy flavor and make them slightly softer. Let the toasted almonds cool completely before adding them in.
Mix-Ins: Try other mix-ins in Rocky Road Ice Cream like pretzel pieces, chocolate-covered raisins, Edible Cookie Dough, chopped peanut butter cups, or peanut butter baking chips.
Chocolate: Fold in up to a ½ cup of semi-sweet chocolate chips, chocolate chunks, or chopped milk chocolate bars for chocolate bursts. You can also add a Hot Fudge swirl halfway through freezing. Any version of these in dark chocolate to the chocolate cream base is always a good option too!
Marshmallows: After the ice cream has been freezing for about an hour (so it's firmer but not frozen solid), stir in melted marshmallow creme for a marshmallow swirl. For crunchy sugary marshmallows, use mallow bits instead of mini marshmallows. You could also use Homemade Marshmallows for a completely made-from-scratch Rocky Road Ice Cream!
Electric Mixer Ice Cream Method
Freeze a large glass or metal mixing bowl for at least 12 hours, or overnight.
Prepare the Rocky Road Ice Cream up until the almonds and marshmallows (do not add).
Pour the chocolate ice cream mixture into the prepared frozen bowl.
Freeze for 30 minutes. Place it in the back of the freezer and try to keep the door closed.
Use an electric mixer on medium-high speed for 2-3 minutes to mix ice cream every 30 minutes until it is almost too stiff to mix.
Fold in almonds and marshmallows and beat one last time before freezing for at least 4 hours.
Shaken Salt and Ice Method
Fill a large container (big enough to hold a gallon size bag plus ice) halfway with ice and ¼ cup rock salt.
Prepare the Rocky Road Ice Cream mixture with almonds and marshmallows.
Pour the ice cream mixture into a gallon-sized plastic bag and remove as much air as you can before sealing it tightly.
Place the bag into the ice and salt mixture and seal the lid of the container.
Shake (or roll) the container for at least 10 minutes, until the mixture becomes more solid ice cream consistency.
Remove the bag from the container and scoop the ice cream into a container with a lid and freeze for at least 3 hours.
Can I make Rocky Road Ice Cream ahead of time?
Yes. In fact, it's recommended to prepare it in advance, as the ice cream needs time to freeze and set properly. Once it is churned and has set in the freezer, it can be stored in an airtight container in the freezer for up to two weeks. Just be sure to take it out of the freezer and let it sit at room temperature for a few minutes to soften before serving. 
How to Store Rocky Road Ice Cream
Serve: Freeze Rocky Road Ice Cream until firm, at least 3 hours before serving. To prevent ice crystals, cover the container with plastic wrap and wipe down any moisture before securing the lid.
Freeze: Keep Rocky Road Ice Cream for up to 3 months in an airtight container. For longer-lasting ice cream, store it in the back of the freezer so the ice cream temperature stays consistent. We recommend eating it up within two weeks for the best taste!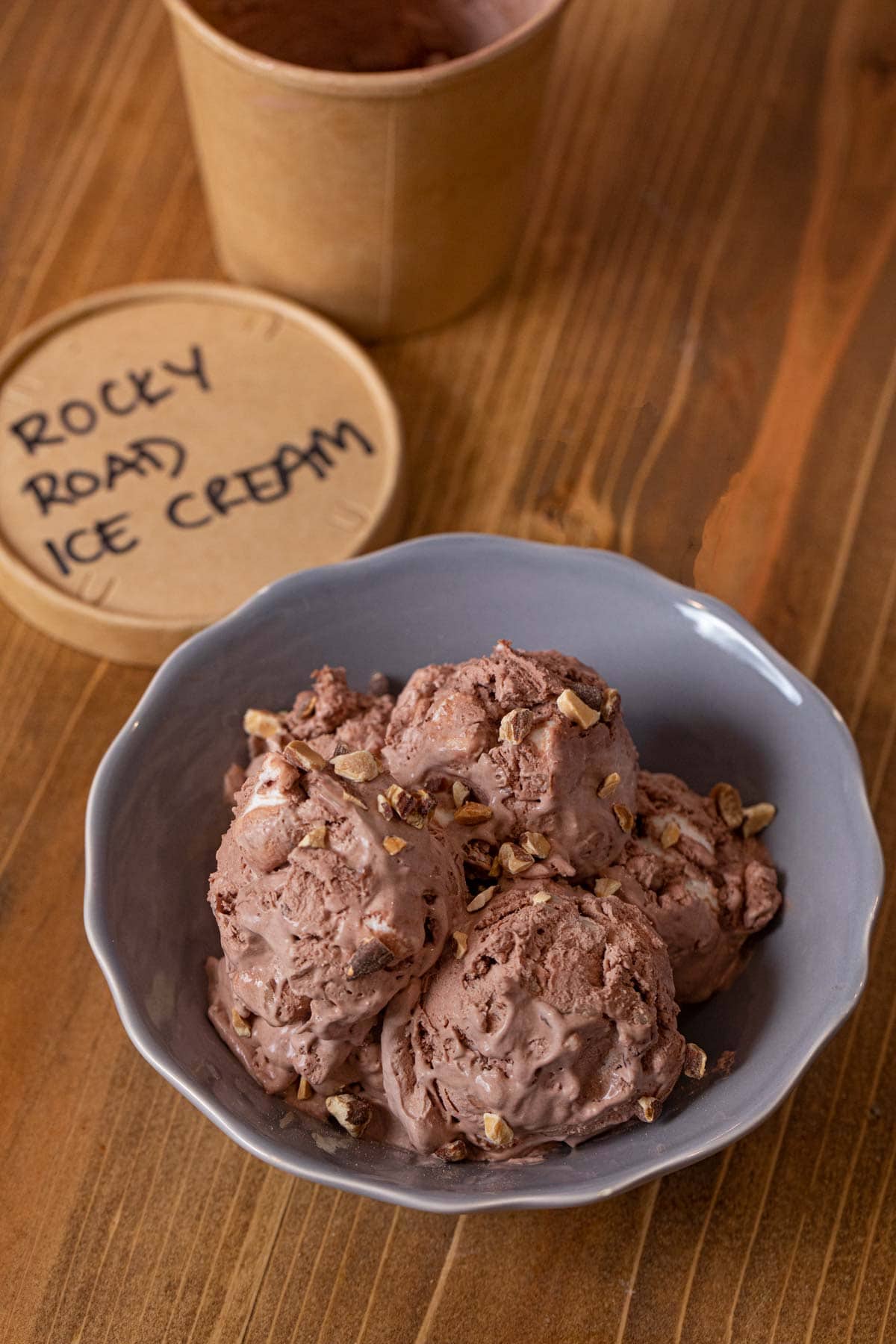 Ingredients
8

large

egg yolks

, lightly beaten

3/4

cup

sugar

, divided

1

cup

milk

1/4

teaspoon

salt

2

tablespoons

unsweetened cocoa powder

2

cups

heavy cream

1

teaspoon

vanilla extract

1

cup

almonds

, chopped

2

cups

mini marshmallows
Instructions
In a medium bowl whisk egg yolks and ¼ cup sugar well. Set to the side.

In a medium saucepan add the sugar, milk, salt and cocoa powder on medium heat.

Whisk non-stop and bring to a simmer, then reduce heat to low.

Add half of the chocolate mixture from the pot in a very slow thin stream to the egg yolk and sugar mix while whisking quickly to avoid cooking the eggs (do not stop whisking).

Pour the egg/chocolate mixture back into the original pot with the remaining chooclate slowly while whisking constantly.

Cook until mixture is thickened, about

8-10 minutes

(do not let boil or milk will taste scalded).

Turn off heat and whisk until smooth.

Let cool completely, then refrigerate (covered) for

2 hours

.

Whisk heavy cream and vanilla into the chocolate mixture.

Stir in almonds and mini marshmallows.

Add chocolate custard to your ice cream maker (per machine instructions) then freeze for at least

3 hours

to harden before serving.
Nutrition
Calories:
396
kcal
|
Carbohydrates:
30
g
|
Protein:
7
g
|
Fat:
29
g
|
Saturated Fat:
13
g
|
Trans Fat:
1
g
|
Cholesterol:
223
mg
|
Sodium:
102
mg
|
Potassium:
204
mg
|
Fiber:
2
g
|
Sugar:
23
g
|
Vitamin A:
954
IU
|
Vitamin C:
1
mg
|
Calcium:
119
mg
|
Iron:
1
mg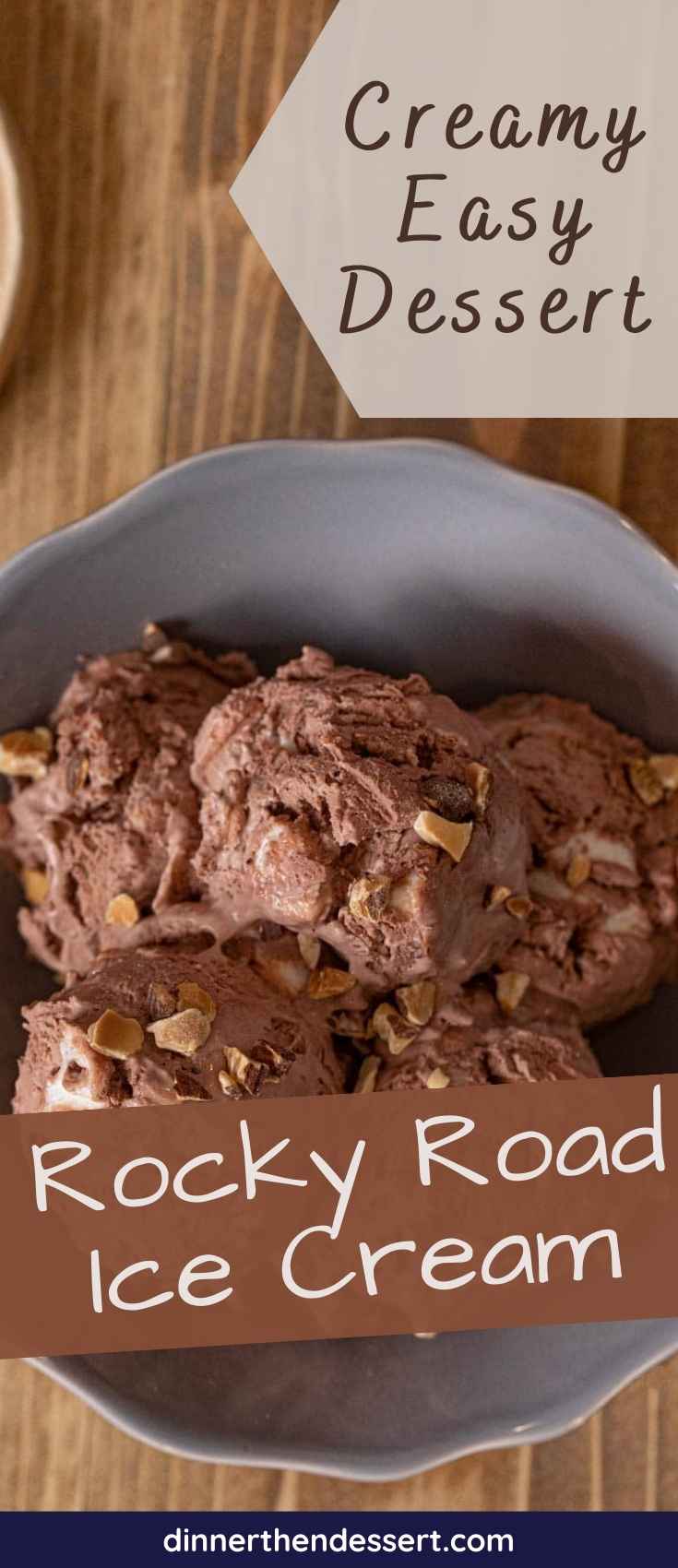 Photos used in a previous version of this post.