Easy Rocky Road Ice Cream is a rich creamy homemade chocolate ice cream recipe loaded with almonds and miniature marshmallows, made in an ice cream machine.
Vanilla Ice Cream is a go-to recipe, but you can easily recreate other flavors at home. Enjoy this well loved chocolate classic by the spoonful or with all your favorite Desserts.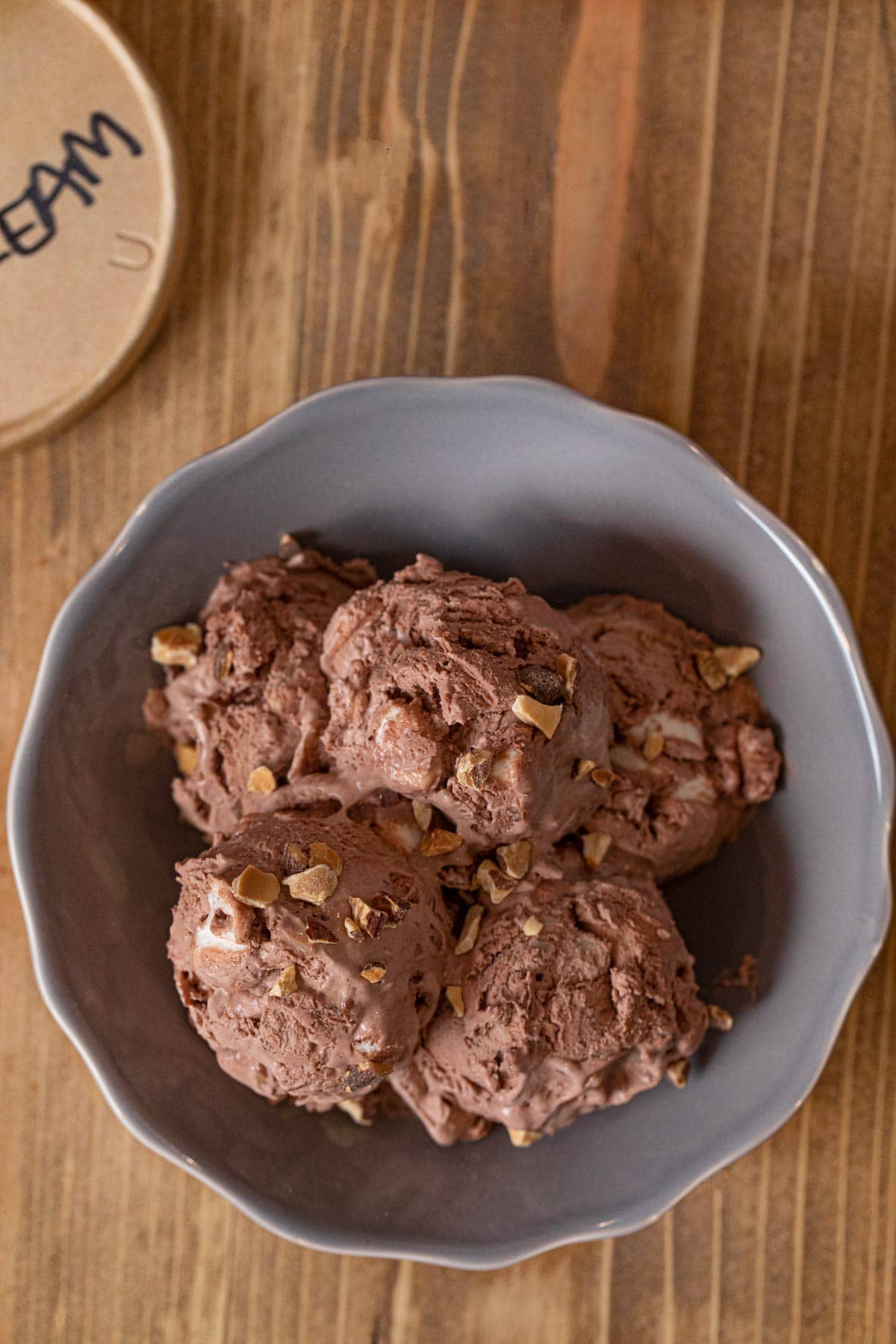 ROCKY ROAD ICE CREAM
Once you start making ice cream at home, it's hard to stop. Homemade ice cream is way more decadent than anything you'll find in the freezer aisle. Plus the not-so-secret thing about ice cream is it's incredibly easy to make, especially if you have an ice cream maker. If you don't have an ice cream maker, we have you covered with two additional methods in the bottom of this post.
Our Rocky Road Ice Cream starts on the stove to make a quick custard, then cools down before letting the ice cream maker do all the work. Making a custard base can seem intimidating but it is worth the extra patience and attention. The rich custard base makes this creamy chocolate ice cream extra decadent, for the most indulgent Rocky Road Ice Cream ever!
Rocky Road Ice Cream is more than just a flavor combination, it's a perfect blend of every texture. The creamy, rich chocolate flavor is balanced with crunchy almonds and chewy marshmallows. This homemade custard ice cream stays slightly softer than regular ice cream so every heavenly bite melts in your mouth.
MORE DELICIOUS CHOCOLATE MARSHMALLOW RECIPES:
Tips for Making Rocky Road Ice Cream
Toasting the almonds will bring out the nutty, earthy flavor and make them slightly softer. Let the toasted almonds cool completely before adding.
The key to making an egg custard base is to whisk constantly. If you stop stirring, the eggs will heat up and start to curdle.
It's also important to temper the eggs before adding so they don't cook fast or scramble. Add a little hot chocolate mixture to the egg yolks first, then slowly add the egg mixture back to the pan in an even stream.
You need to keep the heat low so the milk doesn't boil or scald. Scalding the milk will alter the flavor and your ice cream will not be as smooth and creamy.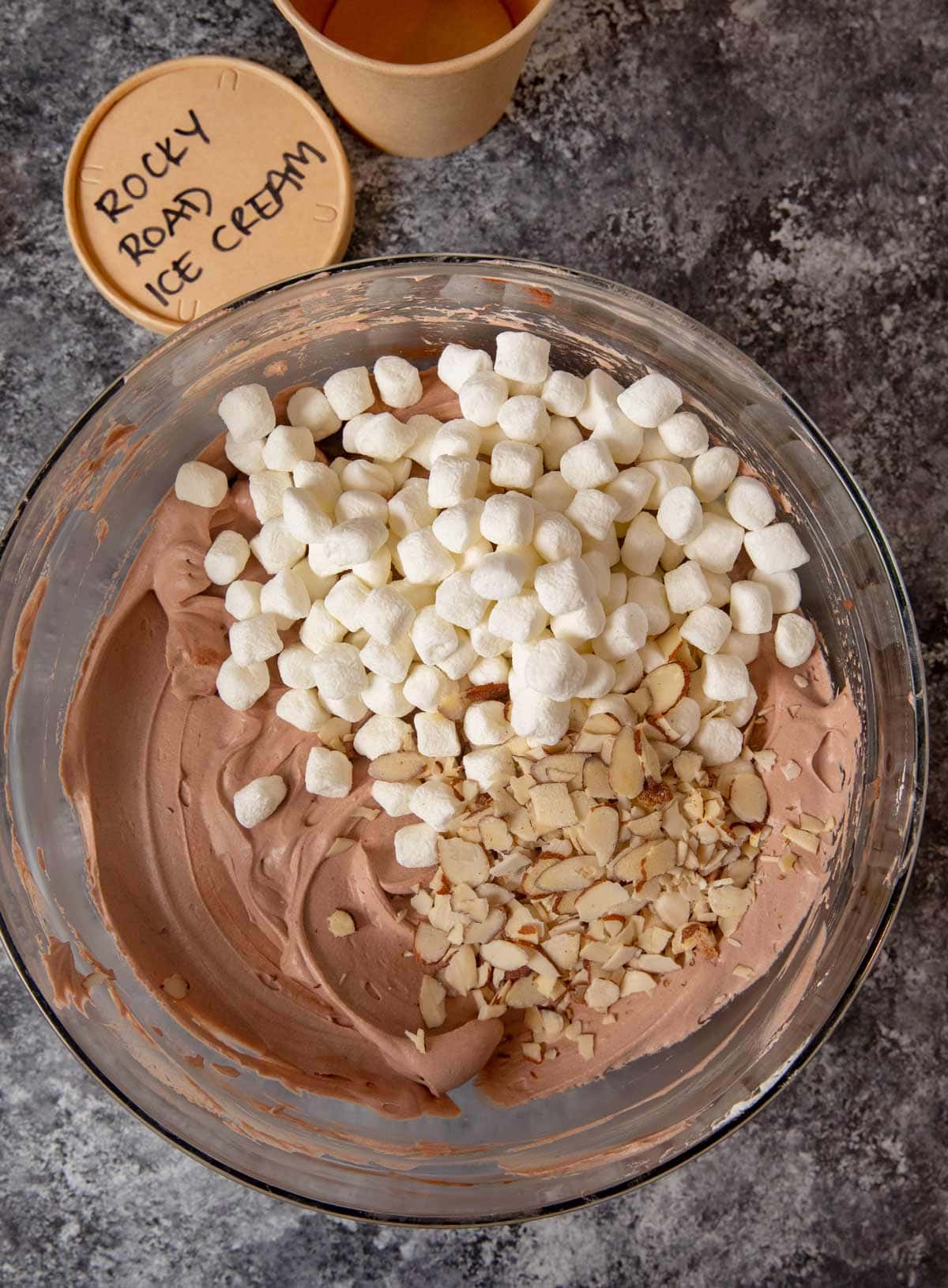 VARIATIONS ON ROCKY ROAD ICE CREAM
Electric Mixer Ice Cream Method
Freeze a large glass or metal mixing bowl at least 12 hours, or overnight.
Prepare the Rocky Road Ice Cream up until the almonds and marshmallows (do not add).
Pour chocolate ice cream mixture into prepared frozen bowl.
Freeze for 30 minutes. Place in the back of the freezer and try to keep door closed.
Use an electric mixer on medium high speed for 2-3 minutes to mix ice cream every 30 minutes until it is almost too stiff to mix.
Fold in almonds and marshmallows and beat one last time before freezing at least 4 hours.
Shaken Salt and Ice Method
Fill a large container (big enough to hold a gallon size bag plus ice) halfway with ice and 1/4 cup rock salt.
Prepare the Rocky Road Ice Cream mixture with almonds and marshmallows.
Pour ice cream mixture into a gallon sized plastic bag and remove as much air as you can before sealing tightly.
Place bag into the ice and salt mixture and seal lid of container.
Shake (or roll) the container for at least 10 minutes, until the mixture becomes more solid ice cream consistency.
Remove the bag from container and scoop ice cream into a container with a lid and freeze for at least 3 hours.
MORE TASTY EASY FROZEN TREATS!
HOW TO STORE ROCKY ROAD ICE CREAM
Serve: Freeze Rocky Road Ice Cream until firm, at least 3 hours before serving. To prevent ice crystals, cover container with plastic wrap and wipe down any moisture before securing lid.
Freeze: Keep Rocky Road Ice Cream for up to 3 months in an airtight container. For longest lasting ice cream, store in the back of the freezer so the temperature stays consistent.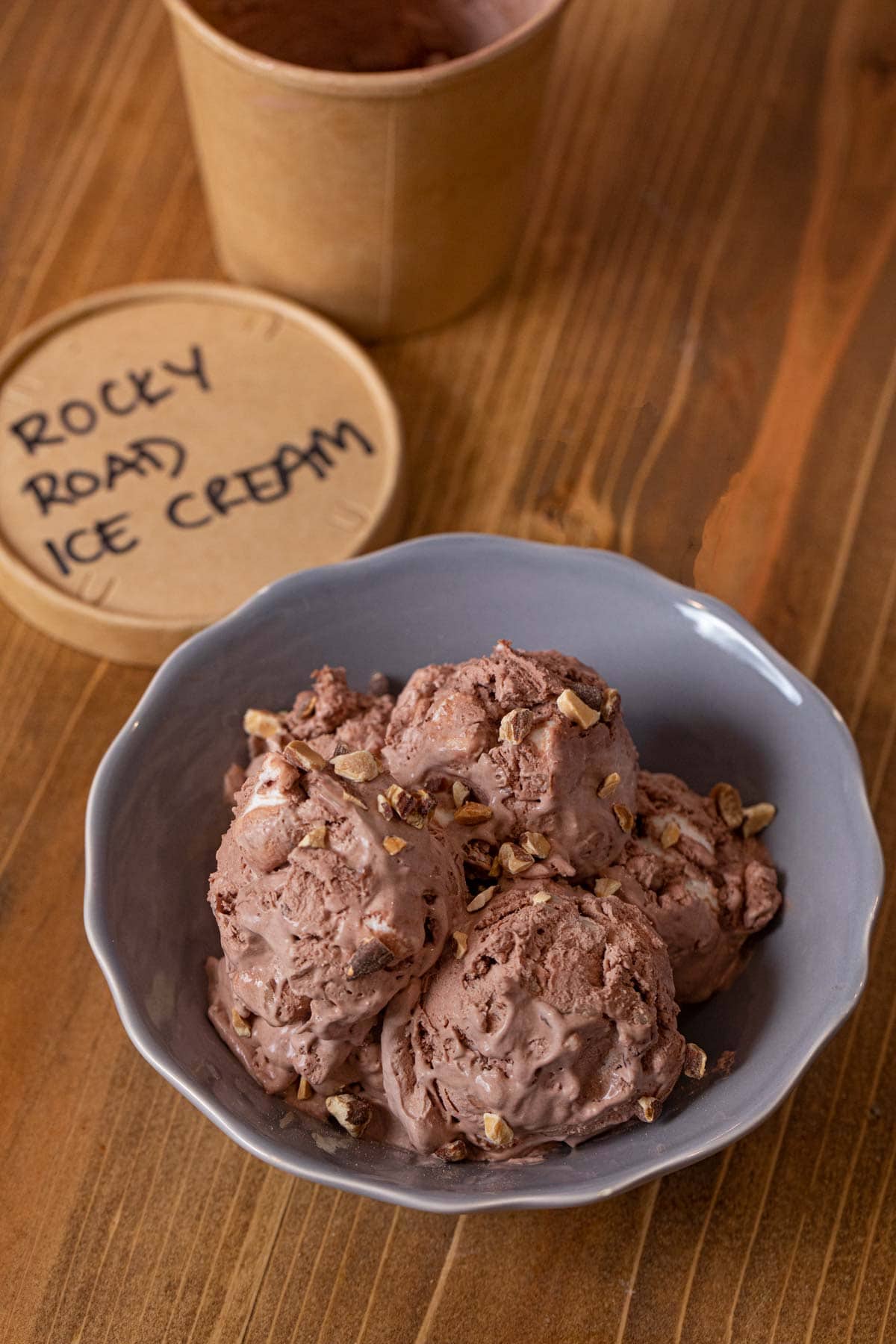 Recipe
Save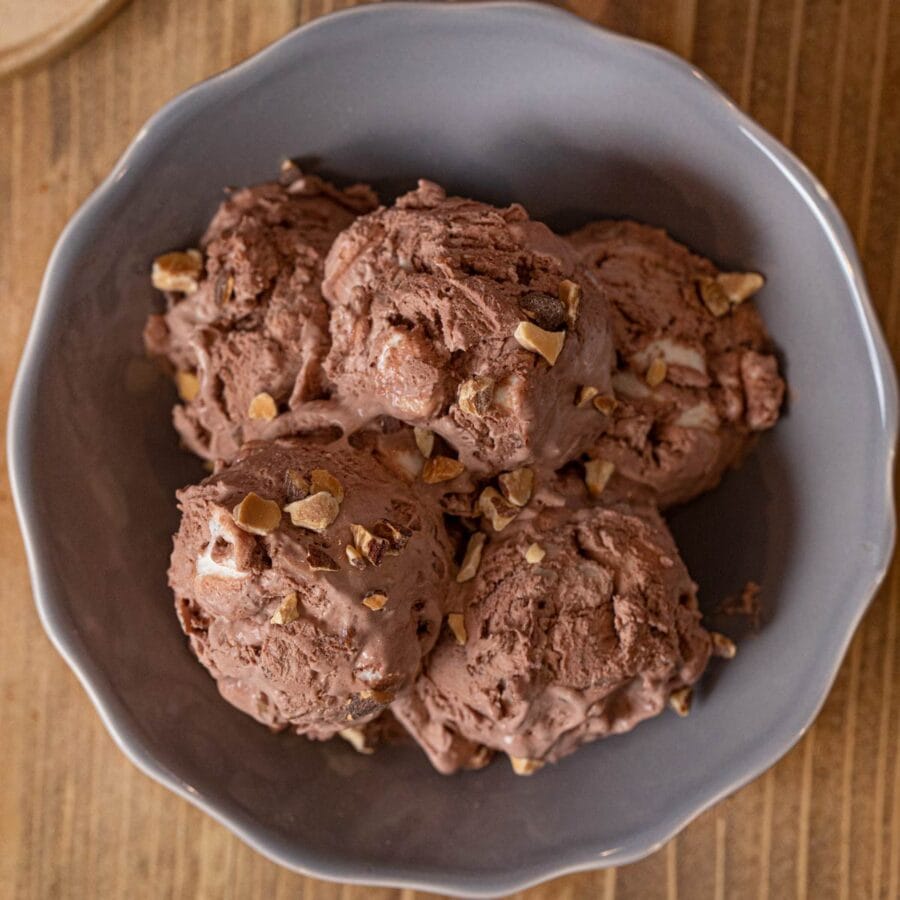 Rocky Road Ice Cream
Yield:

10

servings

Prep Time:

20

minutes

Cook Time:

10

minutes

Total Time:

5

hours

30

minutes

Course: Dessert
Cuisine: American
Author: Sabrina Snyder
Easy Rocky Road Ice Cream is a rich creamy homemade chocolate ice cream recipe loaded with almonds and miniature marshmallows, made in an ice cream machine.
Ingredients
8

large

egg yolks

, lightly beaten

3/4

cup

sugar

, divided

1

cup

milk

1/4

teaspoon

salt

2

tablespoons

unsweetened cocoa powder

2

cups

heavy cream

1

teaspoon

vanilla extract

1

cup

almonds

, chopped

2

cups

mini marshmallows
Instructions
Note: click on times in the instructions to start a kitchen timer while cooking.
In a medium bowl whisk egg yolks and 1/4 cup sugar well.

In a medium saucepan add the sugar, milk, salt and cocoa powder on medium heat.

Whisk non-stop and bring to a simmer, then reduce heat to low.

Add 1/2 cup chocolate mixture in a very slow thin stream to the egg yolks while whisking quickly (do not stop whisking).

Pour the egg/chocolate mixture back into the pot slowly while whisking constantly.

Cook until mixture is thickened, about 8-10 minutes (do not let boil or milk will taste scalded).

Turn off heat and whisk in chocolate until smooth.

Let cool completely, then refrigerate (covered) for 2 hours.

Whisk heavy cream and vanilla into the chocolate mixture.

Stir in almonds and mini marshmallows.

Add chocolate custard to your ice cream maker (per machine instructions) then freeze for at least 3 hours to harden before serving.
Nutrition Information
Yield: 10 servings, Amount per serving: 396 calories, Calories: 396g, Carbohydrates: 30g, Protein: 7g, Fat: 29g, Saturated Fat: 13g, Trans Fat: 1g, Cholesterol: 223mg, Sodium: 102mg, Potassium: 204mg, Fiber: 2g, Sugar: 23g, Vitamin A: 954g, Vitamin C: 1g, Calcium: 119g, Iron: 1g
All images and text © for Dinner, then Dessert.
Keyword:
Rocky Road Ice Cream
Save