Chocolate Chip Cookie Dough Ice Cream is made with a rich vanilla custard base and eggless chocolate chip cookie dough. It's the perfect summer treat!
Creamy Vanilla Ice Cream with chunks of cookie dough is the ultimate Dessert Recipe to share with family and friends. Serve up scoops in waffle cones for a delicious, easy, and refreshing treat.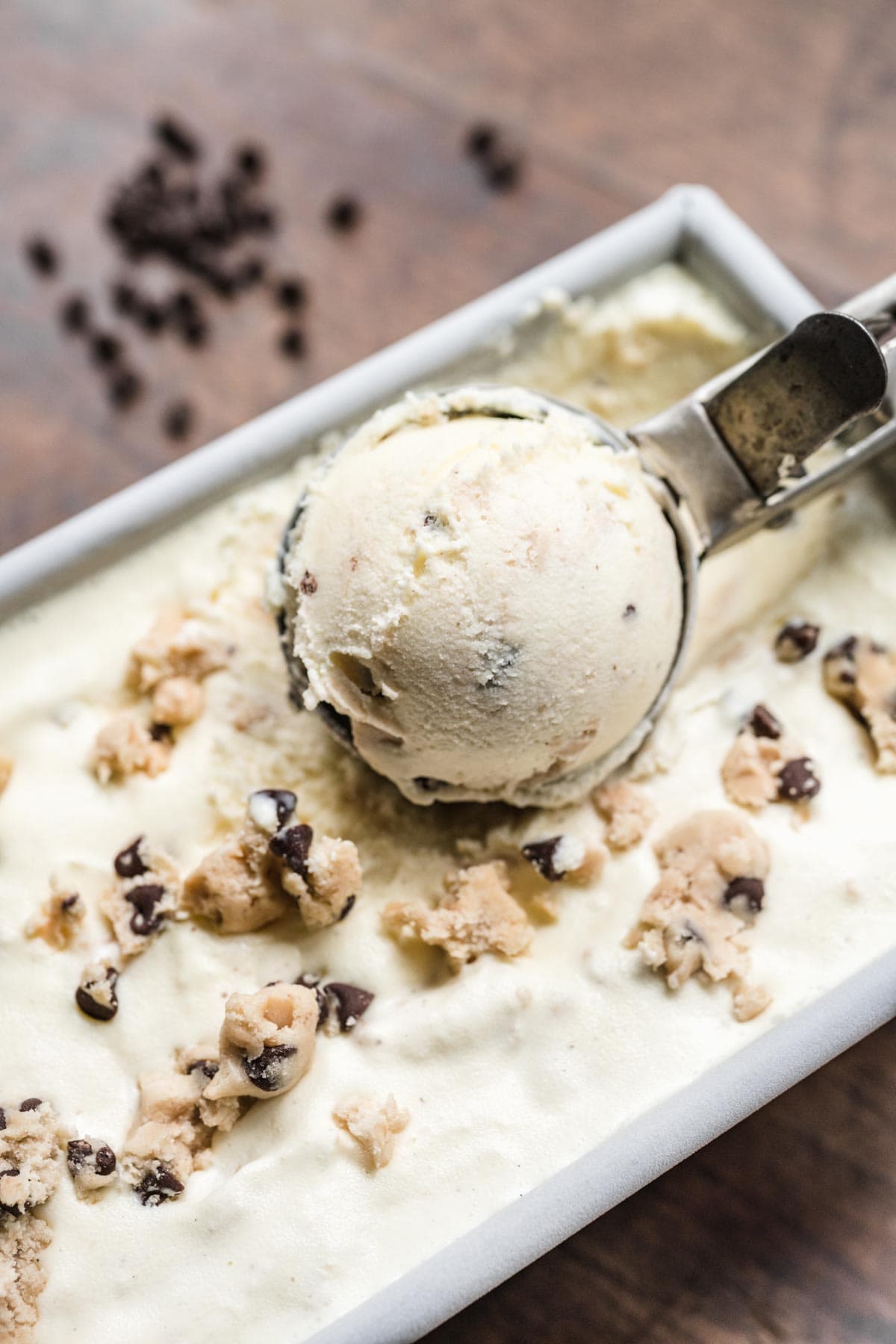 This dreamy ice cream recipe is the perfect combination of rich, creamy vanilla with chocolate chip cookie dough pieces throughout. Ice cream with cookie chunks is an all-time favorite flavor in our house. The regular ice cream base gets just enough added texture and excitement with tasty cookie dough chunks in each ice cream scoop.
While you can easily get this dessert from the frozen section of your grocery store, from time to time it's nice to try out ice cream recipes yourself. Especially during the spring and summer (aka ice cream season) making your favorite ice cream is a fun and delicious way to pass the time.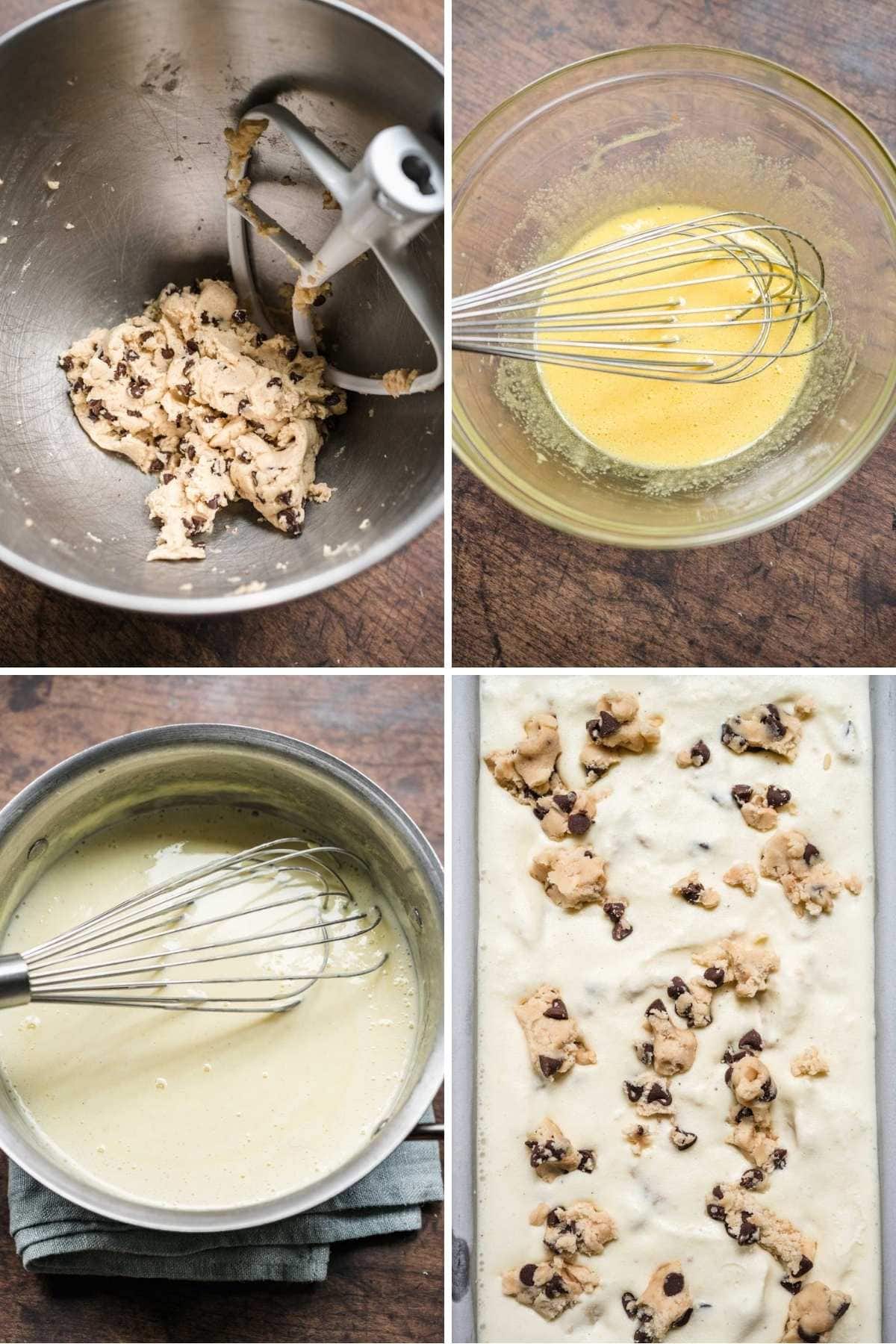 You don't even have to stop with cookie dough. With simple ingredients and easy-to-follow directions, you can make your choice of ice cream that's worthy of any ice cream shop. Try Peach, Chocolate, Coffee, or Oreo to get your favorite ice cream taste straight from your own kitchen.
MORE FROZEN DESSERTS
TIPS FOR MAKING CHOCOLATE CHIP COOKIE DOUGH ICE CREAM
Heat-treat: Add the flour to a microwave-safe bowl and microwave it in 15-second increments. Stir in between each session. This will kill any bacteria so that it's safe to use in a no-bake treat.
Dough: Add the butter, granulated sugar, and brown sugar to a mixing bowl. Cream the ingredients for 2-3 minutes until they're fluffy and noticeably lighter in color. Mix in the water and vanilla. Once that's smooth, stir in the flour, salt, and mini chocolate chips. Refrigerate the mixture while you make the ice cream batter.
Custard: In a separate bowl whisk the egg yolks with ¼ cup sugar until well-combined. Add the remaining sugar, heavy whipping cream, whole milk, vanilla bean paste, and salt to a saucepan over medium heat. Whisk while it comes to a simmer then reduce to medium-low heat. Slowly pour ½ cup of the hot cream mixture into the eggs, whisking continuously. Pour the egg-custard back into the pot and whisk while it cooks for 8-10 minutes. The custard should thicken, but be careful not to let it boil or the recipe will taste scalded. Pour the pot into a heat-proof bowl. Once it's cooled, cover it and store it in the fridge for 2 hours.
Churn: Take the cookie dough from the fridge and break it into bite-sized pieces. Follow the ice cream maker instructions, and add the custard to the ice cream machine. While it churns add the pieces of cookie to the mix.
Set: Freeze the recipe for at least 3 hours before serving.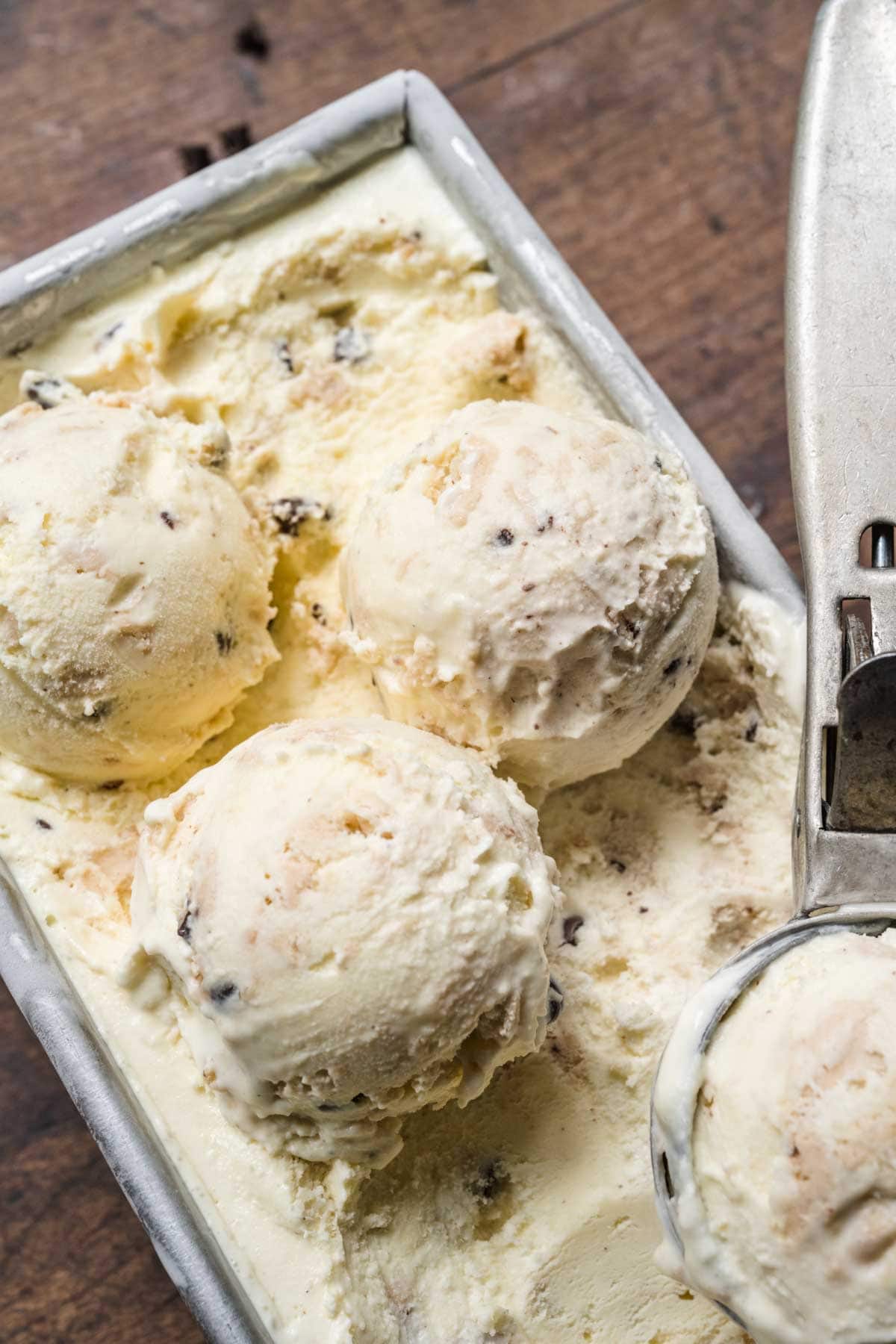 Create a free account to

Save Recipes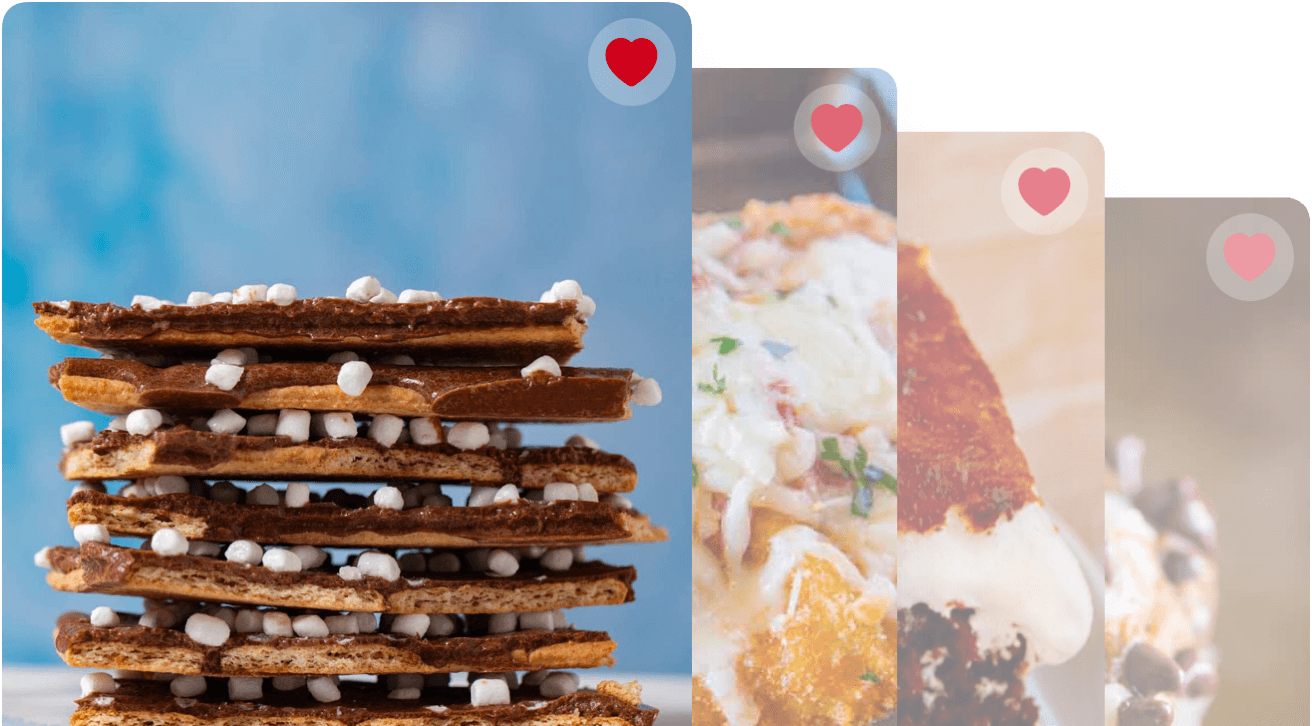 VARIATIONS ON COOKIE DOUGH ICE CREAM
Chocolate Ice Cream: You can make the same ice cream with chocolate flavor. Simply whisk ½ cup unsweetened cocoa powder into the ingredients for rich, chocolatey, perfect ice cream.
Mix-ins: Add any of your favorite ice cream mix-ins to this recipe. Try stirring in crumbs from Oreos, vanilla wafers, or chocolate chip cookies. Some other options are pistachios, walnuts, almonds, raisins, or toffee bits.
Toppings: You can also spoon toppings over the finished ice cream like Caramel Sauce, melted peanut butter, Fudge Sauce, or Cool Whip would all taste great.
Vegan ice cream: To make light ice cream with no dairy products, you'll have to change the recipe quite a bit. In the cookie dough, replace the butter and chocolate chips with vegan substitutes. You'll also need to pick a non-dairy milk like almond or coconut milk for the ice cream. Add 1 ½ cups of plant-based milk, sugar, and salt into a saucepan over medium heat. Mix 2 tablespoons cornstarch with a separate ½ cup of milk substitute. Add the milk mixture to the pan, and mix. Cook until thickened. Remove from the stove and whisk in the vanilla. Let it chill in the fridge. Then add the cookie mixture and freeze it in your ice cream maker.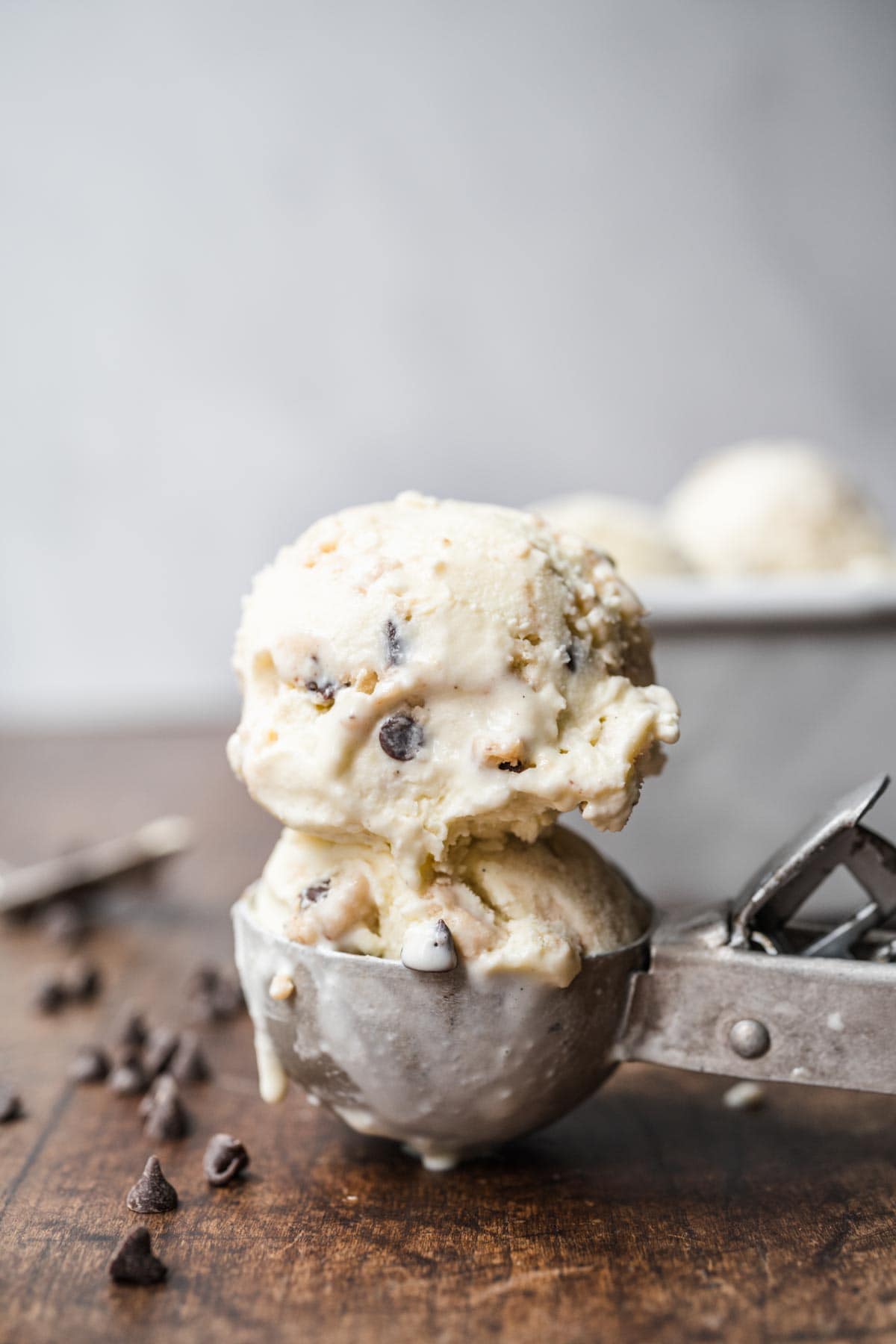 MORE COOKIE DOUGH RECIPES
HOW TO STORE CHOCOLATE CHIP COOKIE DOUGH ICE CREAM
Serve: Make sure you leave it in the freezer for at least 3 hours before serving the ice cream. Don't leave it at room temperature for more than a half-hour or so. Transfer leftovers to an airtight container to store.
Freeze: Kept in a freezer-safe container it will last for up to 2 weeks.


Ingredients
Eggless Cookie Dough:
4

tablespoons

unsalted butter

, softened

2

tablespoons

sugar

3

tablespoons

brown sugar

, packed

1

tablespoons

water

1

teaspoon

vanilla extract

2/3

cups

flour

1/8

teaspoon

kosher salt

1/3

cup

mini semisweet chocolate chips
Ice Cream:
4

large

egg yolks

, lightly beaten

3/4

cup

sugar

2

cups

heavy cream

2

cups

whole milk

1

tablespoon

vanilla bean paste

1/4

teaspoon

salt
Instructions
Eggless Cookie Dough:
Add the flour to a microwave-safe bowl and microwave in

15-second

increments 5 times, stirring in between each increment.

In a bowl with a mixer or a stand mixer, cream the butter and sugars until they are noticeably lighter in color and very fluffy. This usually takes

2-3 minutes

.

Add in water and vanilla and mix for a couple of seconds then add in the flour, salt, and chocolate chips, mixing until combined.

Refrigerate.
Ice Cream:
In a medium bowl whisk eggs well with ¼ cup sugar.

In a medium saucepan add the rest of the sugar, heavy cream, whole milk, vanilla bean paste, and salt on medium heat.

Whisk non-stop and bring to a simmer, then reduce heat to low.

Add ½ cup vanilla bean mixture in a very slow thin stream to the egg yolks while whisking quickly (do not stop whisking).

Pour the egg/custard mixture back into the pot slowly while whisking constantly.

Cook until mixture is thickened, about

8-10 minutes

(do not let boil, or milk will taste scalded).

Turn off heat and pour into a metal bowl or other heatproof bowl.

Let cool completely, then refrigerate (covered) for

2 hours

.

Remove chocolate chip cookie dough from the refrigerator.

Add custard to your ice cream maker (per machine instructions).

While churning, break pieces of cookie dough into the mixture.

Freeze for at least

3 hours

to harden before serving.
Nutrition
Calories:
420
kcal
|
Carbohydrates:
36
g
|
Protein:
5
g
|
Fat:
29
g
|
Saturated Fat:
17
g
|
Polyunsaturated Fat:
1
g
|
Monounsaturated Fat:
8
g
|
Trans Fat:
1
g
|
Cholesterol:
156
mg
|
Sodium:
132
mg
|
Potassium:
168
mg
|
Fiber:
1
g
|
Sugar:
27
g
|
Vitamin A:
1021
IU
|
Vitamin C:
1
mg
|
Calcium:
106
mg
|
Iron:
1
mg