Cookie Dough Bars are chocolate chip cookie batter made without flour or eggs that are no bake! You can also use for your favorite dessert as toppings.
You can make it from scratch or if you've recently made Edible Cookie Dough Balls, Eggless Cookie Dough or Eggless S'Mores Cookie Dough you can use any leftover batter to make a whole new dessert.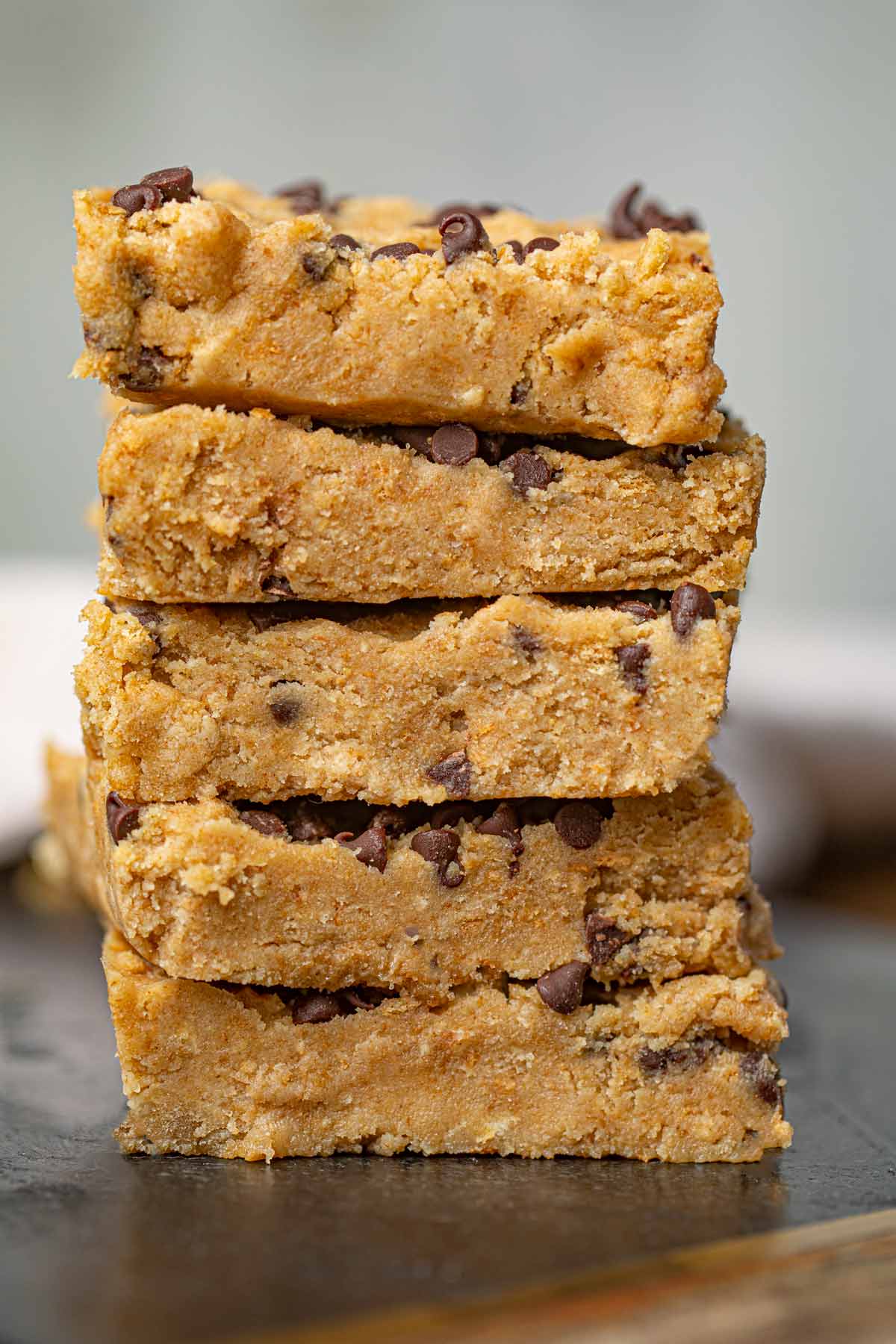 COOKIE DOUGH BARS
The best part of these chilled cookie bars is that you can steal all the tastes you want from the bowl without being scolded about the dangers of eating raw flour and eggs.
No bake cookie dough bars take all of the best parts of raw cookie dough and serves them up chilled and delicious. Cookie dough bars are also extremely shareable, which makes them perfect for get-togethers with friends or picnics with a cooler.
While you couldn't put these bars into the oven and bake them like regular cookies, edible cookie dough is still delicious and tastes like traditional cookie dough, texture and all.
HOW TO MAKE COOKIE DOUGH BARS
Get out two baking sheets and line them with parchment paper. You should probably use larger baking pans for this recipe in order to get the right shape.
Use an electric mixer or a stand mixer to beat the unsalted butter, the brown sugar and the vanilla together until they are light and fluffy.
Mix in the graham crackers, the salt and the milk and then fold in the semi-sweet chocolate chips.
With a rubber spatula, smooth the batter out onto the baking sheets so that it is flat. You can press extra chocolate chips into the top to make it fancy.
Put the whole thing in the fridge and let it set. Then, cut it into bars and serve up with a side of Homemade Ice Cream.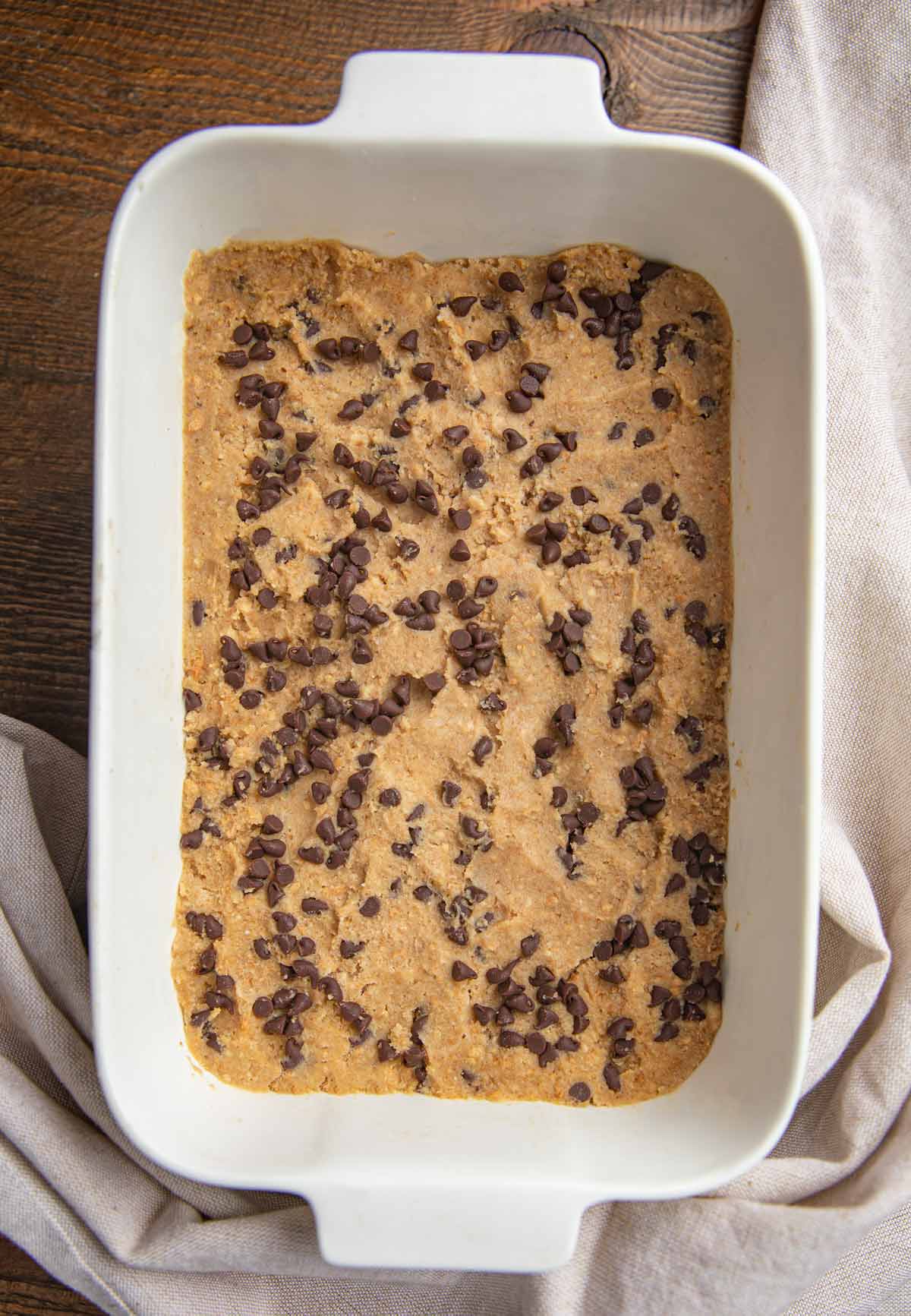 VARIATIONS
Edible cookie dough is extremely customizable, and you can mix in ingredients from other edible cookie dough recipes to fit the occasion. Here are some fun ingredients that you can use to mix my no bake chocolate chip cookie dough bars up a bit.
Peanut butter: creamy peanut butter is great in everything from cheesecake to satay, including no bake cookie dough bars. Mix peanut butter into the batter for a rich, nutty flavor. If you don't like peanut butter, or are allergic to it, you can also use almond butter to get a rich flavor. Don't be afraid to try chunky peanut butter if you want to add some crunch without the extra step of stirring in chopped peanuts.
Chocolate: for this edible cookie dough recipe I used semi sweet chocolate chips, but you can use white, dark or milk chocolate chips if you want to change up the flavor.
Oreo: you can crush up Oreos to add in the batter if you're tired of chocolate chips. Oreos taste amazing chilled and they add some crunch to the edible cookie dough.
Vegan: you can make my recipe into a vegan friendly version easily by replacing the butter and milk. I recommend using margarine and almond milk. Just know that you might need to mess with the quantities to get the right taste.
Condensed milk: if you want to sweeten up your cookie dough but don't want to add more sugar, you can add a little condensed milk. Condensed milk also has the benefit of keeping the dough moist, but be careful that you don't use too much and turn the dough into a runny mess.

Create a free account to Save Recipes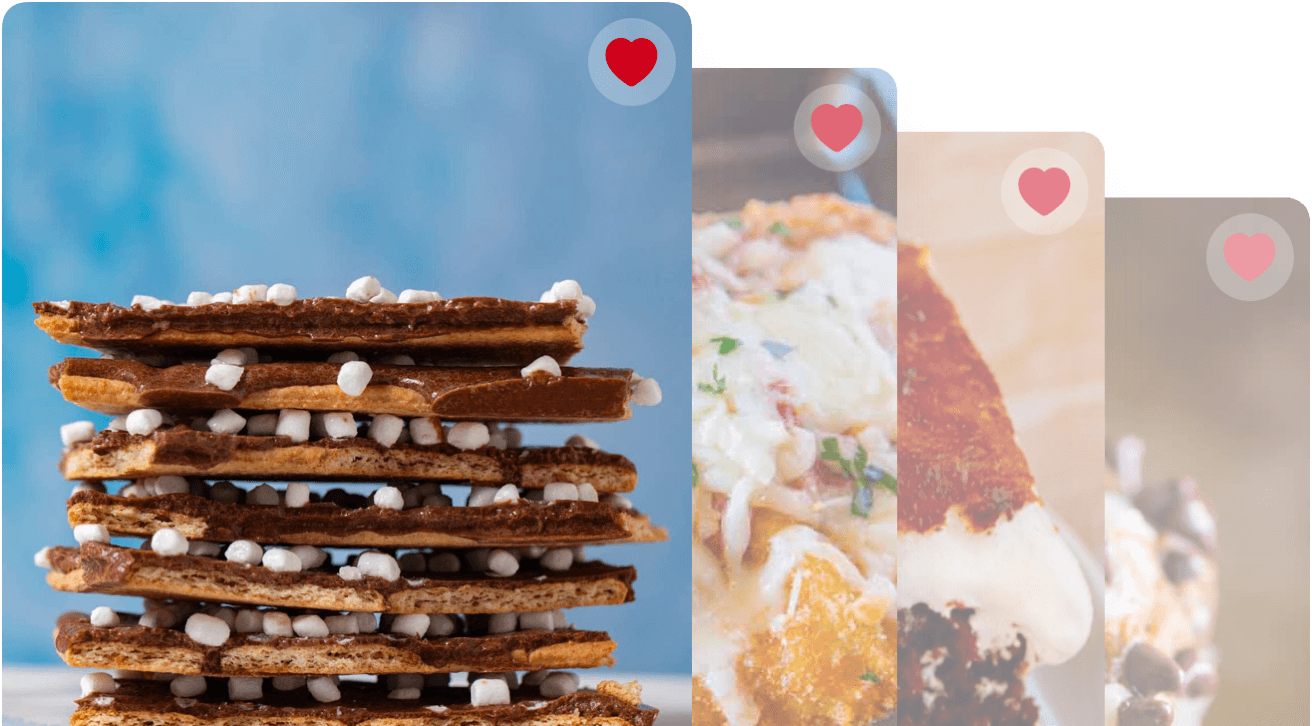 HOW IS THIS DIFFERENT FROM REGULAR COOKIE DOUGH?
Edible cookie dough and cookie dough that's intended for baking are very different.
This recipe is egg-free and flour-free, because eating raw eggs or raw all purpose flour can make you sick. Please don't think you can go around eating packages of raw cookie dough because of my no bake version.
While some companies have started making edible cookie dough that you can get at the store, there's something about making it yourself that makes it taste even better. Maybe it's because most of us remember sneaking tastes of homemade cookies before they made it into the oven.
Plus their version is made using heat treated flour, this version is made using graham crackers which actually has more cookie flavors to it. The flavors here are WAY better, I promise. Try and compare. Then let me know in the comments below how you like it.
How to Store Cookie Dough Bars:
Serve: These contain dairy, so don't leave your cookie dough bars at room temperature for more than 2 hours.
Store: Edible cookie dough is good in the fridge for about 1 week.
Freeze: You can freeze them for about 6 months if wrapped well in plastic wrap.
Edible cookie dough is absolutely delicious, and this easy recipe for chilled cookie dough bars is incredibly quick to make.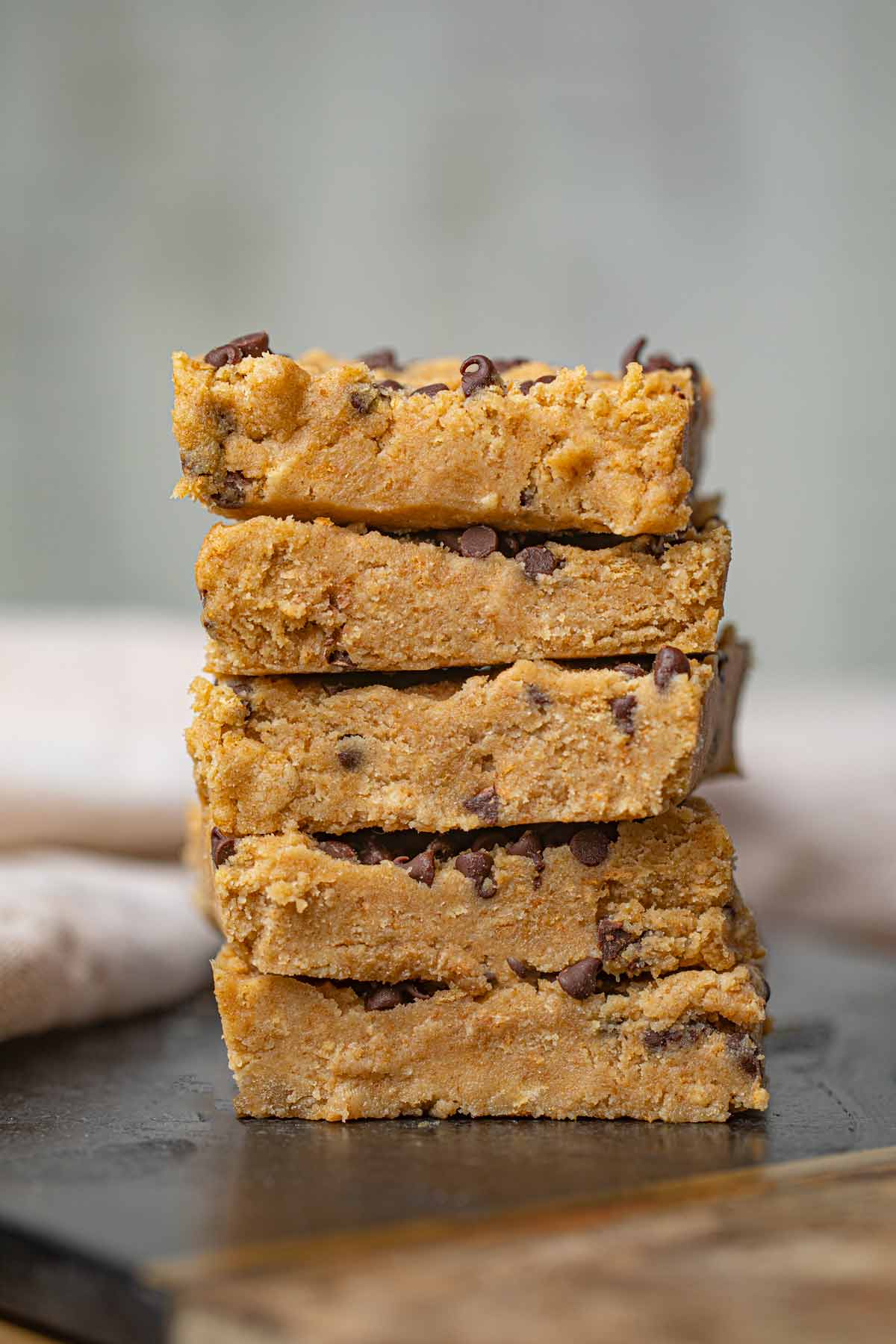 Ingredients
1 1/2

cups

unsalted butter

, softened

1 1/2

cups

brown sugar

, packed

1

tablespoon

vanilla extract

1/3

cup

whole milk

3 1/4

cups

graham cracker crumbs

1/2

teaspoon

salt

1 1/2

cups

semi-sweet mini chocolate chips
Instructions
Add your butter, brown sugar, vanilla and milk to a stand mixer on medium speed for

1-2 minutes

until light and fluffy.

Add in the graham crackers, salt and chocolate chips until combined.

Press the mixture into an 8x8 baking pan lined with parchment paper and refrigerate for

4 hours

.
Nutrition
Calories:
437
kcal
|
Carbohydrates:
45
g
|
Protein:
3
g
|
Fat:
28
g
|
Saturated Fat:
16
g
|
Cholesterol:
48
mg
|
Sodium:
198
mg
|
Potassium:
195
mg
|
Fiber:
2
g
|
Sugar:
32
g
|
Vitamin A:
550
IU
|
Calcium:
55
mg
|
Iron:
2.3
mg