Peach Ice Cream is the perfect summer treat! The smooth peach sauce is mixed into the creamy ice cream base for sweet and tart, refreshing fruit flavor.
There's nothing better for hot weather than easy Frozen Desserts to cool you down. Homemade peach ice cream is great to serve up in waffle cones to enjoy outside on a hot day. Or, scoop it over your favorite peach desserts like Southern Peach Pie and Raspberry Peach Pie.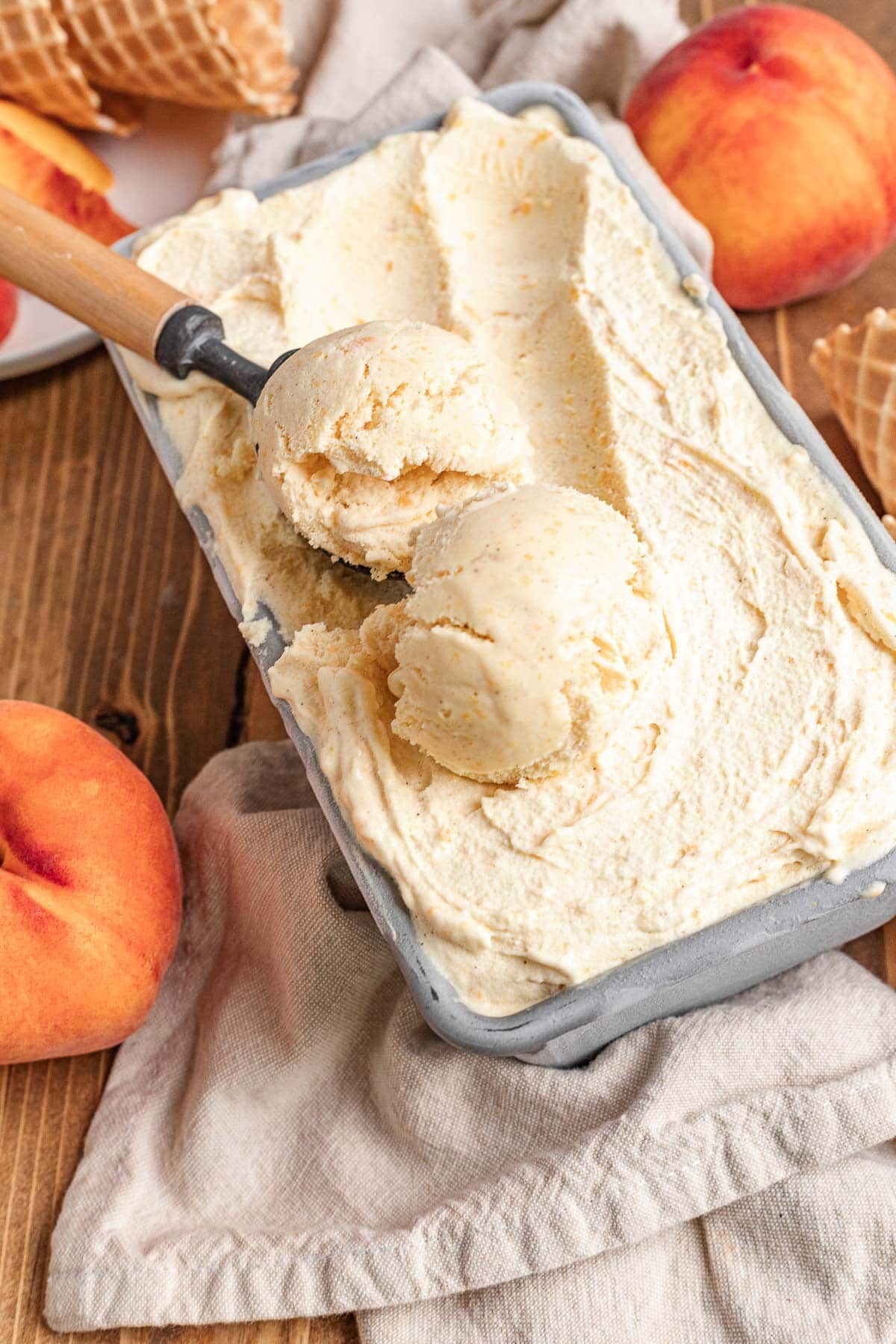 Creamy ice cream and ripe peaches come together perfectly in this recipe. The peach juices simmer down into a sweet puree that mixes with the Vanilla Ice Cream base for a flavorful and silky-smooth ice cream texture. If you like cream over peaches, this soft ice cream takes it to the next level in a chilled dessert perfect for a warm summer day.
Homemade ice cream recipes are not only a delicious dessert but making it can be a fun family activity. The ripe peaches and custard base come together in just a few steps. Depending on the age of your helpers, you might want to handle cooking the ice cream mixture and peach puree on your own, but your kids can easily help stir the ice cream mixture and peaches together. Then follow the ice cream machine instructions to finish the creamy, cold delicious, old-fashioned fresh peach ice cream.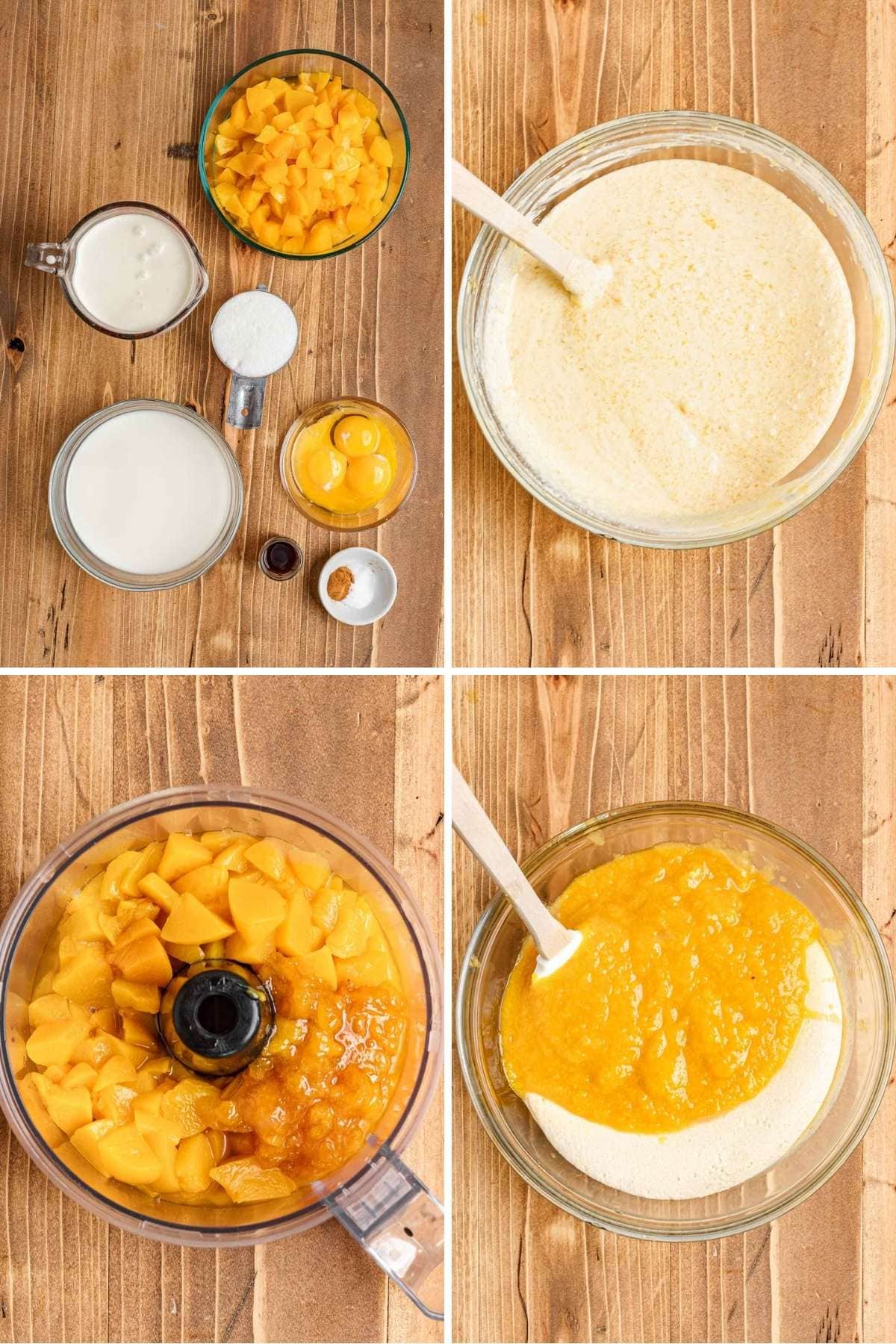 This fun ice cream recipe is full of sweet and tart flavors worthy of your favorite ice cream shops. Once the recipe is frozen, try setting up an ice cream counter in your own home with toppings like nuts, Whipped Cream, fresh berries, and Caramel Sauce to go over the Old-Fashioned Fresh Peach Ice Cream. Then everyone can make their very own Peach Ice Cream Sundae with all the fix-ins they could want.
MORE ICE CREAM RECIPES
HOW TO MAKE PEACH ICE CREAM
Vanilla bean custard: Add egg yolk to a medium bowl and whisk until the yolks combine into a frothy blend. Put the sugar, heavy whipping cream, milk, 3 teaspoons vanilla extract, cinnamon, and salt in a saucepan over medium-low heat. Whisk the ingredients continuously over heat until the mixture begins to simmer, then lower the temperature. Pour half of the hot cream mixture into the egg mixture. Do this in a slow stream while continuously whisking. Then pour the egg and custard combination back into the pan. Again, do this slowly while constantly stirring. Stir, and cook for 8-10 minutes until it thickens. Keep the heat low enough that it never boils, or the ice cream will taste scalded.
Cool: Turn off the heat and transfer ice cream mixture to a heatproof bowl. Put a lid on the bowl or cover it with plastic wrap to cool in the fridge for 2 hours.
Peach puree: Towards the end of the cooling time, add half the peach pieces, ¼ cup sugar, and lemon juice to a saucepan over medium heat. Stir and mash the peaches often as they break down and blend into a thick sauce. This should take 8-10 minutes. Pour the cooked peaches and the remaining fresh peaches into your food processor. Pulse until they're a smooth puree.
Freeze: Take the prepared ice cream base from the fridge and mix the peach puree in. Then pour the ice cream into your ice cream machine. Let the ice cream set in the freezer for at least 3 hours. Serve once the ice cream is set, and move the ice cream to freezer-safe containers to store long-term.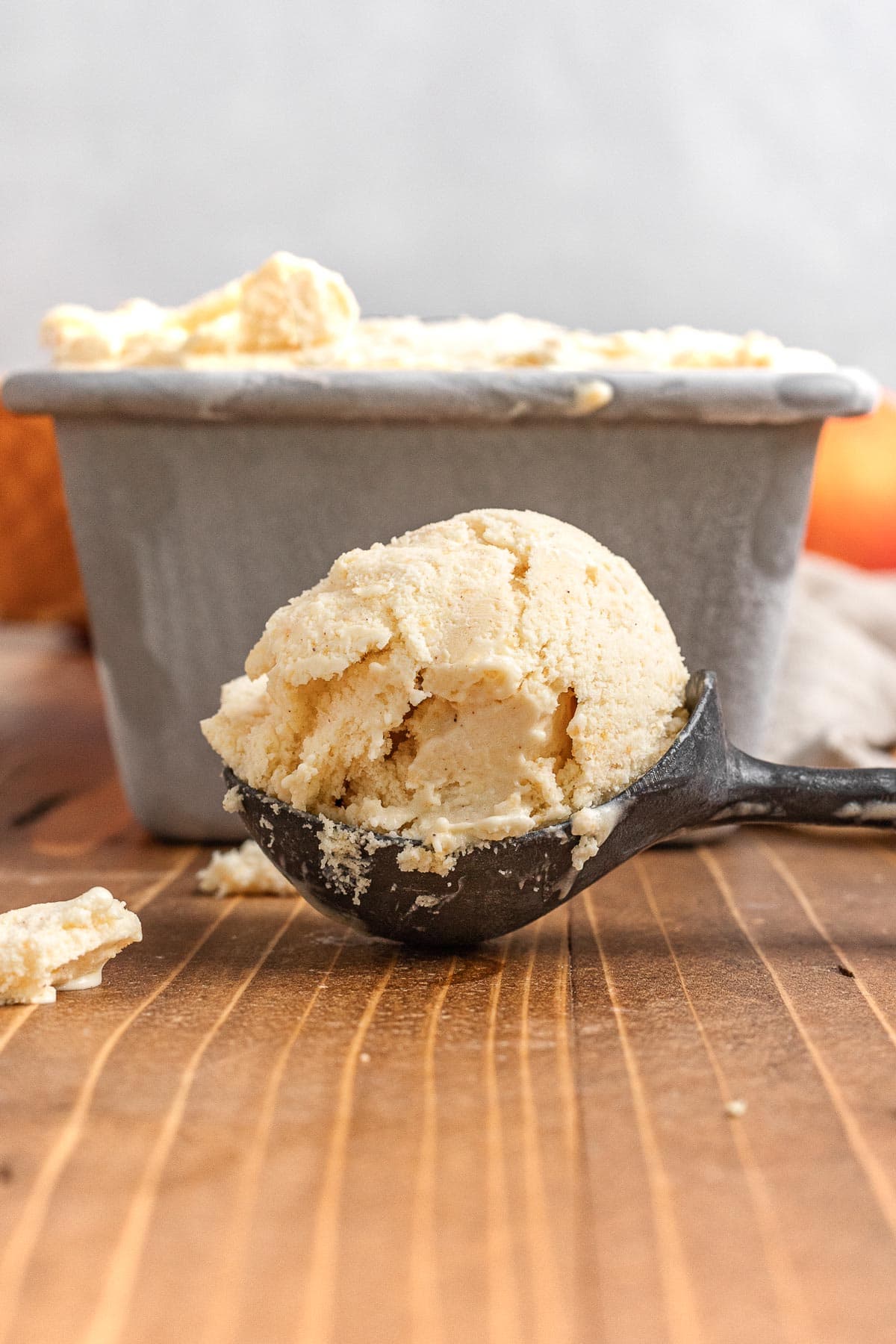 Create a free account to

Save Recipes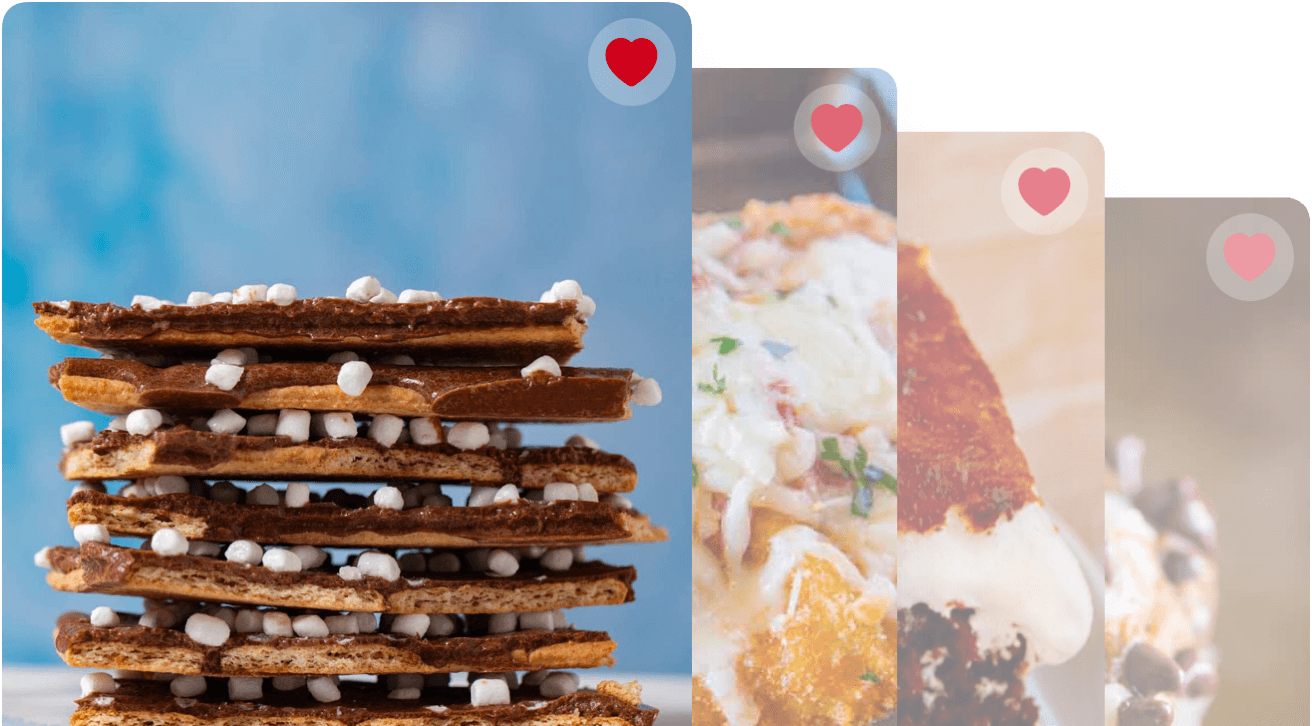 VARIATIONS ON PEACH ICE CREAM
Fruit: For more delicious fruit flavors in the ice cream try mixing raspberries, strawberries, cherries, or blueberries in with the peaches. You can use the different kinds of fruit to replace the peaches and make a whole new kind of fruit-based ice creams, or just add the extra flavors to go along with the peaches.
Mix-ins: There are lots of different add-ins you can stir into this recipe. Try adding chopped nuts like pecans, almonds, walnuts, or cashews. You could also add in vanilla wafer crumbs, coconut flakes, raisins, or pretzel bits.
Ice cream sandwich: Make your own homemade ice cream sandwiches by adding a scoop of Peach Ice Cream in between two of your favorite cookies. This would taste great with Sugar Cookies, Oatmeal Cookies, or Snickerdoodle Cookies.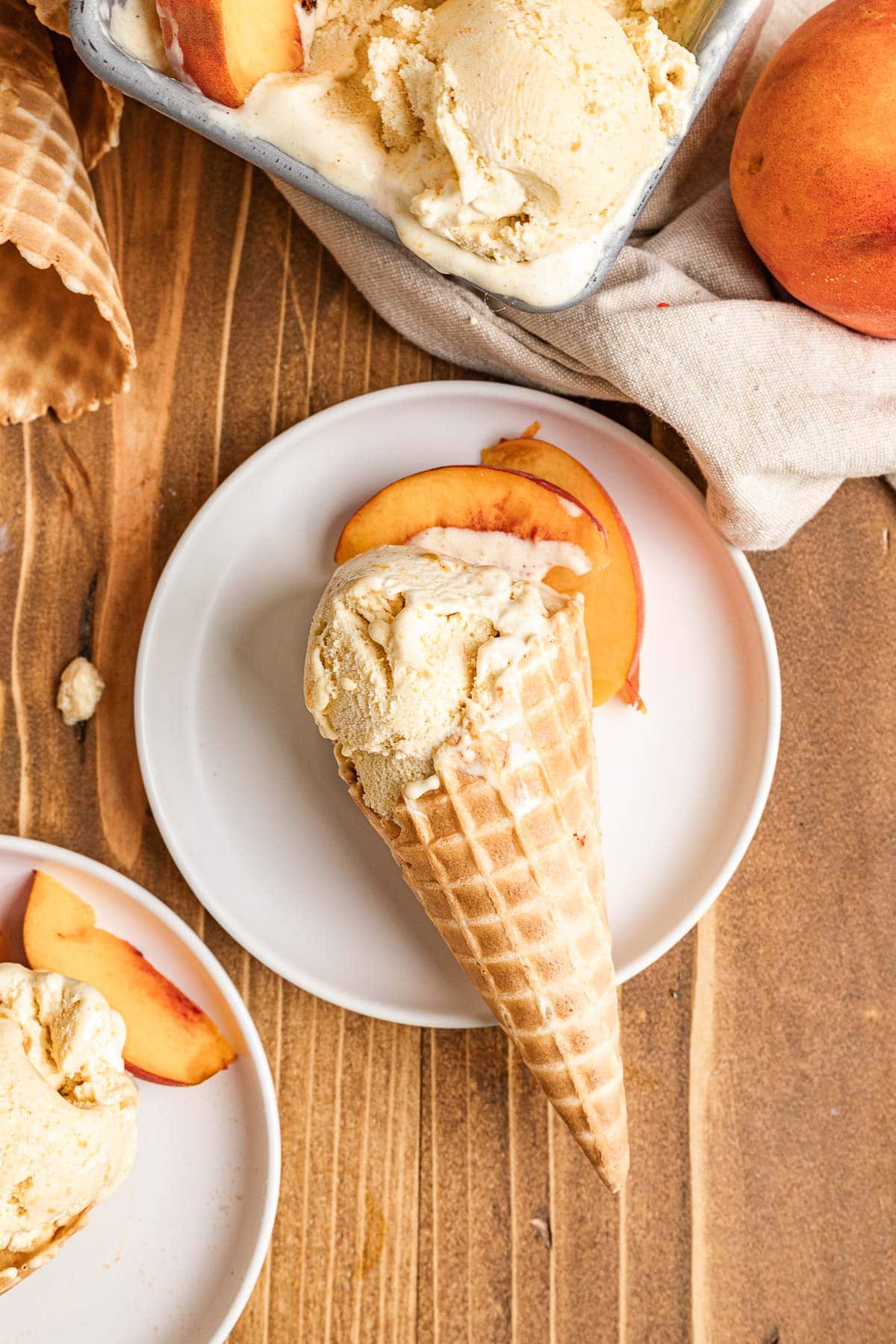 MORE PEACH DESSERTS
HOW TO STORE PEACH ICE CREAM
Serve: Let the Peach Ice Cream set in the freezer for at least 3 hours before you serve it.
Store: Keep the ice cream in a freezer-safe reusable ice cream container for up to 3 weeks. If the ice cream comes out extra hard, let the freezer containers sit at room temperature for a few minutes until it thaws into more scoopable ice cream. You can also run your spoon under hot water to serve more easily.


Ingredients
4

large

egg yolks

, lightly beaten

3/4

cup

sugar

2

cups

heavy cream

2

cups

whole milk

1

tablespoon

vanilla extract

1/2

teaspoon

ground cinnamon

1/4

teaspoon

salt

4

cups

peaches

, chopped

1

teaspoon

lemon juice
Instructions
In a medium bowl, whisk eggs well.

In a medium saucepan add the rest of the sugar, heavy cream, whole milk, vanilla extract, cinnamon, and salt on medium heat.

Whisk non-stop and bring to a simmer, then reduce heat to low.

Add ½ cup vanilla bean mixture in a very slow thin stream to the egg yolks while whisking quickly (do not stop whisking).

Pour the egg/custard mixture back into the pot slowly while whisking constantly.

Cook until mixture is thickened, about

8-10 minutes

(do not let boil, or milk will taste scalded).

Turn off heat and pour into a metal bowl or other heatproof bowl.

Let cool completely, then refrigerate (covered) for

2 hours

.

Add ½ the peaches, ¼ cup sugar, and lemon juice to a saucepan.

Mash and cook (stirring often) on medium heat until thickened and peaches are broken down, about

8-10 minutes

.

Add cooked peaches and the rest of the fresh peaches to a food processor and pulse until mostly smooth.

Remove custard from the refrigerator, stir in peaches and add to ice cream machine (per machine instructions).

Freeze for at least

3 hours

to harden before serving.
Nutrition
Calories:
302
kcal
|
Carbohydrates:
25
g
|
Protein:
4
g
|
Fat:
21
g
|
Saturated Fat:
13
g
|
Polyunsaturated Fat:
1
g
|
Monounsaturated Fat:
6
g
|
Cholesterol:
144
mg
|
Sodium:
101
mg
|
Potassium:
228
mg
|
Fiber:
1
g
|
Sugar:
23
g
|
Vitamin A:
1078
IU
|
Vitamin C:
5
mg
|
Calcium:
100
mg
|
Iron:
1
mg