Peppermint Bark Crackers are the easiest Christmas treats made with 4 ingredients! Chocolate covered crackers with crushed candy canes and white chocolate.
Festive Peppermint Bark is a must have Snack at any holiday party! This classic double chocolate Candy Recipe is easy to make and the inspiration for these deliciously sweet Christmas crackers.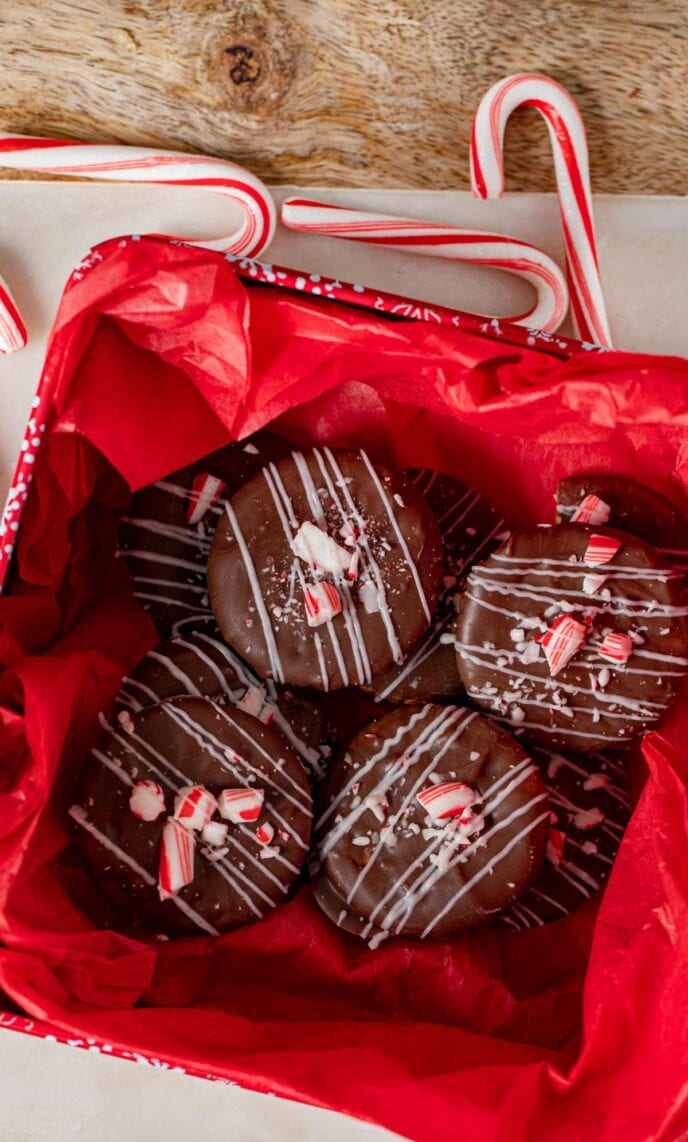 PEPPERMINT BARK CRACKERS
Chocolate and peppermint are a tasty holiday flavor combo found in everything from coffee creamers to candles all winter long. These easy, no-bake chocolate covered crackers get a Christmasy boost with crushed candy canes and a drizzle of white chocolate. Peppermint Bark Crackers look just as festive as they taste, making them the perfect edible Christmas gift!
Peppermint Bark Crackers are a perfectly balanced salty and sweet snack. The buttery, salty crackers balance out the sweet flavors from the candy canes and the chocolate. They are a great recipe to use up that giant box of Ritz crackers during the holidays! You can easily switch up the candy the rest of the year to make these tasty snacks for any occasion!
These Peppermint Bark Crackers look so fancy, no one will know they were made in less than 30 minutes total time. They last for weeks at room temperature or in the refrigerator so they are great for making ahead. Add a bag of Peppermint Crackers to any edible holiday gift basket for an easy, festive touch.
MORE PEPPERMINT BARK RECIPES:
Peppermint Bark Crackers can easily become Peppermint Bark Sandwich Cookies! You'll need twice as many crackers and a little bit more time, but they make a great chocolate covered sandwich "cookie".
Lay out a layer of crackers and top with fillings like Peppermint Bark Dip or Chocolate Ganache. Top with another cracker and freeze for 15-20 minutes before starting the recipe. Check out the variations for more filling ideas!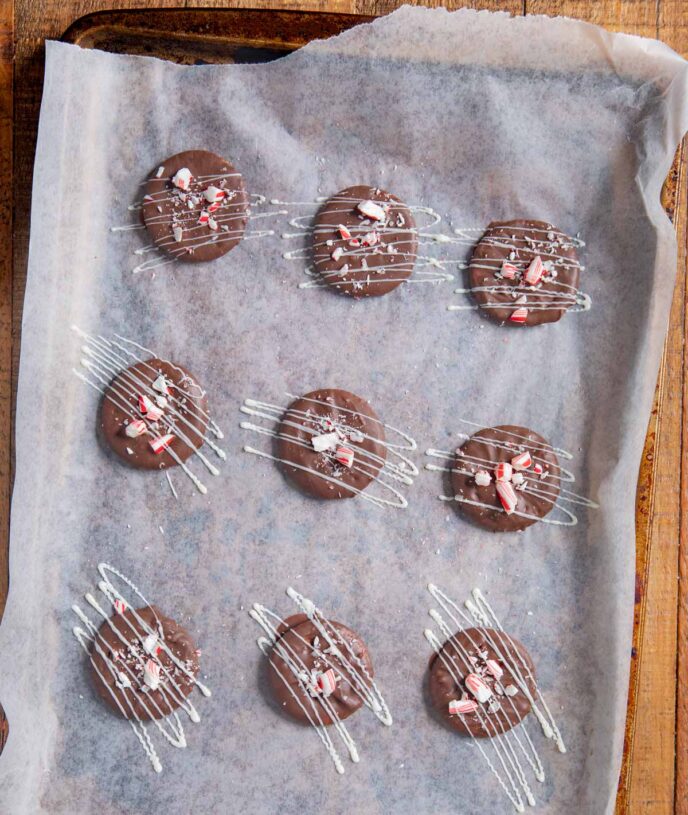 For less uniform chocolate covered crackers, make a Peppermint Cracker Bark. Line a baking sheet with parchment paper and spread crackers out in a single layer, close together.
Pour melted semi-sweet chocolate over the crackers and even out. Sprinkle with candy canes, drizzle with melted white chocolate and allow to set. Once set, break into big pieces and serve.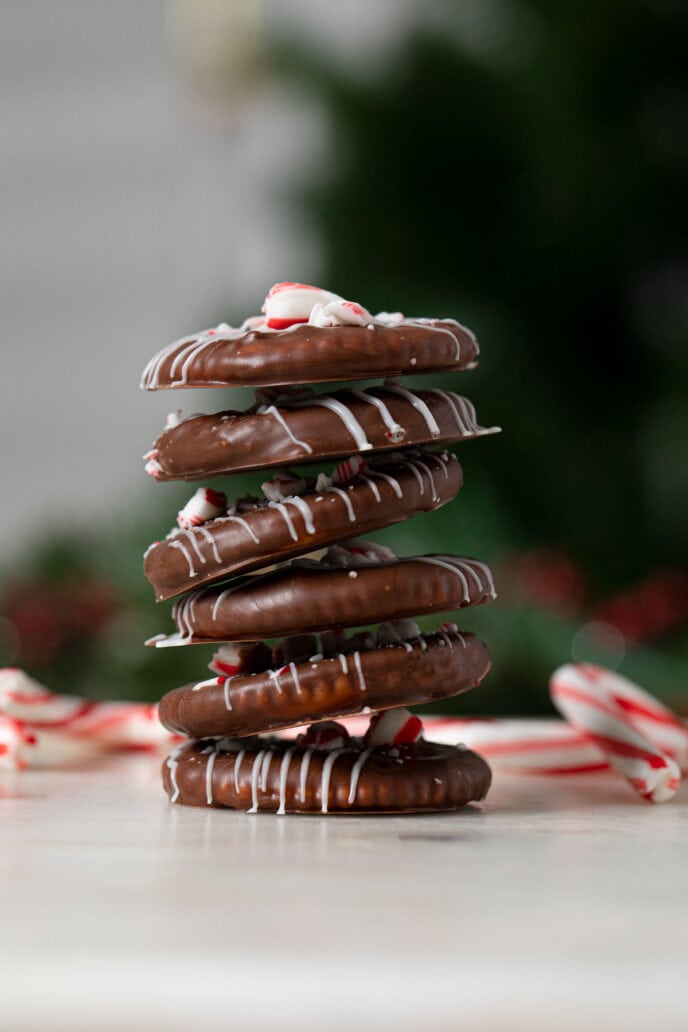 Create a free account to

Save Recipes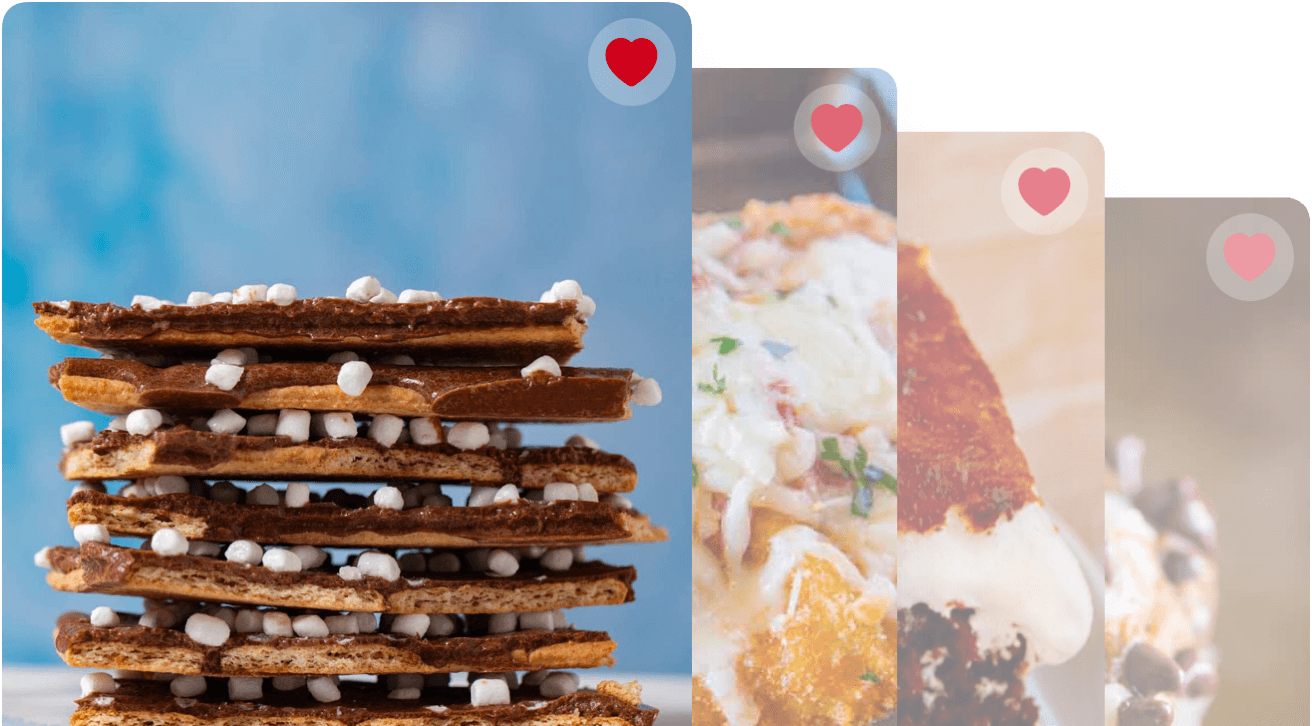 VARIATIONS ON PEPPERMINT BARK CRACKERS
Candy: For Valentine's Day, swap candy canes for Redhots or Cinnamon heart candy. Use mini M&Ms, toffee bits, rainbow chips, or other small candies all year long.
Chocolate: Switch the white chocolate and semi-sweet chocolate to make White Chocolate Peppermint Bark Crackers with a chocolate drizzle. You could also use dark chocolate chips or milk chocolate chips. Add peanut butter chips or butterscotch chips to your chocolate to give it flavor without risking it seizing from liquid extract.
Cookies: Instead of Ritz crackers, use gingersnaps, Oreo cookies (with the filling removed), graham crackers, saltine crackers, or vanilla wafers. You want to use a cracker that is buttery flavored to go with the sweet or cookies that are firm and won't break when you dip them.
Fillings: If you are making Peppermint Bark Sandwich Cookies, use fillings like creamy peanut butter, Cookie Butter, Nutella, cream cheese (or Cream Cheese Frosting), or melted Soft Caramels.
MORE TASTY HOLIDAY SNACK RECIPES
HOW TO STORE PEPPERMINT BARK CRACKERS
Serve: Keep Peppermint Bark Crackers in a cool, dry place at room temperature for up to 2 weeks. Cover with plastic wrap or keep in a container with parchment paper between layers so they don't stick.
Store: Place Peppermint Bark Crackers in an airtight container, layered with parchment paper if needed, and refrigerate for up to 1 month.
Freeze: Once Peppermint Bark Crackers have set, transfer them to a sealed container and freeze for up to 6 months. Enjoy crackers frozen or thaw at room temperature before serving. Only freeze after chocolate has set or the texture of the chocolate will be off.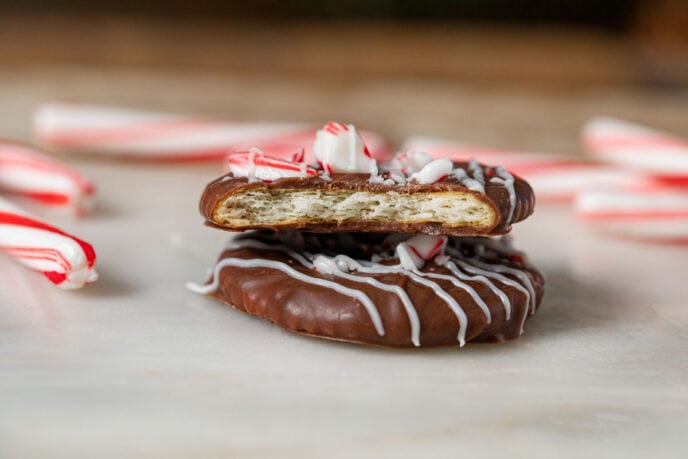 Instructions
Add the semi-sweet chocolate chips to a small bowl in the microwave in

30 second

increments until smooth, stirring in between each

30 seconds

.

Dip the crackers into the chocolate, let the excess drip off then place carefully onto baking sheet lined with parchment paper.

Top each cracker, while chocolate is still wet, with the crushed candy canes.

Add the white chocolate chips to a small bowl in the microwave in

30 second

increments until smooth, stirring in between each

30 seconds

.

Add white chocolate to small ziplock bag and trim the edge of a corner off.

Pipe back and forth quickly over the crackers 3-4 times over each one.

Refrigerate until firm, about

15 minutes

.
Nutrition
Calories:
57
kcal
|
Carbohydrates:
8
g
|
Protein:
1
g
|
Fat:
3
g
|
Saturated Fat:
1
g
|
Cholesterol:
1
mg
|
Sodium:
28
mg
|
Potassium:
28
mg
|
Fiber:
1
g
|
Sugar:
5
g
|
Calcium:
10
mg
|
Iron:
1
mg