Peppermint Meringues are crispy, chewy holiday cookies. Melt in your mouth Christmas treats made with egg white, candy canes, peppermint extract, and sugar.
This easy to make, light, and chewy peppermint treat is perfect for when you want a break from rich, heavy Christmas Cookie Recipes like Gingerbread, Chocolate Cookies, or even Sugar Cookies!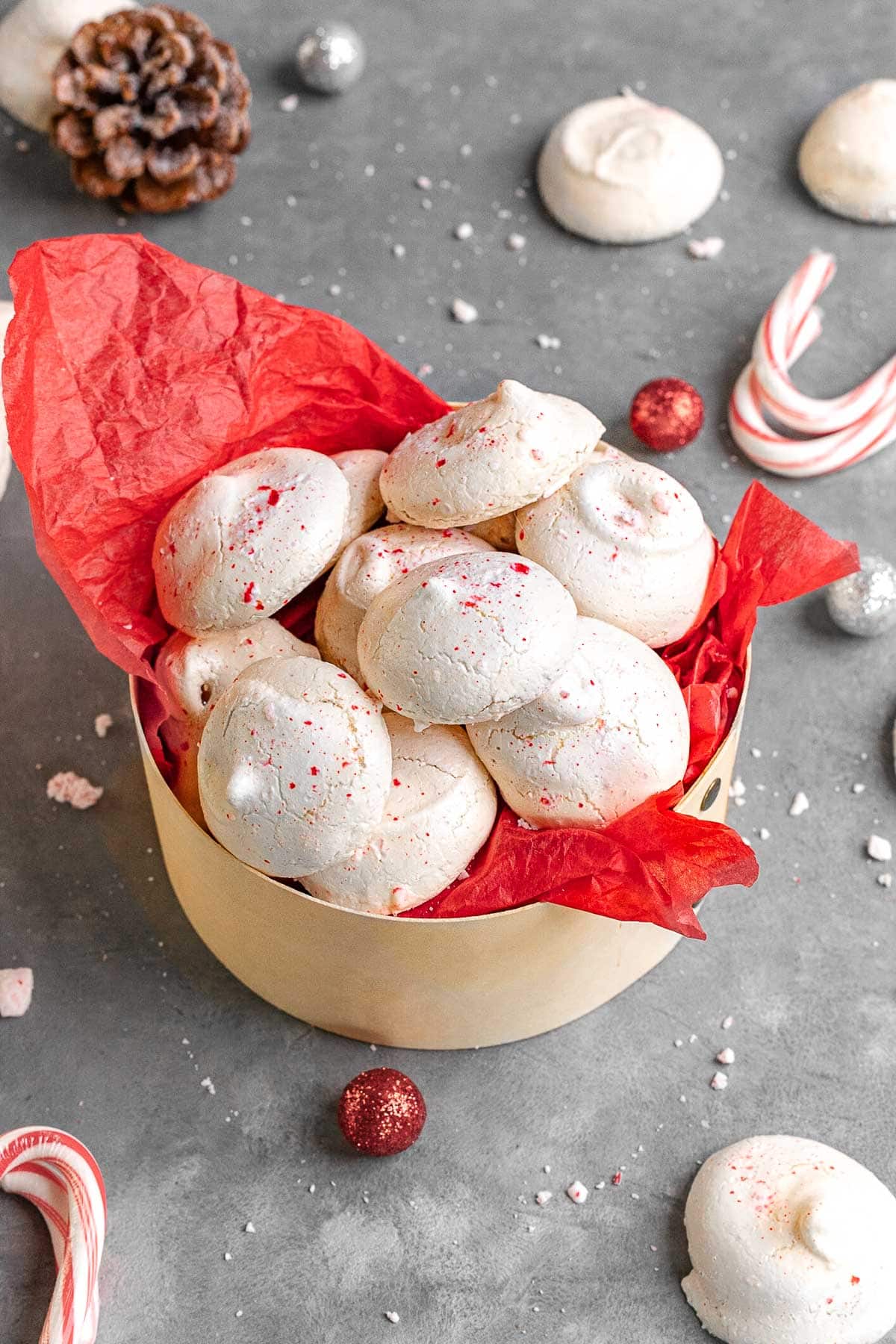 Most of the holiday season seems to revolve around decadent food, rich, buttery desserts, and never-ending party food. It's true that the holidays are best spent enjoying food (and time) with family and friends. But even though calories don't count on Christmas, you still might be craving something just a little lighter after all the indulging.
This recipe for Peppermint Meringues is the best of both worlds. Lots of holiday flavor but light enough that you can enjoy them late at night wrapping presents. They are the perfect Christmas treat, like Peppermint Bark but with a crispy chewy cookie outside.
These are Christmas cookies you can feel good about. Peppermint Meringues are naturally low fat, gluten free, and less than 20 calories each. They are simply egg whites, sugar, peppermint extract, and cream of tartar. Not a stick of butter or cup of flour in sight!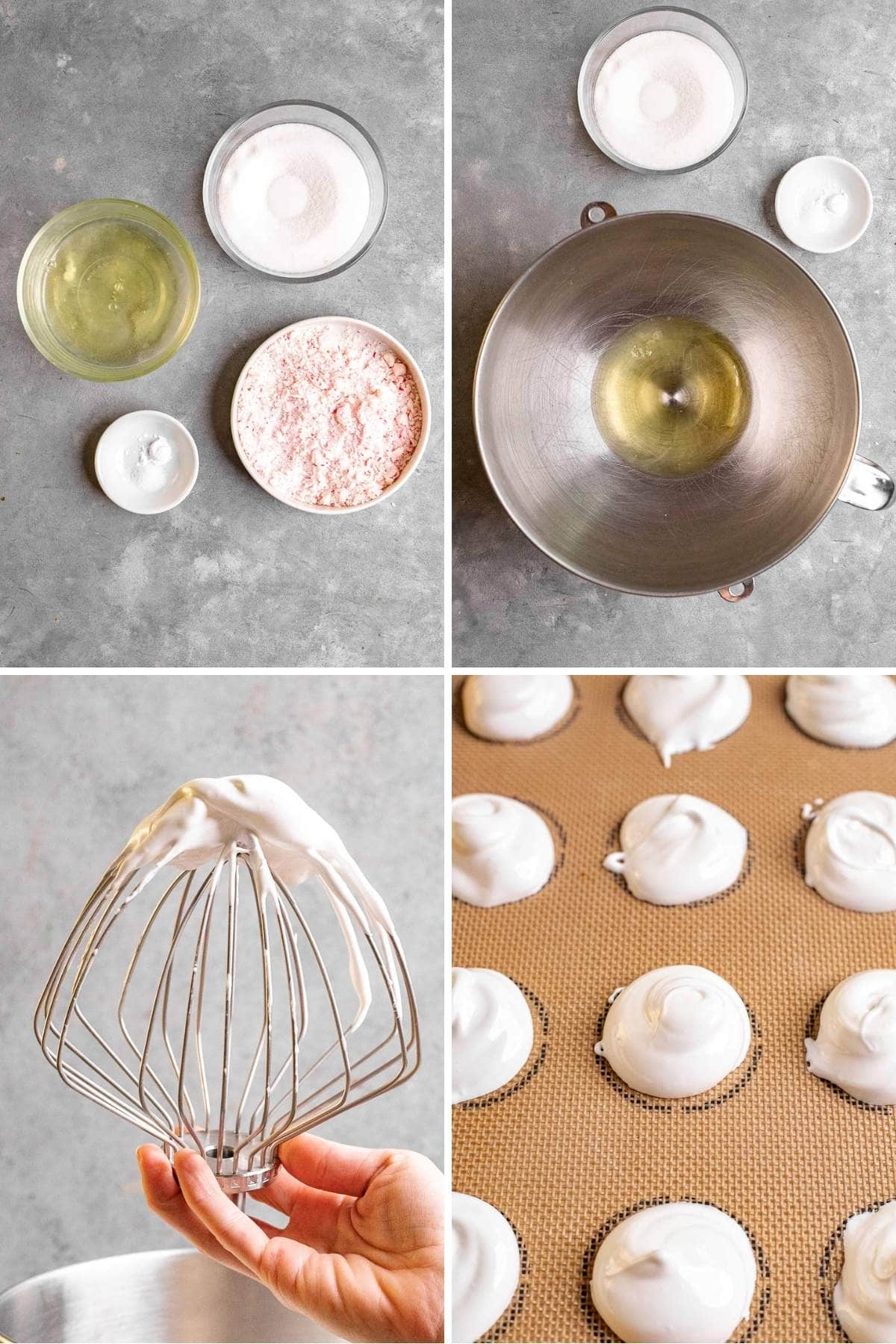 With this easy Peppermint Meringue recipe, you will be making fancy cookies to rival the champions of any baking show. If you're nervous about making a holiday treat you've only seen on a baking show championship, there are some tips below to master these treats.
Peppermint Meringues can be a bit fragile so make sure to use an angled pastry spatula to remove them and always line baking sheets with parchment paper. As you get better at making them, try piping the meringue into designs for easy, fancy cake decorations.
Dissolve a Peppermint Meringue or two in a cup of coffee for a Peppermint Latte copycat, complete with a dollop of Whipped Cream. This works for hot chocolate too. The Peppermint Meringue gives a creamy, peppermint burst of flavor – no need for creamer!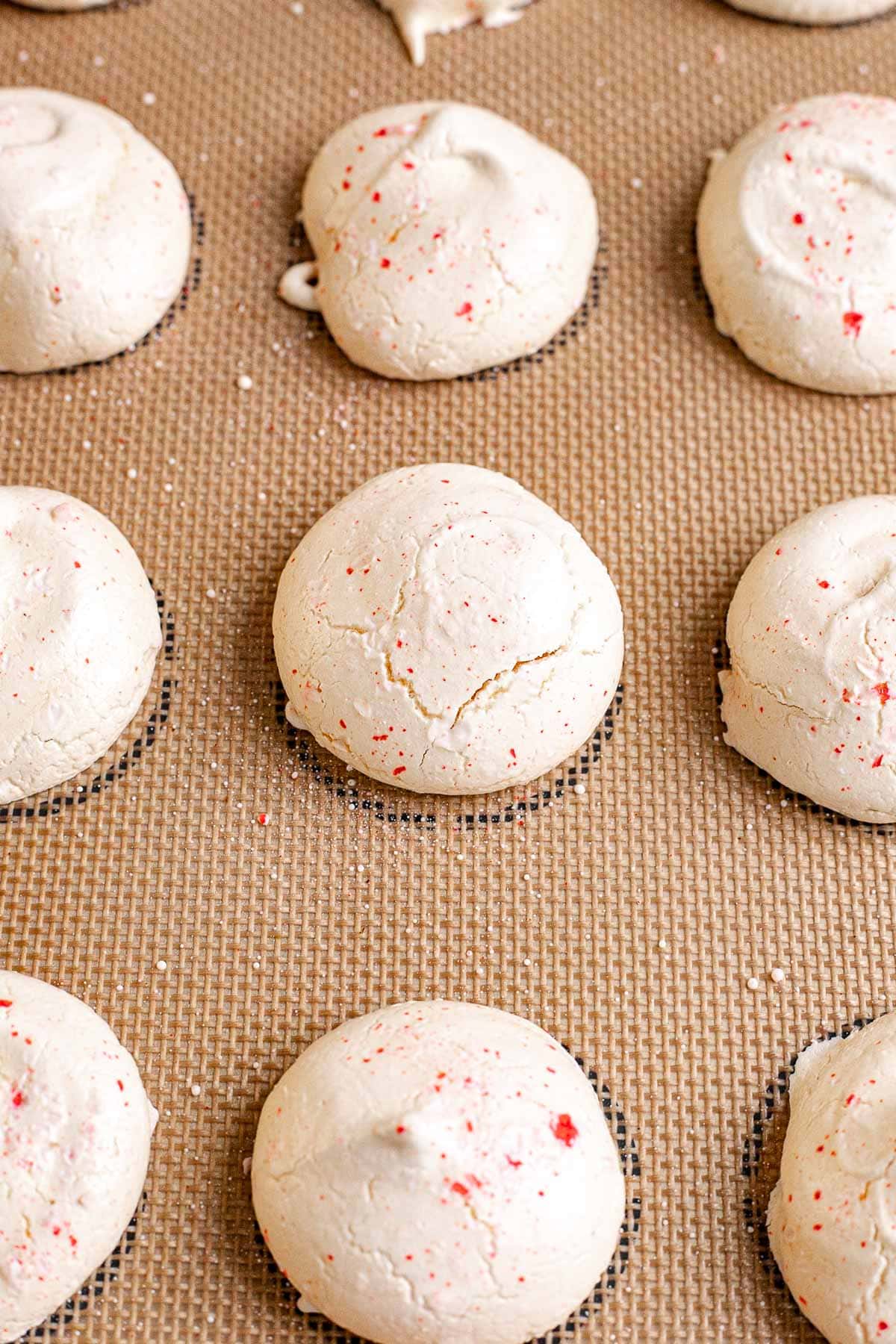 What are Meringues?
Meringues are made from whipping egg whites (and a few other ingredients) to stiff peaks and baking them into cookies. The egg whites make up the structure of the cookie with help from a few other ingredients. They have a unique, delightful texture that is fitting for special holidays and other celebrations. You'll find the familiarity of a cookie, combined with a unique taste and texture that is all their own.
Due to the simple ingredients of Meringues, they easily take on the flavors they are made with. These Peppermint Meringues have that perfect holiday Peppermint flavor, however you can add more flavors if you want! Take a look at the Variations listed farther down in this post for some ideas.
More Peppermint Dessert Recipes
Frequently Asked Questions
Can I use packaged egg whites to make my Meringues?
Do not use a packaged egg white product for your Meringues. In order to get the best result, you want to use only fresh egg whites.
What is the difference between soft peaks and stiff peaks?
While testing your egg whites, form a peak with the tip of your whisk. Take a look at it and if a peak forms but the tip droops, that is a soft peak. If a peak forms and holds it's shape, that is a stiff peak.
How do I know if I have over-beaten my egg whites?
When egg whites are over-beaten they will begin to visibly lose volume. You will also see it becoming grainy, or begin to separate and get watery.
What is cream of tartar?
Cream of tartar is not a cream at all! It is a powdery substance that is a byproduct of the process of winemaking and comes from tartaric acid. It's chemical makeup makes it perfect for helping to stabilize whipped egg whites.
Where do Meringues come from?
Meringue comes from Switzerland and their origins date as far back as 1720. While Meringue is always egg whites mixed with sugar, the preparation differs in different regions. This recipe uses the French preparation of baking it, as opposed to the Swiss preparation of using a double boiler, or the Italian preparation of mixing in hot sugar syrup.
Tips for Making Peppermint Meringues
For the fluffiest, airiest meringues use cream of tartar. Yes, you can substitute lemon juice but it won't get that exact crisp outside and airy inside.
To decorate meringues, use a small paintbrush and gel food coloring diluted with a tablespoon of vodka or lemon extract. (Don't worry, the vodka is such a small amount and the alcohol evaporates.)
Moisture is a meringue destroyer. Use parchment paper to separate layers and cool completely before freezing.
Clean and dry your mixing bowl and whisk attachment really well. Any water or residue can keep the egg whites from getting foamy.
Have a gentle hand when piping. Squeezing the piping bag too hard can push air out and deflate your meringues.
If your Meringue cookies are not crisp to the touch, they will need a little more time in the oven. You want your cookies to be a bit crisp on the outside, however if they start to brown on top, they will be overdone. Watch them closely in the oven if you feel they are close to done.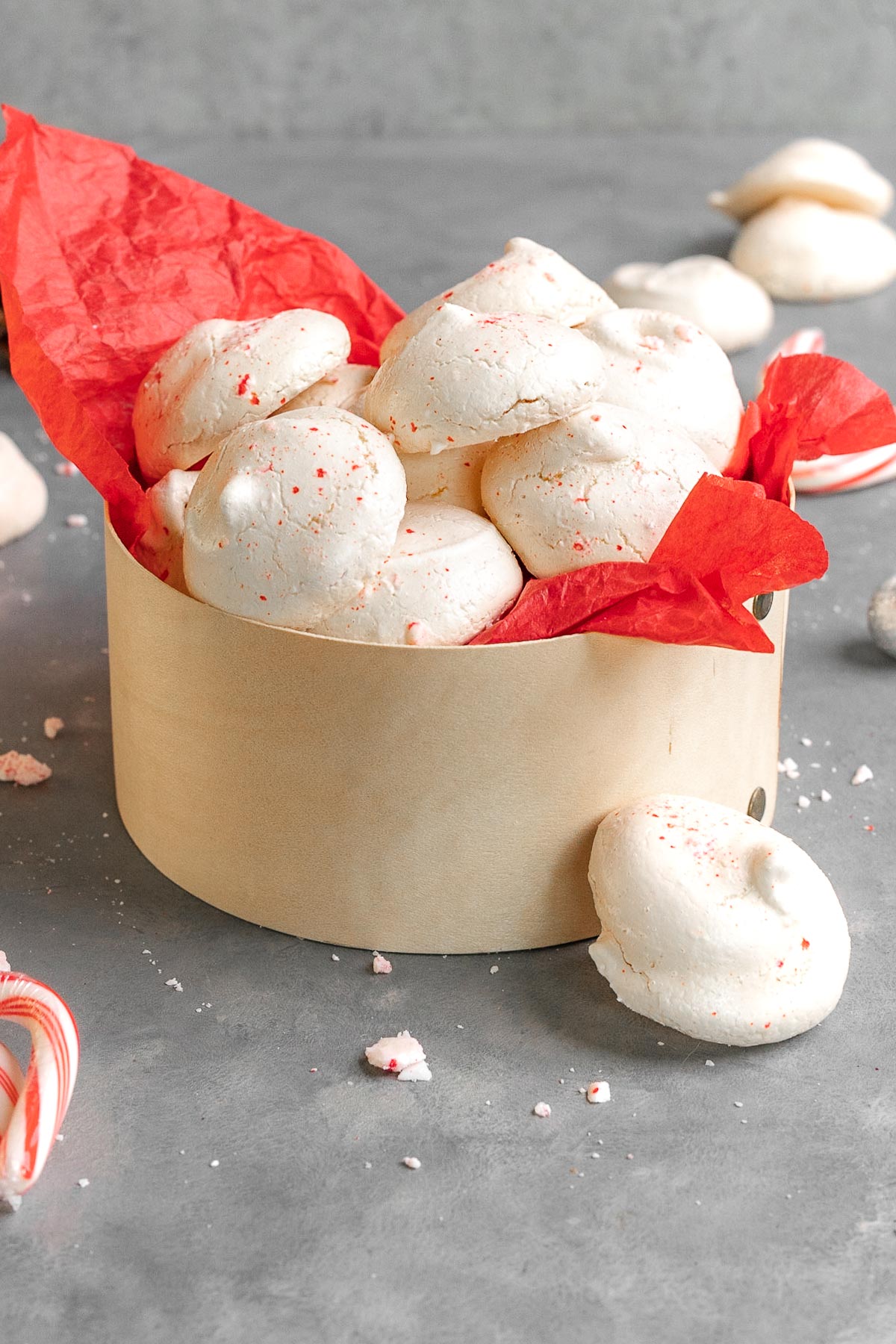 Create a free account to

Save Recipes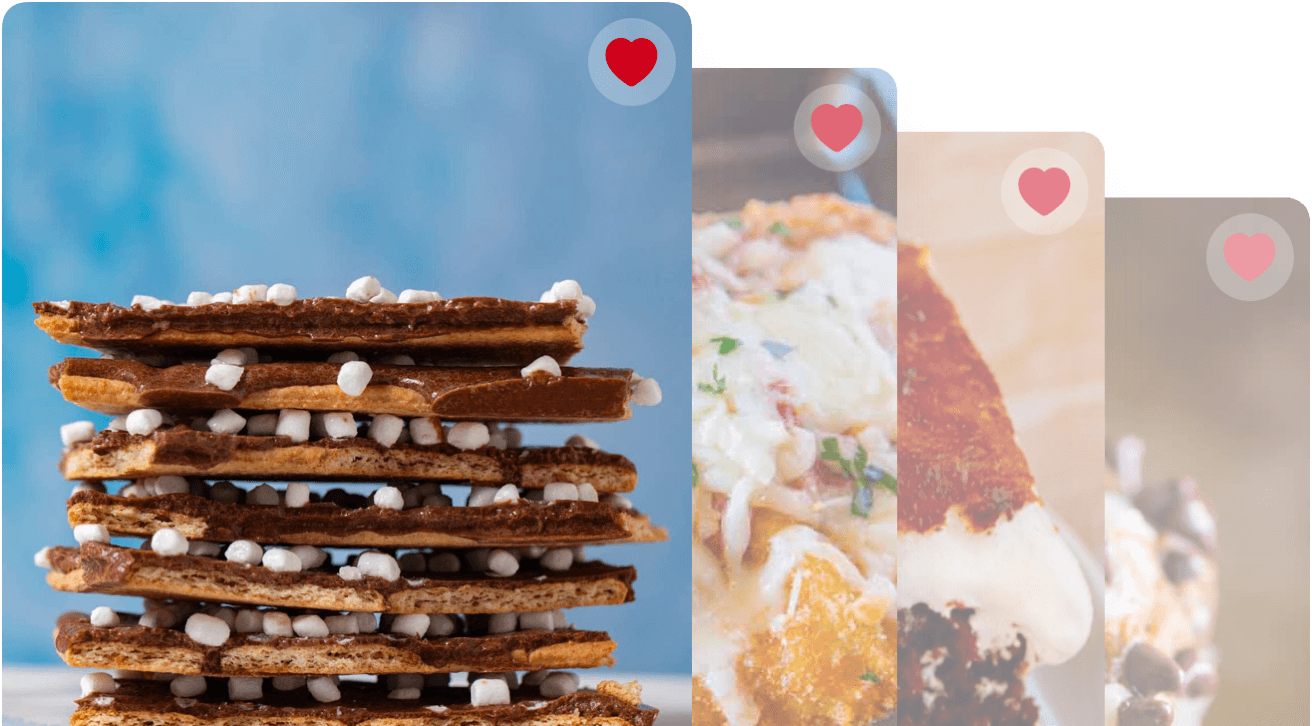 Variations on Peppermint Meringues
Chocolate: Dip the bottom of baked Peppermint Meringues into Chocolate Ganache and even more crushed candy cane pieces. You can also drizzle meringues with melted white chocolate or dark chocolate.
Keto: Equally substitute Stevia or granulated monk fruit sweetener for the sugar. Instead of candy canes, use carob chips for a peppermint chocolate flavor.
Flavors: Peppermint Meringues can easily be transformed by using different extracts like lemon, vanilla, almond, or any other favorites. Change the topping to match the flavor, like lemon candies with lemon extract.
Colors: To add color to your meringue batter, simply add a few drops of food coloring while mixing. Gel food coloring is best, it adds less liquid and is so vibrant. You can also paint the insides of your pastry bag for a candy cane look.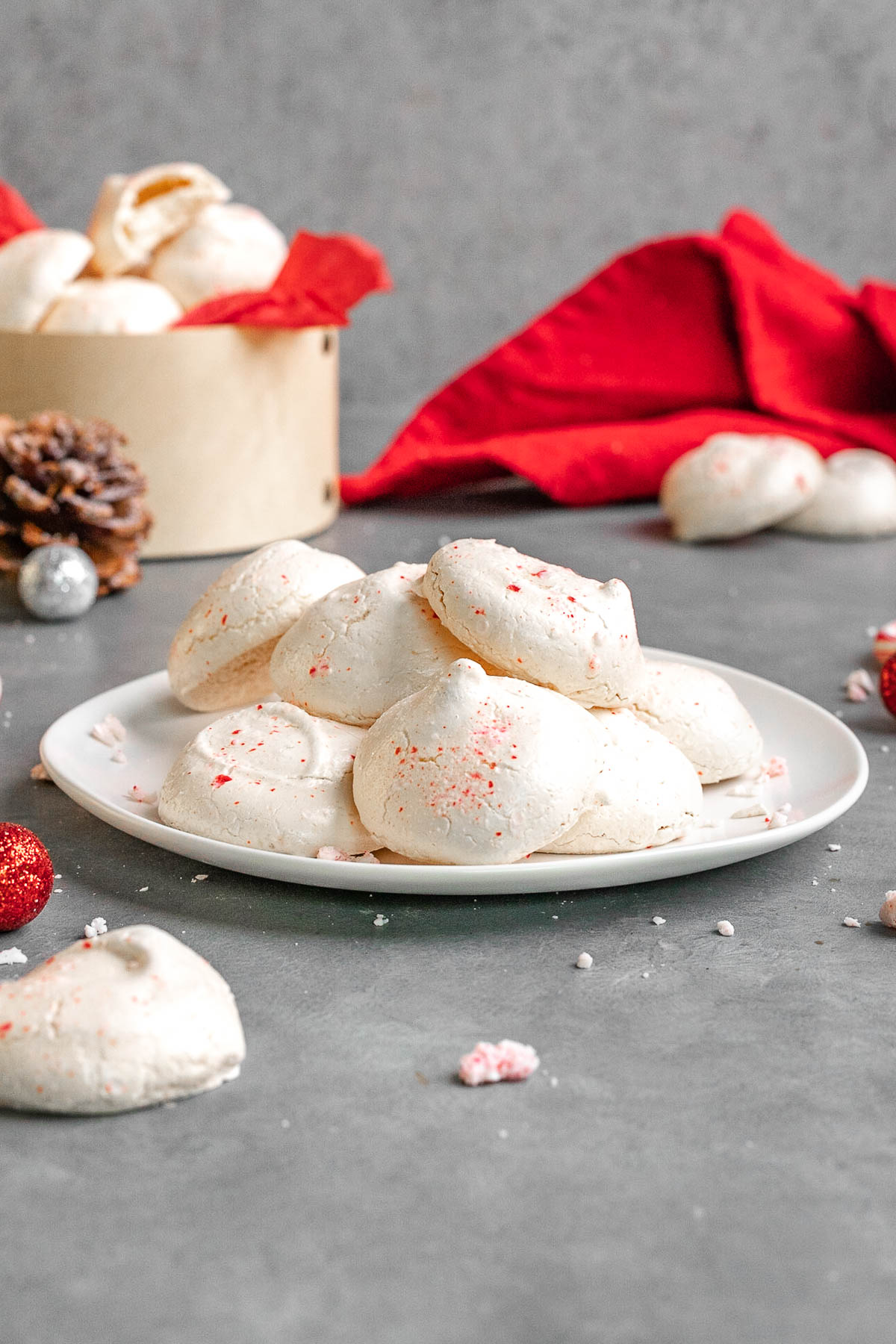 How to Make Peppermint Meringues with Candy Cane Stripes
To make a peppermint candy design for your Peppermint Meringues, you will need a pastry bag fixed with a star tip, red gel food coloring, and a small paintbrush. Place pastry bag in a cup with the top rolled down to secure to glass (to keep steady). Paint wide stripes with red gel food coloring on the inside of a pastry bag. Carefully fill with Peppermint Meringue. Pipe a few small test meringues to get the stripes even and then pipe and bake as usual.
More Holiday Cookie Classics
How to Store Peppermint Meringues
Serve: Store Peppermint Meringues at room temperature for up to 2 weeks in an airtight container, lined with parchment paper.
Store: Storing in the refrigerator won't really extend the life of your meringue and might collect moisture.
Freeze: These freeze well! Cool completely before freezing in a single layer (or layers separated by parchment paper). Thaw on the counter when ready to serve.


Ingredients
2

large egg whites

, room temperature

1/8

teaspoon

salt

1/8

teaspoon

cream of tartar

1/2

cup

sugar

2

peppermint candy canes

, crushed
Instructions
Preheat oven to 225 degrees. Line baking sheets with foil or parchment paper.

In a bowl, beat egg whites until foamy.

Sprinkle with salt and cream of tartar; beat until soft peaks form.

Gradually add sugar, beating until stiff peaks form, about

7 minutes

.

Drop by teaspoonfuls onto baking sheets; sprinkle with the crushed candy.

Turn off heat; leave cookies in the oven with the door ajar until cool, for at least

1 hour

.

Store in an airtight container.
Nutrition
Calories:
17
kcal
|
Carbohydrates:
4
g
|
Protein:
1
g
|
Fat:
1
g
|
Sodium:
16
mg
|
Potassium:
7
mg
|
Sugar:
4
g
|
Calcium:
1
mg
|
Iron:
1
mg