Christmas Pinwheel Cookies look bright and happy with their red and green colors and are flavored with peppermint for the perfect holiday treat.
This fun and colorful treat is the perfect Cookie Recipe to serve at your next holiday party or bring to a cookie exchange. For more Christmas favorites try Candied Shortbread Cookies, Brown Sugar Cookies, or Gingerbread Cookies.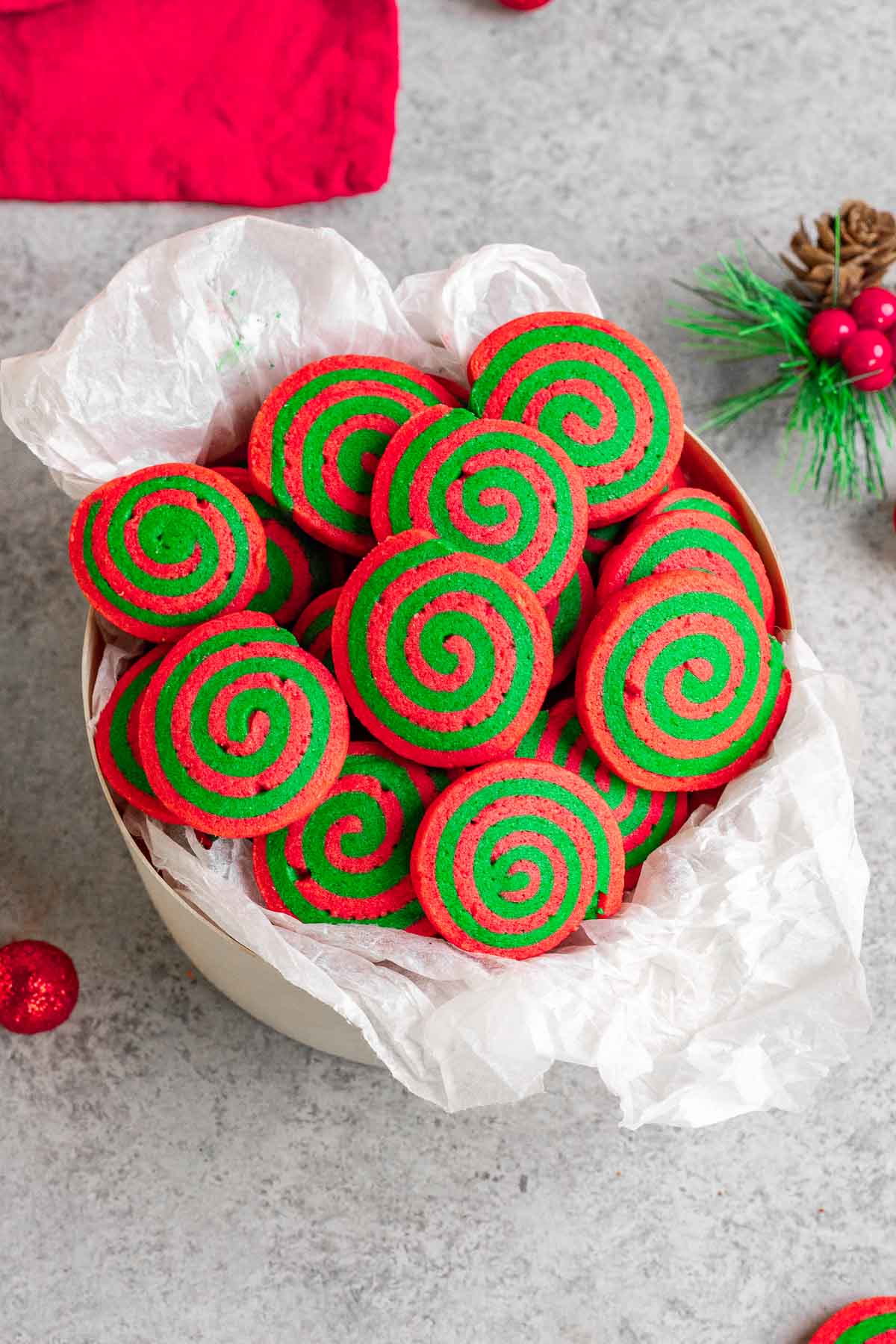 These green and red pinwheel cookies should definitely be included in your holiday baking plans this year. Their fun colors make them an instant hit with kids. Plus, they add a festive touch to any dessert spread. You can put them out on a cookie tray at a party or enjoy them on Christmas morning with a mug of Hot Chocolate for the ultimate holiday treat.
The thing that really sets Christmas Pinwheel Cookies apart is their beautiful presentation. That pinwheel cookie swirl is sure to catch anyone's eye, and it's easy to make by just rolling two pieces of colored dough together. But these cookies are also a lot more than what they look like. Once they're baked, they have a rich, crisp, buttery texture, and sweet flavor with a hint of peppermint that's just delicious.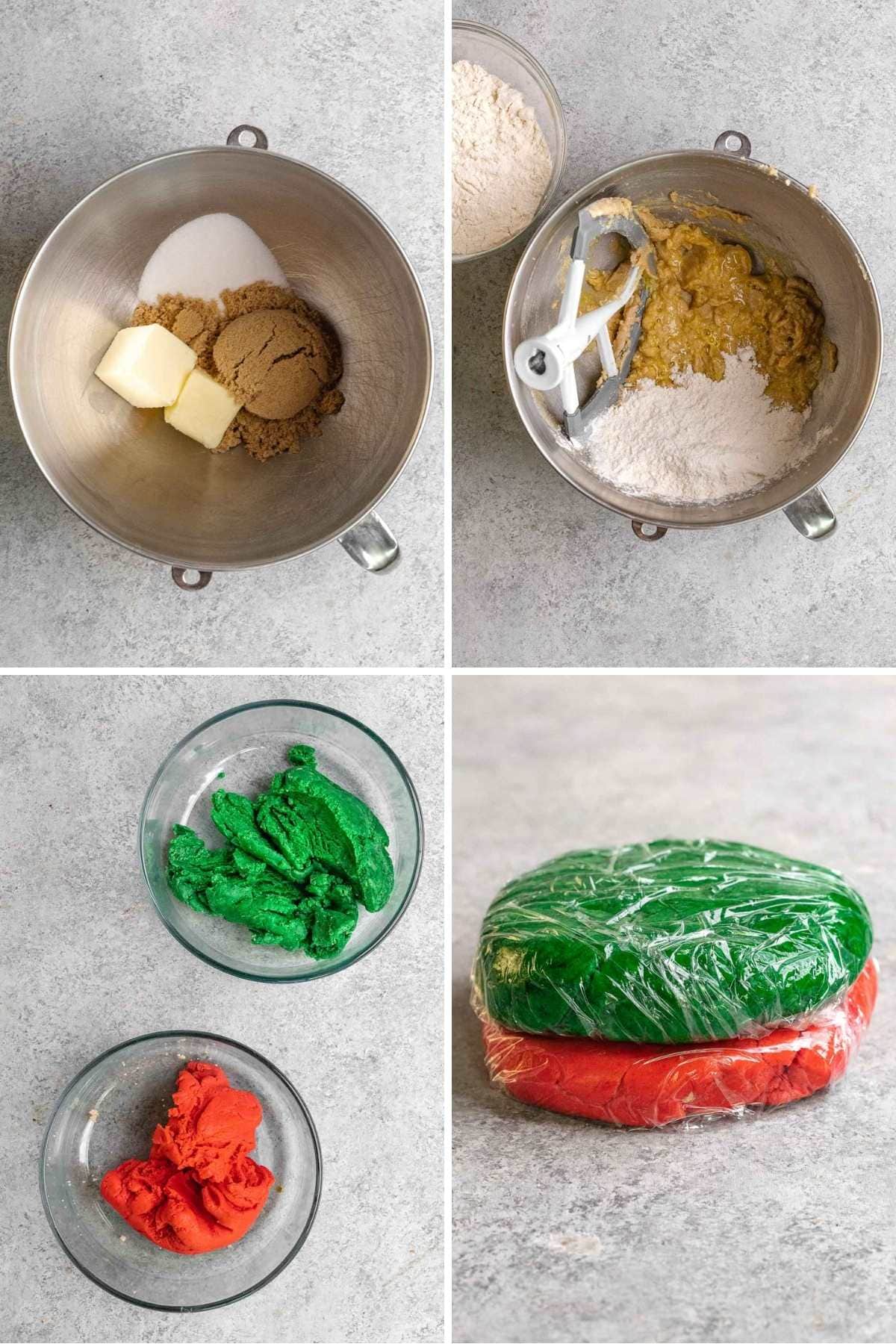 Festive cookies like this recipe also make an amazing holiday gift for friends, family, neighbors, or your kid's teachers. I like to wrap a stack of them in clear plastic wrapping. Then you can tie a festive bow around the top to close it, and add a gift tag to finish the job. They'd also look cute delivered in an old-fashioned cookie tin with colorful tissue paper lining it.
Include these beautiful, delicious cookies in a Christmas Cookie Box to bring to a holiday gathering. They would be perfect to serve alongside a Hot Chocolate Charcuterie Board with your favorite toppings like Homemade Marshmallows.
How to Make Christmas Pinwheel Cookies
Cookie dough: Add softened butter, brown sugar, and sugar to your stand mixer. Then turn the mixer to medium-high speed. Cream sugar and butter for 2-3 minutes until light and fluffy. Add the egg and peppermint extract to the mixing bowl. Mix until well combined into a smooth cookie dough. Then sift the all-purpose flour, salt, baking powder, and baking soda together in a separate bowl. Add the dry ingredients to the stand mixer in small batches. Continue mixing slowly as you add it.
Dye: Divide the plain cookie dough evenly into two bowls. Add the green food coloring to one bowl, and red to the other. Then mix until it's all evenly colored. Wrap the green cookie dough and red cookie dough separately in plastic wrap. Then refrigerate the Christmas Pinwheel Cookie Dough for 20 minutes.
Form: Take the chilled dough from the fridge. Then cut each piece of dough in half. Roll the four balls of dough out on a floured surface. You want each piece of rolled-out dough to be 10×6 inches. Then place a green dough layer on top of the red dough. Form them each into a tight roll. After the rolling process, wrap each dough log in plastic wrap. Then place them in the refrigerator until firm.
Baking time: Line baking sheets in parchment or wax paper. Then preheat the oven to 375 degrees. Take the chilled dough logs from the fridge. Then use a sharp knife or string to slice them into ¼ inch thick cookies. Place each cookie onto the prepared baking sheets. Pop the cookie sheets in the oven for 8-10 minutes. Make sure to take them out before the cookies start to brown.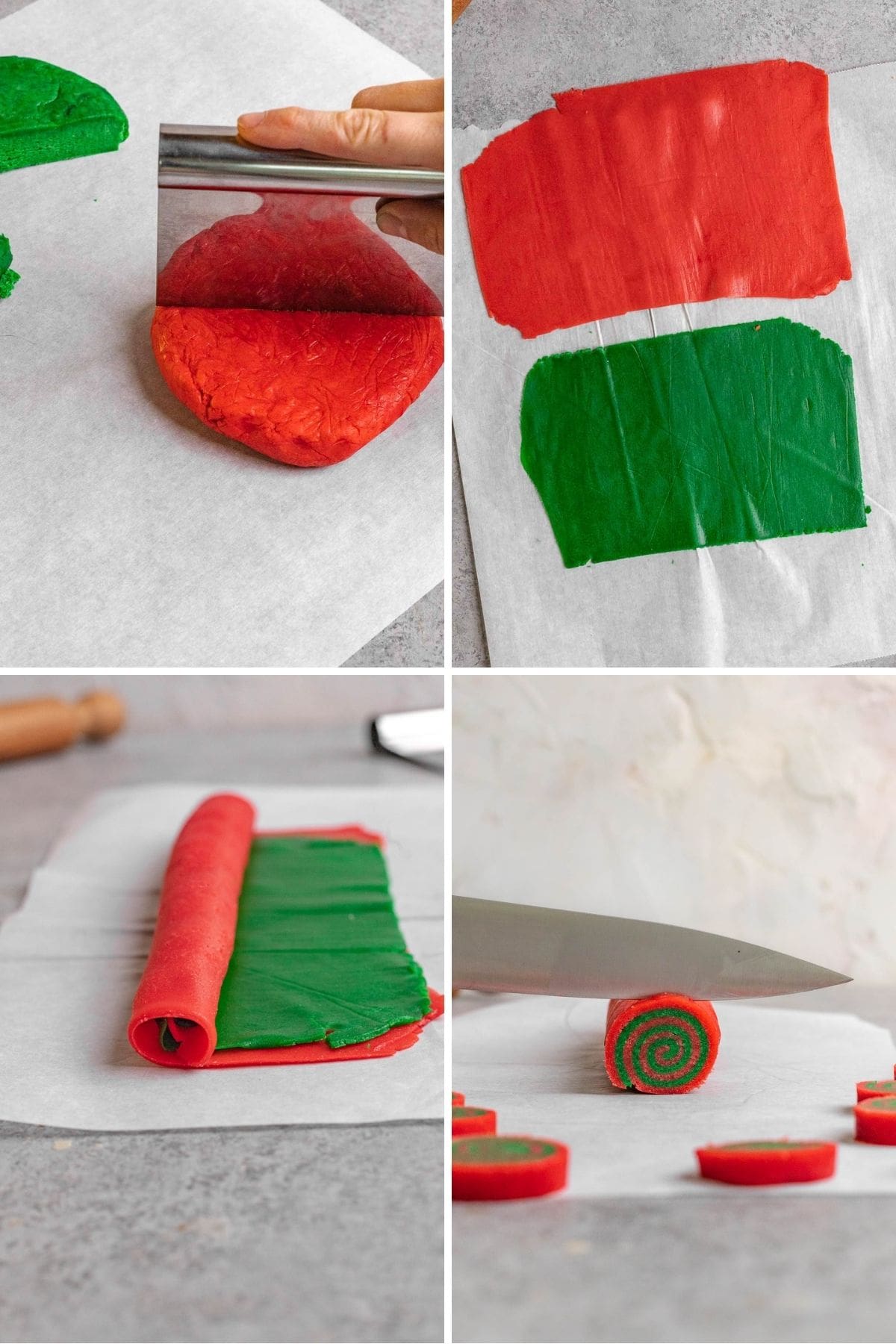 Holiday Cookie Recipes
Frequently Asked Questions
Why did my Pinwheel Cookies spread in the oven?
Don't skip the step of chilling the dough both times. When you mix the cookies, the butter becomes softened, which is what causes cookies to spread in the oven. By chilling the dough for 20 minutes before rolling, it makes it easier to roll the cookies into the correct shape. Then, you'll chill the rolled dough a second time, so the butter can harden again and keep their shape in the oven. You can even do this step in advance and keep the rolled dough in the refrigerator until you are ready to bake.
How do I keep cookies fresh for gifting?
When giving cookies as a gift, you want to bake them as fresh as possible before wrapping and gifting (see the tips below on preparing the dough in advance). Make sure they are cooled completely, and package them in tissue paper to keep them from cracking. If your gift box or tin is not air tight, wrap the entire box in a clear plastic bag and tie with a decorative ribbon. Then your gift wrap also serves to help keep the cookies fresh!
Why are my cookies too dry?
If your cookies are turning out too dry, you could be measuring your flour incorrectly and using too much. To correctly measure flour for baking, fluff the flour with a measuring cup so it is not compacted, before spooning flour into the measuring cup, then leveling it off with a flat knife. This way you are not using additional flour because it was compacted in the bag. Your oven could also be too hot. Use an oven safe thermometer to check that your oven temperature is correct. If it is off, adjust the dial accordingly until the thermometer reads the correct temperature.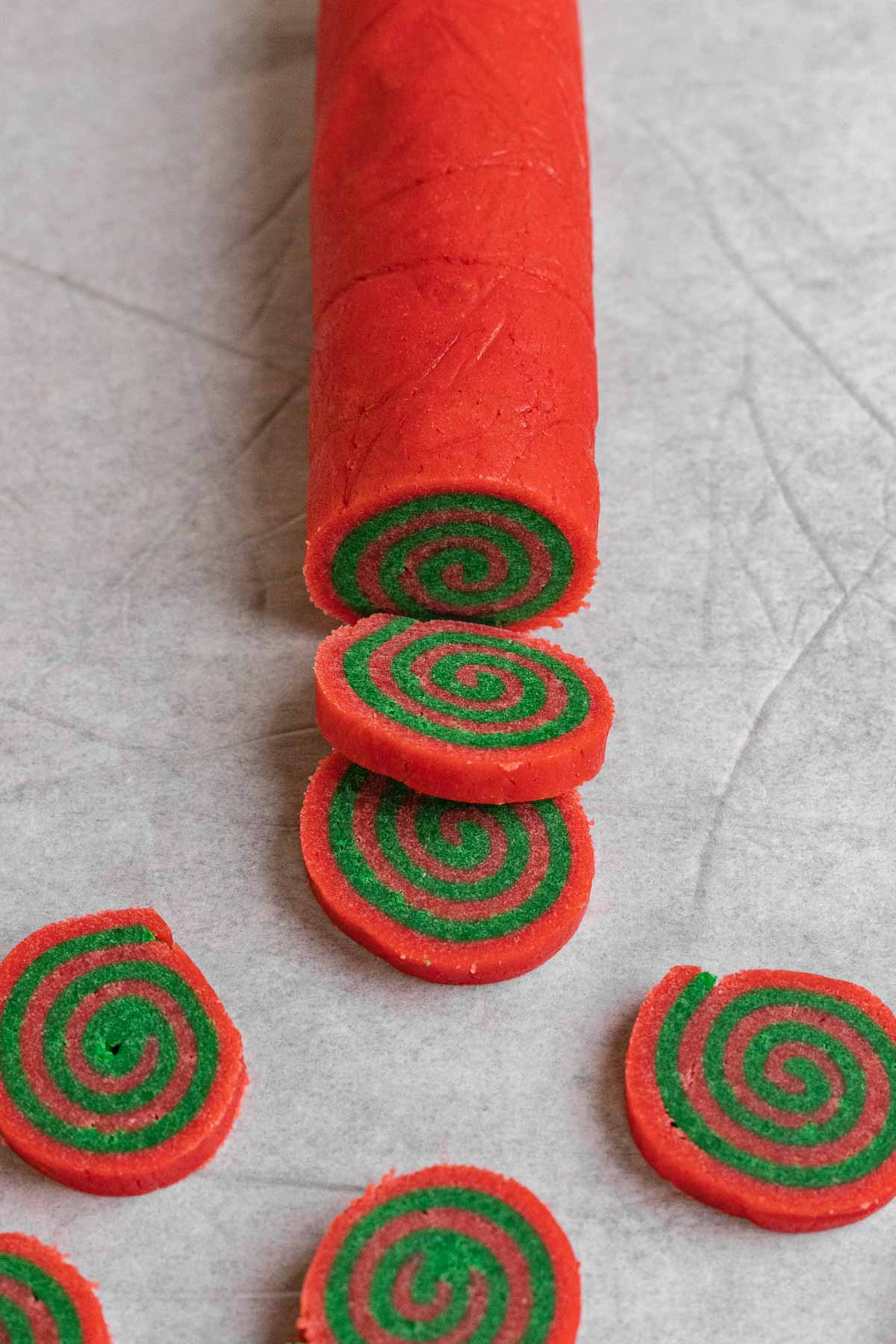 Create a free account to

Save Recipes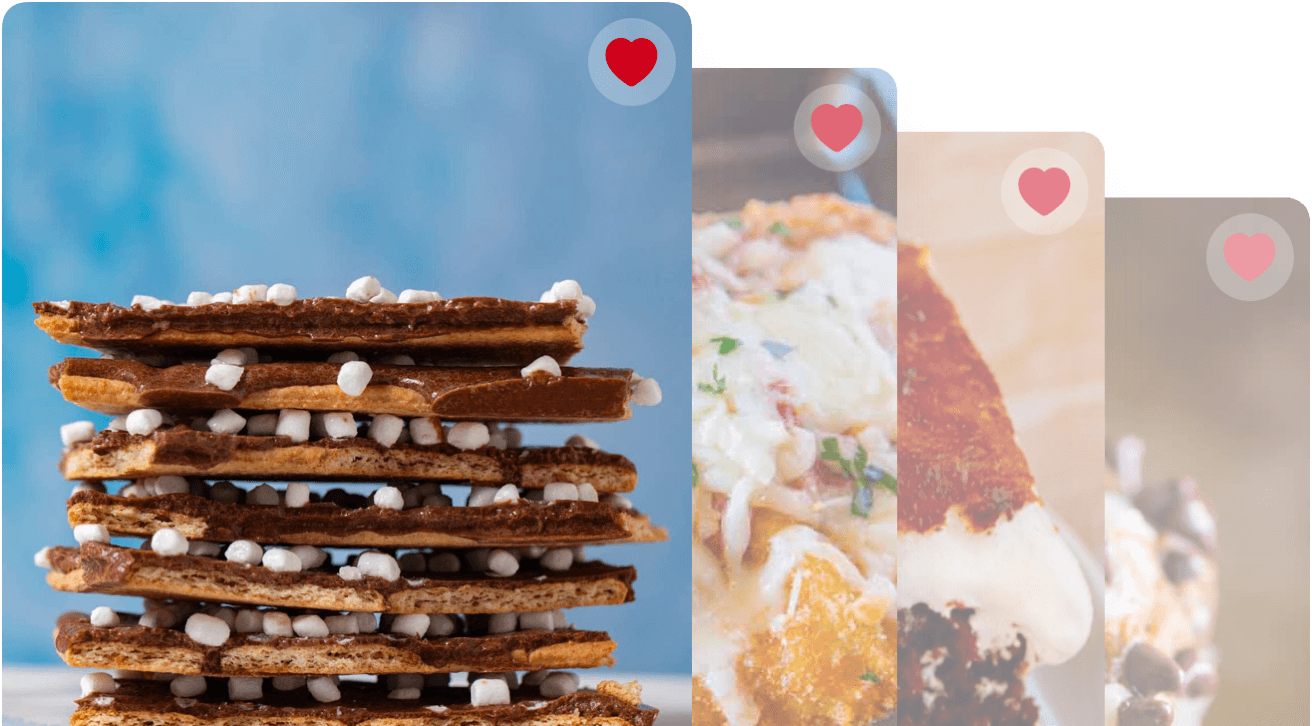 Key Ingredients in Christmas Pinwheel Cookies
Sugar: To sweeten these Christmas Pinwheel Cookies use a combination of white and brown sugar. Having the brown sugar makes them a little more moist and soft, which is important since outside the butter and one egg there aren't liquid ingredients in the dough.
Color: To get the two spiraled colors, all you have to do is separate the dough into two sections and add gel food coloring to each. You'll only need a few drops of food coloring to get a clear and vibrant color in the dough. So, no need to overdo it.
Peppermint extract: To add a bit of holiday flavor to the Christmas cookies, just mix in ½ teaspoon peppermint extract. Just like with the food color, a little goes a long way so you don't want to add more than that.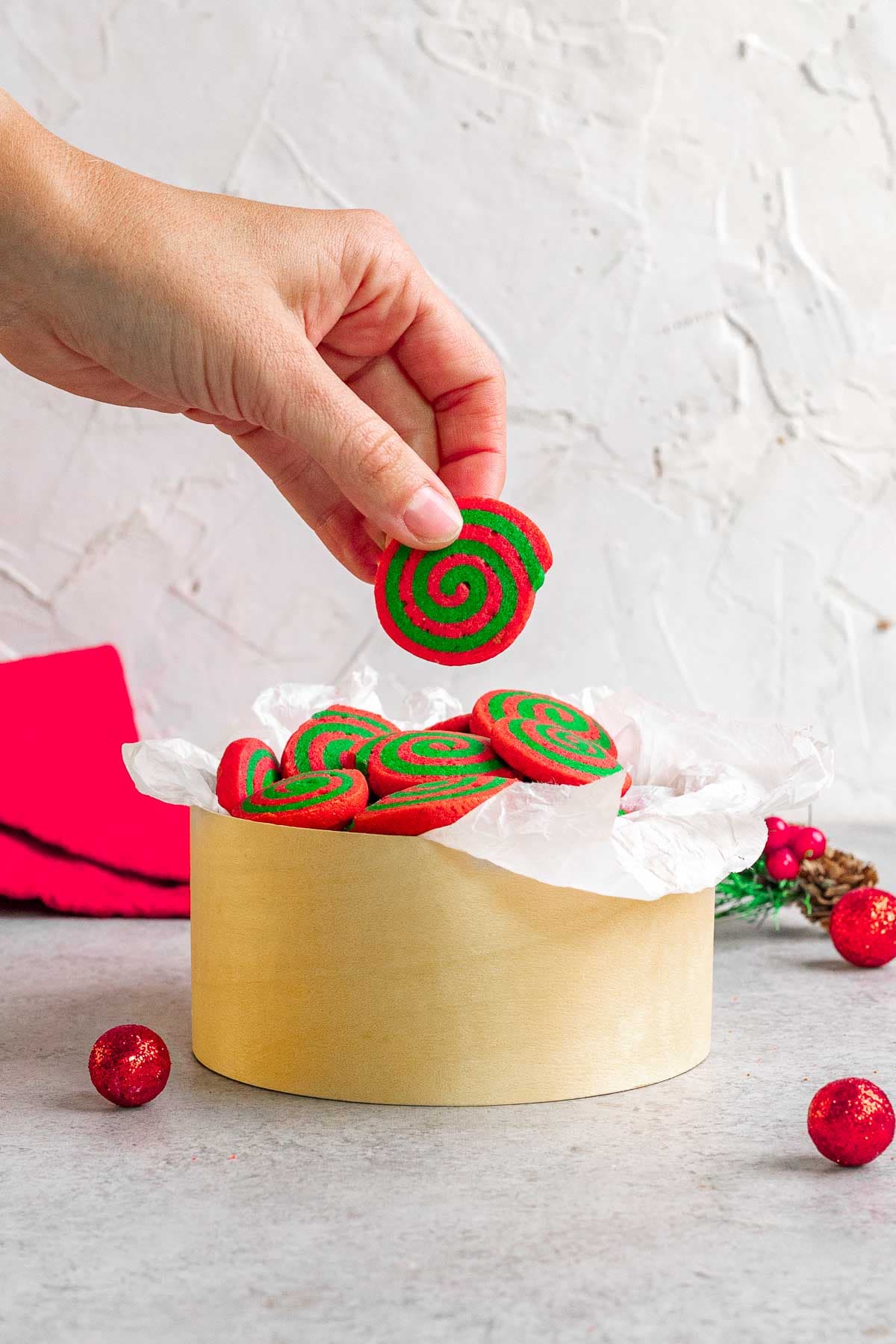 Variations on Christmas Pinwheel Cookies
Flavoring extract: The original recipe is made with peppermint extract for a bit of holiday flavor, but you can also use other kinds of extract. Simple vanilla extract is great for a more basic flavor, or try a teaspoon of almond extract, orange extract, or a little lemon extract.
Colors: You can make these pinwheel cookies with different colored swirls to make them match whatever occasion you're using them for. Simply replace the red and green food dye with whatever colors you want. Just like we talked about earlier, if you want them to be more a spring or summer cookie, replace the peppermint extract with lemon, or orange extract so the flavor can match the colors.
Cream cheese frosting: If you want to give the cookies a frosting topping, you can spread delicious, fluffy Cream Cheese Frosting over the top. Then add sprinkles, crushed peppermint candies, or any other cookie decorations you like.
Chocolate Pinwheel Cookies: For Chocolate Spiral Cookies, you can leave half of the dough plain. Then add a little cocoa powder to the second half of the dough. After rolling out the dough, you can layer the white dough on top of the chocolate and layer them together.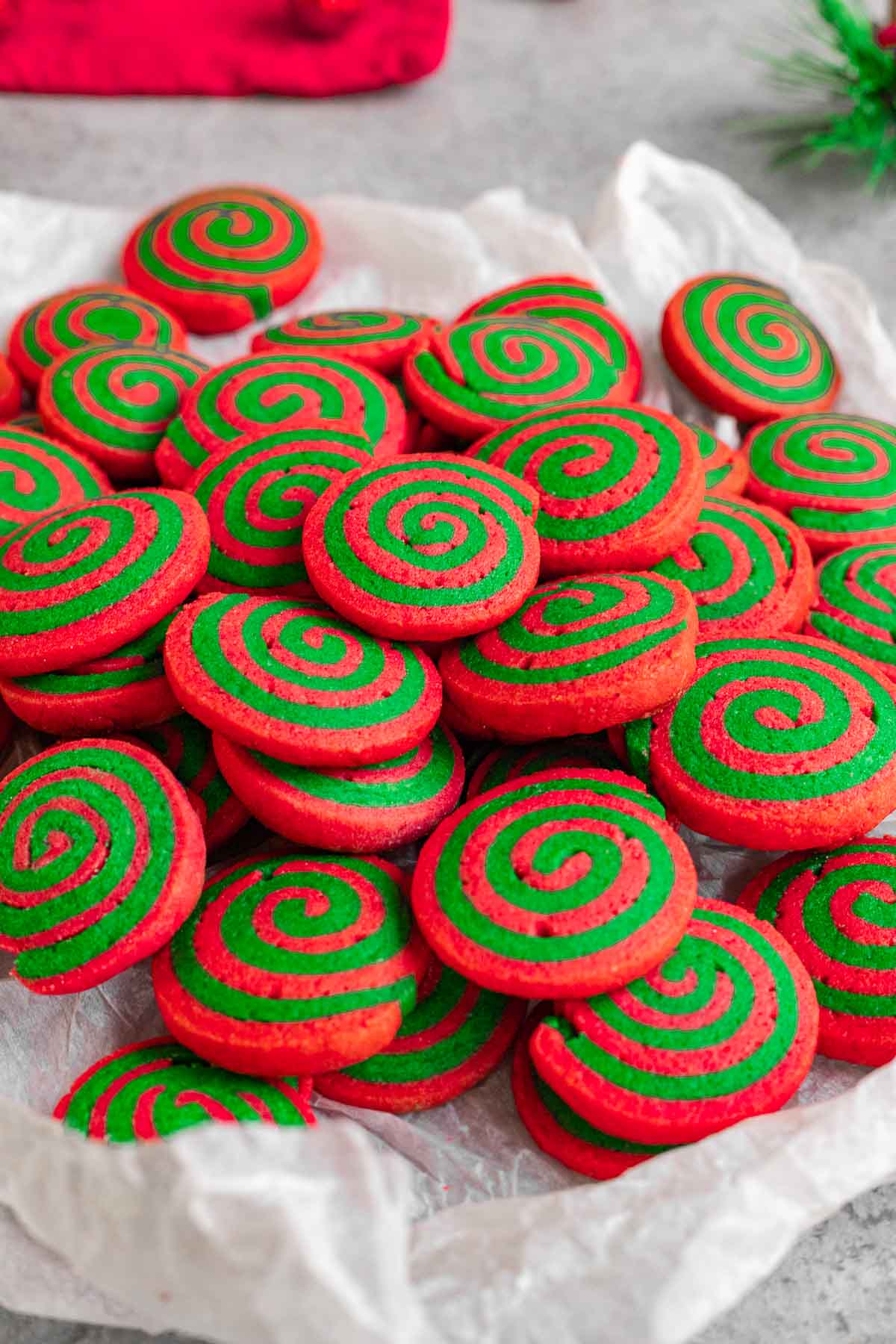 More Christmas Desserts
How to Store Christmas Pinwheel Cookies
Serve: After baking, you can leave them at room temperature for up to 2 weeks. Cover them in plastic wrap or put them in an airtight container to keep them from drying out.
Store: You can also store the baked cookies in an airtight container to keep them in the fridge for up to 2 months.
Freeze: To easily freeze the cookies, put them in a freezer bag with parchment paper between each layer so they don't stick together. Then they'll stay good for up to 8 months.


Ingredients
2/3

cup

unsalted butter

, softened

1/2

cup

brown sugar

, packed

1/4

cup

sugar

1

large

egg

1/2

teaspoon

peppermint extract

2 1/4

cups

flour

1/2

teaspoon

salt

1/2

teaspoon

baking powder

1/8

teaspoon

baking soda

1/2

teaspoon

red gel food coloring

1/4

teaspoon

green gel food coloring
Instructions
Add the butter, brown sugar, and sugar to a stand mixer on medium-high speed and cream until light and fluffy, about

2-3 minutes

.

Add in the egg and peppermint extract until well combined.

In a large bowl sift together the flour, salt, baking powder and baking soda.

Add the flour mixture to your stand mixer on low speed in small batches until just combined.

Separate the dough into two equal halves.

Add food coloring to each of the bowls and mix until smooth and evenly colored.

Wrap the dough in plastic wrap and refrigerate for

20 minutes

.

Cut each colored dough into two pieces.

Roll the four balls of dough into 10×6″ rectangles.

Layer the green dough rectangles on top of the red dough rectangles

Roll the dough into two logs (roll so the cookie log is long and skinny, rolling up from the widest side), wrap tightly with saran wrap and refrigerate for 1-2 hours.

Preheat the oven to 375 degrees.

Slice the cookies 1/4″ thick and place on a parchment paper lined baking sheet.

Bake for

8-10 minutes

, but do not let them brown.
Nutrition
Calories:
233
kcal
|
Carbohydrates:
31
g
|
Protein:
3
g
|
Fat:
11
g
|
Saturated Fat:
7
g
|
Polyunsaturated Fat:
1
g
|
Monounsaturated Fat:
3
g
|
Trans Fat:
1
g
|
Cholesterol:
43
mg
|
Sodium:
119
mg
|
Potassium:
63
mg
|
Fiber:
1
g
|
Sugar:
13
g
|
Vitamin A:
338
IU
|
Calcium:
24
mg
|
Iron:
1
mg