These White Chocolate Pretzels are easy no-bake holiday treats with just 2 ingredients. Salty pretzel twists covered in melted white chocolate chips.
Simple treats like Oreo Balls, Chocolate Caramel Pretzel Rods, and White Chocolate Pretzels are just some of the easy no-bake Candy Recipes you can enjoy all year long.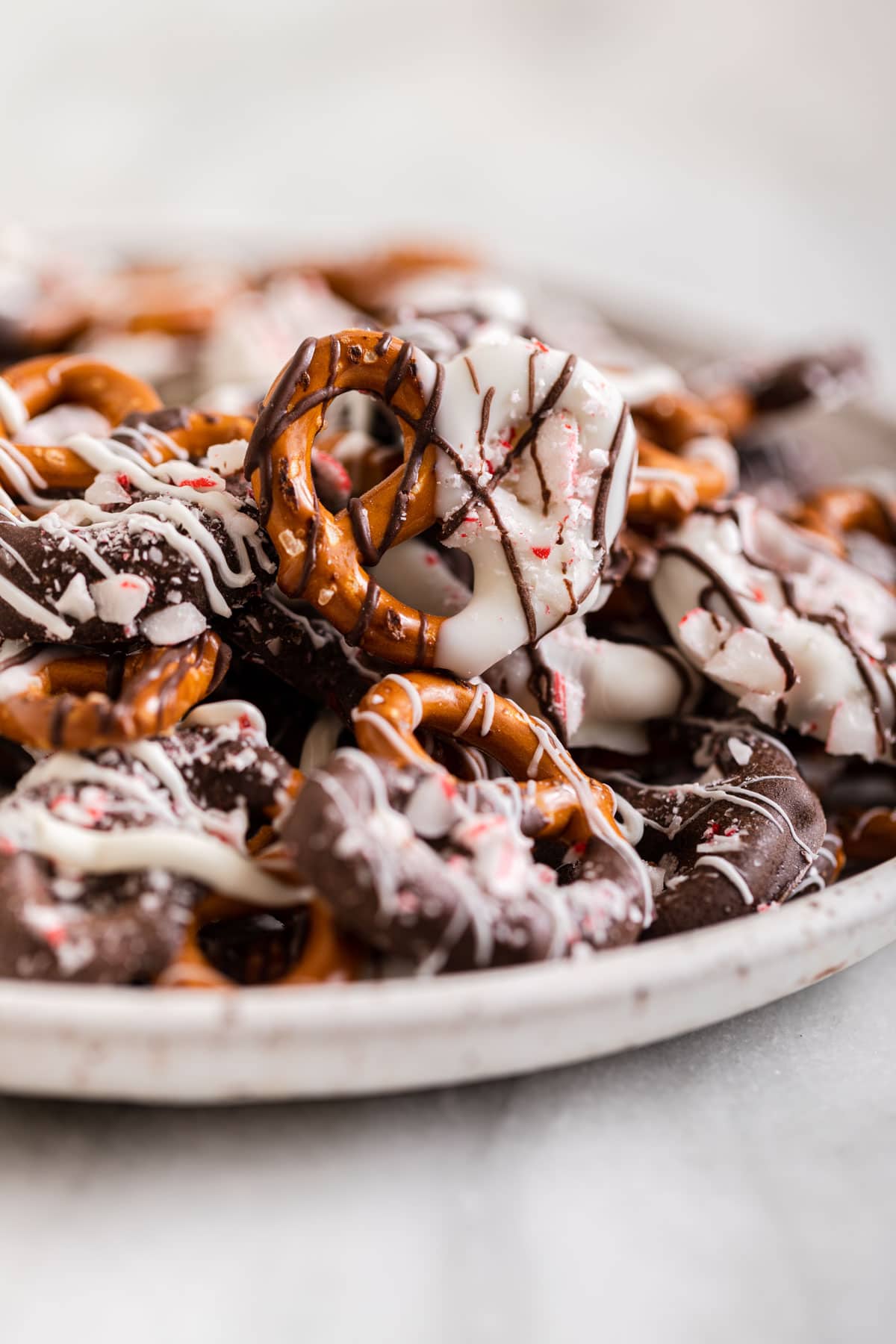 From Christmas gifts to an after-school treat, everyone loves easy, no-bake recipes that only take a few ingredients. Salty pretzels and sweet white chocolate are an ideal example of this. The pretzels stay crunchy in the middle but soften just enough to soak up the melted chocolate, and you can top them in so many ways.
This batch of White Chocolate Pretzels is topped with crushed candy canes for a holiday treat perfect for gifting or serving as Christmas party snacks. They look so beautiful and festive and are so yummy! They last for weeks so you can make a batch ahead of time to cut down your party day to-do list.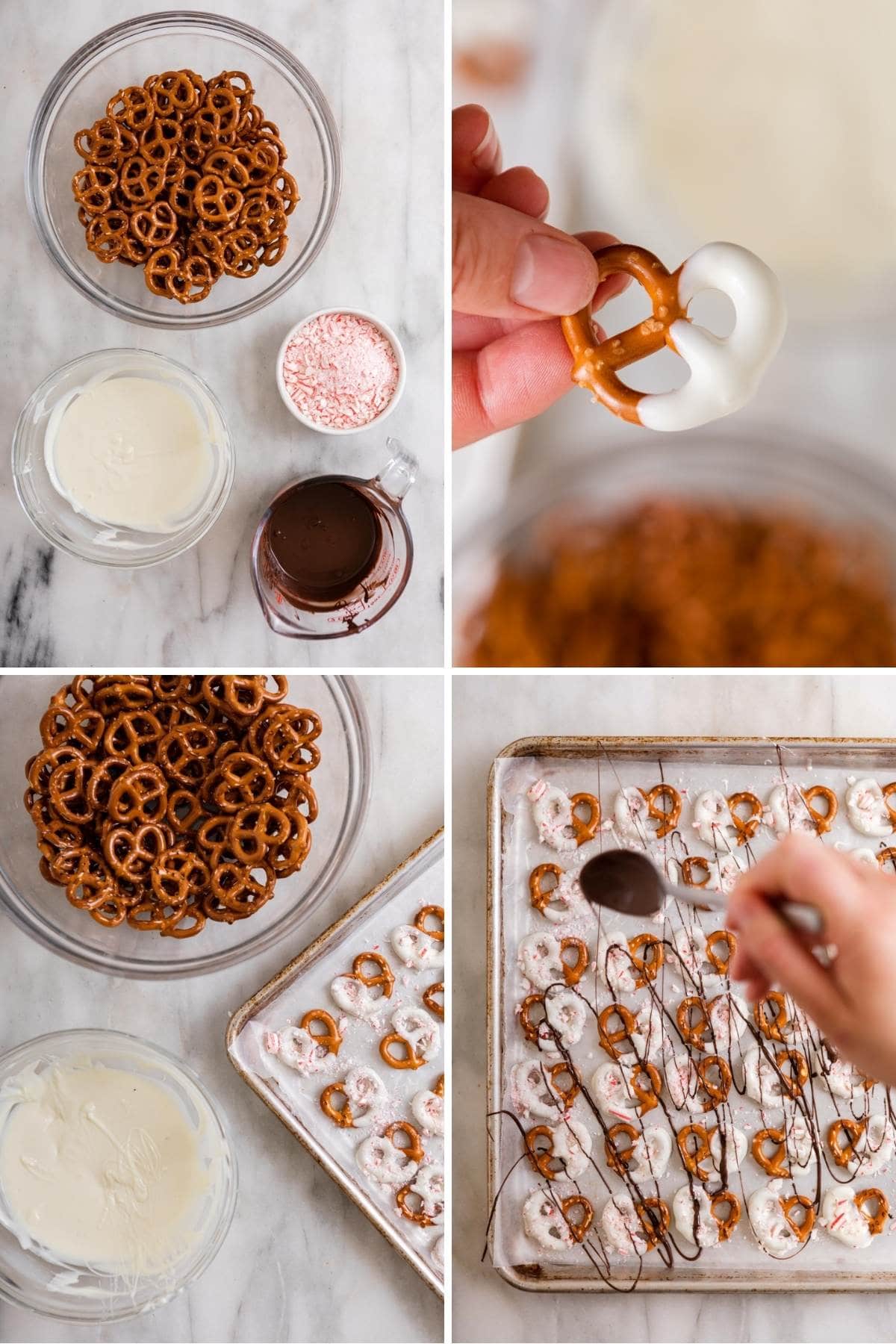 Creamy white chocolate with the cool peppermint is a fantastic combination, followed by a slightly buttery, salty pretzel inside. A great tip for coffee shop owners – Turn this flavor combination into a signature holiday latte. It's really that good!
Christmas is probably the most popular time to make no-bake holiday treats, but you don't have to limit yourself. Check out some fun ideas below to turn these holiday flavored treats into yummy party snacks any time of year.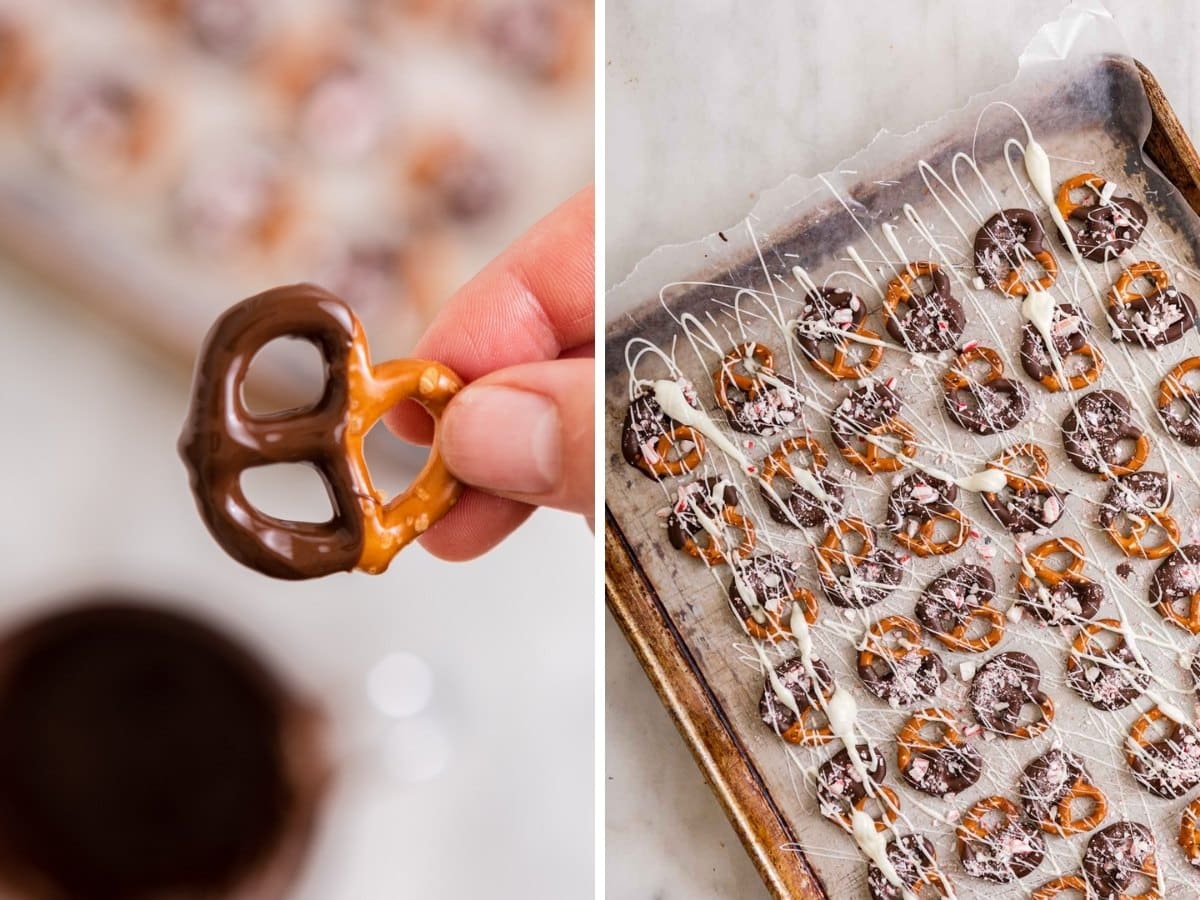 More Holiday Treat Recipes
Frequently Asked Questions About White Chocolate Peppermint Pretzels
Why is the chocolate microwaved in 30-second increments?
Chocolate can melt at different rates depending on the type of chocolate it is, and how strong the microwave is. Melting in 30-second increments allows you to check on the chocolate often enough so that it will melt but not burn.
Why is my white chocolate clumping when melted?
White chocolate might not melt properly under a few specific circumstances. In order to prevent clumping or separating, first make sure your white chocolate isn't expired. Next, make sure no moisture or water has gotten into your white chocolate while trying to melt it. Lastly, make sure you aren't using too little, or too much heat. Sticking to 30-second increments while heating will help with that.
White Chocolate Pretzels Holiday Treats
Christmas: You can use crushed candy canes for a classic Christmas snack, or try dusting with ground gingerbread or ginger snap crumbs.
Valentine's Day: Add strawberry extract to the melted white chocolate, dark chocolate drizzle, and red or pink sprinkles for a fun twist on chocolate-covered strawberries.
Fourth of July: Use red and blue sprinkles or for a more fun approach, and try some Pop Rocks to provide little fireworks in every bite!
Thanksgiving: Melt Caramels to drizzle over chocolate-covered pretzels and dust with a little cinnamon for fall flavor.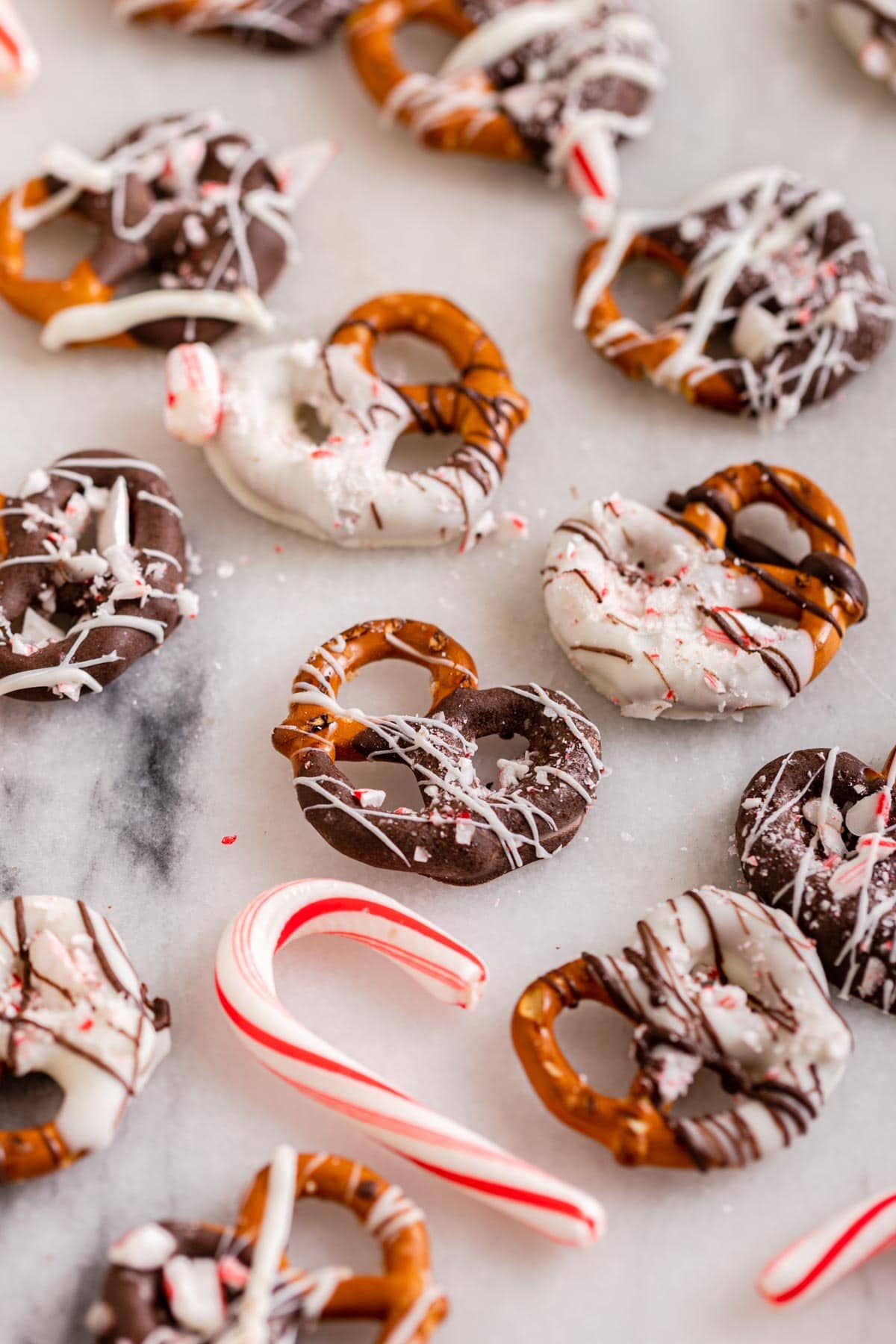 Create a free account to

Save Recipes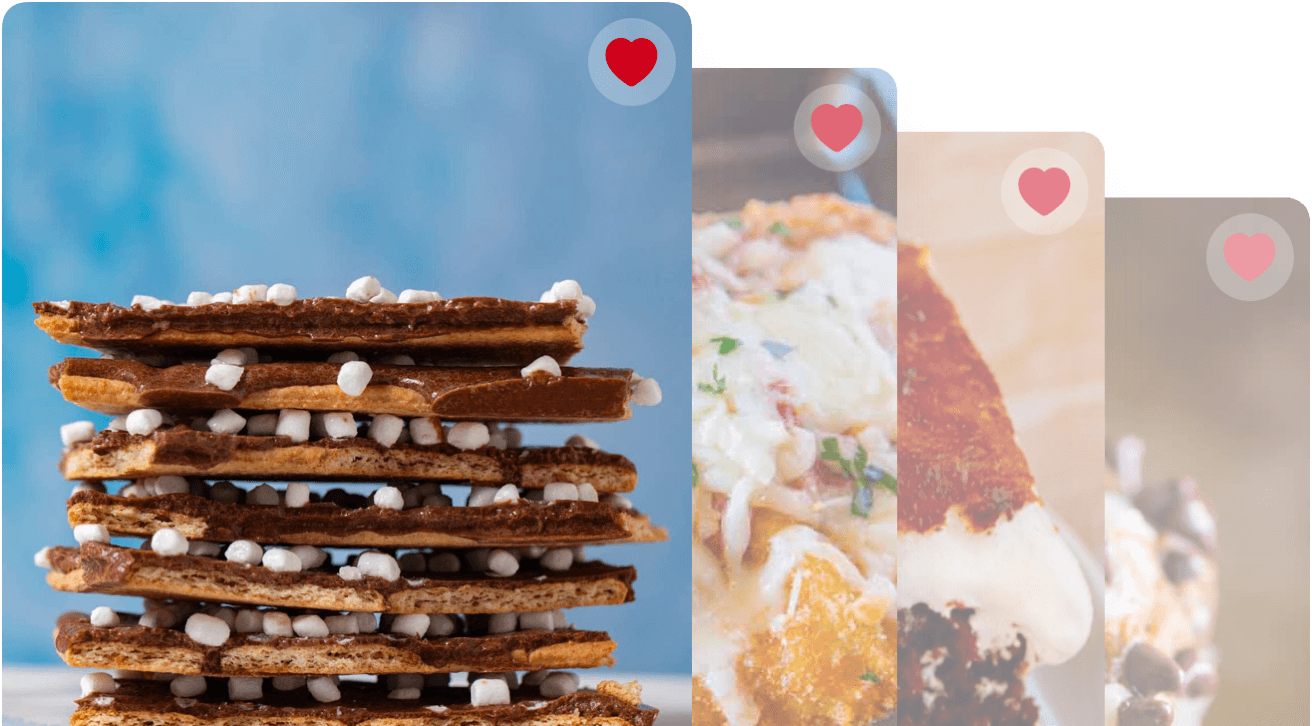 Variations on White Chocolate Pretzels
Chocolate: Decorate covered pretzels with a drizzle of dark chocolate or milk chocolate. You can also dip half your pretzels in white chocolate, and the other half dark chocolate for a nice assortment.
Peanut Butter: Dip your pretzels in dark, semi-sweet, or milk chocolate, and then drizzle melted peanut butter chips over the top for a classic chocolate and peanut butter combo.
Nuts: Use crushed nuts to top the pretzels. Sprinkle crushed pistachios, almonds, or peanuts over your freshly dipped pretzels.
Coconut: White chocolate and coconut taste so yummy together. Top pretzels with finely shredded coconut for a delicious and beautiful treat.
Cinnamon Sugar: Before coating in white chocolate, brush pretzels with melted butter and coat generously with cinnamon sugar. Allow to dry and then cover in melted white chocolate for a sweet, cinnamon surprise.
Pretzels: Instead of mini twist pretzels, you can also use pretzel crisps, pretzel rods, or large hard pretzels. You don't want to use a soft pretzel for this recipe.
Gluten Free: You can make a gluten free version of White Chocolate Covered Pretzels by using your favorite brand of gluten free pretzels to dip into the chocolate and other toppings.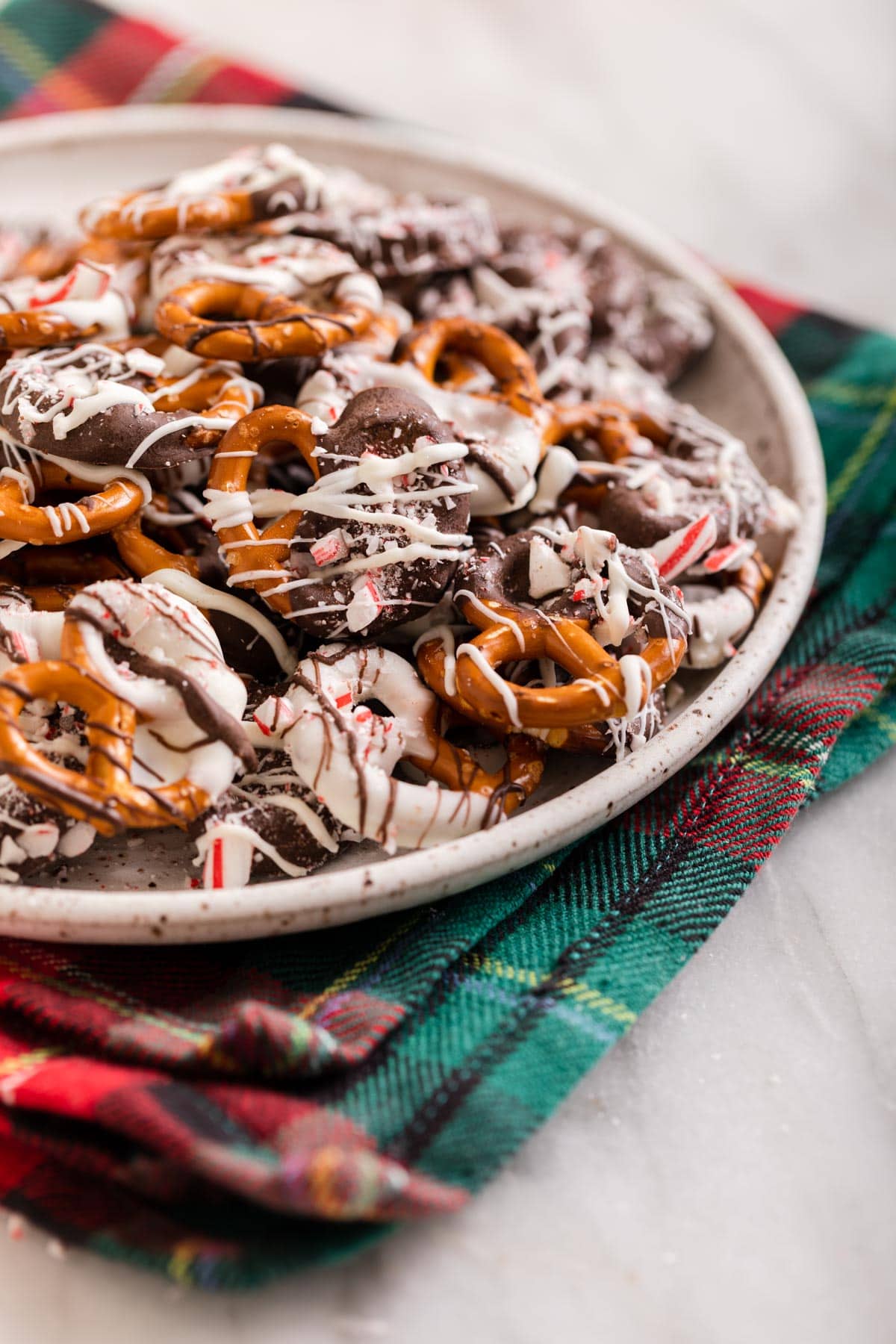 Melting Chocolate in the Slow Cooker
Use a crockpot to keep melted chocolate warm and melty longer. Fill a large glass bowl or jar with white chocolate and place it in your slow cooker. Fill the crockpot with water until about halfway up the sides of the bowl, careful not to get any water into the chocolate. Turn slow cooker on high for 30 minutes, uncovered, stirring occasionally until chocolate is melted. Turn on warm or low to keep water from getting too hot, while still melting chocolate.
Tips for Making White Chocolate Pretzels
Make sure to lay parchment paper on the baking sheets before starting to dip the pretzels. You'll have to move fast and it's easier to have it all prepped before plus it makes clean-up a breeze.
To easily dip the entire pretzel in the chocolate, use a fork to dip it in. Make sure to gently tap the fork against the edge of the bowl to remove the excess chocolate.
Almost any type of white chocolate will work for melting. White chocolate chips are a great choice, but candy melts, almond bark, and white chocolate squares can also be used.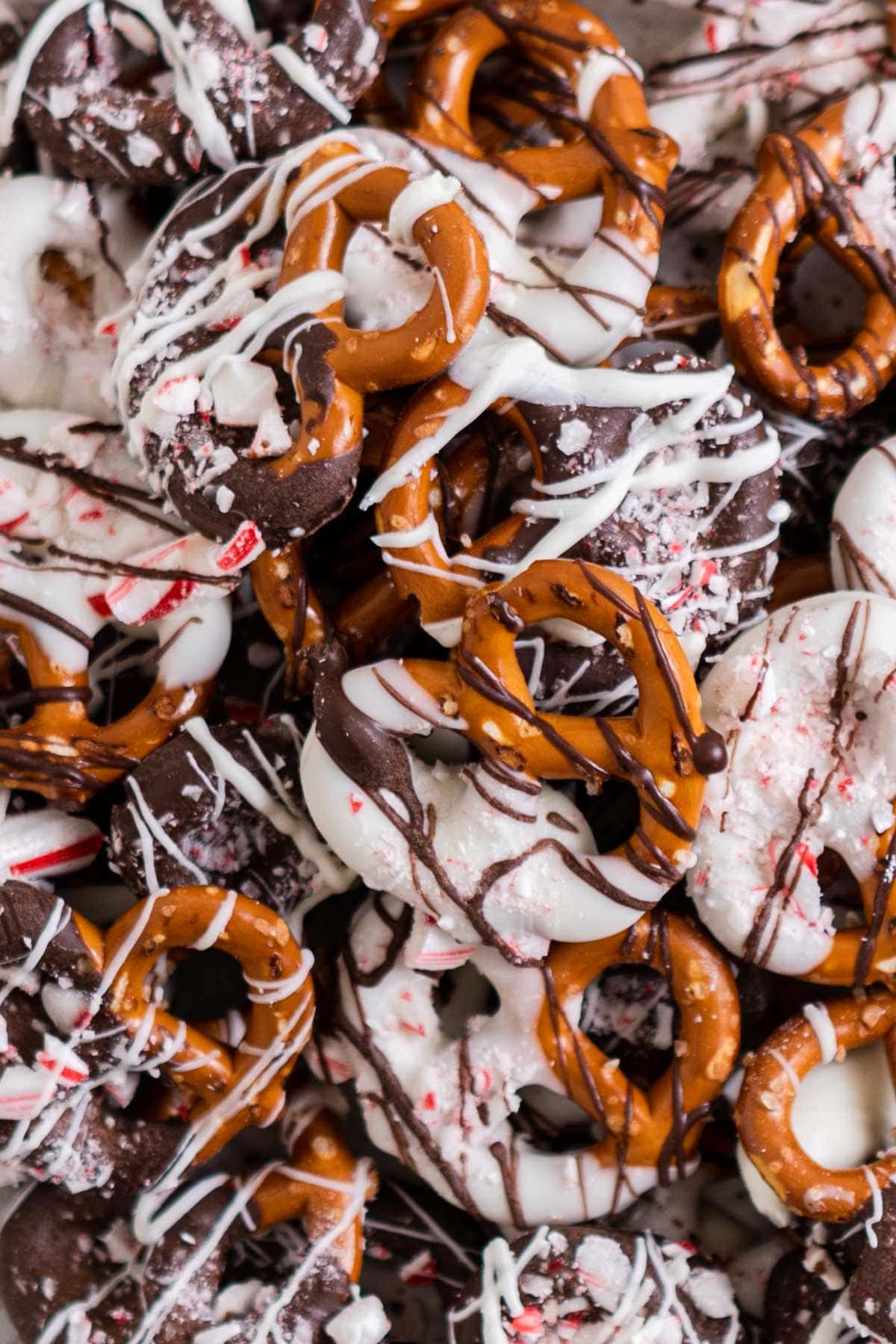 More Delicious Holiday Candy
How to Store White Chocolate Pretzels
Serve: Chocolate-covered pretzels will stay good at room temperature, in a cool, dry place, for 2 to 3 weeks in an airtight container.
Store: If it is too warm to keep pretzels on the counter, store them in the refrigerator for up to 1 month in an airtight container.
Freeze: Freezing White Chocolate Pretzels is not recommended, but if you do they will last about 1 to 2 months.


Ingredients
6

ounces

white chocolate

1

cup

semi-sweet chocolate

3

cups

mini twist pretzels

, 15 ounce package

1/2

cup

crushed candy canes

, or other toppings
Instructions
Melt white chocolate in a microwave safe bowl in

30 second

increments.

Melt the semisweet chocolate the same way.

Dip pretzel halfway into the white chocolate, completely covering half of the pretzel. Lay on wax paper and immediately sprinkle with crushed candy canes.

Drizzle with the melted semi-sweet chocolate.

Continue the process until half the pretzels are dipped then dip the second half in the semi-sweet chocolate and drizzle with white chocolate.

Place in refrigerator for

15 minutes

to harden. Store in airtight container.
Nutrition
Calories:
137
kcal
|
Carbohydrates:
21
g
|
Protein:
2
g
|
Fat:
5
g
|
Saturated Fat:
3
g
|
Polyunsaturated Fat:
1
g
|
Monounsaturated Fat:
2
g
|
Trans Fat:
1
g
|
Cholesterol:
2
mg
|
Sodium:
131
mg
|
Potassium:
84
mg
|
Fiber:
1
g
|
Sugar:
11
g
|
Vitamin A:
6
IU
|
Vitamin C:
1
mg
|
Calcium:
21
mg
|
Iron:
1
mg