Hot Chocolate Bombs make cute holiday gifts to give friends and family with real chocolate, homemade cocoa mix, sprinkles, and marshmallows.
Hot chocolate is the perfect warm Drink Recipe for winter, which is why I love our Slow Cooker Hot Chocolate, and our Hot Cocoa Mix recipes. With this Hot Chocolate Bomb recipe, you can make the perfect cup of cocoa just by adding warm milk.
These Hot Chocolate Bombs are so fun and look incredible, and they're pretty easy to make. You'll just need sphere silicone molds and a pastry brush to make the perfect Hot Chocolate Balls. Using silicone molds, you can shape melted chocolate and homemade cocoa powder into the perfect holiday gift to satisfy anyone's sweet tooth.
If you give this recipe as a gift, be sure to include directions for how much milk and cream to add. Then it will be easy for anyone to make the Hot Chocolate Bombs into an amazing mug of hot chocolate.
Kids can help out in the kitchen making these fun holiday treats, too. While an adult should always handle the hot melted chocolate, kids can easily help to measure and stir together the hot chocolate powder ingredients. They can also help drizzle chocolate onto the finished balls and decorate with sprinkles.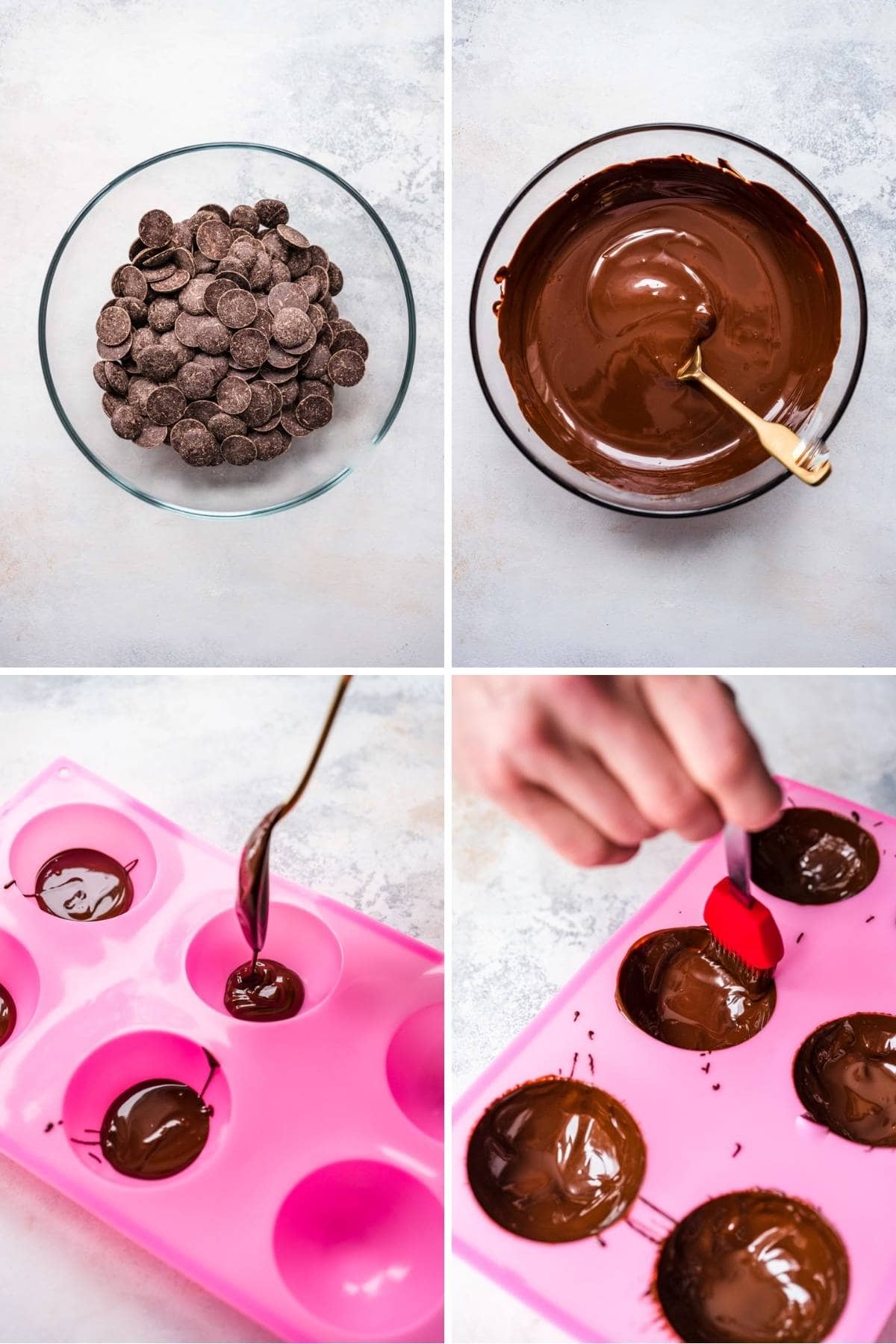 The Hot Chocolate Bombs are also great for a holiday party or to enjoy with your family in the winter. Once you add the milk and stir in the cocoa bomb, you can also add other toppings. Extra marshmallows, festive sprinkles, broken peppermint pieces, and Whipped Cream would all taste and look excellent.
What is a Hot Chocolate Bomb?
Hot Chocolate Bombs are hollow chocolate spheres that are filled with cocoa mix. You place the sphere into a mug, pour warm milk over it to melt the shell, and then stir it all up to make a delicious mug of cocoa. Sometimes they are decorated with festive sprinkles and can even contain extra surprises like marshmallows inside.
How do I decorate Hot Chocolate Bombs?
Turn your Hot Chocolate Bombs into beautiful festive gifts by decorating them with a fun variety of sprinkles and candy. Use a contrasting chocolate like white candy melts or melted milk chocolate to drizzle onto the hardened chocolate shells. Then sprinkle with miniature marshmallows, crushed candy canes, colored sugar, or holiday sprinkles.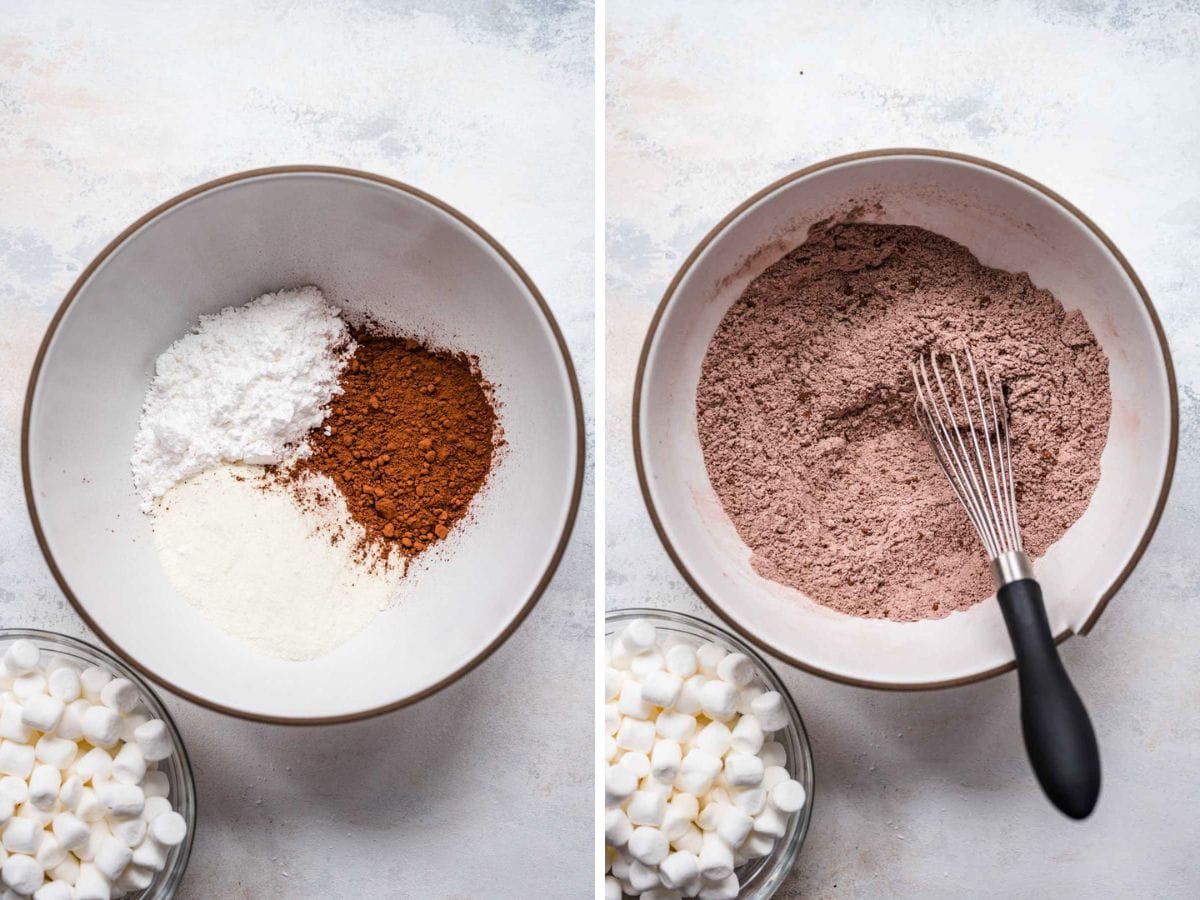 How to Make Hot Chocolate Bombs
Melt Chocolate: Add the chocolate to a microwave-safe bowl. Then microwave in 30-second increments, stirring between each microwaving session. Continue until the chocolate is melted and completely smooth. If you prefer, you can also melt chocolate using a double boiler. For this version, you'll put the chocolate in a heat-safe bowl. Then put the bowl over a pot of water. Turn on the stovetop. The steam from the hot water will melt the chocolate.
Mold: Add 1 tablespoon of melted chocolate to each half-sphere of your Hot Chocolate Bomb silicone molds. After you fill the mold with chocolate, brush chocolate around the half chocolate spheres. Place the molds on a parchment-lined baking sheet and refrigerate them for 5 minutes.
Hot Cocoa Mix: You can make the hot chocolate mix while the molds are hardening. Add powdered milk, powdered sugar, and cocoa powder to a large bowl, and whisk the hot cocoa powder mix together.
Finish Hot Chocolate Molds: Re-warm the remaining chocolate in the bowl if it's started to harden. Then add the melted chocolate to a piping bag. Prepare a baking sheet with a piece of parchment paper. Then take the chocolate molds from the fridge. Remove the chocolate from the molds, and place them on the baking sheet. Add the hot chocolate mix to half the molds, then top them with marshmallows and any other festive mix-ins you like. Pipe chocolate over the second half of the mold. Carefully place the chocolate half and the filled half together. Then use the piping bag to zig-zag chocolate over the chocolate bombs. Top the balls of chocolate with festive sprinkles if desired. Let them harden for 20 minutes at room temperature or for 10 minutes in the fridge.
Make Hot Chocolate: Heat milk and heavy cream up to a simmer, but do not let the hot milk boil. Add the hot chocolate bomb to a mug. Then pour hot milk over bomb in a steady stream. Let sit for 5-10 seconds for the bomb to melt. Then stir the creamy hot chocolate together and enjoy.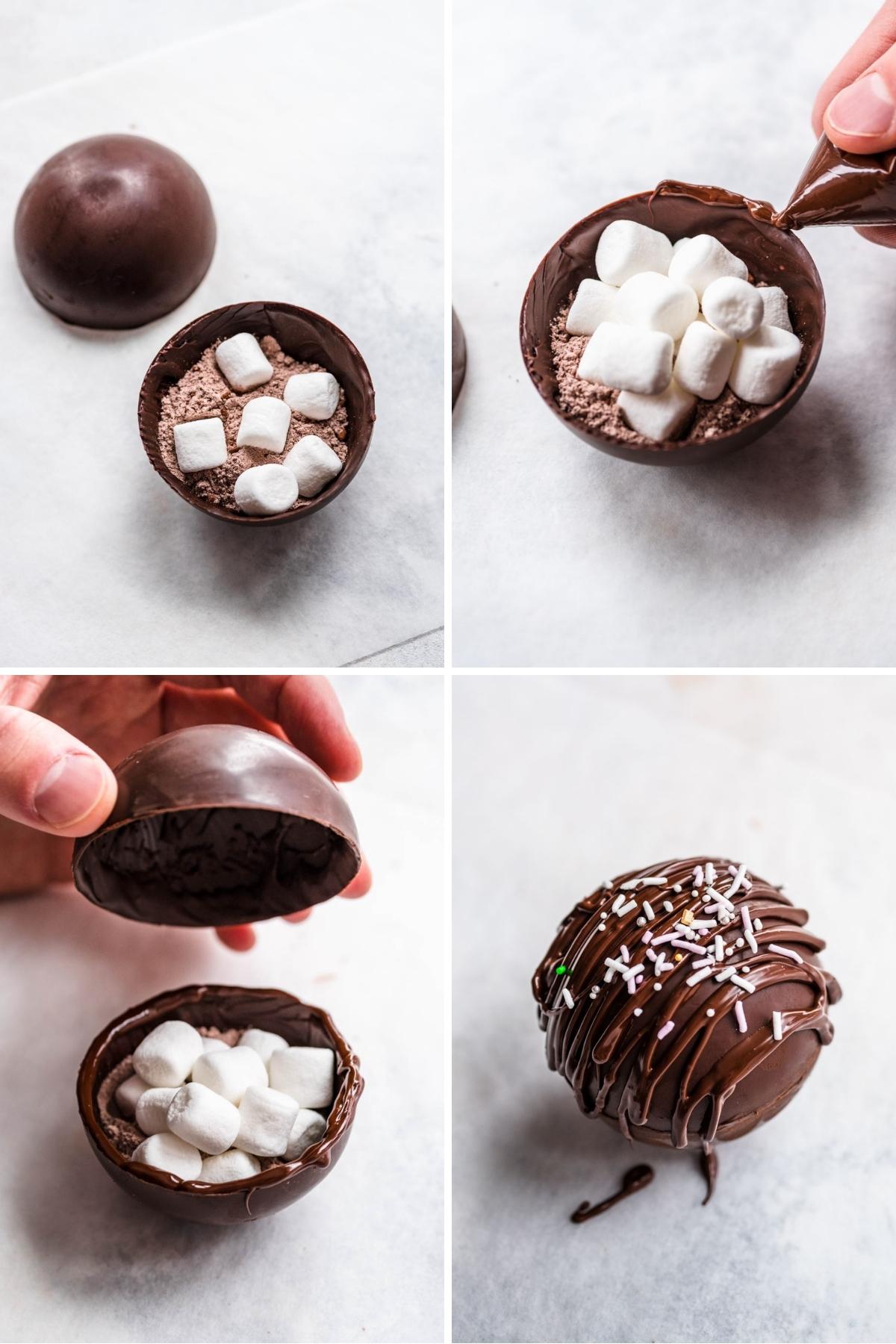 Festive Drink Recipes
Frequently Asked Questions
What mold do I need for Hot Chocolate Bombs?
We used a simple silicone mold for the Hot Chocolate Bomb molds. The silicone is great because it's easy to take the chocolate out of without it breaking. After it all hardens and combines, you'll have the perfect sphere of chocolate-filled goodness. 
What chocolate is best for this recipe?
I like Hot Cocoa Bombs best with semisweet chocolate melting disks. You could use chocolate chips if you'd rather. The most important thing is using high-quality chocolate because it's where most of the hot cocoa flavor comes from. 
Why did my melted chocolate get clumpy?
When melting chocolate, it is very important to avoid letting any water or steam come into contact with it. If this happens, it will seize and curdle. This can also happen if the chocolate overheats. You can try adding a little vegetable and coconut oil to the seized chocolate and stir vigorously to smooth it out again. If this trick doesn't work, you're better off tossing out the seized chocolate and starting over.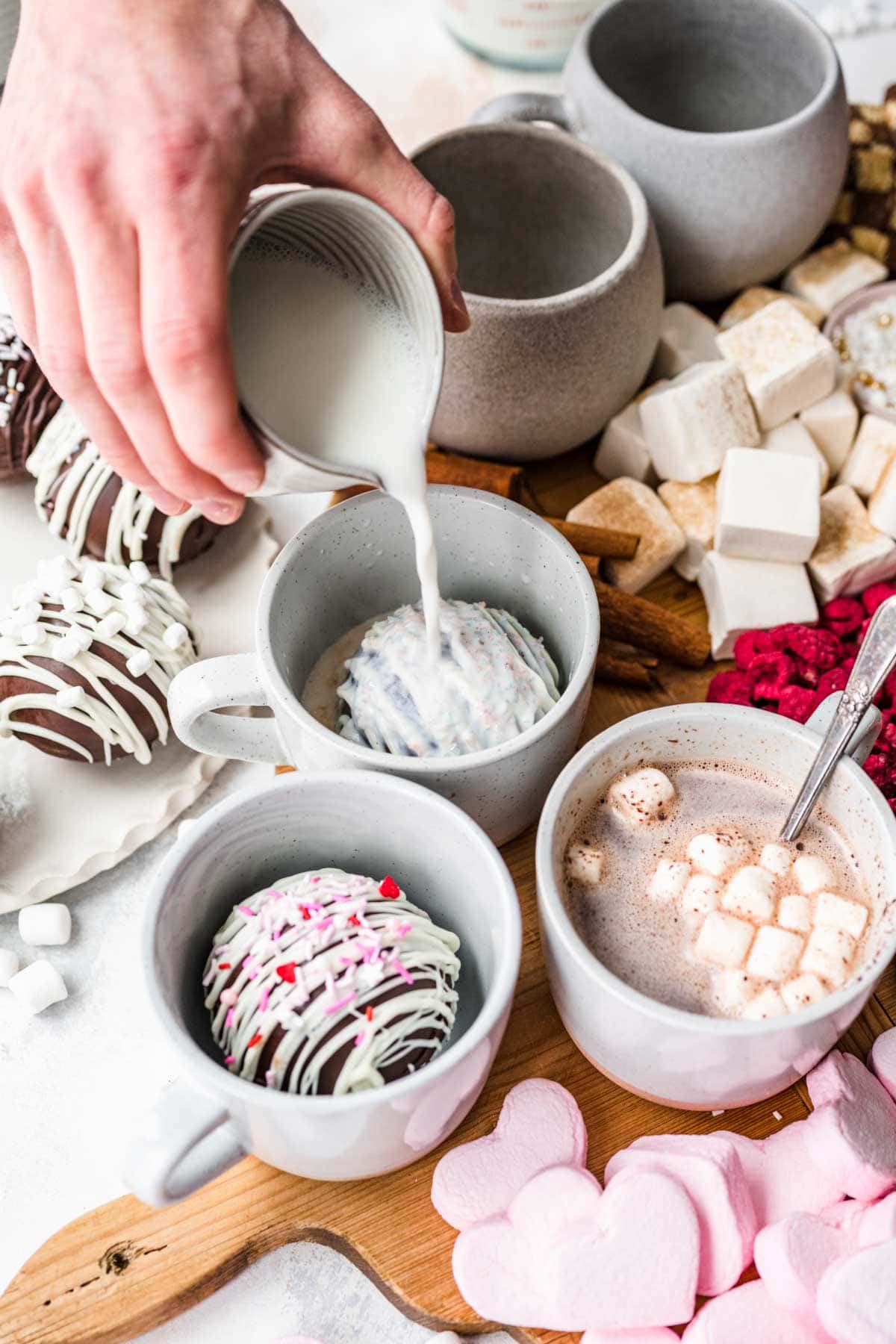 Create a free account to

Save Recipes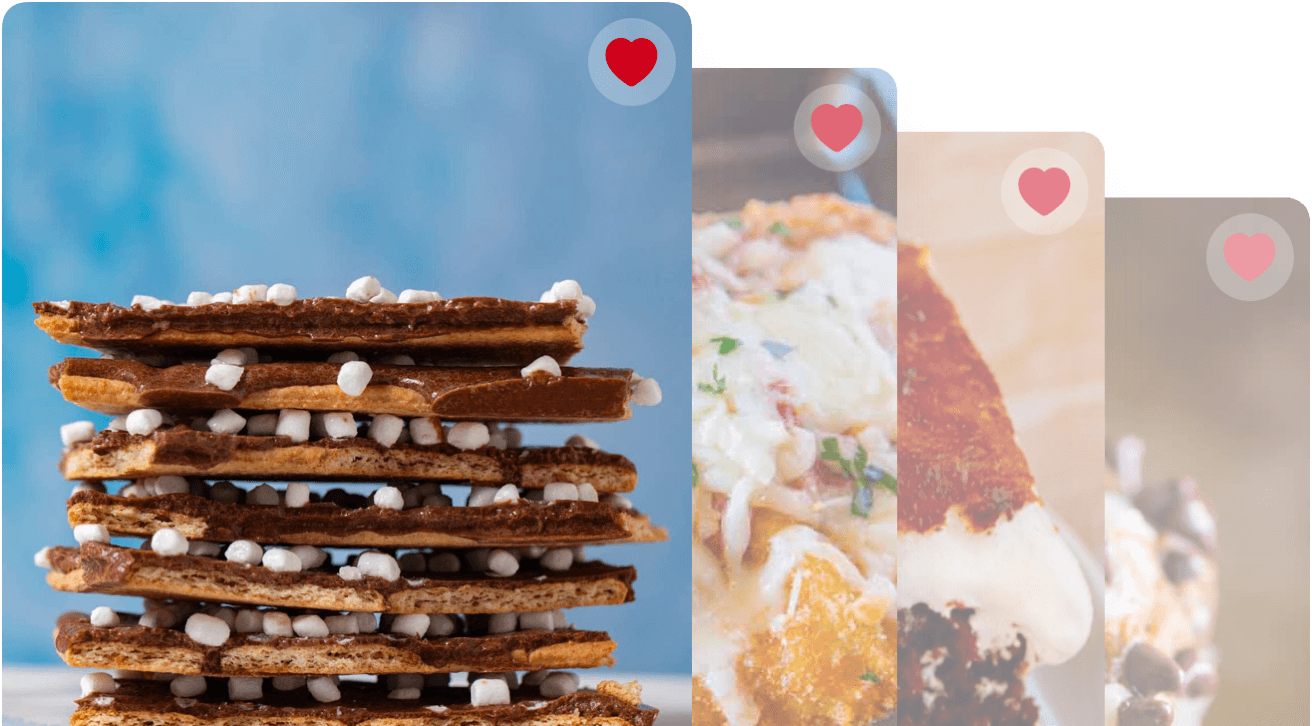 Key Ingredients in Hot Chocolate Bombs
Chocolate: One of the best parts of these Hot Chocolate Balls is the real chocolate. Use chocolate wafers because they're perfect for melting and hardening. When you make the hot chocolate, they'll melt into the warm milk and make it extra chocolatey.
Hot Cocoa mix: You could use store-bought hot cocoa powder mix. But it's super easy to make the hot cocoa mix yourself with powdered milk, powdered sugar, cocoa powder, and mini marshmallows.
Milk: It's up to you if you just want to use milk to make the hot chocolate or if you want to add a little bit of cream to make the delicious drink extra rich.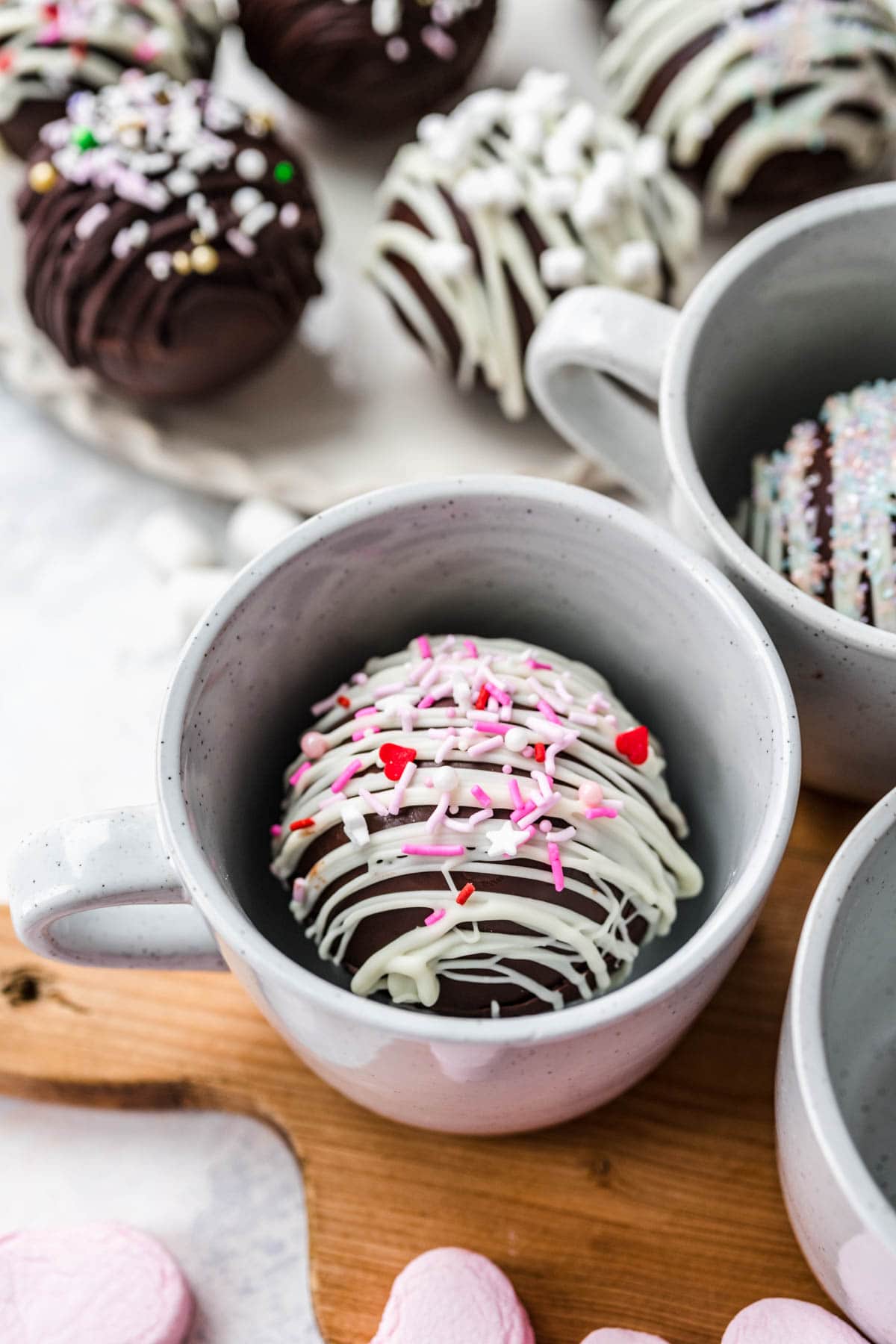 Variations on Hot Chocolate Bombs
Dark chocolate bombs: If you prefer a deeper, slightly bitter chocolate flavor, you can make this recipe with dark chocolate. Just melt and form the dark chocolate the same way you would the semisweet chocolate.
Milk Chocolate: If you prefer a sweeter recipe, you can also make Milk Chocolate Bombs. Just keep in mind that this may be too sweet for some people's taste. You may want to include some mini semisweet chocolate chips inside your milk chocolate bomb to balance the flavors.
White Chocolate Bombs: To go a little outside the norm, make White Chocolate Bomb. These are fun because they can be decorated to resemble snowballs with sanding sugar or snowflake shaped sprinkles. There will still be a little bit of regular chocolate flavor because of the cocoa powder in the hot cocoa mix. But, the overall flavor will be much lighter and very sweet for this version.
Mocha bombs: If you're a coffee lover like me, you might want to give this coffee version a try. You'll prepare most of the Hot Chocolate Bombs as usual. The only difference is that you'll remove ½ tablespoon of the cocoa powder and add 1 tablespoon instant coffee or espresso powder.
Peppermint Hot Chocolate: For festive peppermint flavor, you can add broken peppermint candies or candy canes into the recipe along with the mini marshmallows. You can also top off the finished hot chocolate with more peppermint and extra chocolate pieces to finish.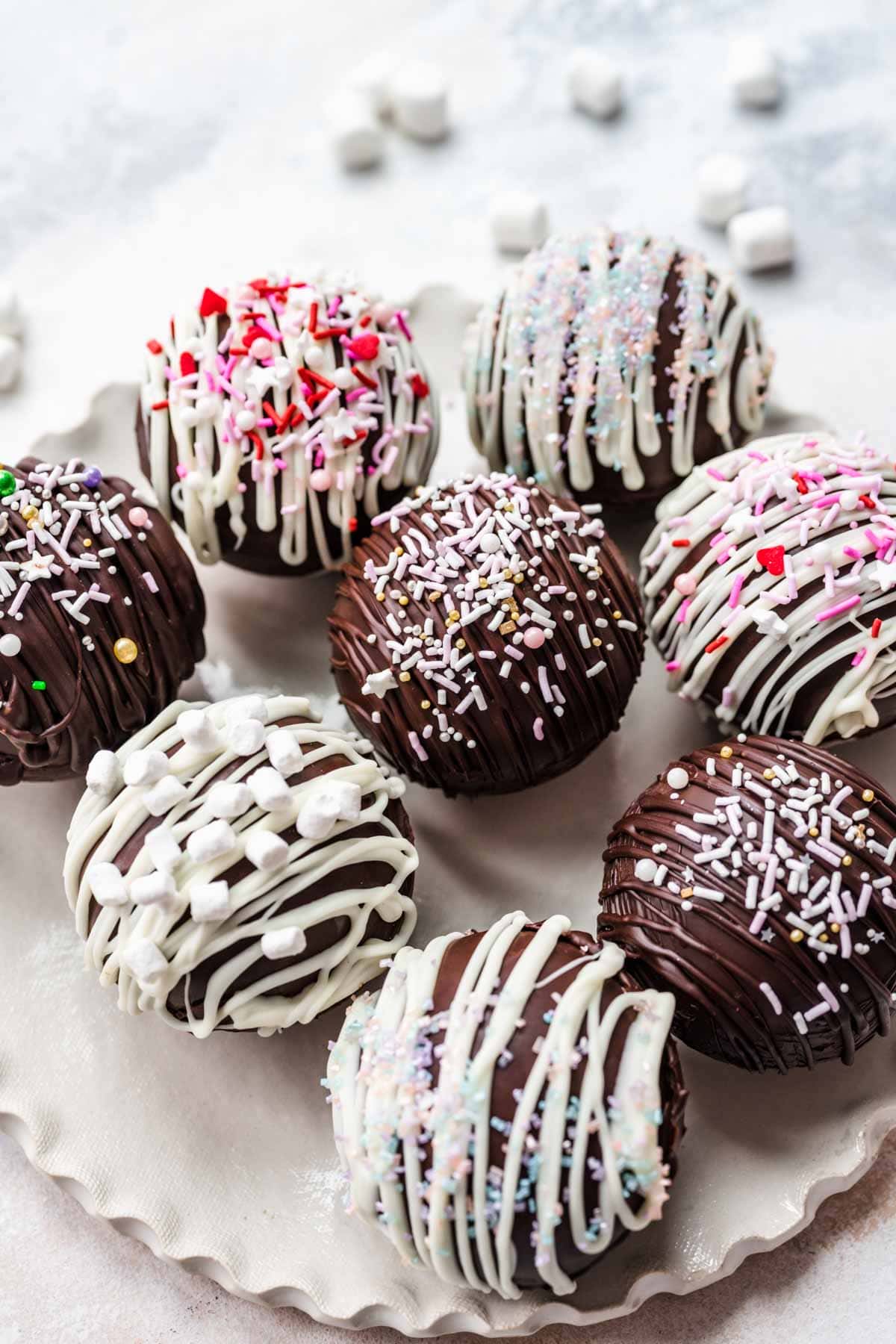 More Edible Gifts
How to Store Hot Chocolate Bombs
Serve: Before you make them into Hot Chocolate, you'll want to keep the Hot Chocolate Bombs cool. They're fine at room temperature as long as your house isn't warm enough to melt the chocolate.
Store: Leftover Chocolate Bombs can stay good in the fridge for up to 1 month. Put them in an airtight container with each bomb placed in parchment paper cupcake liners.
Freeze: If you freeze the Hot Chocolate Bombs, they can keep well for up to 3 months.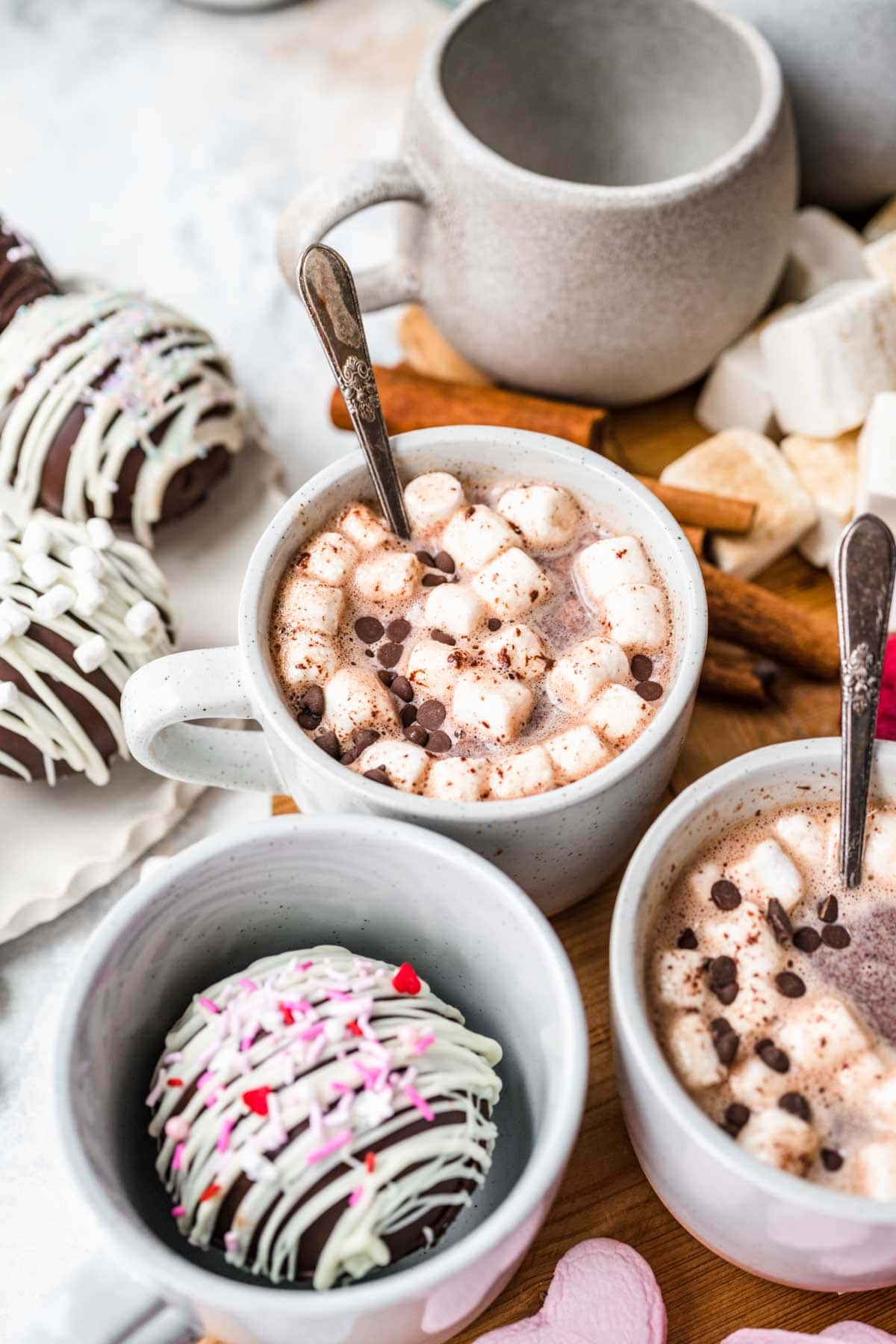 Ingredients
12

ounces

semi-sweet chocolate discs

, or high quality chips
Hot Chocolate Mix:
3

tablespoons

powdered milk

3

tablespoons

powdered sugar

1 1/2

tablespoons

unsweetened cocoa powder

1/2

cup

mini marshmallows
To Finish:
6

cups

whole milk

1/2

cup

heavy cream

, optional (this makes it richer)
Instructions
Add chocolate to a large glass bowl and microwave in

30 second

increments.

Stir between each time you microwave (at first stirring will seem silly, but still stir it).

Microwave and stir until chocolate is completely smooth and melted.

Using your hot chocolate bomb silicone mold, add 1 tablespoon of melted chocolate to each half sphere.

Evenly brush or spread the chocolate around the half sphere.

Place molds on baking sheet and refrigerate for

5 minutes

.
Hot Chocolate Mix:
While the molds are hardening make the hot chocolate mix.

In a large bowl, whisk together the powdered milk, powdered sugar and cocoa powder.

Reserve the marshmallows for assembly.
To Assemble:
Re-warm the remaining chocolate in the bowl if it's starting to harden.

Put melted chocolate into a large ziplock bag or a piping bag.

Remove the chocolate from the molds.

Place on baking sheet lined with parchment paper or wax paper.

Add the hot chocolate mix evenly in half the molds.

Top with the marshmallows.

Note: You can also add sprinkles in here for a more festive chocolate bomb.

Pipe some melted chocolate around the second half of the chocolate molds one at a time.

Place the second half over the filled half and gently press together.

Wipe excess chocolate away carefully.

Using the piping bag, zig zag the chocolate over the chocolate bombs.

Top with sprinkles if desired.

Let harden at room temperature for

20 minutes

or for

10 minutes

in your refrigerator.
To Finish:
Heat milk and heavy cream to just before a simmer, do not let your milk boil.

Add Hot Chocolate Bomb to a mug.

Add 1 cup (just over a cup if you're adding the heavy cream) of the hot milk to the mug in a stream on top of the hot chocolate bomb.

Let sit for

5-10 seconds

for bomb to melt, then stir well to combine.
Nutrition
Calories:
296
kcal
|
Carbohydrates:
26
g
|
Protein:
7
g
|
Fat:
19
g
|
Saturated Fat:
11
g
|
Polyunsaturated Fat:
1
g
|
Monounsaturated Fat:
5
g
|
Trans Fat:
1
g
|
Cholesterol:
29
mg
|
Sodium:
61
mg
|
Potassium:
388
mg
|
Fiber:
3
g
|
Sugar:
20
g
|
Vitamin A:
375
IU
|
Vitamin C:
1
mg
|
Calcium:
192
mg
|
Iron:
2
mg