Coconut Joys are a quick and easy no bake candy recipe made with shredded coconut flakes, powdered sugar, chocolate chips, butter and pecans.
Fill your holiday gift baskets with easy to make Candy Recipes like Buckeye Balls, Peppermint Bark, and these easy coconut treats you can enjoy all year round!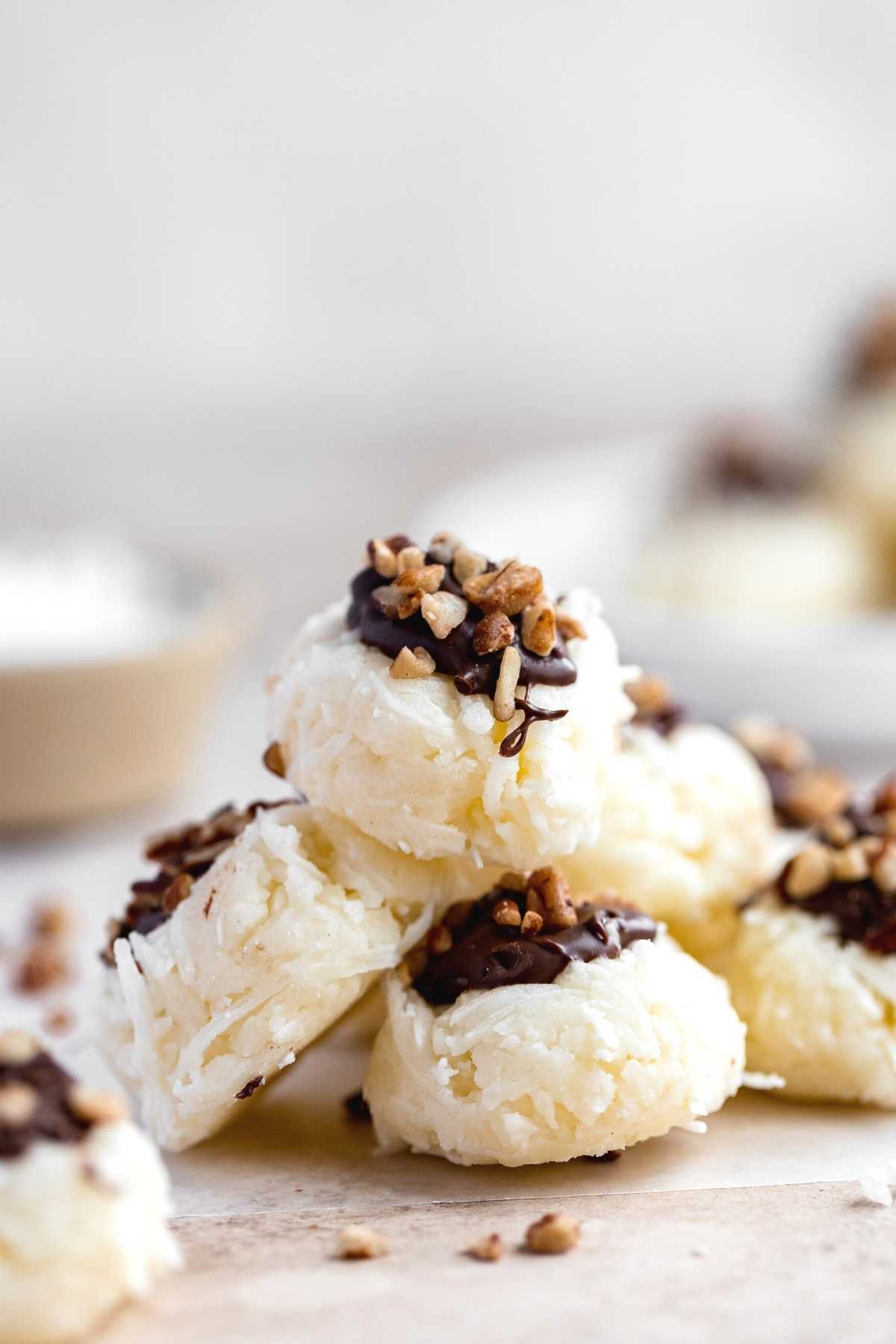 If you love coconut, you are probably no stranger to old-school Almond Joys and Mounds candy bars. These classic yummy bite-sized treats are usually more of an adult favorite Halloween, a sort of spoils of war while the kids gobble up the flashier (more sugary) treats in their haul. This candy recipe gives you all the flavors of your favorite candy without having to wait until a night of trick or treating!
You won't believe how easy these no-bake Coconut Joys are to make with only a handful of ingredients, most of which you probably already have in your pantry. All you need are some chocolate chips, shredded coconut, and pecans – all pantry staples that you might just have left over from holiday baking.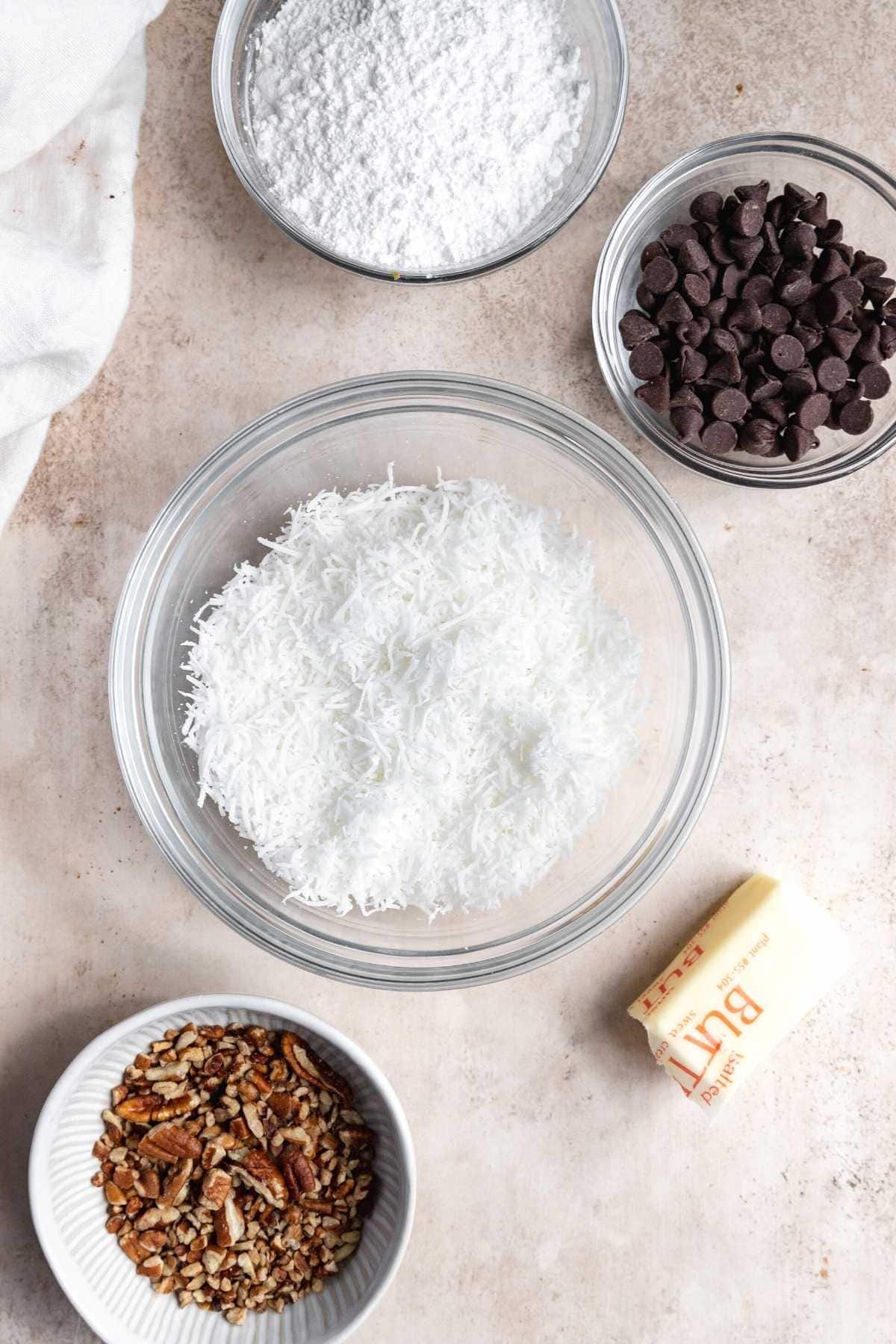 The coconut balls are made by combining shredded coconut, powdered sugar, and melted butter. You can either fill a small indent with chocolate or drizzle it all over the top. Finish off these coconut chocolate morsels with a sprinkle of pecans. The key ingredient is sweetened coconut flakes because they are sticky enough to hold together and give extra sweetness.
Coconut Joys make the perfect addition to your cookie exchange or holiday gift baskets. Gift them alongside other classic bite-sized treats like Chocolate Fudge and Oreo Truffles. These easy candies can be frozen for up to 6 months, making them a perfect sweet snack whenever you get a chocolate coconut craving or to jump start your holiday baking!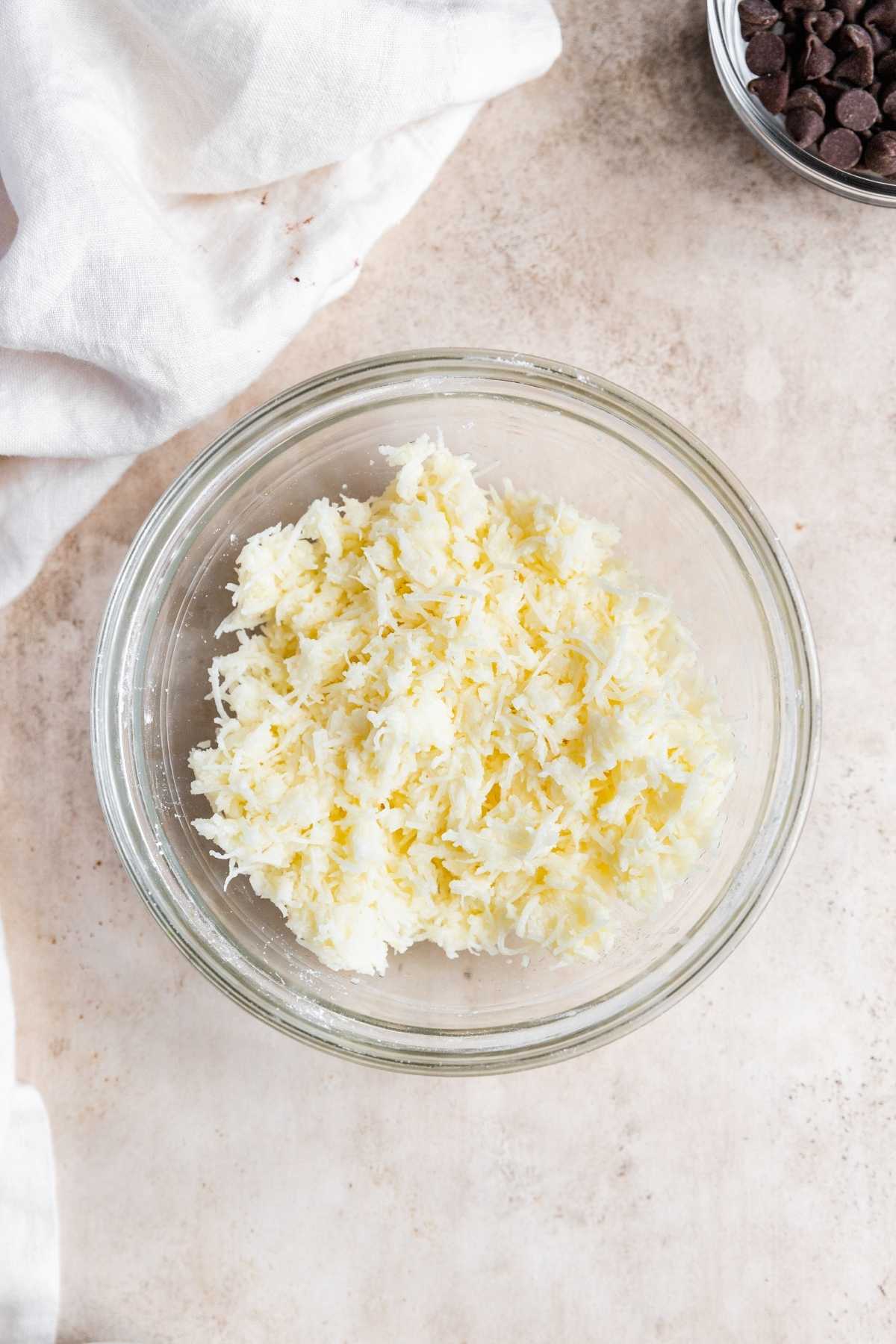 Tips for Making Chocolate Candy
Instead of using a microwave you can use a double boiler method to melt the chocolate. This can be a little time and attention consuming. Make sure to stir and don't let any water splash in or your chocolate will seize up and become hard.
Once the chocolate is melted, you can either use a spoon to fill the coconut balls or you can pour the chocolate into a heavy-duty plastic bag, snip the corner and pipe it into the indentations for a drizzle look.
Easy Christmas Candies
How to Make
Melt the Chocolate: Melt the chocolate chips in a microwave safe bowl in 30 second bursts, stirring every 30 seconds. Be careful not to overcook. A best practice is to heat in a glass bowl and remove with a few chips not quite melted, stirring to let the hot chocolate and glass finish melting the remaining chocolate chips.
Mix and Shape: In a large bowl mix together the coconut, butter and powdered sugar until combined and coconut is completely covered. Form the mixture into 1-inch balls. Mixture will be sticky so you can spray your hands lightly with baking spray or butter, but not too much.
Fill With Chocolate: Using the handle end of a wooden spoon make an indentation in the coconut ball. Fill with melted chocolate and sprinkle chopped pecans while chocolate is still soft. Refrigerate the candies until the coconut joy and chocolate have hardened.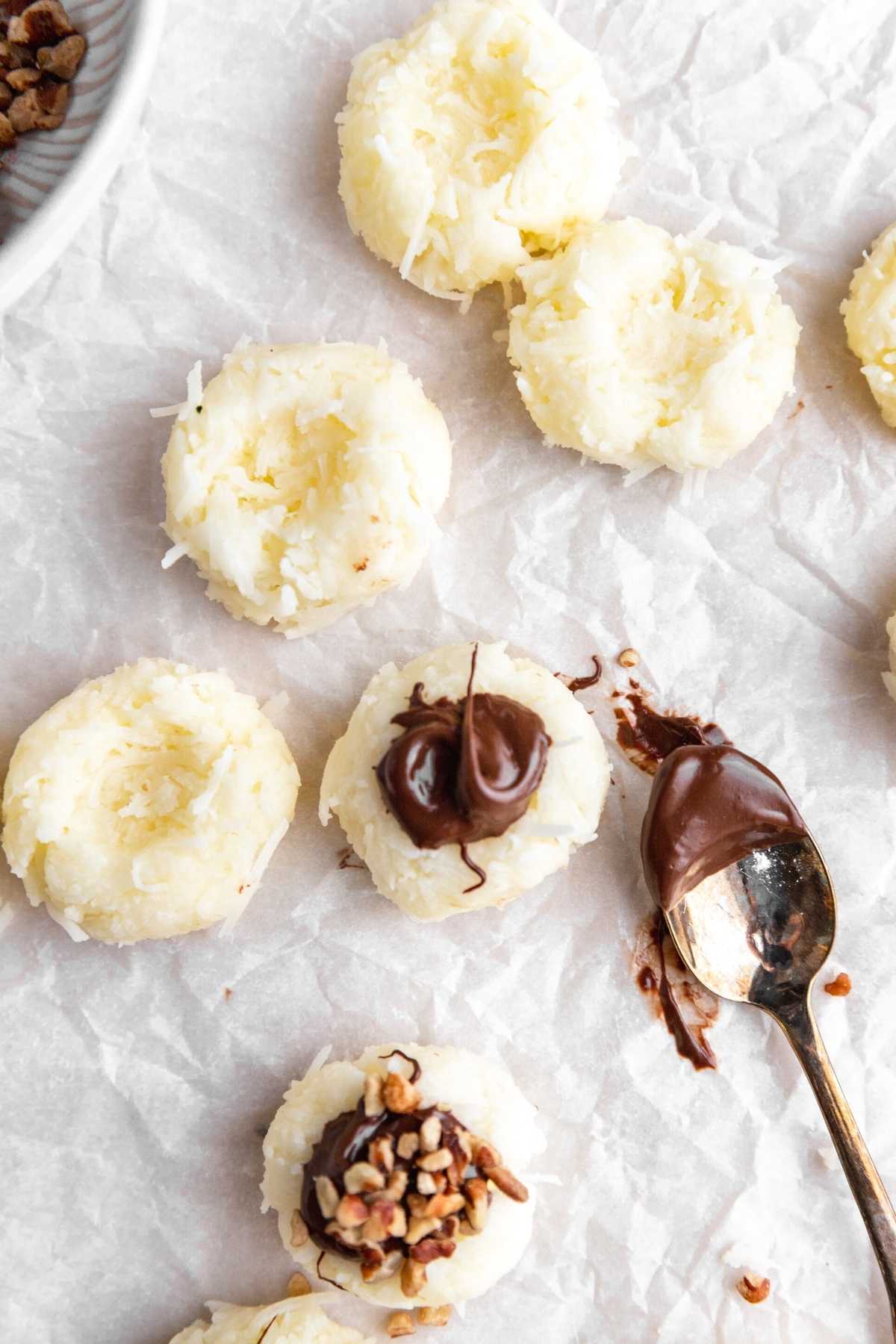 Create a free account to

Save Recipes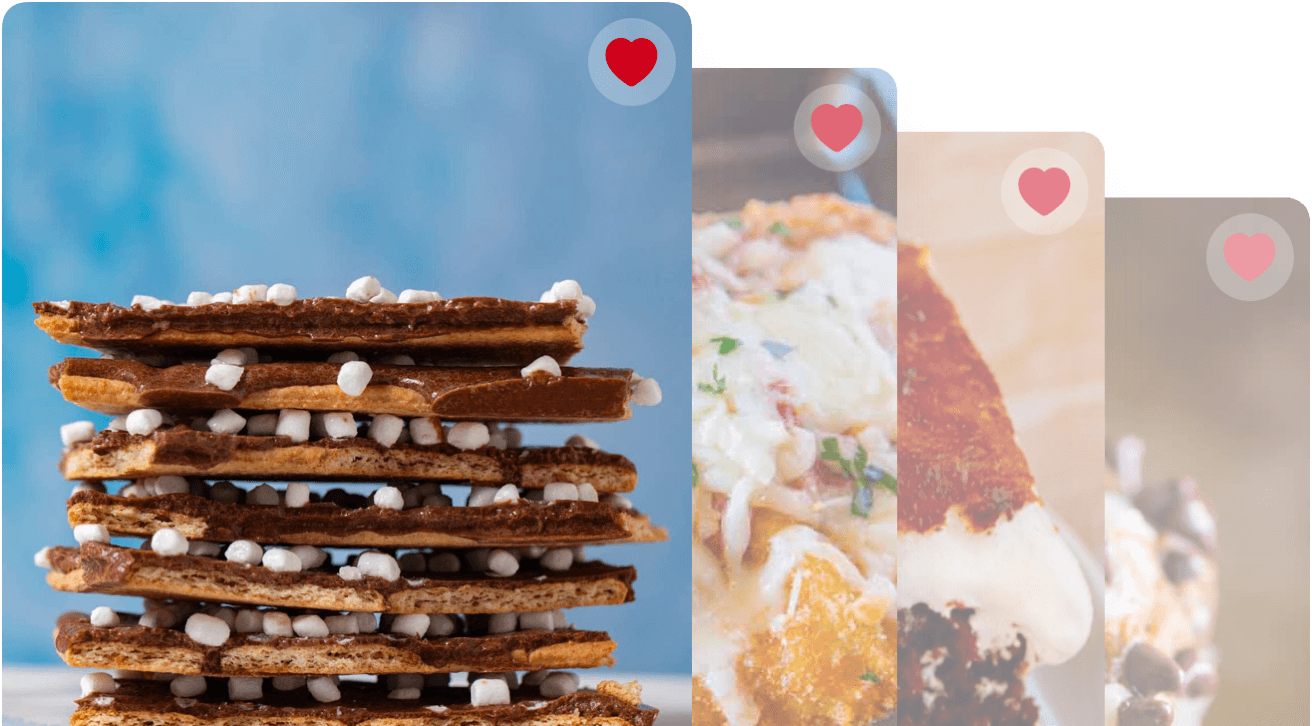 Variations
Chocolate: This recipe is versatile enough that you can use whatever chocolate you prefer best. Switch it up by using dark chocolate chips, milk chocolate chips or even white chocolate chips.
Flavors: Fold in different flavors to the melted chocolate or add another layer of sauce. Stir in crushed candy canes or peppermint extract for a peppermint patty kind of flavor, or melt ¼ cup peanut butter chips or butterscotch chips with the chocolate chips.
Toppings: Drizzle with melted peanut butter or Salted Caramel Sauce over finished Coconut Joys. Sprinkles will give them a pop of color to match the holiday or you can skip the nuts and top with crushed candy canes!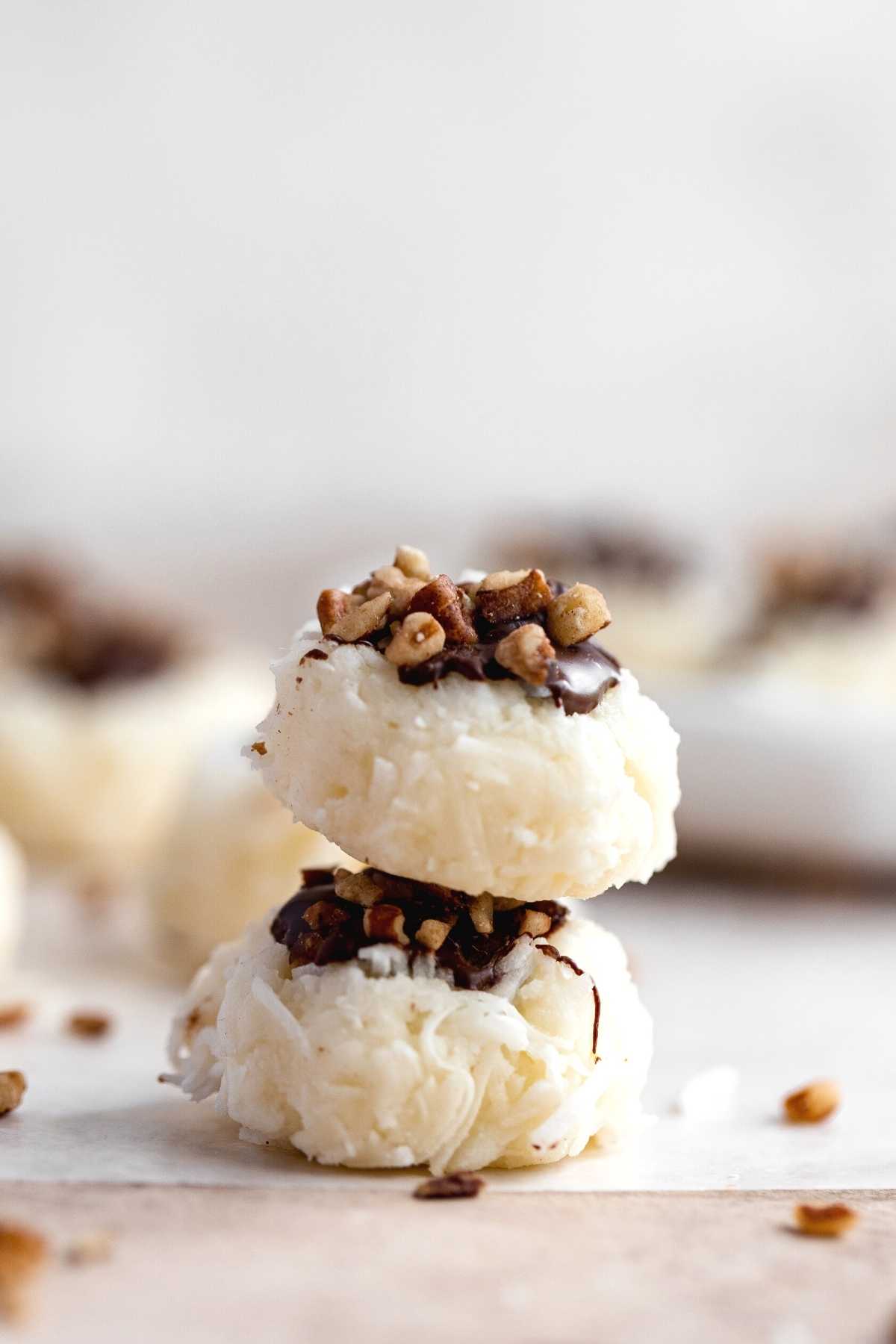 More chewy, sweet holiday desserts
How to Store
Serve: As long as your room is not too warm, you can leave Coconut Joy Candies out at room temperature for up to 3 days. If the room temperature is warm, they will start to soften and fall apart.
Store: Store Coconut Joys in an airtight container in the refrigerator for up to 2 weeks. Line with a paper towel to absorb moisture.
Freeze: Coconut Joys can be frozen for up to 6 months. Store them with wax paper in between the layers so they don't stick together, and put them in an airtight container or freezer-safe storage bag.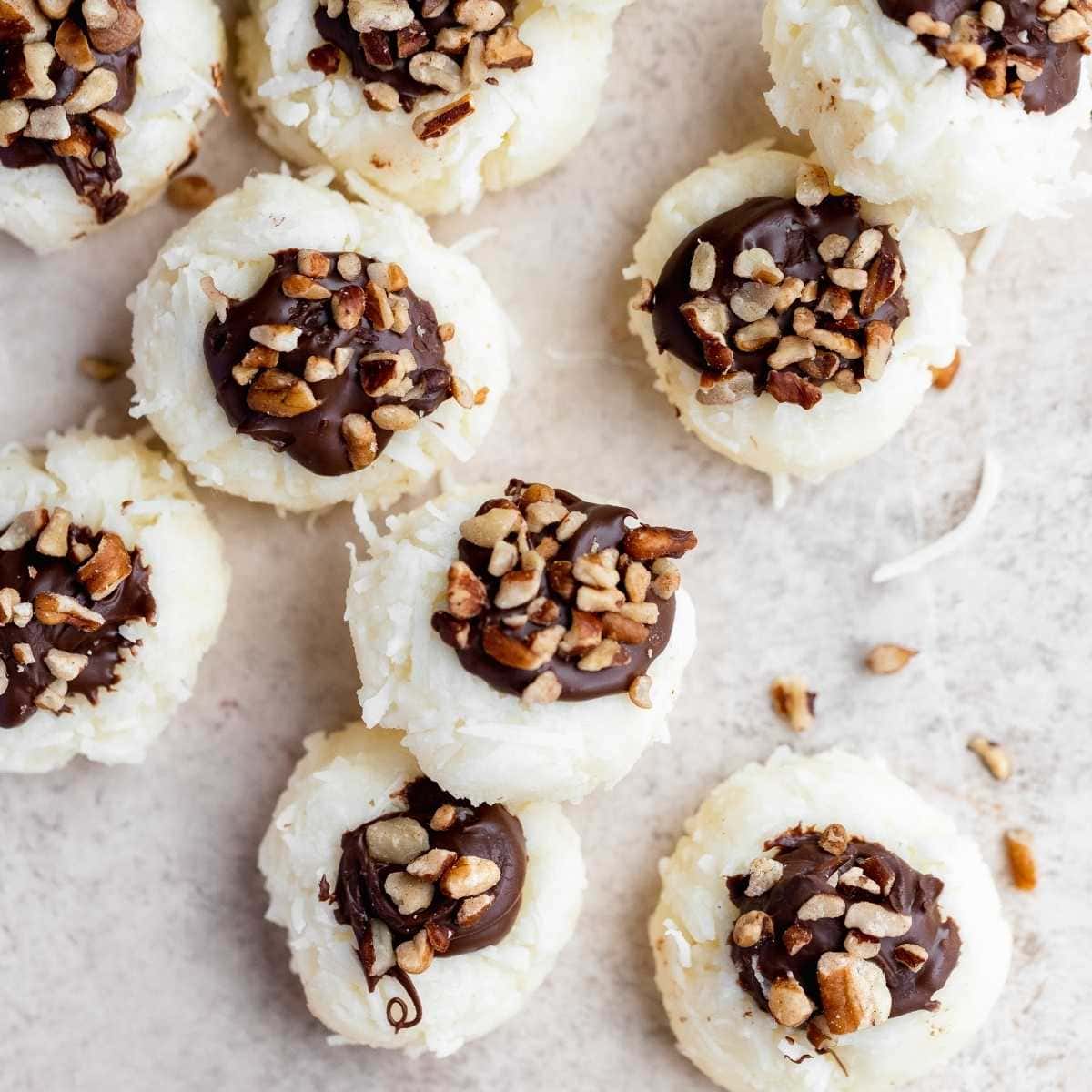 Ingredients
1/3

cup

semi-sweet chocolate chips

1 1/2

cups

sweetened shredded coconut

1

cup

powdered sugar

1/4

cup

unsalted butter

, melted

1/4

cup

pecans

, chopped
Instructions
In a medium sized microwave safe bowl melt the chocolate chips in

30 second

increments, stirring each time, until fully melted.

In a large bowl mix together the coconut, butter and powdered sugar.

Form the mixture into 1-inch balls.

Using the handle end of a wooden spoon make an indentation in the coconut ball.

Fill with melted chocolate and chopped pecans.

Refrigerate until the coconut joy and chocolate have hardened.
Nutrition
Calories:
86
kcal
|
Carbohydrates:
9
g
|
Protein:
1
g
|
Fat:
6
g
|
Saturated Fat:
4
g
|
Cholesterol:
5
mg
|
Sodium:
15
mg
|
Potassium:
37
mg
|
Fiber:
1
g
|
Sugar:
8
g
|
Vitamin A:
59
IU
|
Vitamin C:
1
mg
|
Calcium:
4
mg
|
Iron:
1
mg