Parmesan Garlic Crash Hot Potatoes are crispy, creamy, cheesy and garlicky. Made in one pan and no boiling necessary, they're the perfect holiday side dish.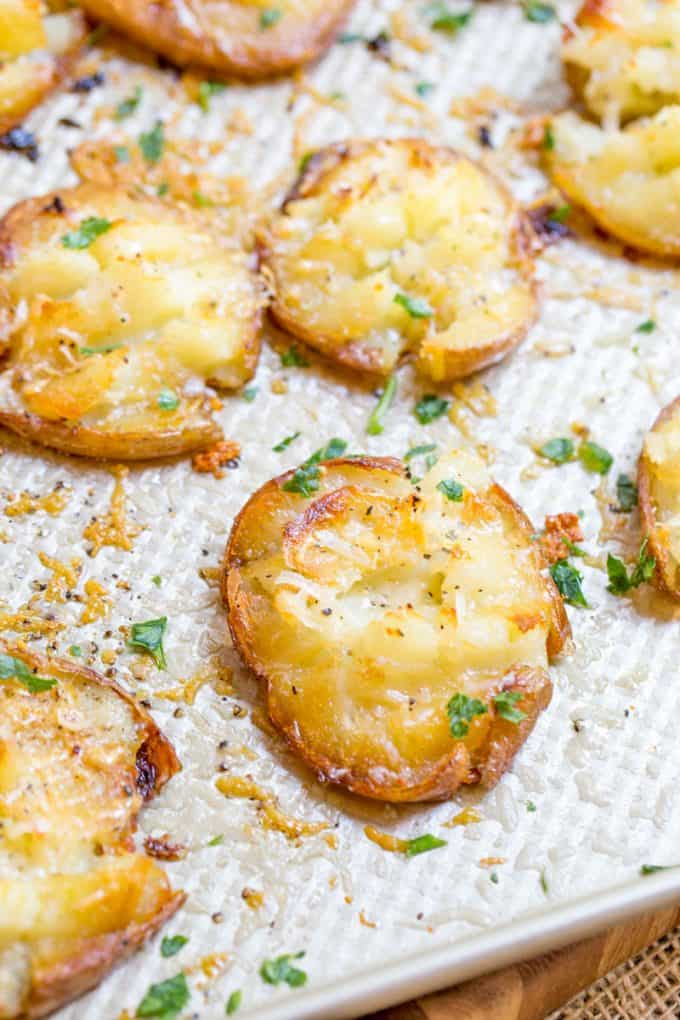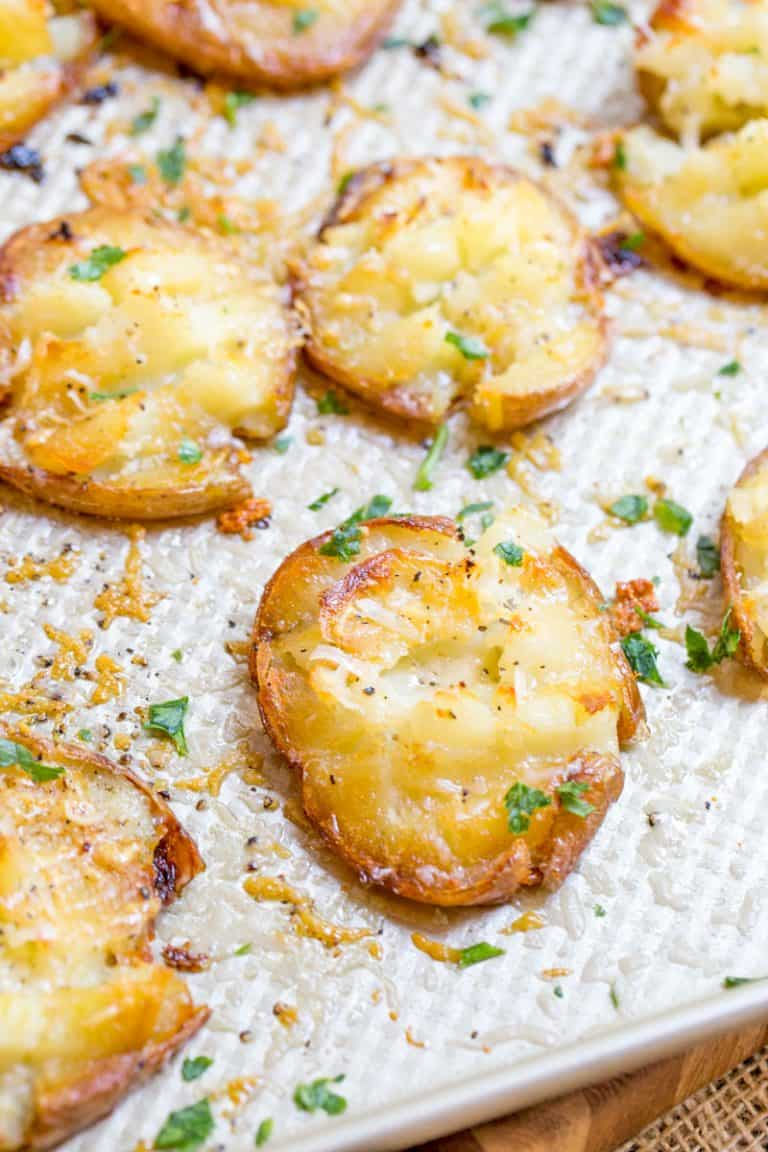 Parmesan Garlic Crash Hot Potatoes have been an easy chef trick side dish of mine for years. They're like french fries but with a ton of extra crispy wedges and a creamy interior. Clients loved them, thought they took forever (between you and me, they're super easy and just look impressive) and always ended up on menus over and over again.
Parmesan Garlic Crash Hot Potatoes are normally boiled first in super salty water, then smashed onto a pan and crisped up. I used to make them the same way until I realized I was taking up a burner (a large one at that!) on my stovetop only to have to use the oven anyway.
If you're in the middle of holiday prep the last thing you want is for a recipe to be so high maintenance that it takes up a large pot full of water and then still eats up a half an hour of oven time.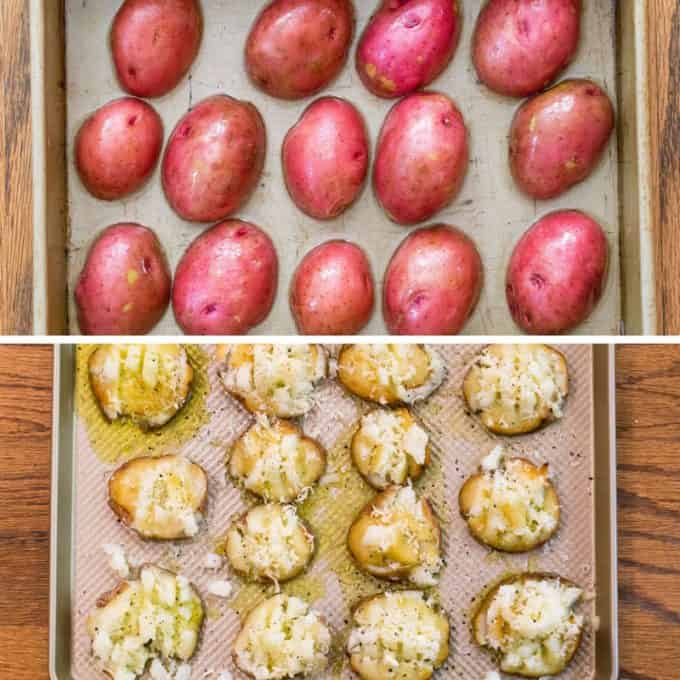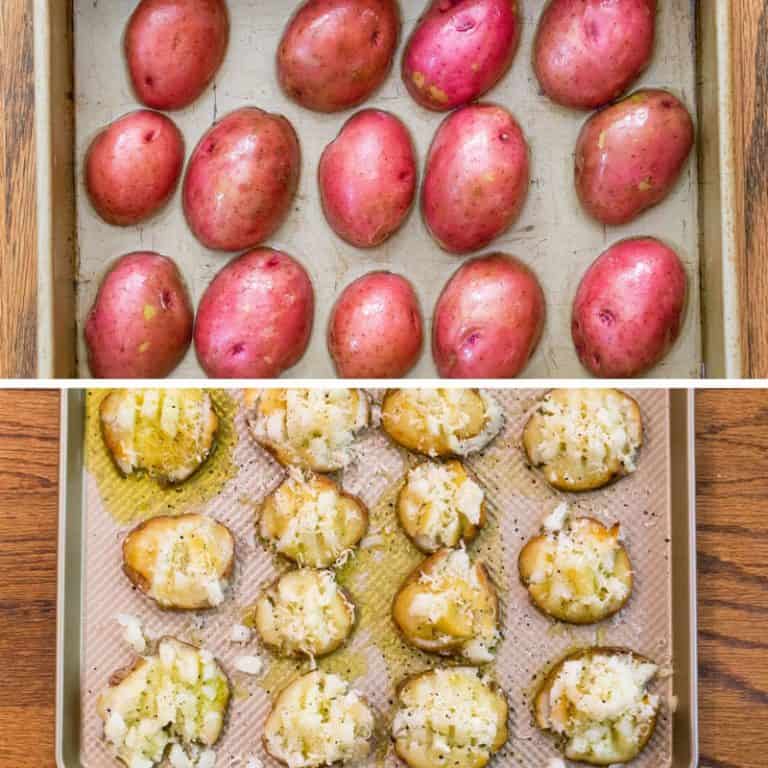 Instead my method calls for high heat oven roasting! First the cut side is placed down on the sheet and roasted with olive oil until it browns, then the potatoes are flipped, smashed and topped with the rest of the ingredients to cook for the second half of the cook time. PS, if you let your toddler add the oil to the smashed potatoes you may end up with some that get MUCH more olive oil than others (check out the top left one!).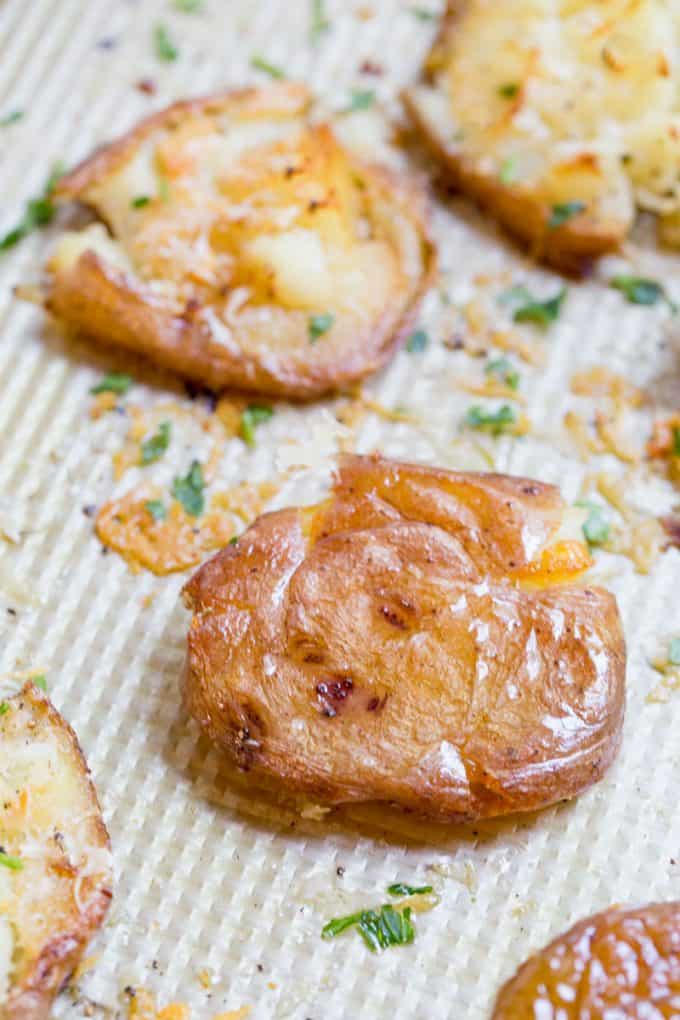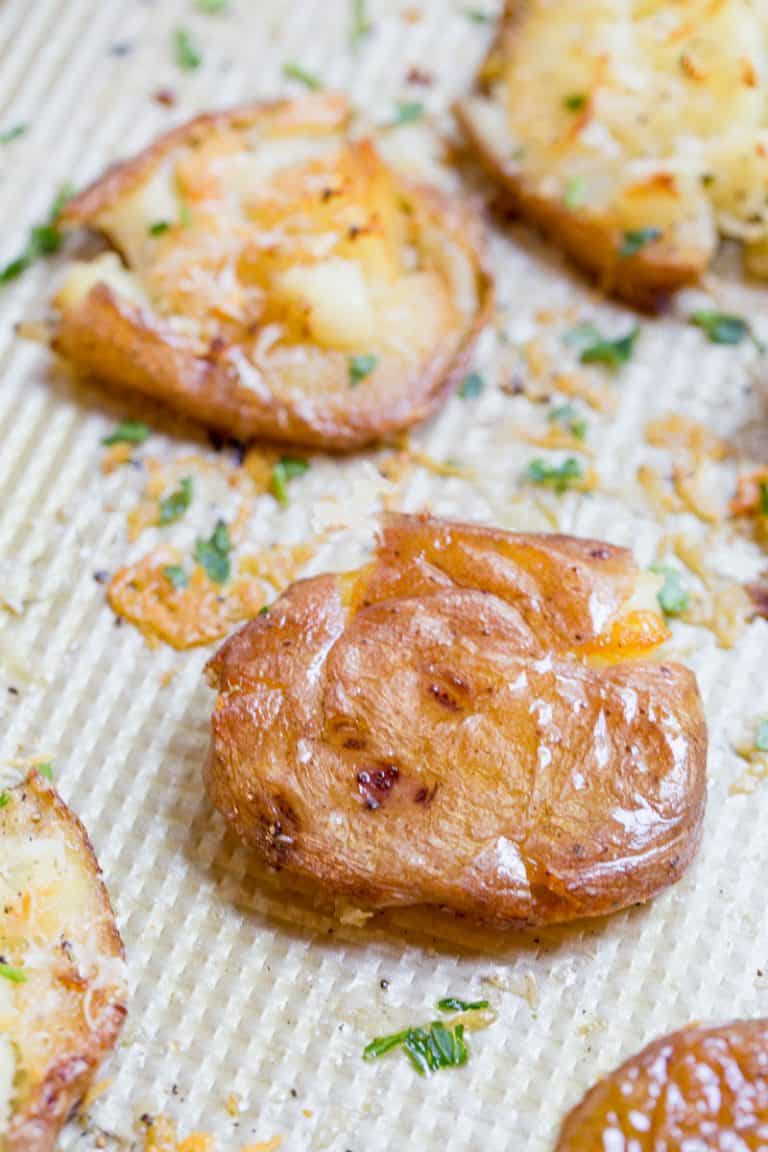 Benefits to my method of cooking these Parmesan Garlic Crash Hot Potatoes:
No extra pot of water to heat/cook/make a salty mess of/use up precious kitchen space of.
BOTH sides get browned and crispy with some high heat cooking against the pan, which is important because browned crispy edges = totally delicious.
With the exception of taking it out halfway to smash and add toppings almost all the time is hands off. 
You can also adjust the recipe to your needs. I used large red potatoes so that the centers would be creamy even given the length/high temperature in the oven. If you're wondering why I didn't pick smaller red potatoes, the answer is I couldn't cut them in half to give the cut side long enough to brown before flipping and smashing.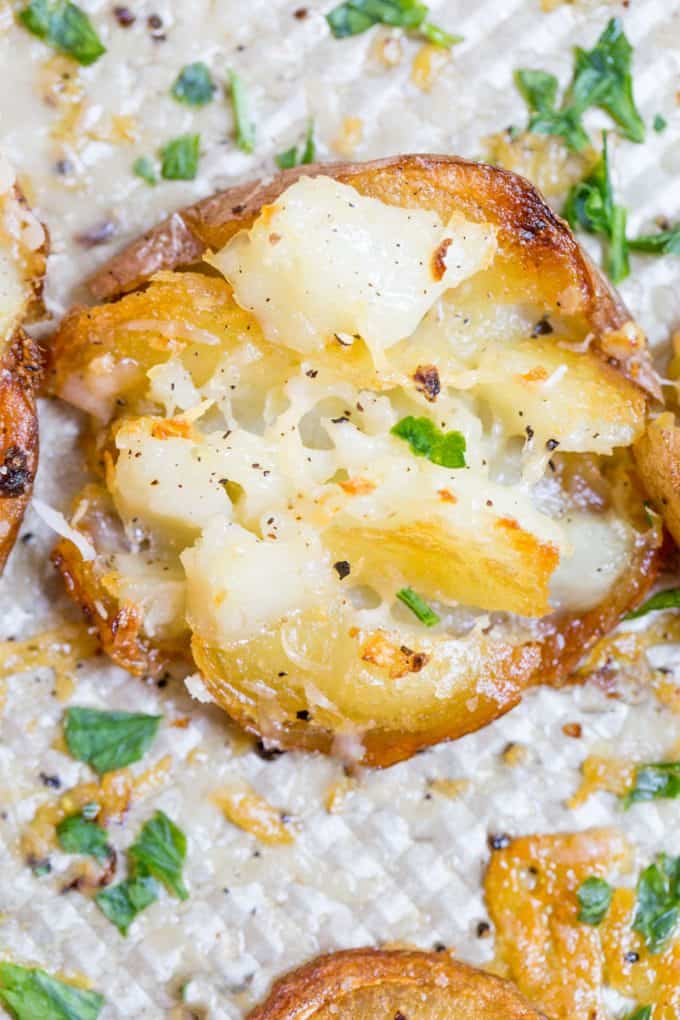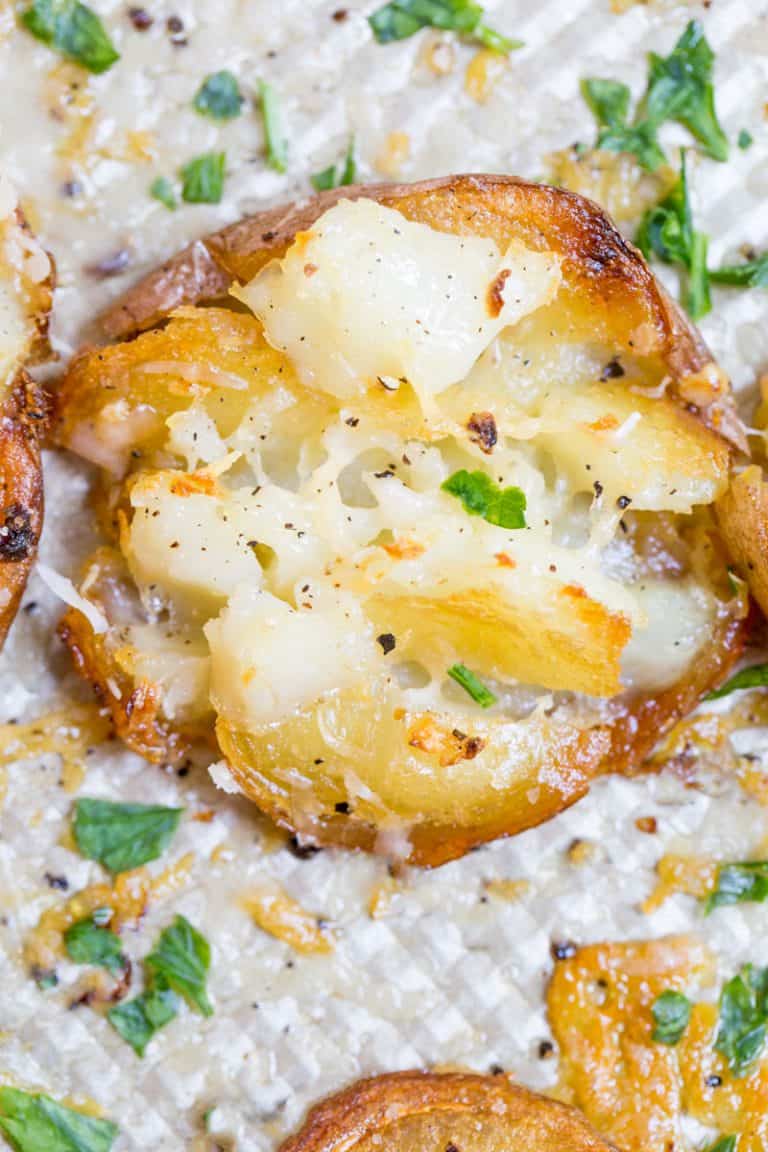 Using a smaller potato could certainly work if you choose to have a fully crispy potato, more like a cross between a crash hot potato and a potato chip, but you won't have enough of a creamy center before they look as crisp.
Plus hey, the bigger ones always cost less right? So win win in my book!
Tools used in the Making of this Recipe:
Potato Masher: The classic masher, you'll breeze past this step in seconds. Alternately a large Metal Serving Fork can be used.
9×13 Sheet Pan: Classic sheet pan, plenty of space for roasting.
Kosher Salt: Completely different than the table salt you're used to it is perfect for roasting applications without making food too salty.
Microplane Grater: I use this tool for all cheese grating as well as zesting. It will save you on ingredient costs for cheese and makes perfect garnishes. This tool is in HEAVY use in my kitchen.
[brid autoplay="true" video="454098″ player="19072″ title="Parmesan Garlic Crash Hot Potatoes" description="Parmesan Garlic Crash Hot Potatoes" duration="65″ uploaddate="2019-08-22 13:17:53″ thumbnailurl="//cdn.brid.tv/live/partners/14572/thumb/454098_t_1566479680.png"]



Ingredients
7

large red potatoes

, cut in half

6

tablespoons

olive oil

, divided

4

cloves

garlic

, minced

3/4

cup

Parmesan Cheese

, I use freshly grated using a Microplane Grater

Kosher Salt and black pepper to taste

chopped parsley for garnish if desired
Instructions
Heat oven to 425 degrees.

Drizzle sheet pan generously with three tablespoons of olive oil.

Place potatoes cut side down on sheet pan.

Roast for

20-25 minutes

or until the cut sides are golden brown.

Flip the potatoes over so the skin side is down.

Using a potato masher, press down each potato until smashed but not completely flattened.

The more varied the top is, the more nooks and crannies that can brown in the second half of cooking.

Brush tops of mashed potatoes with the remaining olive oil.

In a small bowl mix the garlic and Parmesan cheese then add them to the top of the potatoes.

Add Kosher Salt and fresh cracked black pepper to taste.

Bake for an additional

20 minutes

.

Garnish with chopped parsley or additional Parmesan cheese if desired.
Nutrition
Calories:
350
kcal
|
Carbohydrates:
41
g
|
Protein:
9
g
|
Fat:
18
g
|
Saturated Fat:
4
g
|
Cholesterol:
9
mg
|
Sodium:
246
mg
|
Potassium:
1150
mg
|
Fiber:
4
g
|
Sugar:
3
g
|
Vitamin A:
115
IU
|
Vitamin C:
22
mg
|
Calcium:
176
mg
|
Iron:
2
mg