Crispy Roasted Cauliflower
This post may contain affiliate links. Read my disclosure policy here.
Crispy Roasted Cauliflower is a quick side dish that is versatile enough to stand alone or be used as a topping in pastas, salads or on pizzas.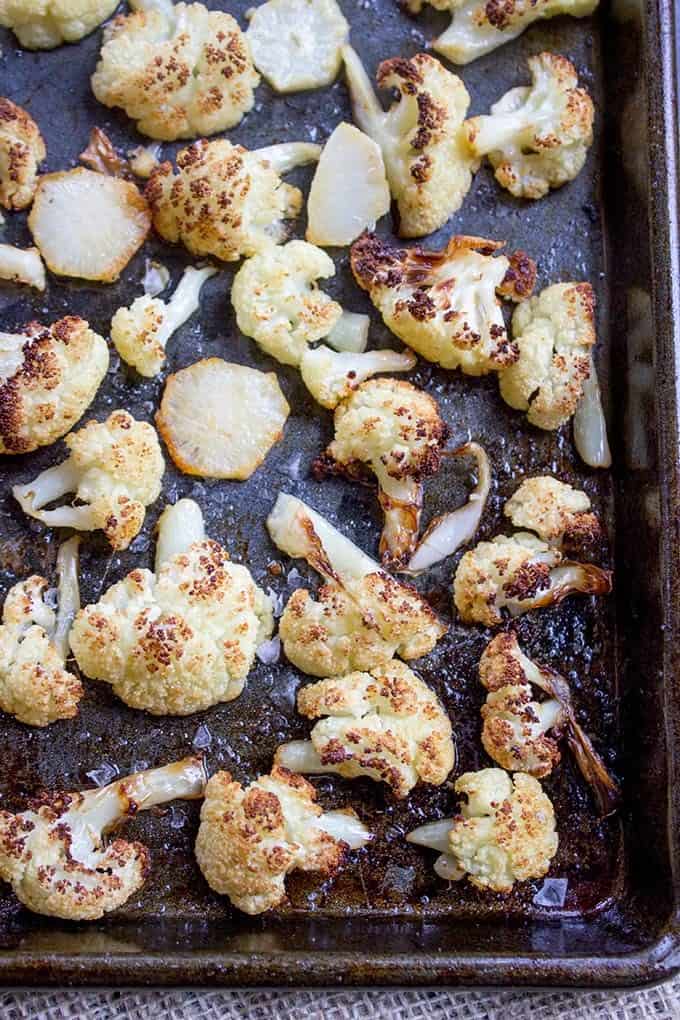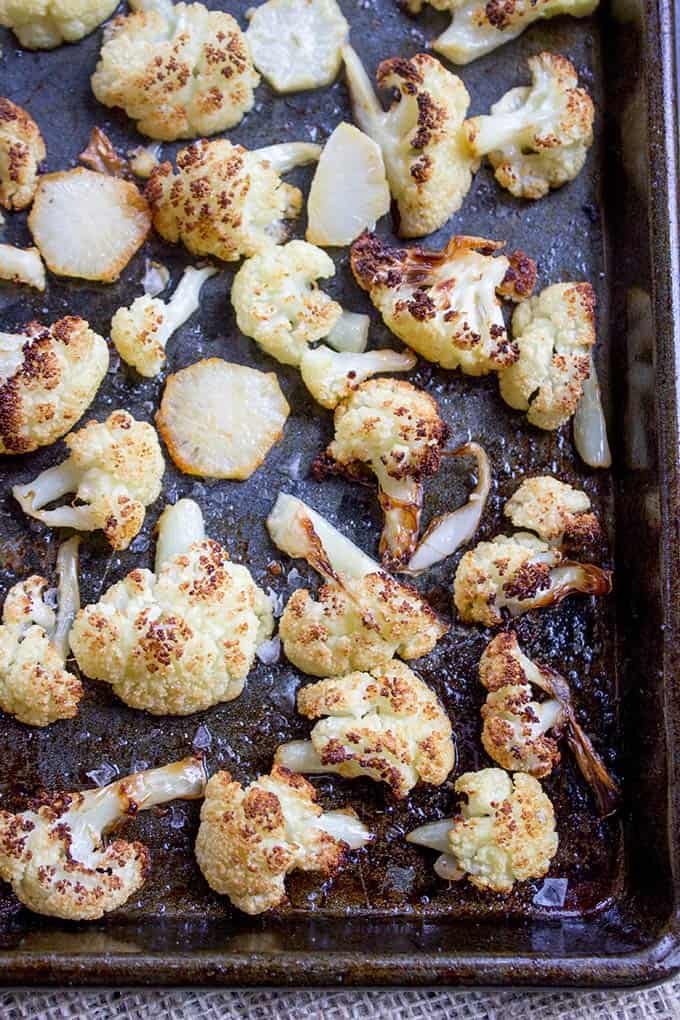 Crispy Roasted Cauliflower is a quick side dish most people never think of making. More tender and milder than roasted broccoli, crispy roasted cauliflower are amazing roasted simply or with a few ingredients added in.
I first started experimenting with roasting cauliflower about five years ago for a client. They had very restricted diets and needed a constant stream of unique chicken breast dinners. I started with this recipe and it was such a hit that soon I was getting requests for more and more meals to have roasted cauliflower.
Some additional varieties you can roast?
Sprinkle some grated Parmesan Cheese on top with the olive oil, salt and pepper. You want to use the kind that comes in a shaker. Sprinkle a generous amount in, maybe a couple of tablespoons.
Add a tablespoon of balsamic vinegar to the oil mixture.
Roast the Crispy Roasted Cauliflower as written here but then drizzle over the finished pan with balsamic glaze.
Add in some tabasco sauce to taste and toss with some Blue Cheese Powder for quick and easy "Buffalo" style roasted cauliflower.
Add some minced garlic, oregano and crushed red pepper for an Italian twist.
I'd also make you guys a list of meals you can serve this with but the truth is this would work in almost any dish from a side dish to a pasta or salad mix in and even a sandwich filling. Actually on that note if you were to slice the cauliflower  into a steak instead of the florets and make it about an inch to an inch and a half thick and roast at the same time and temperature you'd have an amazing veggie "patty" alternative. Just be sure to toss with some oil and flavor it well.
A quick last couple of tips for you:
Do NOT toss out the stalk. Slice it up and roast it along with the florets, it is just as tender and delicious. Seriously, don't waste it.
It may look like a lot of cauliflower before you roast it, but take it from someone who has made this dish over a hundred times in the last few years, you can start "tasting" it and before you know it half the tray is gone. Always make more than you think you'll need, it will be a hit.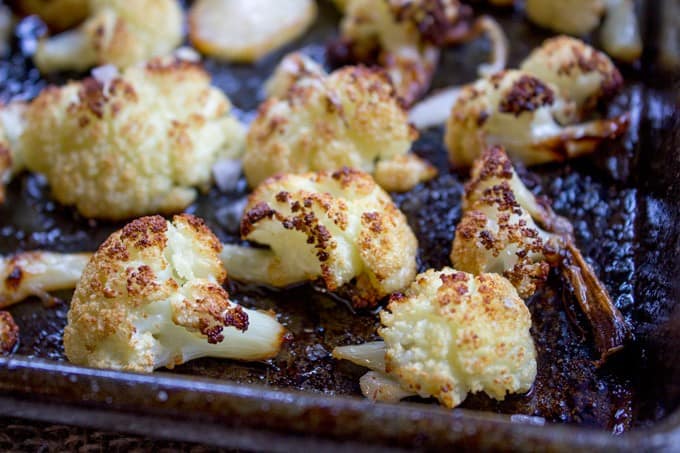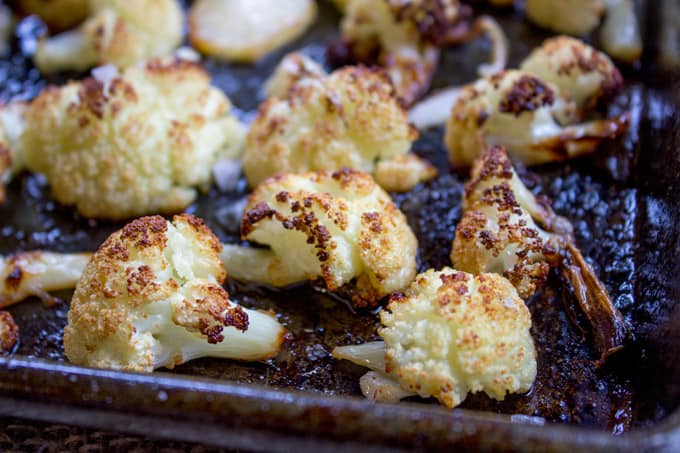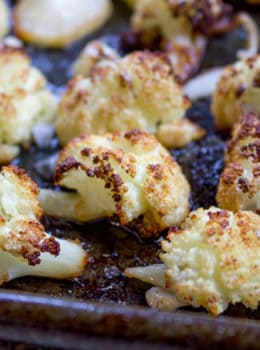 Crispy Roasted Cauliflower
Crispy Roasted Cauliflower is a quick side dish that is versatile enough to stand alone or be used as a topping in pastas, salads or on pizzas. The perfect easy roasted vegetable.
Prep Time 5 minutes
Cook Time 25 minutes
Total Time 30 minutes
Ingredients
1 pound cauliflower (a normal head of cauliflower)
2 tablespoons extra virgin olive oil
Kosher Salt and freshly ground black pepper
Instructions
Preheat oven to 375 degrees.

Cut the cauliflower into florets about the size of a ping pong ball.

Put into a large bowl and toss with oil and salt and pepper (I used 1 teaspoon kosher salt, 1/2 teaspoon freshly ground black pepper, but you can season to taste.

Spread evenly onto a baking sheet and bake for 25-30 minutes.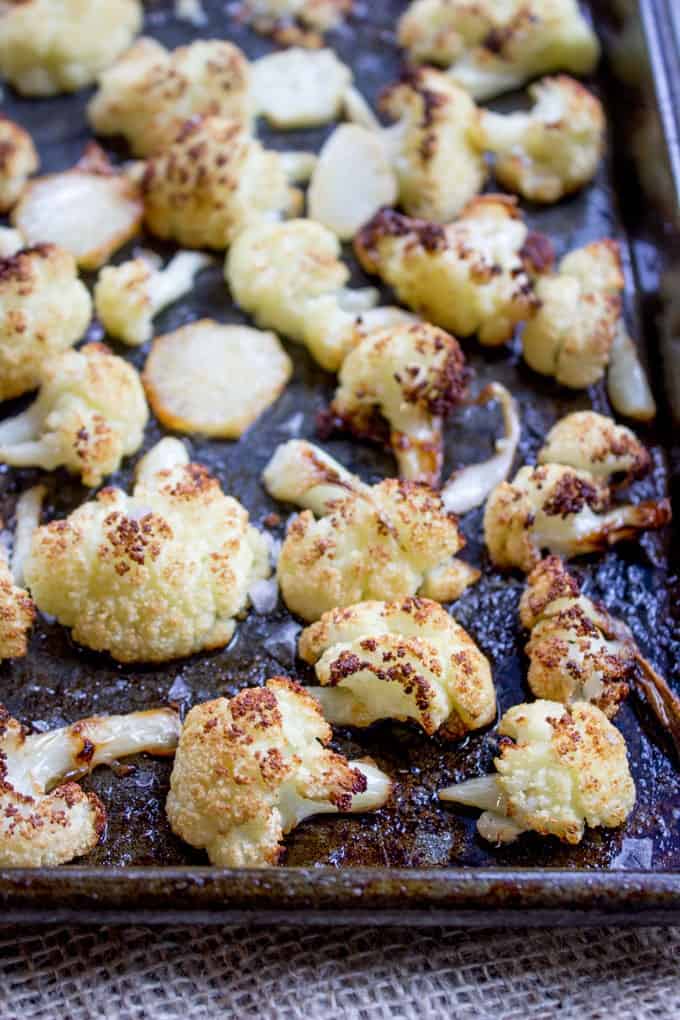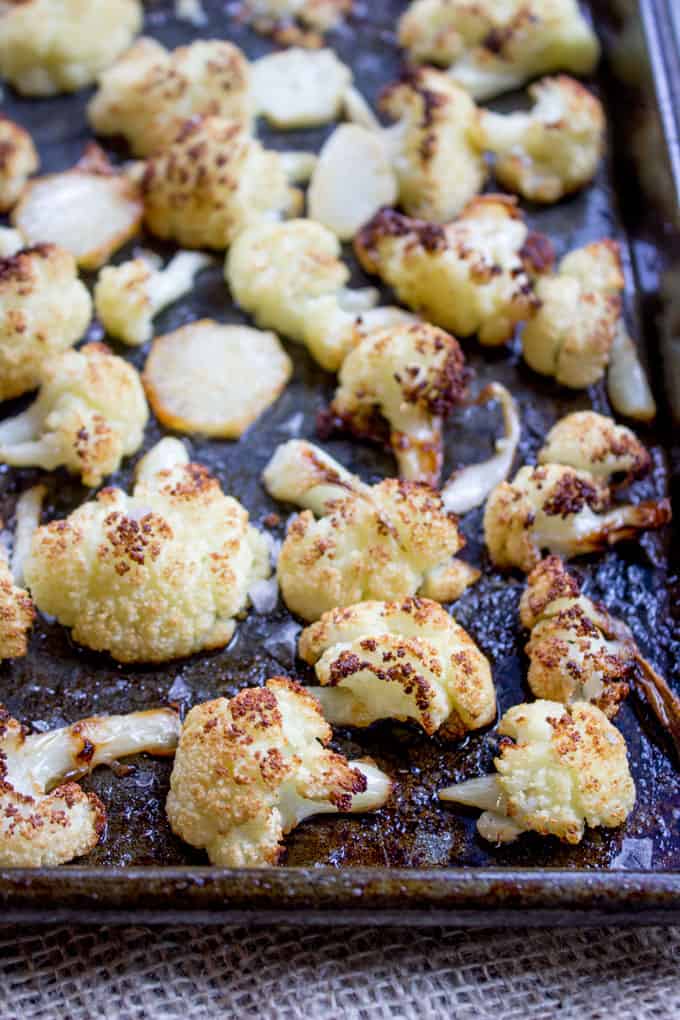 Dinner, then Dessert, Inc. owns the copyright on all images and text and does not allow for its original recipes and pictures to be reproduced anywhere other than at this site unless authorization is given. If you enjoyed the recipe and would like to publish it on your own site, please re-write it in your own words, and link back to my site and recipe page. Read my disclosure and copyright policy. This post may contain affiliate links.