Sautéed Garlic Kale is a great way to enjoy tender, flavorful leafy greens that are made with olive oil, garlic, butter, salt, and pepper.
This is an easy Side Dish that you can serve with your favorite dinners. Make this simple side with recipes like Braised Chicken Breast with Mushrooms, or Roast Turkey.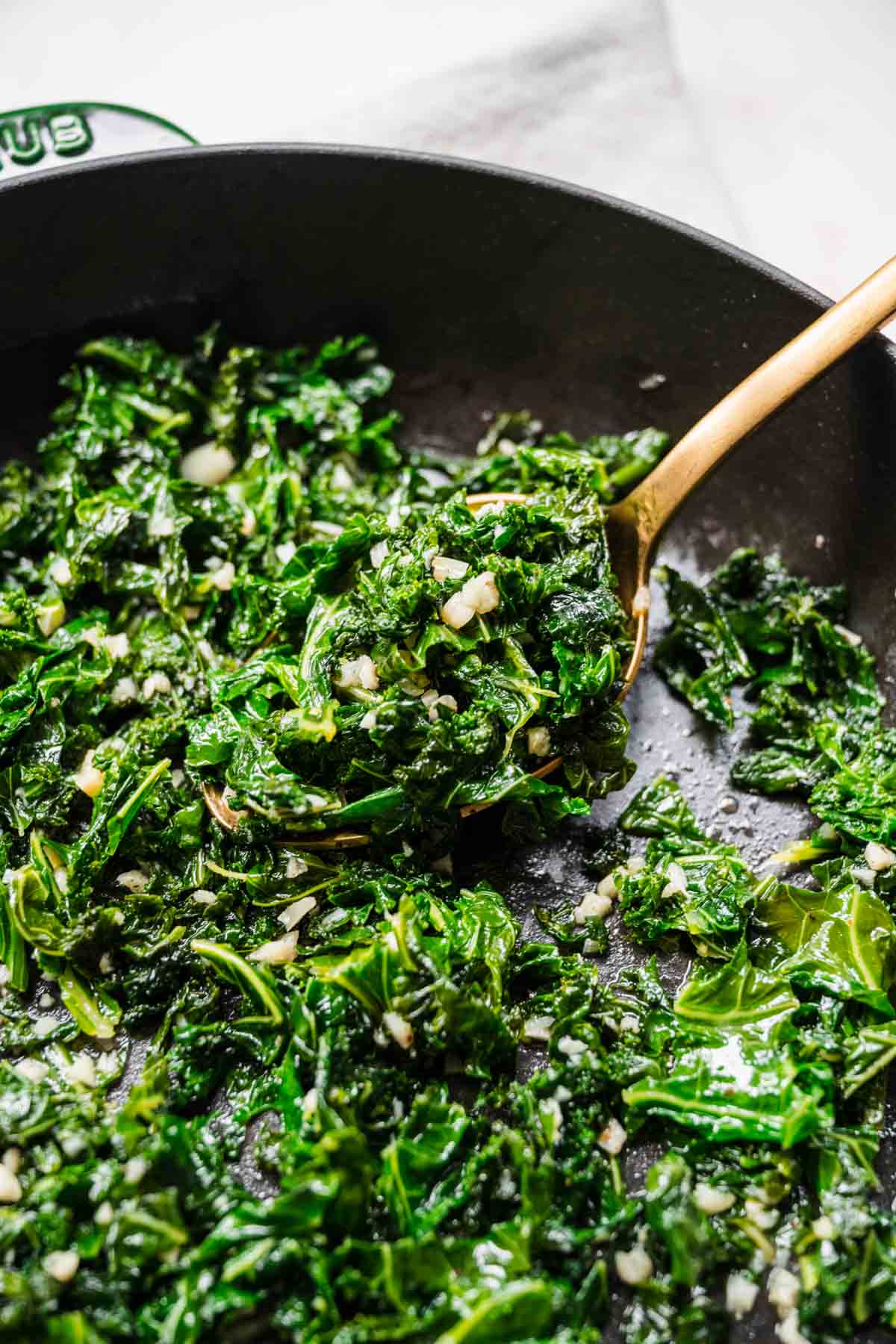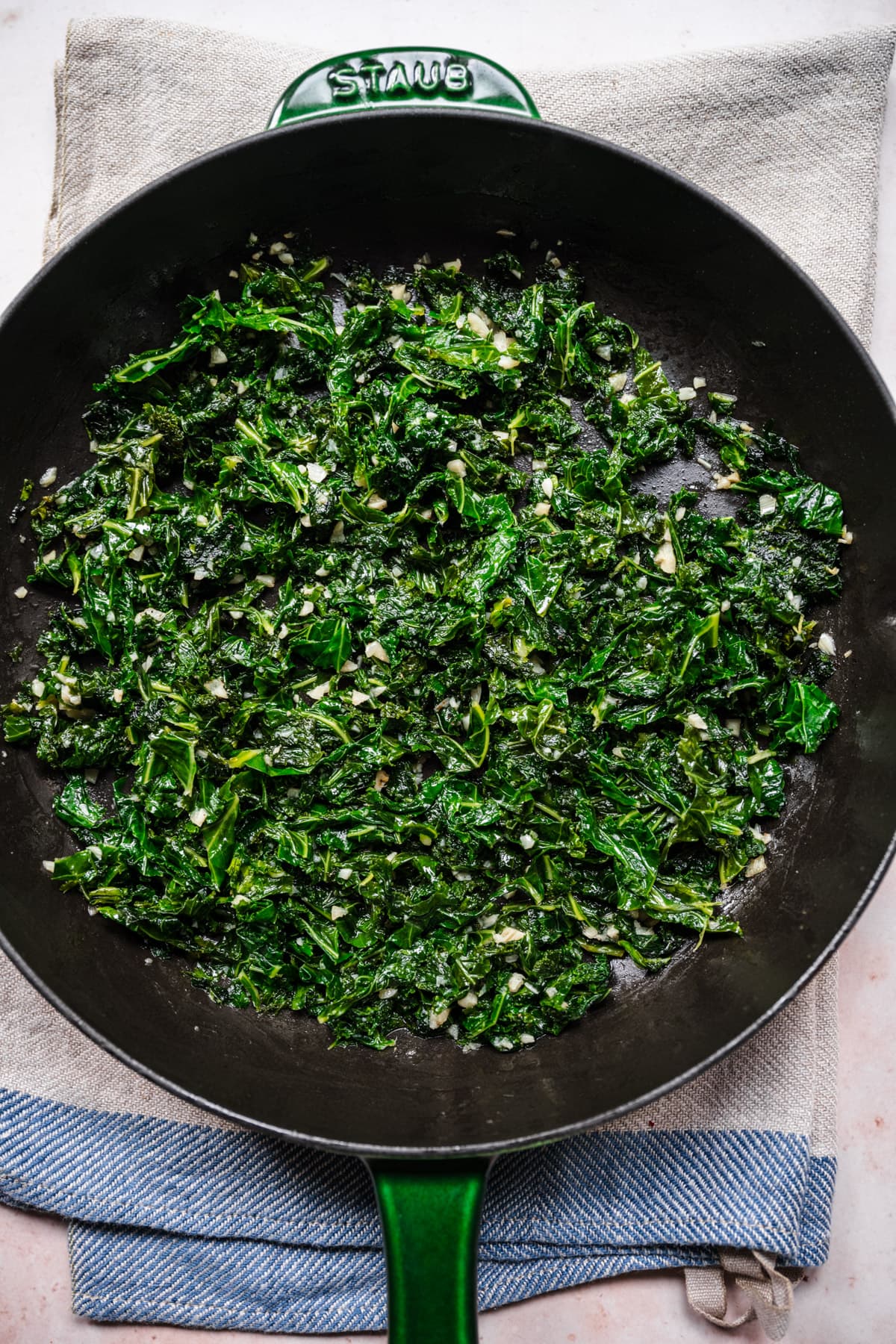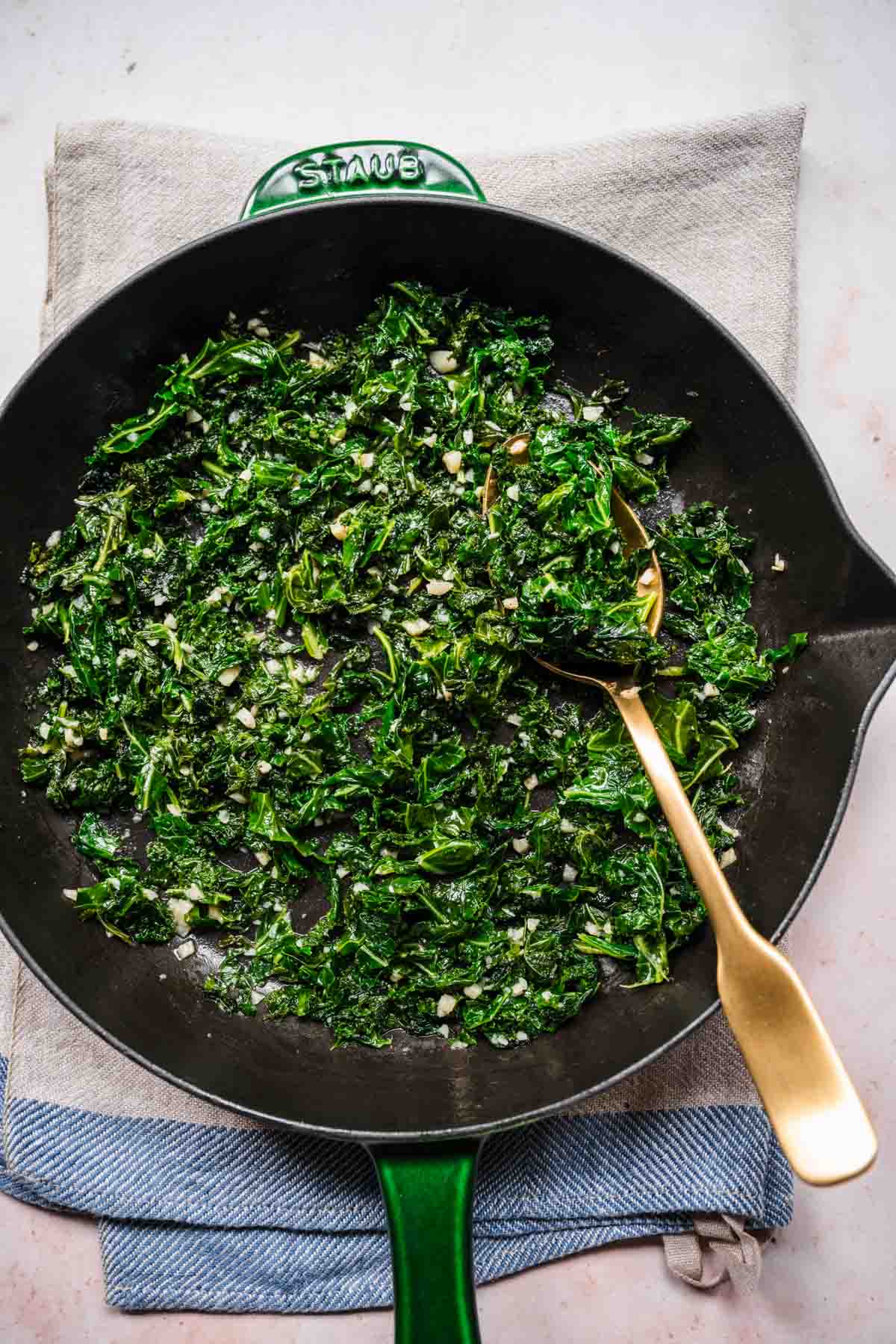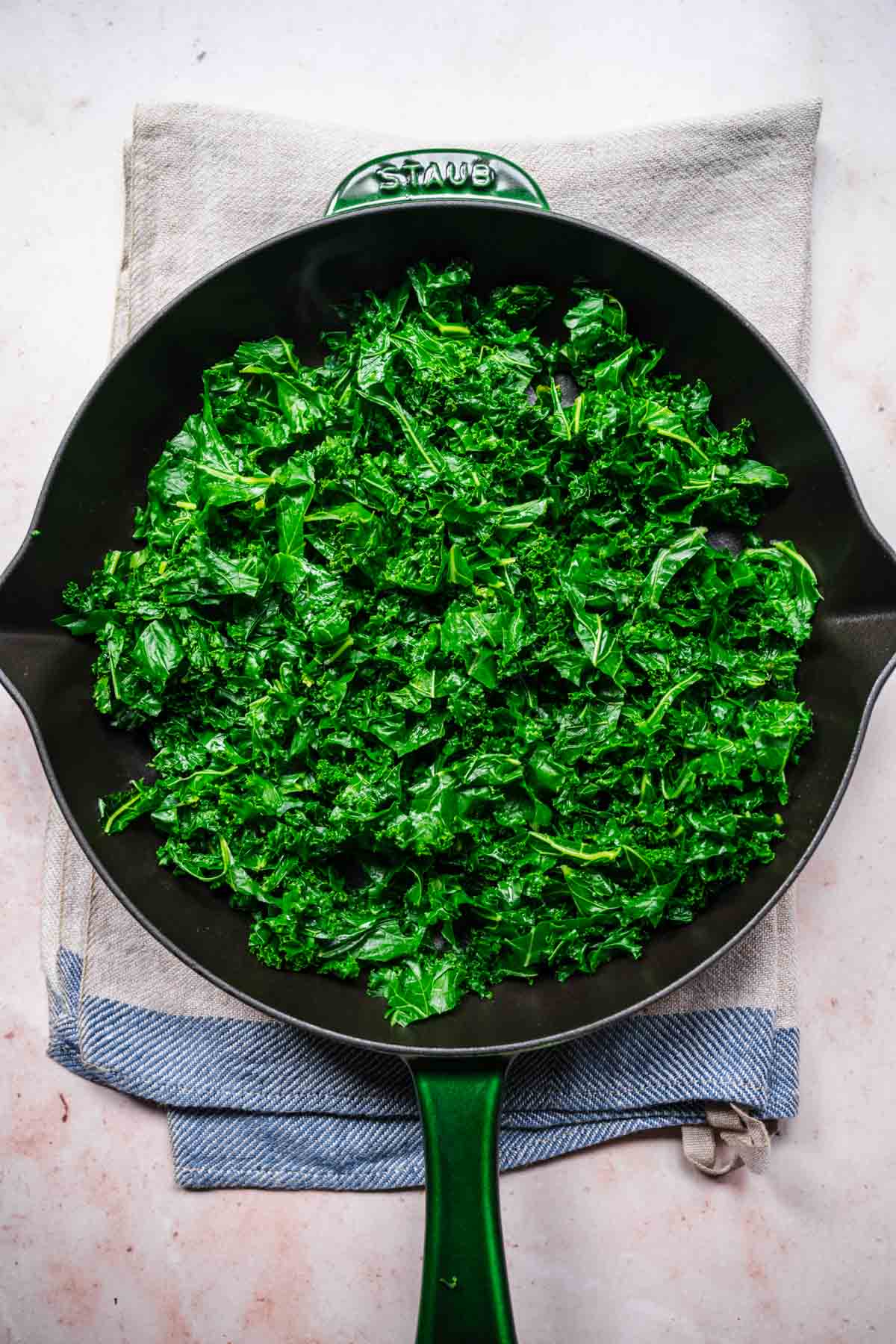 About Our Sautéed Garlic Kale Recipe
This kale recipe is the perfect way to get your family eating healthy, while still enjoying a delicious buttery dish. While raw kale is bitter, this recipe pairs tender kale with garlic to achieve amazing flavor and aroma. Even the pickiest eaters will enjoy kale once it's sautéed in this delicious garlic mixture.
You've no doubt heard people rave about how healthy kale is, but there's a reason for all the hype. Kale is a great food to add to any diet. It's one of the most nutrient-dense vegetables in the world and it's packed with antioxidants and vitamins. Along with every serving of kale, you'll get a healthy dose of magnesium, potassium, calcium, and vitamins A, K, C, and B6. Kale also lowers cholesterol and has cancer-fighting agents.
"Can Sautéed Garlic Kale be made ahead?"
Yes, it is easy to make this Kale recipe ahead of time! Prepare the recipe and let the kale cool completely. Store it in the fridge with an airtight cover for a couple of days. When you'd like to serve it, take it out and warm it up in a pan or skillet for the best flavor. You could also microwave the kale to warm it up before serving.
Sautéed Garlic Kale Ingredients
2 bunches kale, tough stalks removed: Kale is not like spinach where you can eat the stalks. Kale Stalks are tough so just remove them, slice the leaves, cook your kale, and you'll have a lovely, tender result.
2 tablespoons unsalted butter and 2 tablespoons olive oil: The butter and olive oil will coat the kale, and will help the seasoning stick to every piece for deliciousness in each bite.
Seasoning: 3 garlic cloves, 1 teaspoon kosher salt, and ¼ teaspoon black pepper come together to season your kale. Garlic is, of course, the star and blends very nicely with the butter, oil, and kale.
Kitchen Tools & Equipment
Knife and Cutting Board: Grab your favorite kitchen knife to cut the kale into bite-sized ribbons. Use a cutting board to protect your counter and keep you knife nice and sharp.
Large Pot and Slotted Spoon: You need to boil the kale for a few minutes before sautéing in order to ensure you have tender kale. Use a the slotted spoon to take the kale out of the pot when finished.
Bowl with Ice Water: Have a large bowl ready with ice water. You'll plunge the kale into an ice bath to stop them from cooking after they boil. Otherwise, you risk overcooking your kale.
Skillet and Spoon or Spatula: This is where the sautéing comes into play. A skillet or pan is necessary to bring all of your ingredients together. Make sure your slotted spoon is appropriate for your skillet, for example, keeping metal off of nonstick surfaces.
How to Make Sautéed Garlic Kale
Time needed: 15 minutes.
Prep Time

Tear the green kale leaves from the stem. Be careful to keep the leaves as untorn as possible. Stack the leaves up in bundles then cut them into 1/4-inch thick ribbons for bite-sized pieces.

Blanch the Kale

In a large pot boil water and add in the kale ribbons to the rapid boil. Cook the kale in boiling water for 3 minutes. Use a slotted spoon to move the kale from the boiling water to an ice water bath. Then use your hands to squeeze the water out of the kale.

Cooking Time

Add the kale to a skillet over medium heat. Add in the butter, olive oil, garlic, salt, and pepper to the pan. Stir the ingredients together and cook for 4-6 minutes until the kale has softened. Remove the kale from the pan and serve.
Nutritional Facts
Nutrition Facts
Sautéed Garlic Kale
Amount Per Serving
Calories 58
Calories from Fat 54
% Daily Value*
Fat 6g9%
Cholesterol 8mg3%
Sodium 291mg13%
Potassium 6mg0%
Carbohydrates 0.4g0%
Protein 0.1g0%
Vitamin A 88IU2%
Vitamin C 0.4mg0%
Calcium 3mg0%
Iron 0.05mg0%
* Percent Daily Values are based on a 2000 calorie diet.
Cooking Tips & Tricks
Master the art of culinary perfection with these handy hints! (Change to fit recipe)
Achieve Tender Greens

Make sure you tear all the stems from the kale, as these tough stems are not pleasant to chew through. No matter how perfectly you cook the kale, those stems will get in the way.

Avoid Burning the Garlic

Even though this has a quick cooking time, be sure to watch your heat and stir the kale frequently while it sautés. Garlic can burn easily, and once it does it becomes very bitter. Bitter garlic will not pair as nicely with kale as aromatic, savory garlic will.
What to Pair With Sautéed Garlic Kale
Along with being healthy, this buttery, tender, and flavorful dish makes the perfect complement to so many Main Dishes. Serve this Sautéed Kale recipe with dinners as simple as Slow Cooker Chicken Breasts or as one of many sides with Bourbon Glazed Ham at a holiday dinner. It doesn't matter how laid back or extravagant of an occasion you're cooking for, kale with garlic is a great way to bring something that's equally delicious and healthy to the table.
How to Store Sautéed Garlic Kale
Serve: To keep Sautéed Garlic Kale fresh, don't leave it out at room temperature for longer than a few hours.
Store: Once the kale has cooled down to room temperature, put it in an airtight container and store it in the fridge. Cooked kale can keep well in the fridge for 5-7 days.
Freeze: You can also freeze the Sautéed Kale for 10-12 months. Let it thaw in the fridge, then reheat it again in a skillet.
Ideas to Serve Sautéed Garlic Kale
Bring the Kale recipe to a picnic or barbecue. This versatile side dish isn't dairy-based side so it can sit out a bit longer without the danger of spoiling. Kale is also a great option for those who are interested in getting extra nutrition at a potluck, where nutrition can sometimes be hard to come by. Serving this for dinner, you can plate it next to your protein, or place the protein on top of the kale. A nice piece of salmon on top of the kale would look beautiful.
FAQ for Sautéed Garlic Kale
What does kale taste like?
Kale is a wonderful base for adding bright or bold flavors. It is slightly bitter, but that just means more complex flavors whether you pair it with something salty and savory like this recipe, or if you were to make a naturally sweet, creamy, or cheesy recipe with kale.
Why is kale boiled and iced before sautéing?
The boiling and ice bath is a process called "blanching". It will help the kale retain fresh flavors and a bright green color when it's sautéed, as opposed to the darker, more wilted look that sautéed veggies can have.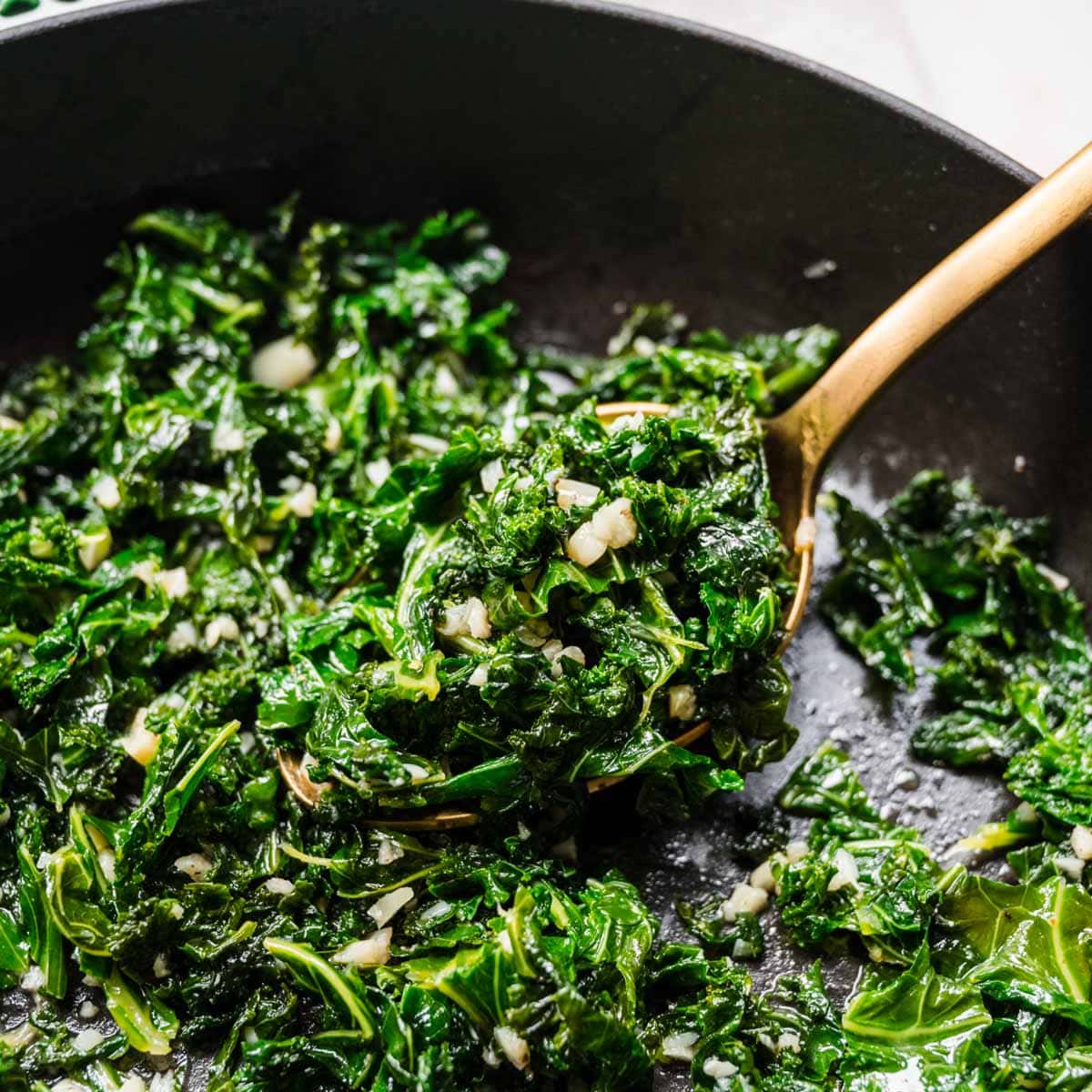 Recipe Card


Ingredients
2

bunches fresh kale

, tough stalks removed

2

tablespoons

unsalted butter

2

tablespoons

olive oil

3

cloves

garlic

, minced

1

teaspoon

kosher salt

1/4

teaspoon

coarse ground black pepper
Instructions
Cut kale into thin ribbons.

Add to boiling water and cook for

3 minutes

, then remove to ice water.

Squeeze water out of kale and add to a skillet on medium heat.

Add in butter, olive oil, garlic, salt, and pepper and stir.

Cook for

4-6 minutes

until kale has softened.
Nutrition
Calories:
58
kcal
|
Carbohydrates:
0.4
g
|
Protein:
0.1
g
|
Fat:
6
g
|
Saturated Fat:
2
g
|
Polyunsaturated Fat:
0.5
g
|
Monounsaturated Fat:
3
g
|
Trans Fat:
0.1
g
|
Cholesterol:
8
mg
|
Sodium:
291
mg
|
Potassium:
6
mg
|
Fiber:
0.04
g
|
Sugar:
0.01
g
|
Vitamin A:
88
IU
|
Vitamin C:
0.4
mg
|
Calcium:
3
mg
|
Iron:
0.05
mg
Sautéed Garlic Kale Variations
Lemon Garlic Kale: To add some refreshing and citrus taste to your kale that contrasts nicely with the garlic flavor, you can add in some lemon juice. Use a couple of tablespoons of lemon juice from the store, or get fresh lemon juice from a small lemon. Cut the lemon in half and squeeze the lemon juice over the top of the kale and toss it together. A small amount of grated lemon peel over the top of the kale would add an extra punch of lemon flavor. However be careful, because a little goes a long way!
Add-Ins: There are a few add-ins you can try mixing in with the Sautéed Garlic Kale once it's cooked. Try putting in some thinly sliced almonds for crunch or pieces of apple for some extra sweetness. You could even add in some bacon bits.
Seasonings: Some other add-ins you can try putting over the Garlic Kale are red pepper flakes, paprika, onion salt, or cumin.
Cooking Liquid: For some extra flavor you can sauté the kale in red wine vinegar, white wine, or vegetable stock.
Related Recipes