Creamed Kale is a delicious and quick side dish. Fresh kale sauteed in rich butter, garlic, and nutmeg cream sauce. Ready in only 20 minutes!
Steakhouse Creamed Spinach is a classic Side Dish that is easy enough to make on a busy weeknight and elegant enough to serve during the holidays! This kale version is the perfect way to introduce a new healthy veggie to your menu because it's as indulgent and creamy as other favorite creamed veggie dishes.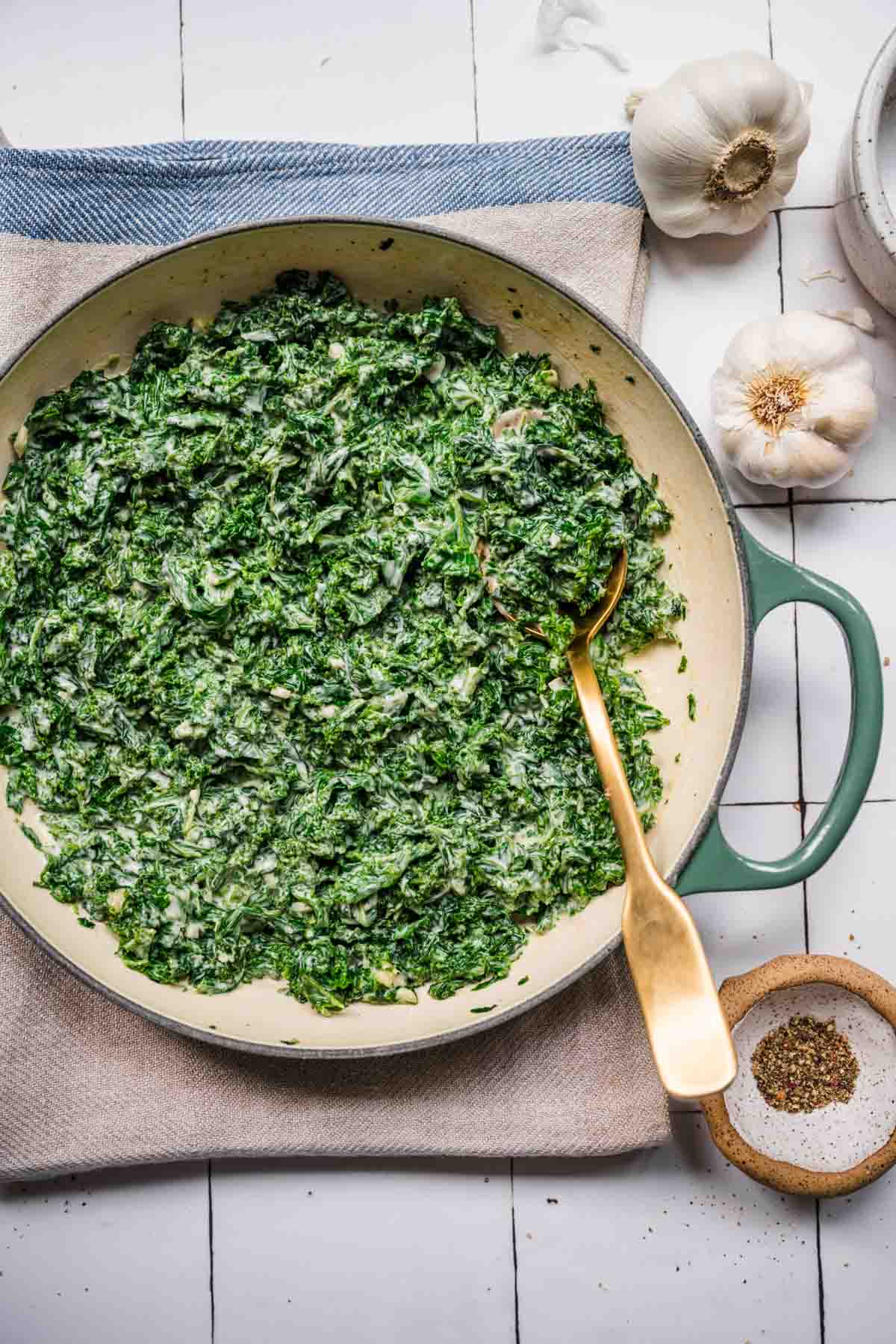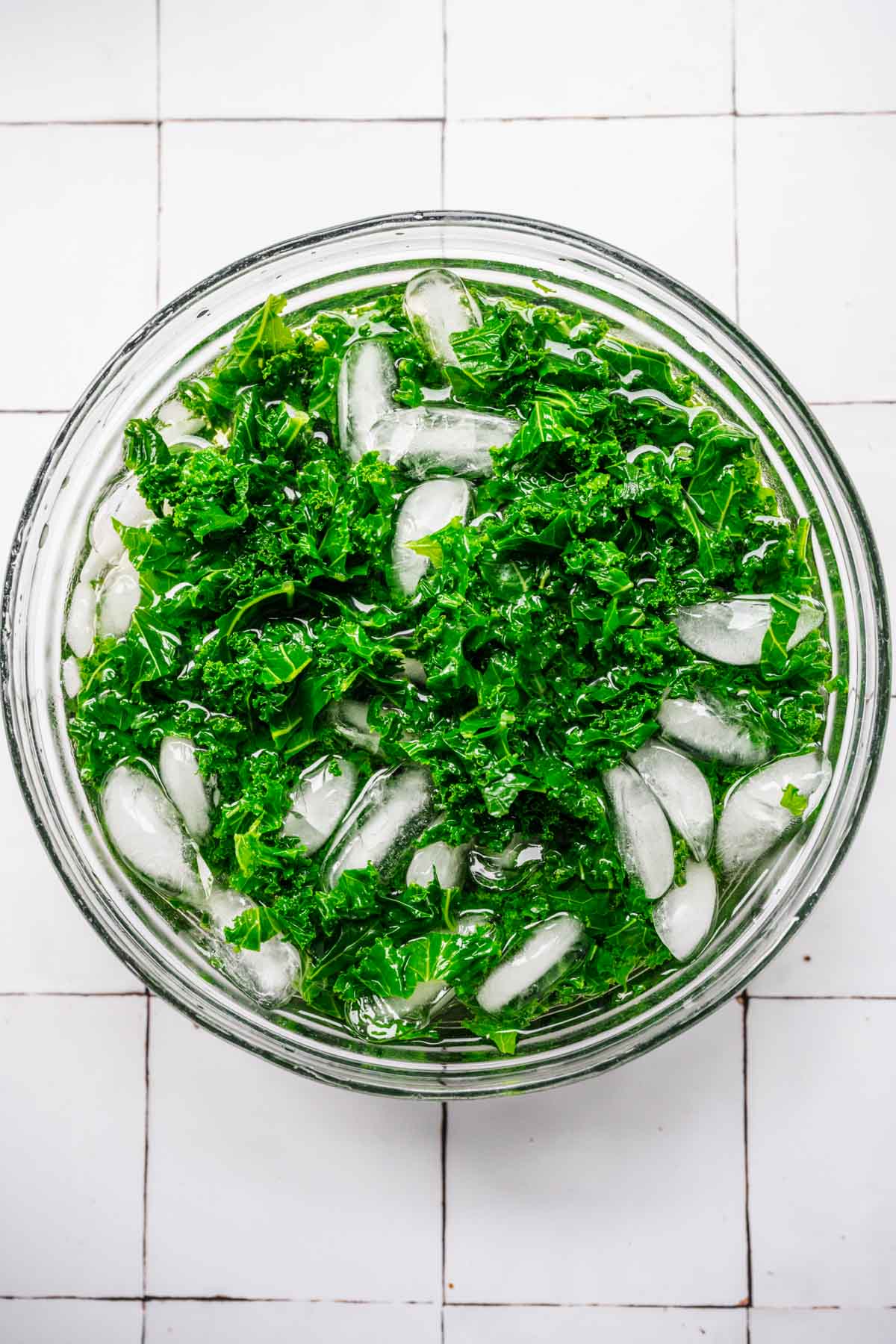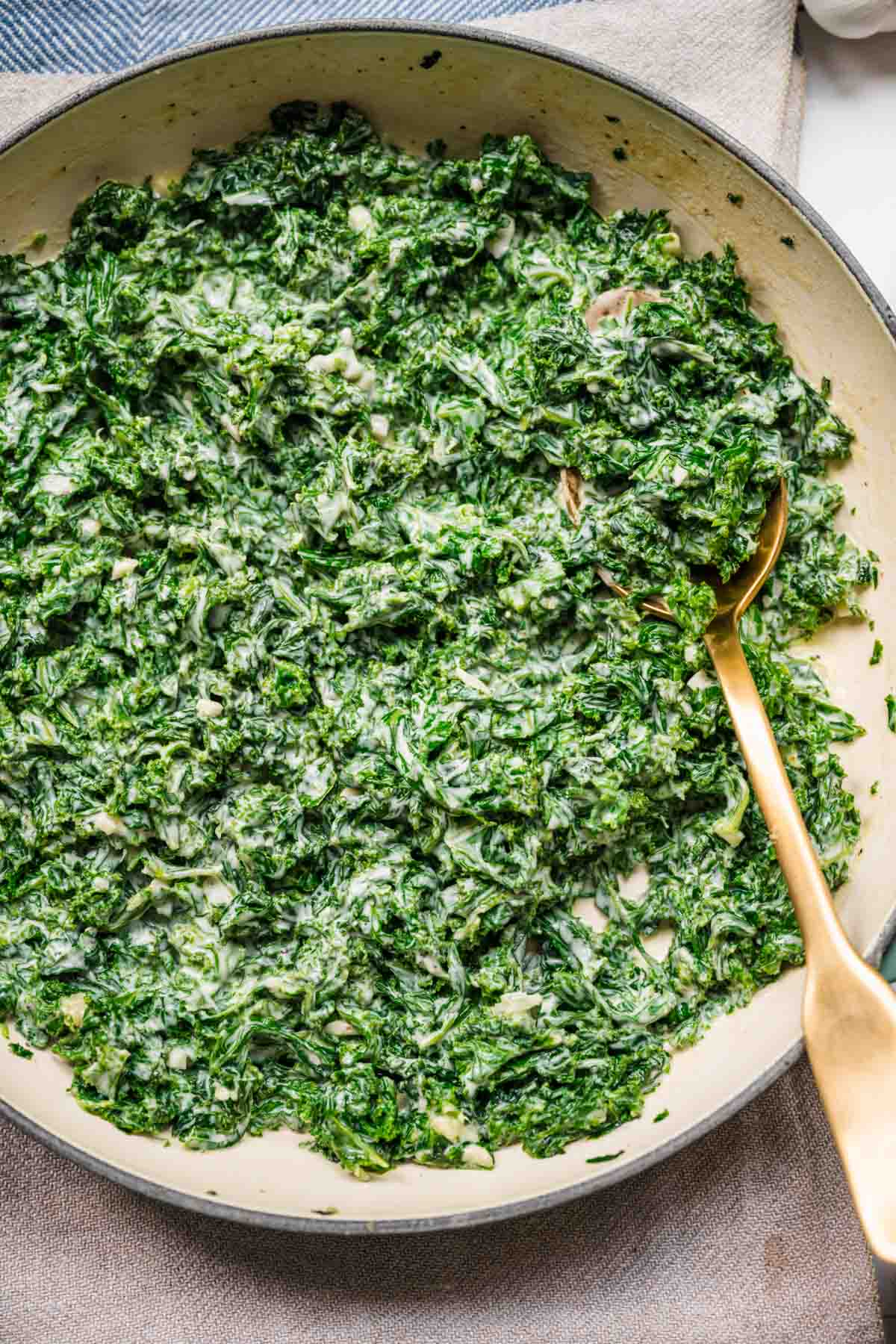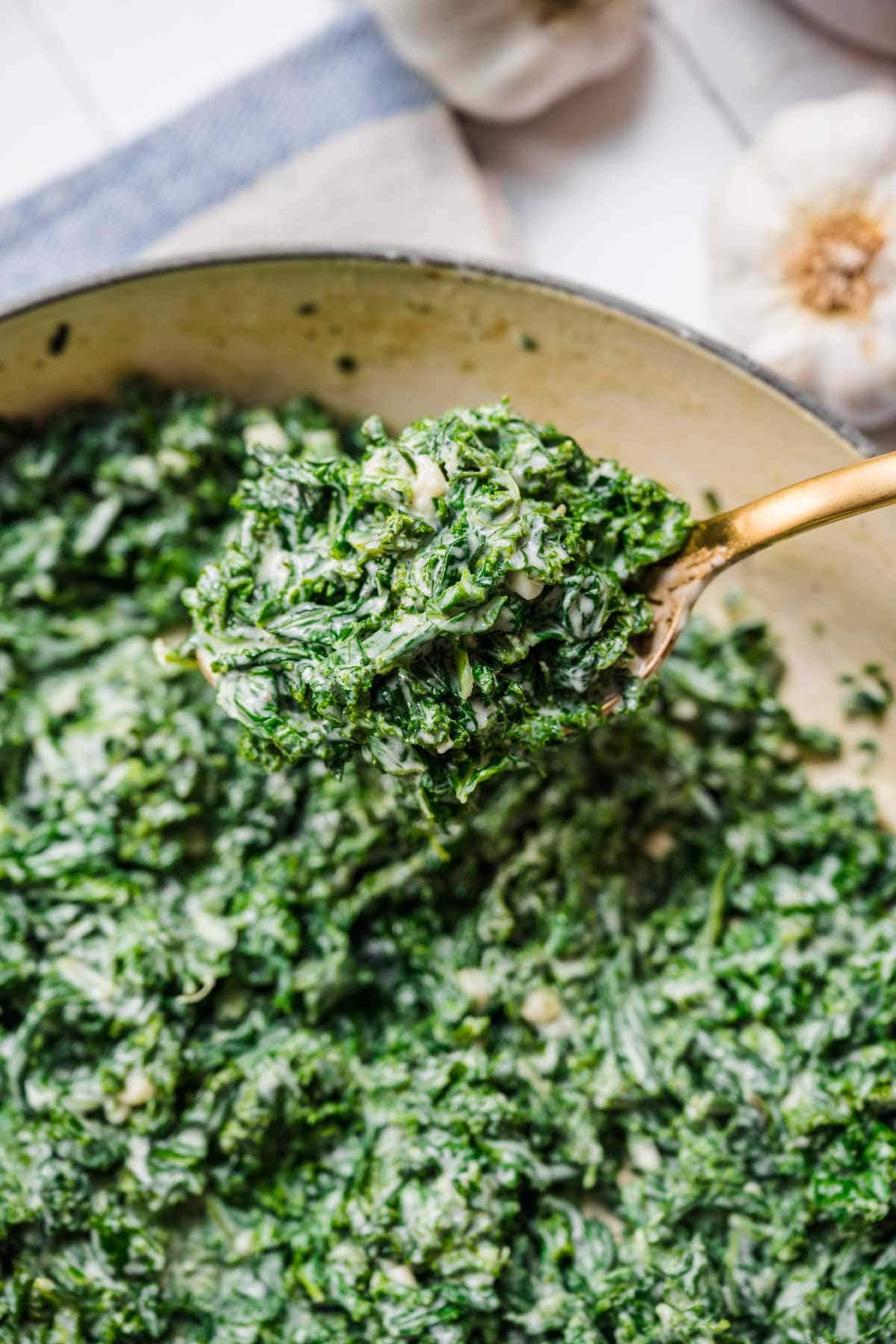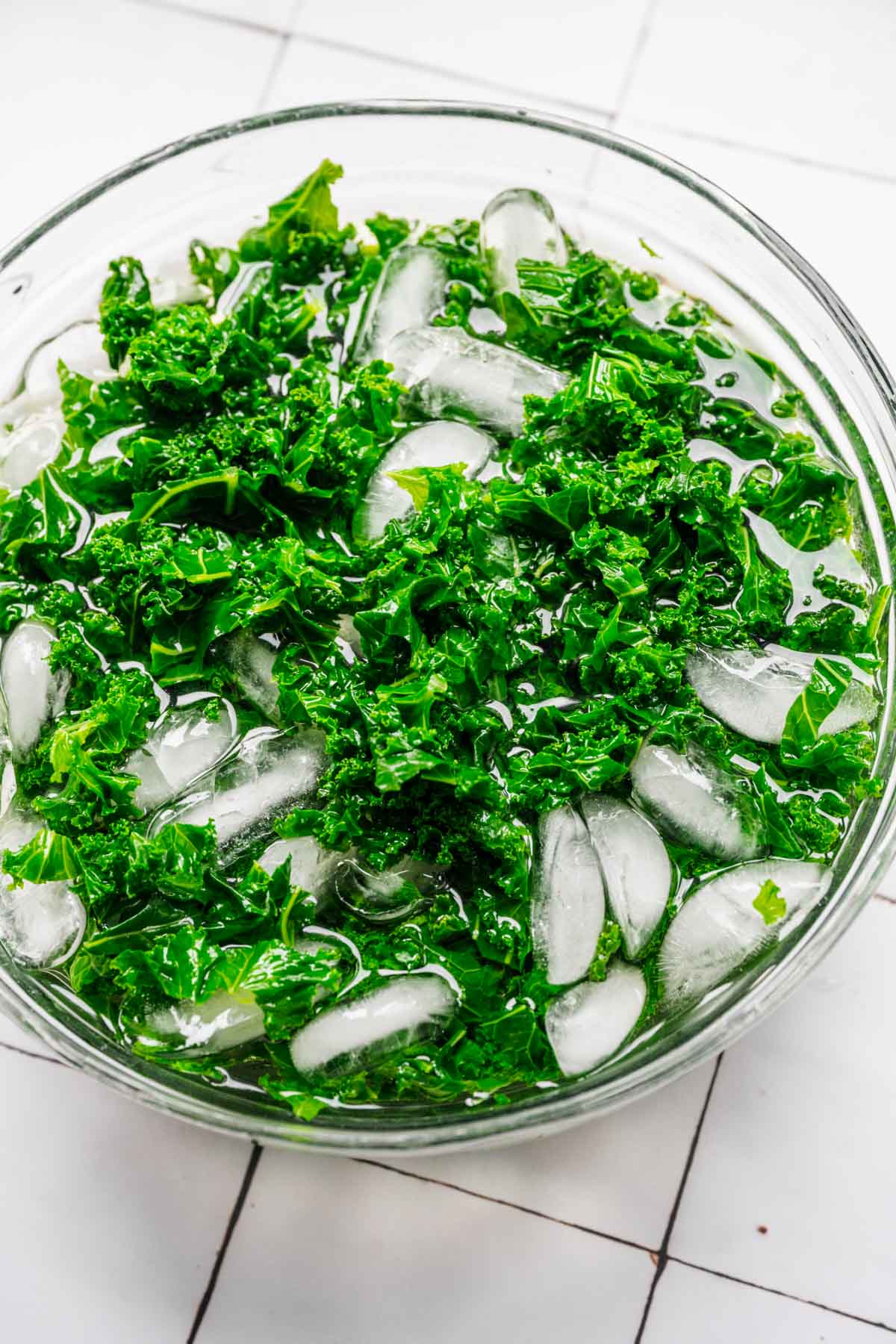 Table of Contents
About our Creamed Kale Recipe
This delicious Creamed Kale is made with freshly chopped kale simmered in a garlic butter cream sauce, with a hint of nutmeg, for the perfect holiday side dish. It's the perfect way to turn this healthy leafy green into the ultimate comfort food addition to your holiday table. The kids won't know they're eating a superfood, just that it tastes super delicious!
Creamed Kale is so quick and easy to make, you can also serve it any night of the week. It starts with fresh kale leaves that are blanched to get the bitterness out so they are perfectly tender and tasty. Next comes a simple yet indulgent butter and cream sauce that is made in minutes. Finally you add the kale to the sauce, let it simmer and soak up the cream sauce for a minute then serve it hot with all your favorite dinner dishes.
Creamed Kale Ingredients
Kale: You'll need 2 bunches of kale for this recipe. Regular curly kale can be found at most grocery stores. Be sure to remove the stalks because they are very bitter and clean the leaves well.
Cream Mixture: Use heavy cream and melted butter as the base of the cream mixture. You want to use real cream and butter for the most indulgent rich flavor.
Seasonings: Minced garlic and nutmeg gives the creamy sauce a distinct flavor that perfectly complements the earthy kale flavor. Also add a little kosher salt and black pepper to season and enhance the other delicious flavors.
Kitchen Tools & Equipment
Heavy Skillet: You want to use a large, heavy skillet, like a cast iron skillet, that will hold an even heat. This prevents your garlic from burning in some spots and keeps your cream from curdling. You also want this skillet big enough to hold all the kale and you can easily mix it into the sauce.
Bowl of Ice Water: The key to perfectly cooked kale that is tender without being mushy is to submerge it in ice water after it's boiled for no more than a couple minutes. This ice water bath stops the leaves from cooking and it keeps them that beautiful bright green color.
How to Make Creamed Kale
Time needed: 20 minutes.
Blanch the Kale

Start by adding water to a large pot and bringing it to a boil over high heat. Add the kale to the boiling water and cook for 3 minutes. Remove the kale from the boiling water and add it to a bowl of ice water. Squeeze the water out of kale in handfuls, and set the drained kale to the side to continue drying.

Make the Cream Sauce

Add butter, heavy cream, minced cloves garlic, nutmeg, salt, and pepper to a large, heavy skillet over medium-high heat. Stir in the melted butter to make a creamy sauce.

Combine Everything and Serve

Add the kale to the cream mixture and stir well. Reduce the heat to medium and cook for 3-4 minutes at a simmer until the sauce is thickened. Serve the Creamed Kale hot.
Nutritional Facts
| | | | |
| --- | --- | --- | --- |
| Calories: | 218kcal | Protein: | 3g |
| Carbohydrates: | 3g | Fat: | 23g |
| Cholesterol | 65mg | Sodium: | 422mg |
| Fiber: | 2g | Sugar: | 2g |
Cooking Creamed Kale Tips & Tricks
For the creamiest, tastiest kale make sure to prep it properly with these tips:
Remove the Bitterness

Prepping the kale properly takes out some of its bitter flavor, so it's delicious and earthy. To prepare each bunch of kale, remove the stalks and discard them. Thinly slice the leaves. Boil the kale beforehand and add it to iced water to stop it from cooking.

Prevent Watery Creamed Kale

You want to make sure you squeeze as much water as possible out of the kale before adding it to the cream sauce or it will water it down. Don't worry about it being too dry, the leafy greens will still have tons of moisture even after squeezing.
What to Pair With Creamed Kale
Holiday Dinner: Creamed Kale is the best new recipe for holiday favorites like Roast Turkey and Baked Ham. Complete your holiday spread with other side dishes like Mashed Potatoes and Dinner Rolls.
Steakhouse: Move over spinach, this is your new favorite delicious side for steakhouse favorites like Ribeye Steak and Steak Diane. Add a Baked Potato and you've got yourself a restaurant-worthy dinner.
Creamy Dishes: This cream sauce and kale recipe is perfect for adding to your favorite creamy pasta and soup recipes to instantly make them healthier. The cream sauce would mix in easily with Chicken Alfredo Pasta. Make Creamy Tomato Tortellini Soup both healthier and more indulgent by stirring in Creamed Kale.
How to Store Creamed Kale
Serve: Creamed Kale is best served hot. You can keep it warm at room temperature for up to 2 hours before you need to store it.
Store: Let the Creamed Kale cool, then store in an airtight container in the refrigerator for up to 4 days. Reheat on the stovetop and add whole milk, a teaspoon at a time, if the sauce is too thick upon reheating.
Freeze: Place cooled Creamed Kale in a sealed container and freeze for up to 3 months. Reheat from frozen in the oven or thaw and reheat Creamed Kale in a saucepan.
Ideas to Serve Creamed Kale
Gratin: Turn this into an even more indulgent side dish for holiday dinners by adding a gratin topping and baking it. Pour the Creamed Kale into a baking dish. Mix ½ cup breadcrumbs with 2 tablespoons melted butter until a wet sand consistency. Sprinkle the mixture over the kale and bake at 350 degrees until it's browned on top.
Garnish: Serve your Creamed Kale with garnishes like freshly shaved Parmesan, chopped toasted walnuts or pecans, or fresh herbs like parsley or basil.
FAQs for Creamed Kale
Can I use frozen kale instead of fresh?
You can skip chopping and blanching fresh kale in this Creamed Kale recipe by using frozen kale instead. Thaw and drain the frozen kale completely and pat dry before adding to the skillet. 
What type of kale should I use?
It's easiest to make this recipe with common curly kale, but other varieties can be used too if you can find them. Farmer's Markets are often a great place to find new varieties like Tuscan kale or Red Russian kale. You can also use baby kale.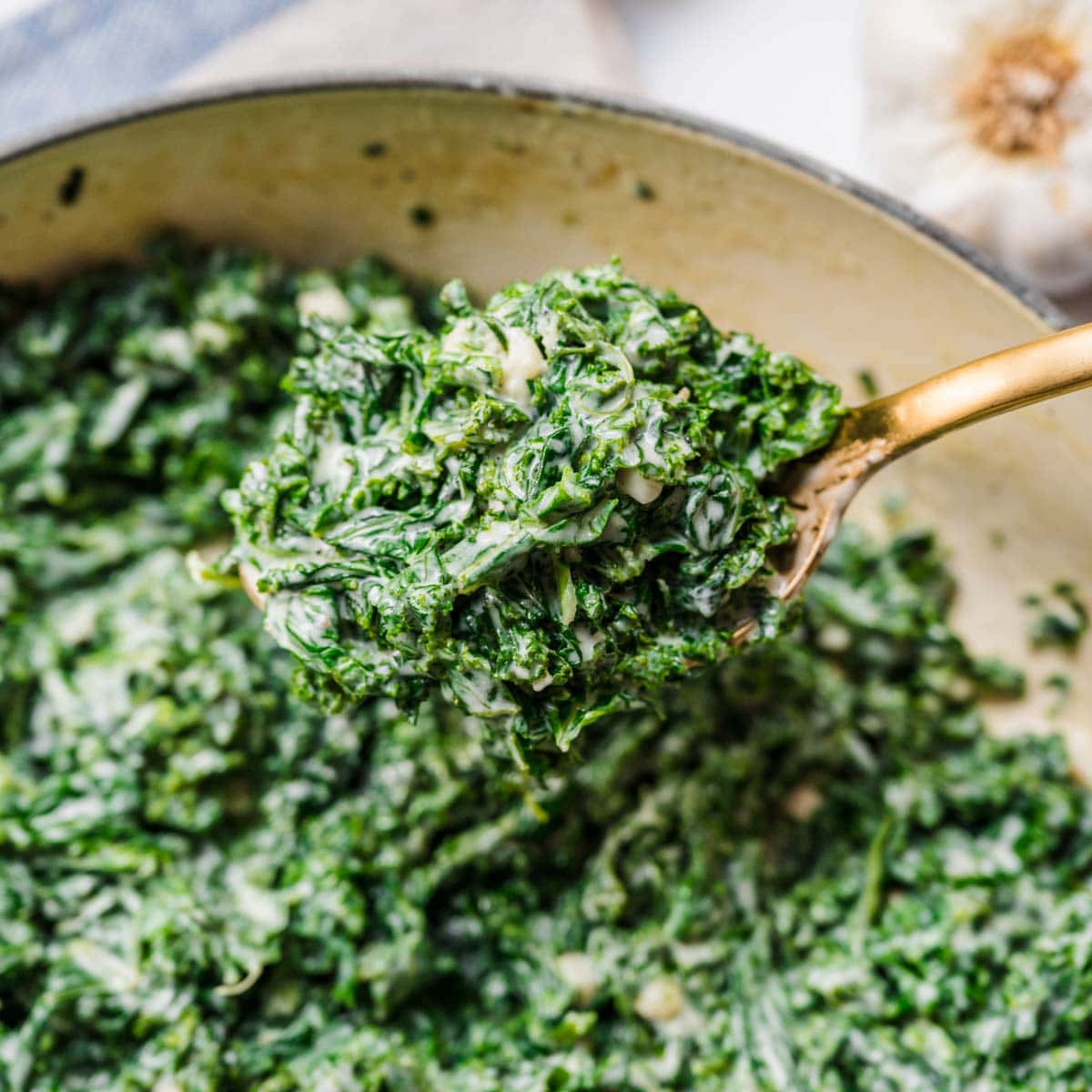 Ingredients
2

bunches

kale

, stalks removed and thinly sliced

4

tablespoons

unsalted butter

1

cup

heavy cream

1

clove

garlic

, minced

1/8

teaspoon

ground nutmeg

1

teaspoon

kosher salt

1/4

teaspoon

coarse ground black pepper
Instructions
To a large pot add water and bring to a boil on high heat.

Add the kale and cook for

3 minutes

, then remove to a bowl of ice water.

Squeeze water out of kale in handfuls.

To a large heavy skillet on medium-high heat, add butter, heavy cream, garlic, nutmeg, salt, and pepper, and stir until butter has melted.

Reduce heat to medium and cook for

3-4 minutes

until sauce has thickened.
Nutrition
Calories:
218
kcal
|
Carbohydrates:
3
g
|
Protein:
3
g
|
Fat:
23
g
|
Saturated Fat:
14
g
|
Polyunsaturated Fat:
1
g
|
Monounsaturated Fat:
6
g
|
Trans Fat:
1
g
|
Cholesterol:
65
mg
|
Sodium:
422
mg
|
Potassium:
194
mg
|
Fiber:
2
g
|
Sugar:
2
g
|
Vitamin A:
5146
IU
|
Vitamin C:
41
mg
|
Calcium:
140
mg
|
Iron:
1
mg
Variations
Greens: This Creamed Kale recipe can be made with mustard greens, spinach, turnip greens, or Swiss chard. You can also use half kale leaves and half other greens for Creamed Mixed Greens.
Veggies: Sauté fresh vegetables like red bell peppers, yellow onion, shallots, or mushrooms before adding along with the blanched kale. Chop a can of water chestnuts for crunch and light flavor.
Bacon: Cook a few bacon pieces until crispy, remove and chop, and drain the skillet, reserving 1 tablespoon of bacon grease. Reduce to 3 tablespoons butter and add bacon grease to the sauce.
Cream: You can lighten Creamed Kale up by using milk instead of heavy cream. Whole milk is the best replacement, but you can also use low-fat milk or half and half. If the sauce is too thin, you can stir in 1 tablespoon of all-purpose flour and cook for a few extra minutes.
Vegan: To make a non-dairy cream sauce, use olive oil instead of butter and coconut milk instead of heavy cream. Use full fat, unsweetened coconut milk or coconut cream for the best creamy sauce replacement.
Cheese: You can always mix some cheese into this Creamed Kale dish. Freshly grated parmesan cheese, mozzarella cheese, Monterey Jack cheese, or Pepper Jack cheese would taste amazing.