Spinach Casserole is an easy weeknight side dish with fresh spinach, butter, olive oil, garlic and Parmesan cheese. Make in 30 minutes!
Steakhouse Creamed Spinach is the cheesiest, most decadent Side Dish so we usually save it for a Holiday dinner. This yummy, easy spinach casserole is a lighter side perfect for weeknight Dinners when you need a delicious side dish with minimal prep time and bake time.
Fresh spinach is a healthy, delicious veggie that makes weeknight dinners a breeze. Spinach and a handful of ingredients turn into a weeknight side dish that goes perfect with all your family's favorite dinner recipes. This simple cheesy spinach casserole is made in less than 30 minutes so you can make it anytime you need a quick vegetable dish.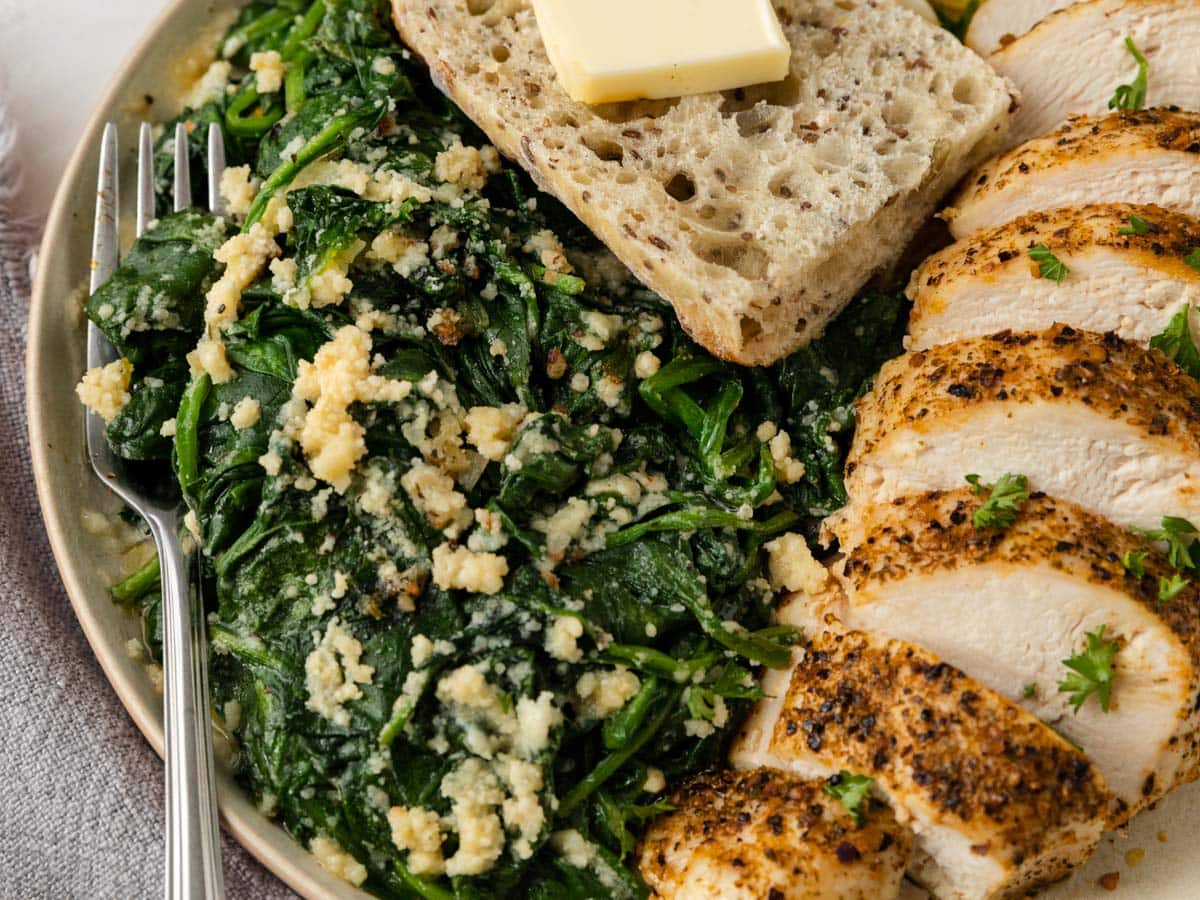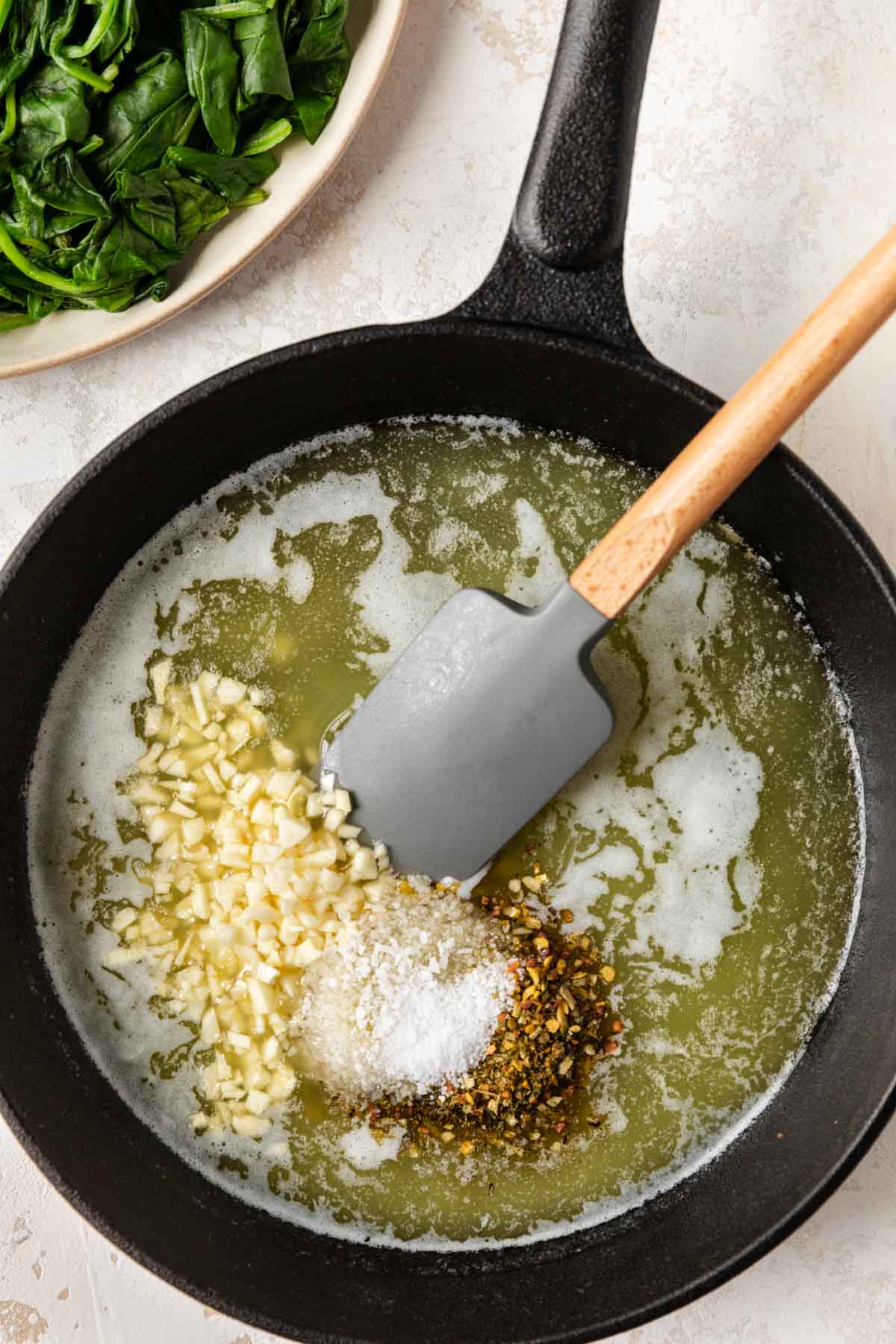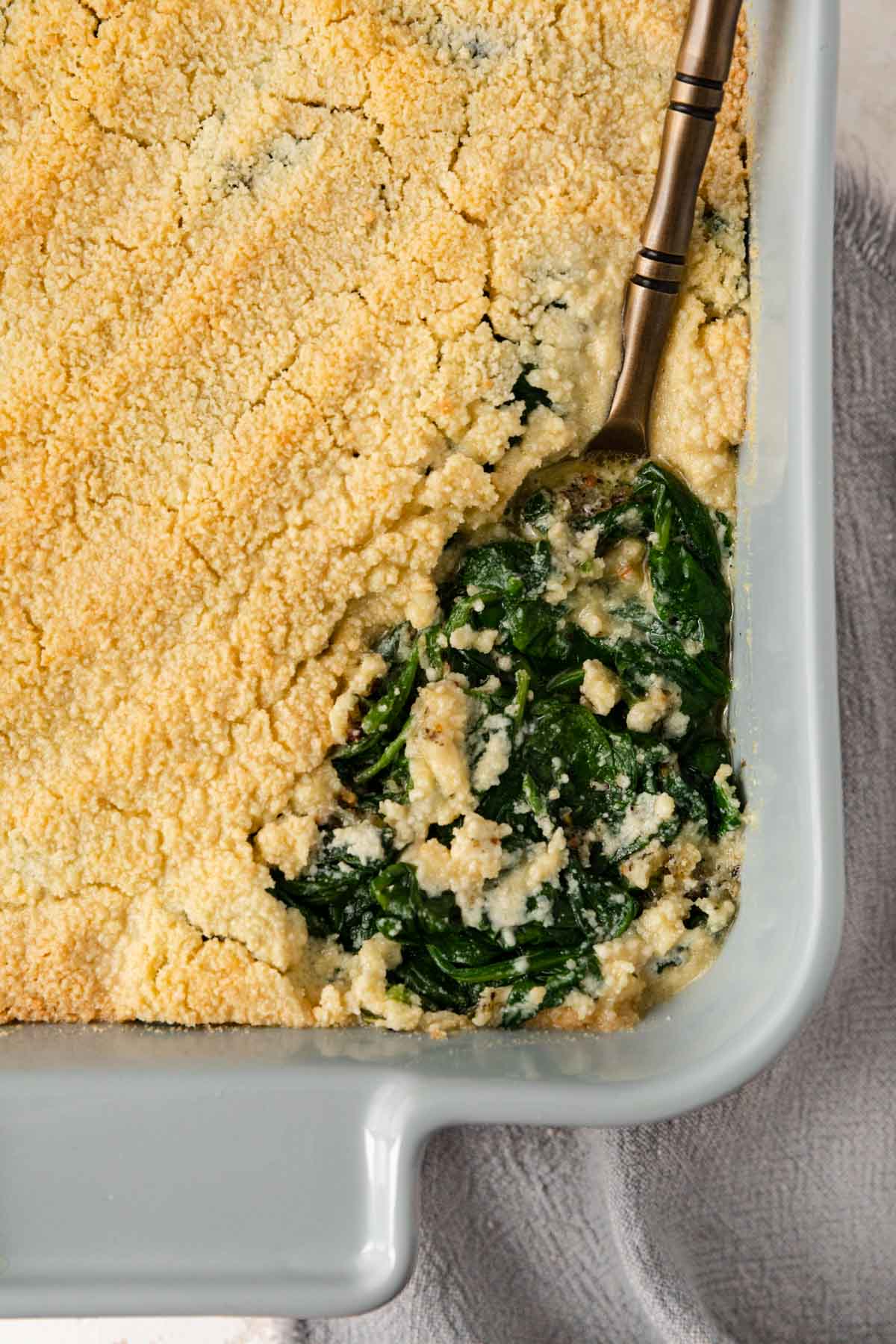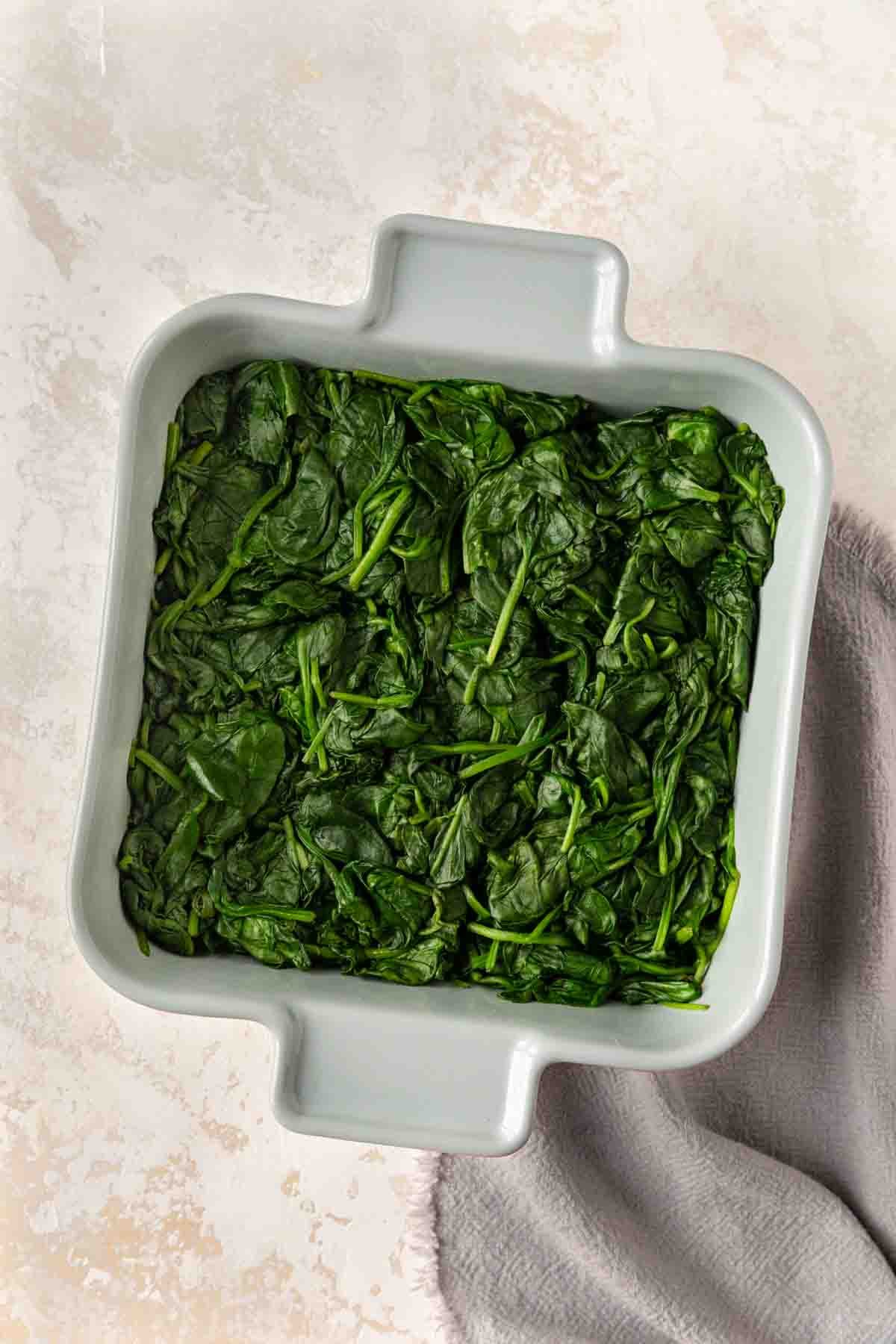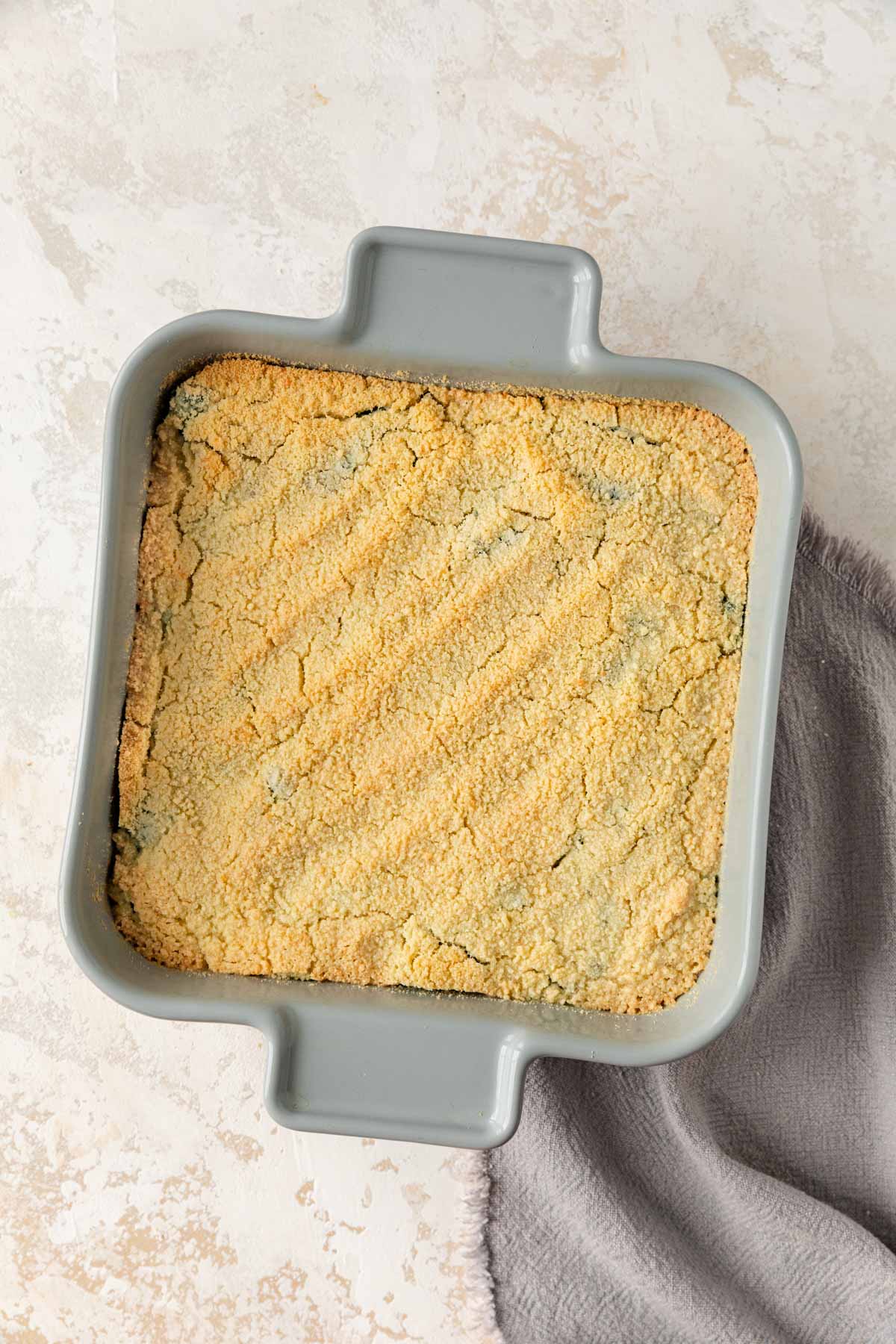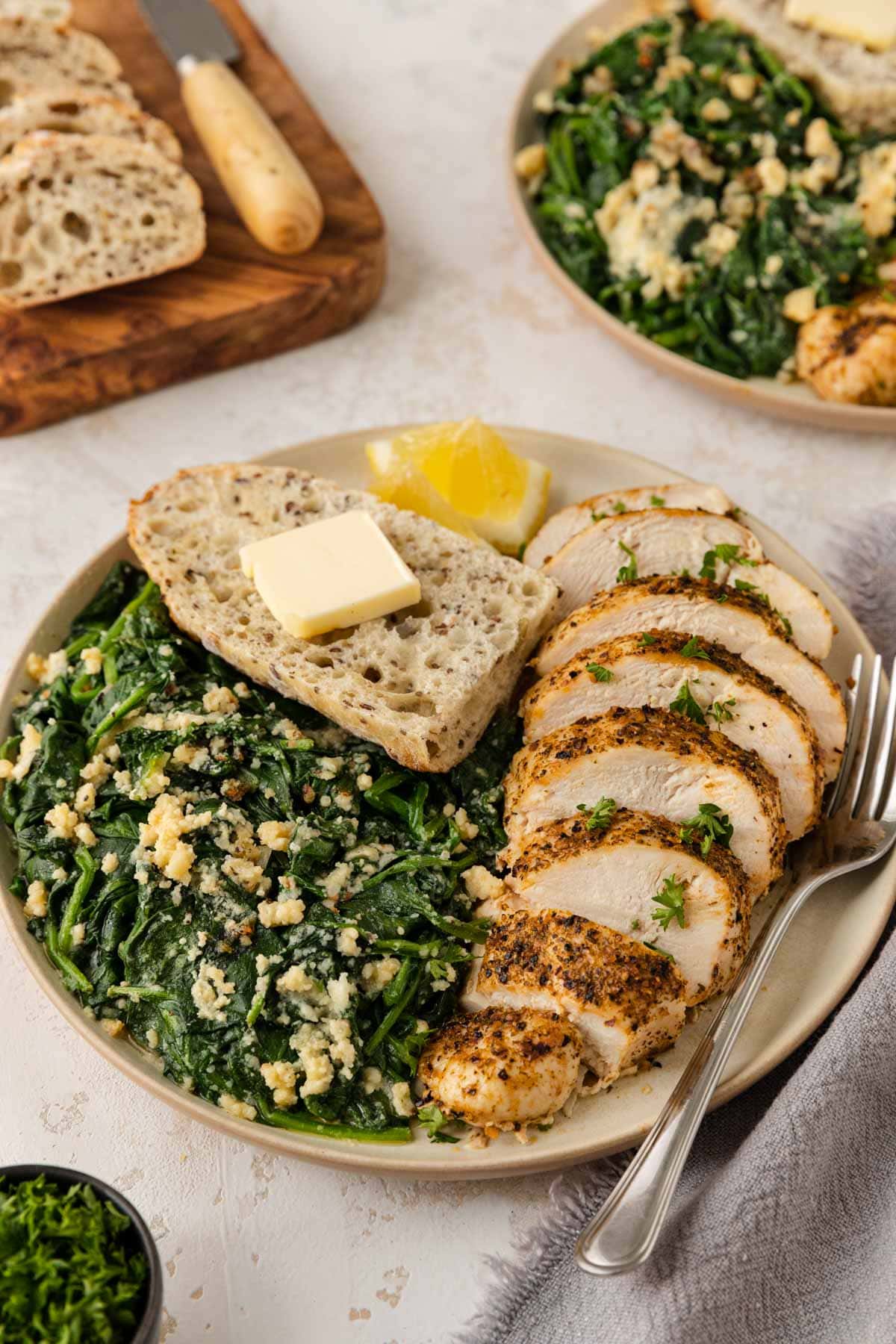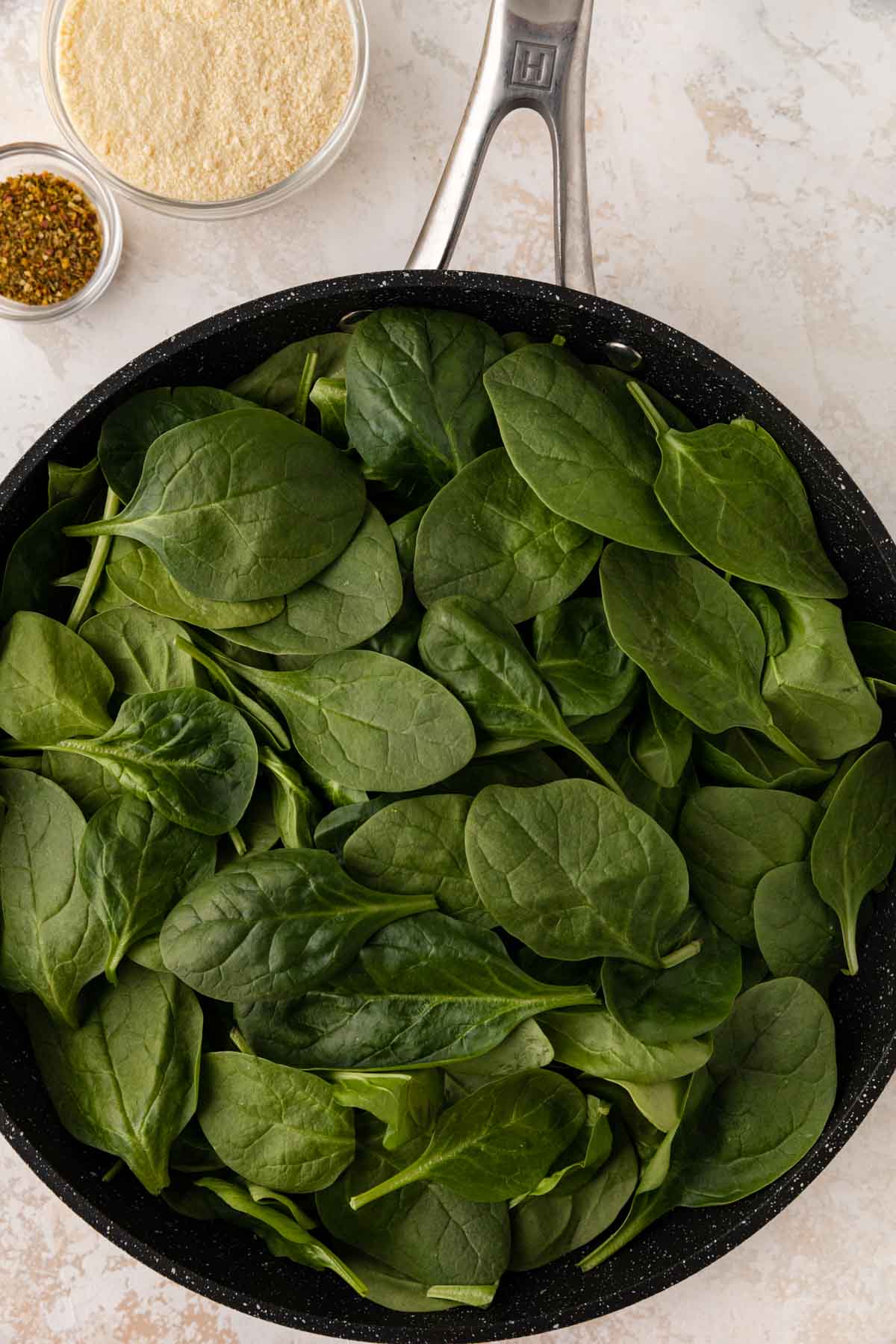 About our Spinach Parmesan Casserole Recipe
Just because Parmesan Spinach Casserole is a light dish, doesn't mean that it's not packed with flavor! This delicious spinach casserole recipe is filled with buttery, garlicky sauce and nutty Parmesan cheese in every bite. The golden-brown Parmesan cheese crust adds a tasty crunchy texture and extra layer of flavor.
This Parmesan Spinach Casserole is a tasty veggie side that you can feel good about serving any time of the year. It's a low-carb, gluten-free, and vegetarian side dish packed with flavor and vitamins. Loaded with vitamin A, calcium, and potassium, this is the best cheesy Spinach Casserole to give your family the nutrition they need in a yummy veggie dish they love.
Parmesan Spinach Casserole is an easy recipe for busy weeknights but it's also a beautiful spinach casserole, making a great choice for dinner parties too. You can prepare it ahead of time or put it together while your main dish is in the oven or slow cooker. This Parmesan Spinach Casserole also makes a lighter steak dinner side dish for special occasions too!
Spinach Parmesan Casserole Ingredients
Spinach: Baby spinach is perfect because it's less bitter and you don't have to do any trimming (and usually no cleaning) meaning way less prep time! The fresh spinach leaves need to be cooked for about a minute ahead of time so your casserole isn't watery. You just cook them long enough to wilt and release any excess moisture but not fully cooked.
Butter and Olive Oil: Heating butter and oil together actually increases the smoking point of the butter so it won't burn while you cook the garlic. Plus you still get that rich buttery flavor instead of just olive oil.
Seasonings: This delicious casserole is flavored with just a few basic seasonings. Some fresh garlic, Italian seasoning, and kosher salt are all this light and tasty spinach recipe needs.
Parmesan Cheese: The freshly grated Parmesan cheese adds another layer of salty, nutty flavor plus it forms an amazing, cheesy crust. It makes the dish taste decadent and rich without adding tons of calories or fat!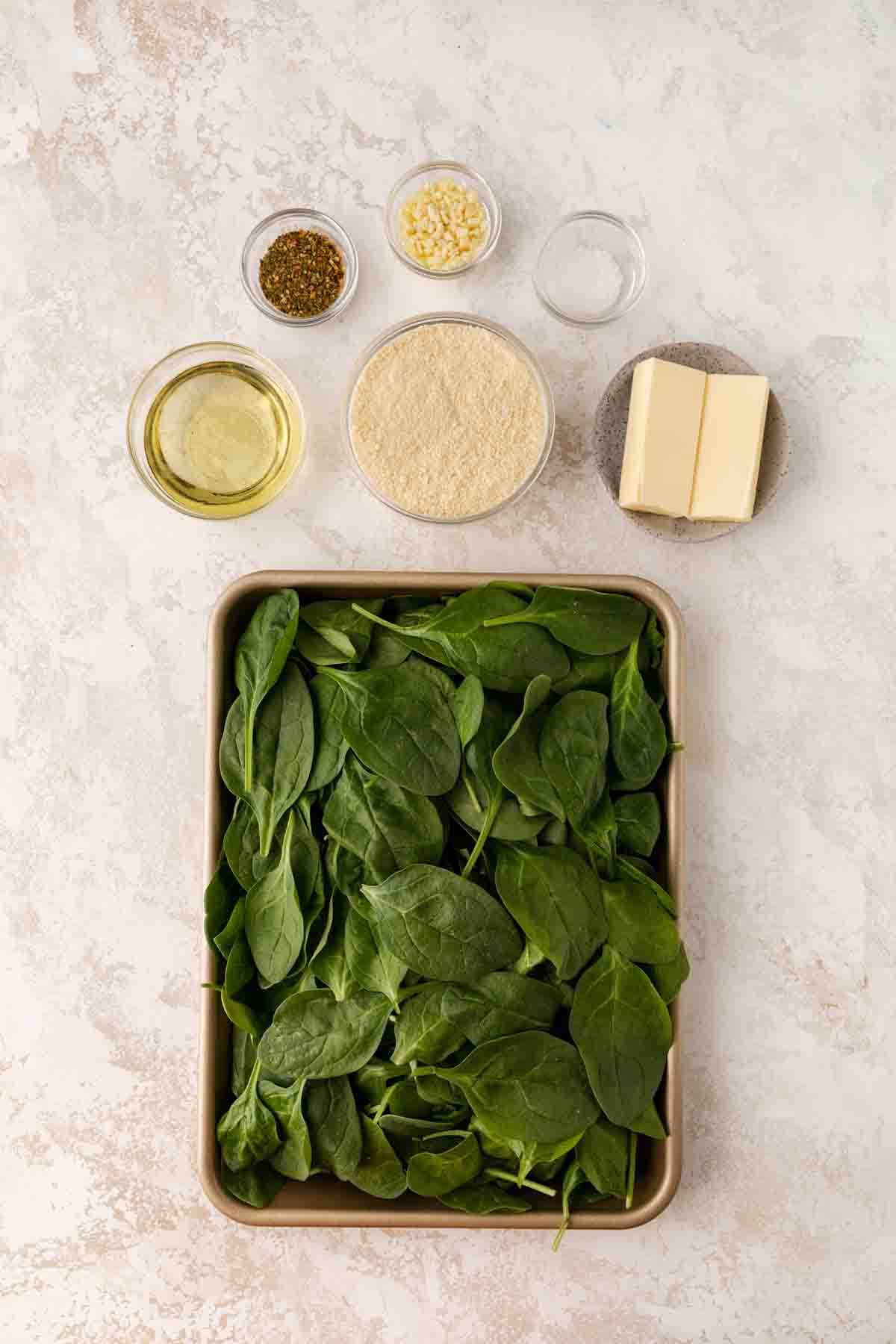 Kitchen Tools & Equipment
Baking Dish: This recipe is made in an 8 by 8 inch baking dish for a casual weeknight dinner and serves about 6 people. If you want to serve a larger crowd, double the recipe and bake it in a 9×13-inch baking dish.
Oven: This recipe starts on the stove top and finishes in the oven on fairly high heat. Baking it in a 400 degree oven means a quicker cook time, just long enough to get a melty cheesy bubbly spinach casserole.
How to Make Spinach Parmesan Casserole
Time needed: 30 minutes.
Prep Time

Preheat your oven. Grease a square 8 or 9 inch baking dish with butter. Fill a large pot with 5 cups of salted water. Bring to a boil.

Blanch the Spinach

Once the water is boiling, add the fresh baby spinach leaves and cover. Cook for 1 minute or until just wilted then drain spinach well. Pat the spinach dry and set aside.

Make the Sauce

Heat the butter and oil over low-medium heat. Add the garlic and Italian seasoning to the melted butter mixture and season with salt. Cook until the garlic is tender and fragrant.

Bake the Casserole

Add the cooked spinach to the prepared baking dish. Cover with the butter mixture and top with grated Parmesan cheese. Bake for 10-15 minutes, until the spinach mixture is bubbly and the cheese is golden brown perfection. Serve hot.
Nutritional Facts
Nutrition Facts
Parmesan Spinach Casserole
Amount Per Serving
Calories 250
Calories from Fat 189
% Daily Value*
Fat 21g32%
Cholesterol 36mg12%
Sodium 753mg33%
Potassium 878mg25%
Carbohydrates 7g2%
Protein 11g22%
Vitamin A 14614IU292%
Vitamin C 43mg52%
Calcium 366mg37%
Iron 5mg28%
* Percent Daily Values are based on a 2000 calorie diet.
Cooking Spinach Parmesan Casserole Tips & Tricks
For easier clean up and a delicious spinach casserole that's never watery, follow these tips!
Cooking Process for Perfect Spinach

The reason you cook the spinach beforehand is to remove the bitterness and it releases the excess water so you don't have a watery casserole. You can cool the spinach in ice water before draining to stop the cooking and preserve more of the color and texture.

Make it a One Pan Dish

If you have a large dutch oven, you can easily make this a one pan dish. Just boil the spinach in the pot, then drain and wipe out any excess water before making the butter mixture. Stir the spinach into the butter, cover with cheese and bake as usual.
What to Pair With Spinach Parmesan Casserole
Weeknight Dinner: Serve your Parmesan Spinach Casserole with all your favorite easy, weeknight main dishes like Garlic Pork Loin or Classic Meatloaf. Your Spinach Casserole can bake in the oven while your meat rests and be done by the time you set the table.
Holiday Dinner: This light and easy Parmesan Spinach Casserole is perfect low-carb side for Thanksgiving, Christmas Dinner, and Easter to make more room for Baked Mac and Cheese, Mashed Potatoes, and Roast Turkey!
How to Store Spinach Parmesan Casserole
Store: Don't leave Parmesan Spinach Casserole for more than 2 hours at room temperature. Refrigerate leftover Spinach Casserole in an airtight container or covered with plastic wrap for up to 5 days.
Reheat: It's best to reheat this spinach casserole in a 350 degree oven until it's warmed through. Cover it with foil so it doesn't dry out or burn while it heats up.
Freeze: This casserole can be frozen wrapped tightly with plastic wrap or in a sealed container for up to 3 months. Cool completely before freezing to keep moisture from collecting.
Ideas to Serve Spinach Parmesan Casserole
Breadcrumb Topping: Add more crunch to the topping by mixing a half cup of Italian bread crumbs with the Parmesan cheese.
Buttery Cracker Topping: Another crunchy topping you could add is buttery cracker crumbs. Toss them with the cheese and bake as usual.
Crispy Onion Topping: If you have some French-fried onions in your cabinet, like the kind you use for other holiday casseroles, why not sprinkle those on top for a savory, crispy topping.
Alternative Spinach Parmesan Casserole Cooking Techniques
Vegan Spinach Parmesan Casserole: Make this a vegan Spinach Casserole by substituting nutritional yeast and bread crumbs for the topping and replacing the butter with more olive oil or your favorite vegan butter. Nutritional yeast has a delicious nutty, Parmesan cheese taste without dairy and can be found at most natural food stores.
FAQ for Spinach Parmesan Casserole
Can I use frozen spinach in Parmesan Spinach Casserole?
You can definitely use frozen spinach in place of fresh spinach in this casserole dish. Thaw your spinach and drain well. Since 1 ½ cups of fresh spinach equals about 10 ounces of frozen spinach, you will want to use about 15 ounces of frozen spinach in this recipe.
Why should you pre-cook spinach for casseroles?
It might not look like it but fresh spinach leaves have a lot of excess water that gets released as they cook. To prevent a watery casserole, it is best to cook the spinach for a minute then drain it well before adding it to the dish.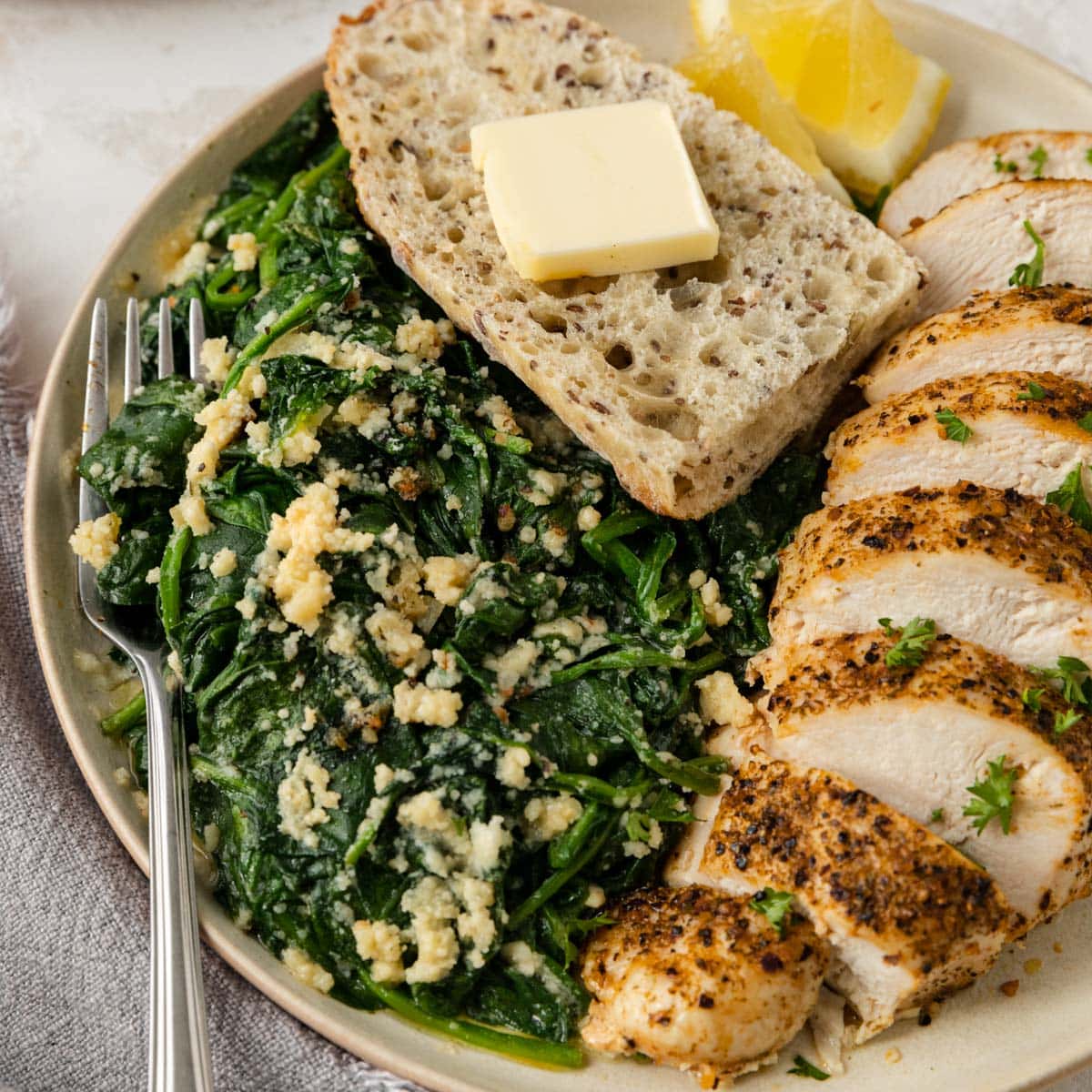 Recipe Card


Ingredients
2

pounds

fresh baby spinach

5

tablespoons

butter

3

tablespoons

olive oil

3

garlic cloves

, minced

1

tablespoon

Italian seasoning

3/4

teaspoon

salt

1

cup

Parmesan cheese

, grated
Instructions
Preheat oven to 400 degrees. Grease an 8×8 baking dish.

In a large pot bring 5 cups lightly salted water to a boil.

Add spinach and cook, covered,

1 minute

or just until wilted. Drain well.

In a small skillet, heat butter and oil over medium-low heat.

Add garlic, Italian seasoning, and salt. Cook and stir until garlic is tender,

1-2 minutes

.

Spread spinach in baking dish. Drizzle with butter mixture and sprinkle with cheese.

Bake uncovered for

10-15 minutes

, until cheese is lightly browned.
Nutrition
Calories:
250
kcal
|
Carbohydrates:
7
g
|
Protein:
11
g
|
Fat:
21
g
|
Saturated Fat:
10
g
|
Polyunsaturated Fat:
1
g
|
Monounsaturated Fat:
9
g
|
Trans Fat:
0.4
g
|
Cholesterol:
36
mg
|
Sodium:
753
mg
|
Potassium:
878
mg
|
Fiber:
4
g
|
Sugar:
1
g
|
Vitamin A:
14614
IU
|
Vitamin C:
43
mg
|
Calcium:
366
mg
|
Iron:
5
mg
Spinach Parmesan Casserole Variations
Greens: Use your favorite fresh leafy greens instead of spinach like kale, mustard greens, or Swiss chard. You may need to boil them just a bit longer until they are wilted.
Veggies: The melted butter garlic sauce and grated Parmesan topping would go great on other veggies like zucchini, summer squash, cauliflower, or broccoli.
Cream Cheese: Make this a creamy spinach bake by melting cream cheese in with your butter, olive oil, and garlic before pouring it over the spinach.
Cheese: Go from Italian-inspired to Greek by substituting feta cheese for the Parmesan. You can also add other shredded cheese like cheddar cheese, mozzarella cheese, or Swiss cheese.
Seasoning: Give this Spinach Casserole different flavors by adding red pepper flakes, ground nutmeg, chili powder, or paprika.
Related Recipes
More Delicious Spinach Recipes