Honey Mustard Roasted Potatoes are a sweet tangy twist on a classic dish! Crispy potatoes roasted in honey mustard sauce until golden brown.
Whether it's Garlicky Roasted Potatoes or these sweet and tangy roasted potatoes, crispy oven baked potato pieces make a delicious, easy Side Dish for Easter Dinner, busy weeknight, or potluck.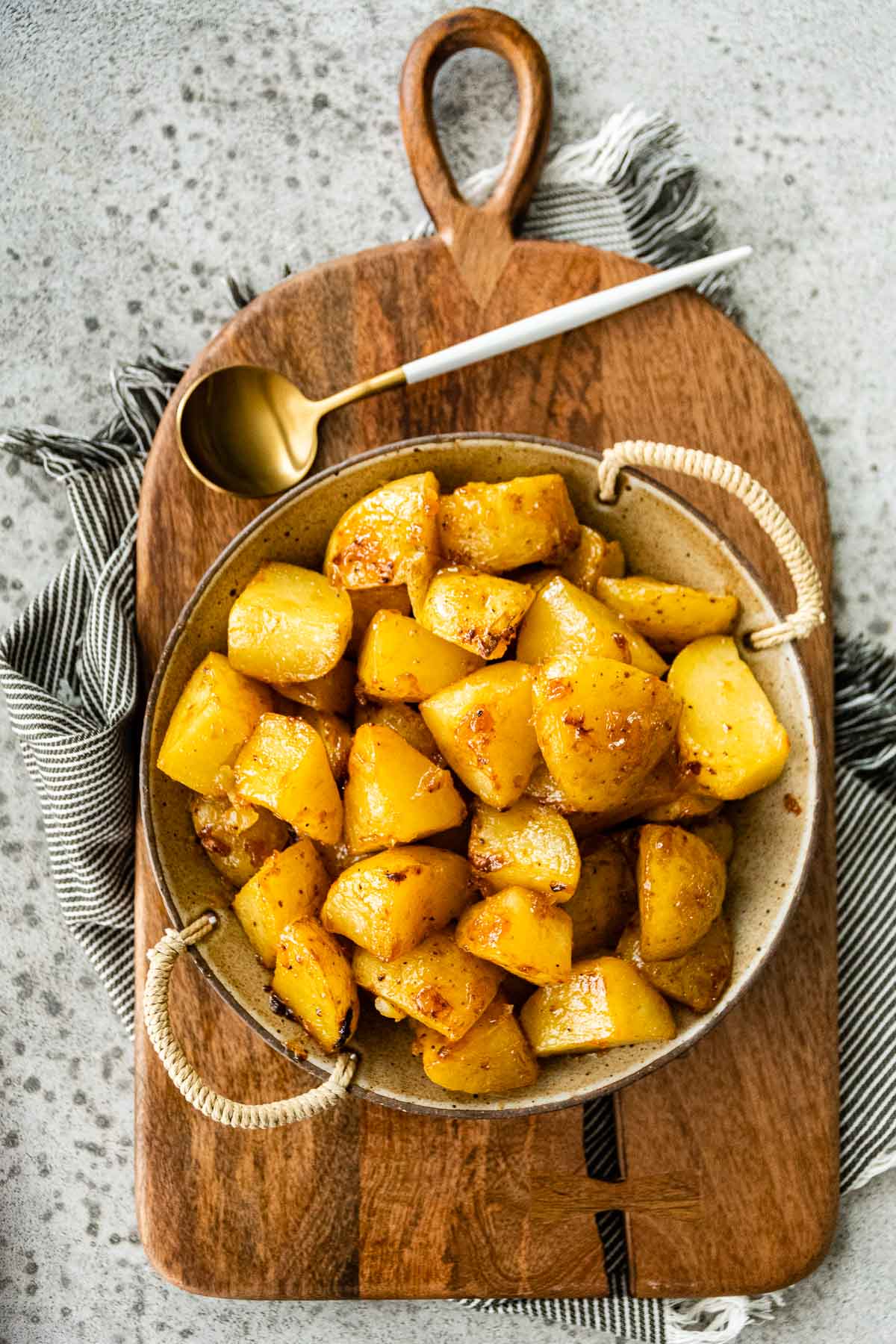 When it comes to quick sides that you know everyone will love, you can't go wrong with a dish that has the word "potato" in it. Mash them, fry them, roast them, grill them, even slow cook them… no matter how you serve these wonderful root veggies, it's sure to be an amazing dish that will have everyone begging for more. They can go from fast food side to fancy side perfect for special occasions with just a little extra seasoning, an oven, and a creamy sauce.
These Honey Mustard Roasted Potatoes are made in about an hour with just five basic ingredients, plus salt and pepper, that you are almost guaranteed to have in your pantry right now. The most exotic spice used on these golden-brown potatoes is dry mustard, and if you are fresh out, there are variations below for an easy swap.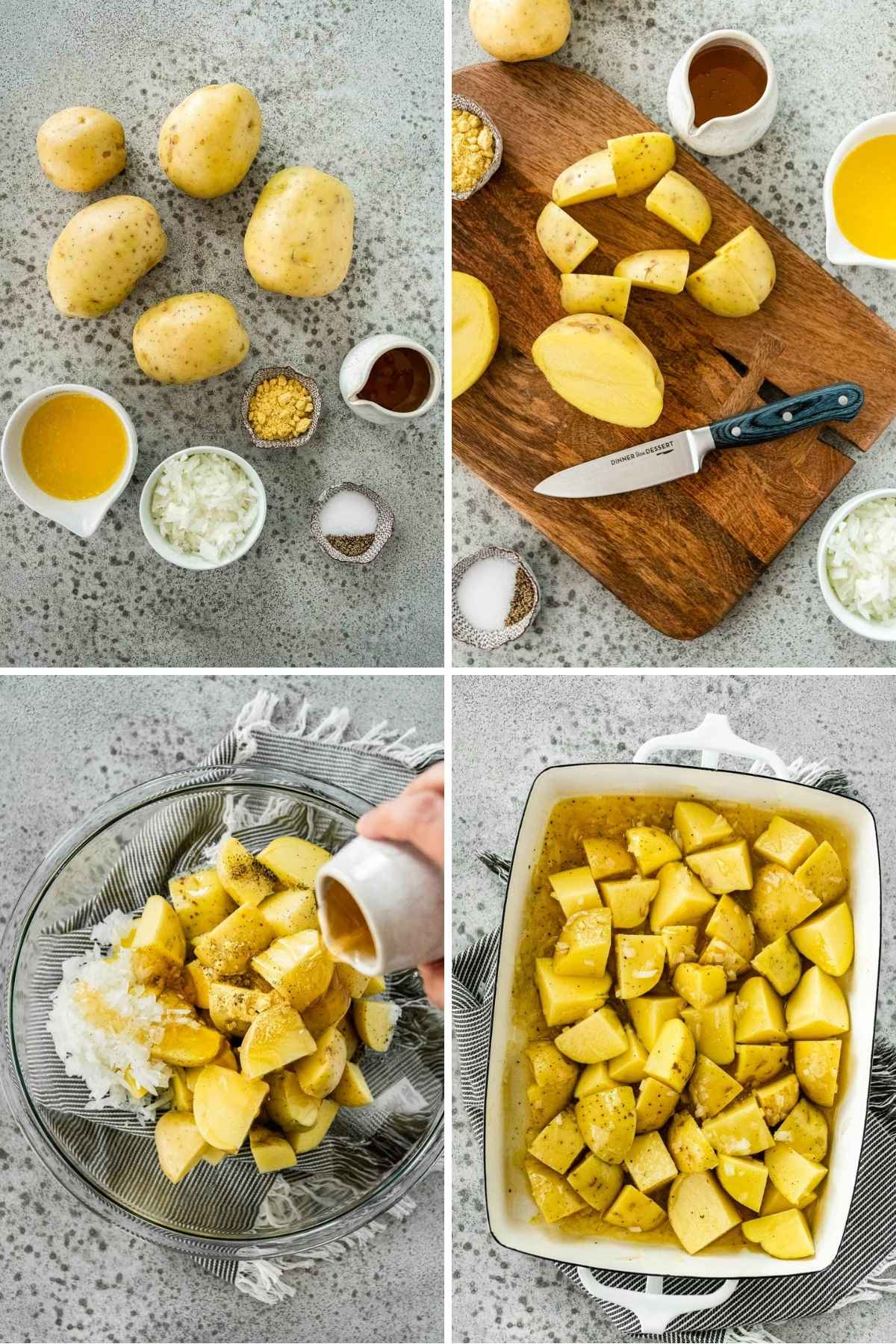 Honey Mustard Roasted Potatoes are the perfect side for whatever you are making for dinner tonight. They have a mild flavor with crispy outsides and fluffy soft insides. They go with just about everything from Pot Roast to Brisket to Chicken Thighs. Plus, they are in the oven in minutes so you can focus on the main dish!
For your Easter dinner, serve Honey Mustard Roasted Potatoes with Roast Leg of Lamb and a light spring vegetable side dish like Sauteed Green Beans. If you want an easy sauce, warm up a small bowl of Honey Mustard in the microwave for about a minute and drizzle over cooked potatoes.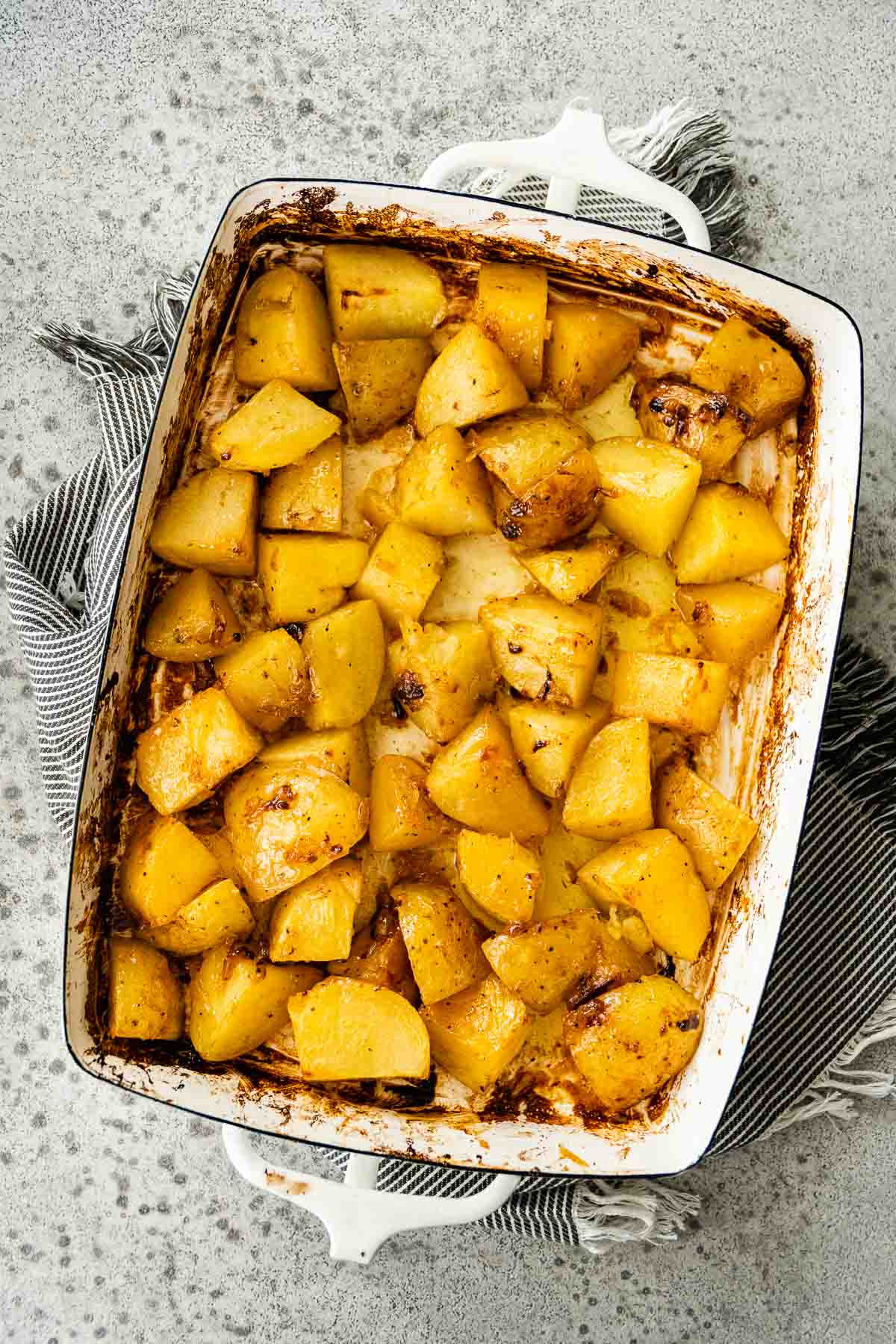 This easy, delicious recipe makes great leftovers too! Use leftover Honey Mustard Roasted Potatoes tossed in olive oil and whole grain mustard for a quick German-style potato salad. Fry diced potatoes with eggs and ham for an Easter breakfast hash. Make a double batch of these potatoes and freeze them for months for an easy side dish on busy weeknights. The possibilities are truly endless for these tangy, sweet, buttery spuds.
How to Make Honey Mustard Roasted Potatoes
Prep: Scrub the potatoes clean, then quarter them into even bite-sized pieces. Preheat the oven and spray a baking dish or sheet with cooking spray.
Season: Combine the melted butter, diced potato pieces, honey, dry mustard, salt, and coarse pepper in a large bowl. Toss until potatoes are completely coated.
Bake: Pour in a single layer into your prepared dish. Bake until potatoes are fork tender and crispy. Stir every 15-20 minutes while roasting potatoes to everything cooks evenly.
Classic Hearty Main Dishes
FAQs for Honey Mustard Roasted Potatoes
What potatoes are good for roasting?
Potatoes that are good for roasting include Yukon Gold, Russet, and Red potatoes. These potatoes have a high starch content and a dense, firm texture, which allows them to hold their shape and become crispy on the outside while remaining tender on the inside when roasted.
How do I know when the potatoes are done roasting?
Your potatoes are done when they are tender on the inside and golden brown and slightly crispy on the outside. To check for doneness, simply pierce a potato with a fork or knife. If it slides in and out easily, they are done.
 What is the best way to prevent the potatoes from sticking to the pan while roasting?
To prevent the potatoes from sticking to the pan, it's important to make sure they are coated well in the sauce and that the pan is well-greased or lined with parchment paper. Stirring the potatoes occasionally while they cook will also help to prevent sticking.
Should I rinse the potatoes before cooking?
For extra crispy outsides, rinse your potatoes before coating them in the sauce and cooking. Rinsing them under water for a couple minutes will remove excess starch so they can better absorb moisture and flavor.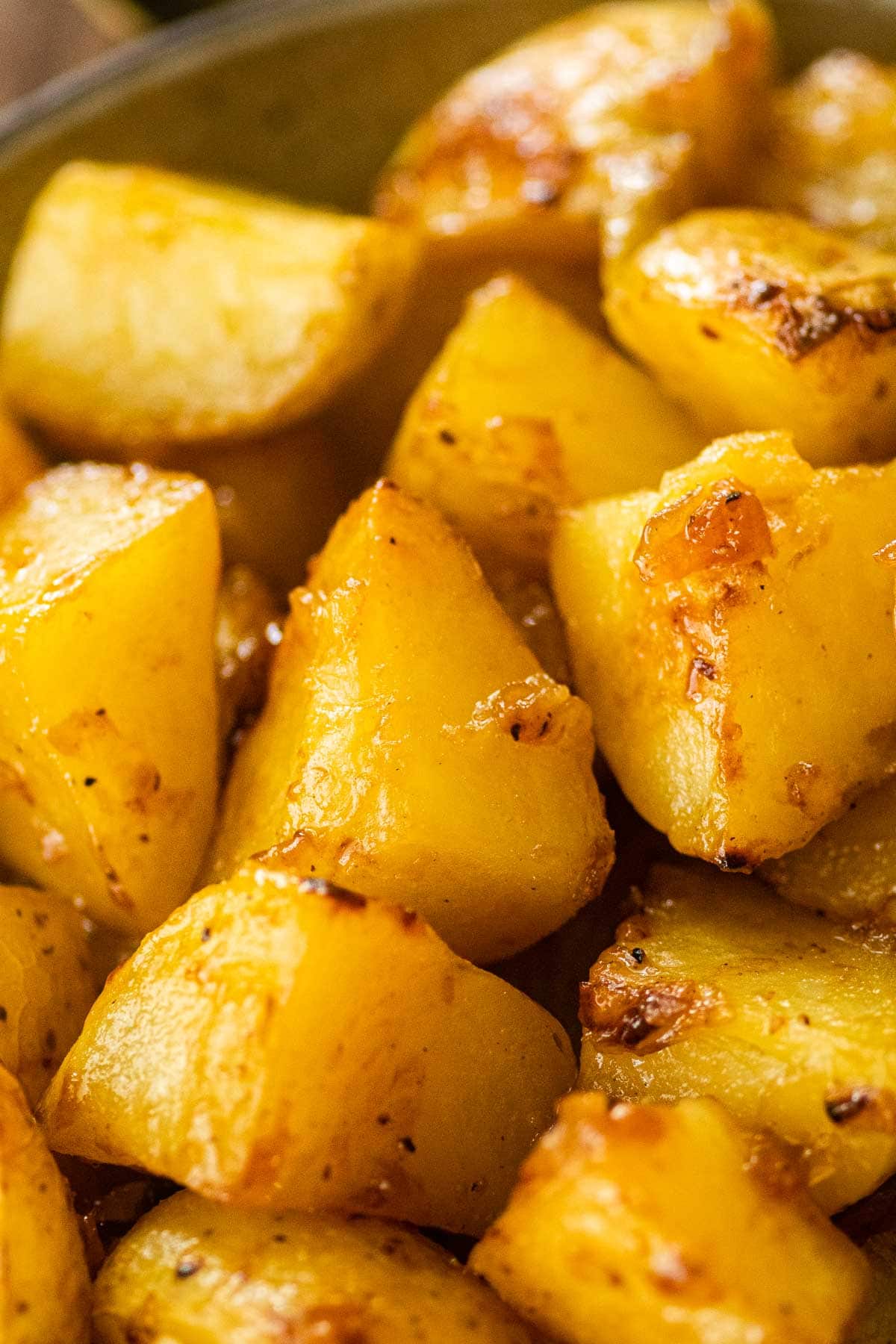 Create a free account to

Save Recipes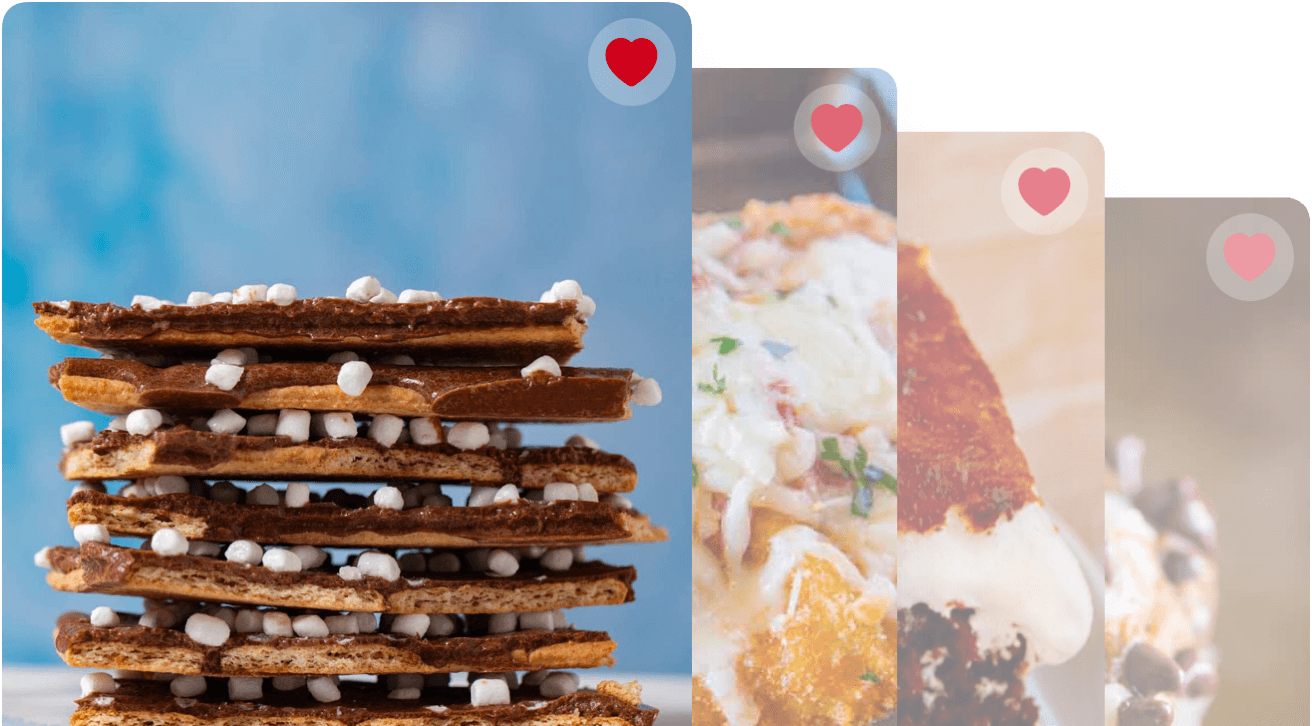 Key Ingredients
Yukon Potatoes: Yukon Gold Potatoes are slightly starchy, slightly waxy potatoes, making them ideal for roasting. They are known for their creamy texture and buttery flavor.
Yellow Onion: As the yellow onion roasts, it develops aromatic, pungent yet caramelized complexity that brings a lot of depth to the simple honey mustard sauce.
Unsalted Butter: Melted butter coats the potatoes and forms a creamy sauce full of rich, fatty goodness that complements the natural buttery flavor of the potatoes. It also helps the skin get nice and crispy.
Honey: Honey isn't just stick and sweet, it actually comes in a range of flavor complexities. Some are more floral, some are more earthy, and some are even naturally lightly spiced. Use local, fresh honey if you can get it or a good quality brand for the best flavor.
Dry Mustard: Dry mustard is a type of mustard powder that is made from ground mustard seeds. It has a pungent, tangy flavor and can be found in the spice aisle of most stores.
Salt and Pepper: Pretty much every savory dish should get a dash of salt and pepper in addition to other seasonings. This classic spice duo enhances all the other flavors of the dish, while the salt balances the sweet and the pepper gives a subtle heat.
Can you prepare these potatoes ahead of time?
You can prepare Honey Mustard Roasted Potatoes ahead of time, just toss all the ingredients in a large bowl and stir. Seal the bowl and keep it in the refrigerator for up to 24 hours. To bake, pour potatoes onto a baking sheet or into a casserole, spread into a single layer, and bake as usual.
Variations
Potatoes: You can use any thinner-skinned potato like red potatoes or baby potatoes. To swap in sweet potatoes or Idaho potatoes, peel them first unless you don't mind the thicker crispy skin.
Mustard: If you want stronger mustard flavor, substitute a ¼ cup Dijon mustard, whole grain mustard, or spicy brown mustard for the dry mustard and reduce the honey to 2-3 tablespoons.
Bacon: Potatoes and bacon are a natural duo. Mix in diced crispy cooked bacon to the potatoes either the second or third time you stir them.
Spices: Add more flavor by using whole garlic cloves or chopped shallots along with the onion. Use red pepper flakes for spicy honey mustard potatoes or fresh herbs like rosemary or thyme for a more savory side dish.
Honey: Instead of honey, you can use maple syrup, light corn syrup, dark corn syrup, or molasses. Each swap is going to have difference in flavors and sweetness.
Low Carb: To make Keto Roasted Potatoes, use the mustard swap above (¼ cup mustard), and instead of honey use 2 tablespoons of brown monk fruit or Stevia substitute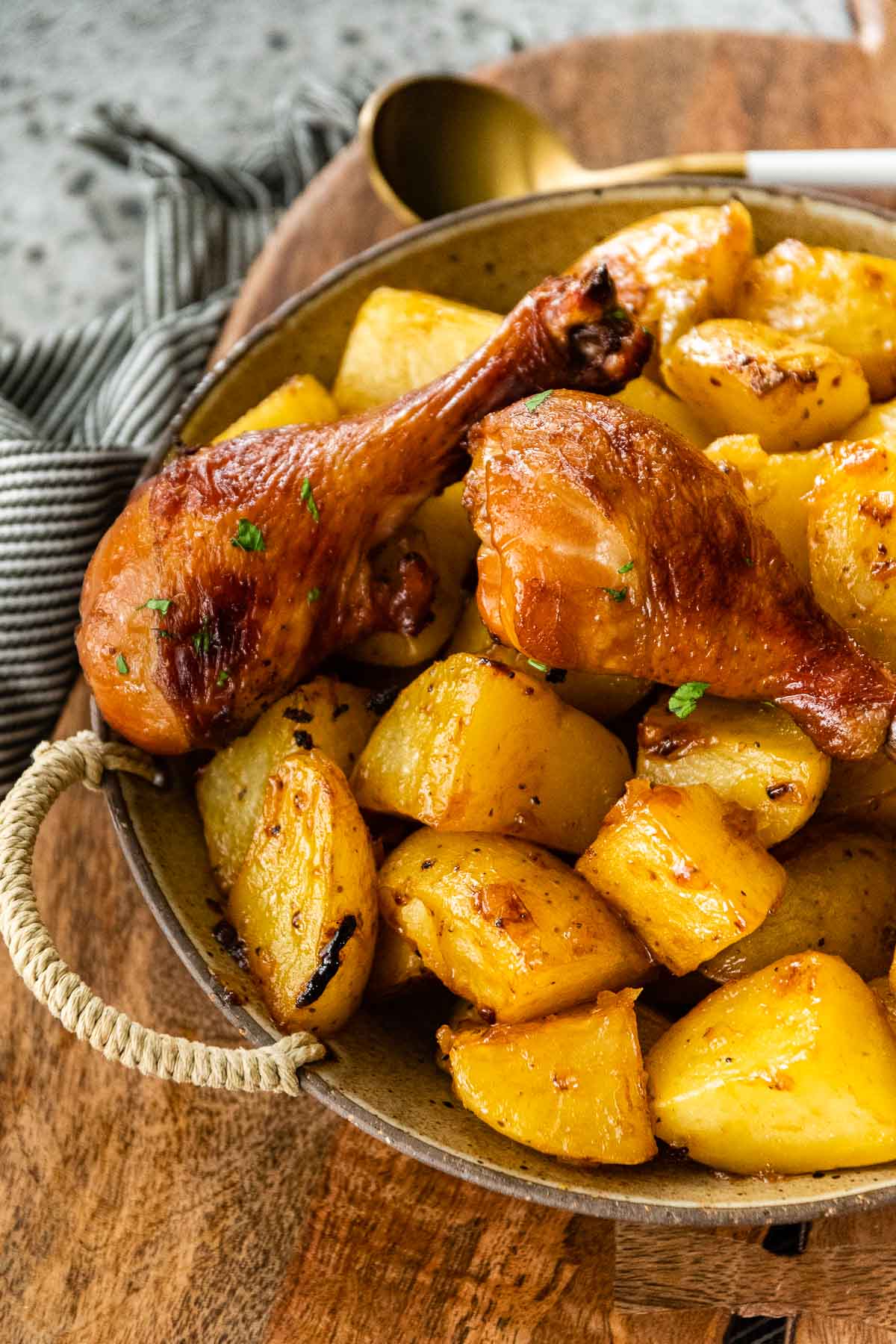 Air Fryer Honey Mustard Potatoes
Preheat your Air Fryer to 400 degrees. Place the insert inside the basket and spray with cooking spray.
Season the potatoes as usual. Cook in batches so the potatoes are in a single layer without crowding.
Fry for 15-20 minutes, flipping halfway through, until tender.
Slow Cooker Honey Mustard Potatoes
Prepare the potatoes and toss in the sauce as usual.
Spray the cooker insert with baking spray.
Add potatoes and sauce to the slow cooker.
Cover with lid and cook on low for 4-5 hours or high for 2-3 hours, until potatoes pierce easily with a fork.
More Delicious Potato Recipes
How to Store
Store: You can keep Honey Mustard Roasted Potatoes at room temperature for up to 2 hours. These potatoes will stay good in the fridge for up to 5 days in a sealed container
Reheat: Reheat on a baking sheet lined with foil in a single layer, in the oven at 400 degrees, for about 10-15 minutes or until heated through and crispy again.
Freeze: Cool cooked potatoes completely before freezing in an airtight container for up to 6 months. Thaw the potatoes in the refrigerator overnight before reheating as directed above.


Ingredients
2

pounds

Yukon potatoes

, quartered

1/4

yellow onion

, minced

1/3

cup

unsalted butter

, melted

1/4

cup

honey

2

teaspoons

dry mustard

1/2

teaspoon

kosher salt

1/4

teaspoon

coarse ground black pepper
Instructions
Preheat oven to 375 degrees F.

Mix all the ingredients together then pour into a 9×13 baking dish.

Bake for

45-50 minutes

or until tender, stirring three times throughout the cooking time.
Nutrition
Calories:
255
kcal
|
Carbohydrates:
39
g
|
Protein:
3
g
|
Fat:
11
g
|
Saturated Fat:
7
g
|
Polyunsaturated Fat:
1
g
|
Monounsaturated Fat:
3
g
|
Trans Fat:
1
g
|
Cholesterol:
27
mg
|
Sodium:
205
mg
|
Potassium:
660
mg
|
Fiber:
4
g
|
Sugar:
13
g
|
Vitamin A:
319
IU
|
Vitamin C:
30
mg
|
Calcium:
25
mg
|
Iron:
1
mg