Guinness Chili is a hearty, rich, flavorful dish made with beer, beans, tomatoes, and warm spices. Perfect for St. Patrick's Day or a super bowl party!
When it comes to warming comfort food chili is practically impossible to beat. If you love Classic Beef Chili, then this delicious spin on it is sure to be a hit. The Guinness adds a rich flavor with malty undertones to the traditional Dinner Recipe.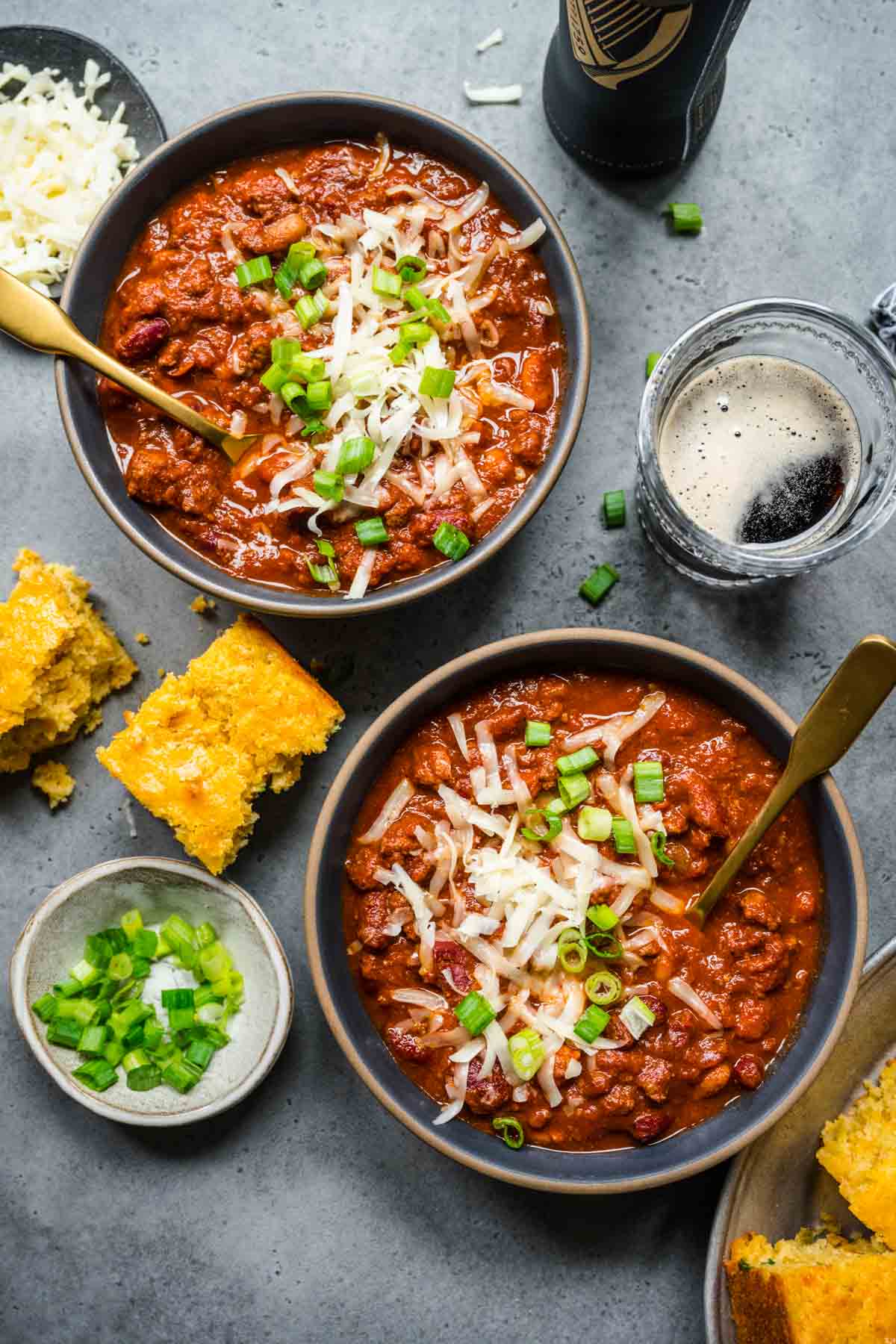 This delicious chili is perfect to serve on St. Patrick's Day, at a super bowl party, chili cook-off, or just as an easy dinner idea. The hearty flavorful chili gets rich flavors and an Irish flare from the Guinness. All the alcohol cooks out of the beer so you're left with fantastic taste in a perfectly kid-friendly recipe.
Serve the easy Chili up with Cornbread for the ultimate comfort food dinner. Or if you end up hosting a super bowl party, put it out with a big bowl of chips. Everyone can serve themselves a bowl and use the warm chili as a flavorful, saucy chip dip.
This is far from the only recipe you can add beer to for some extra flavor. Check out Beer Braised Pot Roast, Easy Beer Cheese Dip, and Cheddar Beer Bread. Adding beer to some classic recipes makes a deeper flavor with a light sweetness and rich earthy undertones that really take the recipe to the next level. If you don't have Guinness, you can use most dark beers as an easy replacement.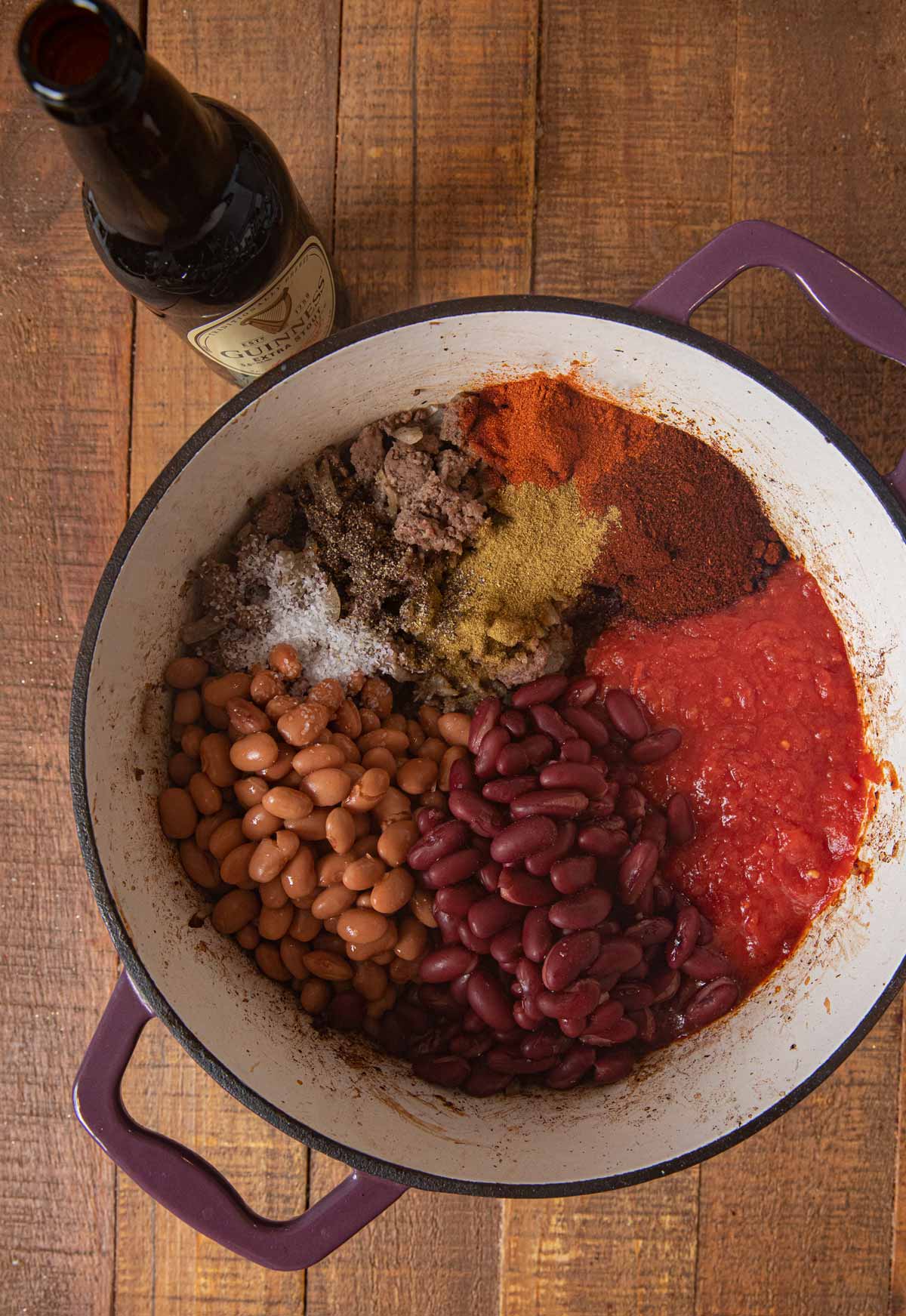 Toppings for Guinness Chili
One of the many amazing things about chili recipes is the delicious toppings you can add. Here are some favorite optional toppings to serve with Guinness Chili.
Cheese: It's hard to beat melty shredded cheese as a topping. Try shredded cheddar cheese, white sharp cheddar cheese, Colby Jack, Mozzarella, pepper jack, or parmesan.
Sour Cream: to add some extra tang and creaminess serve warm chili with a dollop of sour cream.
Chips: For some crunchy texture add crushed corn chips or Fritos to the top. You can also top off a plate of chips with your Chili, and then sprinkle on some cheese.
More Chili Recipes
Frequently Asked Questions About Guinness Chili
Can Guinness Chili be made ahead?
Chili is cooked for a long time, not only to thicken it, but also to combine and strengthen the flavors of the fantastic ingredients. Guinness Chili is a great dish to make ahead as the ingredients will continue to steep as you refrigerate it overnight and then reheat it over the stove the next day.
What should I do if my Chili is too thick or too thin?
When you're ready to serve your Chili, take a look at the consistency to make sure it is how you like it. If it's too thick, add a touch of broth or tomato sauce to loosen it up a bit. If your Chili is too thick, you can cook it for a bit longer, watching it as it cooks. You could also add in a thickening agent like tomato paste. If you plan to serve it with oyster crackers, stirring some into each bowl will also soak up some of the juices and thicken the overall texture.
How to Make Guinness Chili
Prep: During the preparation step, prepare the chopped onion and thaw the ground beef if it's frozen.
Sear: Add some oil to the base of your dutch oven or large pot. Place the ground beef, onion, salt, and pepper in the pot over medium heat. Cook for about 6-8 minutes, stirring as you go. The onion will become soft and the beef will brown up nicely.
Cook Time: Add the tomatoes, beer, beans, and spices to the pot and stir them all together until well combined. After bringing the mixture to a boil, lower the heat and cover the chili. Continue cooking on low for an hour to give the Guinness Chili time to thicken before serving.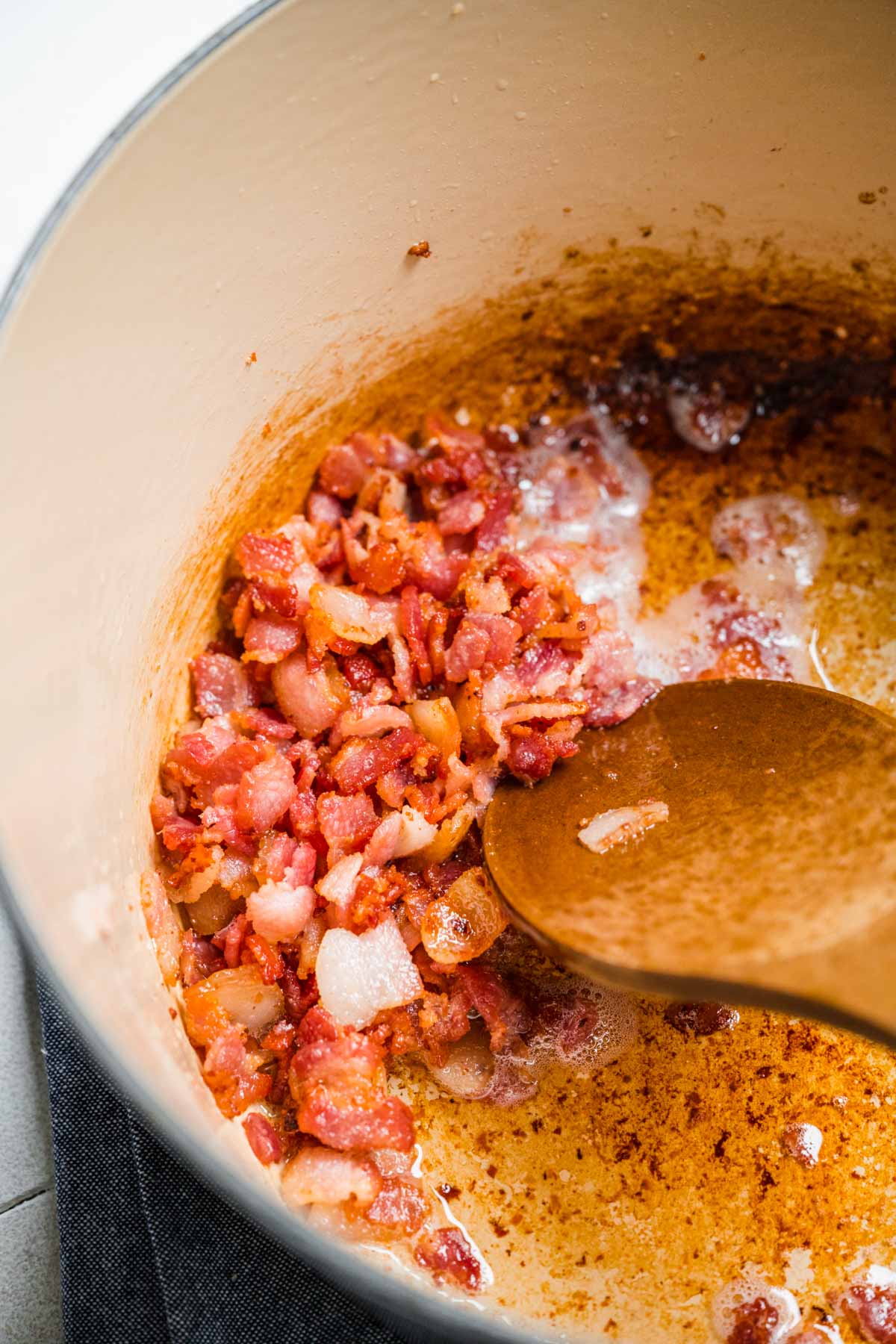 Create a free account to

Save Recipes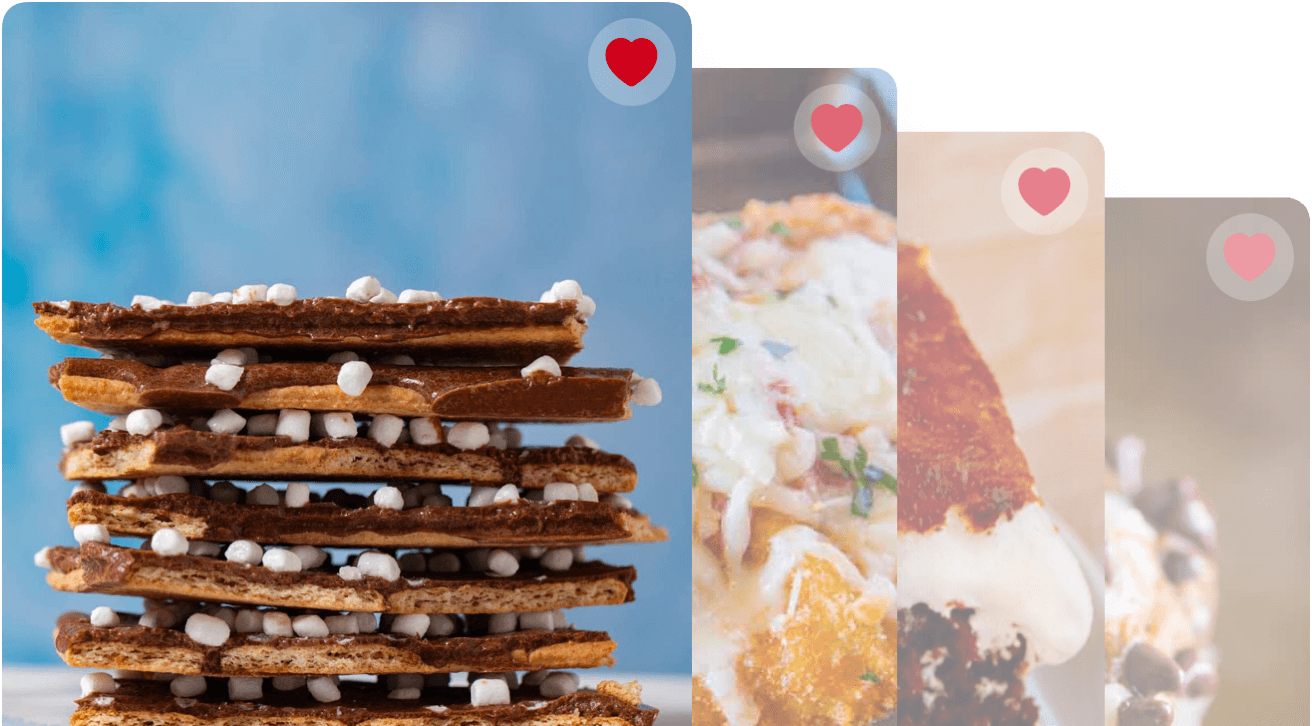 Variations on Guinness Chili
Seasonings: For some extra flavor mix in ground cumin, cayenne pepper, or dried parsley. You can also add in some minced garlic. 1-2 minced cloves of garlic will be plenty.
Meat: To replace the ground beef, use a pound of chuck roast or sirloin steak cut into 1-inch cubes. You could also use ground turkey to make turkey Guinness Chili.
Sweeteners: For some extra sweetness mix in brown sugar or maple syrup with the chili mixture.
Beer Replacements: Instead of beer, you can use beef stock, mushroom stock, apple cider, or root beer.
Add-ins: For some flavorful add-ins, try chopping some bell peppers. Green peppers, yellow peppers, or red bell peppers would work nicely. You could also mix diced tomatoes, green onion, or chipotle peppers. To add to the crushed tomatoes, you could mix in tomato sauce or use tomato paste for a thicker chili
Beans: Along with the pinto and red kidney beans you could add in some black beans or navy beans. You could also simply replace the beans in the recipe with black beans or navy beans.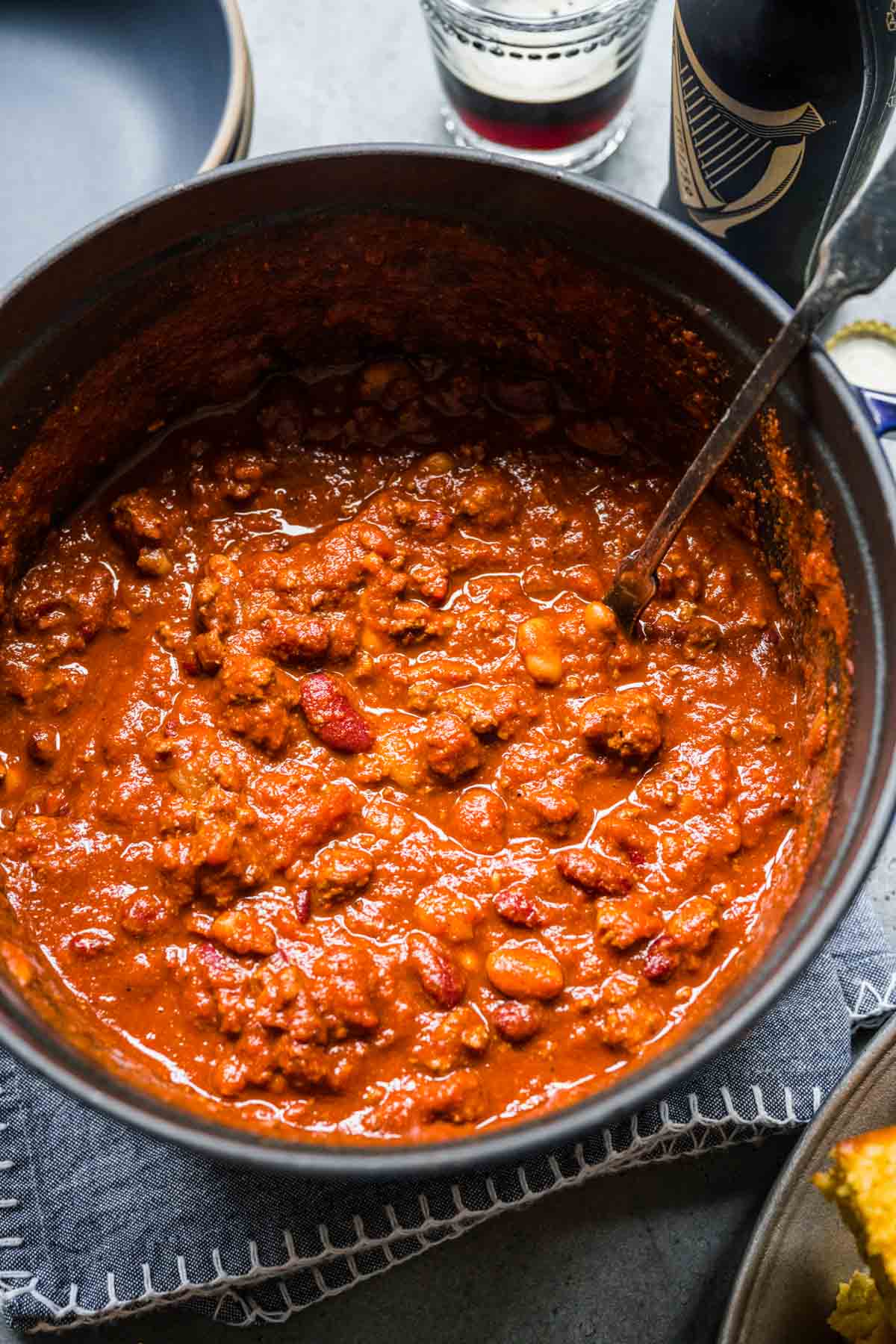 Slow Cooker Guinness Chili
Brown Ingredients: Add some oil to a large pan. Put in the ground beef, onion, salt, and pepper, and put the pan over medium-high heat. Stir and cook the onion and ground beef until browned. 
Combine: Add the meat and onion mixture to a 6-quart slow cooker. Mix in crushed tomatoes, beer, kidney beans, pinto beans, chili powder, cumin, and paprika into the slow cooker.
Cook: Once the Guinness Chili is stirred together well cover the slow cooker to cook. Set the slow cooker to low heat and cook for 8 hours. Then serve.
What to Serve with Guinness Chili
How to Store Guinness Chili
Serve: Guinness Chili will be good at room temperature for up to 2 hours. If you want to keep it out longer, keep the chili in the slow cooker set to low to keep warm while serving.
Store: Let the Chili cool to room temperature, then cover or transfer it to an airtight container. The Guinness Chili will keep well in the fridge for up to 3 days.
Freeze: You can also freeze the chili for up to 3 months. When you're ready to serve the Guinness Chili let it defrost in the fridge overnight, and reheat it on the stovetop.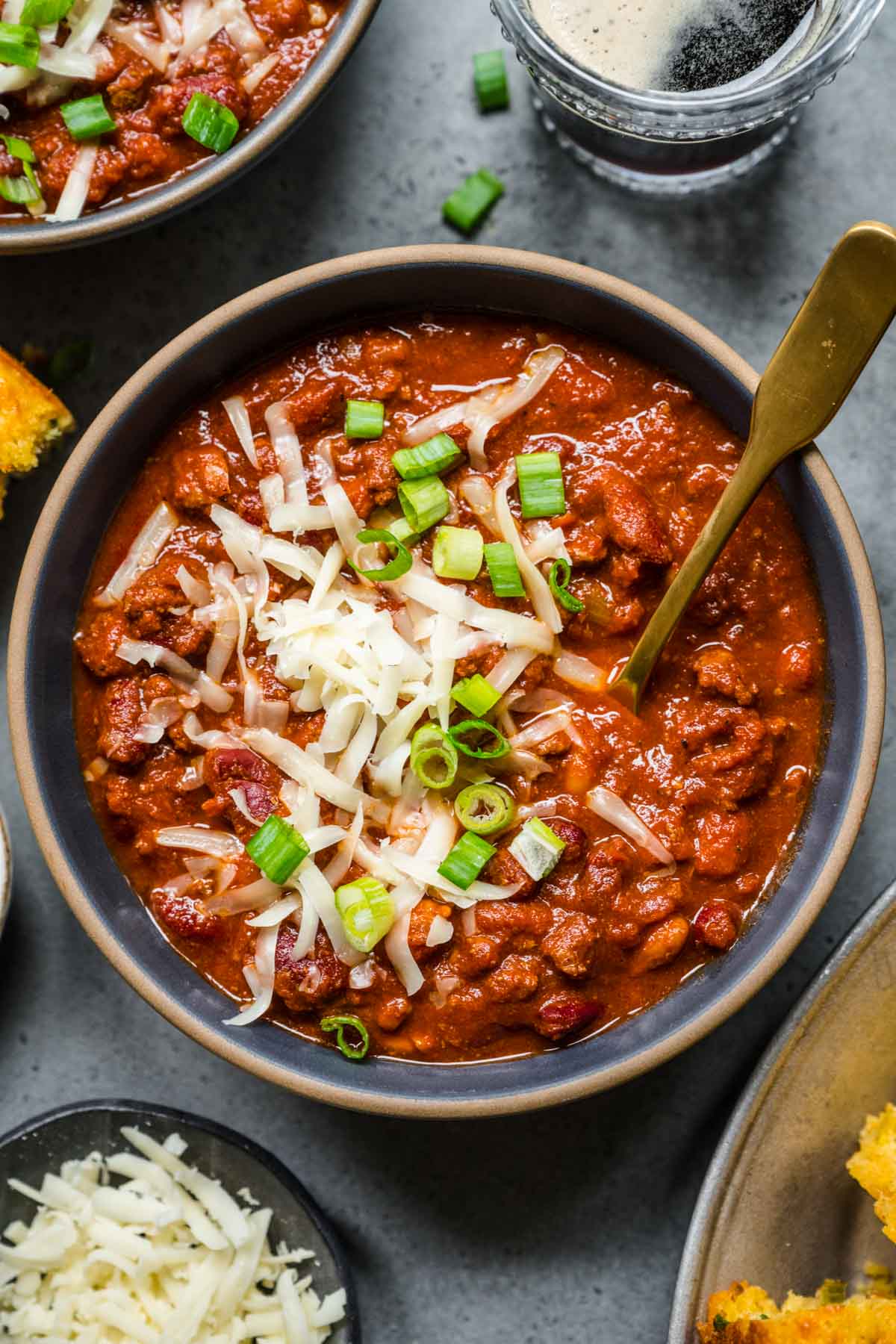 Ingredients
1

pound

ground beef

1

yellow onion

, diced

2

teaspoons

kosher salt

1

teaspoon

coarse ground black pepper

28

ounce

canned crushed tomatoes

1 3/4

cup

Guinness Beer

15

ounces

kidney beans

, drained and rinsed

15

ounces

pinto beans

, drained and rinsed

1/4

cup

chili powder

1

tablespoon

ground cumin

1

tablespoon

paprika
Instructions
To a large pot on medium-high heat, add the ground beef, onion, salt, and pepper.

Cook, stirring often, until beef is cooked through and onions are softened, about

6-8 minutes

.

Add in the crushed tomatoes, beer, kidney beans, pinto beans, chili powder, cumin, and paprika, and stir well.

Bring to a boil, cover, and cook on low heat for

1 hour

or until chili has thickened.
Nutrition
Calories:
323
kcal
|
Carbohydrates:
36
g
|
Protein:
21
g
|
Fat:
11
g
|
Saturated Fat:
4
g
|
Polyunsaturated Fat:
1
g
|
Monounsaturated Fat:
4
g
|
Trans Fat:
1
g
|
Cholesterol:
39
mg
|
Sodium:
1010
mg
|
Potassium:
1029
mg
|
Fiber:
13
g
|
Sugar:
7
g
|
Vitamin A:
2848
IU
|
Vitamin C:
11
mg
|
Calcium:
120
mg
|
Iron:
6
mg