Texas Roadhouse Cajun Horseradish Sauce (Copycat) is a spicy, smoky dipping sauce for all your favorite fried foods like onion rings, fries, and mushrooms!
This is THE Copycat sauce you need for Texas Roadhouse Rattlesnake Bites and all other delicious fried Appetizer Recipes ever. Perfect for burgers, steak, and chicken too!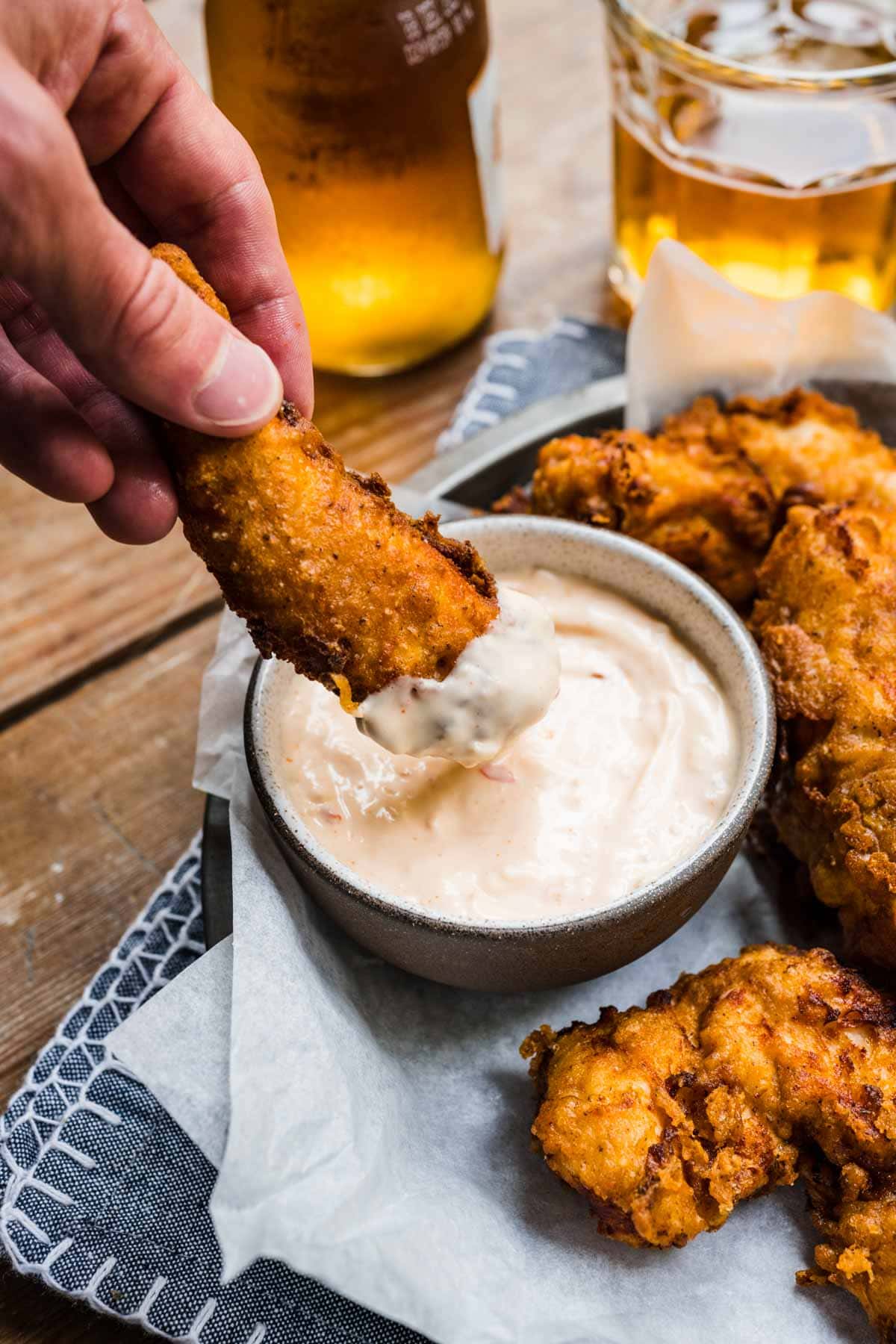 One of the newest Copycat Recipes, Texas Roadhouse Rattlesnake Bites, are usually served with this signature sauce. Truth be told, when eating out at Texas Roadhouse people love to order extra sides of this delicious sauce to put on just about everything. It's almost better than the cinnamon butter with their melt-in-your-mouth Rolls!
This Cajun Horseradish Sauce is the perfect dip for all your favorite breaded, fried foods. From Fried Pickles to Cheese Curds to Crispy Chicken Tenders, this creamy, tangy, spicy horseradish sauce works with everything. It may be the one sauce to rule them all.
How to Make Texas Roadhouse Cajun Horseradish Sauce
Horseradish Sauce: When making this sauce, it's important that you use prepared horseradish and not horseradish sauce. Horseradish sauce is going to already have mayo or sour cream added to it so it won't be very spicy.
Mix: Grab a medium-sized bowl and add the mayonnaise, sour cream, chili sauce, cayenne pepper, and horseradish sauce. Mix it all together with a spoon, spatula, or whisk.
Chill: Place your sauce in the fridge to chill for at least 2 hours and serve in your favorite serving bowls.
Frequently Asked Questions About Texas Roadhouse Cajun Horseradish Sauce
Why does the sauce need to chill for 2 hours in the fridge?
Allowing the sauce to chill in the fridge for at least 2 hours will help all of the ingredients to come together into a great flavor combination. You can chill it for longer if you like, but don't skip this step as you will skip out on flavor.
Can Cajun Horseradish Sauce be made ahead of time?
This sauce will last a couple of weeks in the fridge, so go ahead and make it ahead of when you need to serve it. It will make food prep that much easier if you are expecting company.
Serve This Sauce with These Copycat Side Dishes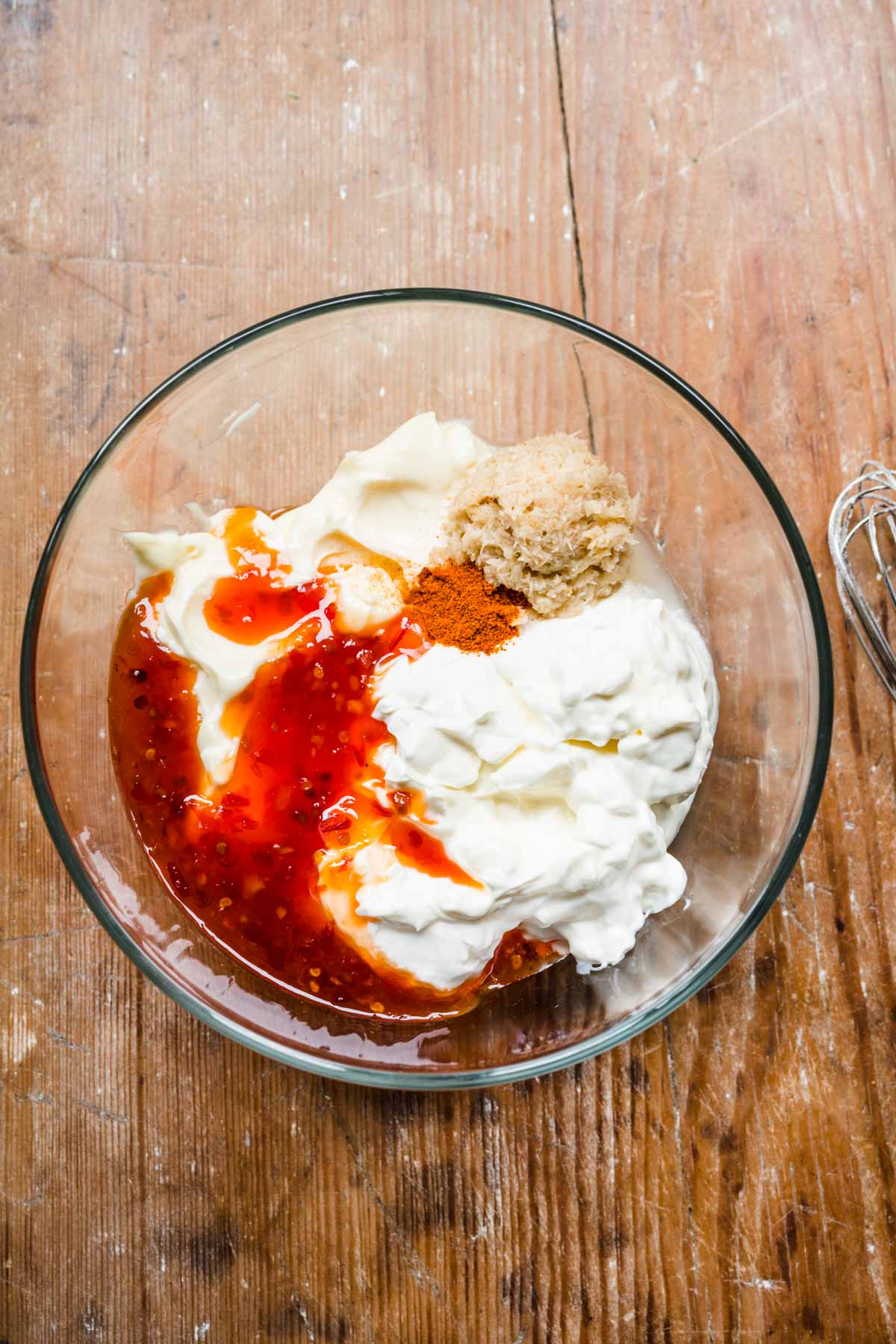 Create a free account to

Save Recipes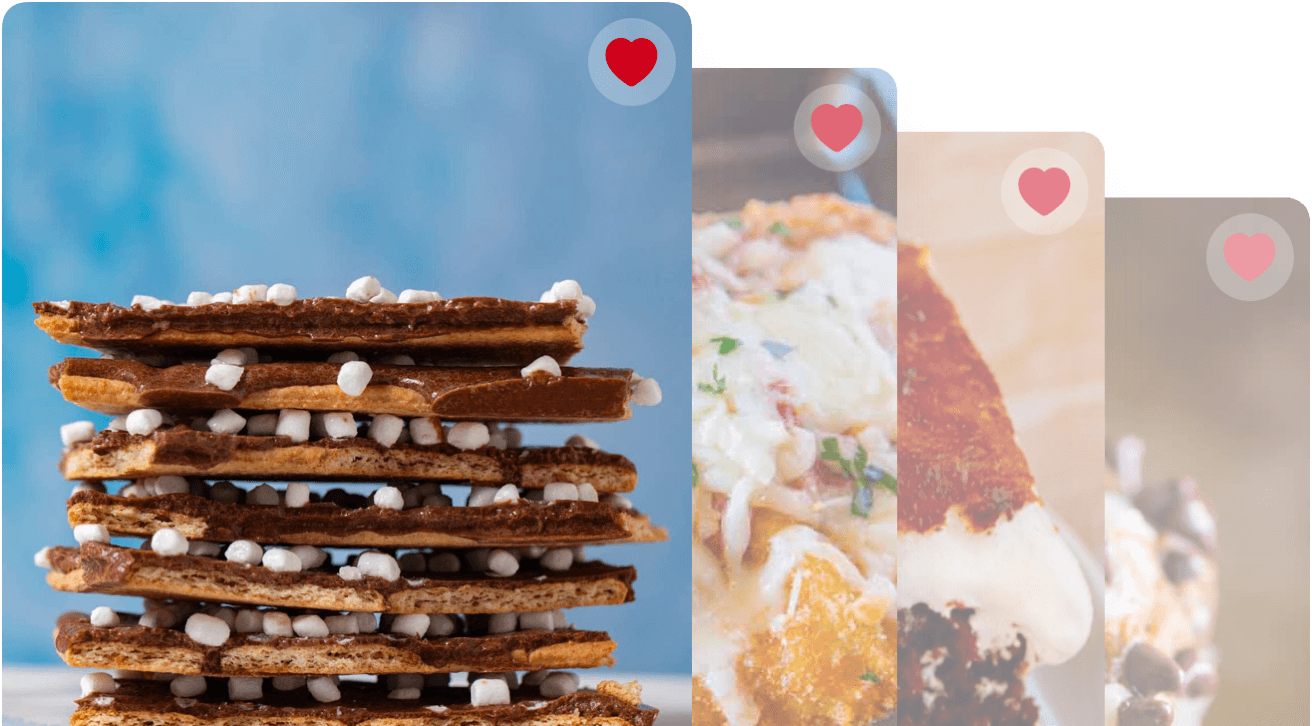 How to Serve Texas Roadhouse Cajun Horseradish Sauce
Appetizers: Serve this sauce with all your favorite appetizers for parties. You can make Texas Roadhouse Cajun Horseradish sauce ahead of time and store it in the refrigerator.
Burgers: Use this dipping sauce as a burger spread. Put Cajun Horseradish Sauce on both halves of a brioche bun, and top your burger with fried onions, crispy bacon, and a slice of cheddar cheese.
Steak: Serve this horseradish sauce alongside Ribeye Steak, along with Mashed Potatoes and Green Beans for a steakhouse-worthy dinner.
Roast Beef: Substitute this Cajun Horseradish Sauce on Slow Cooker Roast Beef Sandwiches for a better than fast-food lunch!
Salad: Make a smokehouse grilled chicken salad with bacon crumbles, shredded smoked mozzarella, roasted bell peppers, and Cajun Horseradish Sauce as dressing.
Why You Should Make Texas Roadhouse Cajun Horseradish Sauce at Home
Sure, you can go to Texas Roadhouse and order this Sauce at the restaurant. However you have to get dressed, go out, wait for a table, and then when they bring you your sauce to pair with your food, it is just a small cup for dipping. Now imagine making this sauce at home. You are in your comfy clothes. You can prepare whatever items you want to dip into your sauce, even leftovers from another restaurant. Best of all, you can make however much of this sauce that you want. Enjoy it every night of the week if you like! As an added bonus, you can customize your sauce to your taste. Make it more spicy if you like, more creamy, or add some extra seasonings.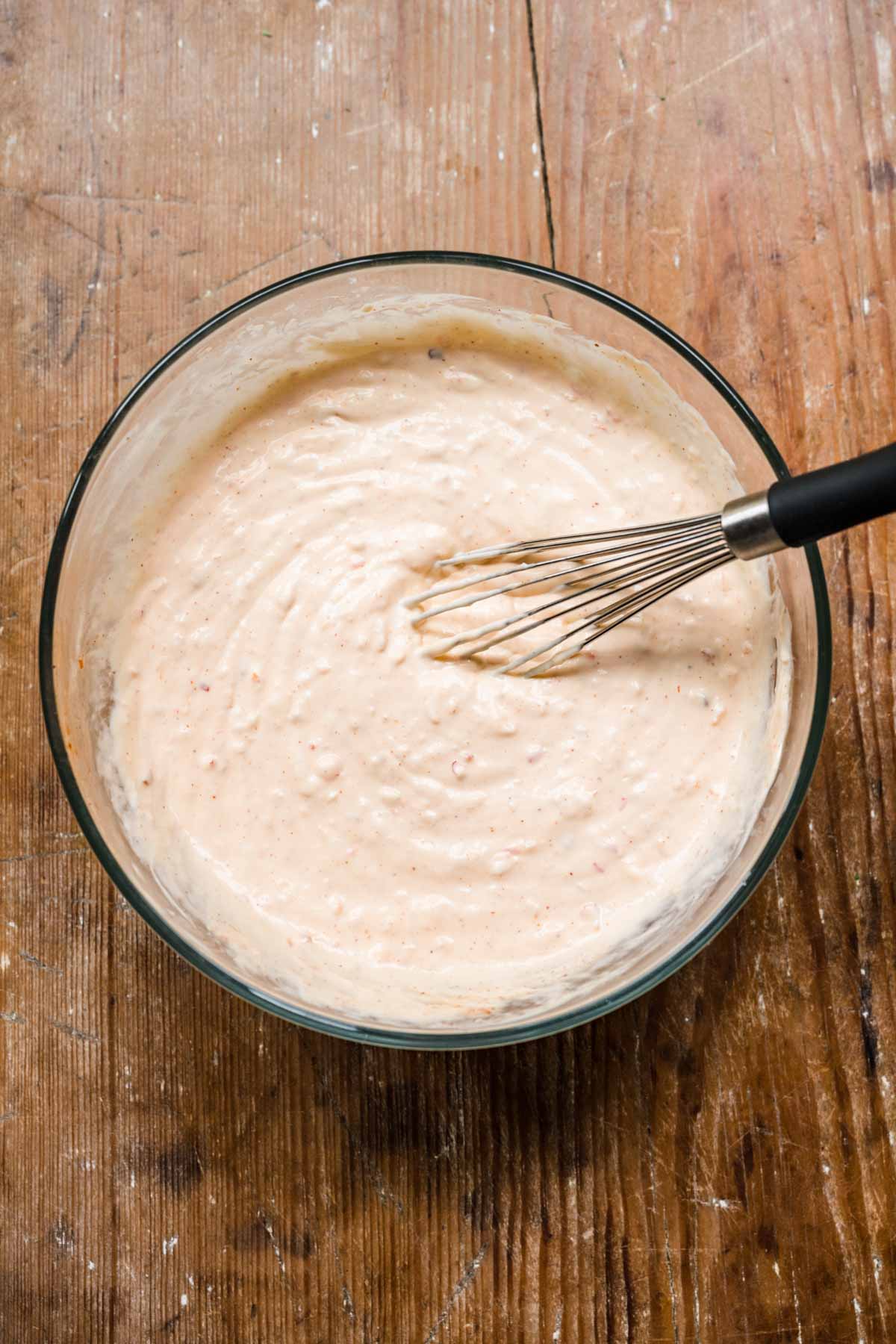 Variations on Texas Roadhouse Cajun Horseradish Sauce
Sweet: If you like a little sweet with your spicy, add some brown sugar to the mix.
Extra Seasonings: Add Cajun or Creole seasoning mix into the dip to give it even more flavor.
Spicy: If you are looking for a spicier version of this Cajun Horseradish Sauce, add more cayenne pepper or a few drops of your favorite hot sauce.
Key Ingredients
Chili Sauce: Similar to ketchup with added spices, surprisingly Chili Sauce doesn't have any chili in it. Some recipes call for cayenne pepper but most are just tomato paste, brown sugar, vinegar, cinnamon, and allspice. It's a mild sweet tomato sauce used in recipes like Cocktail Meatballs.
Prepared Horseradish: This is a pickled version of the grated horseradish root with vinegar and salt. It is not the same thing as horseradish sauce, which is creamy and mild. You can usually find prepared horseradish in the deli department and near pickled items or condiments.
Mayonnaise & Sour Cream: These two ingredients will add the creaminess to the dip. Sour cream will also bring a tangy flavor and mayonnaise will add a slight sweetness and richness.
More Delicious Dipping Sauces
How to Store Texas Roadhouse Cajun Horseradish Sauce
Serve: This has dairy and mayo, so don't leave this sauce out for more than 2 hours at room temperature.
Store: Store your sauce in a jar or an airtight container for up to 2 weeks in the refrigerator.
Freeze: Freezing this sauce is not recommended. When you freeze sour cream and mayonnaise sauces, they tend to separate and don't ever get back to a good texture.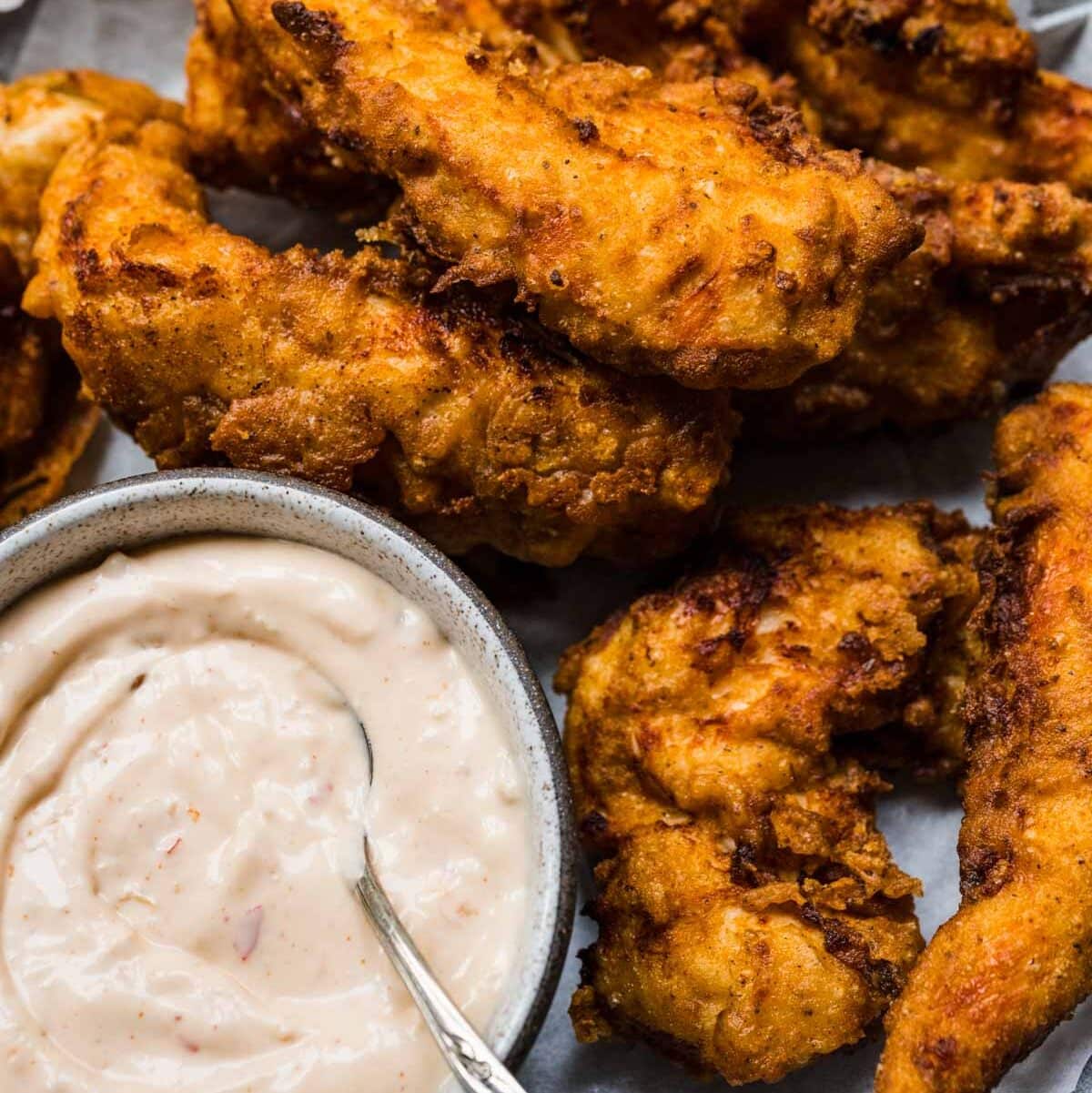 Ingredients
1

cup

mayonnaise

1

cup

sour cream

1/4

cup

chili sauce

1/4

teaspoon

cayenne pepper

2

tablespoons

prepared horseradish
Instructions
Mix all of the above ingredients together.

Chill for at least

2 hours

before serving.
Nutrition
Calories:
76
kcal
|
Carbohydrates:
3
g
|
Protein:
1
g
|
Fat:
7
g
|
Saturated Fat:
2
g
|
Polyunsaturated Fat:
2
g
|
Monounsaturated Fat:
2
g
|
Trans Fat:
1
g
|
Cholesterol:
12
mg
|
Sodium:
212
mg
|
Potassium:
51
mg
|
Fiber:
1
g
|
Sugar:
2
g
|
Vitamin A:
183
IU
|
Vitamin C:
2
mg
|
Calcium:
20
mg
|
Iron:
1
mg