Taco Bell Nachos Bell Grande are a crispy and flavorful crowd-pleasing dish. Made with sour cream, refried beans, nacho cheese, and ground beef.
Lately we've really been loving making Copycat Recipes for some of our favorite fast food dishes. Just like Taco Bell 5-Layer Burrito, or Taco Bell's Bean Burrito this recipe tastes even better than what you could get at the drive thru.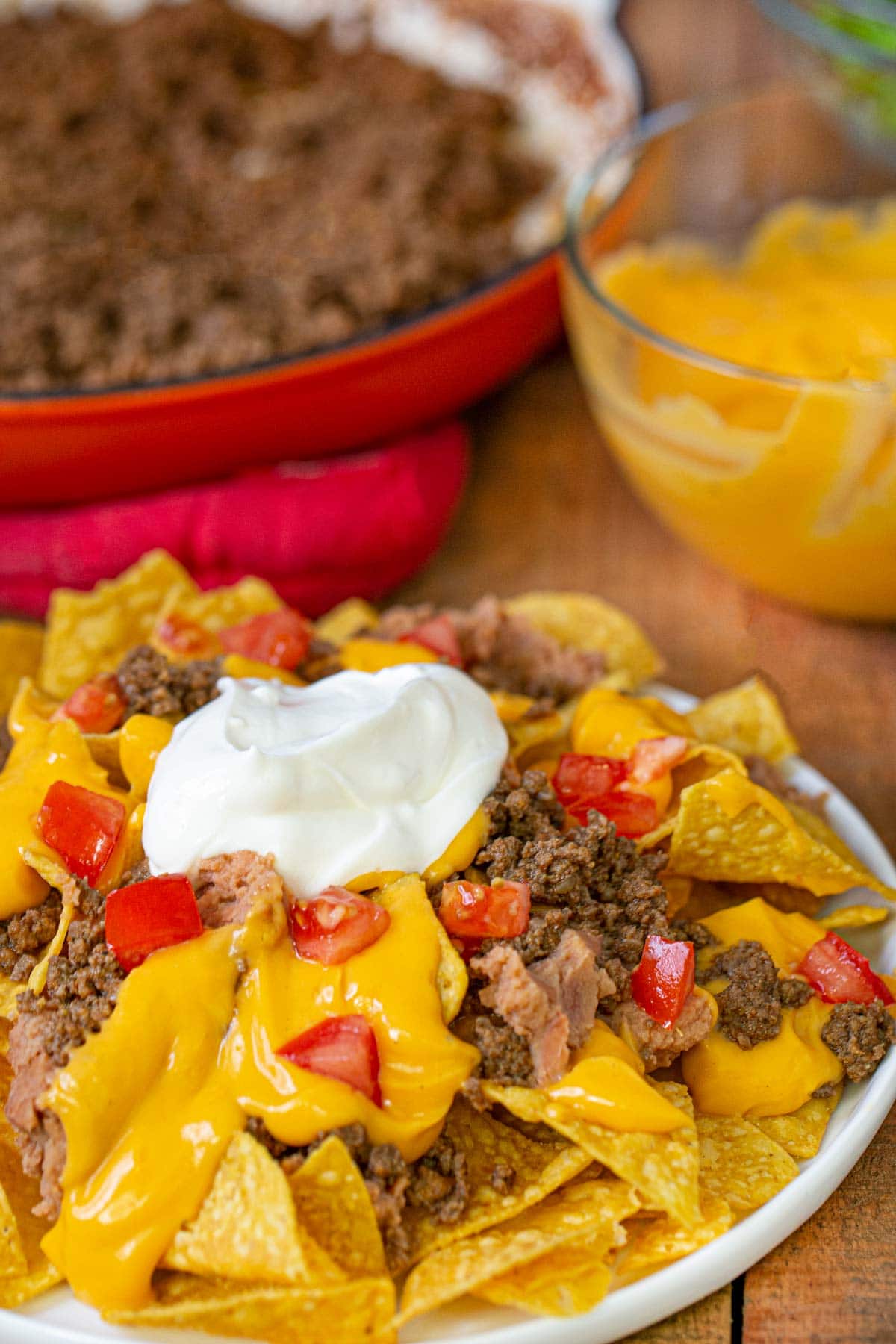 We've all had those days when you're just craving your favorite fast food snack. With this easy copycat recipe there's no need to run to the T-bell drive-thru or order from Grubhub. You can have all the cheesy, meaty, flavor of Nachos BellGrande without ever leaving your house.
If you've tried our recipe for Easy Taco Salad, then you know just how delicious a simple chip recipe like this one can be. Nachos BellGrande make the perfect dish for your next party. Make a big serving and put them out for all your guests to enjoy as an appetizer. One great part about making this recipe at home is that you can put out other toppings and optional ingredients so everyone can customize their chips themselves.
Whether you're having a party, enjoying the big game, or having a relaxing movie night with your family, these Nachos BellGrande chips are the perfect dish!
Your guests will be even more impressed with this Nachos BellGrande recipe when they realize the whole thing is made from scratch. Skip right over the canned nacho cheese and make your own Nacho Cheese Recipe that's even more creamy and delicious. Try out the recipe for Refried Beans and Taco Bell Ground Beef while your at it to take Nachos BellGrande to the next level.
MORE FAST FOOD COPYCAT RECIPES
HOW TO LAYER TACO BELL NACHOS
Start by preheating your oven to 250 degrees.
Line your baking sheet with parchment paper, then add a layer of tortilla chips.
Bake the chips for 5 minutes. Don't let them get browned.
Move the chips to your serving dish then start adding the layers of toppings.
Start with by spooning on some refried beans, then add the taco meat, nacho cheese, and diced tomatoes.
Lastly add on some sour cream and enjoy.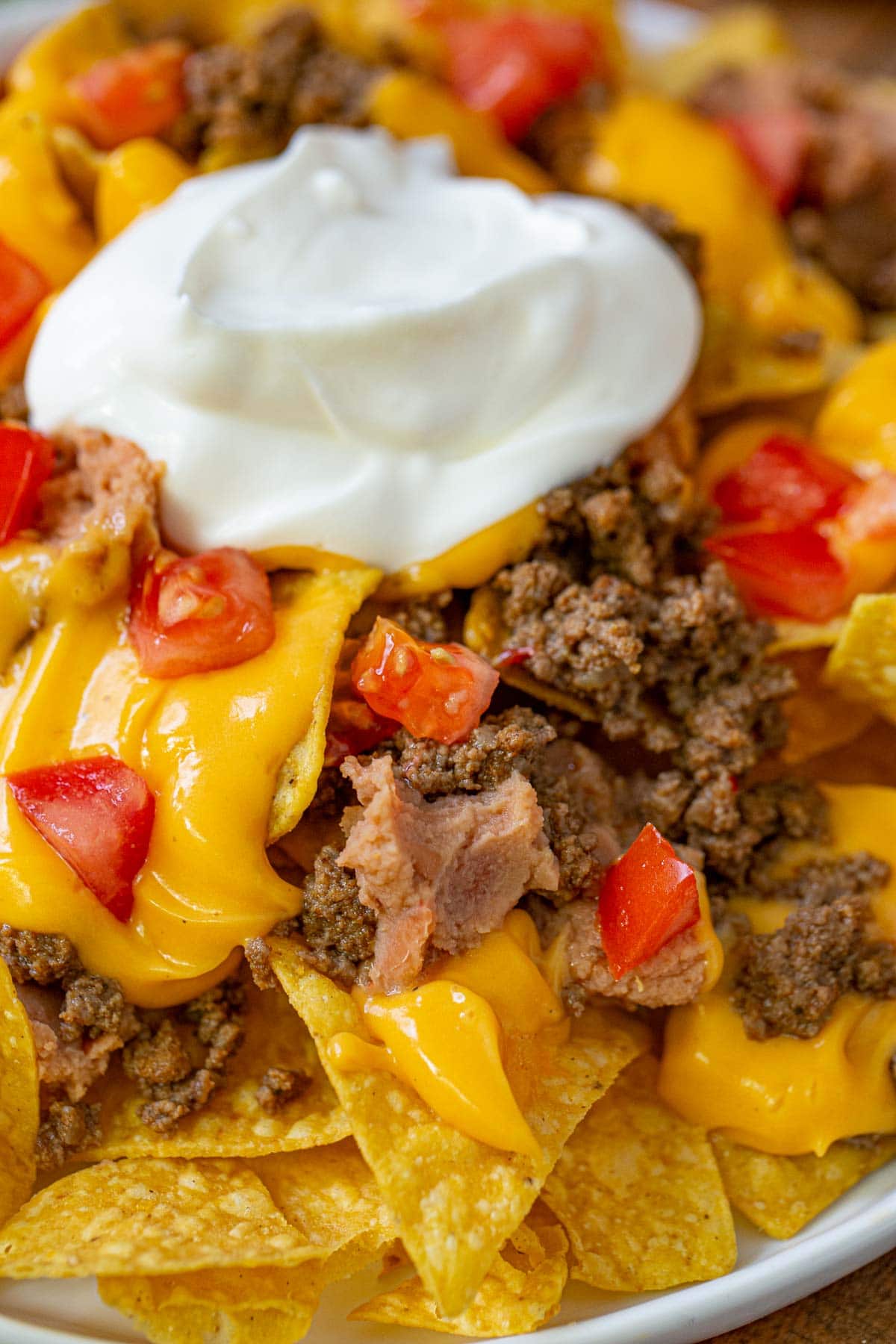 Create a free account to Save Recipes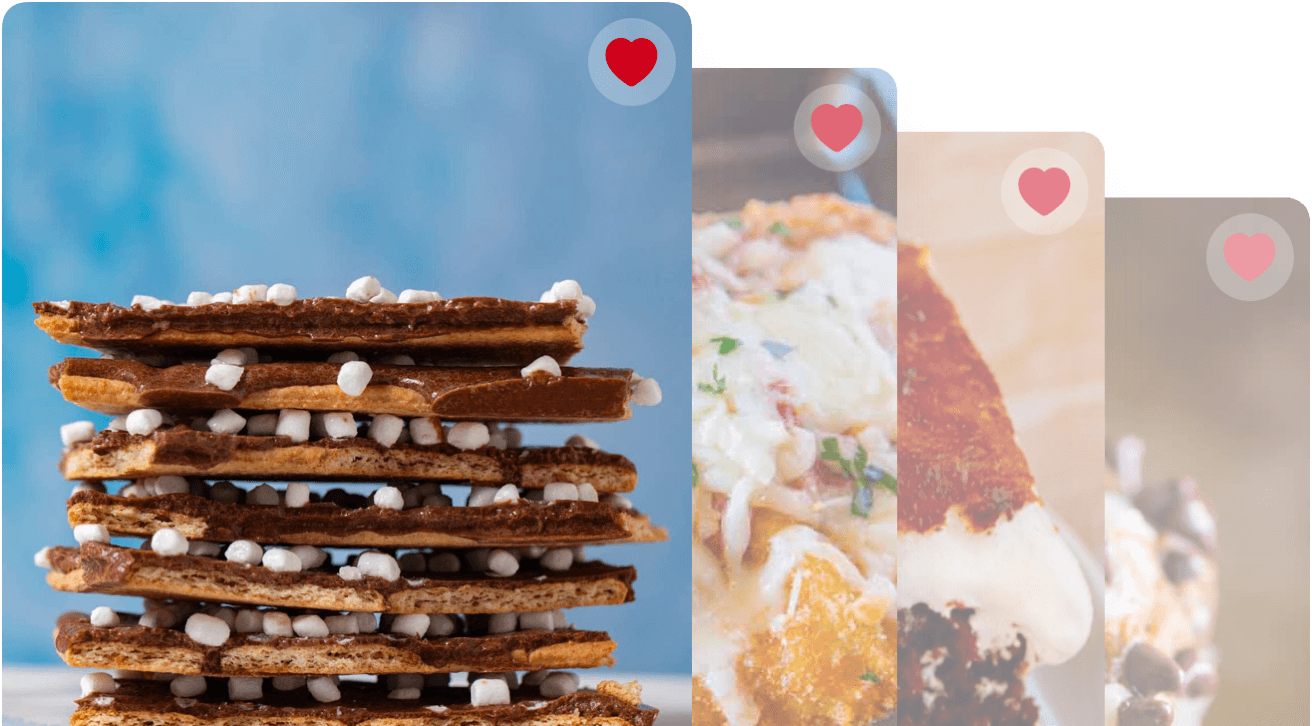 VARIATIONS ON TACO BELL NACHOS BELL GRANDE
Meat: Instead of ground beef you can serve your Nachos Bell Grande with shredded chicken, ground turkey, steak slices, or take out the meat if you'd like vegetarian nachos.
Cheese: If you don't want to make nacho cheese sauce, you can always melt some shredded cheese over your chips. Use cheddar cheese, mozzarella cheese, Swiss, or pepper jack.
Beans: Instead of refried beans try using some black beans, pinto beans, or even kidney beans.
Chips: Taco Bell Nachos BellGrande are typically made with classic tortilla chips. You could use Fritos or Doritos to mix things up.
Add-ons: There are so many delicious additions you can make to your favorite nacho recipe. Try topping your nachos with some sliced jalapeños, olives, green onions, guacamole, or crispy lettuce.
Nacho Fries: Instead of using chips in your recipe you can add this toppings onto cooked French fries to make nacho fries.
MORE TACO BELL NACHO RECIPES
Taco Bell Nachos Supreme:
Preheat your oven to 400 degrees.
Make your Taco Bell ground beef with ½ a yellow diced onion. Once cooked drain the beef.
Add a generous layer of chips to your parchment paper lined baking sheet.
Spoon refried beans over the chips.
Add the ground beef.
Sprinkle shredded cheddar cheese over the top.
Put the nachos in the oven and bake for 15 minutes.
Once done, remove from the oven and sprinkle diced tomatoes and green onions over the top.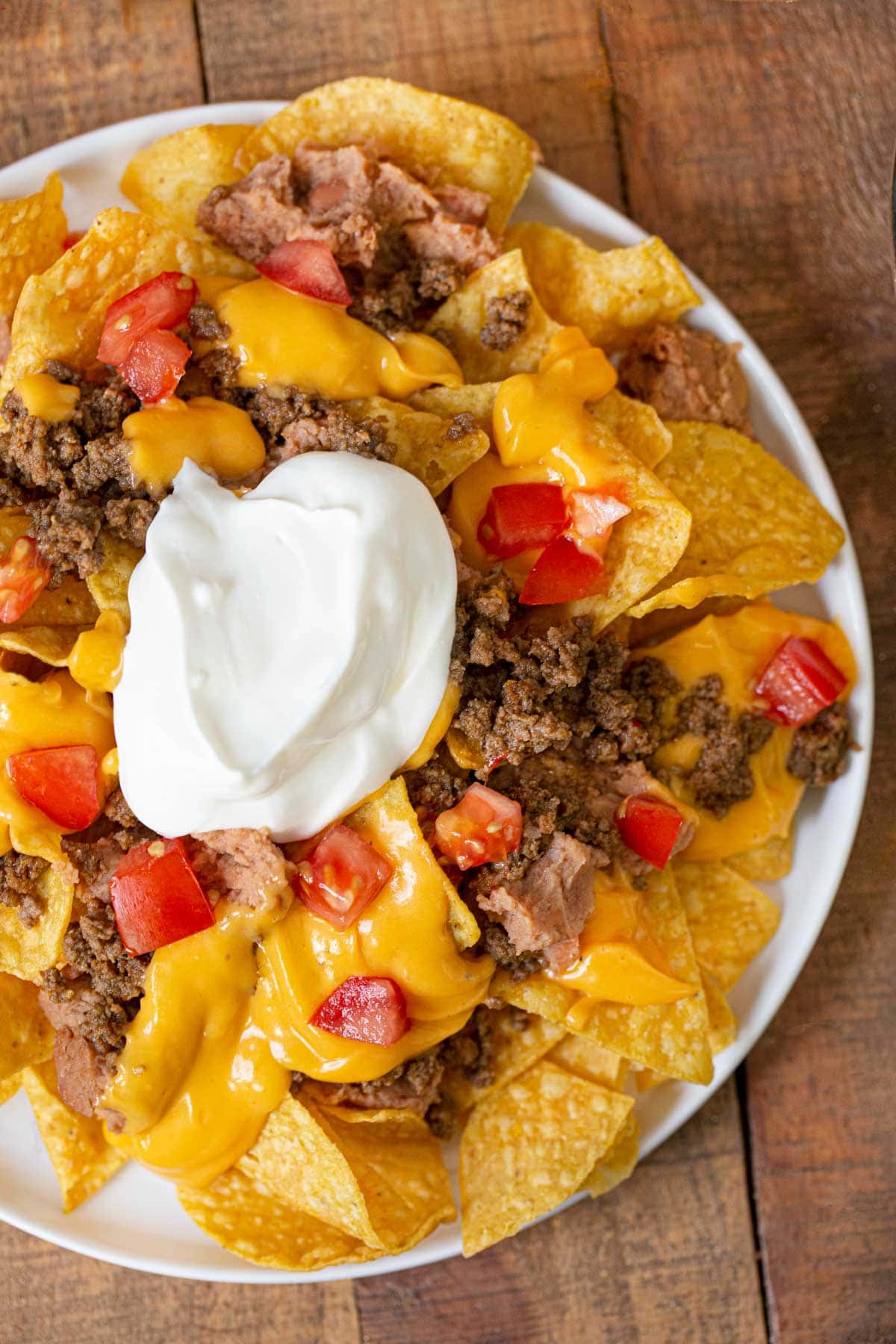 Triple Layer Nachos:
Cook refried beans.
Add a layer of tortilla chips, top that with refried beans, sour cream, and nacho cheese.
Add another layer of chips, beans, sour cream, and cheese. Then a third layer.
Top all of it with shredded cheese, and olives.
Add some Taco Bell Red Sauce if you'd like.
MORE MEXICAN RECIPES
HOW TO STORE TACO BELL NACHOS BELL GRANDE
Serve: Don't leave your Taco Bell Nachos at room temperature for than 2 hours.
Store: Unfortunately nachos really don't store well and are best served fresh. You can store the toppings separated from the chips in the fridge for 3-4 days.
Freeze: Nachos also won't last well in the freezer. You can store the ground beef and nacho cheese sauce in the freezer for up to 3 months.


Instructions
Preheat oven to 250 degrees.

Add tortilla chips to an oven safe tray or baking sheet and bake for

5 minutes

until hot (but not browning).

Remove from oven and transfer chips to a serving dish.

Top with refried beans, taco meat, nacho cheese and tomatoes.

Spoon the sour cream in the middle of the nachos.
Nutrition
Calories:
471
kcal
|
Carbohydrates:
50
g
|
Protein:
11
g
|
Fat:
26
g
|
Saturated Fat:
5
g
|
Cholesterol:
21
mg
|
Sodium:
643
mg
|
Potassium:
247
mg
|
Fiber:
5
g
|
Sugar:
3
g
|
Vitamin A:
285
IU
|
Vitamin C:
2
mg
|
Calcium:
157
mg
|
Iron:
2
mg