Baked hot dogs make the ultimate classic summer meal wrapped in slices of bacon and baked, they're ready to eat in 25 minutes. 
Everything is better with slices of bacon wrapped around it (like my Bacon Brown Sugar Garlic Chicken and Bacon Wrapped Pork Medallions), including hot dogs.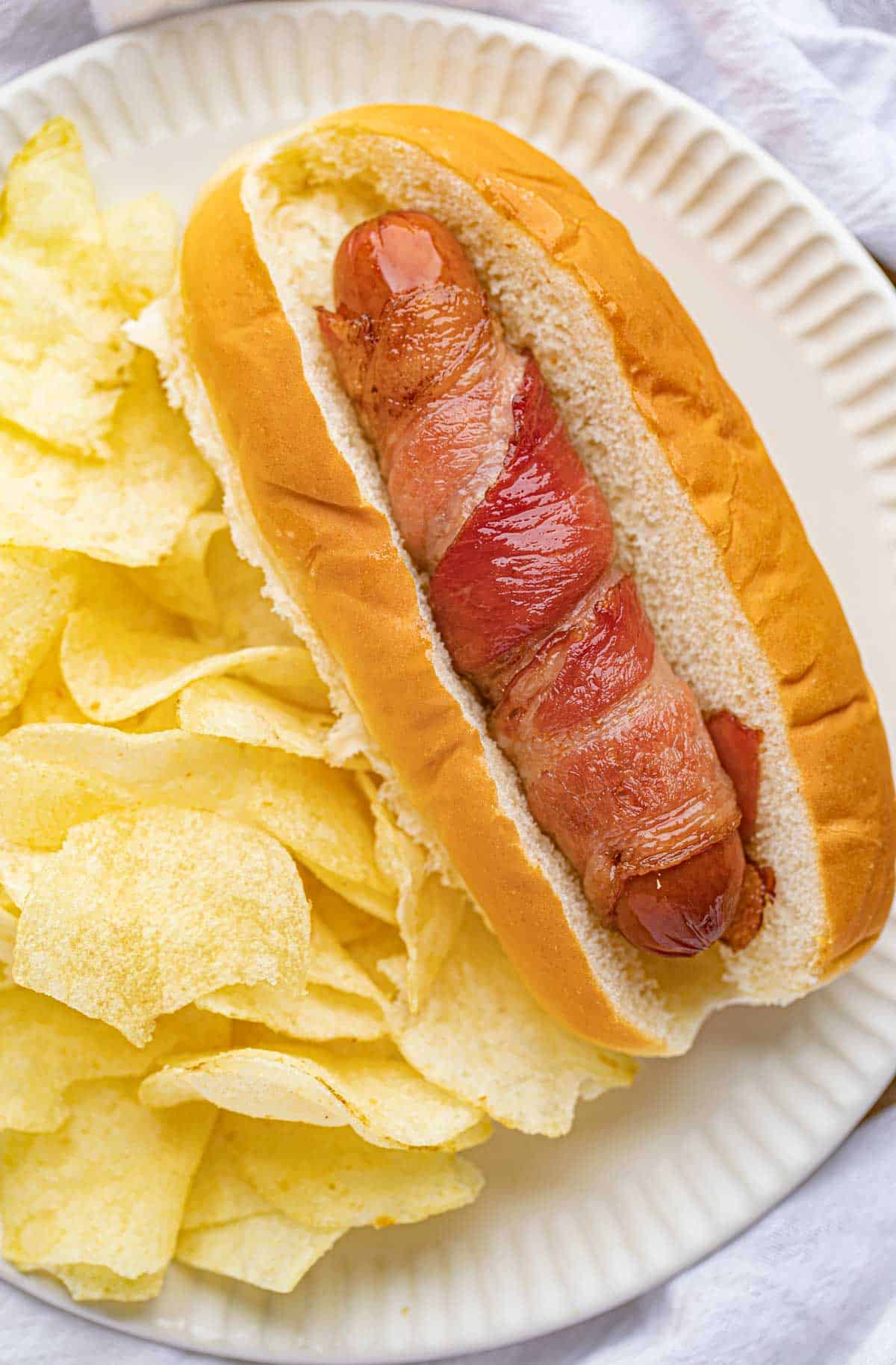 BACON WRAPPED HOT DOGS
Hot dogs are an American favorite (thank you, Oscar Mayer), and so is bacon, so this is the perfect combination meal. Whether you want to enjoy one watching your favorite sport or at your annual BBQ, our bacon-wrapped hot dogs recipe is a show-stopping main dish.
These are the grown up version of my super popular appetizer: Brown Sugar Bacon Smokies – and I won't judge you if you add brown sugar to your hot dogs, I've done it and they're DELICIOUS.
This recipe is quick and simple, giving you plenty of time to debate whether or not ketchup belongs on hot dogs.
You can add cheddar cheese, chives, pickles, mayo, mustard, ketchup (yeah, I said it – I'm firmly Team Ketchup) or any other topping you would like. You may want to try cooking up some grilled bacon to crumble over the top if you have any left over after wrapping your dogs.
Next time, try Classic Beef Meatloaf, Award Winning Sloppy Joes, Philly Cheesesteak Pot Roast, or Tuna Noodle Casserole. 
How to Make Bacon Wrapped Hot Dogs:
Use standard bacon (not thick cut)
Wrap bacon around hot dog tightly.
You can secure ends with half a toothpick.
Bake until bacon is browned and serve in bun.
In recipe testing I found I liked the toothpick method for making the prettiest hot dogs, but if you find you're wrapping them and the bacon is holding on well and you're not serving them to anyone you are looking to impress I wouldn't worry about the toothpicks.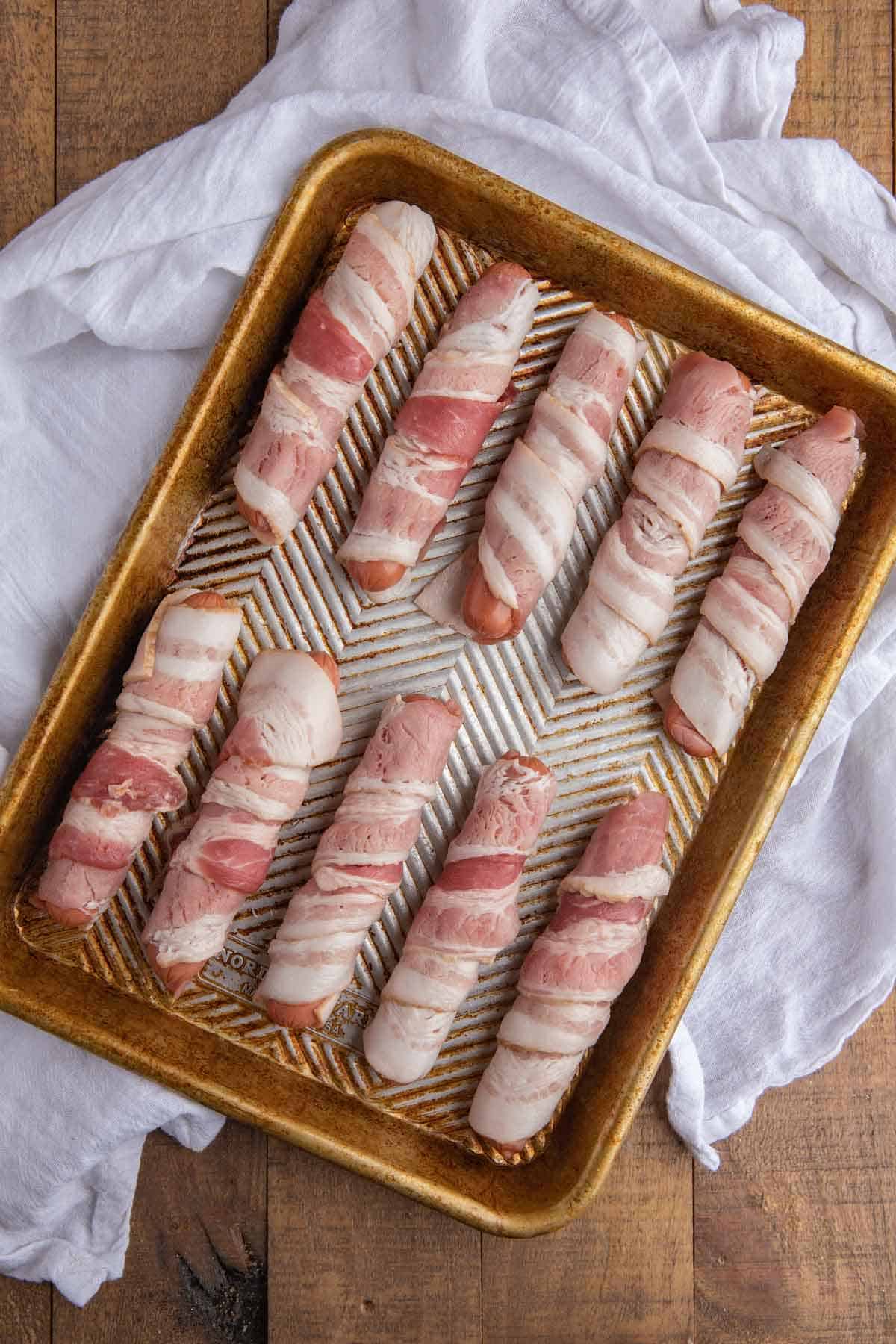 Create a free account to Save Recipes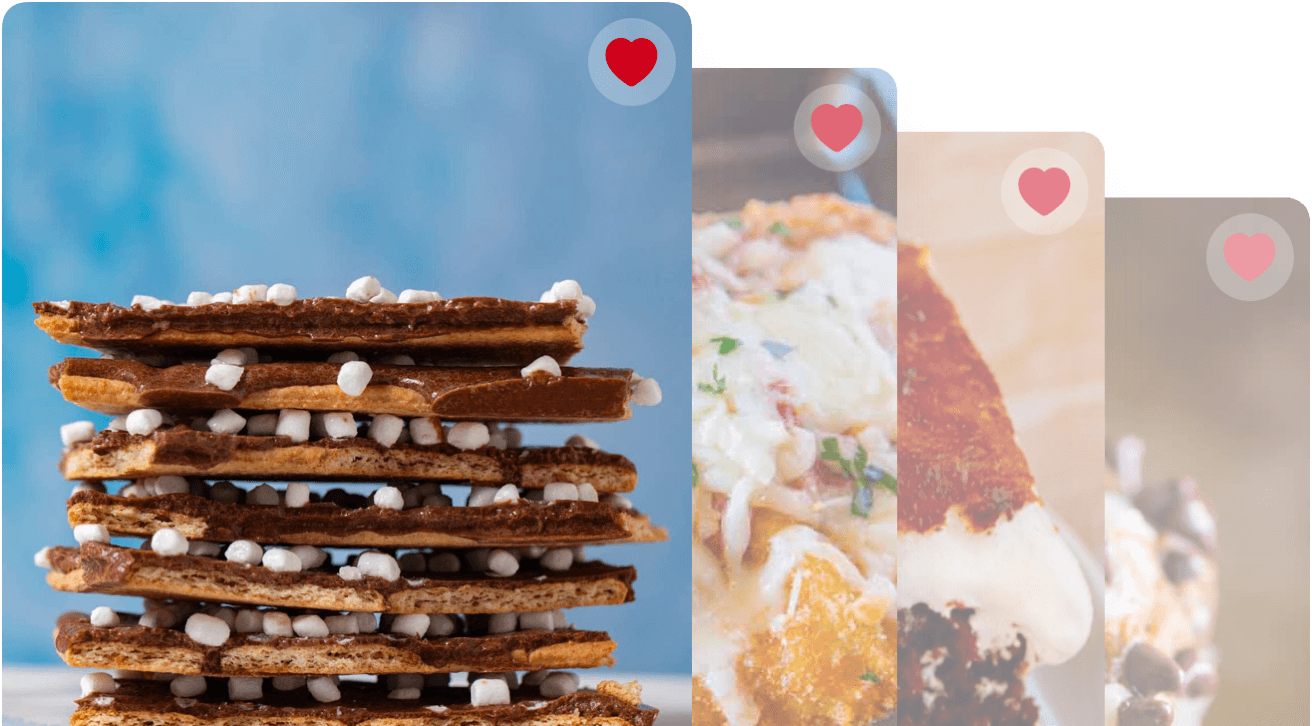 What to Serve with Bacon Wrapped Hot Dogs:
SLOW COOKER Bacon Wrapped Hot Dogs
If you want a fun appetizer for your next BBQ, try the slow cooker version.
Cut your hot dogs in half and wrap them in a strip of bacon and set them in a single layer in your slow cooker. You can add a little brown sugar to the top to give them a sweeter flavor, or even cover them in BBQ sauce.
Cook on high for 3 hours, and check to make sure that they are thoroughly heated (cook for up to another hour if they are still under done.) Set them on a plate and set them out with some toothpicks for you and your guests to enjoy.
HOT DOG ETIQUETTE 
The National Hot Dog and Sausage Council (yes, they exist) has a comprehensive list of etiquette tips about how to properly eat your hot dogs.
Apparently, hot dogs cannot be eaten in more than five bites and ketchup is not allowed on hot dogs if you are over the age of 18. However, if you want ketchup on your hot dogs, we are definitely not going to tell you that you can't.
HOW DO YOU KNOW WHEN YOUR Hot DOG IS DONE? 
According to the USDA's website, once the internal temperature has reached at least 145 degrees F (62.8 degrees C), then your bacon wrapped hot dog is ready to enjoy. It's important to make sure that your meal is cooked all the way through, otherwise your fun summer BBQ could come to an abrupt end.
Bacon Wrapped Hot Dog Food Safety
Serve: Don't leave your bacon wrapped hot dog at room temperature longer than two hours. Bacteria would also like a bite of your food.
Store: You can keep cooked hot dogs in your fridge for up to three days.
Freeze: You can freeze cooked hot dogs and they will last up to 4 months, but the bacon complicates the reheating process.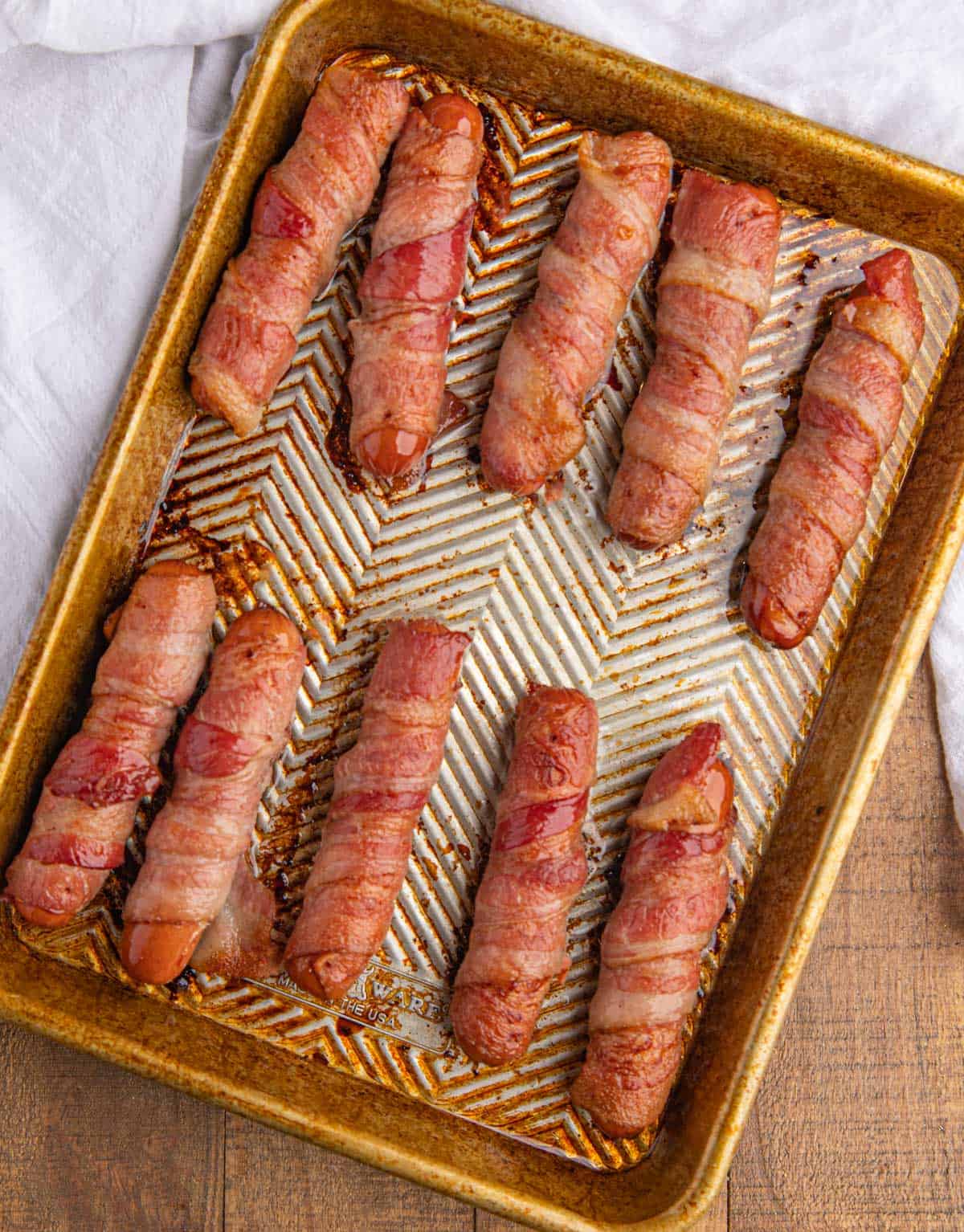 Ingredients
8

slices

bacon

use standard bacon, not thick sliced

8

beef hot dogs

8

hot dog buns
Instructions
Preheat oven to 400 degrees.

Wrap the hot dogs with bacon tightly (if you're concerned about bacon unraveling use a toothpick to secure bacon).

Bake on parchment lined baking sheet for

15-18 minutes

or until the bacon is browned and crisp.
Nutrition
Calories:
311
kcal
|
Carbohydrates:
23
g
|
Protein:
11
g
|
Fat:
20
g
|
Saturated Fat:
7
g
|
Cholesterol:
32
mg
|
Sodium:
747
mg
|
Potassium:
134
mg
|
Fiber:
1
g
|
Sugar:
3
g
|
Vitamin C:
0.6
mg
|
Calcium:
78
mg
|
Iron:
2.1
mg