Spinach Bacon Stuffed Pork Tenderloin is an easy yet show-stopping pork dish perfect for special occasions and ready in under 40 minutes!
This is the perfect Main Course to impress at your next dinner party or family get-together. For more Pork Recipes try our Roasted Garlic Herb Rack of Pork and Garlic Pork Loin Roast.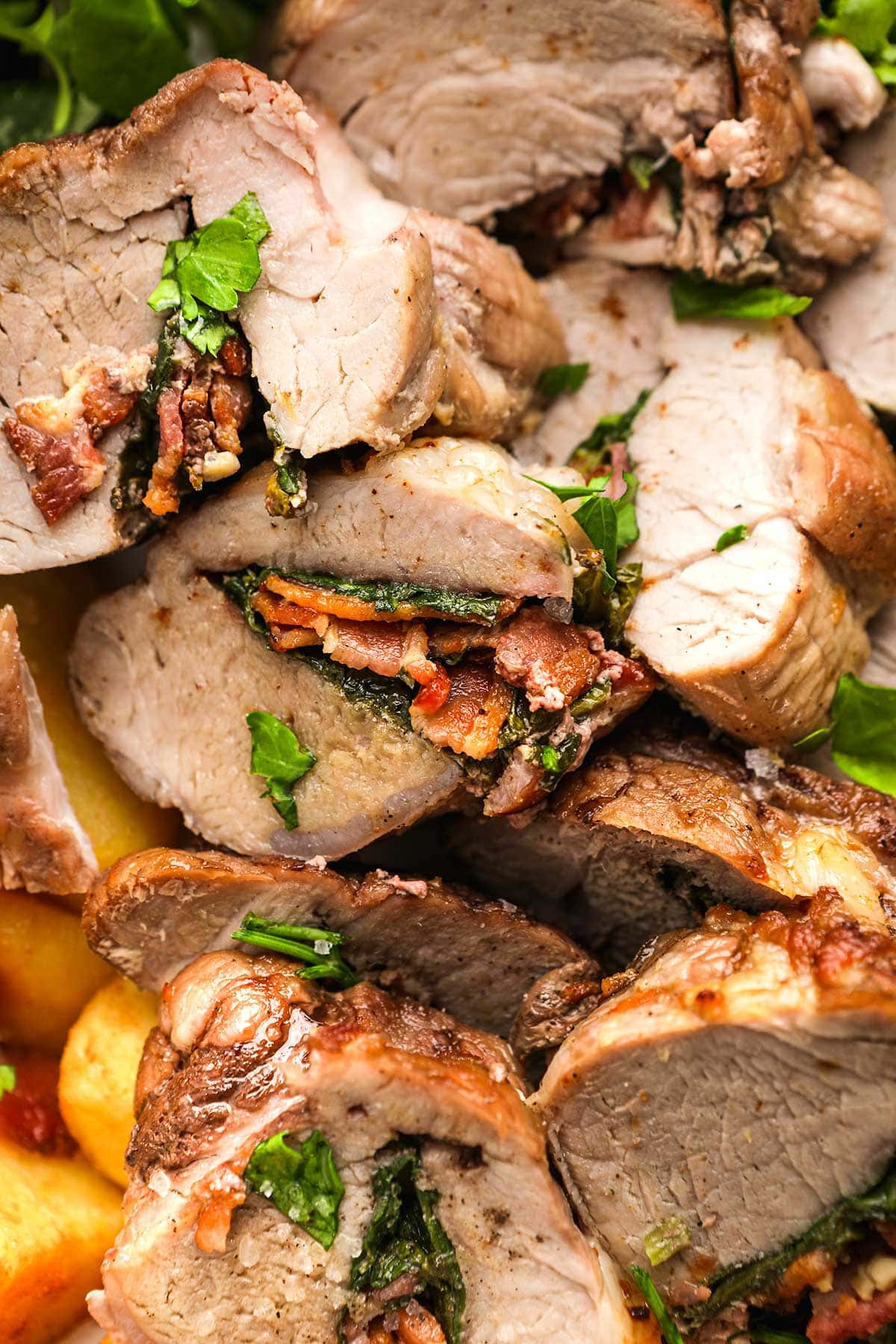 You won't be able to get enough of this delicious and easy pork tenderloin recipe! It's the perfect way to take a pork roast to a whole new level. Not only do you get amazing, juicy pork tenderloin, but each pork medallion is filled with simple stuffing of crispy bacon, fresh baby spinach, and aromatic garlic. It's so flavorful and moist, you won't want to make pork any other way.
Despite how impressive the finished dish looks, Spinach Bacon Stuffed Pork Tenderloin is surprisingly easy to make. You only need a handful of ingredients, and the whole recipe is ready in about 40 minutes. Just roll the pork around the simple filling and bake the meat to tender perfection!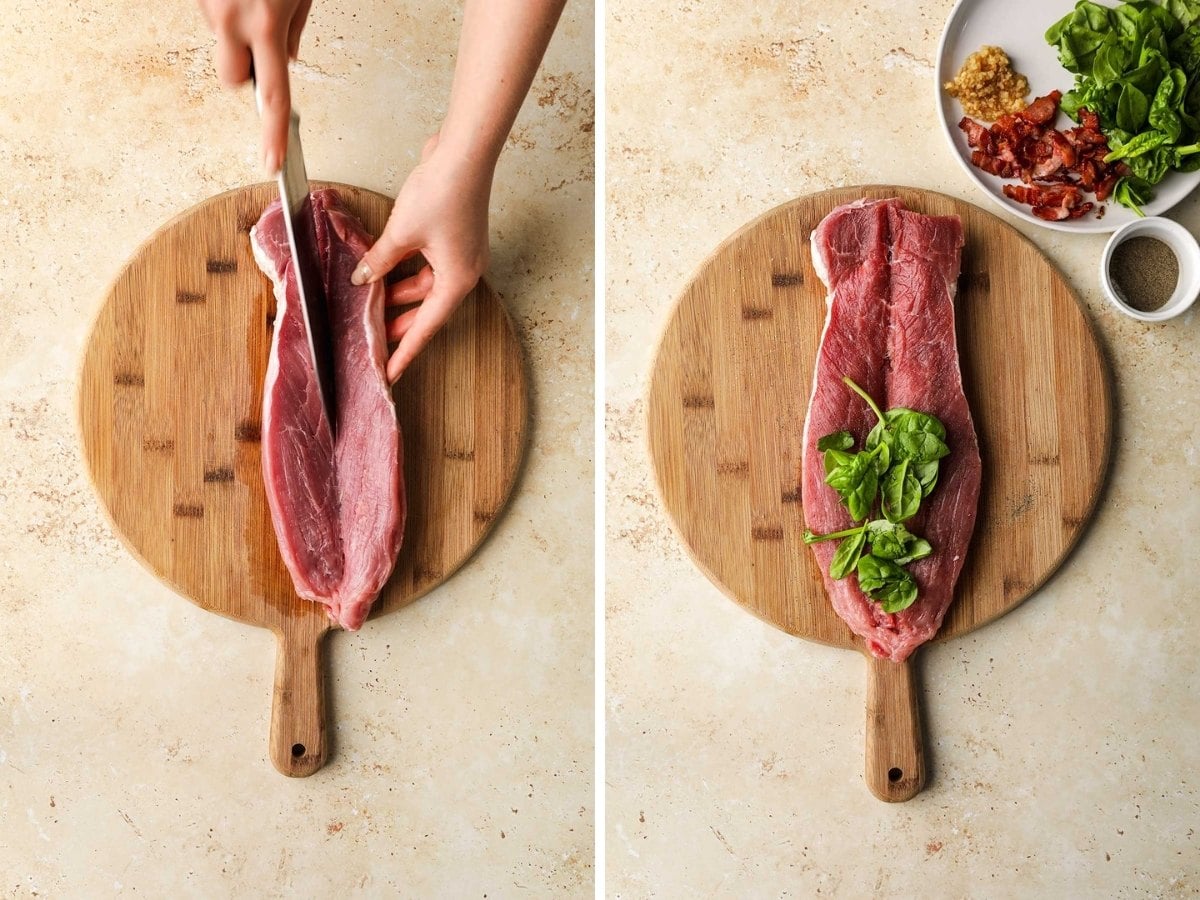 Classic dishes like Mashed Potatoes and Soft Dinner Rolls make comforting and filling sides for a truly amazing meal. Roasted vegetables like Broccoli, Green Beans, or Root Vegetables are a nice healthy option that taste great and look great too. No matter how you serve it, this easy and quick stuffed pork roast makes a delicious dinner everyone will love.
What is the difference between Pork Tenderloin and Pork Loin Roast?
Pork tenderloin is smaller and thinner, usually weighing around 1 pound, while pork loin roast is a larger cut of pork that can weigh several pounds. Another difference is that Pork tenderloin is tender and lean, while pork loin roast is slightly tougher and has more marbling. The cooking methods vary as well, because pork tenderloin is best cooked quickly at high heat and pork roast is best slow roasted or braised.
How to Make Stuffed Pork Tenderloin
Prep: Preheat the oven to 375 degrees. Line a pan or baking sheet with foil.
Butterfly: Use a sharp knife to cut down the center of the meat lengthwise, leaving it attached at the bottom about an inch. Open the sides of the meat like a book, lay the meat flat. Flatten with a meat mallet if too thick to roll.
Season: Once the meat is flat and even, season the top of the pork with salt and pepper.
Stuff: Mix together the bacon, garlic, and spinach mixture, and spread it over the pork in an even layer.
Wrap: Roll the pork tenderloin around the stuffing then wrap it with cooking string or butcher string to keep its shape.
Coat: Rub the softened butter over the pork. Add more salt and black pepper, to taste, if desired.
Cook: Place the stuffed tenderloin in the prepared baking dish. Cook for 25-30 minutes or until cooked through.
Rest: Tent with foil and let the meat rest before slicing.
More Pork Recipes
FAQs for
Stuffed Pork Tenderloin
How do I keep my pork from drying out while I cook it?
Both the stuffing inside and the butter outside help keep a roast pork tenderloin from drying out as it bakes. The stuffing releases hot steam and moisture while the butter traps the juices and steam so it cooks evenly and stays moist. Always rest your meat before slicing to prevent dryness as well.
Why do you need to tie a stuffed pork tenderloin?
Tying a stuffed pork tenderloin helps prevent the stuffing from falling out while ensuring it is the same thickness and shape from end to end. The more evenly distributed the stuffing is and consistent the shape, the more evenly it will cook for perfectly moist, tender pork.
Can pork tenderloin be a little pink?
Yes, pork tenderloin can be a little pink in the center as long as it has reached an internal temperature of 145 degrees, as the heat will have killed any harmful bacteria.
What temperature should pork tenderloin be cooked to in order to be safe to eat?
To make sure pork tenderloin is safe to eat, use a meat thermometer to check the internal temperature. Pork is safe to eat when the instant-read thermometer says the internal temperature is 145 degrees.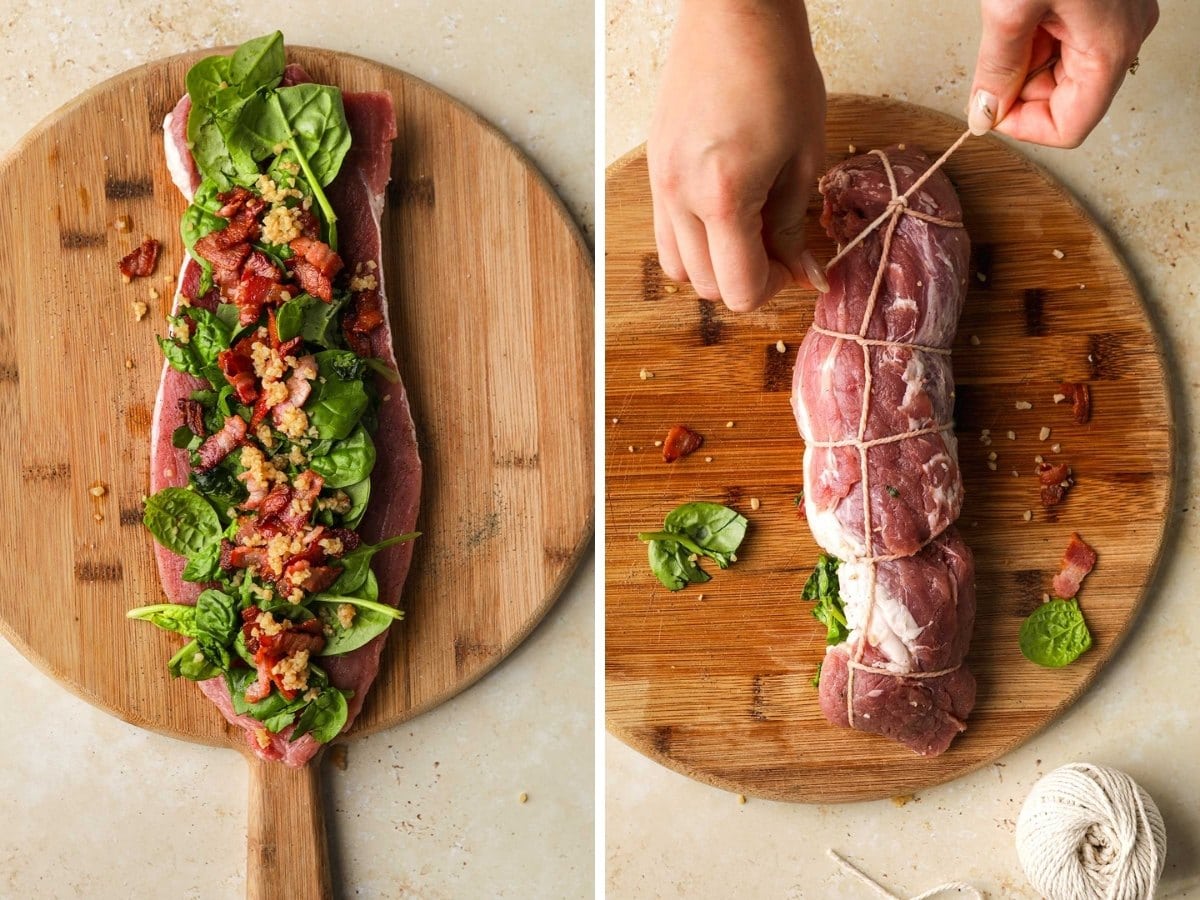 Create a free account to

Save Recipes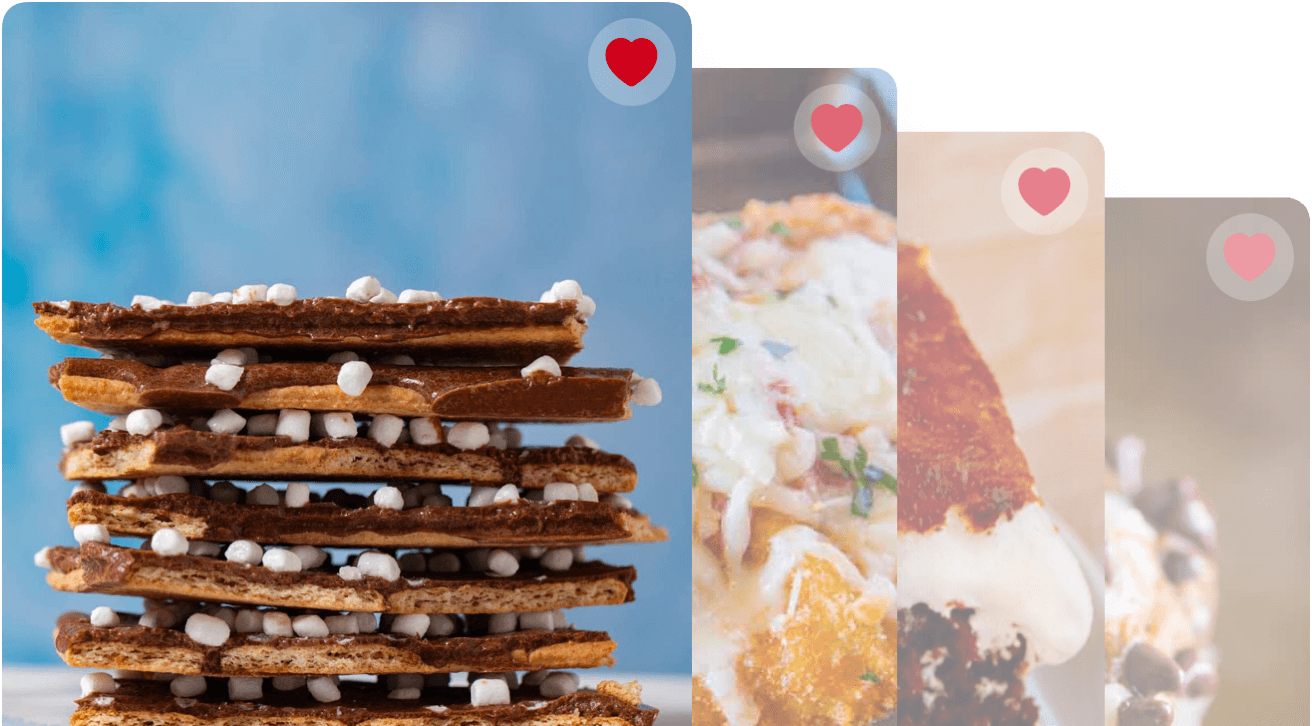 Key Ingredients
Pork: Pork tenderloin is delicious because it is a tender cut of meat that is versatile and has a mild flavor, which makes it easy to pair with a variety of seasonings and flavors. To buy a good one, look for a tenderloin that is uniform in shape, has a pink color with a small amount of marbling, and is firm to the touch with a slight give.
Seasonings: You really don't need much besides salt, pepper, and garlic to season this pork because it gets delicious flavor from the butter and bacon. Fresh minced garlic adds a bold flavor to the stuffing and the tiny pieces ensure the flavor is infused into every bite.
Spinach: Fresh spinach leaves provide a burst of freshness and nutrients, as well as a pop of color to the stuffing. Either baby spinach or regular spinach can be used in this recipe, although baby spinach will have a milder flavor and tender texture compared to regular spinach.
Bacon: Stuffing a pork tenderloin with bacon adds a salty, smoky flavor to the dish, and cooking the bacon first ensures that it is crispy and the fat has rendered, preventing the stuffing from becoming greasy.
Butter: Rubbing the pork tenderloin with softened butter before baking helps to add moisture and richness to the meat as it cooks, resulting in a juicy and flavorful dish. The butter also helps to form a crispy and golden exterior on the meat as it bakes, adding texture and an extra layer of flavor to the dish.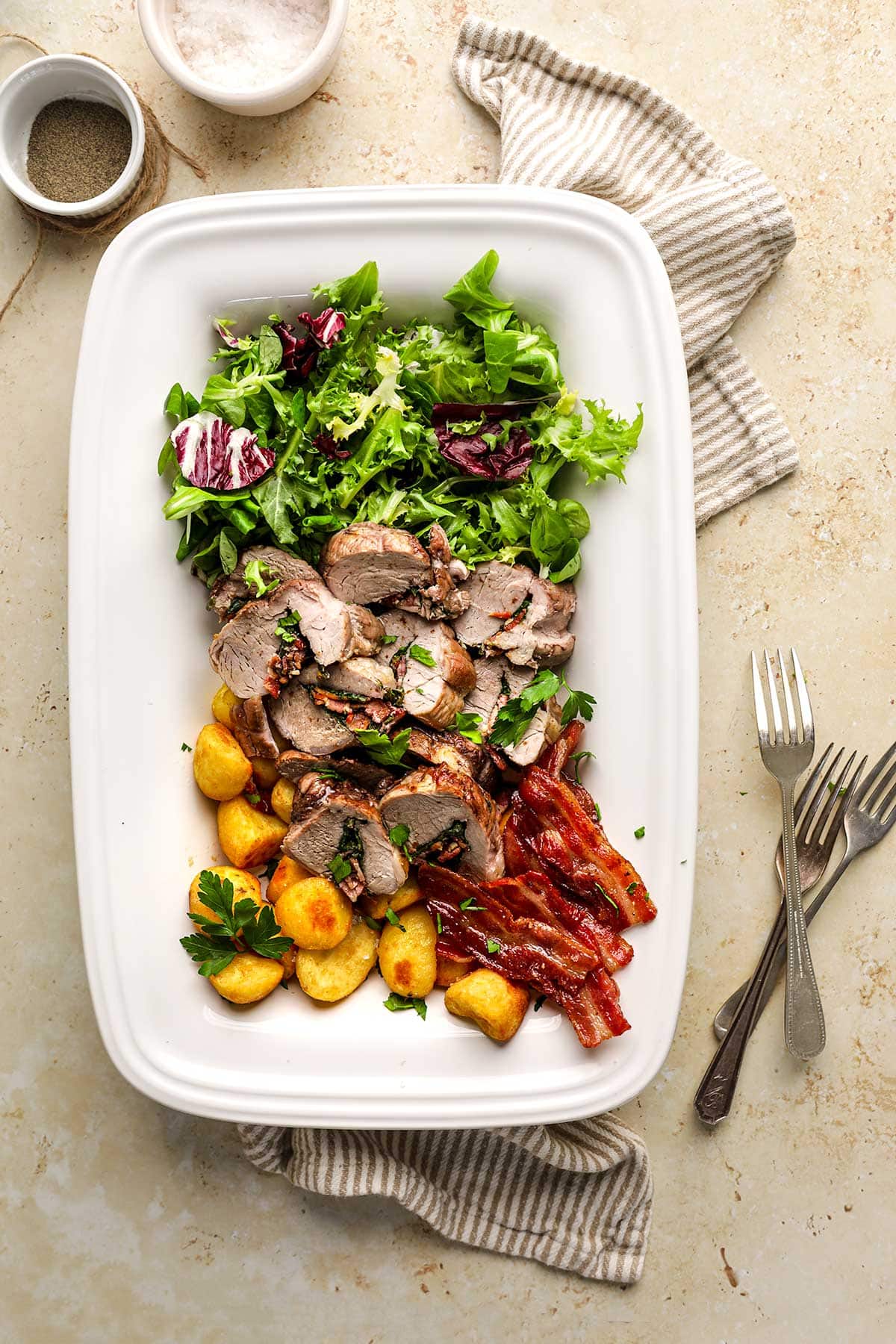 Can Stuffed Pork Tenderloin be made ahead of time?
Yes, this stuffed pork tenderloin recipe can be made ahead of time. To do so, assemble the stuffed pork as directed in the recipe, wrap it tightly in plastic wrap, and refrigerate it for up to 24 hours. When ready to cook, let the pork come to room temperature for about 30 minutes before baking as directed.
Variations
Caramelized Onions: For some extra flavor in the stuffing, add caramelized onions along with the garlic. This is great to use up some Slow Cooker Caramelized Onions or you can quickly caramelize the onions on the stove top in butter, vegetable broth, and balsamic vinegar.
Seasonings: You can season the pork with fresh herbs and spices like onion powder, fresh rosemary, oregano, pepper flakes, or basil. Instead of butter, rub the outside with olive oil and mustard like Dijon mustard or spicy brown mustard.
Apples: For a sweet and savory stuffing, add saute some sliced apples, shallots, along with some fresh herbs such as thyme or rosemary, in olive oil until softened.
More Stuffing Ideas: You can add some crumbly cheese like feta cheese, blue cheese, or Parmesan cheese to the spinach stuffing. Try swapping the spinach leaves for sauteed kale or other leafy greens. Some sun-dried tomatoes or walnuts would be tasty too!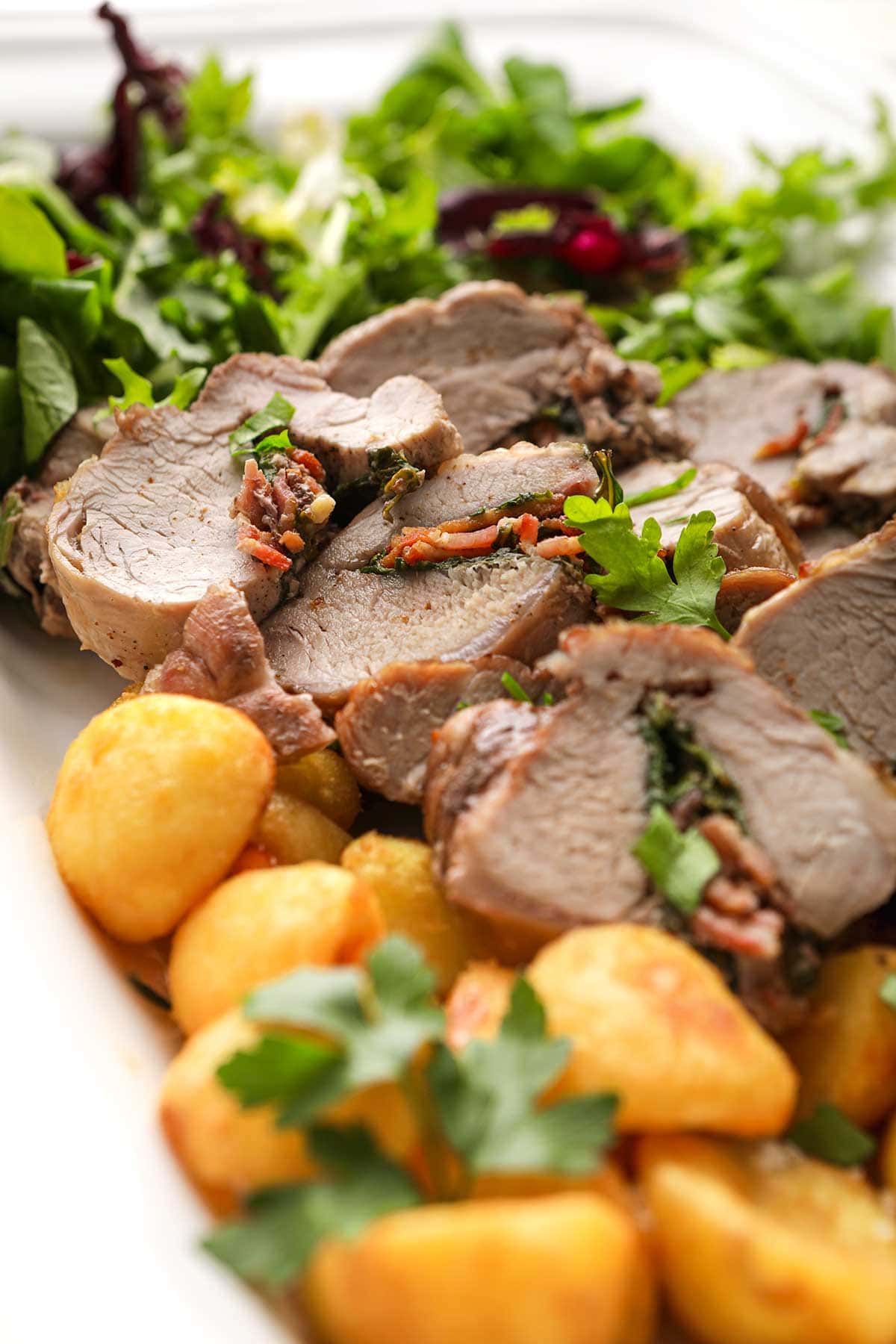 Slow Cooker Stuffed Pork Tenderloin
Season the pork tenderloin with salt and pepper.
Stuff with the spinach, bacon, and garlic mixture.
Fold the pork around the stuffing and wrap with the kitchen twine to secure.
Rub the outside of the meat with butter and season with additional salt and pepper to taste.
Place the stuffed pork loin in a slow cooker. Cover with lid.
Cook on low heat for 6-8 hours or on high heat for 4-5 hours, until the pork is cooked through.
Let rest before slicing and serving.
Delicious Side Dishes
How to Store
Store: Don't leave Stuffed Pork Tenderloin at room temperature for more than 2 hours. Wrap leftovers tightly in plastic wrap or store in an airtight container and refrigerate for up to 3-4 days.
Reheat: The best way to reheat leftover stuffed pork tenderloin is to wrap it in foil and heat the oven at 350 for 15-20 minutes or until it's heated through. Reheating it in the oven will help to keep the meat moist and prevent it from drying out.
Freeze: To freeze, wrap the pork in plastic wrap, then in aluminum foil and place it in an airtight container. When ready to eat, thaw the pork in the refrigerator overnight and reheat in the oven as mentioned earlier. It will stay good in the freezer for up to 3 months.


Ingredients
1

pork tenderloin

1

teaspoon

kosher salt

1/2

teaspoon

coarse ground black pepper

1

cup

fresh spinach leaves

1/4

cup

crumbled bacon

, cooked

3

cloves

garlic

, minced

3

tablespoons

unsalted butter

, softened
Instructions
Preheat the oven to 375 degrees.

Butterfly open the pork tenderloin.

Season the pork with salt and pepper.

Stuff with spinach, bacon, and garlic.

Using kitchen twine, wrap the kitchen twine around the pork (tuck the ends of the pork tenderloin in to keep uniform shape).

Rub the softened butter over the pork tenderloin and season with additional salt and black pepper to taste.
Nutrition
Calories:
325
kcal
|
Carbohydrates:
1
g
|
Protein:
49
g
|
Fat:
13
g
|
Saturated Fat:
6
g
|
Polyunsaturated Fat:
1
g
|
Monounsaturated Fat:
4
g
|
Trans Fat:
1
g
|
Cholesterol:
164
mg
|
Sodium:
518
mg
|
Potassium:
920
mg
|
Fiber:
1
g
|
Sugar:
1
g
|
Vitamin A:
488
IU
|
Vitamin C:
1
mg
|
Calcium:
21
mg
|
Iron:
2
mg