Jewish Sweet and Sour Brisket is a melt-in-your-mouth kosher brisket recipe to rival any mother-in-law's recipe! Oven braised brisket in sweet tomato broth.
More elegant than Classic Pot Roast and even easier to make (no searing!), a juicy fork tender Beef Brisket is a must-have Main Course during the holidays!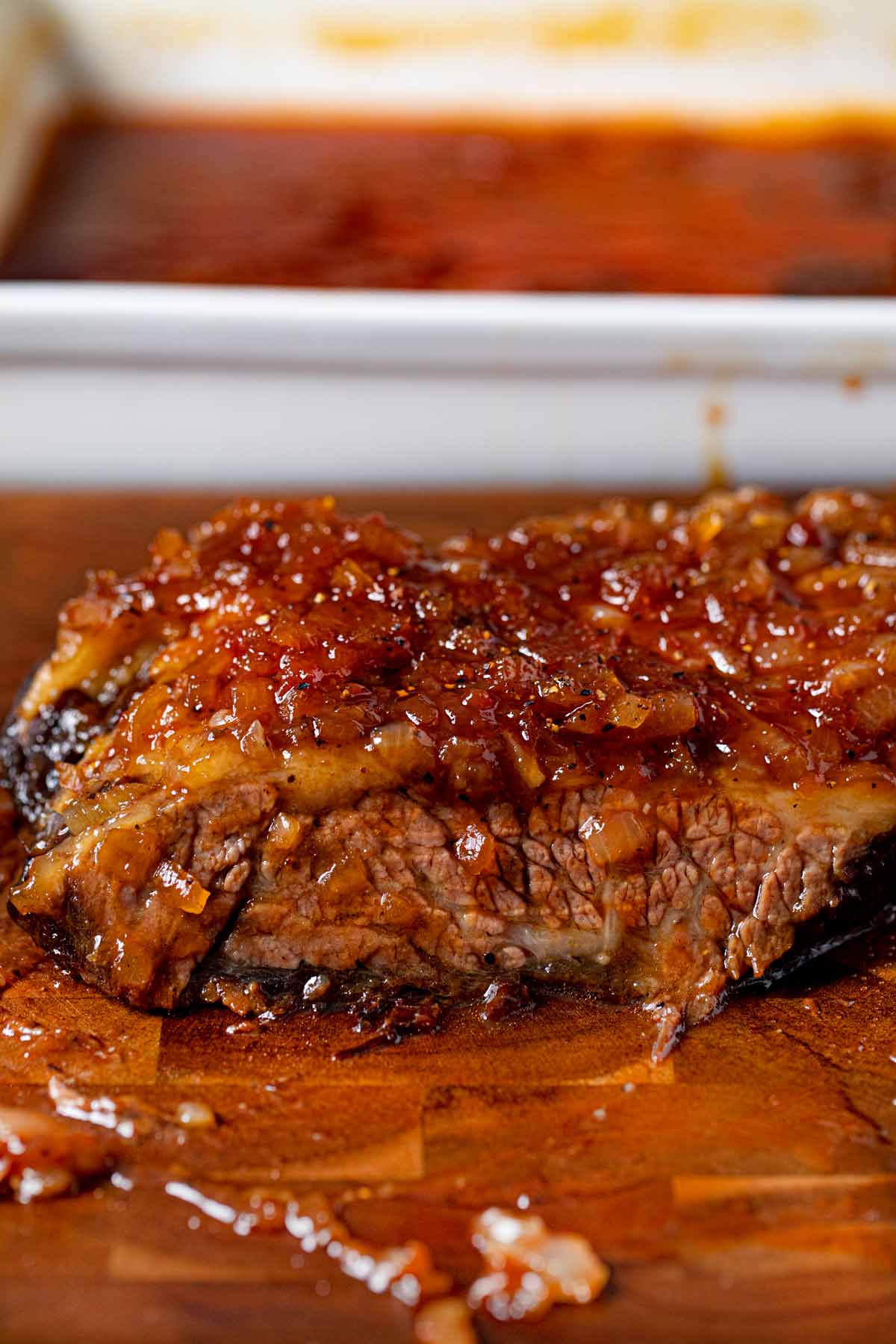 JEWISH BRISKET (SWEET AND SOUR BRISKET)
Whether you are celebrating Passover or Christmas, you'll love this easy and flavorful brisket recipe. It's large enough to feed a big crowd and it slow braises hands off during the day so can you make all your side dishes. Plus this Jewish Brisket recipe can be adjusted for a slow cooker to free up your oven or the Instant Pot if you are short on time too!
What makes a Jewish-Style Brisket so melt-in-your-mouth good is the sweet and tangy sauce that it is slow-cooked in. There are few variations on how to make a Sweet and Sour Brisket Sauce but we love this easy ketchup-vinegar sauce. It has the perfect amount of vinegar to break down a tough cut of meat like brisket and make it fork tender in just a few hours.
Braised Jewish Brisket is a dish that gets even better the next day, after it has soaked up the delicious sauce overnight. Plus the meat is easier to slice when it's cold. It's a great recipe to make ahead the day or two before to save time the day of your dinner party. Simply cool and refrigerate without carving in the roasting pan with the sauce. Slice meat cold and place back in sauce, then re-cover and warm in the oven on low heat for about an hour before serving.
Jewish Brisket can be served with any of your favorite side dishes like Mashed Potatoes, or you can serve with traditional Jewish Holiday sides. During Hanukkah, you'll find brisket served with Potato Latkes. For Rosh Hashanah, serve with Honey Roasted Apples and Potatoes. Try a spring favorite Roasted Root Vegetables, a kosher, grain-free and dairy free dish perfect for Passover.
HOLIDAY SIDE DISH RECIPES
Tips for Buying and Preparing Brisket
Get your meat from a local butcher, or the butcher counter of a higher end grocery store, for the best quality.
Ask the butcher for a first-cut of brisket. While brisket is tougher cut of meat in general, the first-cut is slightly more tender and has more marbling.
If you don't want to trim it yourself, ask the butcher to remove all but ¼ inch of the fat cap. Leave some fat to lock in juices and create a natural braise along with your sauce. Too much fat will make your dish greasy though.
Keep your brisket refrigerated before trimming, the colder the meat the easier it will be to slice. Using a sharp knife, cut flat and parallel to the meat, starting from the thinner point. Again, leave about ¼ inch fat cap.
You don't need to sear your meat for this brisket recipe, but if you have the time, it is a great way to add more flavor to the meat! Season with salt and pepper, and sear in a cast iron pan with olive oil for 3-4 minutes each side.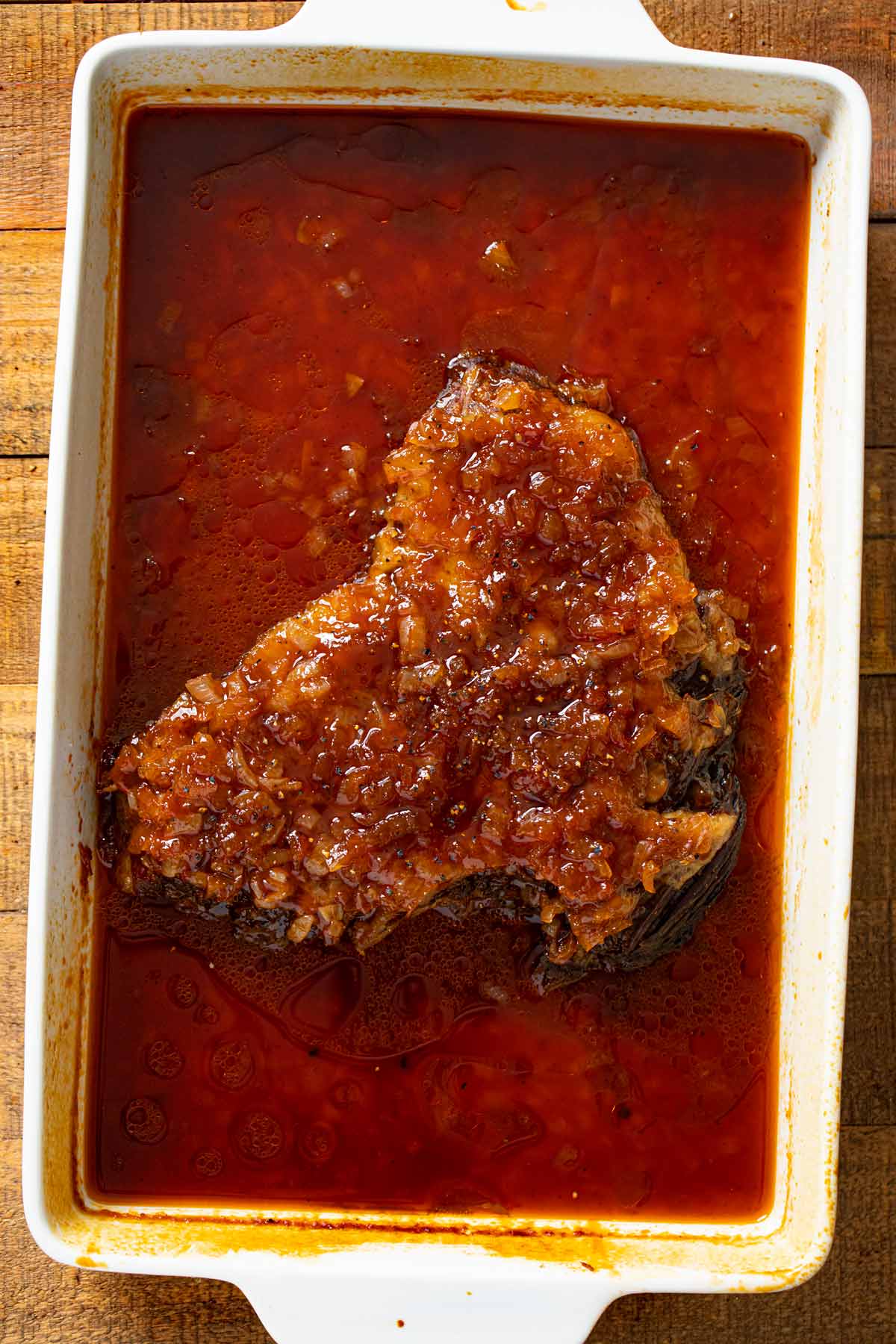 Create a free account to

Save Recipes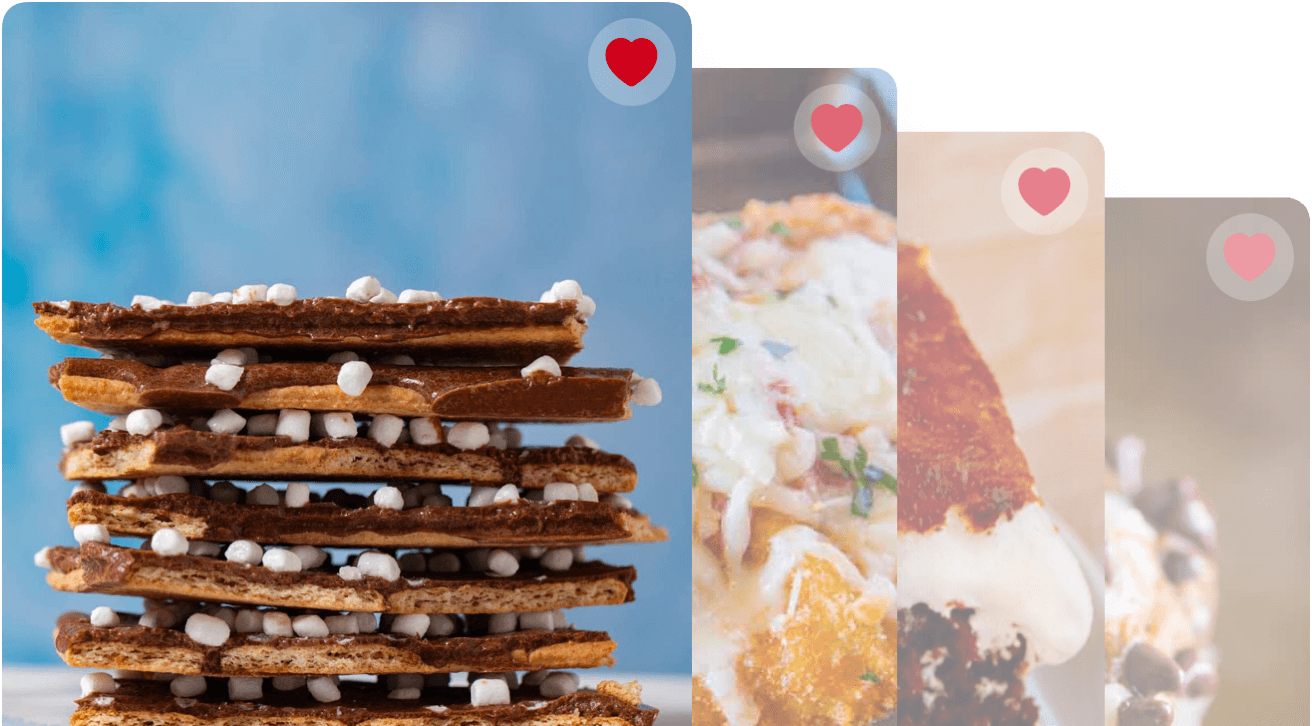 VARIATIONS ON JEWISH BRISKET
Wine: Replace the water with red wine, Coca-Cola, beef broth, or dry white wine for a different layer of flavor. You can double the amount of liquid ingredients (except vinegar) to make a gravy sauce to serve with the brisket after it has cooked.
Vinegar: The vinegar ingredient brings the sour to this brisket. You can use apple cider vinegar, white wine, or lemon juice, or vinegar-based BBQ sauce.
Veggies: Use aromatic vegetables like carrots, canned tomatoes, and celery for more flavor. Add carrots, potatoes, and mushrooms during the last hour of roasting to make this a one pan meal.
Seasonings: Other seasonings to try in your sauce are paprika, oregano, bay leaves, thyme, gravy mix, or onion mix.
Ketchup: Instead of ketchup, you can use BBQ Sauce, tomato-vegetable juice, tomato sauce, or tomato paste. What you want is the acidity and sweetness from the ketchup so adjust the other ingredients according to taste if you use tomato sauce or paste.
Leftover Jewish Brisket Sandwiches
You can enjoy leftover brisket cold or hot, and there are few things better in this world than a homemade Brisket sandwich. Serve slices of brisket on
Dinner Rolls
for next-day sliders with the leftover sauce. To make your sauce thicker, heat in a saucepan over medium-low heat with a little cornstarch slurry. Don't forget the
Coleslaw
!
Instant Pot Jewish Brisket
This is best with a 2-3 lb brisket. The cooking time is for a 3 lb brisket.
Turn Instant Pot to Sauté Function. Heat 1 tablespoon olive oil and when shimmering, sear both sides of brisket for 3-4 minutes per side.
Remove meat and set aside.
Deglaze pot with 1 cup beef broth (or water), scraping off any browned bits. Turn off Instant Pot.
Add remaining sauce ingredients to pot and stir.
Return brisket to pot, cutting in half and stacking if needed.
Close lid and seal pressure valve. Cook on Manual High Pressure for 70 minutes.
Naturally release pressure, about 20 minutes. Remove brisket to slice and serve.
Slow Cooker Jewish Brisket
Trim fat cap from meat and place in slow cooker fat side up.
Mix your sauce ingredients and pour over meat.
Cover with lid and cook on low for 7-8 hours on low, until meat is easily pierced and tender.
Remove brisket and broil for 1 minute to crisp fat cap.
Rest for 10 minutes before carving. Slice against the grain and serve.
MORE HOLIDAY MAIN DISHES
HOW TO STORE JEWISH BRISKET
Serve: You can serve Jewish Brisket warm or cold, and keep at room temperature for up to 2 hours before storing.
Store: Store sliced Jewish Brisket in sauce in an airtight container for up to 4 days. Reheat in a dutch oven on the stove top, with the sauce, over medium low heat.
Freeze: Slice brisket before freezing with sauce in a sealed container. Jewish Brisket can be frozen for up to 3 months and should be thawed overnight before reheating.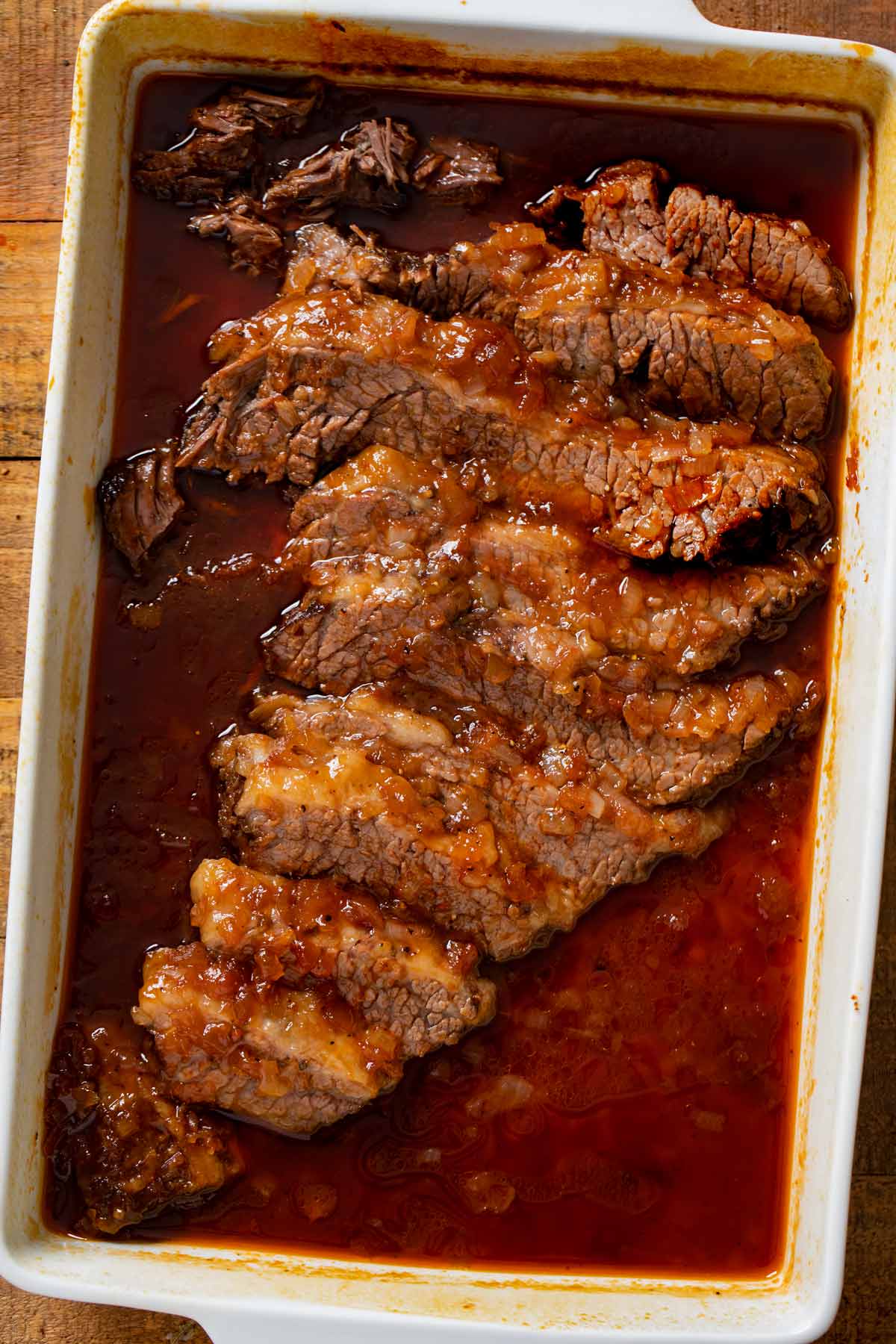 Ingredients
1

cup

water

1

cup

ketchup

1/2

cup

vinegar

2

large onions

, diced

3

cloves

garlic

, minced

3/4

cup

brown sugar

1

tablespoons

Kosher salt

4

pounds

beef brisket

, trimmed
Instructions
Preheat oven to 300 degrees.

Combine water, ketchup, vinegar, onions, garlic, brown sugar and Kosher salt in a large mixing bowl.

Place the brisket in a large baking dish, then pour the ketchup mixture over the brisket.

Cover the baking dish tightly with aluminum foil. Bake for

4 hours

until meat is fork-tender.

Serve thinly sliced, against the grain.
Nutrition
Calories:
383
kcal
|
Carbohydrates:
25
g
|
Protein:
38
g
|
Fat:
13
g
|
Saturated Fat:
5
g
|
Cholesterol:
112
mg
|
Sodium:
1066
mg
|
Potassium:
732
mg
|
Fiber:
1
g
|
Sugar:
22
g
|
Vitamin A:
123
IU
|
Vitamin C:
3
mg
|
Calcium:
33
mg
|
Iron:
4
mg