Oven BBQ Beef Brisket is tender, juicy, and smokey. It's just as fork-tender as meat made outside in a smoker, but this recipe is simmered in the oven.
If you've tried our recipe for Slow Cooker Beef Brisket, then you'll love this oven version that comes out with juicy, melt-in-your-mouth meat. It's an easy recipe that's perfect for Family Dinners.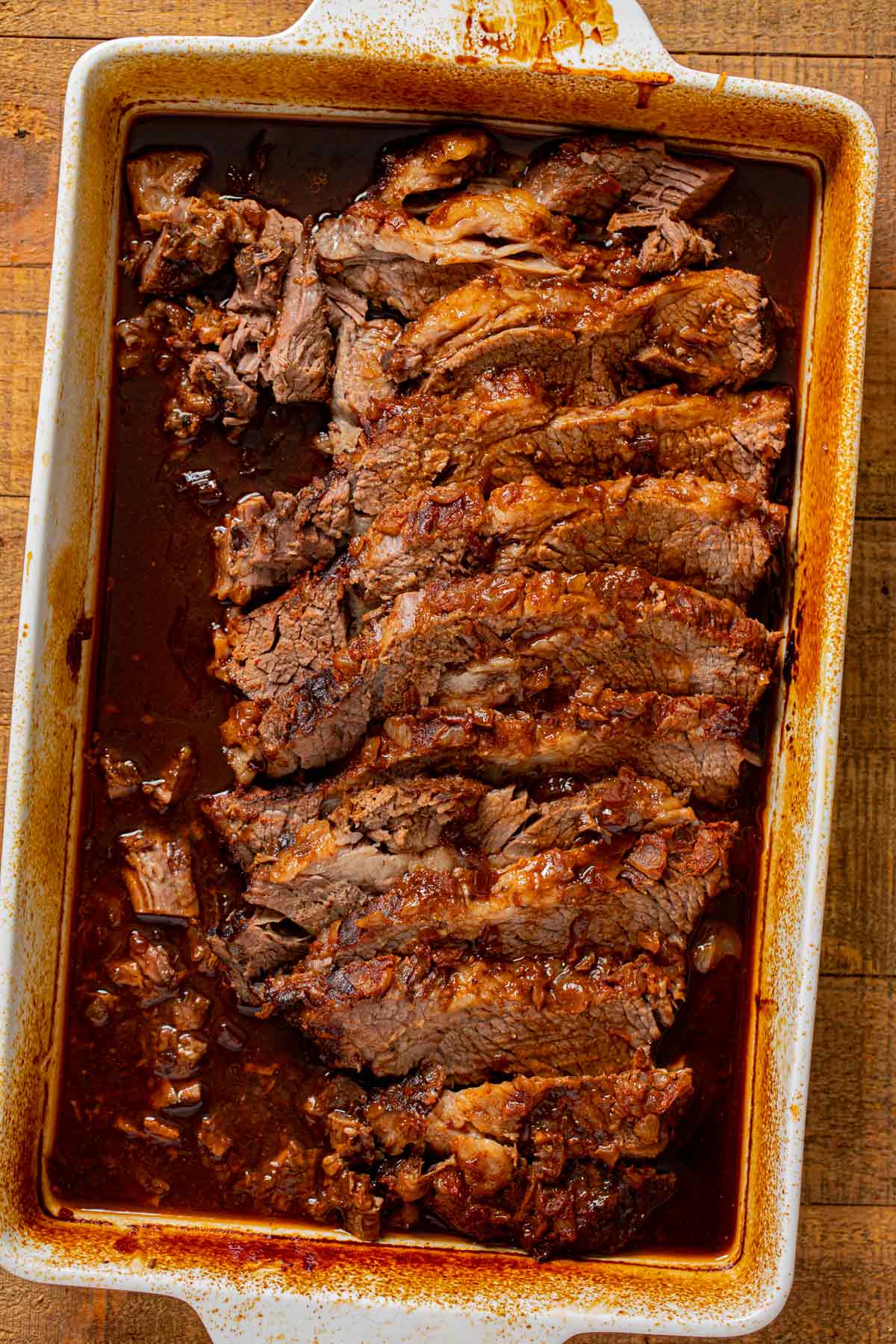 OVEN BBQ BEEF BRISKET
When you think of Texas BBQ, Beef Brisket is probably one of the first dishes that comes to mind. Of course, there are other classic dishes like Pulled Pork, but it's tough to beat a Texas-style Smoked Brisket. This recipe is sure to become a go-to dish because it has all that smokey bbq flavor, but you can make the Beef Brisket right in your own oven.
If you're worried cooking brisket in the oven will come out with dry, tough meat, that's not at all the case with this recipe. While brisket meat can be tough if it's not cooked properly, this oven recipe cooks the meat nice and slow so it has plenty of time to absorb the flavor and moisture of the BBQ sauce around it.
The total time to make this recipe is over 4 hours, but practically all of that is hands-off time while the meat cooks in the oven. In fact, all you really have to do is whisk together the BBQ sauce, pour it over the meat, and pop it in the oven. You'll love how the rich aroma of BBQ fills your house while the BBQ Brisket cooks over the next few hours. By the time it's done your mouth will be watering from the delicious smell alone.
MORE BBQ RECIPES
HOW TO MAKE OVEN BBQ BEEF BRISKET
Prep: Preheat your oven to 300 degrees.
Sauce: Add water, barbecue sauce, and soy sauce to a large mixing bowl and whisk the BBQ sauce together.
Bake: Put the brisket on a large baking dish, and pour the BBQ sauce that you just mixed over the brisket. Cover the baking dish with aluminum foil tightly. Wrapping the brisket in tin foil will make sure that the moisture gets trapped, and keeps the beef nice and tender. Cook the meat slowly at 300 degrees for 4 hours. Remember that according to the USDA the internal temperature for beef should be at least 145 degrees to make it safe to eat.
Serve: Take the brisket from the oven. Remove the foil, but be careful because there will be hot steam. Let the brisket sit for 10 minutes. Cut the brisket in half, then slice it into small pieces flat against the grain.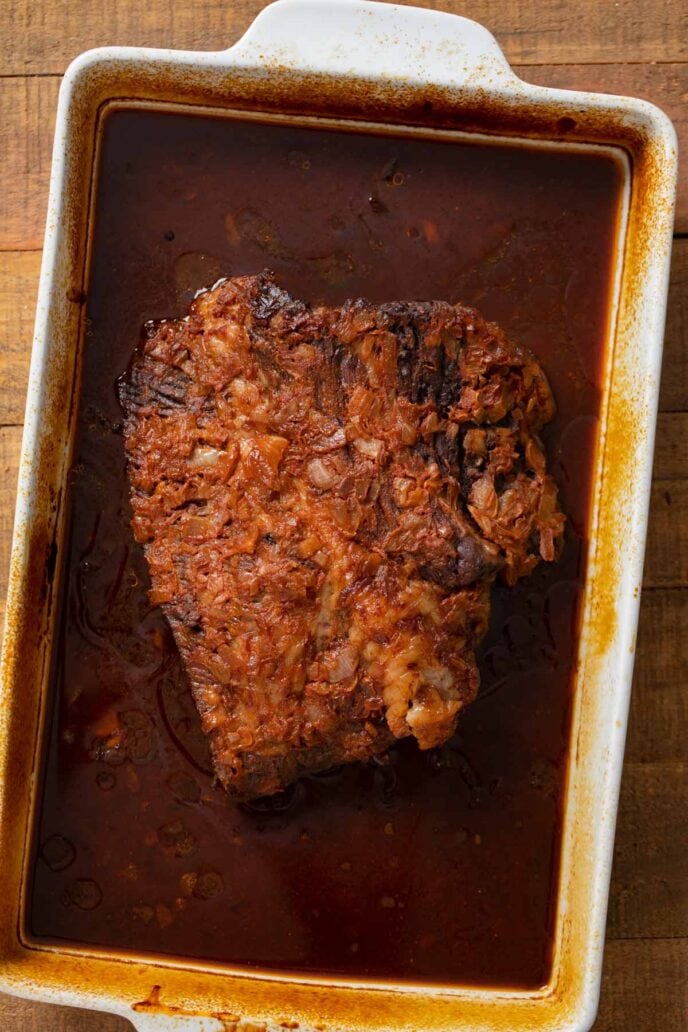 Create a free account to

Save Recipes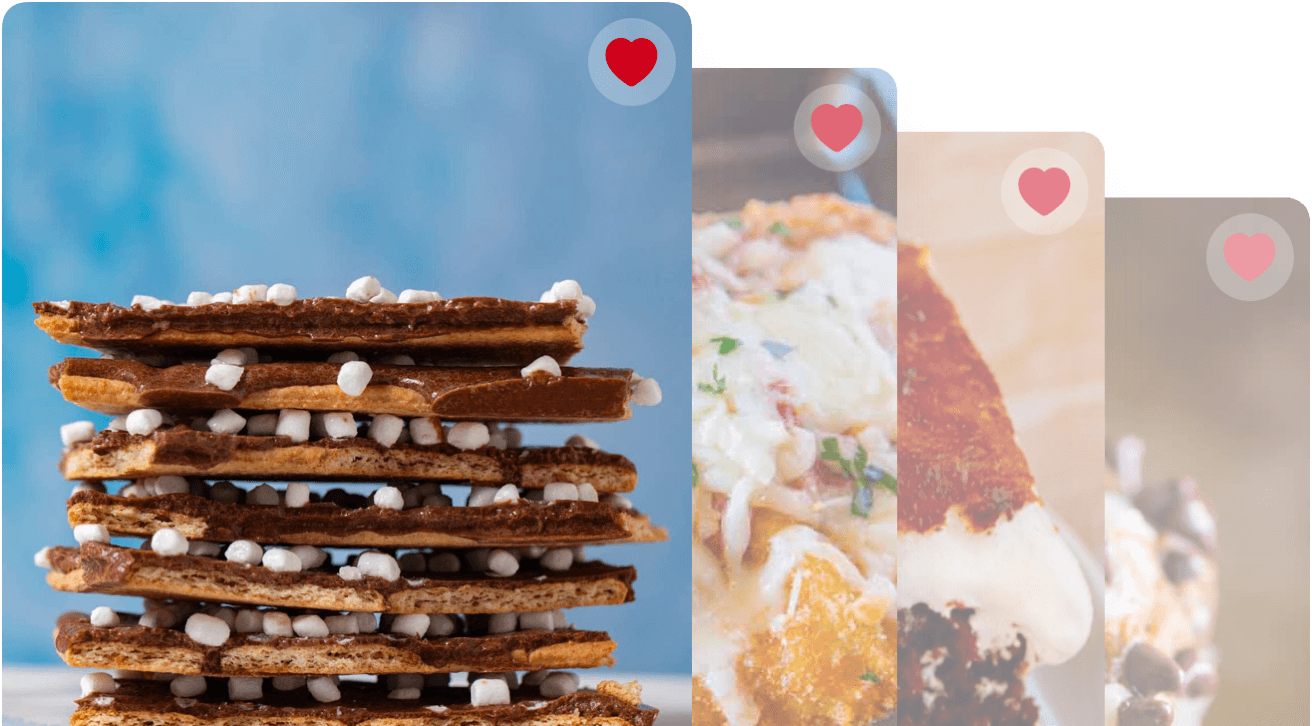 OVEN BBQ BEEF BRISKET VARIATIONS
Sauce: To experiment with the flavor of the BBQ sauce you can try adding in a little Worcestershire sauce, mustard, and red wine vinegar.
Sweet: For a bit of sweetness in the BBQ flavor mix in brown sugar, or maple syrup with the bbq sauce mixture. You can also use molasses for a deeper, sweeter sauce.
Spicy: To add a bit of heat to the recipe try mixing in a few dashes of hot pepper sauce. Adjust how much spicy sauce you add according to your taste.
Add-ins: There are plenty of other seasonings and mix-ins you can try in this Oven Brisket recipe. Try chopping up 2 yellow onions and sprinkling them around the brisket while baking. Some seasonings to add in are paprika, black pepper, cayenne pepper, chili powder, cumin, or cloves.
WHAT TO SERVE WITH OVEN BBQ BEEF BRISKET
HOW TO STORE OVEN BBQ BEEF BRISKET
Serve: Don't leave Oven BBQ Beef Brisket at room temperature for more than 2 hours.
Store: Once the brisket has cooled you can keep it in the fridge for 3-4 days. Tightly wrap the meat in plastic wrap, aluminum foil, or store it in an airtight container.
Freeze: It can keep well in the freezer for up to 3 months. Let it thaw in the overnight before reheating the brisket in the oven and serving.


Instructions
Preheat oven to 300 degrees.

Combine water, barbecue sauce, and soy sauce in a large mixing bowl.

Place the brisket in a large baking dish, then pour the barbecue sauce mixture over the brisket.

Cover the baking dish tightly with aluminum foil. Bake for

4 hours

until meat is fork-tender.

Serve thinly sliced, against the grain.
Nutrition
Calories:
322
kcal
|
Carbohydrates:
9
g
|
Protein:
38
g
|
Fat:
14
g
|
Saturated Fat:
5
g
|
Cholesterol:
112
mg
|
Sodium:
689
mg
|
Potassium:
661
mg
|
Fiber:
1
g
|
Sugar:
7
g
|
Vitamin A:
48
IU
|
Vitamin C:
1
mg
|
Calcium:
17
mg
|
Iron:
4
mg