Slow Cooker Beer and Onion Brisket is an easy main course for a weeknight or holiday. Cooked low and slow with onions, garlic, Worcestershire, and beer.
This Beer and Onion Brisket is the Slow Cooker Version of Easy Brisket with Caramelized Onions. Plus, even more rich caramel like flavor is added to the beef from the beer in this recipe.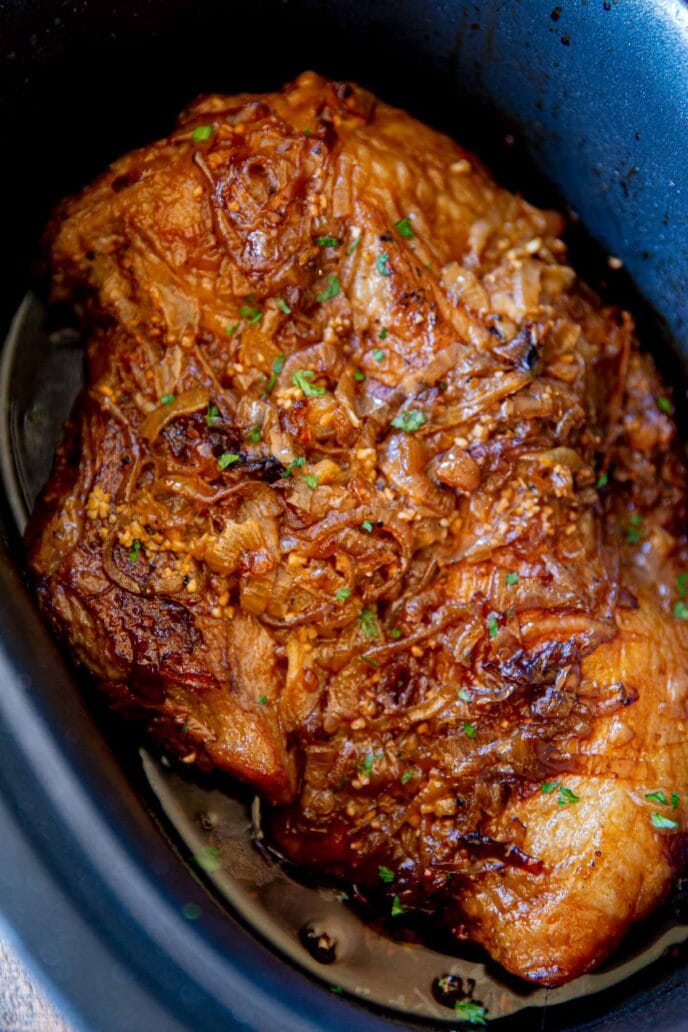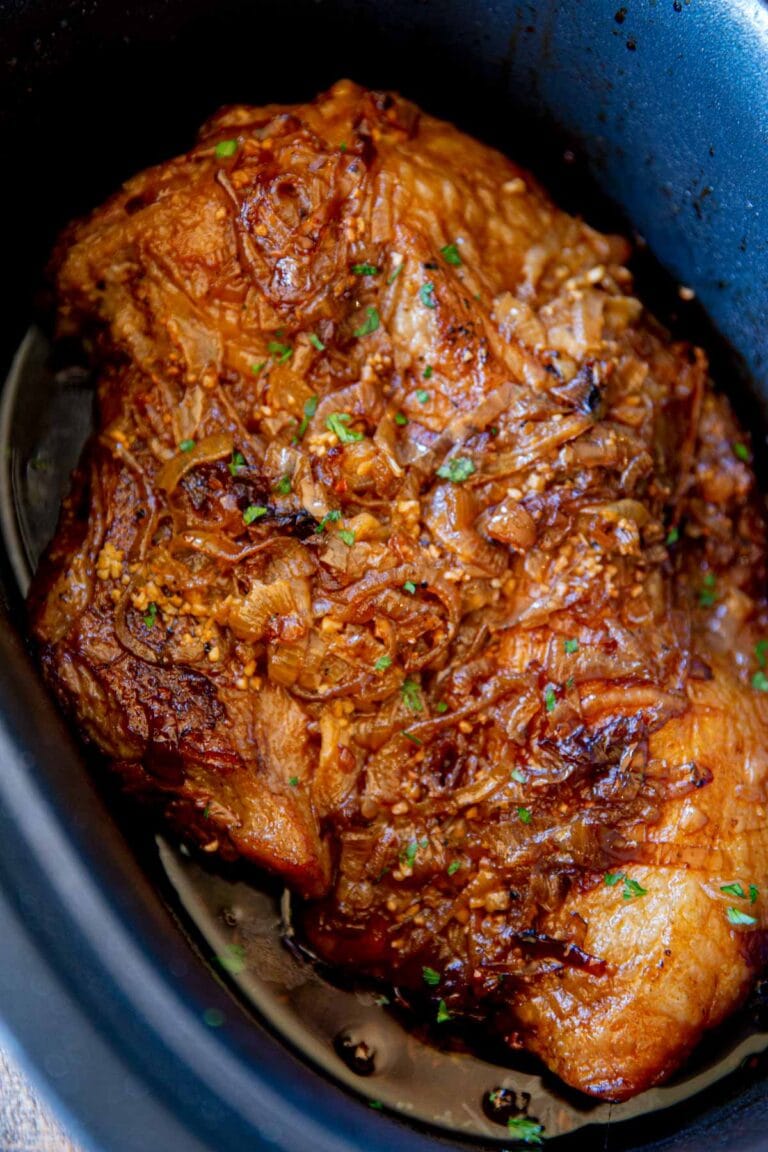 SLOW COOKER BEER & ONION BRISKET
If you've been wary of cooking brisket because of how tough the cut of meat is, this slow cooker recipe is the perfect place to start. Cooking the brisket low and slow gives it time to absorb all the warm and rich flavors from the onions, beer, and Worcestershire sauce around it. I'm not exaggerating when I say this beef brisket turns out unbelievably tender and juicy every time!
For another surprisingly easy brisket recipe, try making Classic Slow Cooker Beef Brisket. Cooking the brisket slowly in the crock pot is an easy way to avoid getting tough meat. Instead the brisket turns out fork tender, and just melts in your mouth.
Slow Cooker Beer and Onion Brisket is perfect for practically any occasion. This dish is easy enough to toss together in the morning and serve on a weeknight, but still good enough to serve for the holidays. The warm flavors make it perfect for the colder months when you need something to warm you up, and the simple recipe makes holiday dinner so much easier!
BRISKET SANDWICHES
It's hard to pick a favorite between a freshly cooked Beer Brisket for dinner, and delicious sandwiches made from the leftovers. If you have any brisket left after dinner, store it in an airtight container in the fridge. Then enjoy them for lunch the next day with your favorite Homemade Dinner Rolls for the ultimate BBQ beef sandwich.
MORE HOLIDAY MAIN DISHES
HOW TO MAKE SLOW COOKER BEER & ONION BRISKET
Onion and Garlic Mixture: Start by adding butter to a pan over medium heat and let it melt. Add in 4 sliced red onions and some kosher salt. Stir the onions as they cook, it should take 15-20 minutes for them to caramelize. Once they've started to caramelize, add in the garlic and cook for another minute. Remove the mixture from the pan.
Browning: Add canola oil to your pan and turn the heat up slightly. Season your brisket with salt and pepper, before putting it in the pan to brown on each side.
Slow Cooker: Put the brisket in the slow cooker fat side up, this will help keep the meat tender and juicy. Add the onions and garlic over the top. Pout Worcestershire sauce and beer in and cook on low heat for 8 hours.
Serve: Slice the brisket against the grain and enjoy!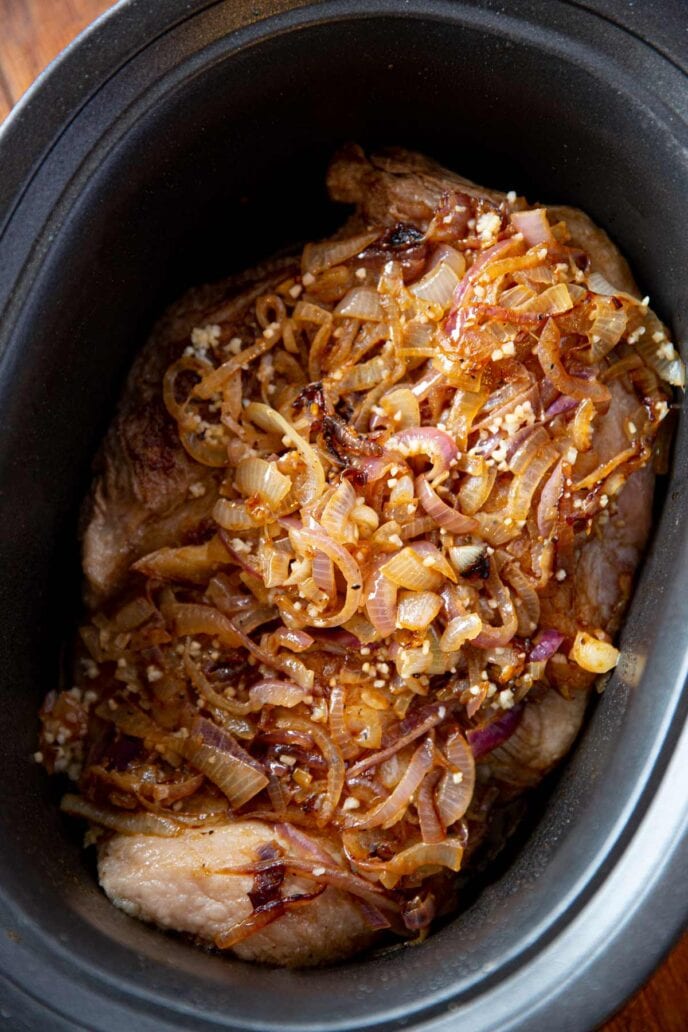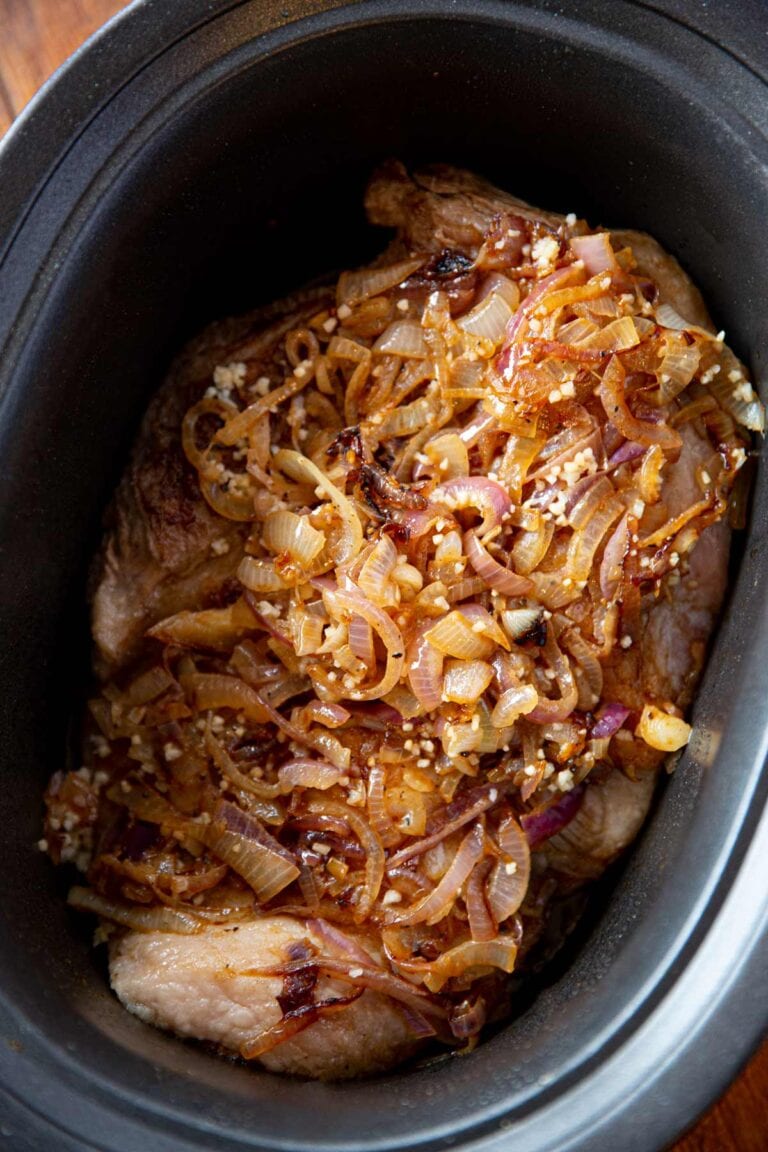 Create a free account to Save Recipes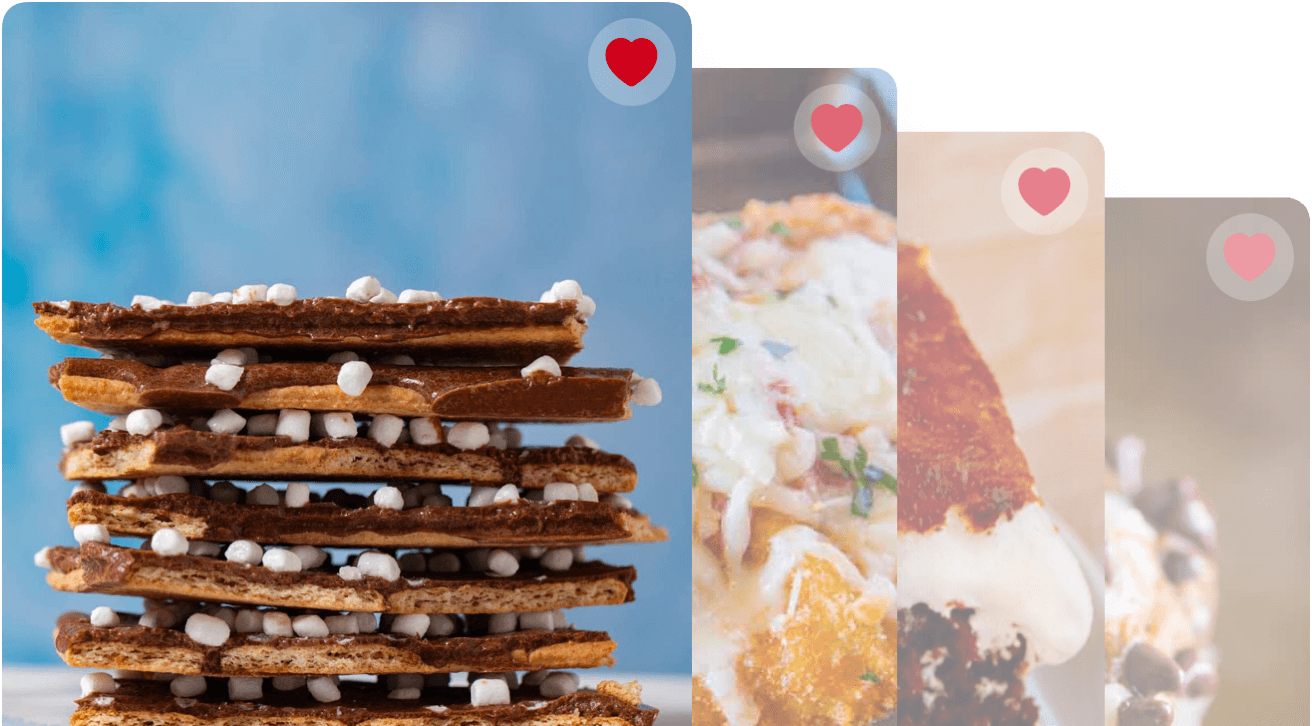 VARIATIONS ON SLOW COOKER BEER AND ONION BRISKET
Beer replacements: If you don't want to cooke with beer there are plenty of replacements you can try. Use beef broth, apple juice, apple cider, mushroom stock, or even root beer to replace the beer in your brisket recipe. Just keep in mind that each alternative will alter the flavor.
Add-ins: To experiment with the taste try adding in some mustard or BBQ sauce to the sauce mixture. For some sweetness add a little brown sugar, or for a spicier take put in some cayenne or crushed red pepper. There are lots of ways you can change up this recipe with just a couple ingredients.
HOLIDAY SIDE DISH RECIPES
HOW TO STORE SLOW COOKER BEER AND ONION BRISKET
Serve: Don't leaver your brisket at room temperature for more than 2 hours.
Store: To store your Beer Brisket keep it in a shallow airtight container or wrapped tightly in aluminum foil or plastic wrap. It will keep well in the fridge for 3-4 days.
Freeze: To freeze brisket start by laying out the brisket slices on a parchment paper lined baking sheet in a single layer. Freeze for an hour. Once frozen, move the slices to a freezer bag, and keep them in the freezer for up to 3 months.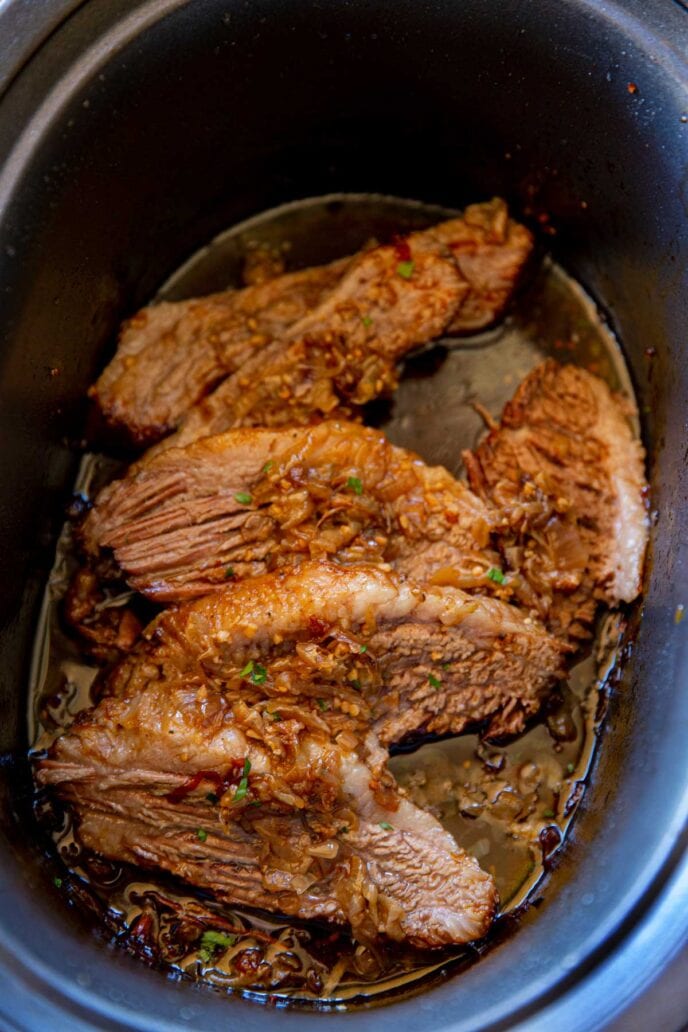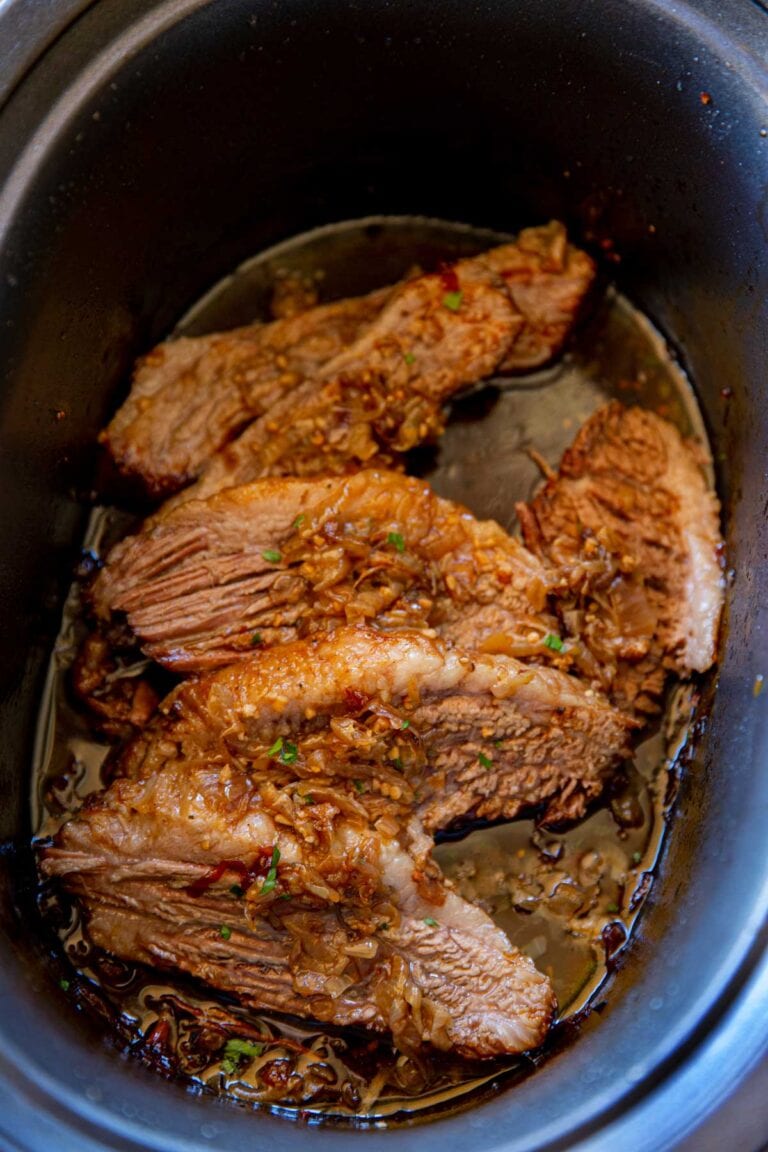 Ingredients
4

tablespoons

unsalted butter

4

red onions

, sliced

4

cloves

garlic

, minced

2

teaspoons

Kosher salt

, divided

1/2

teaspoon

coarse ground black pepper

2

tablespoons

canola oil

4

pound

beef brisket

2

tablespoons

Worcestershire sauce

12

ounces

beer
Instructions
In a large skillet melt the butter on medium heat and add in the onions and 1 teaspoon Kosher salt.

Cook for

15-20 minutes

, stirring frequently until they start to caramelize.

Add in the garlic, stir and cook for

1 minute

.

Remove the onions from the pan and set aside.

Add in the canola oil and turn the heat up to medium-high.

Season the brisket with the remaining salt and the pepper.

Brown on both sides for

3-5 minutes

on each side.

Add the brisket, fatty side up, into the slow cooker and top with onion and garlic mixture.

Pour Worcestershire sauce and beer around the brisket and cook for

8 hours

on low heat.

Slice against the grain to serve.
Nutrition
Calories:
383
kcal
|
Carbohydrates:
6
g
|
Protein:
38
g
|
Fat:
21
g
|
Saturated Fat:
8
g
|
Cholesterol:
125
mg
|
Sodium:
646
mg
|
Potassium:
704
mg
|
Fiber:
1
g
|
Sugar:
2
g
|
Vitamin A:
140
IU
|
Vitamin C:
4
mg
|
Calcium:
28
mg
|
Iron:
4
mg