Oven Baked Creamy Cheese Polenta
Oven Baked Creamy Cheese Polenta made with just four ingredients!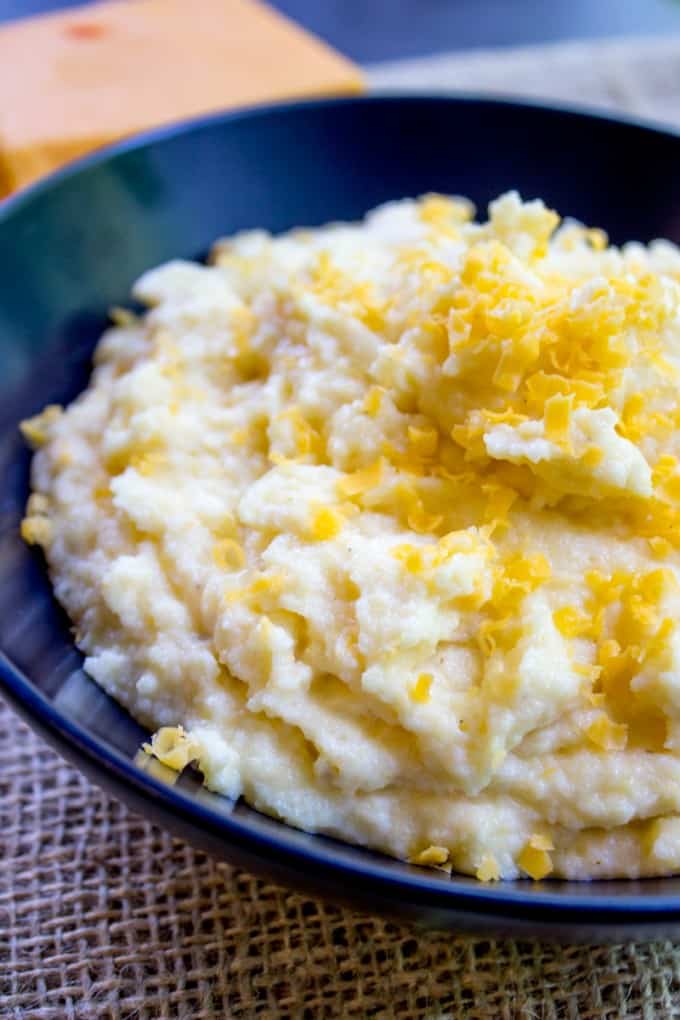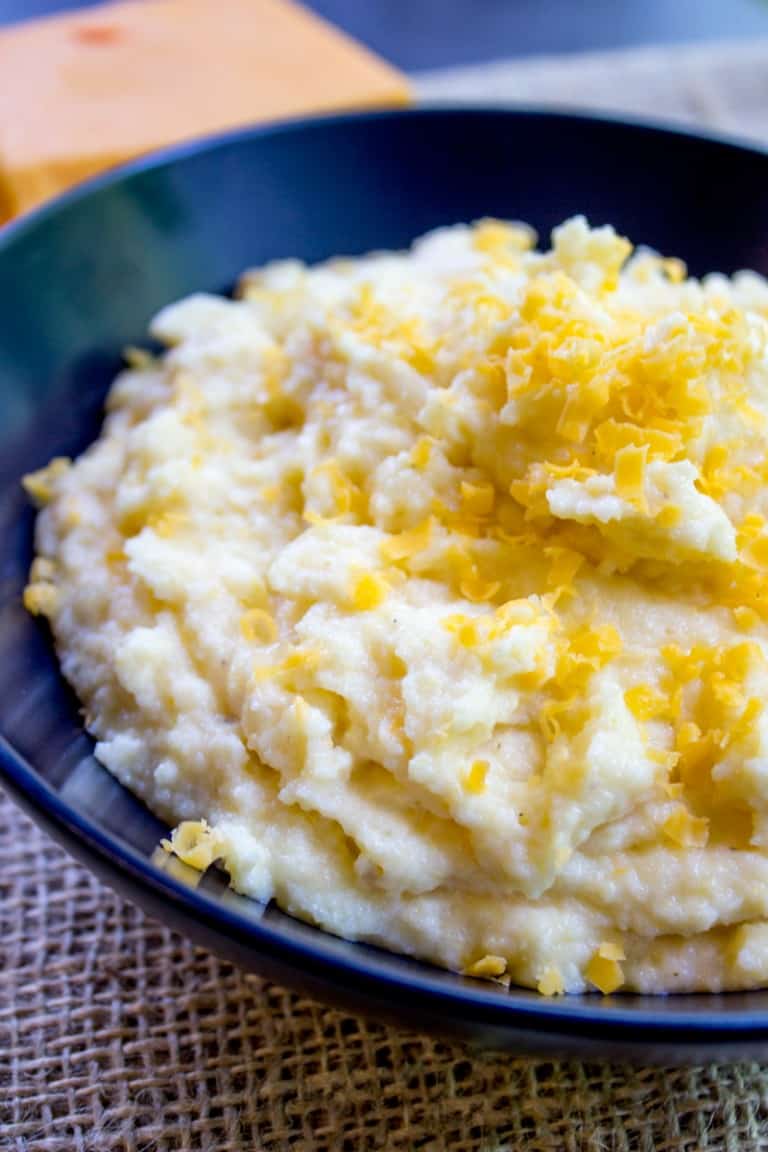 Oven Baked Creamy Cheese Polenta with just four ingredients?! Ok, ok, technically seven. But is it really fair to count water, salt and pepper? I'm standing by my four ingredient claims. Also, if you have ever made polenta before on the stove top you will totally appreciate that this recipe comes without any third degree burns on your arms from molten polenta.
When I first started working as a private chef I had a client who absolutely LOVED polenta. The thing about cooking for clients is you have to always have four or five things cooking at once, so it was the bane of my existence to stand at the stove stirring and avoiding injury every week for polenta. It took me almost three months of weekly stirring before I started making this Oven Baked Creamy Cheese Polenta.
I was thrilled to have to make this Oven Baked Creamy Cheese Polenta every week after that since it was as easy as stir in the ingredients and put it in the oven. The hardest part is letting it cool for a second before you start eating or you'll end up with basically lava in your mouth.
MY OTHER RECIPES
Oven Baked Creamy Cheese Polenta got to be so popular that it became part of one of my signature dinner party meals. I serve it with braised short ribs and crispy roasted vegetables and it is always a hit.
Want to add some other flavors to the mix?
sauté some garlic and add some fresh herbs like thyme or rosemary to the pot.
add some lemon zest, sautéed garlic, lemon juice and olive oil instead of butter.
switch up the cheeses you're using for different takes on it:

some pepperjack cheese with a few warm spices like cumin, oregano or garlic powder for a Mexican flavored option.
Parmesan cheese with some leeks that have been cooked low and slow in butter.
Last thing, you can make this dish with either polenta or cornmeal. Let me save you $10.00 and tell you I have done both and people overwhelmingly prefer it made with cornmeal. So go to your grocer and buy an inexpensive bag of cornmeal for just a few dollars and you'll have enough to make this dish 5 or so times.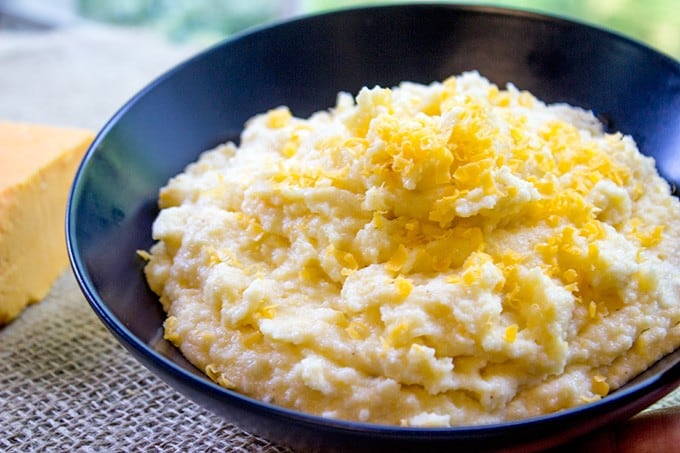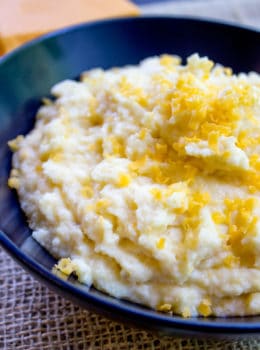 Oven Baked Creamy Cheese Polenta
Oven Baked Creamy Cheese Polenta made with just four ingredients and none of the danger associated with boiling, bubbling hot polenta on the stove you have to keep stirring!
Prep Time 5 minutes
Cook Time 50 minutes
Total Time 55 minutes
Ingredients
6 cups water
1 1/2 cups polenta or yellow cornmeal
2 teaspoons Kosher salt
1/4 teaspoon fresh ground black pepper
3 tablespoons butter
1/2 - 3/4 cup heavy cream or whole milk
3/4 cup grated sharp cheddar cheese
Instructions
Preheat oven to 350 degrees.

Stir in polenta, salt, pepper and butter into water.

Bake uncovered 40 minutes.

Add in the cream/milk, cheese and stir to combine.

Bake for an additional ten minutes, stir and serve immediately garnishing with more cheddar cheese if desired.
Recipe Notes
This post contains affiliate links.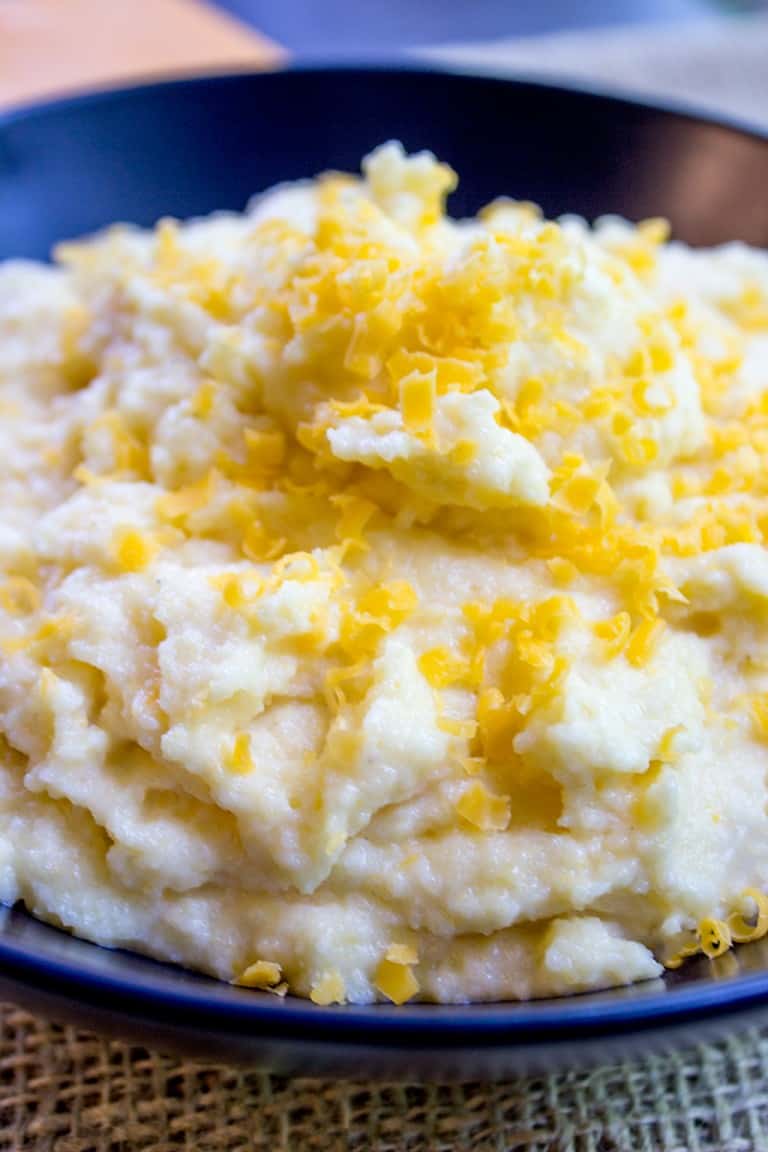 Dinner, then Dessert, Inc. owns the copyright on all images and text and does not allow for its original recipes and pictures to be reproduced anywhere other than at this site unless authorization is given. If you enjoyed the recipe and would like to publish it on your own site, please re-write it in your own words, and link back to my site and recipe page. Read my disclosure and copyright policy. This post may contain affiliate links.