Easy Singapore Noodles are a popular Chinese dish. Rice vermicelli noodle stir fry with egg, pork, bell peppers, ginger and curry powder.
Chow Mein and Lo Mein are some of the most popular and easiest Chinese takeout dishes to recreate at home. These lesser known Singapore-style noodles are just as delicious and easy to make!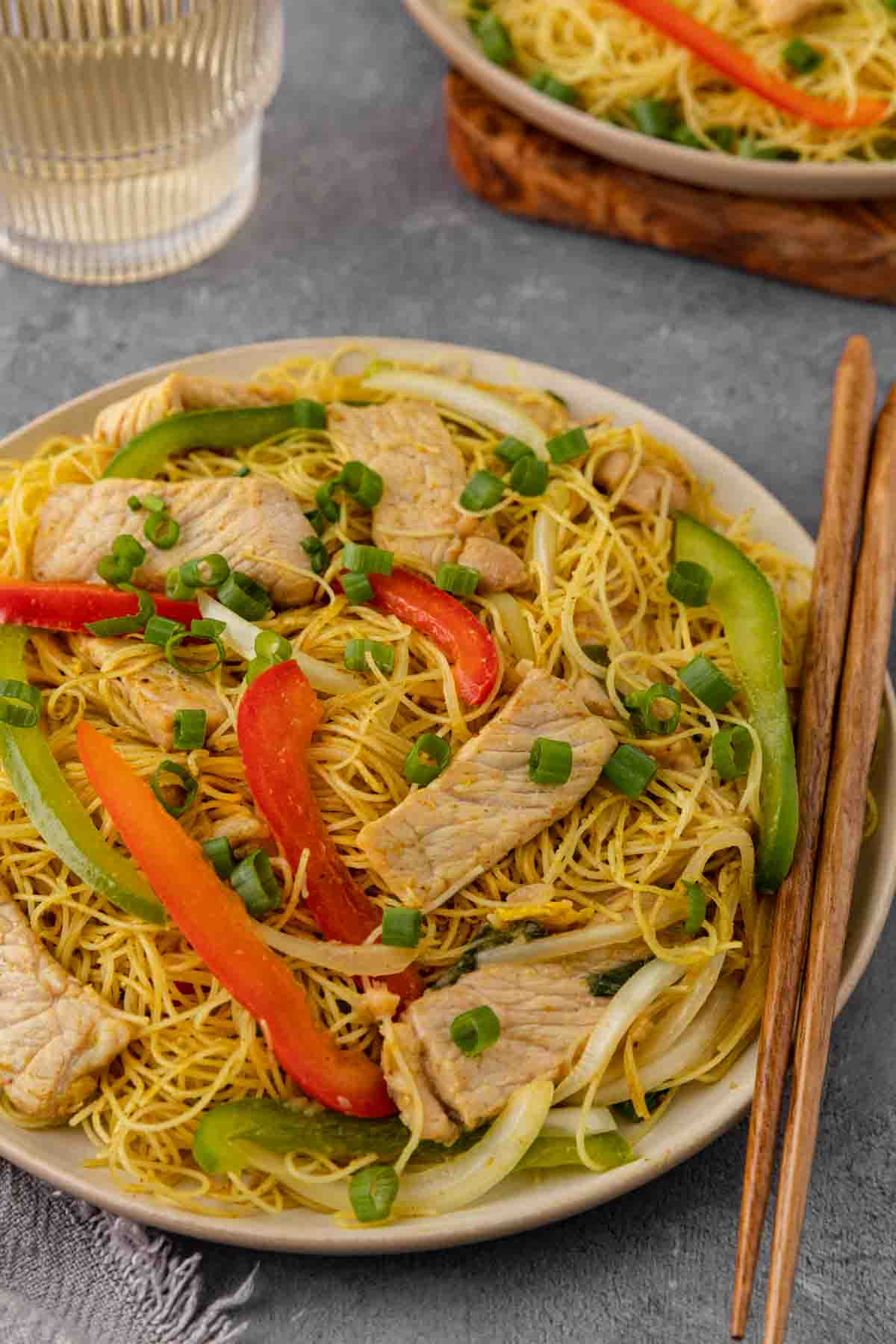 If you love heat and Asian stir-fry noodles, this easy Cantonese dish is one you'll be making over and over again. The thin rice noodles are coated with earthy, warm curry powder with a spicy kick and quickly pan-fried so they are chewy yet soft, and full of that distinct delicious curry flavor. It has lots of tender marinated pork and crispy stir fry veggies too, so this tasty, hearty Chinese Noodle dish can double as a dinner recipe!
What sets Singapore Noodles apart from other noodle stir fry dishes is the spicy, vibrant yellow sauce made with curry powder blend. Madras Curry is spicy yellow curry powder that you can get at most grocery stores. If you want less spicy Singapore Noodles, substitute garam masala and turmeric. You'll still get curry flavor and bright yellow noodles, but a much milder dish.
The magic of wok-cooking is that it lets you build layers of flavor quickly. Aromatic ginger and garlic form the base, then marinated pork adds a deep savory flavor that the veggies soak up all those complex flavors. A fresh coat of oil cooks up rich, buttery eggs and finally everything is combined with plenty of earthy, spicy, curry powder and everything soaks into the chewy, tender rice noodles.
These amazing curry-flavored noodles might take a little prep work, but once the meat is marinated, the noodles are soaked, and the wok heats up, this dish is made in less than 15 minutes. But you can save time and use up leftovers like leftover chicken, beef, or pork. You could even swap the noodles with instant ramen noodles, cooked just shy of al-dente, to skip the soaking time.
Singapore Noodles are very flavorful so it's better to serve them with Chinese main dishes like Mongolian Beef or Sweet and Sour Chicken that won't compete with their bold flavors. Singapore Rice Noodles are often made with shrimp, so serve these noodles with Honey Garlic Shrimp for a more traditional combination!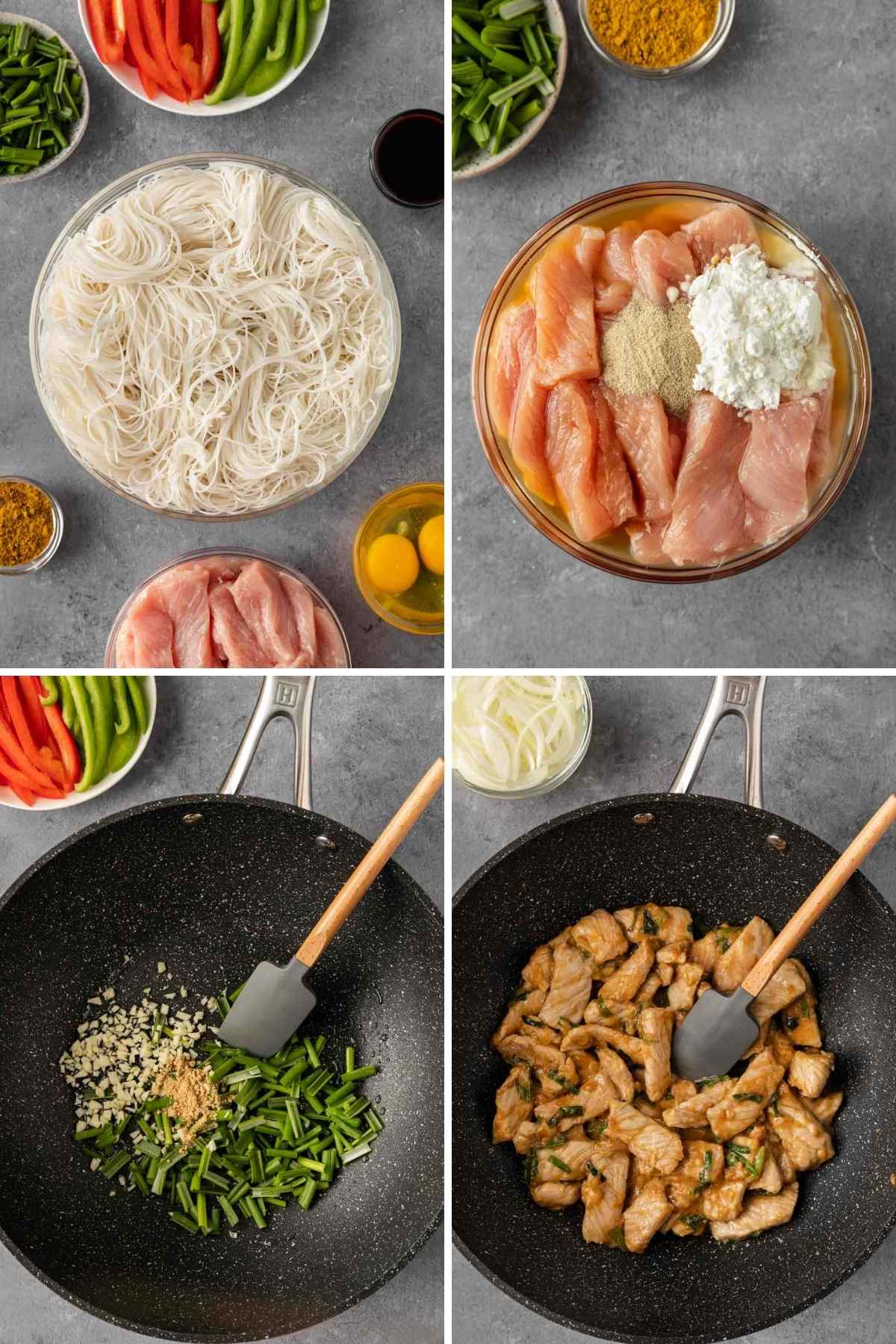 What are Singapore Noodles?
Singapore Noodles, also known as Singapore Mei Fun, are a delicious curry noodle-stir fry and popular dish that originated in Hong Kong. It has vermicelli rice noodles combined with scrambled eggs, vegetables and meat, usually chicken or pork with shrimp, and everything is coated in flavorful curry. It is a quick, tasty dish with layers of complex flavors that you'll find on Chinese restaurant menus all around the world.
How to Make Singapore Noodles
Prep: Cut the pork and veggies into bite-sized, thin strips about 2 inches long and ¼ inch thick. Add the pork strips, soy sauce, wine, and white pepper to a large ziploc bag. Squeeze out any air and seal, then marinate on a flat surface for at least 20 minutes. Soak the vermicelli noodles according to the package instructions, for up to 2 hours.
Cook Pork: Coat a wok or large skillet well with oil and heat over high heat until smoking. Add the ginger, scallions, and garlic to the hot wok, then stir in the marinated pork. Cook for about 1 minute, then transfer the pork to a plate.
Cook Veggies: In the same wok, heat until smoking again and then stir fry the bell peppers and onions for a minute. Transfer to a plate with the pork. Carefully (the wok will be very hot!) wipe the oil from the pan then coat again with fresh oil.
Cook Eggs: Return the oiled wok to the high heat and heat until smoking. Add the beaten eggs to the hot wok and swirl to spread the eggs into a pancake shape.
Add Noodles: Before the eggs fully set, add in the rice noodles, folding and stirring until the eggs are broken up and evenly mixed. Keep stirring and add the curry powder, mixing until the noodles are coated evenly.
Finish: Return the pork and vegetables to the wok and toss everything to combine. Keep tossing and stirring constantly until everything is heated through. Serve with more green onions and sesame seeds.
Chinese Main Dish Recipes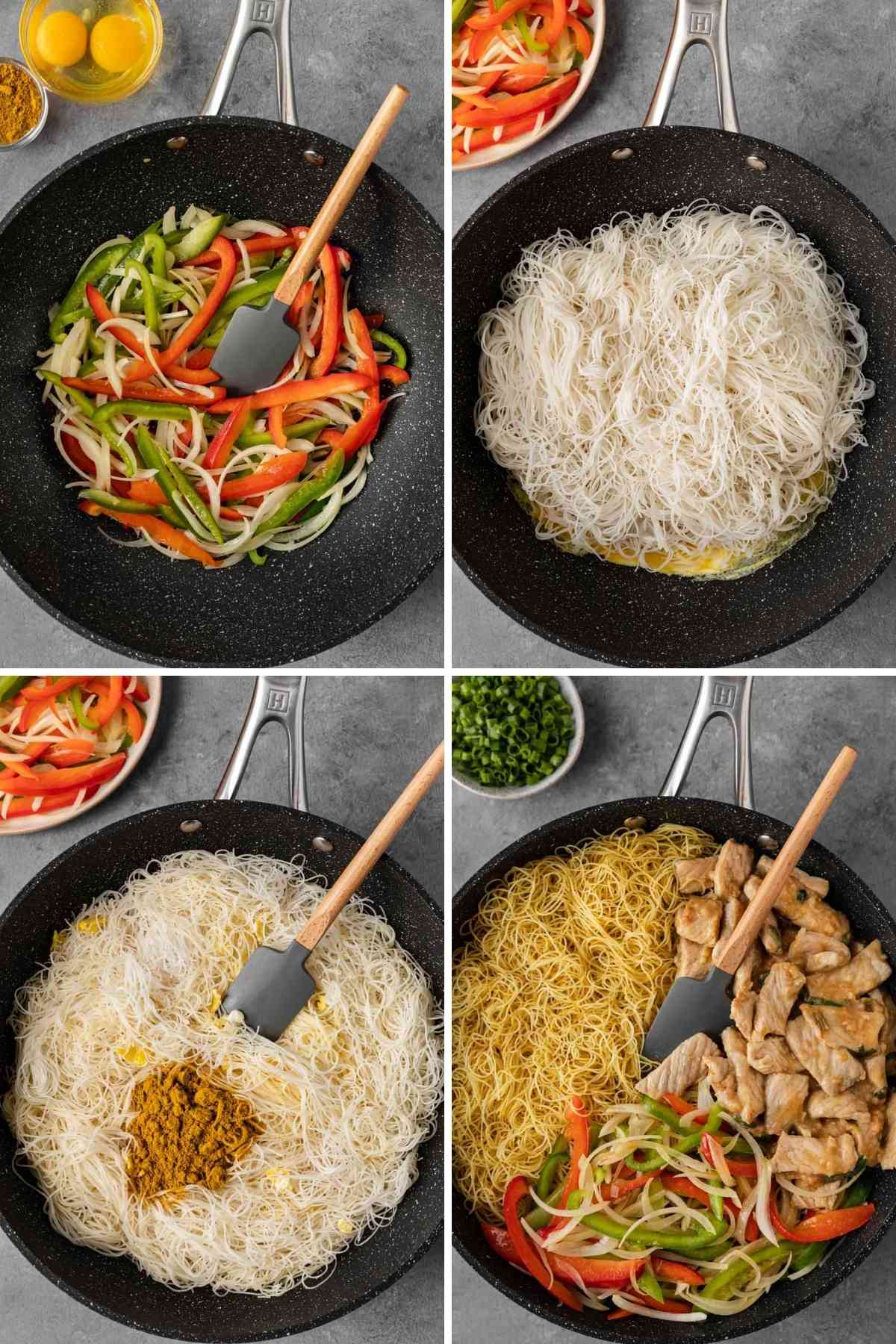 FAQs for Singapore Noodles
What kind of noodles should I use for Singapore-style Noodles?
You want to use thin rice stick noodles, preferably made with just rice and water since additives like tapioca starch can make them too sticky for this noodle stir fry. The best noodles are rice vermicelli, but you can also use other rice noodles, 
Should I use a wok to make Singapore Noodles?
Use a wok if you have one. A wok heats everything up evenly and quickly so you get perfectly cooked meat and crisp tender veggies in no time. A non-stick frying pan can be used instead of a wok, but make sure it's large enough to cook everything in an even layer that isn't too deep.

Create a free account to

Save Recipes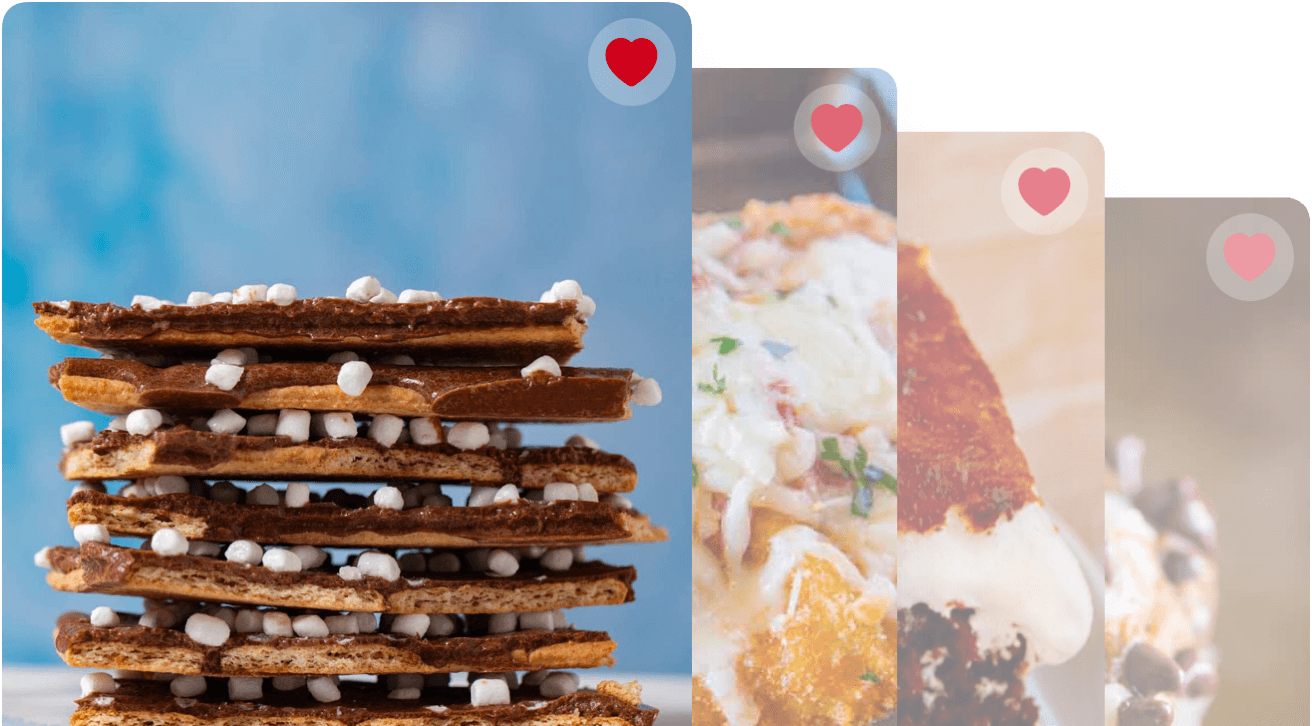 Key Ingredients
Vermicelli Noodles: Rice vermicelli noodles are long, thin rice noodles that are popular in Asian cooking, especially in stir fry dishes. Unlike wheat or semolina pasta (think Italian pasta), you do not have to boil the noodles. Instead you soak them in cold water until they have softened but are still firm. Make sure to drain them well and follow the package instructions to prevent mushy noodles.
Pork: Singapore Noodles dishes are usually made with some kind of pork. Often recipes use Char Siu pork, or Chinese BBQ Pork, but this recipe makes it easier with quick marinated pork strips. You still get the savory, pork flavors without having to either make or buy the special BBQ pork.
Curry Powder: What really sets this dish apart is the distinct complex warm, earthy, spiced flavor or Madras curry powder! Madras is a little spicier than regular curry powder because it has additional dried chiles blended in. If you want a more mild dish, use regular yellow curry powder.
Veggies: The stir-fry veggies are a simple blend of bell peppers and onions. They are cooked only for a minute so they are crisp-tender, adding some crunch and bright fresh flavor.
Egg: Some scrambled eggs are a popular part of stir fry noodle dishes. Not only do they add a little extra protein, but the eggs add some flavor and little texture contrast.
Seasonings: These quick and easy noodles are made with classic Asian seasonings like garlic, scallions, and ginger. The wine and soy sauce help marinate the pork so it is super juicy and full of Asian flavor.
Can Singapore Noodles be made ahead of time?
Singapore Noodles, as with most stir-fry dishes, are best served hot and fresh. However you can prep and marinate the pork up to a day ahead of time. Just pop the sliced pork in the bag with the sauce ingredients and refrigerate for up to 24 hours.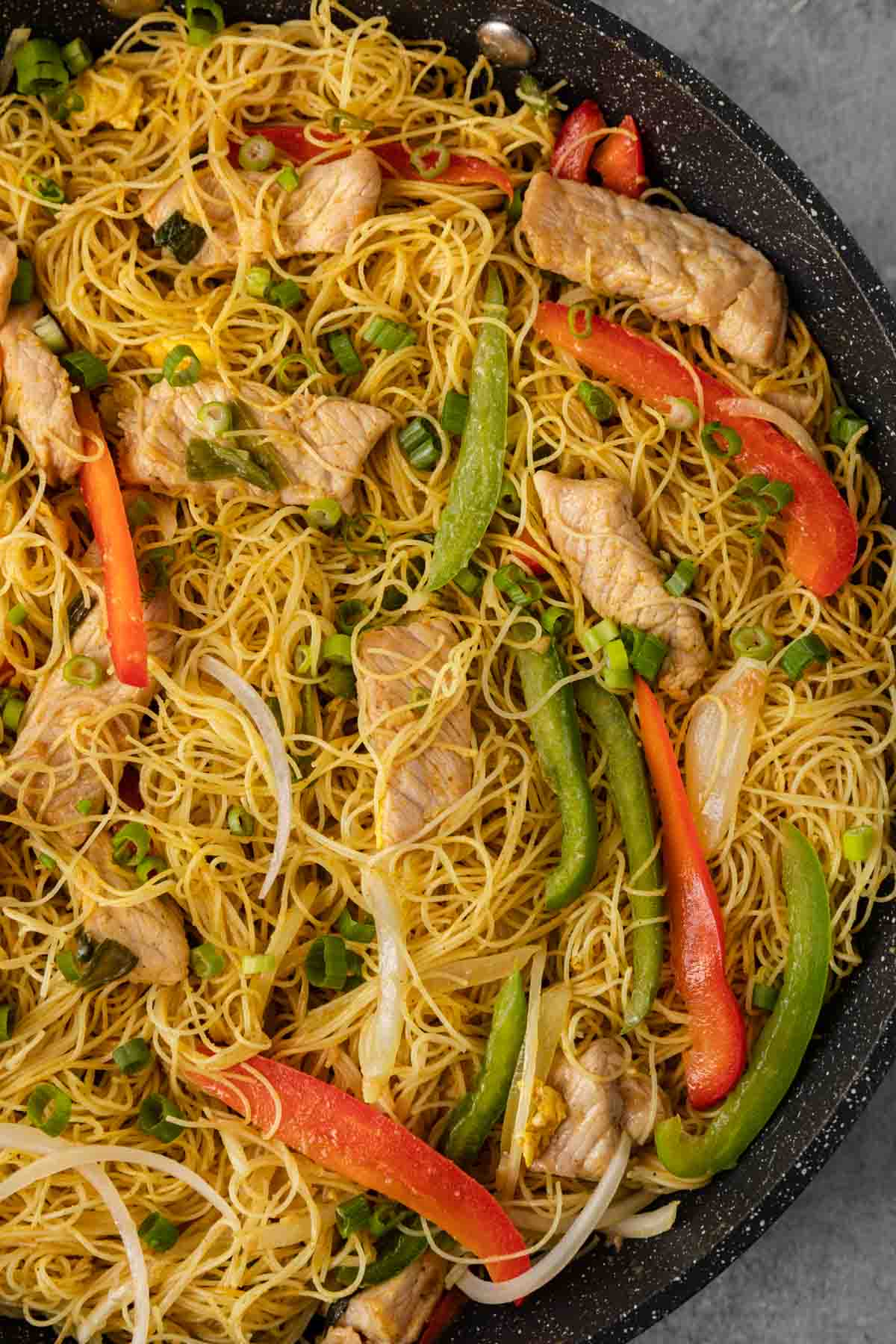 Variations
Veggies: Other veggies that are great for stir-frying are snow peas, carrots, zucchini, and mushrooms. Julienne carrots and zucchini or cut into bite size pieces. Garnish Singapore Noodles with bean sprouts, cilantro, or diced green onions.
Meat: Instead of the strips of pork you can use other quick-cooking protein like shrimp, ground pork. or thinly cut strips of beef and chicken. You can use pre-cooked meat like Chinese BBQ Pork (char siu pork), Ham Steaks, or baked tofu, sliced thin and added at the end to heat through.
Seasonings: Add Chinese seasonings like fresh ginger, oyster sauce, fish sauce, rice wine or Chinese five spice. You can add milder curry powders, like garam masala, or kick up the heat with dried chiles and red pepper flakes. A drizzle of sesame oil is a way to up the flavor profile, but it has a strong taste so use it sparingly.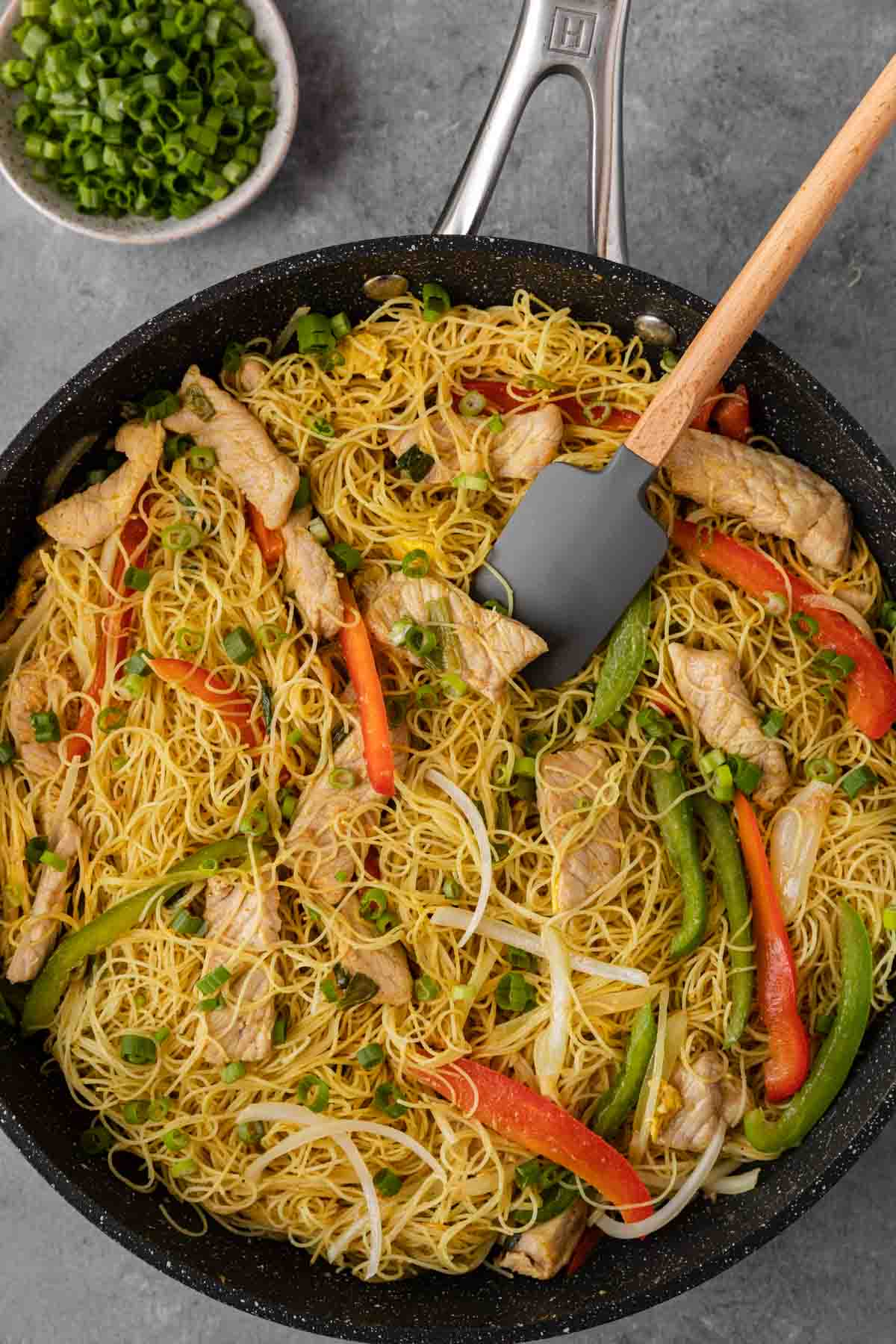 More Popular Asian Noodle Recipes
How to Store
Serve: Singapore Rice Noodles can be at room temperature for up to 2 hours and are best served hot and fresh from the wok. Cool Singapore Noodles before storing in an airtight container and refrigerate up to 4 days.
Reheat: Reheat the noodles and sauce mixture in a frying pan or wok over medium-high heat in about a teaspoon oil for about 3-4 minutes. Use higher than medium heat and only a little bit of vegetable oil to reheat them or you will get oily, mushy noodles.
Freeze: Store Singapore Noodles in a sealed container and freeze up to 2 months. Thaw overnight in the refrigerator before reheating on the stove top as directed above.


Ingredients
1

pound

thin rice noodles

, soaked in cold water for 2 hours, and drained

1

pound

boneless pork chops

, cut into ¼ inch strips

1/4

cup

white wine

2

tablespoons

soy sauce

1

tablespoon

cornstarch

1/2

teaspoon

ground white pepper

Canola oil

, to cook

1

teaspoon

ground ginger

1/2

cup

scallions

, cut into 1 inch lengths

2

garlic cloves

, minced

1/2

cup

red bell pepper

, julienned

1/2

cup

green bell pepper

, julienned

1

onion

, julienned

2

large

eggs

, lightly scrambled

2

tablespoons

Madras curry powder
Instructions
Marinate pork in soy sauce, wine, cornstarch and white pepper for

20 minutes

.

In a hot wok coated well with oil, stir fry ginger, scallions and garlic.

Add marinated pork to oil and stir fry quickly for

30 seconds to one minute

.

Remove pork and set aside.

Use same oil to stir fry peppers and onions, cooking for

1 minute

and set aside.

Wipe out wok and coat well with oil.

When oil is smoking hot, add 2 beaten eggs and rotate the pan to quickly spread the eggs into a pancake shape.

While the egg is still partially fluid, add rice noodles to the wok.

Stir and fold noodles. The eggs should be broken up into small pieces and dispersed uniformly.

Continue to stir to avoid noodles from sticking to the pan. Add curry powder.

When noodles are steaming hot, add pork and vegetables back to the wok and toss to combine. Stir and cook until everything is hot.
Nutrition
Calories:
456
kcal
|
Carbohydrates:
70
g
|
Protein:
22
g
|
Fat:
7
g
|
Saturated Fat:
3
g
|
Cholesterol:
105
mg
|
Sodium:
535
mg
|
Potassium:
473
mg
|
Fiber:
3
g
|
Sugar:
2
g
|
Vitamin A:
617
IU
|
Vitamin C:
29
mg
|
Calcium:
49
mg
|
Iron:
2
mg