Panda Express Beijing Beef is an awesome copycat of the original  with crispy strips of marinated beef, bell peppers and sliced onions, tossed in the wok with a tangy sweet and spicy sauce.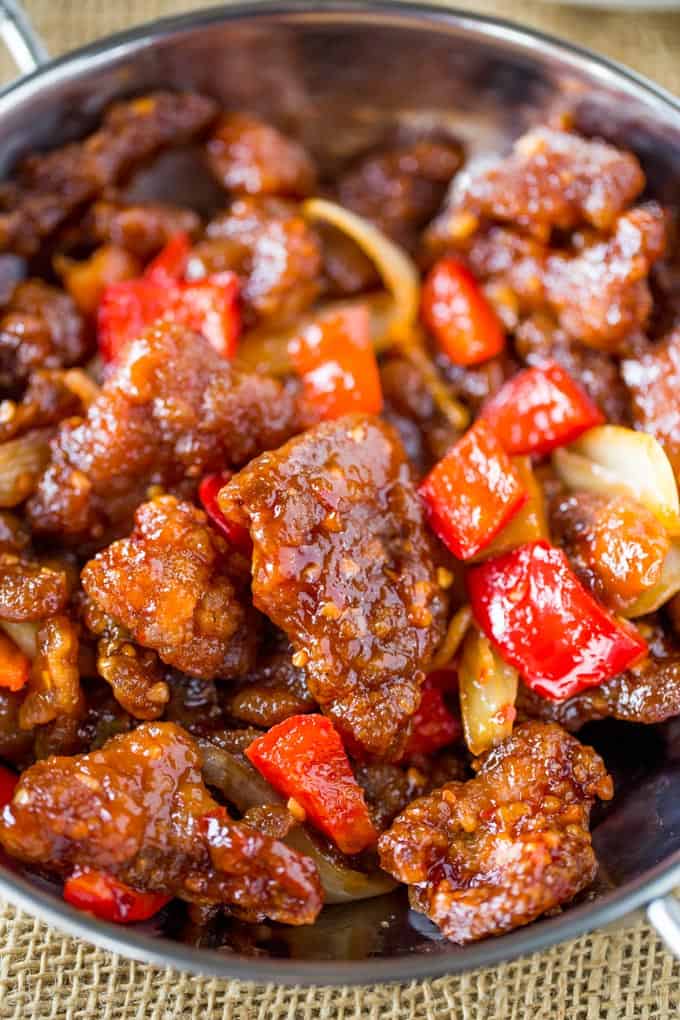 Panda Express Beijing Beef is the beef answer to the insanely popular Panda Express Orange Chicken everyone craves so much. My favorite part of Beijing Beef though is the added hint of spice that always was lacking for me in the slightly too sweet orange chicken recipe.
Turns out the idea was a hit, Panda Express Beijing Beef is a totally popular pick. The breading keeps a crunch to the outside even though it is covered in the sweet, spicy, sticky sauce and the red bell peppers and onions provide a soft, deliciously sweet counterpart to the spicy beef.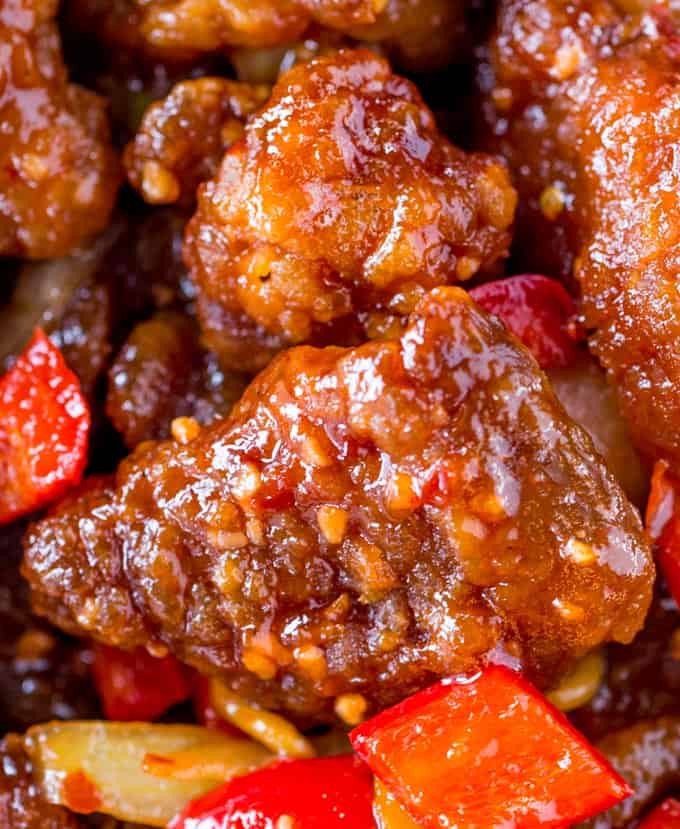 Keeping track of all the Panda Express copycat recipes here on the blog? I have a whole page dedicated to Panda Express Recipes… every single one in fact: Panda Express Recipes Index
Looking for more Chinese Food in general?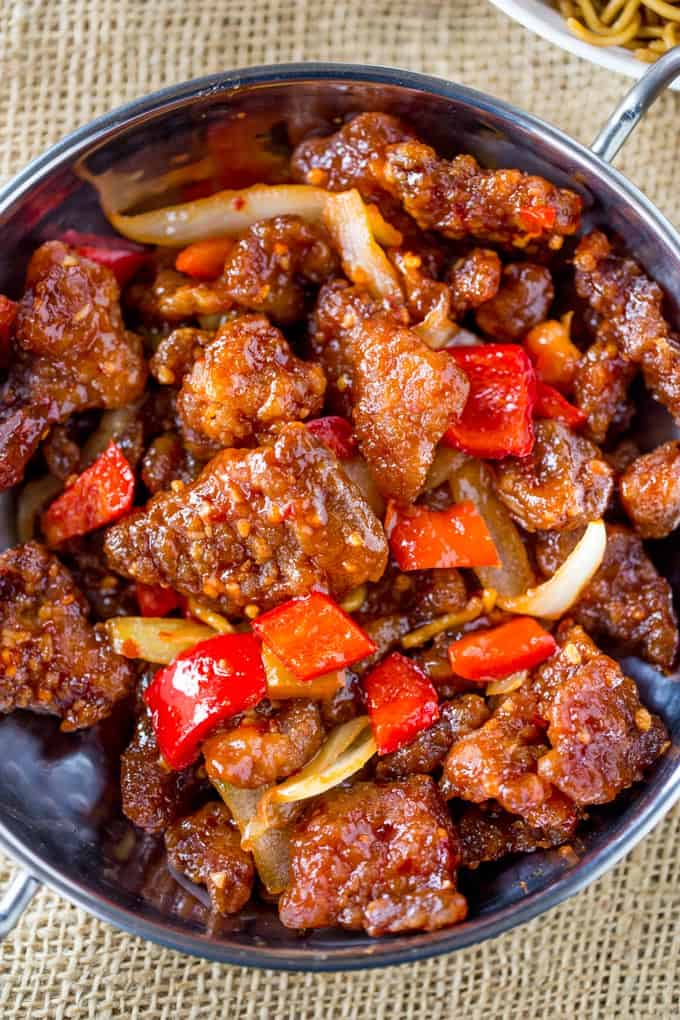 This dish may seem like it has a LONG list of ingredients, but that is because it is a multi-step recipe. If this is more in-depth or time intensive than you would like you can make some quick adjustments to help get dinner on the table sooner.
Buy presliced (but not seasoned) fajita beef meat from your butcher. It will NOT be as thin as I recommend but it is a quick swap if you're in a rush.
Mix up your Panda Express Beijing Beef sauce the weekend before and keep it in the fridge. Most of the prep time is in combining these ingredients.
Skip the egg batter altogether and just toss the beef in cornstarch. Your beef will not have as much crust, but it will still be plenty crispy and delicious.
Grab some from Panda 😉 ok, ok, this one is a joke.
Tools Used in the Making of this Panda Express Beijing Beef Recipe:
Soy Sauce: Nothing much to say here except Kikkoman has the best flavor overall and I always recommend reduced sodium.
Wok: Great for high heat, quick cooking. This wok is a great addition to your kitchen if you love cooking Chinese food or stir fries in general.
Large Frying Pan: I use this Cuisinart for most of my non cast iron cooking unless I am going with a stainless steel option, then I choose my All Clad.
Oyster Sauce: This is a unique flavor and ingredient. If you avoid seafood and want another option I recommend Vegetarian Oyster Sauce (made from mushrooms) but I don't recommend you swap this out for something else altogether.
Hoisin Sauce: Considered to be like an Asian BBQ sauce, this is a unique flavor I would not leave out of the dish.
Sweet Chili Sauce: Adds that sweet, glaze to the dish that you'll have trouble replicating without quite a lot of work, this is at the heart of the dish. If you're in a pinch use the Trader Joe's brand, add a bit more than written of the crushed red peppers since the Trader Joe's variety is not spicy at all.


Ingredients
1

pound

flank steak

1

cup

canola oil

4

cloves

garlic

minced

1

yellow onion

sliced

1

pieces

red bell pepper

cut into 1"

1/4

cup

cornstarch

divided

1/4

teaspoon

salt

3

egg whites

beaten

1

teaspoon

cornstarch

1/2

cup

water

1/4

cup

sugar

3

tablespoons

ketchup

6

tablespoons

Hoisin sauce

1

tablespoon

low sodium soy sauce

2

teaspoons

oyster sauce

4

teaspoons

sweet chili sauce

1

teaspoons

crushed red peppers

2

tablespoons

apple cider vinegar
Instructions
Cut the flank steak against the grain into thin ¼ inch slices.

In a medium sized bowl add the beef, egg, salt and 1 teaspoon cornstarch and let marinate for

30 minutes

to an hour.

To make the Beijing Beef Sauce, in a small bowl whisk together the ½ cup water, ¼ cup sugar, ketchup, hoisin, soy sauce, oyster sauce, sweet chili sauce, crushed red peppers and apple cider vinegar.

After the beef has finishing marinating add 2 tablespoons cornstarch to a bowl, add the marinated beef (discard the extra marinade).

Heat a small saucepan with the oil on medium-high (I use a small saucepan so that I can get a deep fry on this without using a lot of oil. So I fry in small batches, if you don't mind using more oil, go for a bigger pot and you can fry these up much faster).

With the last two tablespoons of cornstarch toss the beef one last time and shake off any excess cornstarch.

Fry the slices, in batches, until golden brown (

2-3 minutes

).

Heat a large pan on high heat and use two tablespoons of the oil you just fried the beef in.

Add the onion and bell pepper and cook for

2-3 minutes

, until it just starts caramelizing on the edges.

Add the garlic in and continue to cook a few more seconds until fragrant.

Remove the veggies and put them with the beef on a plate.

Add the Beijing Beef sauce to the large pan and cook on high until it thickens, about

3-5 minutes

.

Add the beef and vegetables into the sauce and toss to combine.

Serve immediately.
Nutrition
Calories:
395
kcal
|
Carbohydrates:
40
g
|
Protein:
28
g
|
Fat:
12
g
|
Saturated Fat:
2
g
|
Cholesterol:
68
mg
|
Sodium:
1009
mg
|
Potassium:
549
mg
|
Fiber:
1
g
|
Sugar:
25
g
|
Vitamin A:
205
IU
|
Vitamin C:
3.8
mg
|
Calcium:
43
mg
|
Iron:
2.3
mg