Orange Chicken Burrito with Panda Express Orange Chicken sauce takes just 30 minutes to make and tastes like a mix of two favorite takeout spots.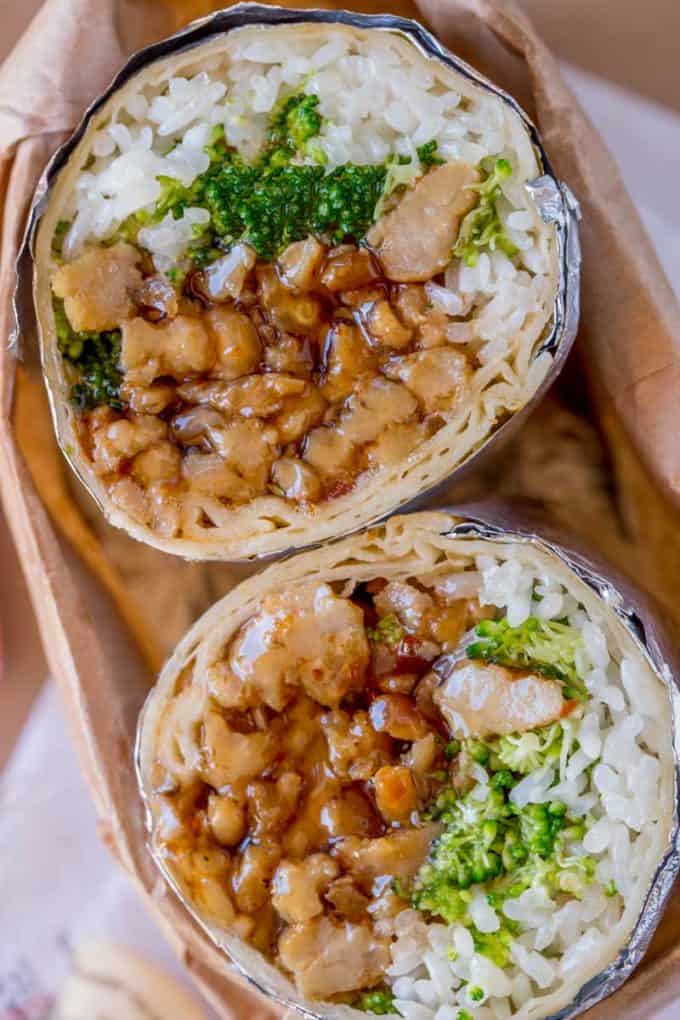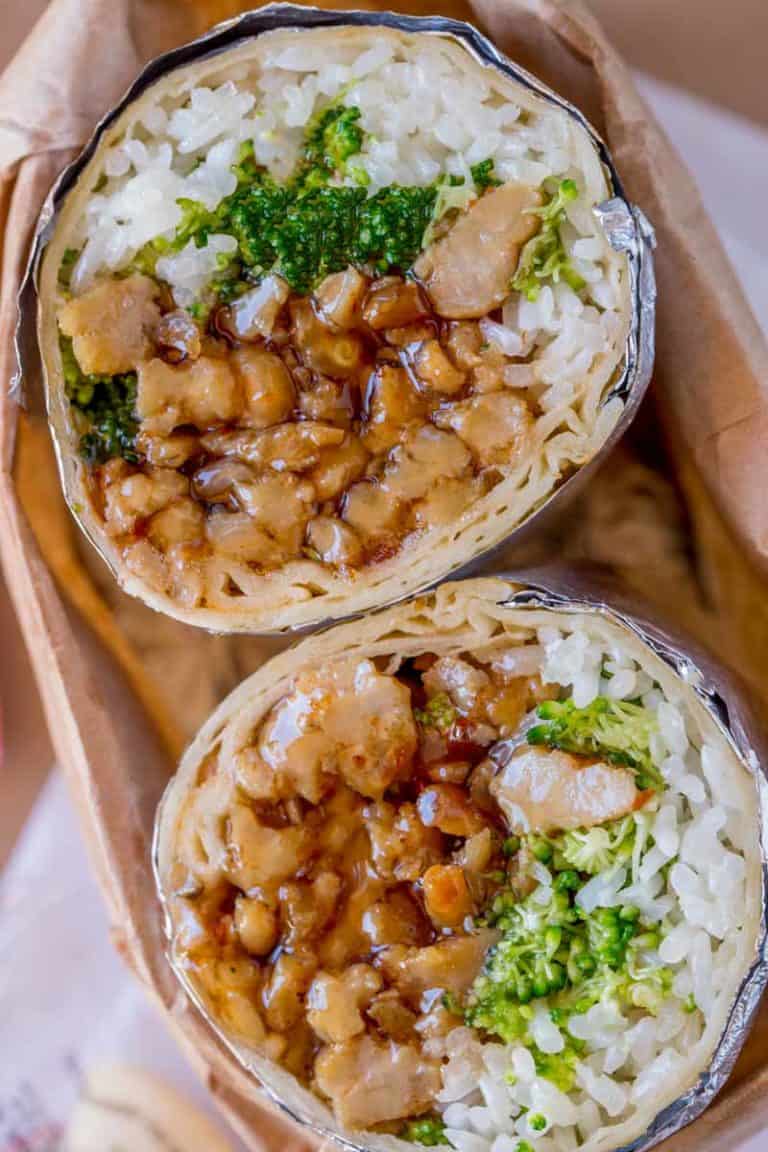 This Orange Chicken Burrito is the answer to all your "Chinese food or Mexican food" dilemmas with crispy Ground Orange Chicken and lightly seasoned broccoli and steamed rice, you will LOVE the flavors and the fun new way to eat Orange Chicken.
We recently started making all of our favorite Chinese food flavors into ground meat options and into burritos. The reaction by friends and coworkers who've tried them has been awesome. Most people were totally surprised when they took their first bite after just being told "It's a chicken burrito" and every single one of them had some variation of "woah, why didn't I ever think of this" to say.
I had a moment I wanted to go all fancy with it too, when I had just started the blog a recipe for an Sushirrito California Roll Burrito went a bit nuts on Buzzfeed. We made lots of different varieties at home including one wrapped with rice inside out and rolled in spicy cheetos. We tried that with this burrito and while it was AMAZING and we'll do it again at home, it added a totally different flavor and an extra 30 minutes to the process.
This Ground Orange Chicken Burrito is the perfect weeknight meal or use for your leftovers if you had enjoyed the recipe previously as an entree in a bowl with veggies and rice.
This Ground Orange Chicken is amazing because it still has the crisp texture because we brown it well before breaking the chicken apart and it still has that amazing Panda Express Orange Chicken Sauce that we all love.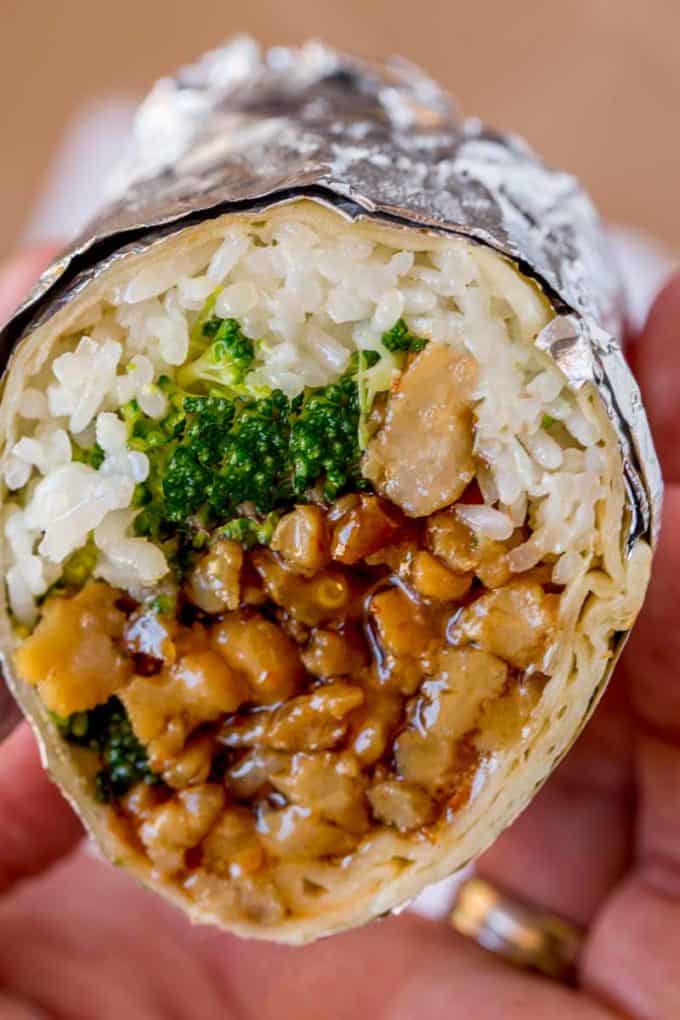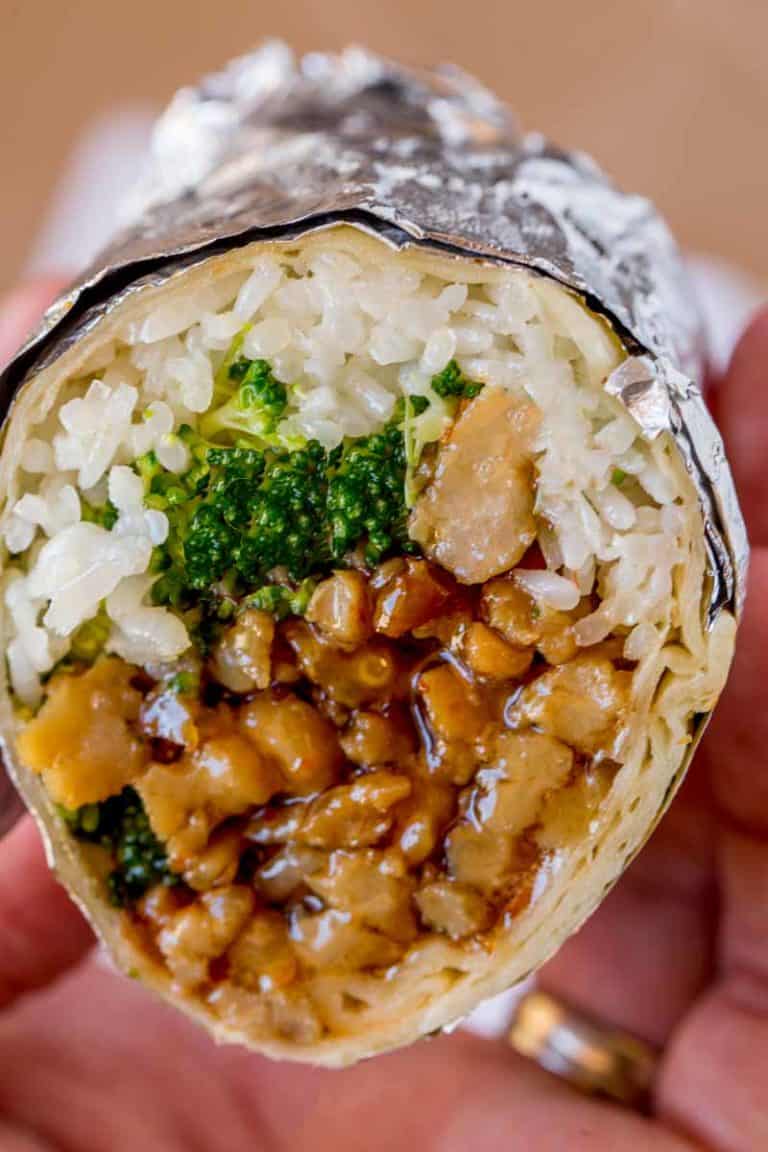 Want more Chinese Food Recipes?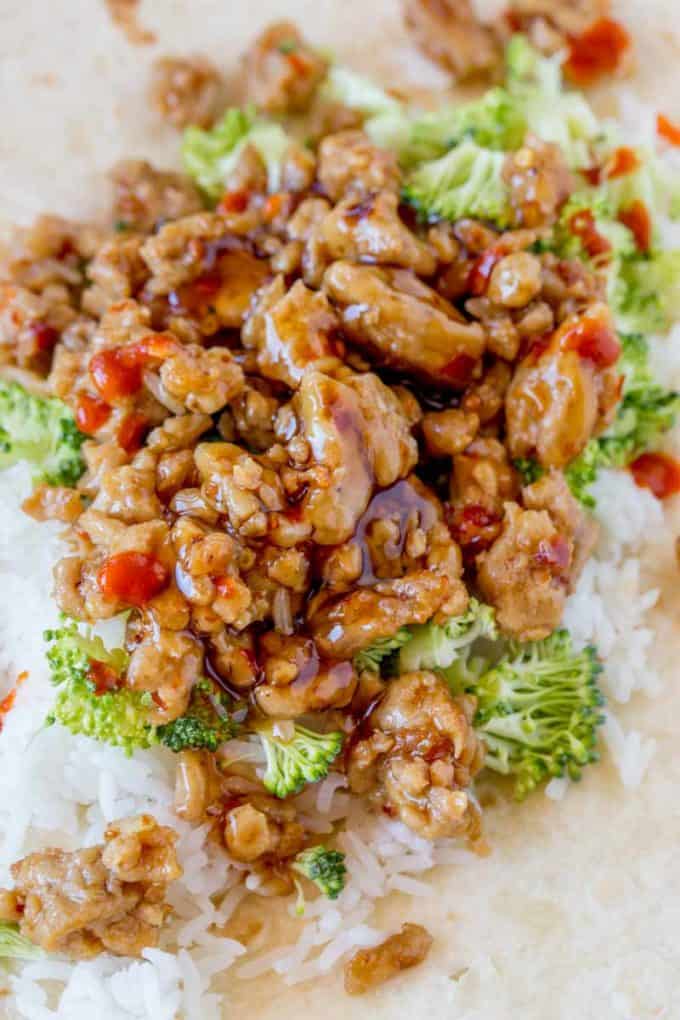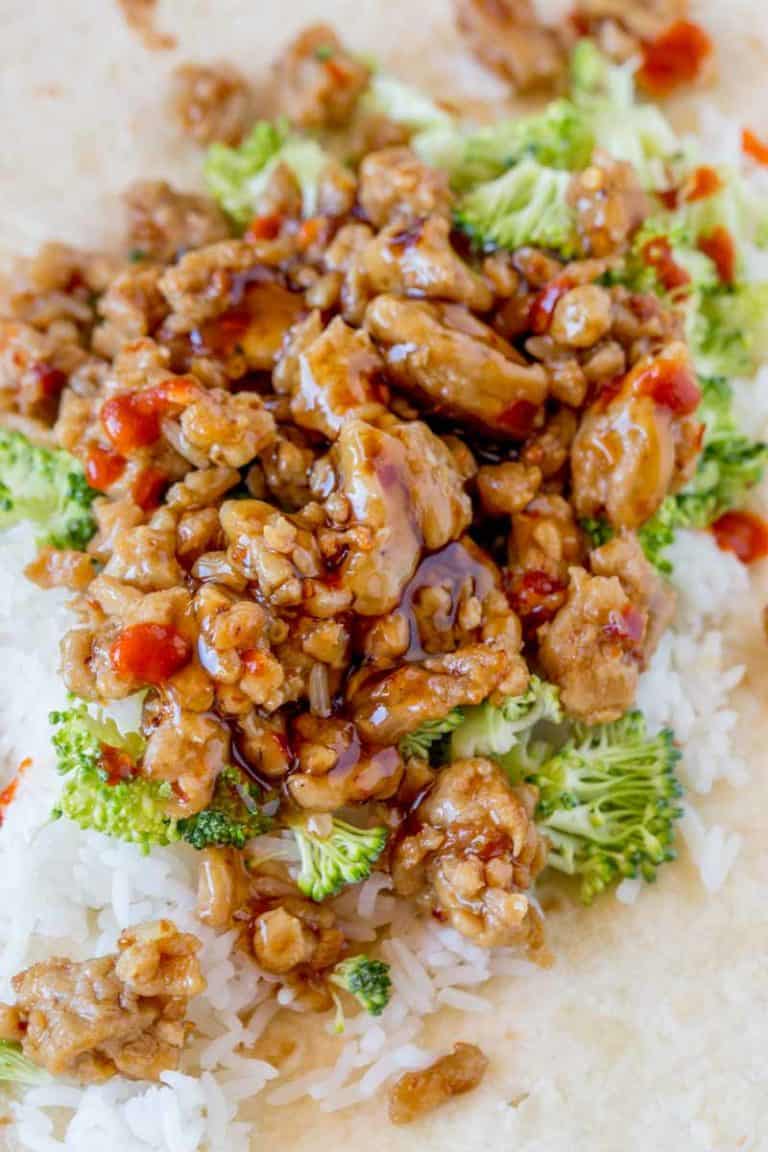 Tools Used in the making of the Orange Chicken Burrito:
Wok: Great for high heat, quick cooking. This wok is a great addition to your kitchen if you love cooking Chinese food or stir fries in general.
Large Frying Pan: I use this Cuisinart for most of my non cast iron cooking unless I am going with a stainless steel option, then I choose my All Clad.
Soy Sauce: Nothing much to say here except Kikkoman has the best flavor overall and I always recommend reduced sodium.
Sesame Oil: The flavor of sesame oil in this dish is unmistakeable and not really able to be substituted. Some Asian grocery stores will try and sell less expensive options that aren't actually sesame oil, so just be sure the one you're buying is authentic sesame oil.
Rice Wine: Adds an authentic flavor to the sauce, in a pinch if you absolutely can't find it you can substitute white wine, but it will make it taste slightly different.


Ingredients
1

pound

ground chicken

1

tablespoons

ginger root

minced

2

teaspoons

garlic

minced

1/4

tsp

hot red chili pepper

crushed

1

tablespoon

rice wine

2

tablespoons

water

1/2

teaspoon

sesame oil

4

teaspoons

soy sauce

5

tablespoons

sugar

5

tablespoons

white vinegar

zest of ½ orange

1

tablespoon

water

1

tablespoon

cornstarch

3

cups

cooked rice

1 1/2

cups

cooked broccoli

2

teaspoons

oyster sauce

1/4

teaspoon

sriracha

(or more, if you like sriracha)

1

tablespoon

mayonnaise
Instructions
To make the sauce combine the rice wine, 2 tablespoons water, sesame oil, soy sauce, sugar, white vinegar, and orange zest.

To make the cornstarch mixture, dissolve 1 tablespoon cornstarch in the remaining 1 tablespoon of water and set aside.

To a large pan add 1 tablespoon oil and ground chicken.

Cook until a good crust forms before breaking apart, then finish cooking by breaking it apart with a spatula and cooking for an additional

2-3 minutes

.

Once the chicken is cooked add the ginger, garlic and crushed red pepper and cook for about

10 seconds

.

Add the orange sauce and bring to boil.

Add the cornstarch mixture to the pan and cook for just a few seconds, stirring until it thickens.

Warm a large burrito sized tortilla in the microwave for just a few seconds.

In a small bowl mix the broccoli with the oyster sauce, sriracha and mayonnaise.

Scoop on ½ cup of white rice, ¼ cup broccoli mixture, ½ cup of ground orange chicken and a squirt of Sriracha (if you like Sriracha)

Fold in two sides then roll the burrito.

Wrap with foil.
Nutrition
Serving:
1
g
|
Calories:
293
kcal
|
Carbohydrates:
36
g
|
Protein:
17
g
|
Fat:
9
g
|
Saturated Fat:
2
g
|
Cholesterol:
66
mg
|
Sodium:
352
mg
|
Potassium:
503
mg
|
Fiber:
1
g
|
Sugar:
11
g
|
Vitamin A:
140
IU
|
Vitamin C:
20.9
mg
|
Calcium:
25
mg
|
Iron:
1
mg