Persian Yellow Rice is a flavorful, easy rice recipe and must have side dish for Persian food! Fluffy basmati rice cooked in saffron-infused chicken broth.
Boldly seasoned, bright turmeric rice is essential to exotic dishes like Halal Cart Chicken or Vegetable Biryani. This saffron-infused Rice Recipe is just as bold and flavorful and can be served as a side in any cuisine!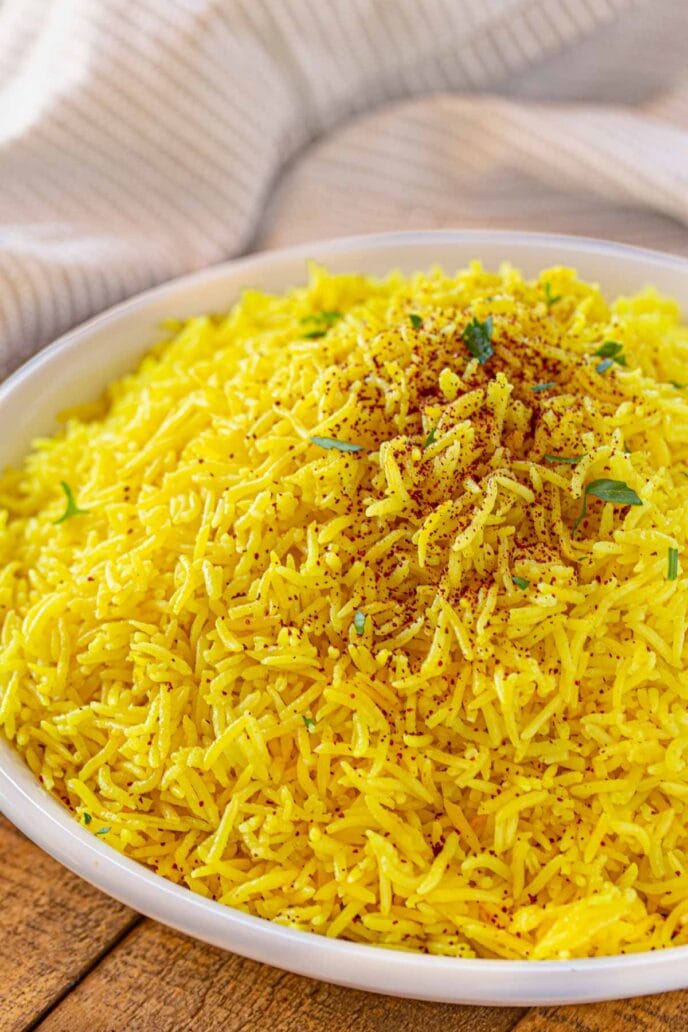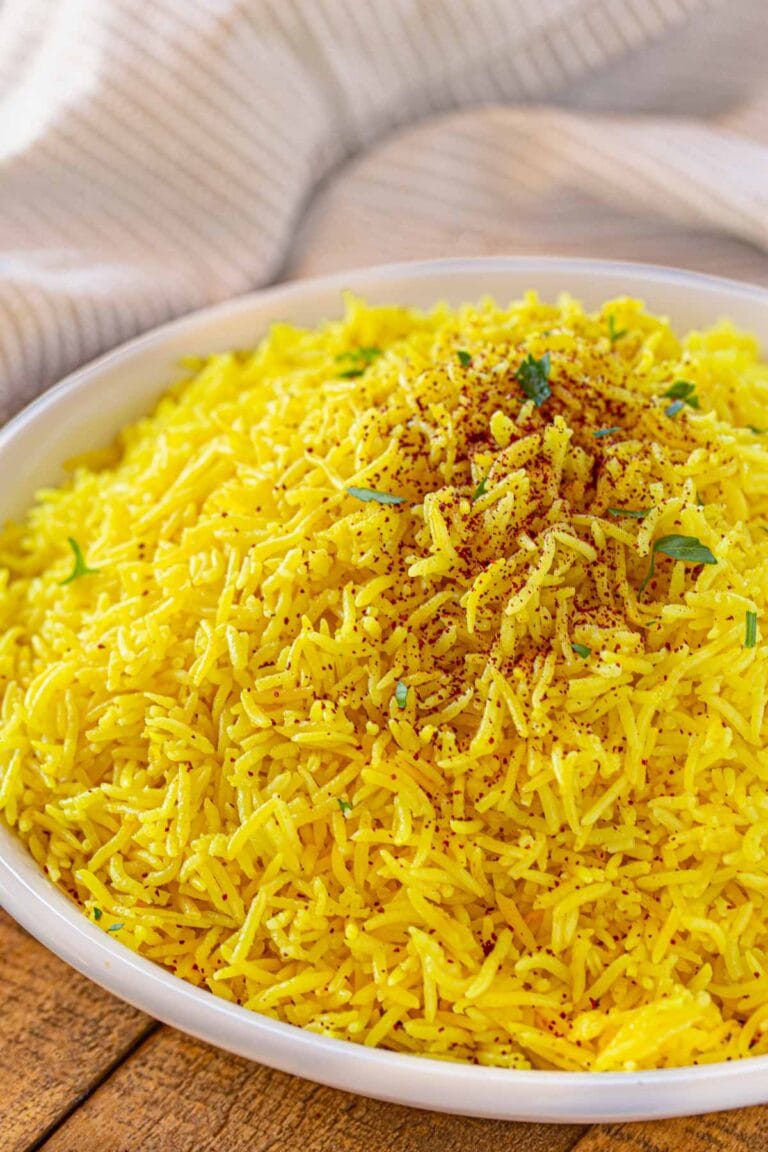 PERSIAN YELLOW RICE
Also known as Saffron Rice, Persian Saffron Rice, or Pulao, this tasty and easy Persian Yellow Rice is a staple in Persian and Middle Eastern cooking. Made in just 30 minutes and only 5 ingredients, this vibrant yellow (with no food coloring!) Persian rice is savory yet slightly sweet and will bring an international flair to any weeknight dinner.
Persian Yellow Rice is a dish that sounds fancy and complicated, but it comes down to a handful of specific ingredients and a few step-by-step instructions. You want to use a fragrant long grain rice like basmati or jasmine rice, and of course you need saffron. You could use turmeric instead, but the subtle floral flavor of saffron is worth the extra cost.
Of the different types of Persian Rice dishes that you can make, this is the most simple and straight forward saffron rice recipe. The saffron is soaked in chicken broth for at least 20 minutes so you get bold flavor and color using a tiny amount. Instead of being loaded with dried fruits and nuts, fried, or even cooked with onions, this Persian Yellow Rice recipe allows the saffron to shine.
Saffron in Rice
Saffron threads are an expensive spice to keep on hand, but luckily a little goes a long way. Like a many spices, you want to store saffron in its whole form and grind it fresh to make a dish like Persian Yellow Rice. Use a mortar and pestle for the best results, an electric grinder will trap too much the valuable saffron. Freeze saffron threads to keep them fresh and flavorful longer.
This Persian Yellow Rice is topped with a dusting of sumac, another traditional spice found in a lot of Middle Eastern and Persian recipes. Sumac has a tangy, lemony taste that is slightly fruity. Sumac is what gives za'atar spice blend (huge in Middle Eastern cooking) its signature flavor. It's a versatile spice that brings a lot of flavor and pairs perfectly with the saffron.
Saffron-infused Persian Yellow Rice is essential side for Persian dishes, but it goes well with dishes from around the world! The key is to pair Saffron Rice with dishes that won't overpower the subtle fragrant flavor. Serve Persian Yellow Rice with exotic dishes like Indian Butter Chicken and Cuban Mojo Pork or with everyday favorites like Roast Chicken.
MORE RICE RECIPES

Create a free account to

Save Recipes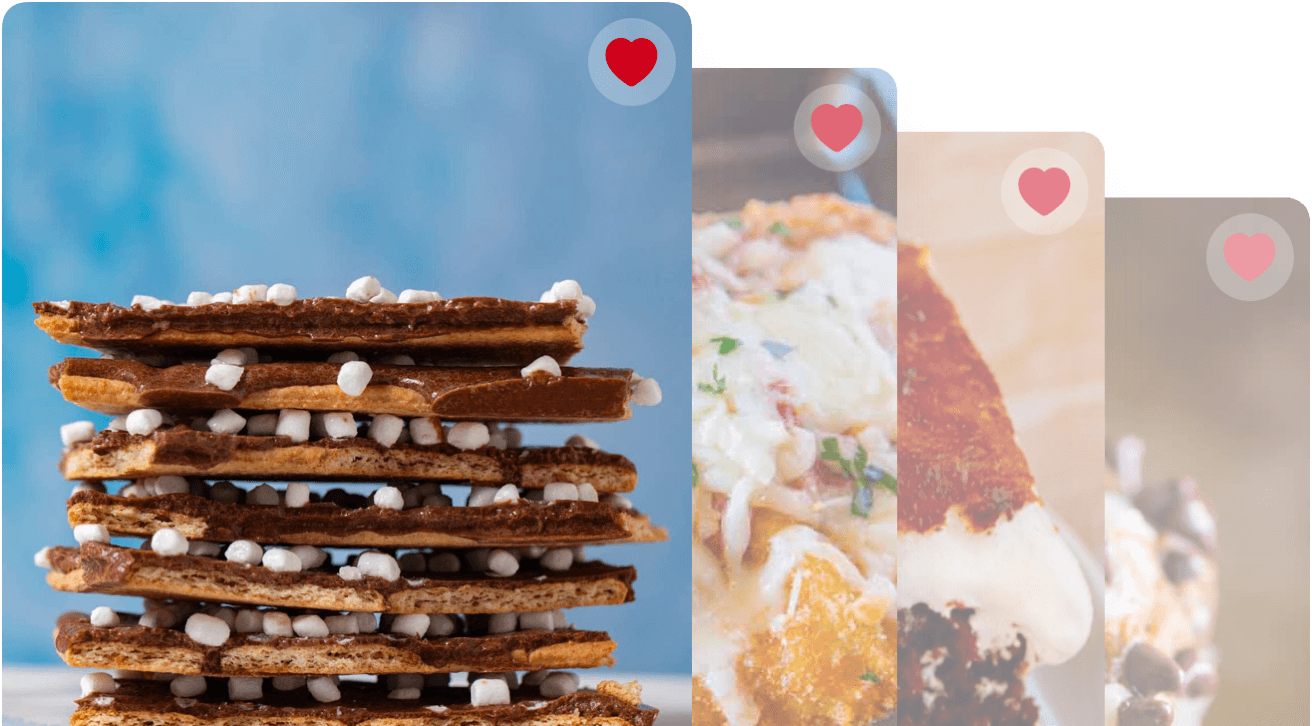 VARIATIONS ON PERSIAN YELLOW RICE
Rice: While you can use any rice, you want to use a long grain white rice to make Persian Yellow Rice for the fluffiest, tastiest rice. Jasmine rice is the best substitute for basmati rice.
Vegetables: For an easy Rice Pilaf-style dish, add microwaved frozen peas and carrots, or veggies like cauliflower, bell peppers, onions, or broccoli.
Tahdig: Tahdig is pre-cooked saffron rice with mix-ins like Marcona almonds, dates, Turkish apricots, and pistachios added. Once you mix everything, pan-fry the rice in a skillet with ghee or butter until a golden crust is formed.
Spices: Other traditional spices used in Persian cooking that compliment saffron are cardamom, turmeric, orange zest, and coriander.
Vegan: Easily make this Vegan Persian Rice and substitute vegetable stock for the chicken stock and using coconut oil, vegetable oil, or olive oil for the melted butter.
Instant Pot Persian Yellow Rice
Steep saffron in boiling chicken stock or water for 20 minutes.
Turn Instant Pot on to Sauté Function. Melt butter, coating the bottom of the pot.
Add rice and salt, stirring until butter is absorbed but don't brown rice.
Turn off Instant Pot and add the saffron stock and remaining broth, stirring until combined.
Seal lid and pressure valve. Set manual pressure on high and cook for 4 minutes.
Release pressure naturally. Fluff rice with a fork and garnish with sumac before serving.
Rice Cooker Persian Yellow Rice
Steep the ground saffron threads in ½ cup boiling broth (or water) for 20 minutes.
Add the saffron-infused broth and the remaining ingredients to the rice cooker.
Stir to combine and secure lid.
Set rice cooker to white rice function (if it has one) and cook. Fluff with fork and sprinkle with sumac to serve.
OTHER TASTY RICE DISHES
HOW TO STORE PERSIAN YELLOW RICE
Serve: Persian Yellow Rice can be at room temperature for up to 2 hours before it should be cooled and stored.
Store: Store cooled Persian Rice in an airtight container in the refrigerator for up to 5 days. Reheat on stovetop or in microwave, adding a little broth or butter if dried out.
Freeze: Persian Rice can be stored in the freezer in a sealed container or freezer safe bag for up to 6 months. Thaw overnight in the refrigerator before heating.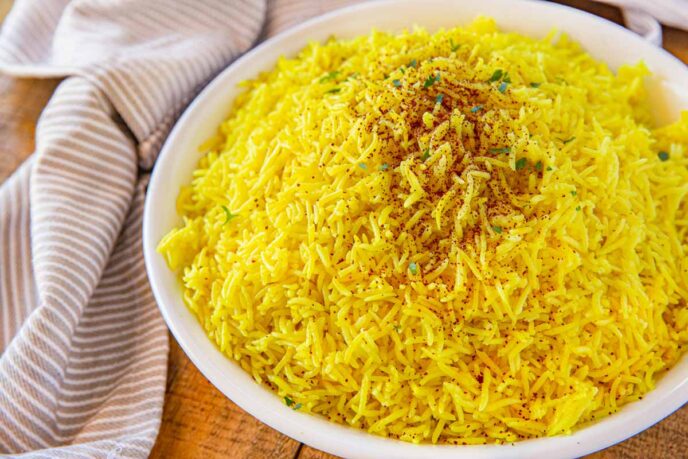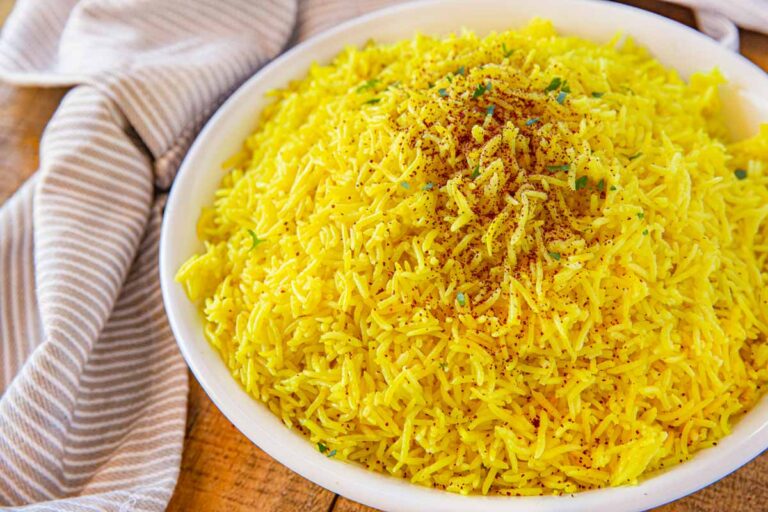 Ingredients
1/8

teaspoon

ground saffron

, about a pinch saffron threads

2

cups

boiling water

, divided

2

tablespoons

butter

1

cup

uncooked basmati or jasmine rice

, rinsed

1

teaspoon

salt

1

teaspoon

ground sumac
Instructions
Steep the saffron in ½ cup boiling water or chicken broth.

In a large dutch oven, melt the butter over medium-high heat.

Stir in the rice and salt.

Cook, stirring constantly, until the rice begins to absorb the butter and becomes opaque, but do not brown the rice.

Pour the remaining 1 ½ cups boiling broth (or water) along with the saffron-infused broth and stir.

Cover immediately, reduce to low heat, and cook 20 minutes, or until all of the liquid is absorbed.

Garnish with sumac to serve.

Note: For best results, do not remove the lid while the rice is cooking.
Nutrition
Calories:
146
kcal
|
Carbohydrates:
25
g
|
Protein:
2
g
|
Fat:
4
g
|
Saturated Fat:
2
g
|
Cholesterol:
10
mg
|
Sodium:
426
mg
|
Potassium:
35
mg
|
Fiber:
1
g
|
Sugar:
1
g
|
Vitamin A:
117
IU
|
Calcium:
11
mg
|
Iron:
1
mg