Guapo's Famous Fresh Pico de Gallo
This salsa and I go way back… to one of my first nights away from home in LA. I went to college in Washington, DC and this restaurant, Guapo's, was the place to go if you were a kid from my university. Over the years it became one of my favorites and when we moved back to DC years later we ended up living directly across the street.
This salsa is one of my strongest memories of all those years in DC. It's spicy, delicious, and easy to throw together. It is one of the staples in our house, used to top meats, salads, used in making my favorite Toasted Mexican Rice, and even with chips on rare occasion. 😉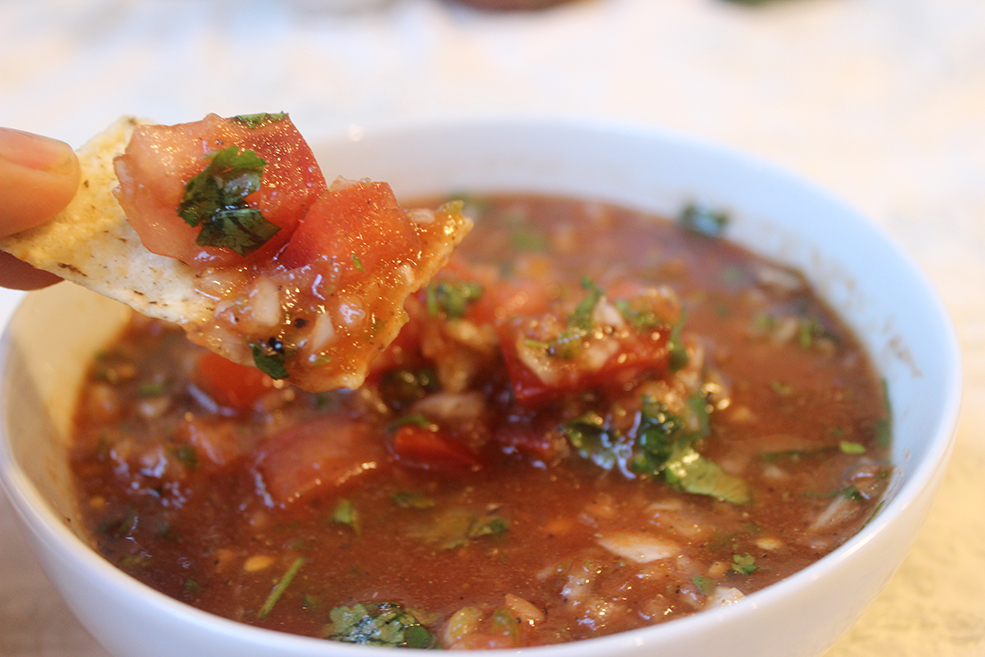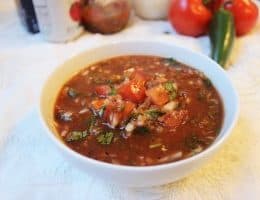 Guapo's Famous Pico de Gallo Salsa
This salsa is one of the most sought after recipes in DC, and a little digging unearthed the Washington Post article from 2006 with the recipe. It takes less than 5 minutes and is hands down the best salsa ever.
Prep Time 5 minutes
Total Time 5 minutes
Ingredients
1 large jalapeno , stemmed (halve and remove seeds for less heat)
1 can tomato juice [11-12 oz]
1 small white onion , chopped
2 medium tomatoes , cored and chopped
1/2 cup coarsely chopped cilantro leaves
1/2 tablespoon kosher salt
1/2 tablespoon freshly ground black pepper
1/2 tablespoon ground cumin
2 tablespoons canola oil
Instructions
Place the jalapeno chili peppers in a food processor with the tomato juice and pulse until almost smooth. Transfer to a medium bowl and add the onions, tomatoes, cilantro, salt, pepper, cumin and oil, stirring to combine. Taste and adjust seasoning. Serve with tortilla chips.
Recipe Notes
Recipe adapted from: http://www.washingtonpost.com/wp-dyn/content/article/2006/06/08/AR2006060801585.html
MY OTHER RECIPES
Dinner, then Dessert, Inc. owns the copyright on all images and text and does not allow for its original recipes and pictures to be reproduced anywhere other than at this site unless authorization is given. If you enjoyed the recipe and would like to publish it on your own site, please re-write it in your own words, and link back to my site and recipe page. Read my disclosure and copyright policy. This post may contain affiliate links.