jump to recipe
El Pollo Loco Avocado Salsa (Copycat)
This post may contain affiliate links. Read my disclosure policy here.
El Pollo Loco Avocado Salsa is the perfect topping for your favorite takeout chicken, spicy and creamy in just five minutes!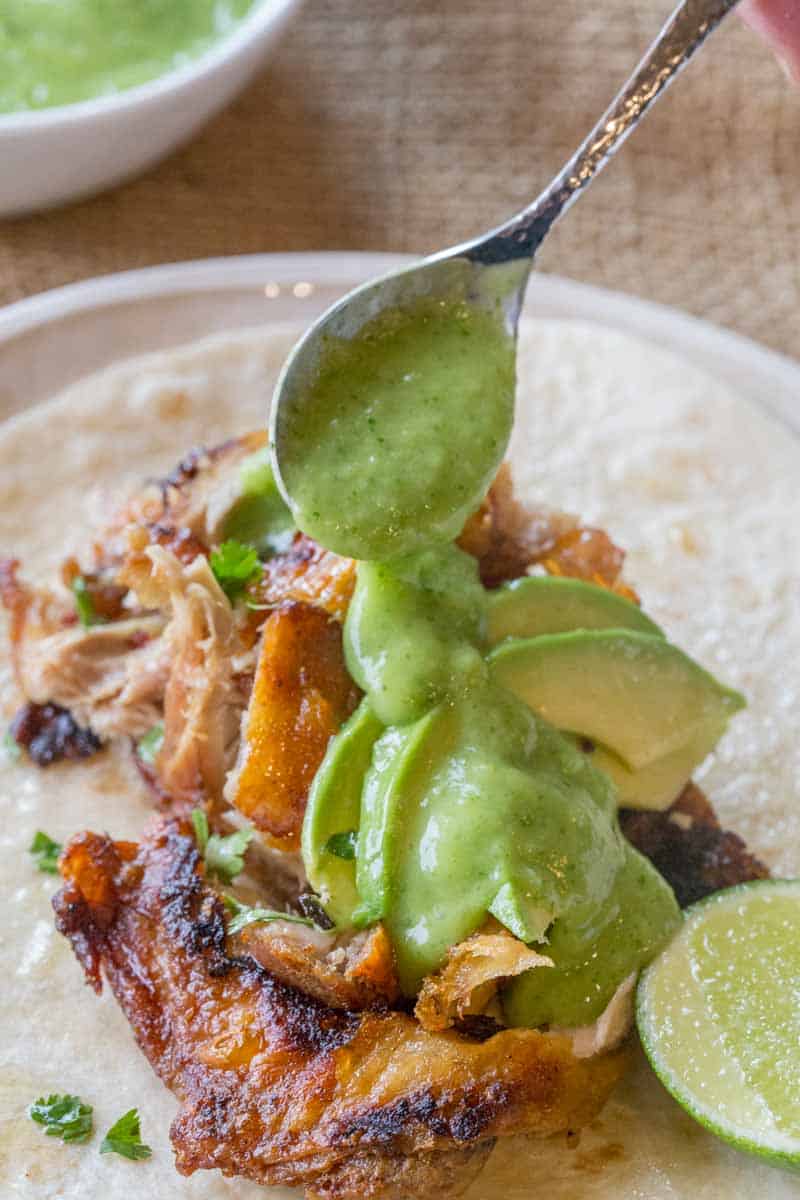 El Pollo Loco Avocado Salsa is one of the sauces at the all you can grab salsa bar in their restaurant and it is always the one I stand in line for. Aside from feeling like you're scoring free guacamole it's creamy, spicy, tastes fresh and is naturally vegan. Sometimes vegans get left out of the creamy salsa/sauces game due to sour cream.
Here's the best secret part of this recipe too. You know those avocados that aren't the prettiest? You cut it open and it feels like a whomp whomp situation or slightly brown streaks that you feel like you can't cut up and serve to your guests? The avocado is still delicious but wouldn't win an avocado modeling contest? This recipe is PERFECT for that avocado.
People have asked me a ton of times, "How do I make avocado salsa?"
This recipe for El Pollo Loco Avocado salsa couldn't be easier. You literally wash, cut veggies in half and toss them into the food processor. Cilantro, Avocado and jalapenos are the main flavors in this salsa and since everything is becoming a puree I don't even bother chopping into smaller pieces.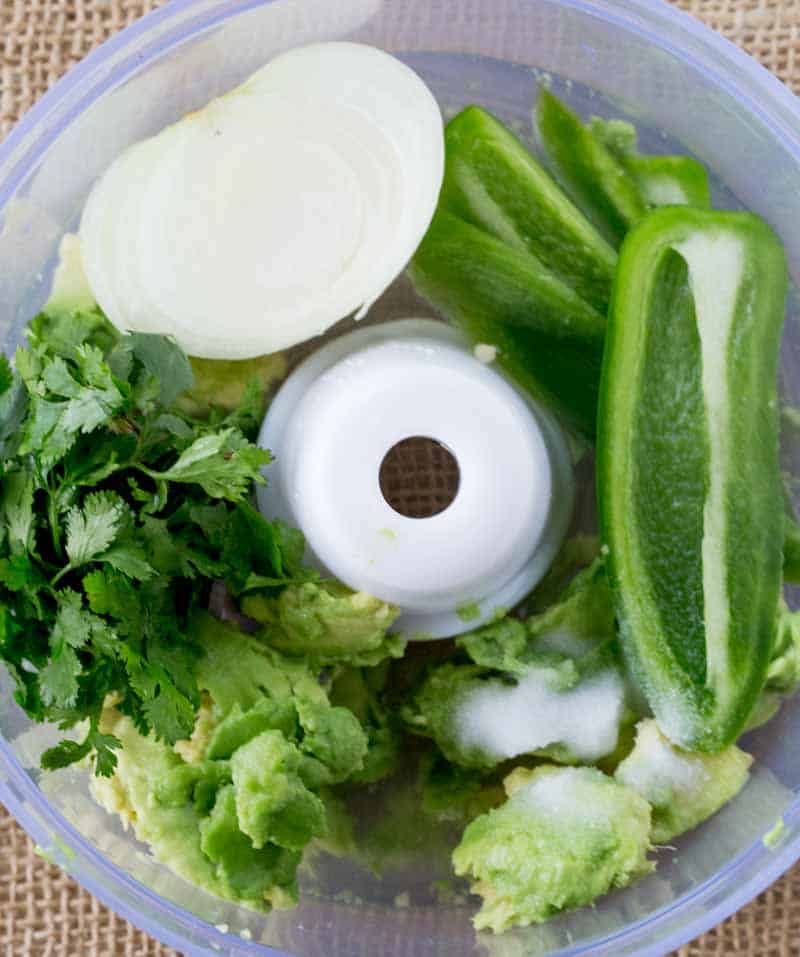 You can also choose different levels of spice for the salsa quite easily. We like it mild, so I remove the seeds and most of the veins. This is where most of the spice in a jalapeno comes from.
If you like your salsa spicy, I recommend leaving in the veins. Want it even spicier? Leave in the seeds too. You won't taste the pieces of the seeds as we're pureeing everything here anyway.
MY OTHER RECIPES
Want more freshness? I would bump up the cilantro. Want this salsa but hate cilantro? Substitute parsley to keep the freshness.
If you're reading this post you may be thinking about the chicken too! YES, I posted El Pollo Loco Chicken (Copycat) too! And it is delicious and authentic. Plus I also have the old school bean recipe (the one they removed a few years ago in spite of all of our protests!).
Serve this El Pollo Loco Avocado Salsa with:
Looking for some more copycat sauce recipes?
Tools Used in making of this El Pollo Loco Avocado Salsa:
White Vinegar: I try not to buy the super harsh tasting variety, so I love this one. Make sure you aren't using a white vinegar that is cleaning strength, it'll taste awful.
Food Processor: This is the newer version of the one I have used and loved for ten years. It is a workhorse and the new model has similarly awesome reviews…and it is so affordable!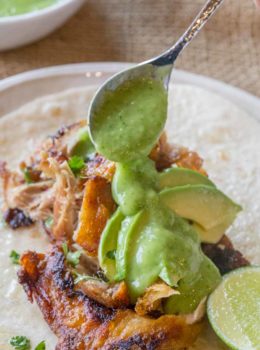 El Pollo Loco Avocado Salsa (Copycat)
El Pollo Loco Avocado Salsa is the perfect topping for your favorite takeout chicken, spicy and creamy in just five minutes!
Ingredients:
1 avocado, cut into quarters
1 jalapeno, de-stemmed and cut in half
3/4 cup water
1 tablespoon white vinegar
3/4 teaspoon salt
1/4 cup fresh cilantro
1/4 yellow onion
Directions:
Puree in small food processor until smooth.
Nutrition Information
Yield: 4 servings, Serving Size: 2 tablespoons
Amount Per Serving:
Calories: 35 Calories
All images and text ©
Made this recipe?
Show me what you made on Instagram or Facebook and tag me at @DinnerthenDessert or hashtag it at #dinnerthendessert.
Dinner, then Dessert, Inc. owns the copyright on all images and text and does not allow for its original recipes and pictures to be reproduced anywhere other than at this site unless authorization is given. If you enjoyed the recipe and would like to publish it on your own site, please re-write it in your own words, and link back to my site and recipe page. Read my disclosure and copyright policy. This post may contain affiliate links.