Bacon Cheeseburger Hamburger Helper is full of bacon and cheesy pasta goodness turned into a 30 minute meal perfect for weeknights that the kids will love!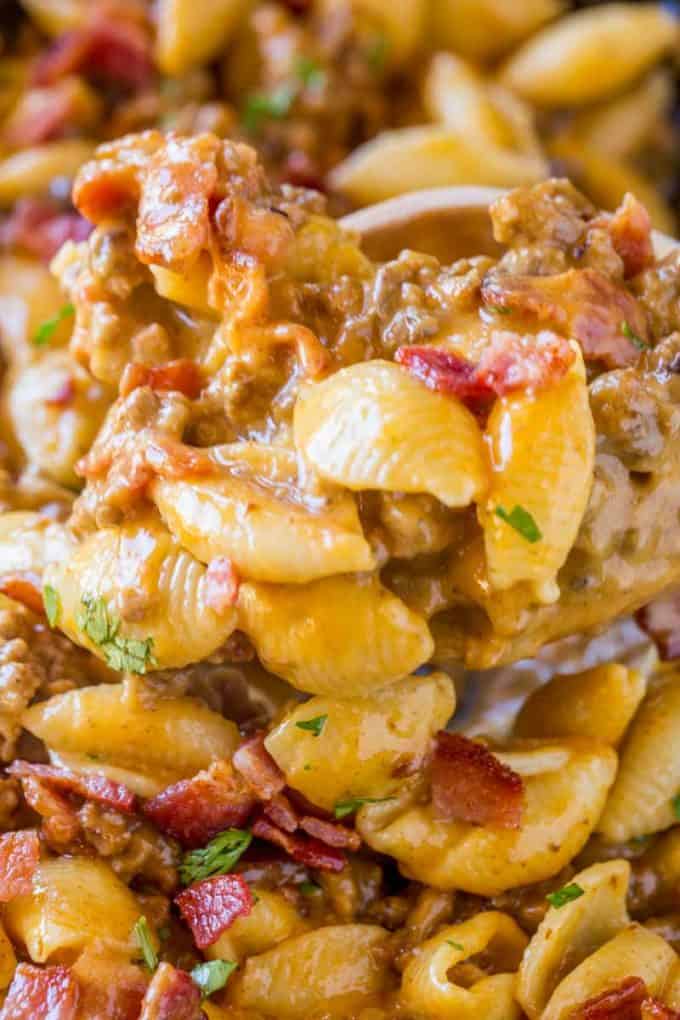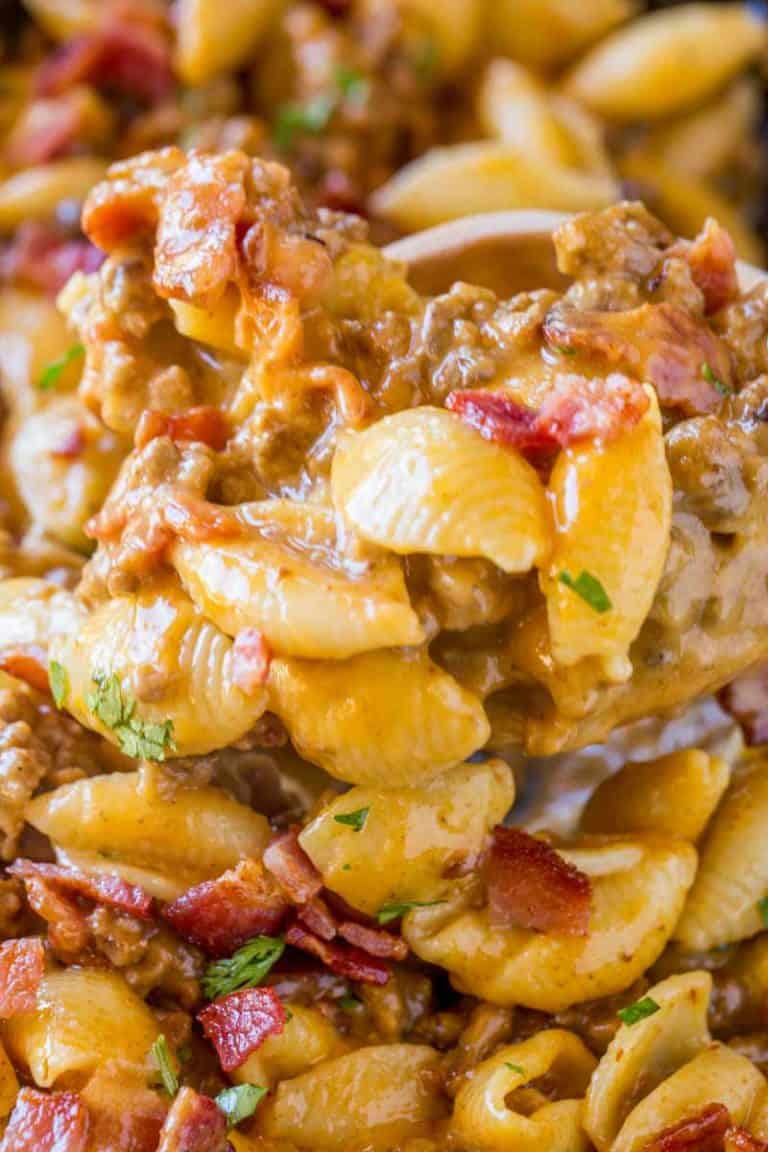 Bacon Cheeseburger Hamburger Helper is a dish that our kids LOVE which makes this a total win for us on weeknights. Now that the summer season is coming to a close we are winding down our grilling days. Plus it is an all natural way of making your favorite copycat of Betty Crocker Hamburger Helper Classic Bacon Cheeseburger (I grew up with this familiar red box!).
I don't know if you all used to watch Food Network (or maybe still do?), but Michael Symon used to be on the station a lot and he referred to himself as a POP (a Pal of Pork). Our family is full of POPs so anything bacon goes into is automatically a hit with the kids.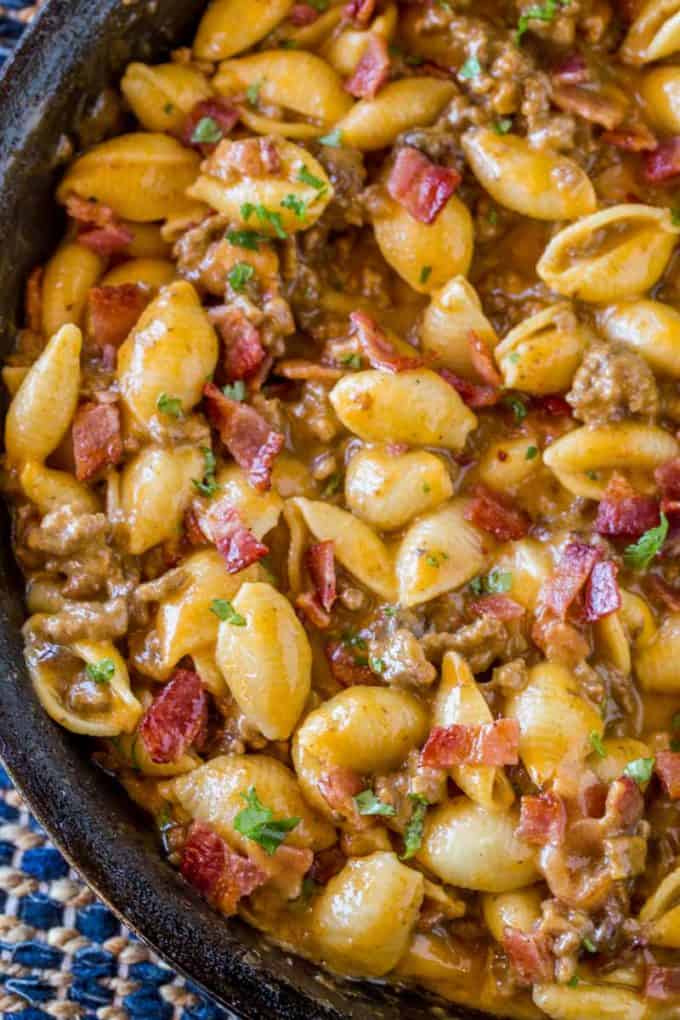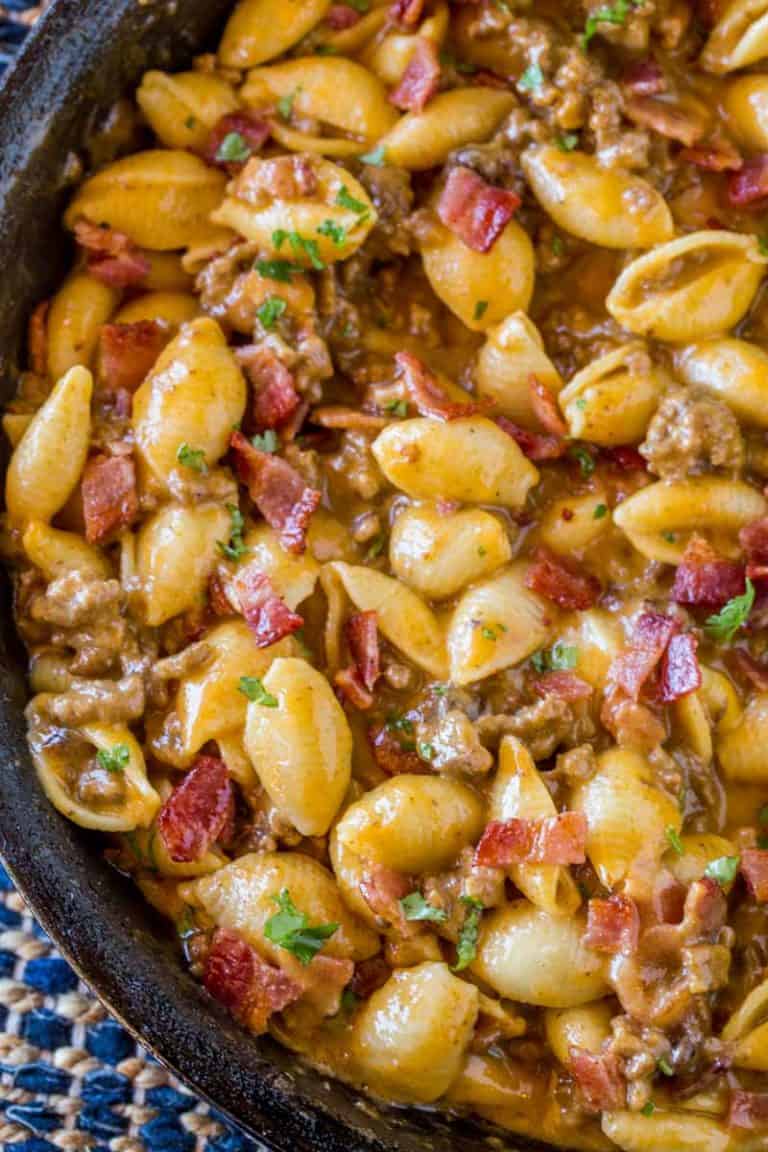 You can certainly add or subtract ingredients as you'd like but this dish is easy to make and takes just two pots (one for pasta to boil and one to make the rest of the meal) and with some steamed veggies on the side you've got a whole meal. Plus it truly does take 30 minutes (I've even done it in 20 minutes!). While the pasta is boiling you're making the bacon, then browning the beef and cooking down the onions.
Looking for more great cheesy pasta dishes? Look no further:
Tools Used in the making of these Bacon Cheeseburger Hamburger Helper:
Cast Iron Skillet: This is my most used pan in my kitchen, heavy, keeps heat well and gives the BEST sear ever.
Chef's Knife: This knife is one of the three most used tools in my kitchen (tongs and my pig tail flipper are the other two). I love it, I've had it for almost 10 years and it is as sharp today as the day I got it. (left column, second from the top). Mind you I love it this much even though I have a ridiculously expense knife set as well.
Large Shells Pasta: I am linking to this because when I sent my husband to the store to get large shells he brought home the variety you stuff! So for reference here is the size you need!
Beef Broth: I always keep this on hand instead of buying boxes of broth, I just mix a tablespoon with a cup of water and it is the perfect replacement. Plus it is all natural.


Ingredients
1

pound

large shells pasta

8

ounces

uncooked bacon

1

pound

lean ground beef

1

small yellow onion

diced

2

tablespoons

ketchup

2

teaspoons

prepared yellow mustard

1

cup

beef broth

1

tablespoon

corn starch

1/2

teaspoon

Kosher salt

1/2

teaspoon

fresh ground black pepper

1 1/2

cups

cheddar cheese

shredded (6 ounces)
Instructions
Cook the large shell pasta according to the directions on the bag and drain (do not rinse).

Add the bacon to a cast iron skillet, cook until crisp and remove from the pan.

Crumble the bacon into small bits.

Add the ground beef to a large cast iron skillet (this browns very well) and brown until a deep brown crust appears before breaking the beef apart.

Stir the ground beef and brown until a deep crust appears on about 50 or so percent of the beef.

Remove the beef (you can leave the fat) and add the onions.

Let brown for

1 minute

before stirring, then let brown for another

1 minute

before stirring again.

Add the beef back into the pan.

In a small cup mix the beef broth and the cornstarch until it is dissolved.

Add the ketchup, mustard, beef broth mixture, salt, and black pepper into the pan.

Cook until the mixture is only slightly liquidy (about 75% of the mixture is above liquid),

3-5 minutes.

Add the pasta back to the pan and mix together gently.

Add the bacon crumbles back into the pan.

Turn off the heat, add in the cheddar cheese and stir until melted.

Serve immediately.
Nutrition
Calories:
508
kcal
|
Carbohydrates:
46
g
|
Protein:
29
g
|
Fat:
22
g
|
Saturated Fat:
10
g
|
Cholesterol:
76
mg
|
Sodium:
666
mg
|
Potassium:
448
mg
|
Fiber:
2
g
|
Sugar:
3
g
|
Vitamin A:
240
IU
|
Vitamin C:
1.2
mg
|
Calcium:
176
mg
|
Iron:
2.4
mg