jump to recipe
Bacon Cheeseburger Meatloaf
This post may contain affiliate links. Read my disclosure policy here.
Bacon Cheeseburger Meatloaf topped and stuffed with cheddar cheese and bacon is the ultimate meatloaf. Makes amazing sandwiches too.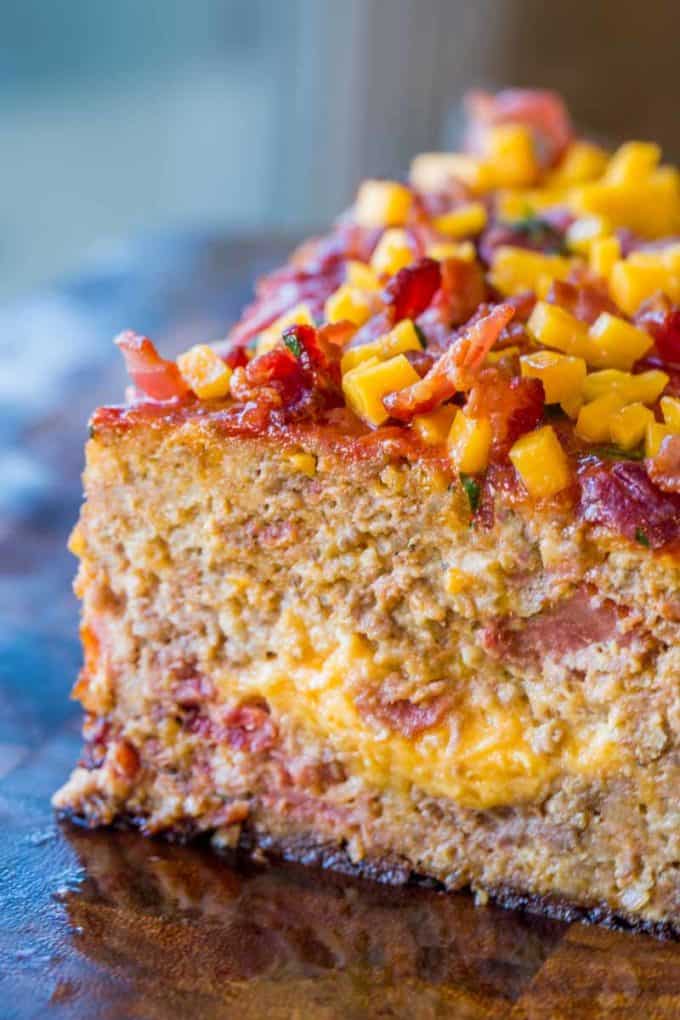 Bacon Cheeseburger Meatloaf is one of the first recipes I made for my now husband when we moved in together. It started out from a friend's recipe who said she saw Paula Deen make it. My friend swore her version was better. One day we had a dinner party and made both versions. My friend's was better.
Since then the recipe has become a tradition every time we get together for a dinner party. We joke about the caloric content by doing appetizers of celery sticks and carrot sticks followed by a salad and steamed broccoli on the side of the meatloaf. Dessert is always a bowl of berries with slightly sweetened whipped cream.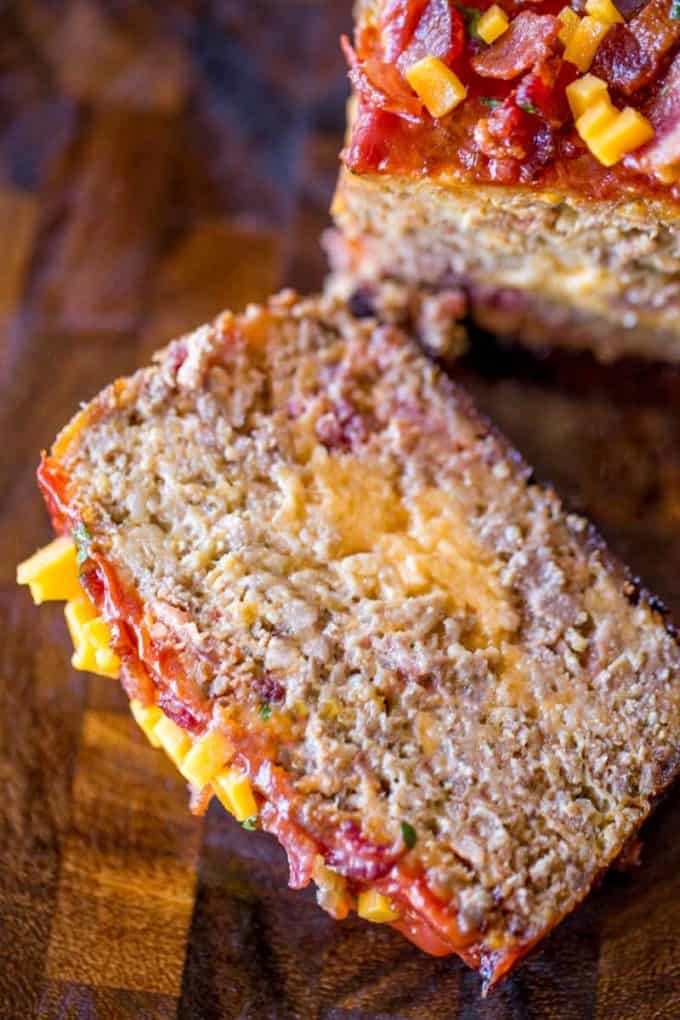 It used to be such an odd menu and now I can't eat this meatloaf without wanting a giant bowl of berries.
This Bacon Cheeseburger Meatloaf is pretty much the most indulgent meatloaf you're going to meet. The little devil meatloaf on your shoulder saying, "make me, eat me, I'm full of bacon-y cheesy goodness!" I'm not going to lie that little devil meatloaf is right on.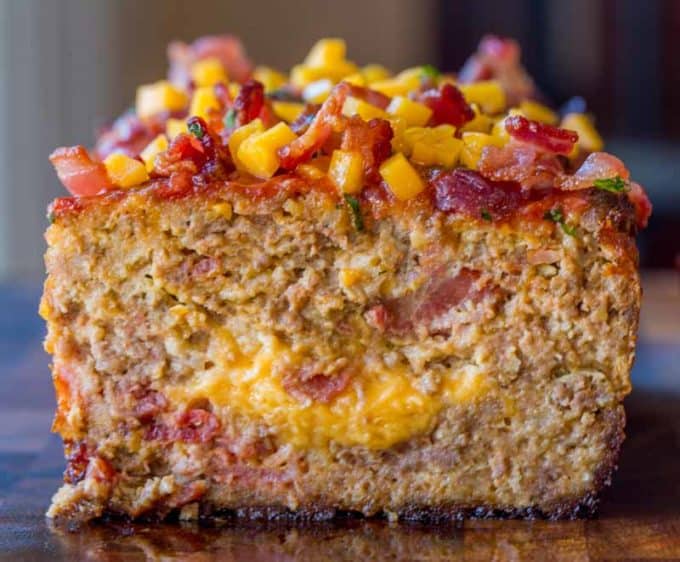 Looking for more meatloaf recipes?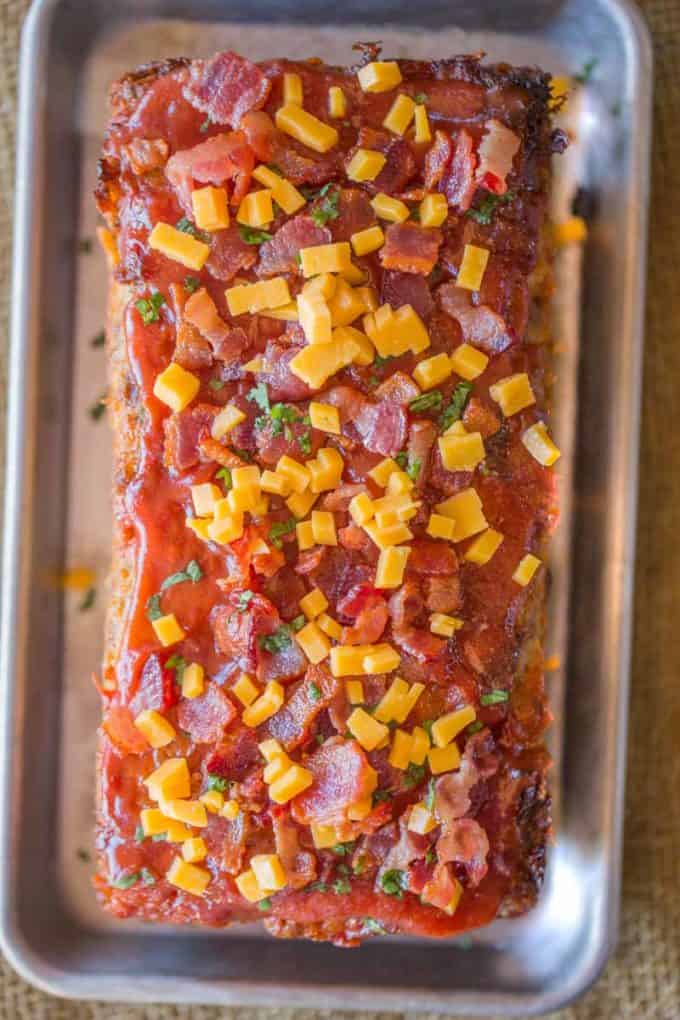 MY OTHER RECIPES
Tools used in the making of this Bacon Cheeseburger Meatloaf:
Cast Iron Skillet: This is my most used pan in my kitchen, heavy, keeps heat well and gives the BEST sear ever.
Loaf Pan: Even cooking, looks beautiful and works well to avoid sticking, this pan is inexpensive and lasts for years.
Chef's Knife: This knife is one of the three most used tools in my kitchen (tongs and my pig tail flipper are the other two). I love it, I've had it for almost 10 years and it is as sharp today as the day I got it. (left column, second from the top). Mind you I love it this much even though I have a ridiculously expense knife set as well.
Worcestershire Sauce: Do not leave this out or sub it for anything else, this is a main flavor component and this brand is my absolute go-to.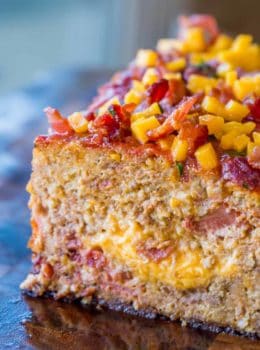 Bacon Cheeseburger Meatloaf
Bacon Cheeseburger Meatloaf topped and stuffed with cheddar cheese and bacon is the ultimate meatloaf. Makes amazing sandwiches too.
Ingredients:
Directions:
 Preheat oven to 350 degrees and spray a large loaf pan with cooking spray.
Shred 3/4 of the cheddar and cut the remaining cheddar into 1/4 inch cubes.
In a large bowl, add the beef, 3/4 of the bacon, 1/3 of the shredded cheddar, eggs, panko, mayonnaise, 
Put 1/3 of the meatloaf mixture into the bottom of a loaf pan, make a well through the middle with a spoon or your fingers.
Add the rest of the shredded cheddar (don't add the cubes), then cover with the remaining meat mixture.
Spoon on the remaining ketchup and put the loaf pan onto a baking sheet.
Bake the meatloaf for 60-65 minutes, then let it rest outside the oven for an additional ten minutes.
Top with the remaining bacon crumbles and the finely diced cheddar cheese and serve.
All images and text ©
Made this recipe?
Show me what you made on Instagram or Facebook and tag me at @DinnerthenDessert or hashtag it at #dinnerthendessert.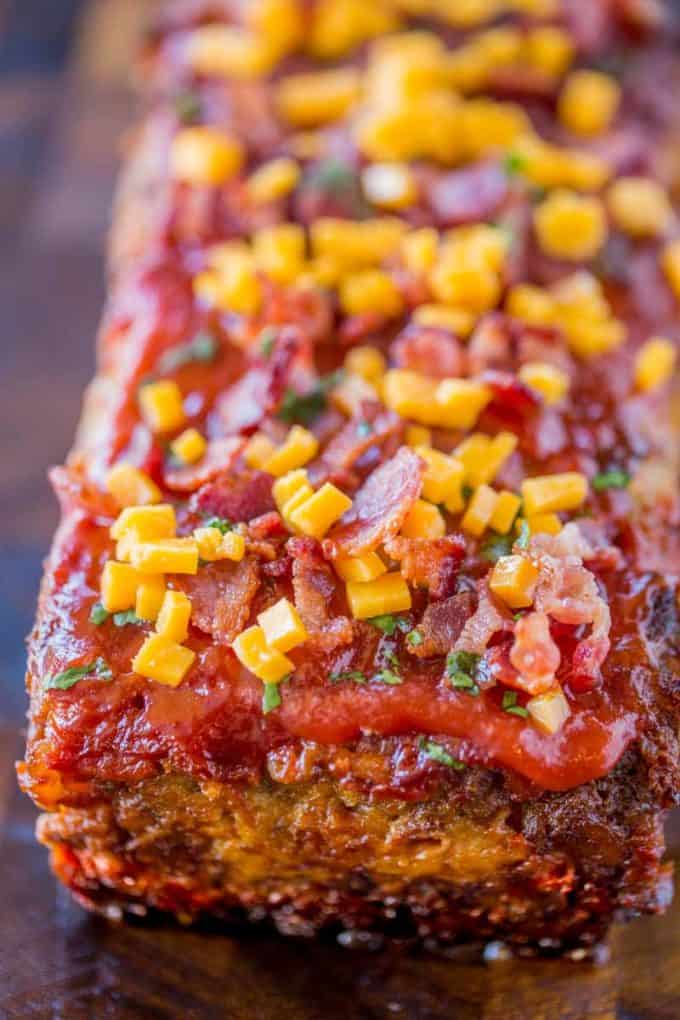 Dinner, then Dessert, Inc. owns the copyright on all images and text and does not allow for its original recipes and pictures to be reproduced anywhere other than at this site unless authorization is given. If you enjoyed the recipe and would like to publish it on your own site, please re-write it in your own words, and link back to my site and recipe page. Read my disclosure and copyright policy. This post may contain affiliate links.