Baked Parmesan Broccoli Casserole is fresh tender broccoli in a yummy garlic Parmesan cream sauce with a crispy seasoned breadcrumb topping!
Cheesy Broccoli Casserole is a favorite way to get everyone to happily eat their veggies without sacrificing nutrition. Check out more vegetable Side Dish Recipes that will make your family want seconds and you can feel good serving.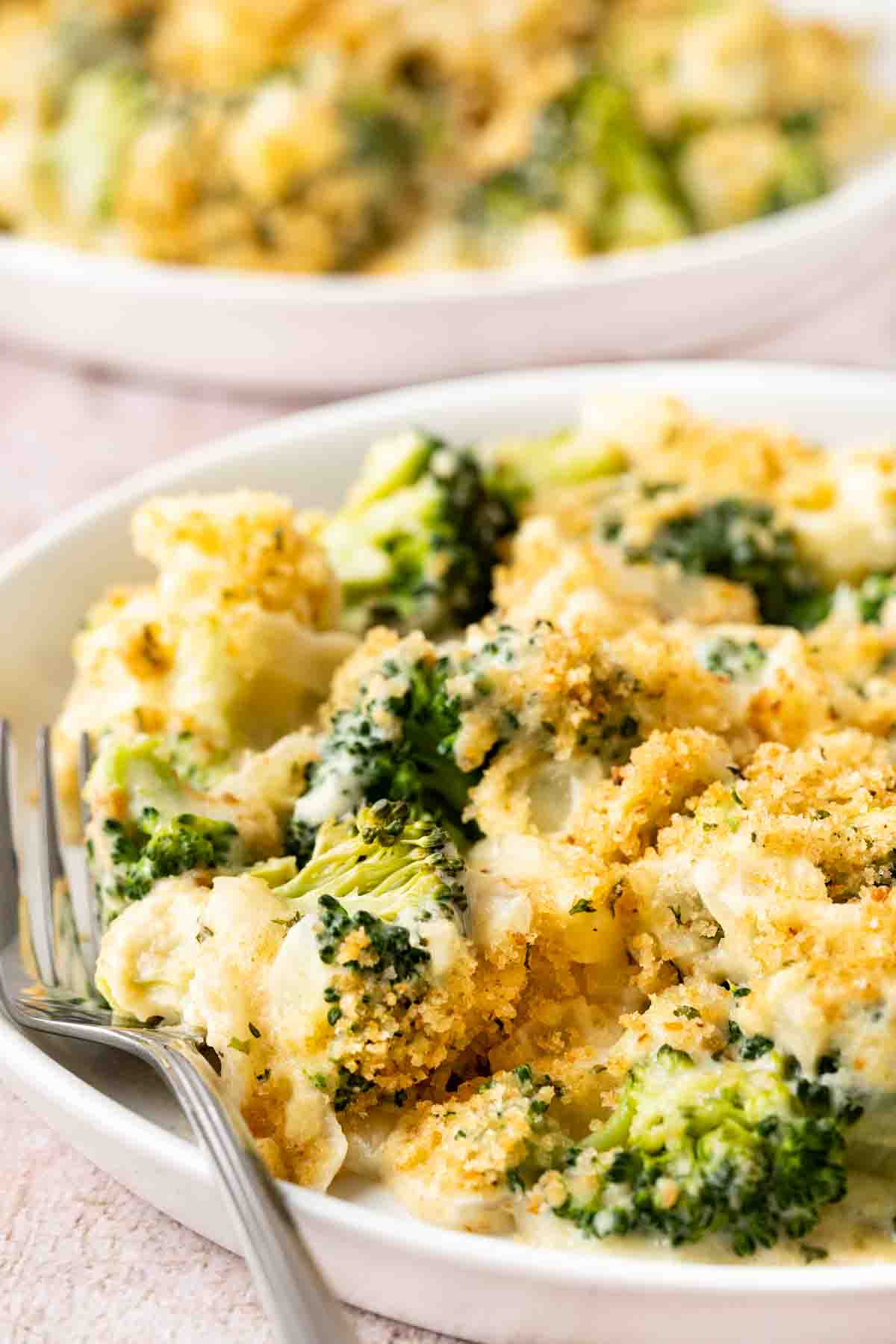 Baked Parmesan Broccoli Casserole is the best broccoli recipe ever! One of the easiest ways to turn veggies into a dish that kids of all ages love is to add a big helping of cheese. A creamy, delicious sauce is a surefire way to score points too. This yummy broccoli recipe does both while still being a pretty healthy side dish. Kids will love the cheesy sauce and crunchy, salty topping. It's a great way to get green vegetables onto their plate that reminds them of Mac and Cheese.
Baked Parmesan Broccoli Casserole is also known as Broccoli Au Gratin. It has a rich béchamel sauce made with garlic and freshly grated Parmesan cheese, topped with a crispy Italian breadcrumb topping. This cheesy broccoli casserole recipe looks super fancy but it's actually made in about 40 minutes!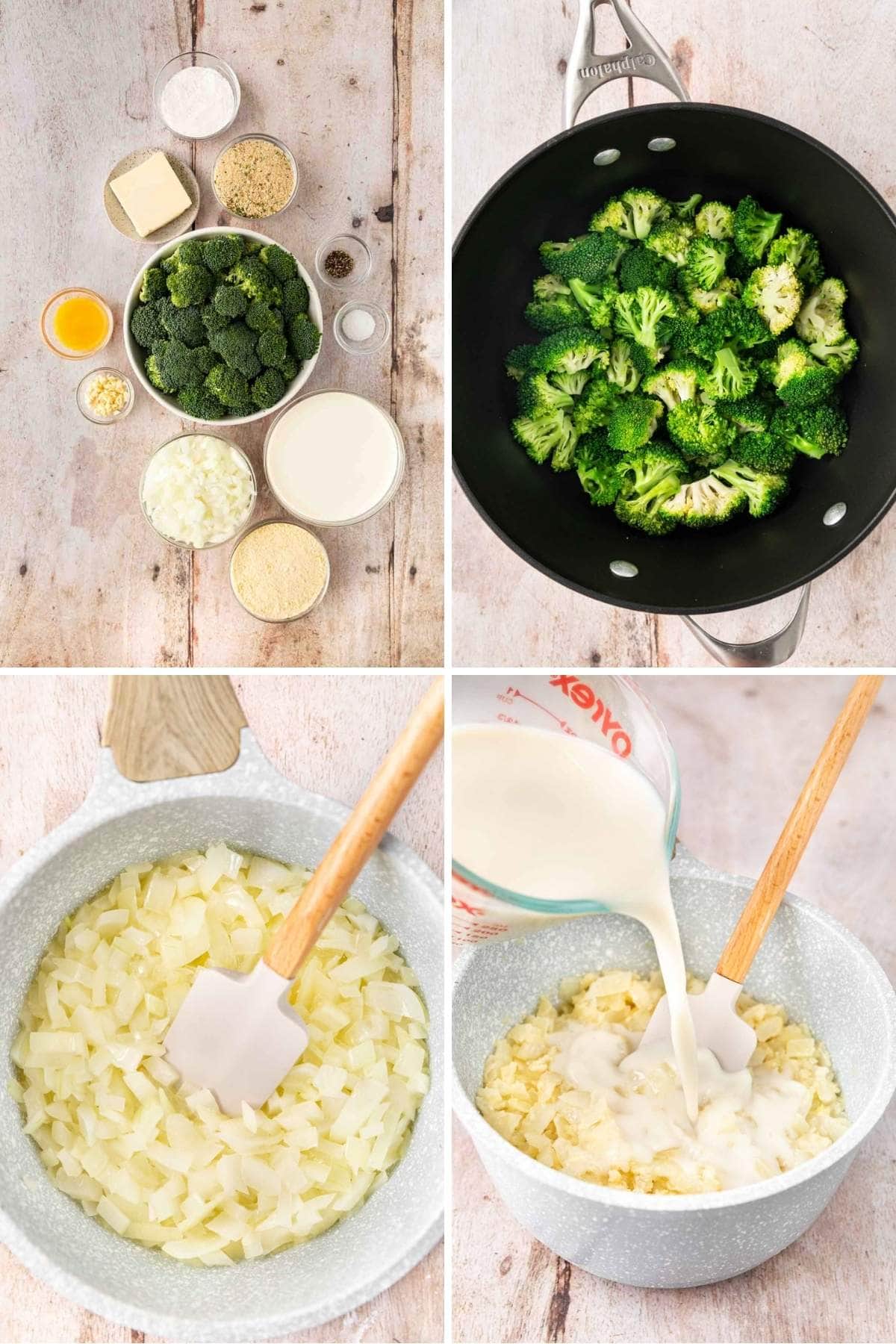 The key to Baked Parmesan Broccoli Casserole is that creamy Parmesan garlic sauce. To get it the right thickness and full of flavor, you want to go slowly and don't rush it. It seems like a lot of little steps, but they go really quickly and are so important to getting a thick sauce that holds together.
A Baked Parmesan Broccoli Casserole is a real crowd-pleaser. It makes a yummy potluck dish especially since it can be made the night before. Just pop it in the oven about 30 minutes before you are leaving and it will be ready to go when you are.
This easy, delicious recipe for Baked Parmesan Broccoli Casserole is perfect for busy weeknights served with a garlicky Pork Loin Roast. It also makes a great holiday side dish! Serve this broccoli casserole right alongside all your favorite holiday recipes like Baked Ham, Mashed Potatoes, and Baked Mac and Cheese.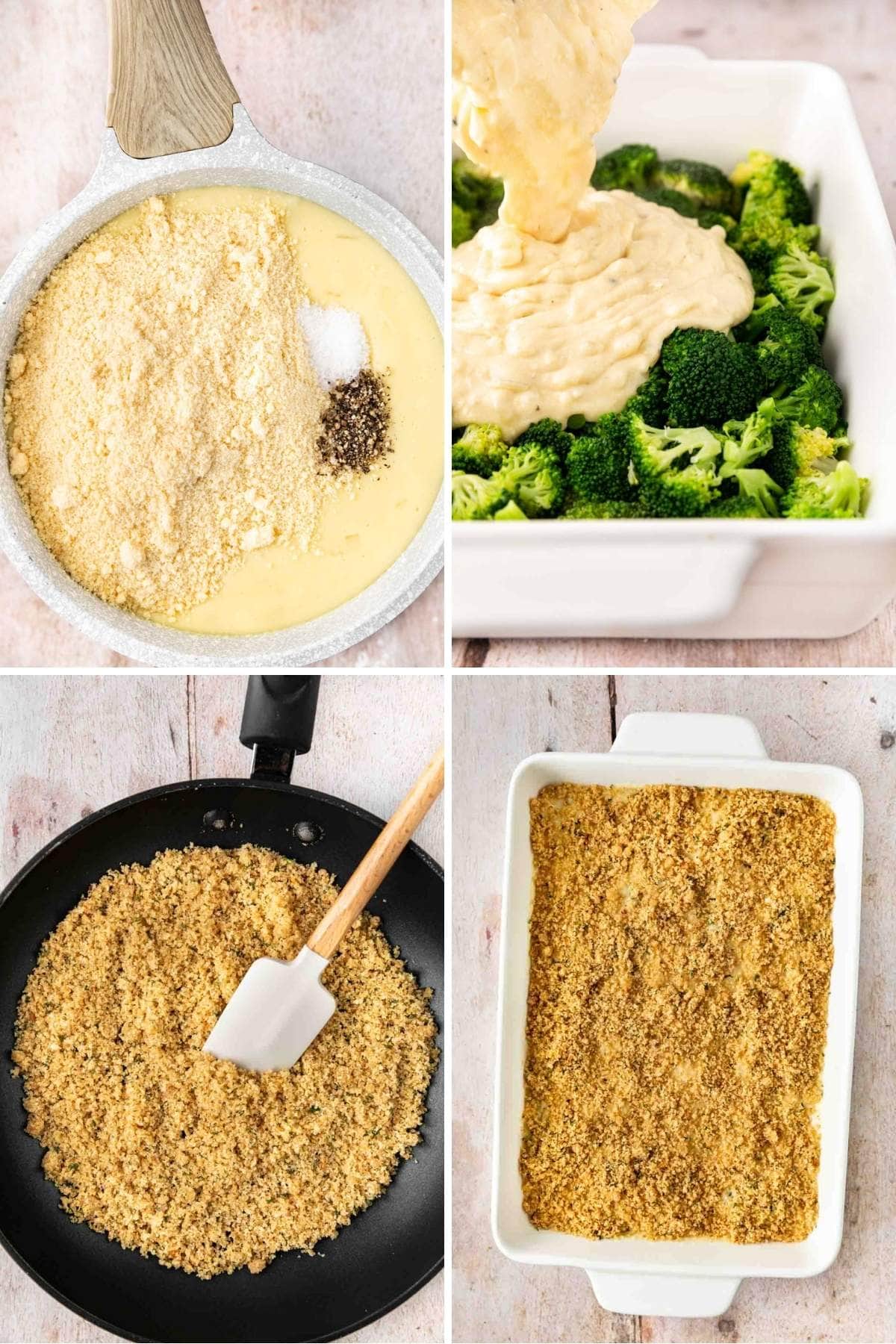 How to Make Baked Parmesan Broccoli Casserole
Preheat your oven to 400 degrees and grease and 9×13 baking dish.
Steam broccoli until crisp but tender, about 3-4 minutes. Add to the baking dish.
To make the creamy sauce, start by melting the butter in a small sauce pan. Cook onion until tender, then add the minced garlic and cook for 1 minute.
Stir in flour until blended then gradually add the milk. Bring to a boil and cook, stirring for 2 minutes until thickened.
Temper the egg yolk by stirring a small amount of the hot mixture into it, then adding it back to the pan, stirring constantly. Cook and stir 1 minute longer.
Remove from heat and stir in the cheese, salt and pepper. 
Pour the cheesy sauce over the broccoli in the casserole dish.
In a small skillet, cook the bread crumbs in the remaining butter and sprinkle over top of the broccoli and sauce. Bake uncovered for 15-18 minutes, or until heated through and golden brown.
What to Serve with Baked Parmesan Broccoli Casserole
Frequently Asked Questions
Can I make Baked Parmesan Broccoli Casserole ahead?
Baked Parmesan Broccoli Casserole can be made in advance and stored for up to 3 days in the fridge or 2 months in the freezer. To make ahead, prepare the casserole up until the breadcrumbs (leave off). Cover tightly with plastic wrap and foil to store. If frozen, thaw in the fridge overnight before cooking. Top with breadcrumb mixture before baking and add 5-10 minutes to cook time.
Can I use roasted broccoli for Broccoli Casserole?
Absolutely! If you love the flavor of Roasted Broccoli, toss the broccoli florets in olive oil, salt and pepper and roast on a baking sheet at 375 for 15-20 minutes. Then prepare the rest of the broccoli side dish and bake.
Can I use frozen broccoli for Broccoli Cheese Casserole?
Yes, you can use frozen broccoli in place of the fresh broccoli florets in this recipe. Frozen broccoli has already been blanched before being packaged, so you don't need to take the extra step to steam it. Just make sure to thaw and drain the broccoli well before preparing the rest of the dish. You may even want to heat it briefly in the microwave so that there's no need to increase the baking time in the oven.
What if I don't have bread crumbs on hand?
It's easy to make your own seasoned bread crumbs in a pinch. Simply toast 2 slices of any bread you have on hand until well-browned, and let cool. Tear into pieces and add to a food processor or mini blender. Pulse until the bread crumbs are even in texture, then add a dash of garlic powder, onion powder, dried parsley, salt and pepper.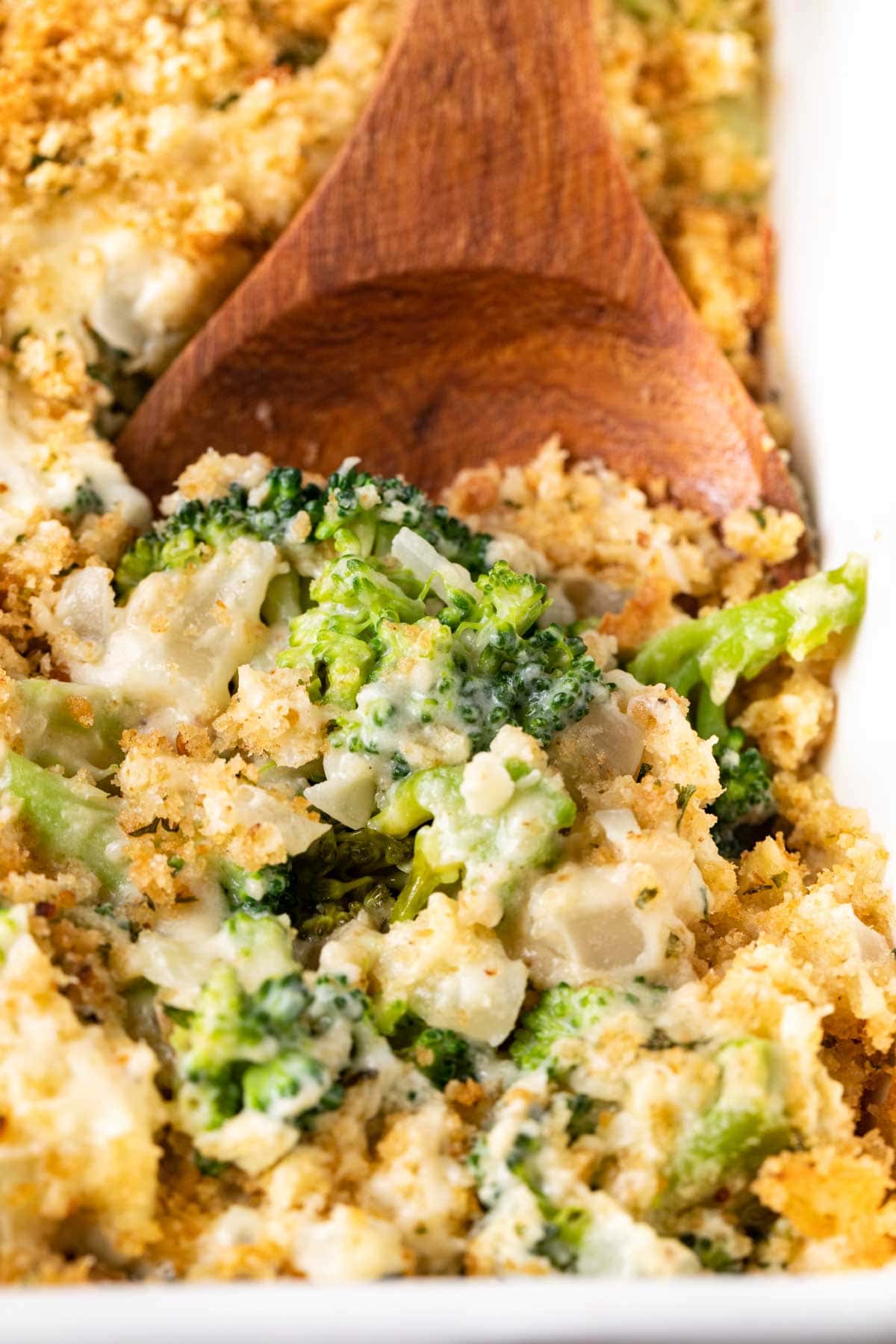 Key Ingredients in Baked Parmesan Broccoli Casserole
Broccoli: Broccoli florets will give your casserole the perfect texture of tender, green vegetables. Use a bag of washed and chopped fresh broccoli to make this recipe even easier. If you use frozen broccoli, make sure to thaw and drain it well before adding to the casserole dish.
Béchamel Sauce: The Parmesan garlic sauce in this classic side dish is made by first sauteeing onions and garlic in butter, then cooking flour in the butter mixture before slowly adding milk. This will become thick and creamy while you stir and cook it, then you'll melt in the Parmesan cheese and add salt and pepper to season. 
Crunchy Topping: The crunchy bread crumb topping is made by toasting seasoned bread crumbs in butter, and will continue to become golden brown and delicious as the casserole bakes. It is the perfect crunchy balance to the other rich creamy flavors of the dish.

Create a free account to Save Recipes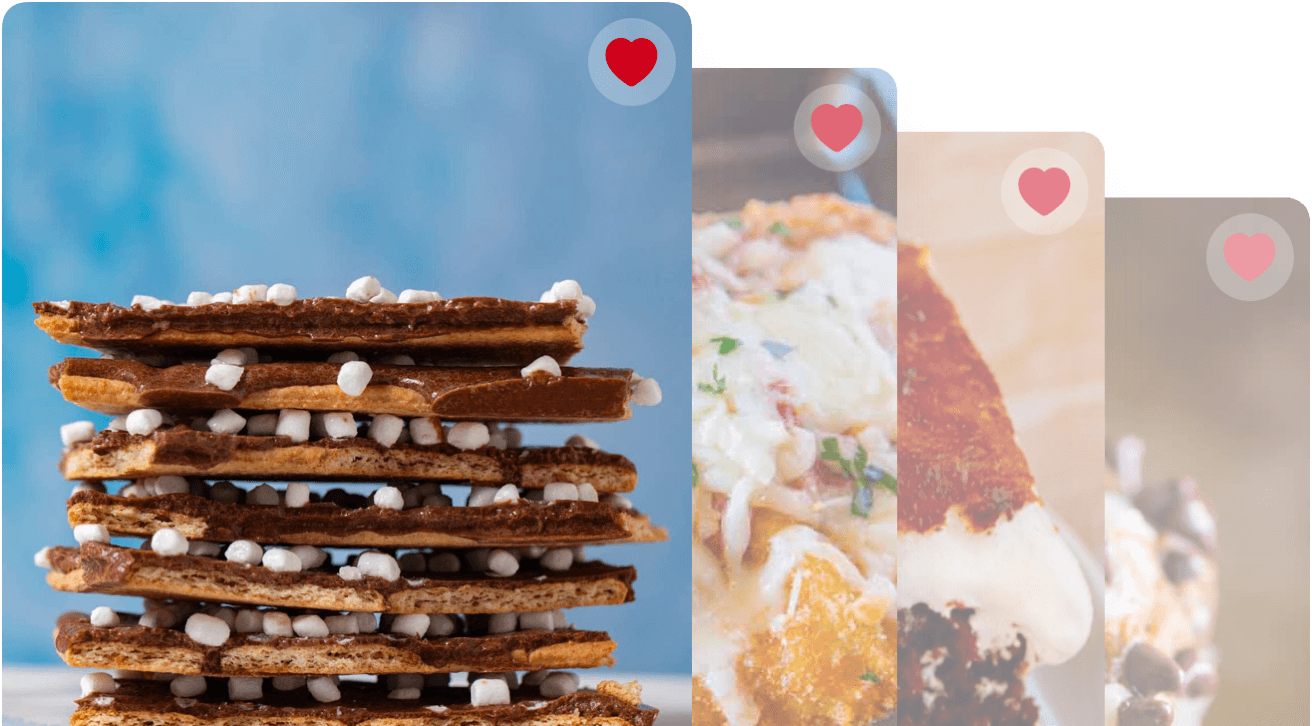 Variations on Baked Parmesan Broccoli Casserole
Veggies: Many different veggies would taste great in this casserole like cauliflower, green beans, asparagus, mushrooms or Brussels sprouts. Try a mix of half broccoli and half another veggie, or swap out the broccoli altogether.
Cheese: Try other cheeses like Swiss cheese, mozzarella cheese, or gouda cheese. Be sure to grate the cheese yourself. Packaged shredded cheese has anti-caking agents that will make the sauce less creamy and smooth.
Topping: Instead of Italian breadcrumbs, you can use crushed cornflakes, ground crackers, panko breadcrumbs, or potato chips.
Spices: For subtle seasonal flavors, add a teaspoon or two of additional seasonings like nutmeg or rubbed sage to the parmesan garlic sauce with the salt and pepper. Italian seasoning would taste wonderful with the creamy garlic Parmesan sauce, too. You can also add a pinch of red pepper flakes, paprika or cayenne for a subtle kick.
Low Carb: Easily make this into a Keto Baked Parmesan Broccoli Casserole by substituting ground pork rinds or almond meal (not almond flour) for the crunchy breadcrumb topping.
Meat: To make this casserole into a perfect holiday brunch side, add cooked and chopped bacon, ham, or sausage to the broccoli before adding the creamy cheese sauce. The combination of salty meat, cheesy sauce, crunchy topping, and tender broccoli is delicious next to a plate of eggs and fresh fruit.
Broccoli: You can use frozen broccoli florets for this recipe if you don't want to use fresh broccoli. Make sure to thaw and drain the frozen broccoli well and pat dry before adding to the cheese sauce.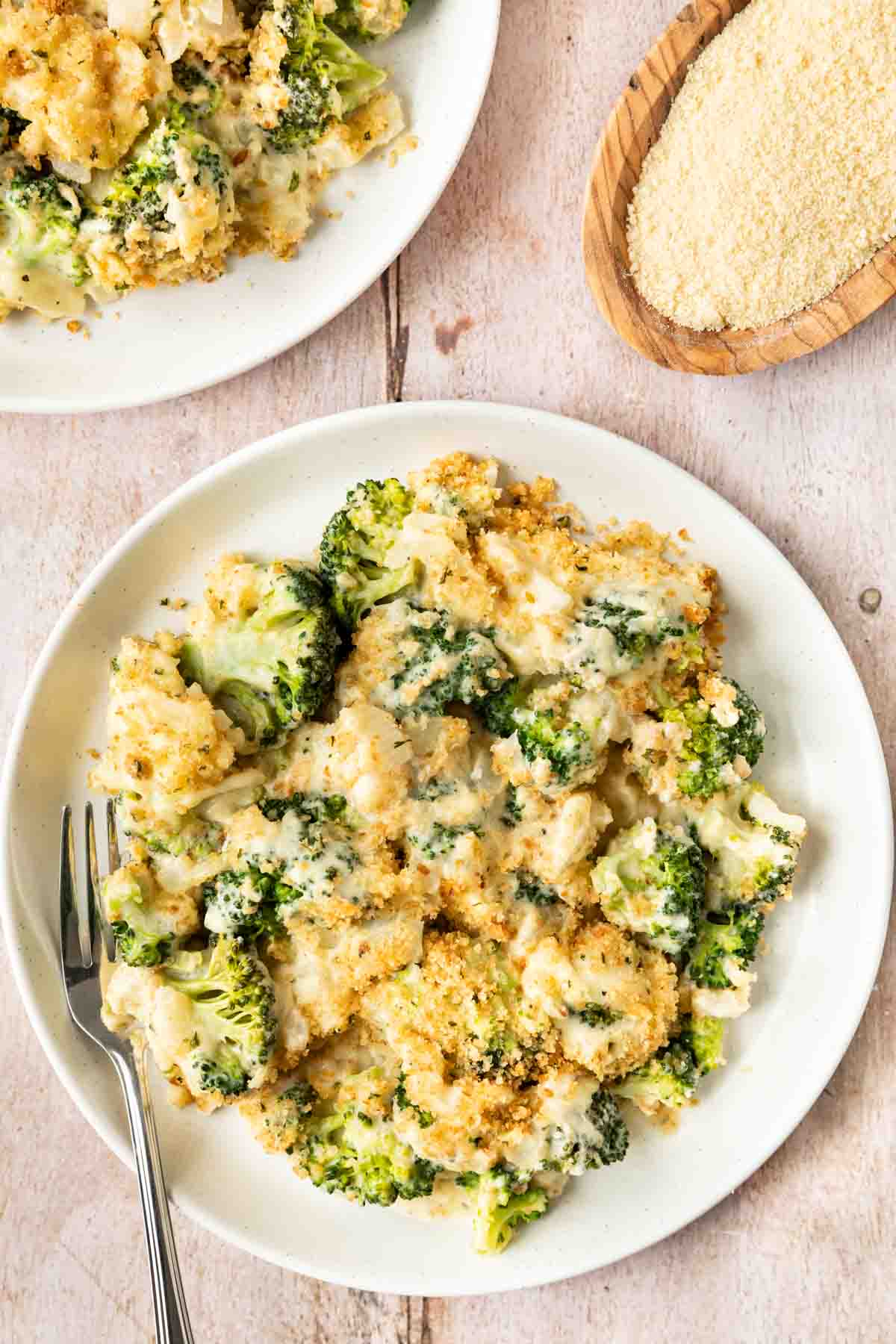 Instant Pot Parmesan Broccoli Casserole
The best thing about using an Instant Pot to make this broccoli recipe is the minimal cleanup – just the Instant Pot and a casserole dish!
Place broccoli florets and ½ cup of water in the Instant Pot.
Cover and seal, and cook on high pressure for 2 minutes.
Quick release the pressure, drain broccoli, and place in casserole dish.
Set Instant Pot to sauté and cook cheese sauce according to the recipe instructions.
Pour cheese sauce over broccoli in dish immediately.
Melt remaining butter and stir into breadcrumbs until well combined. Sprinkle breadcrumb mixture over broccoli.
Broil for 4-5 minutes, until breadcrumbs are toasted and browned.
More Easy Delicious Veggie Recipes
How to Store Baked Parmesan Broccoli Casserole
Serve: Parmesan Broccoli Casserole can be at room temperature for up to 2 hours before you need refrigerate it.
Store: Cover cooled casserole with foil or plastic wrap tightly, and refrigerate for up to days.
Freeze: Transfer to a freezer safe airtight container or wrap tightly with plastic wrap and foil. Freeze for 2 months. Thaw in refrigerator overnight before reheating in the oven.


Ingredients
Casserole:
6

tablespoons

unsalted butter

divided

1

yellow onion

finely chopped

1

garlic clove

minced

1/4

cup

flour

2

cups

whole milk

1

large egg

1/2

teaspoon

kosher salt

1/2

teaspoon

coarse ground black pepper

1/2

teaspoon

paprika

1

cup

Parmesan cheese

grated

4

cups

broccoli

cut into bite sized florets
Topping:
4

tablespoons

unsalted butter

1

cup

ritz crackers

crushed

1/4

cup

grated parmesan
Instructions
Casserole:
Preheat oven to 400 degrees and spray a 9x13" baking dish with vegetable oil spray.

Add 3 tablespoons butter to a large skillet on medium heat.

Add the onions and cook until just translucent, about 4-5 minutes.

Add in the garlic and cook until just fragrant, about 30 seconds.

Add in remaining butter.

In a separate bowl whisk together flour, milk, egg, salt, black pepper and paprika.

Bring to a simmer until it just begins to thicken, about 2-3 minutes.

Add in Parmesan cheese and broccoli.

Stir to coat, then pour into baking dish.
Topping:
Add butter to a large skillet on medium heat.

When melted add ritz crumbs and parmesan cheese.

Stir to coat well and cook until crispy and just beginning to brown, stirring occasionally until it begins to brown.

Add to the top of the casserole and bake for 30 minutes.
Nutrition
Calories:
221
kcal
|
Carbohydrates:
16
g
|
Protein:
10
g
|
Fat:
14
g
|
Saturated Fat:
8
g
|
Polyunsaturated Fat:
1
g
|
Monounsaturated Fat:
4
g
|
Trans Fat:
1
g
|
Cholesterol:
58
mg
|
Sodium:
553
mg
|
Potassium:
298
mg
|
Fiber:
2
g
|
Sugar:
5
g
|
Vitamin A:
807
IU
|
Vitamin C:
42
mg
|
Calcium:
267
mg
|
Iron:
1
mg