Ditch the can, this Homemade Enchilada Sauce will make you feel like you're at your favorite Mexican restaurant in fifteen minutes!
Make your favorite Mexican Food dishes at home with this homemade sauce that's perfect on everything from yummy Oven Baked Beef Tacos to savory Enchiladas to filling Casserole Bakes!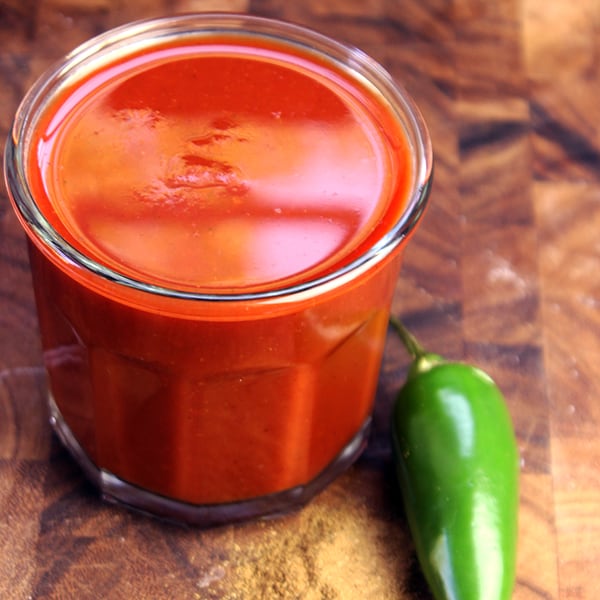 This homemade Enchilada Sauce recipe is the base recipe used in many of our inspired Mexican recipes. It is so easy to make you can keep it in the fridge and ALWAYS have it in the freezer because truth be told, making this in bulk will be a game changer. This recipe is scaled down so you could make a quantity for one meal, but after you make it once you'll be doing in it bulk too!
Enchiladas themselves are a culinary dish developed in Mesoamerica before the time of Columbus. It was, and continues to be, a staple food amongst the peoples living in the region. Enchilada meals simply consists of a corn tortilla rolled around a filling of your choice. It is often topped with a yummy sauce, like this Enchilada Sauce.
If you master a few simple sauce recipes, you can make several meals on a weekly basis right out of your Kitchen Pantry. Find the ones you like and repurpose them into various dishes that your family loves, so when it is 6:00 pm and you are completely drawing a blank on dinner you can go into the freezer, grab a sauce and make an easy dinner, like Classic Chicken Enchiladas.
How to Make Enchilada Sauce
This is so easy to make! It is literally heating and mixing simple ingredients on the stovetop!
Step One: Heat flour and chili powder on medium-high heat, mixing well.
Step Two: Mix the other ingredients in a medium bowl and add to the pan.
Step Three: Whisk for a bit until thickened and ready to serve!
More Easy Mexican Recipes
Frequently Asked Questions
How can I make Enchilada Sauce less spicy? 
If you're looking for an option that doesn't have so much heat, try using a light chili powder. The dark chili powder used in this recipe has more spicy heat than the light counterpart. 

It can be hard sometimes to introduce spice into the diet of young kids, so this recipe is a perfect one because you can adjust the spice level to suit your family, and it complements lots of food that young kids like. Try marinating chicken in this sauce before grilling to add a ton of flavor that the kids will enjoy right alongside you.

Want to make a spicier enchilada sauce? Just add a couple teaspoons of cayenne pepper, or to taste. 
How can I make Enchilada Sauce less tangy? 
If you are using low sodium tomato sauce, the sauce might come out a bit more tangy for your preference. You can add a tablespoon or two of sugar to cut the tang. 
How can I thicken Enchilada Sauce without wheat flour? 
You can use cornstarch or arrowroot as a thickener instead. At the grocery store, there are also gluten-free flour options as well.

Additionally, just add a small 6oz can of tomato paste to the pot while cooking. Stir it in really well.
Does this recipe have an overpowering chili flavor?
We don't think so. If you'd like less of a chili flavor, use a light chili powder and only use 2 tablespoons instead of three. 
How much Enchilada Sauce does this recipe make?
This recipe makes 2 cups of sauce by volu
Can't I just use pre-made canned enchilada sauces instead?
No. You'll never again want or need to use canned sauce after having learned this recipe. 
What is the glass cup in the picture? 
The glass in the picture is a great versatile kitchen item. They are old school French glasses that you buy with lids that you can put on the top and store. They are inexpensive and heavy duty, and they double for drinking glasses!

Create a free account to Save Recipes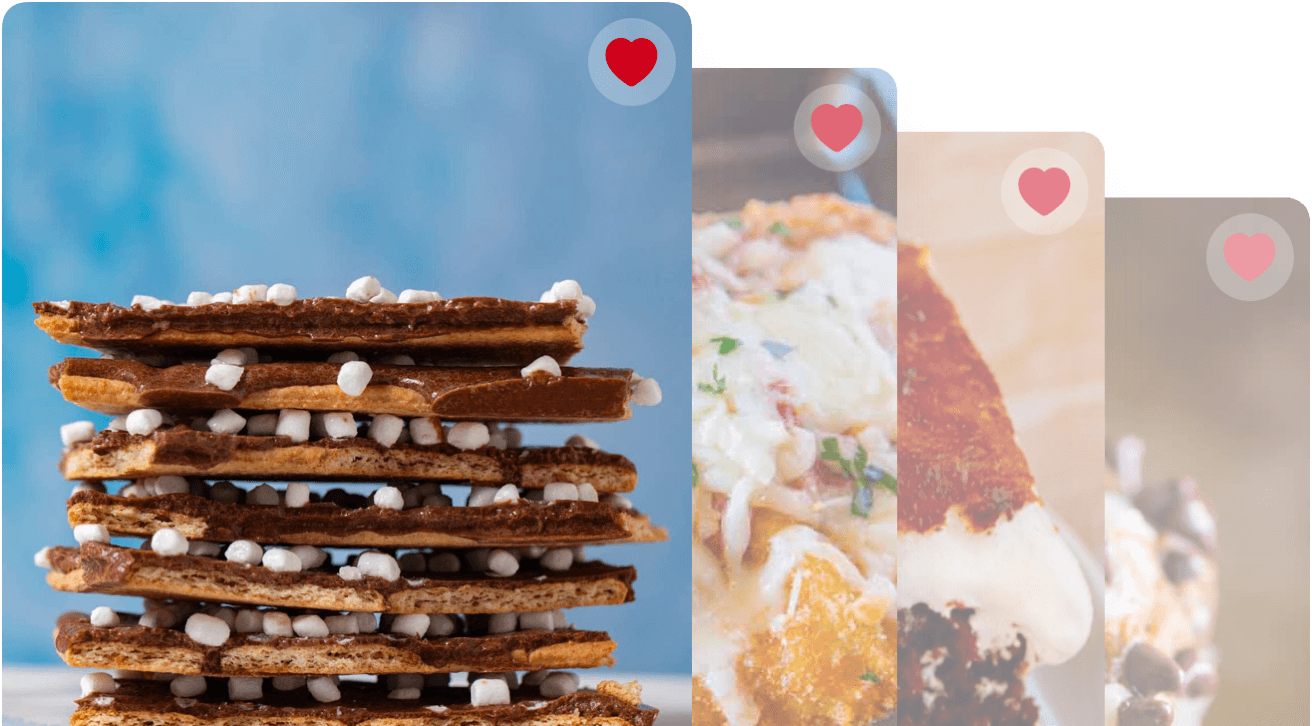 Key Ingredients in Enchilada Sauce
The simple pantry ingredients listed here should be regularly stocked up at home so you never run out of amazing meals to cook for your friends and family.
Tomato: This recipe uses canned tomatoes. Be sure to look for the one's that aren't pre-seasoned. Just check the ingredient list.
Spices: This recipe is using garlic cloves and powders like cumin, chili, and onion powder to bring a depth of flavor. Of course, you'll season with salt to taste and can even add a bit of black pepper for a kick.
Broth: You can use the chicken broth for deeper flavor. Vegetable broth and water are fine substitutes as well.
Variations and Substitutions on Enchilada Sauce
Take your favorite enchilada recipe and make it your own!
Tomato Sauce: An equal amount of pureed jarred salsa works great in a pinch!
Broth: You can use vegetable broth or low sodium chicken broth if you prefer without problem. You can also simply use one or two cups water instead.
Oil: Any low flavor oil like avocado, canola, and olive oil also works in this recipe. We don't suggest using coconut oil or oil past its expiration date.
Green Enchilada Sauce: The chili powder and tomatoes give Enchilada Sauce its red coloring. If you'd like to try a green one, simply replace the tomato sauce with an equal blend of green tomatillos and green chili, like in our copycat Green-Chili Salsa recipe. To turn the chunky Green-Chili Salas into enchilada sauce, simply continue to purée until completely smooth before serving. Too spicy? Try adding a quarter cup of sour cream or half and half to the blender for a creamier version of green enchilada sauce.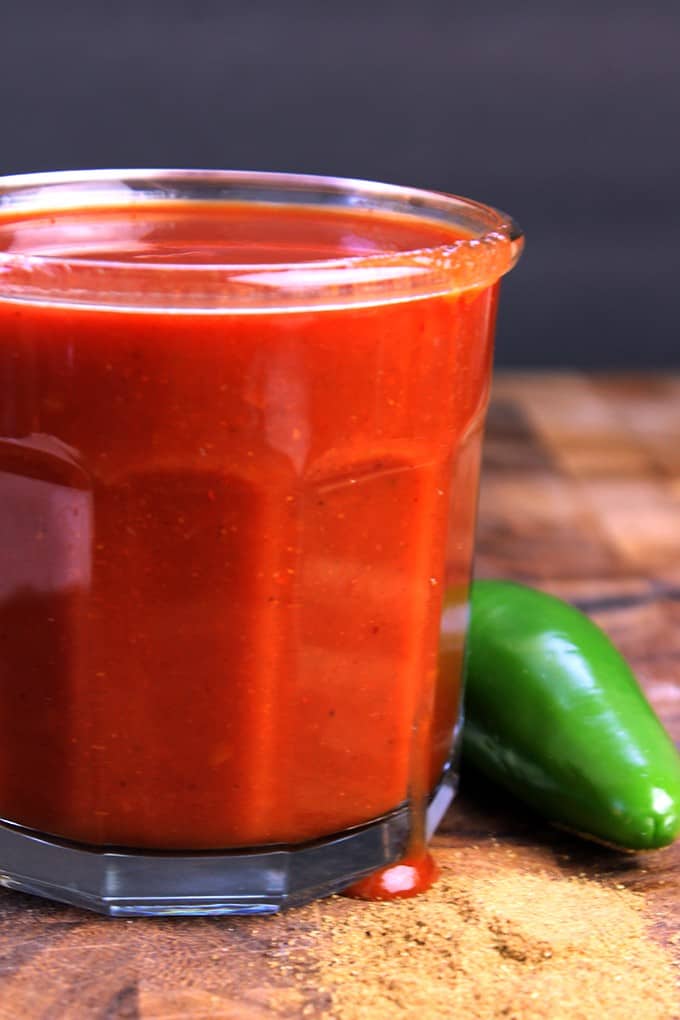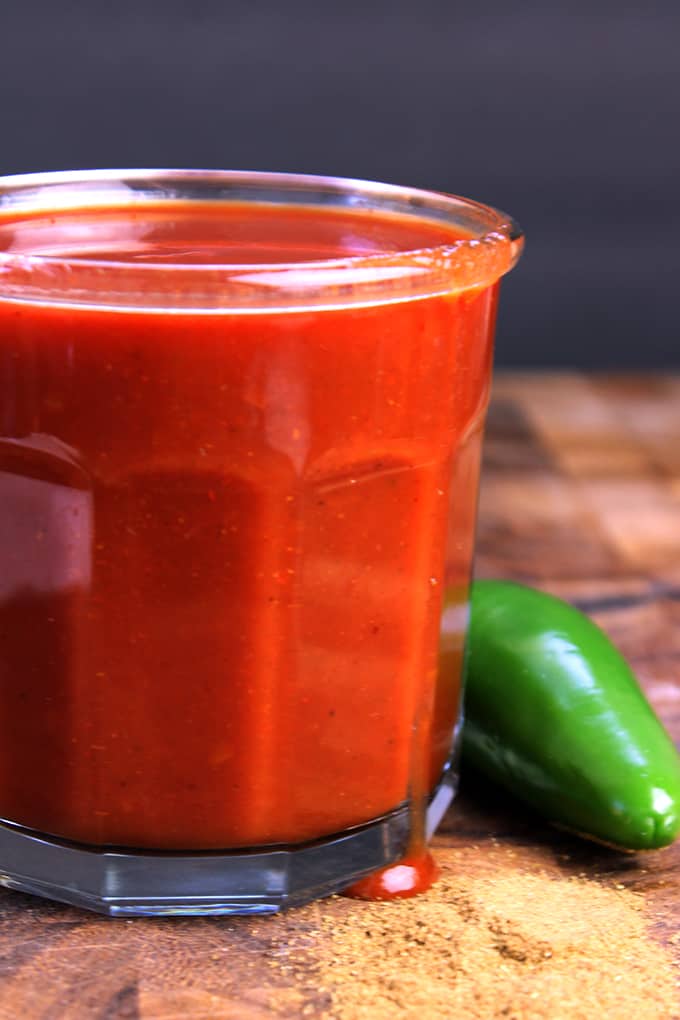 10 Ways to Use Enchilada Sauce
This sauce is a versatile sauce beloved in traditional Mexican households. Here are 10 of the best ways you can use this sauce that includes enchilada recipes and other favorite recipes.
Chicken Enchiladas: These cheesy and delicious enchiladas are perfect for a midweek dinner. (Tip: Because pre-shredded cheeses contain an additive to avoid clumping, they also don't melt as well as you'd hope so it's a good idea to always shred your own.)
Mexican Lasagna: You can use tortillas instead of noodles, layered with Mexican shredded cheese, and ground beef to make a fun and easy meal
Chicken Tamale Bake: Spicy and made from scratch, this yummy chicken recipe is all natural and amazing!
Taco Sauce: You can add a dash or two of smoked paprika to the recipe to make an amazing sauce to put on your tacos.
Burritos "Enchilada Style": top your Burrito with this homemade Enchilada Sauce, some shredded cheese, and bake at 375 degrees for 10 minutes.
Creamy Enchilada Sauce: Mix with sour cream for a creamy spicy sauce (top almost anything with this, like the Cheesecake Factory Tamale Corn Cakes).
Taquito Dip: Mix with sour cream as a dip too, for things like taquitos and Ultimate Totchos which are nachos made with tater tots instead of chips!
Taco Salad Dressing: Mix with Ranch Dressing for a taco salad dressing your whole family will love.
Huevos Rancheros: Top your layered tortillas and fried eggs with Enchilada Sauce for easy huevos rancheros, a traditional brunch served on rural Mexican farms. Serve with Easy Refried Beans.
Yummy Marinade: This recipe works as a great marinade for chicken/pork too! Just scrape off the excess and grill on a cast iron griddle until ready.
Bonus: Serve your homemade enchiladas with a refreshing Avocado Tomato Corn Salad and some Beans & Rice for a complete feast! And don't forget Cinnamon Sugar Tortilla Chips for dessert!
How to Store Enchilada Sauce
Serve: Refrigerate sauce after allowing to cool to room temperature. Keep it out for no longer than 2 hours.
Store: Store in an airtight container in the refrigerator for up to 2 weeks.
Freeze: This sauce freezes so well, and can be heated straight from the freezer in a pinch. If you do have time, thaw in the refrigerator overnight. It can be stored in the freezer up to 6 months.


Ingredients
1/4

cup

vegetable oil

2

tablespoons

flour

3

tablespoons

chili powder

1

8 ounce can

tomato sauce

1

cup

chicken broth

, (water can work too)

2

teaspoons

ground cumin

1

tablespoon

garlic

, minced

1/2

teaspoon

onion powder

1/4

teaspoon

kosher salt
Instructions
Heat the vegetable oil in a saucepan on medium heat.

Add the flour and chili powder and stir.

Cook until the bright red color turns a bit brown while stirring.

In a small bowl mix the tomato sauce with the rest of the ingredients until it is fully blended.

Add to your saucepan and whisk until fully mixed.

Cook for

8-10 minutes

on medium heat until thickened.
Nutrition
Calories:
54
kcal
|
Carbohydrates:
2
g
|
Fat:
5
g
|
Sodium:
153
mg
|
Potassium:
60
mg
|
Vitamin A:
595
IU
|
Vitamin C:
1.6
mg
|
Calcium:
12
mg
|
Iron:
0.7
mg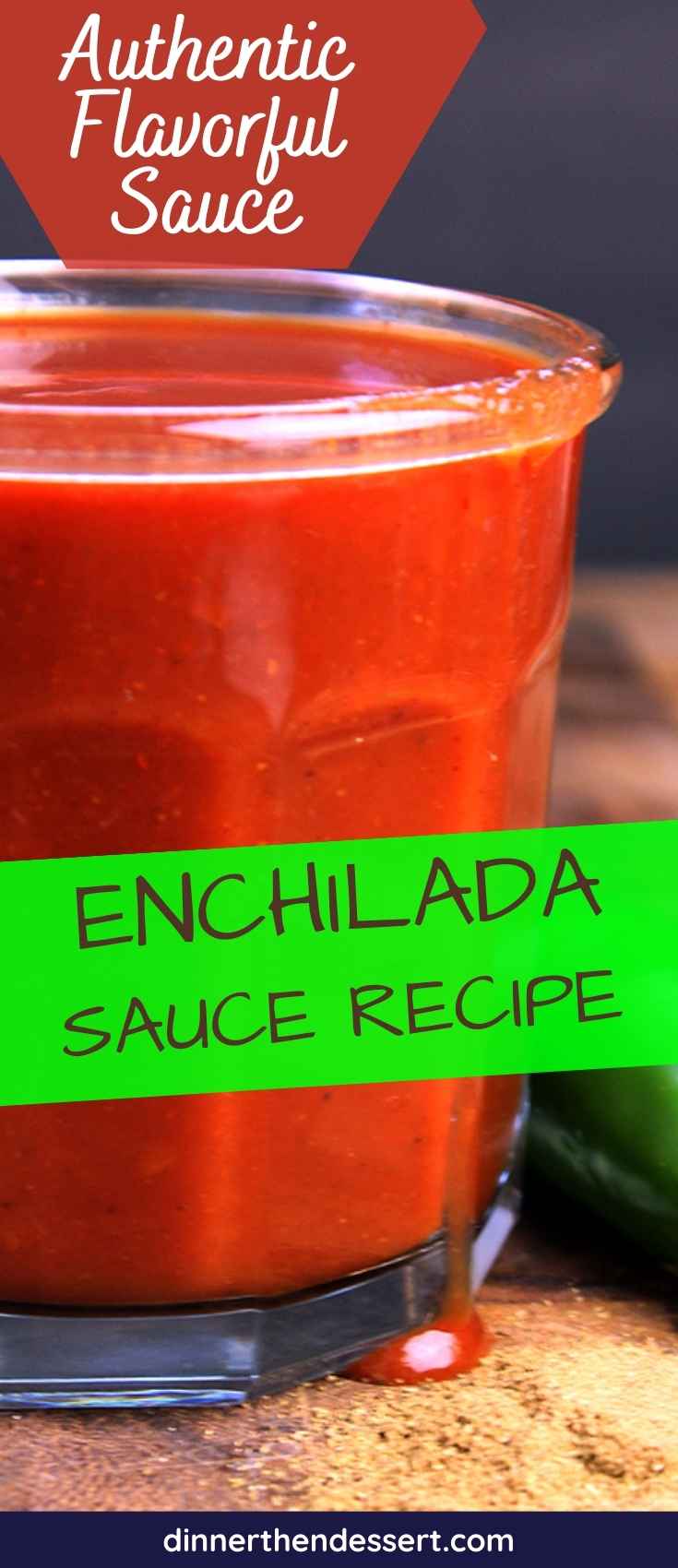 Photo used in a previous version of this post.