Beef Enchiladas are made with flavorful ground beef, tortillas, enchilada sauce, and melty cheese, topped with sour cream and green onions.
If you love easy Tex-Mex Dinner recipes, you won't regret trying other south-of-the-border favorites like the similar Chicken Enchiladas, the incredible One Pot Mexican Chicken and Rice, or the Cheesy Taco Lasagna.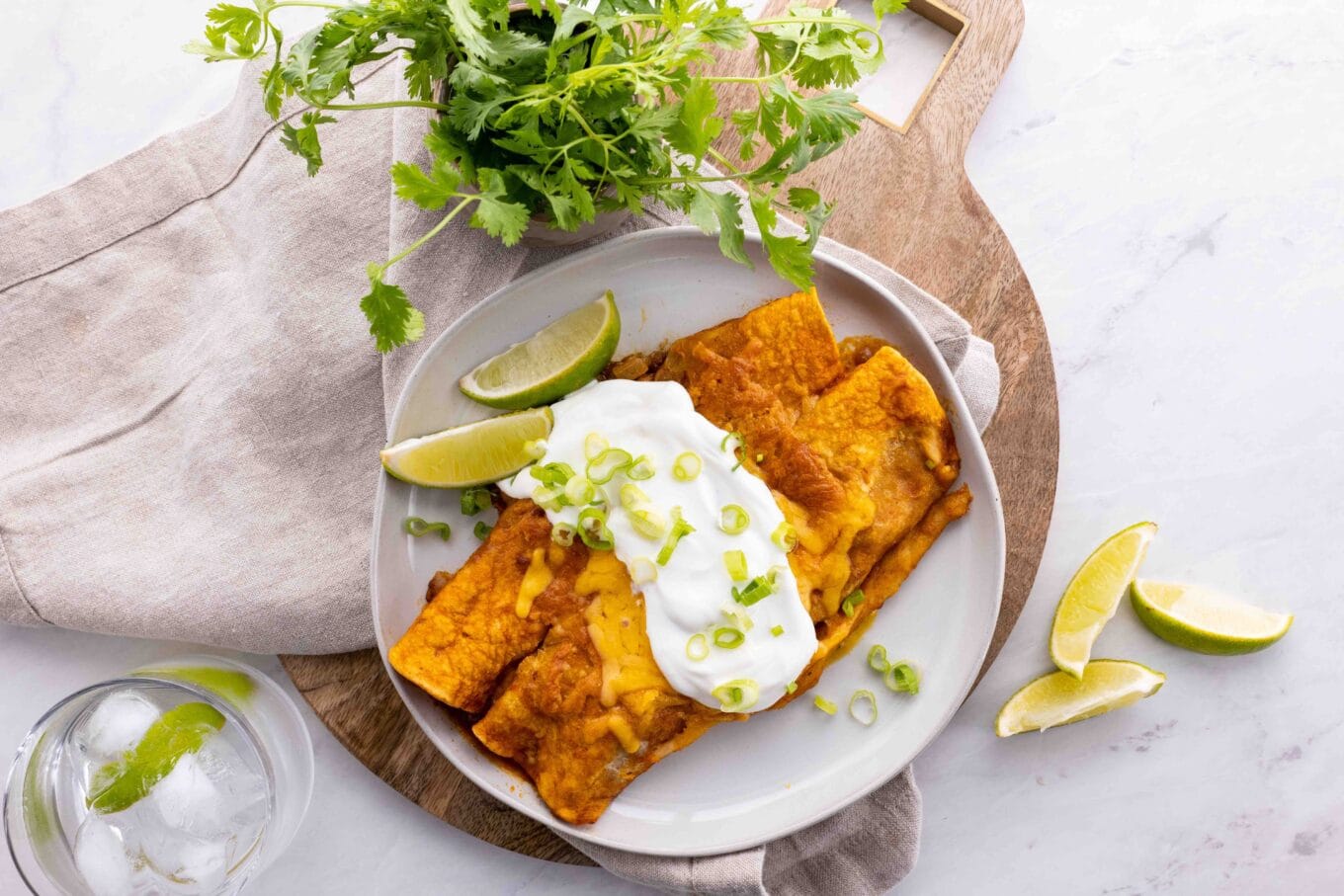 Enchiladas are a classic, cheesy, and flavorful Mexican favorite. With this simple recipe, you can make the traditional dish with flavorful ingredients for a fun and easy family dinner. The beef mixture is mixed with onions, Taco Seasoning, and green chiles for an amazing taste. Then you just wrap the mixture in tortillas and top it off with enchilada sauce and melty cheese to bake into the ultimate Mexican comfort food.
Enchiladas get a lot of their traditional flavor from the delicious and slightly spicy Red Enchilada Sauce. You can pick up a can of enchilada sauce from the store or easily make your own enchilada sauce mix with easy ingredients like chili powder, cumin, garlic, onion powder, and tomato sauce. Either way, it will taste amazing poured over the cheesy tortillas.
Along with the simple ingredients in the recipe, you can also add optional toppings and sides to the dish. Beef Enchiladas would taste great served with Black Beans, Salsa, or Guacamole. Along with that, you could also top them off with shredded lettuce and bell peppers for some fresh toppings. These amazing enchiladas would taste great with any of your favorite Mexican side dishes for a filling family dinner.
How to Make Beef Enchiladas
Prep: Start the recipe by preheating the oven to 375 degrees and spraying a 9×13-inch baking dish with nonstick cooking spray. Make sure you remember to grease the pan or the tortillas will bake to the bottom!
Ground beef mixture: Add the ground beef and sliced onions to a large skillet over medium-high heat. Cook for 6-8 minutes, stirring and breaking apart with a wooden spoon until you have browned meat on all sides. Drain any excess fat out of the meat. Whisk together the taco seasoning and water, and then pour it into the skillet. Add in the chopped green chiles. Stir the ingredients well and let them simmer over medium heat for 5 minutes until the water has mostly evaporated.
Tortillas: Pour the enchilada sauce into a large bowl. Then dip each tortilla into the sauce and place them on a cutting board or another flat prepping surface that will be easy to clean.
Assemble: Add ¼ cup of beef filling to each of the tortillas, and top that off with 1 tablespoon shredded cheese. Then fold and roll the tortillas. Place the tortilla rolls seam side down in the prepared baking dish. Make sure to face them down so that they don't open while baking. Pour the remaining enchilada sauce over the top, and sprinkle 1 cup cheddar cheese on top.
Baking time: Put it in the preheated oven to bake for 25-30 minutes. Then top the dish off with green onions and sour cream before serving.
More Yummy Tex-Mex Flavors
Frequently Asked Questions
How can I make Beef Enchiladas with less fat?
If you want to make Beef Enchiladas with less fat, you can use reduced-fat cheddar cheese and replace the regular ground beef with lean ground beef. 
What kinds of cheese can be used for Beef Enchiladas?
There are plenty of different kinds of shredded cheese that you can try out in this recipe. It would taste great with Pepper Jack, gouda, provolone, or a Mexican cheese blend.
How do I make Chicken Enchiladas?
If you prefer chicken, simply replace the beef in the meat mixture with ground chicken. 
What other flavors can I add to Enchiladas?
You can experiment with the flavor by adding in some garlic salt or minced garlic cloves. You can also experiment with the spices in the taco spice mixture like extra cumin, chili powder, paprika, or onion powder depending on your taste. To add a nice refreshing flavor, top the enchiladas off with fresh cilantro leaves before serving.
Can I add vegetables to Beef Enchiladas?
Bring some extra texture and flavor to the recipe by wrapping your favorite vegetables in the tortilla rolls. They'd taste great with tomatoes, bell peppers, corn, or zucchini. 
My tortillas are too soggy. How can I avoid this? 
First things first, enchiladas are, by design, going to be nice and soft. But sometimes this is not the texture sought after, and we completely understand! The quality of the tortilla itself can influence the final result too. To make your tortillas a little more sturdy, heat some cooking oil in a pan on medium-high heat until it simmers. Once it is hot, cook each tortilla in the oil for about 10 seconds on each side. You can then let them drain on a paper towel and then prepare them according to the recipe. Do this to each tortilla, adding oil to the pan along the way as needed. By frying the tortillas in this way, you'll avoid them breaking up easily and will get a more-crispy enchilada!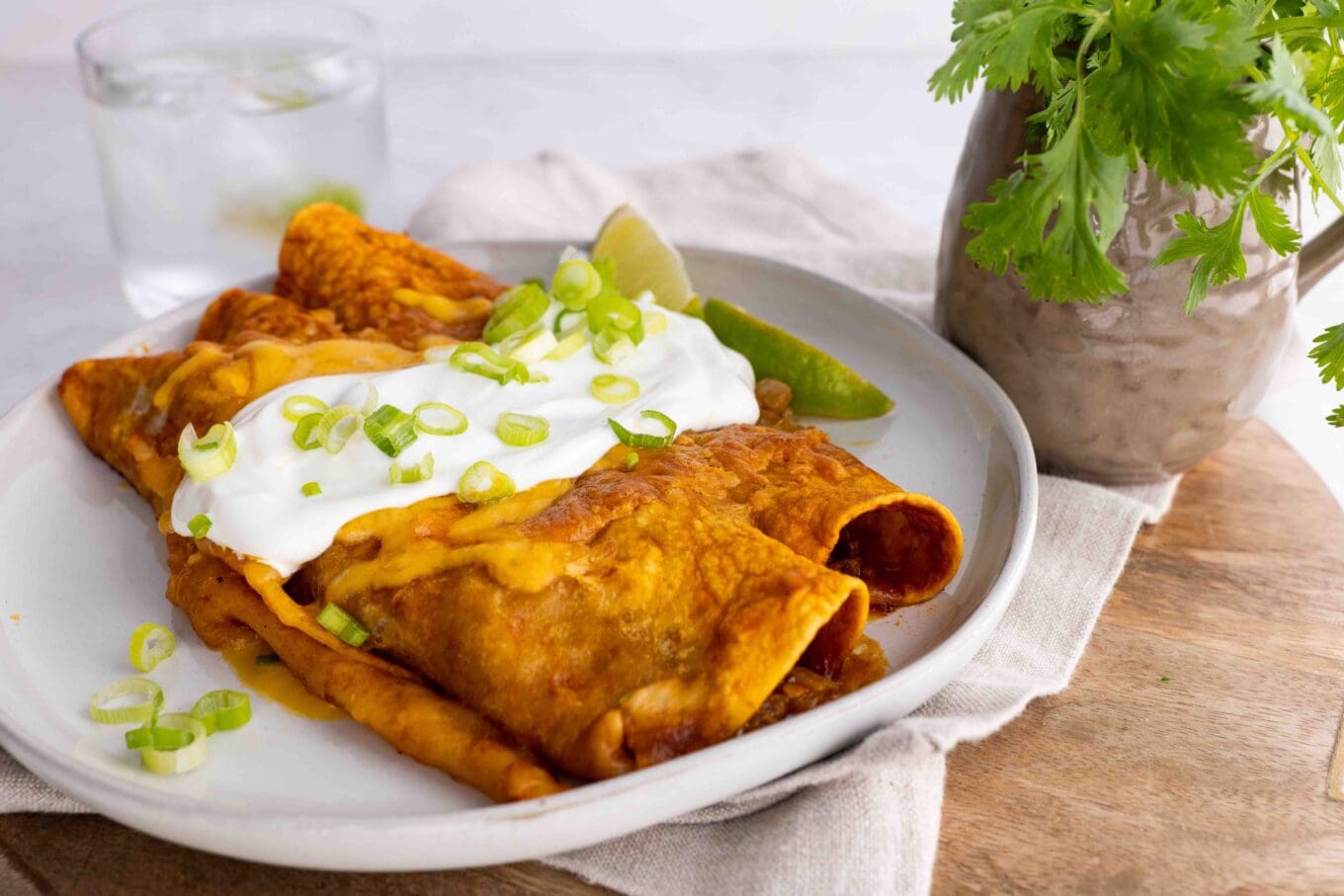 Create a free account to

Save Recipes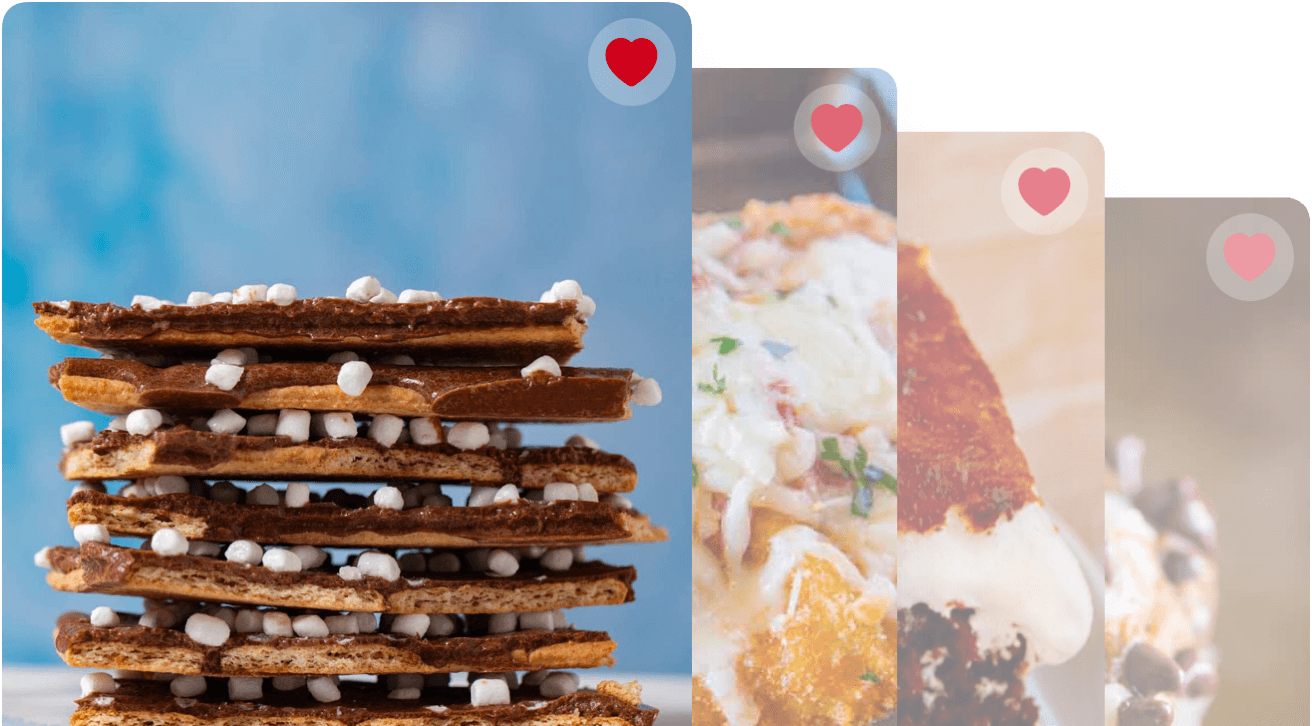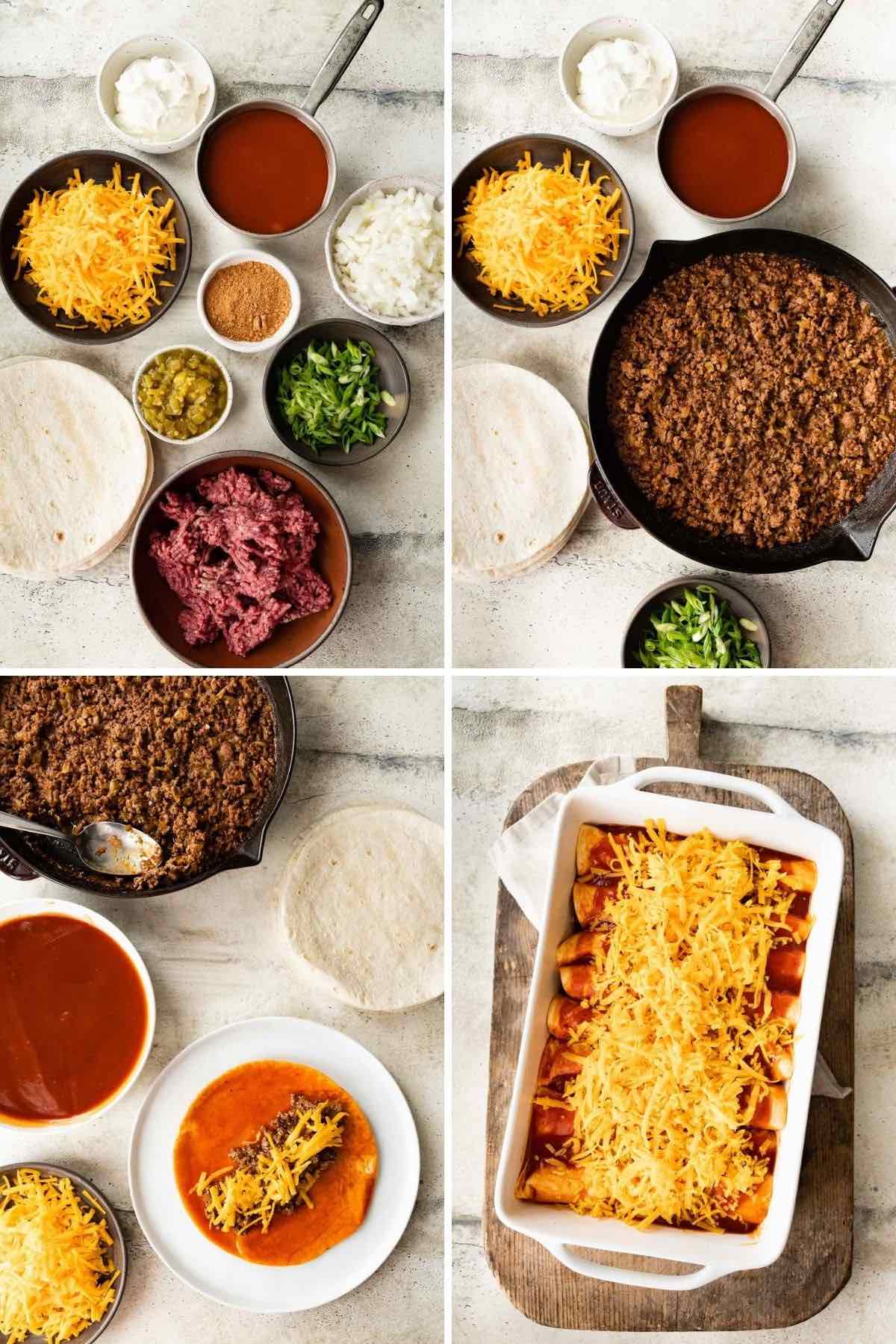 Key Ingredients in Beef Enchiladas
Beef: We're using regular ground beef. You can use lean ground beef if you prefer. 
Cheese: Good ol' cheddar cheese is what we are using here. But, you can also use the 3 or 4 Mexican cheese blend for some nice variety. 
Tortillas: For this recipe, we love both corn and flour tortillas! Try a mixture of them to see which ones you like more! 
Enchilada Sauce: Anytime we can make our own sauce, we do! Store-bought enchilada sauce will work, but it won't beat the flavors of freshly homemade Enchilada Sauce. 
Taco Seasoning: The same rule applies to our Taco Seasoning about using a homemade mix, rather than a store-bought. The flavors are always better! 
Can I Make Beef Enchiladas Ahead of Time?
Yes. Because they are so easy to make, we recommend making and serving them same day. But, if needed, you can easily make the Beef Enchiladas a day or two in advance and store them in the fridge. Just make sure to not put any toppings like sour cream on until you're ready to serve. That way they'll be fresh and ready to go! To reheat, simply place them back in the oven for 12 minutes at 350 degrees F, cover with your favorite toppings, and enjoy!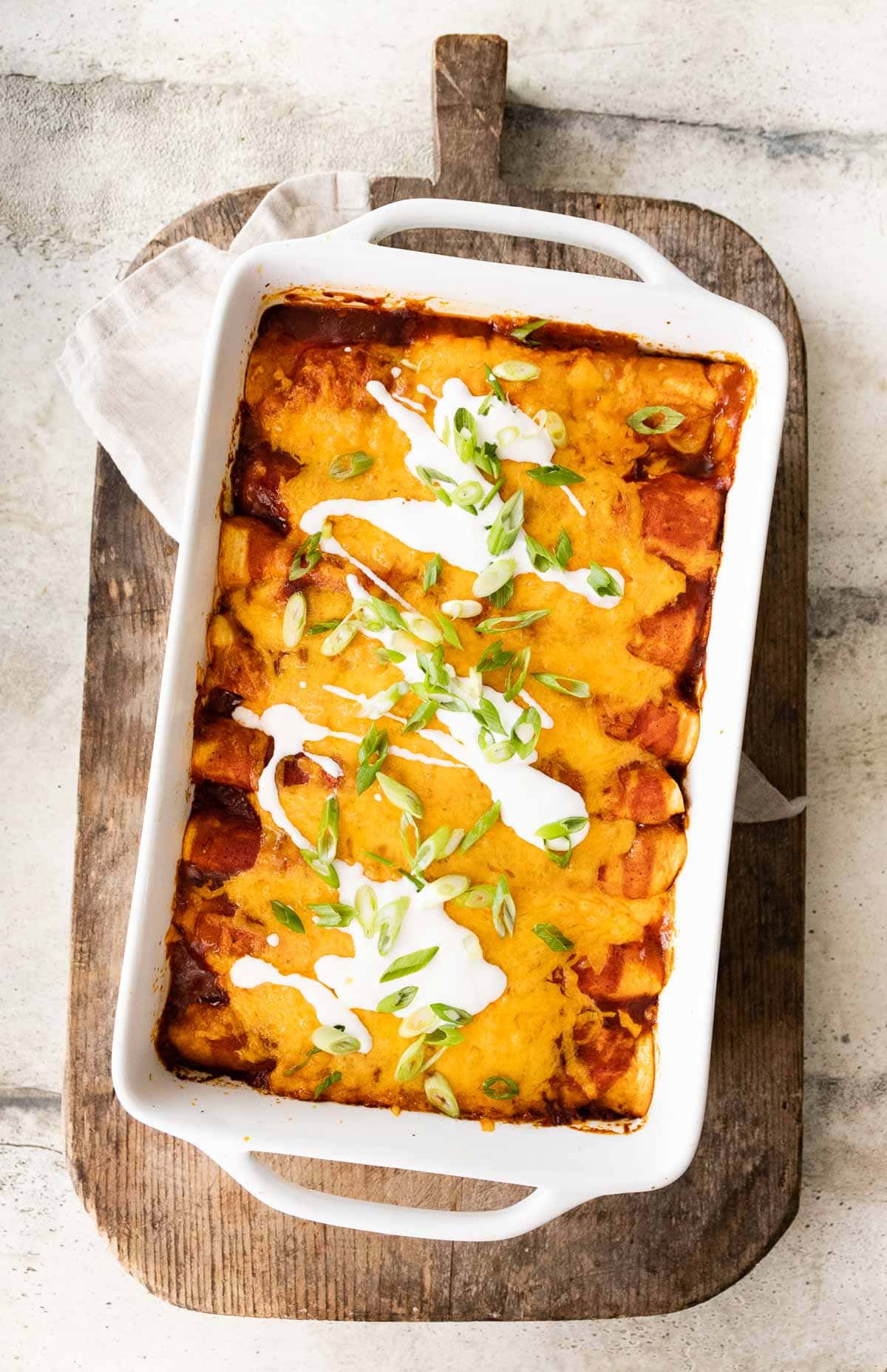 What to Serve with Beef Enchiladas 
Beef Enchiladas should be served with some complimenting flavors like Elote (Mexican Grilled Street Corn) and Cinnamon Sugar Tortilla Chips with vanilla ice cream for dessert! Or, you can try Classic Horchata, a creamy and sweet cinnamon-flavored drink!
Don't forget to try homemade Pico de Gallo and Black Bean Dip with your tortilla chips. Yum!
How to Store Beef Enchiladas
Serve: After baking, you don't want to leave Ground Beef Enchiladas at room temperature for more than 2 hours.
Store: To store leftover enchiladas you can transfer them to an airtight container or cover the dish tightly in aluminum foil. They'll stay good in the fridge for up to 2 days.
Freeze: Transfer the enchiladas to an aluminum foil pan or freeze-proof Tupperware to freeze for up to 3 months. Then to reheat, turn the oven to 350 degrees. Transfer to an oven-safe pan and place in the oven covered in foil and bake for 45 minutes until reheated.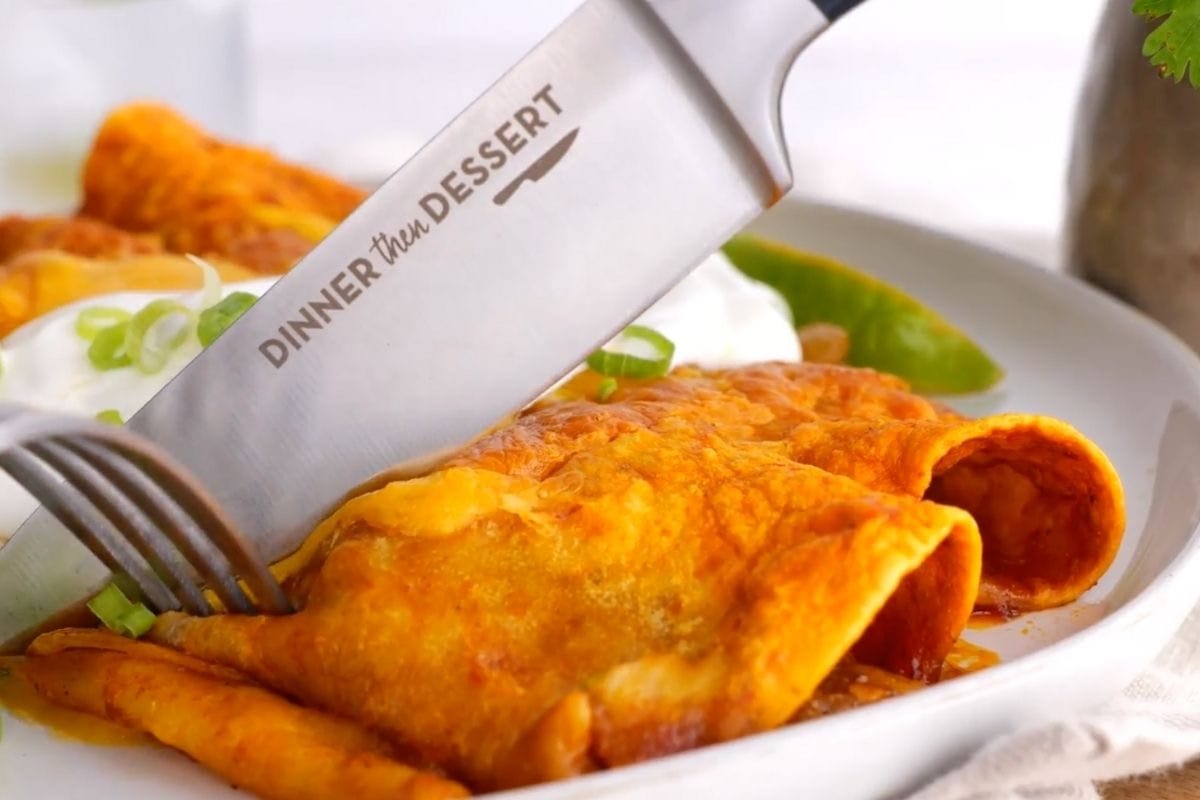 Ingredients
1

pound

ground beef

, (85/15)

1

yellow onion

, diced

1

cup

water

3

tablespoons

Taco Seasoning

, or 1 packet

4

ounces

green chiles

, diced

2

cups

Enchilada Sauce

8

tortillas

, fajita sized (not street taco or burrito size)

1 1/2

cups

cheddar cheese

, shredded

1/2

cup

green onions

, thinly sliced

1/2

cup

sour cream
Instructions
Preheat oven to 375 degrees and spray a 9×13 baking dish with cooking spray.

Add ground beef and onion to a large skillet on medium-high heat.

Cook, breaking it apart, for

6-8 minutes

.

Drain the fat (if you have any) and add in the taco seasoning mixed with water.

Add chopped green chiles, stir well and let simmer for

5 minutes

until water has mostly evaporated.

Add the enchilada sauce to a large bowl.

Dip each tortilla in the sauce then place onto cutting board.

Fill with ¼ cup of filling and 1 tablespoon of cheddar cheese and roll.

Place seam side down in baking dish.

Pour remaining enchilada sauce over the rolled tortillas.

Top with remaining 1 cup of cheddar cheese.

Bake for

25-30 minutes

, then top with green onions and sour cream.
Nutrition
Calories:
367
kcal
|
Carbohydrates:
26
g
|
Protein:
20
g
|
Fat:
20
g
|
Saturated Fat:
10
g
|
Trans Fat:
1
g
|
Cholesterol:
68
mg
|
Sodium:
1264
mg
|
Potassium:
318
mg
|
Fiber:
3
g
|
Sugar:
8
g
|
Vitamin A:
1192
IU
|
Vitamin C:
7
mg
|
Calcium:
222
mg
|
Iron:
3
mg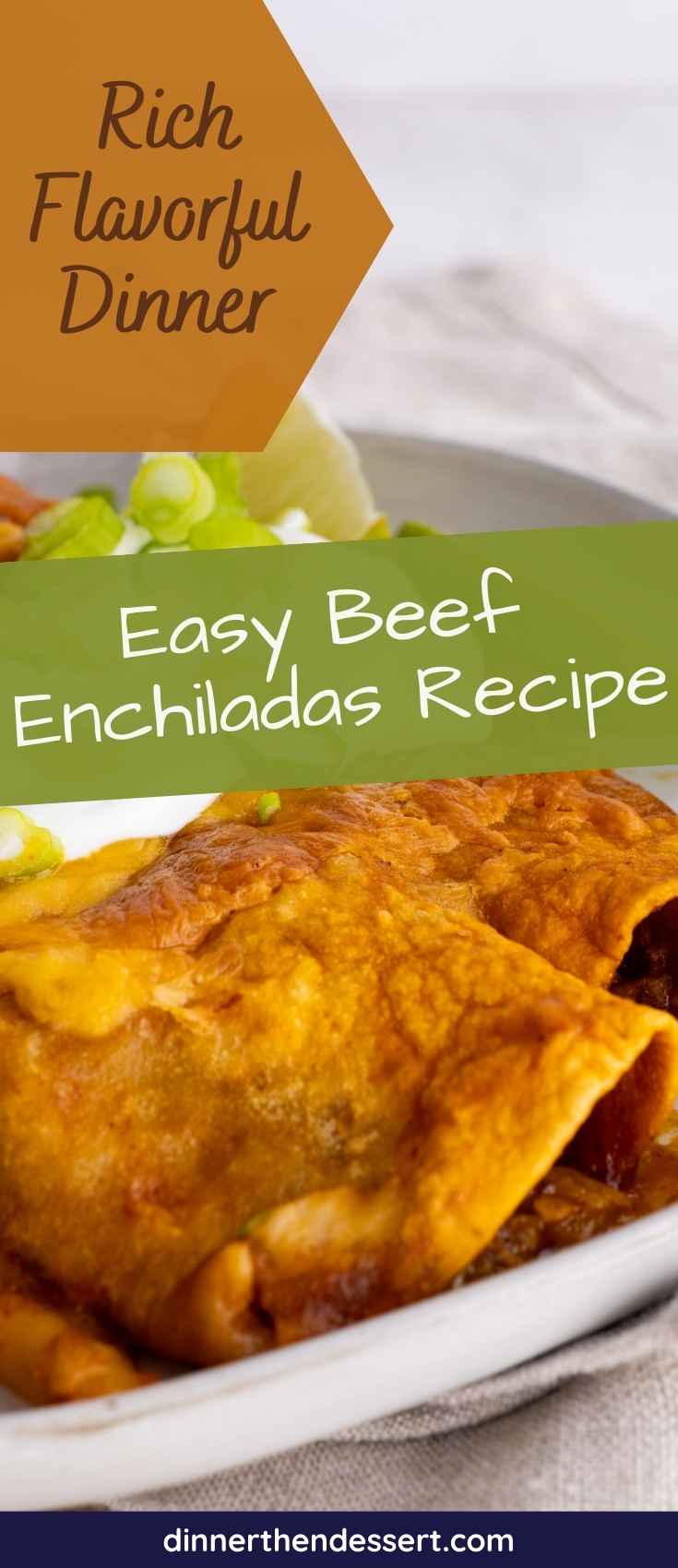 Photo used in a previous version of this post.