Slow Cooker Chicken Enchilada Dip takes just five minutes of prep with raw chicken, enchilada sauce and veggies topped with a bunch of deliciously melty cheddar cheese.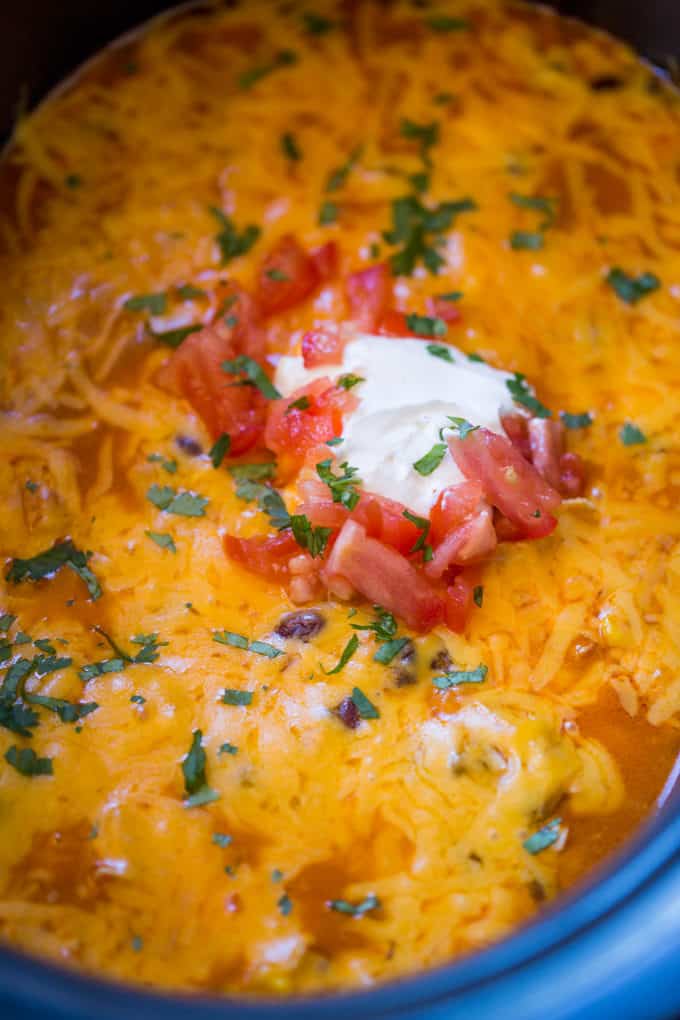 Slow Cooker Chicken Enchilada Dip is the perfect game day food that takes practically no effort at all. The dip tastes just like your favorite enchiladas but with the crunch of tortilla chips and perfect for snacking.
Dips are all the rage as we are entering the holiday season. Many moons ago I remember when I came across the recipe for Buffalo Chicken Dip on All Recipes and made it for a Christmas party. My husband's cousin stood over the bowl taking spoonfuls of dip (forget the crudite, he went right for it!) and just filled up on dip (I know I know double dipping but it was just close family and we all thought it was hilarious).
Since then I've always been a huge fan of dips for parties. Add in the slow cooker twist on this Slow Cooker Chicken Enchilada Dip and this is the perfect pot luck recipe too. The slow cooker keeps the cheese a perfectly melted temperature. I mean stretchy cheese? Yes please.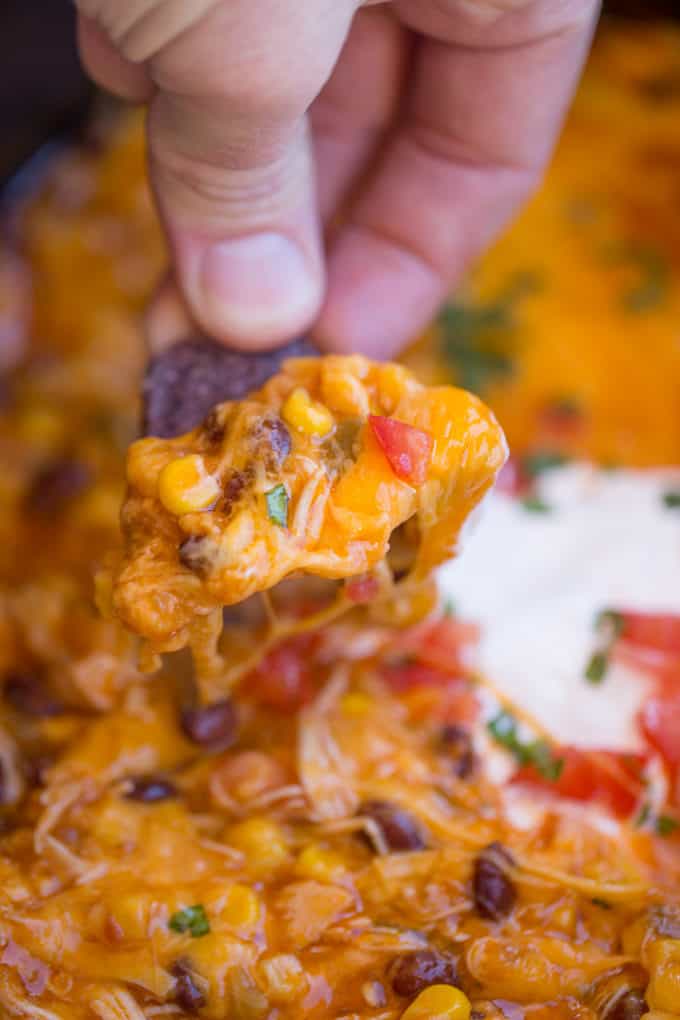 This Slow Cooker Chicken Enchilada Dip takes just minutes of effort. Add in two raw boneless skinless chicken breasts, corn, black beans, enchilada sauce, green chilies and either salsa or diced tomatoes and onions. Top with a generous amount of cheese and cook on low for 4 hours.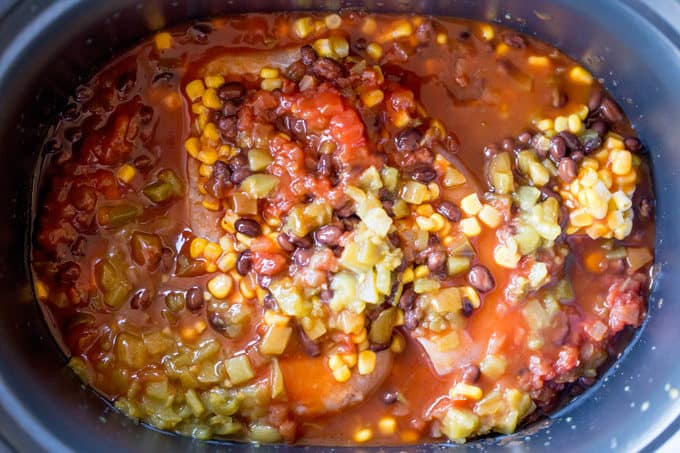 Did I mention top with lots of deliciously sharp cheddar cheese?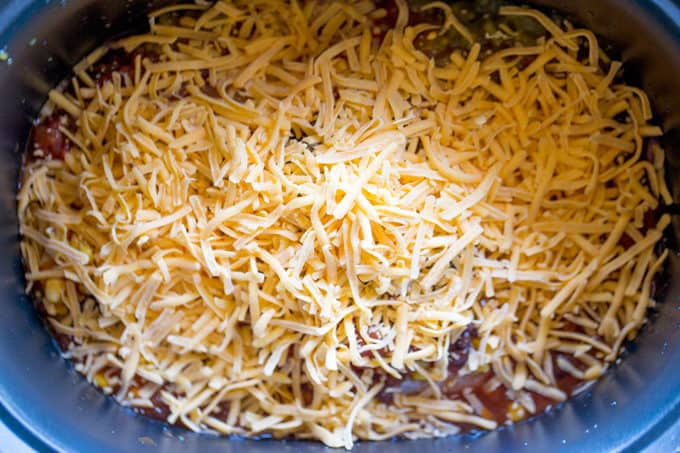 Once cooked the cheese will have melted into the dip. This is good folks! With a couple of forks shred the chicken still in the slow cooker and then cover with another ½ cup of shredded cheddar. Then…magic…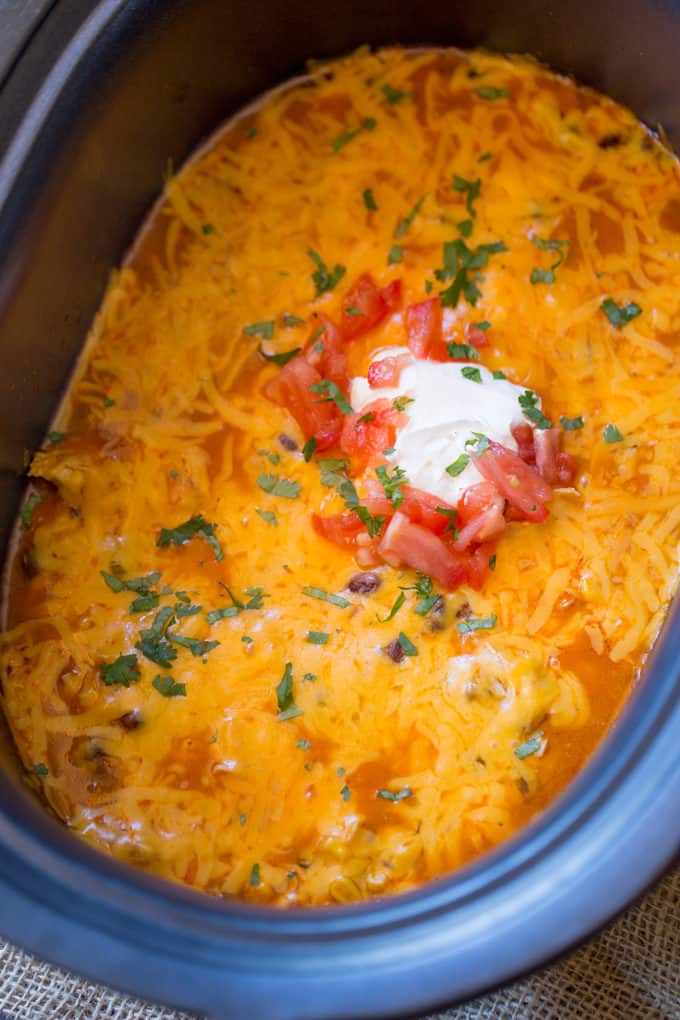 Perfectly scoopable cheesy magic!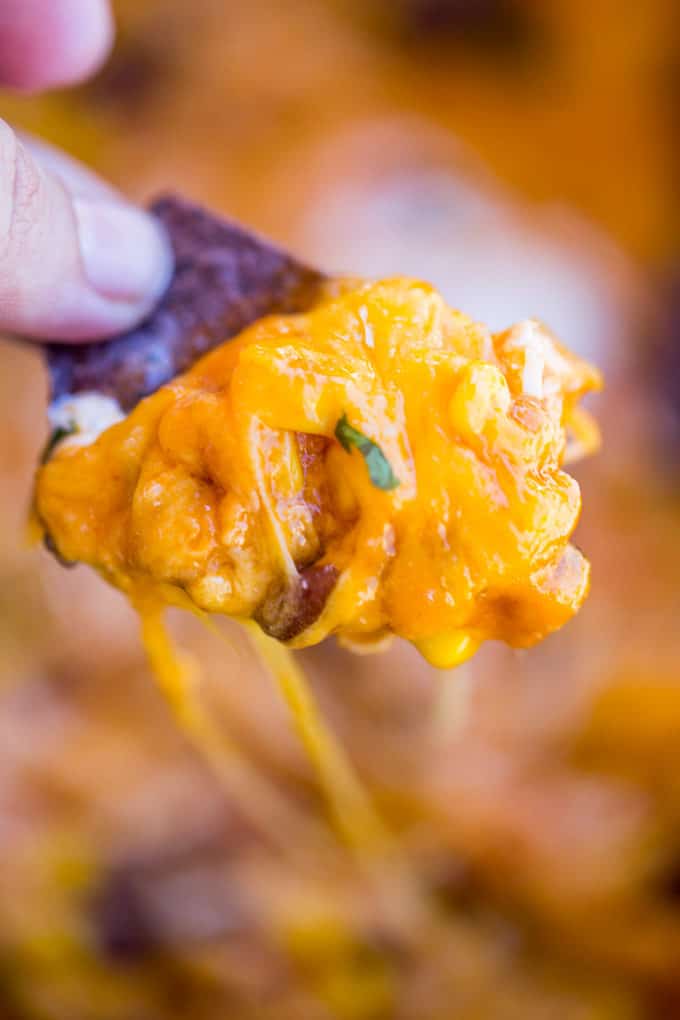 Top with some sour cream (or put it into a ziploc bag, cut off the tip and add on top in a zig-zag pattern), cilantro and diced tomatoes or salsa.
Video time!
[brid autoplay="true" video="454102″ player="19072″ title="Slow Cooker Chicken Enchilada Dip" description="Slow Cooker Chicken Enchilada Dip" duration="60″ uploaddate="2019-08-22 13:17:59″ thumbnailurl="//cdn.brid.tv/live/partners/14572/thumb/454102_t_1566479737.png"]
Tools Used In This Recipe:
Slow Cooker: Love this slow cooker and how programmable it is, it has been a workhorse for me… until…
My New Slow Cooker: This recipe was made in this slow cooker. If I needed to brown it in the oven (I didn't have to this time at all), I could remove the cast aluminum insert that I can brown in and put in the oven. Now for larger roasts I can brown the meat in the insert and not lose a bunch of the flavor by transferring the meat and leaving the browned bits behind. If you're thinking of a new slow cooker, consider it if your budget is open.
Salsa: I love making salsa at home, check out my favorite Guapo's Mexican Salsa, but for a quick swap I LOVE this one from Costco (link for reference).
Freezer Bags: Other brands may be more popular, but I have never had a bag burst/leak with this brand. I have however with Ziploc.


Ingredients
2

boneless skinless chicken breasts

2

cups

enchilada sauce

1

cup

frozen corn

(or fresh or canned)

1

can black beans

(drained and rinsed)

1

4-ounce

can of diced green chiles

2

cups

salsa

2

cups

sharp cheddar cheese

, divided

sour cream and cilantro

, optional for topping
Instructions
Add the chicken, enchilada sauce, corn, black beans, salsa, green chiles and 1 ½ cups of sharp cheddar cheese to the slow cooker.

Uncover and shred chicken with two forks (its okay if the cheese gets mixed in here)

Top with last ½ cup of cheese.

Cover and let cook an additional 10 minutes until the cheese is melted.

Uncover, sprinkle with cilantro and top with sour cream and more salsa or tomatoes before serving.
Nutrition
Calories:
139
kcal
|
Carbohydrates:
9
g
|
Protein:
10
g
|
Fat:
6
g
|
Saturated Fat:
4
g
|
Cholesterol:
31
mg
|
Sodium:
792
mg
|
Potassium:
252
mg
|
Fiber:
1
g
|
Sugar:
4
g
|
Vitamin A:
670
IU
|
Vitamin C:
2.8
mg
|
Calcium:
150
mg
|
Iron:
0.7
mg