Pico de Gallo is a healthy easy authentic Mexican dip for Chips made in just five minutes.
What goes perfectly on Oven Baked Beef Tacos, Super Easy Steak Fajitas, and an Easy Taco Pizza? Homemade Pico de Gallo is a delicious and classic condiment found on all sorts of Mexican food recipes, and served with chips, is a great appetizer for parties and weekend get togethers.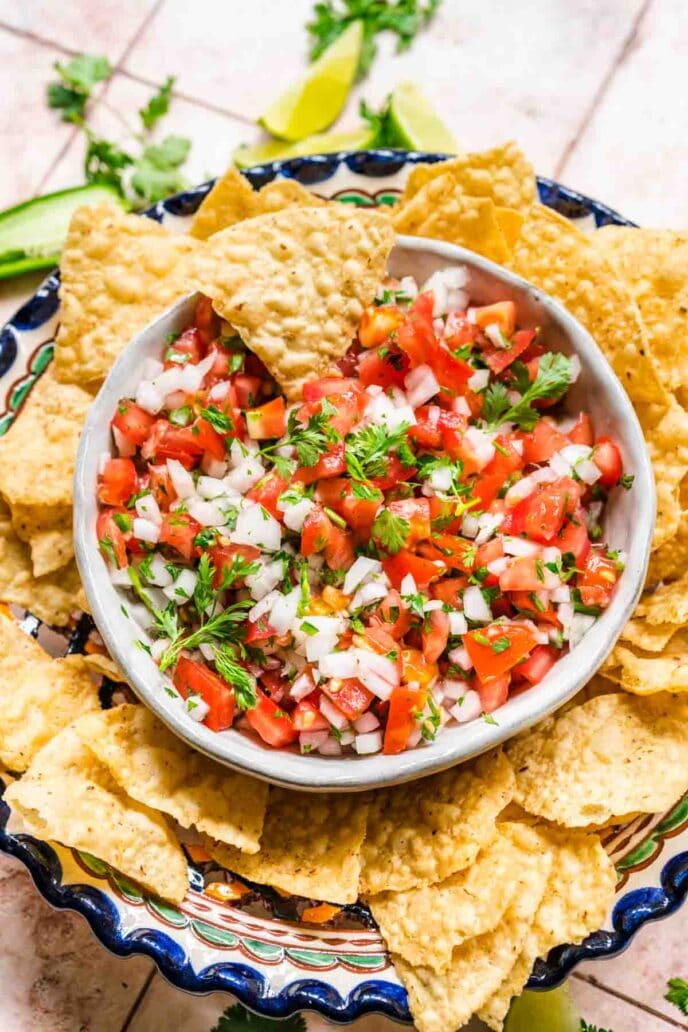 My easy Pico de Gallo recipe is one of the easiest appetizer recipes that you'll ever try, and it turns out absolutely delicious every time. You can serve it up with some tortilla chips or over all sorts of traditional Mexican recipes, like carne asada, enchiladas, nachos, burritos, taco salad and more. This is one of those new recipes you'll want to break out at every family gathering or party, since it's so easy and turns out so great. This recipe is vegan, gluten free, and is one of the most delicious fresh salsas you'll ever make. One of the best ways to serve up Pico de Gallo is with some homemade Lime Chips that you can make from scratch. The Lime Chips are a great base for nachos, which go perfect topped with a hearty helping of fresh salsa.
So, what does "Pico de Gallo" actually mean? For those that aren't all that familiar with Spanish, "Pico de Gallo" literally means "the rooster's beak." This adorable nickname is thought by some food historians to have come from the fact that it was originally eaten by hand between the thumb and fore finger kind of like a chicken's beak.
HOW TO MAKE PICO DE GALLO 
Mix all ingredients together and refrigerate for at least one hour before serving.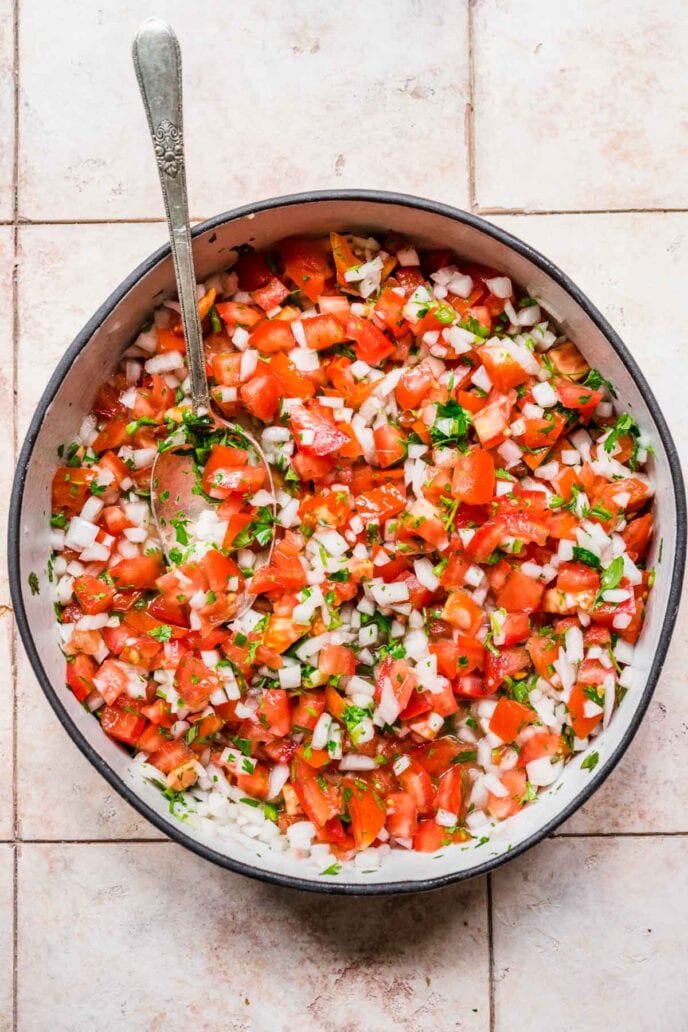 Create a free account to Save Recipes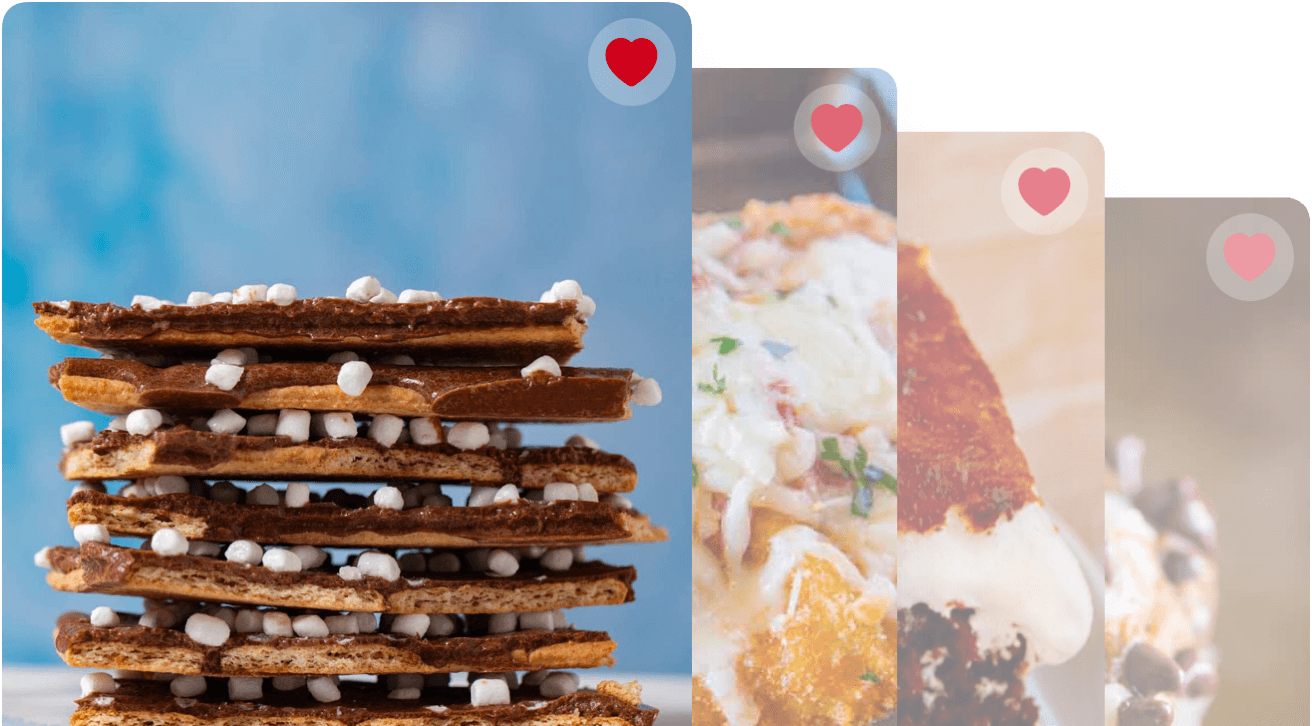 VARIATIONS ON PICO DE GALLO 
Add ins: You can really add all sorts of veggies and spices to customize your appetizer. Try adding chopped red onion, roma tomatoes, plum tomatoes, corn, black beans, or slices of fresh avocado to the Pico de Gallo.
Peppers: Do you crave something a little spicier in your Pico de Gallo? Try chopping up some habanero or serrano peppers and mixing them in. Keep in mind that capsaicin, the chemical in peppers that makes your face feel like it's melting, is activated by cold temperatures and citrus juice, so start small and work your way up.
Spices: Try mixing in a dash of cumin, garlic or onion salt, or some fresh lime juice into this salsa recipe to make it even more delicious.
HOW LONG IS HOMEMADE PICO DE GALLO GOOD?
Serve: The best Pico de Gallo is served up fresh and chilled, so you shouldn't leave it out for longer than abut 2 hours. In this case, leaving the Pico de Gallo out for too long won't necessarily make you sick, but it will start to taste nasty.
Store: You can keep Pico de Gallo stored in the fridge for up to about a week before it gets mushy and gross. Make sure to keep it wrapped up in plastic wrap or in an airtight container.
Freeze: You can freeze homemade Pico de Gallo for up to 2 months before you should throw it out. It's always best to freeze the salsa in an airtight container to keep it from losing its flavor.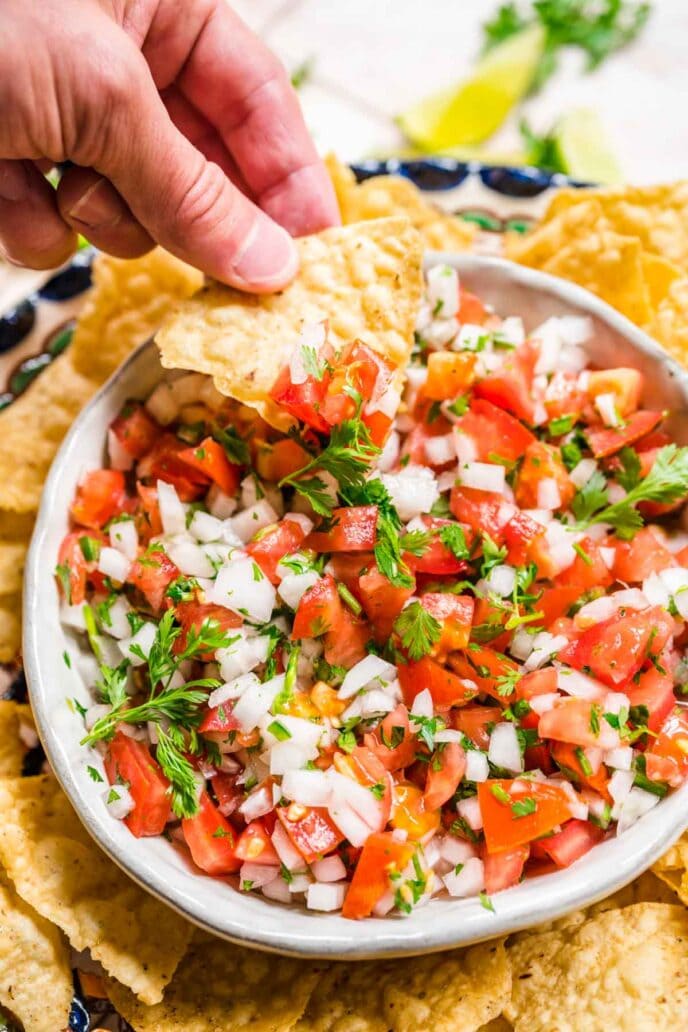 Ingredients
2

vine tomatoes

, diced

1

white onion

, finely chopped

1/2

fresh jalapeno pepper

, deveined, de-seeded and minced

1/4

cup

cilantro

, chopped

1

teaspoon

garlic powder

1/2

teaspoon

kosher salt

2

tablespoons

lime juice
Instructions
Mix all ingredients together gently.

Cover and refrigerate for at least

one hour

before serving.
Nutrition
Calories:
27
kcal
|
Carbohydrates:
6
g
|
Protein:
1
g
|
Fat:
1
g
|
Saturated Fat:
1
g
|
Sodium:
296
mg
|
Potassium:
195
mg
|
Fiber:
1
g
|
Sugar:
3
g
|
Vitamin A:
599
IU
|
Vitamin C:
15
mg
|
Calcium:
12
mg
|
Iron:
1
mg