Crispy Tater Tot Waffles are crazy crispy, easy, and fun! As a grilled cheese, with bacon and eggs, or loaded with toppings, they're great for breakfast or dinner.
Move over Hash Browns, the ultimate side dish for all Breakfast Recipes has arrived!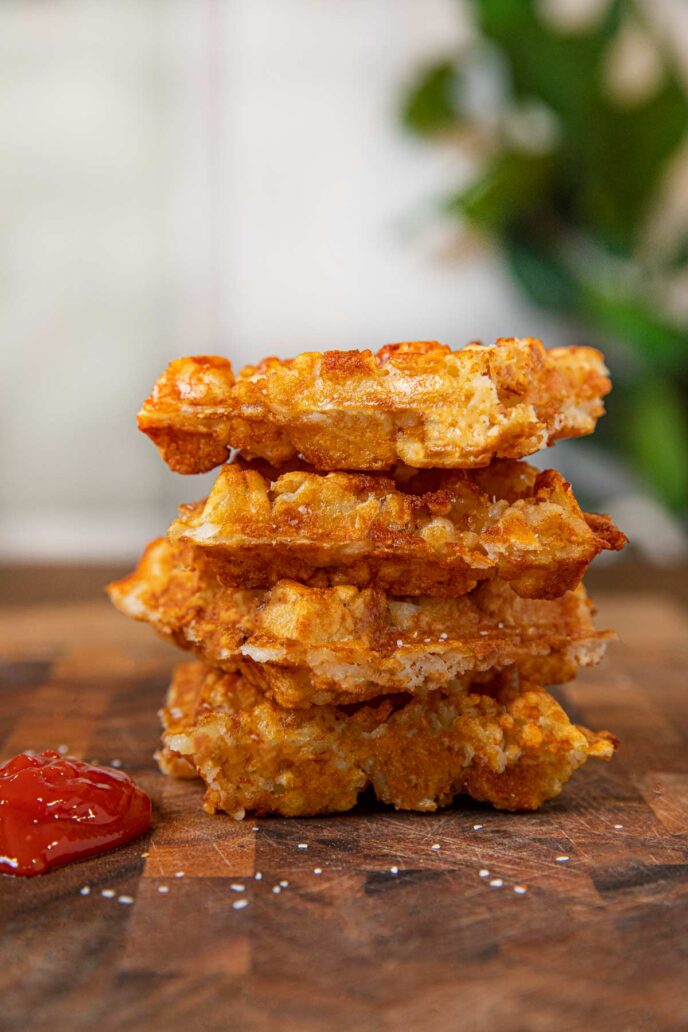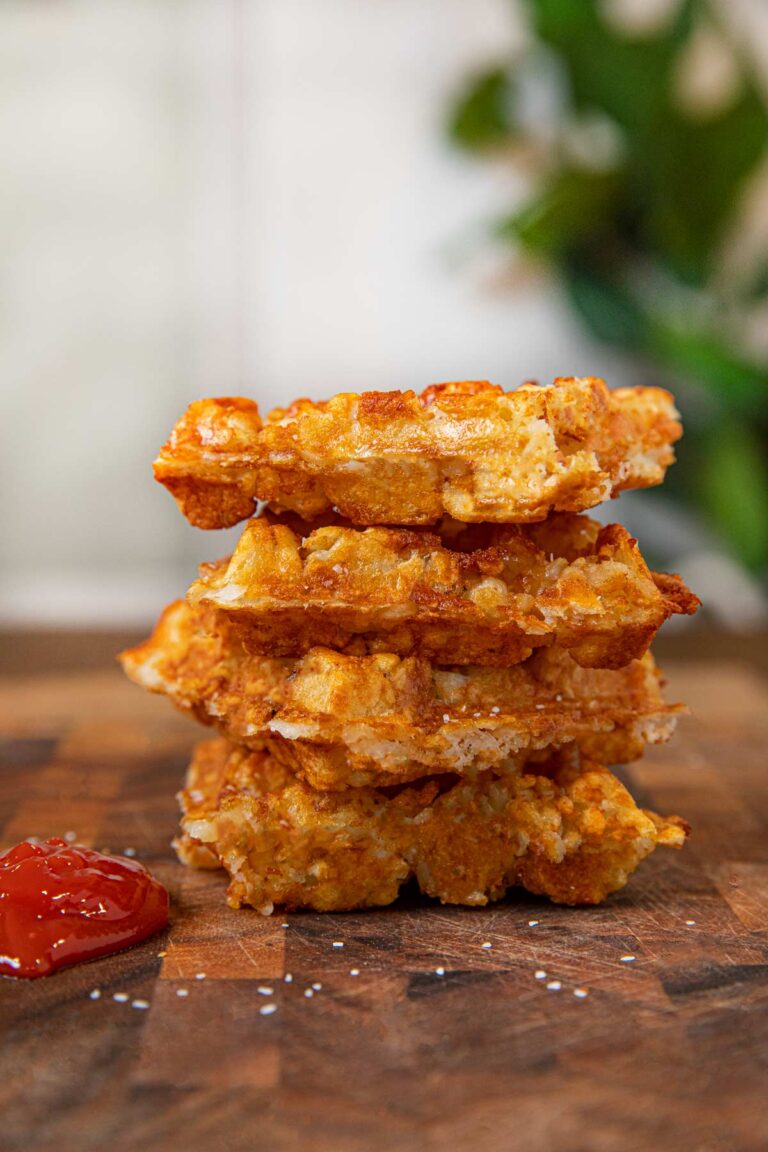 TATER TOT WAFFLES
No peeling, no chopping, and no watching the skillet to flip at the exact right time, these Tater Tot Waffles are the easiest hash browns ever! With only 2 ingredients, unless your tots need extra salt, you get crispy potatoes that taste delicious and are the perfect side for almost anything. Use Tater Tot Fries instead of fries, hash browns, or sandwich bread for any meal.
You can serve Tater Tot Waffles so many different ways! Dip them in Fry Sauce at lunch or serve Tater Tot Waffles with brunch favorites. A delicious easy dinner idea is to serve Tater Tot Waffles with a bowl of Beef Chili. Check out the topping ideas and variations later in the post. Easily make the ultimate grilled cheese with Tater Tot Waffles too.
Tater Tot Waffles are great way to use up leftover takeout tater tots (or french fries) since the waffle iron gets them crispy again without overcooking them. Just pop them on the waffle iron as soon as it's hot and in 10 minutes you've got round two of a side dish instead of throwing the tots away.
EASY BREAKFAST RECIPES:
Tips for Perfect Tater Tot Waffles
Make sure your frozen tater tots are thawed to room temperature. If you forgot to take them out of the freezer in time, pop them in the microwave for a minute or two on high.
Place the tater tots close together on the waffle iron plate. You don't want any gaps. If you have a Belgian waffle maker you could layer some tots on top for thick Tater Tot Waffles.
Watch your fingers! That waffle iron plate is hot, so unless you are closely supervising this isn't a good recipe for kids to try on their own.
Secure top of waffle iron as tightly you can (without breaking it). The tots will get thinner and that's okay, this will cook them all the way through without burning.
Once they're nice and crispy remove them with this food flipper that won't crush your waffles (our favorite kitchen tool ever).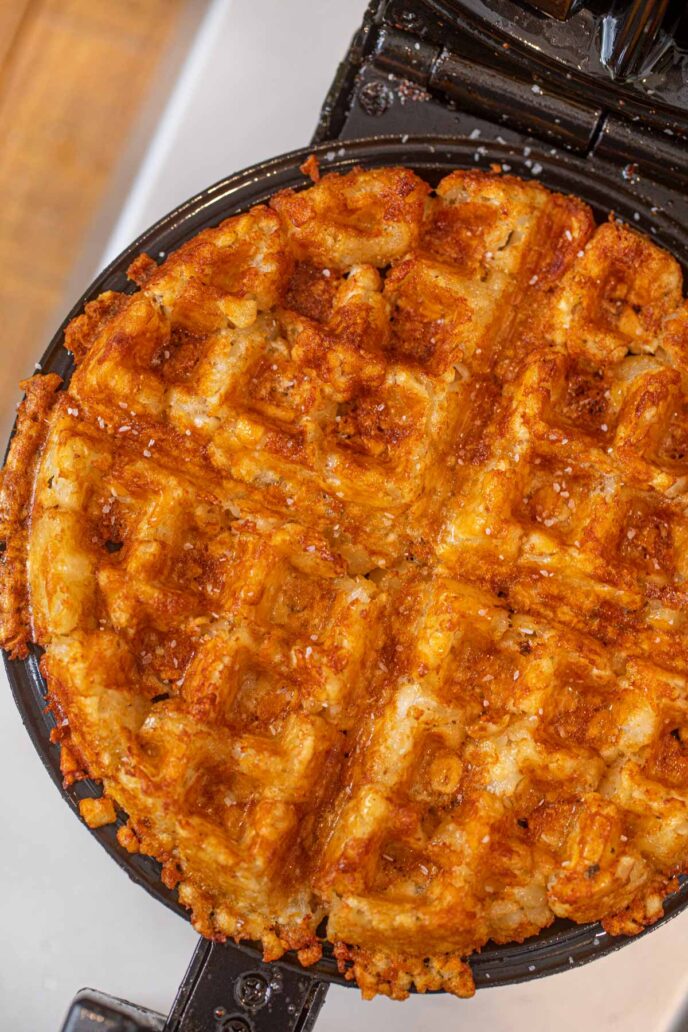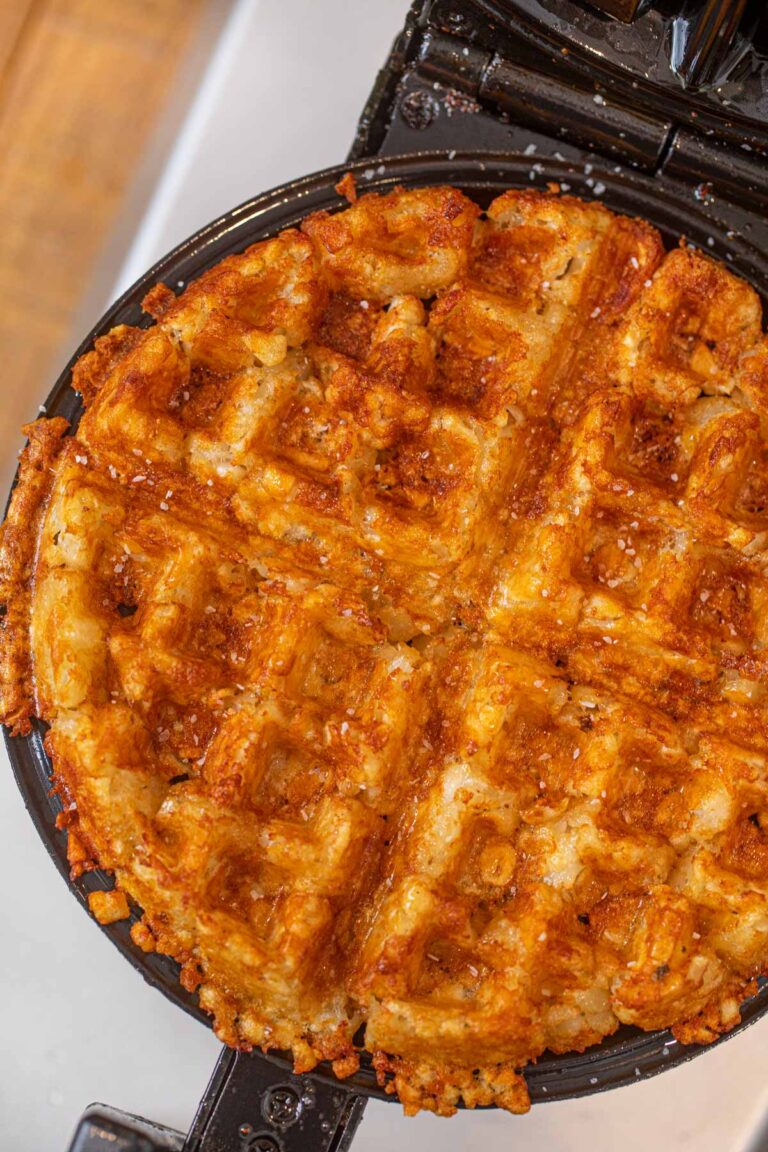 Create a free account to

Save Recipes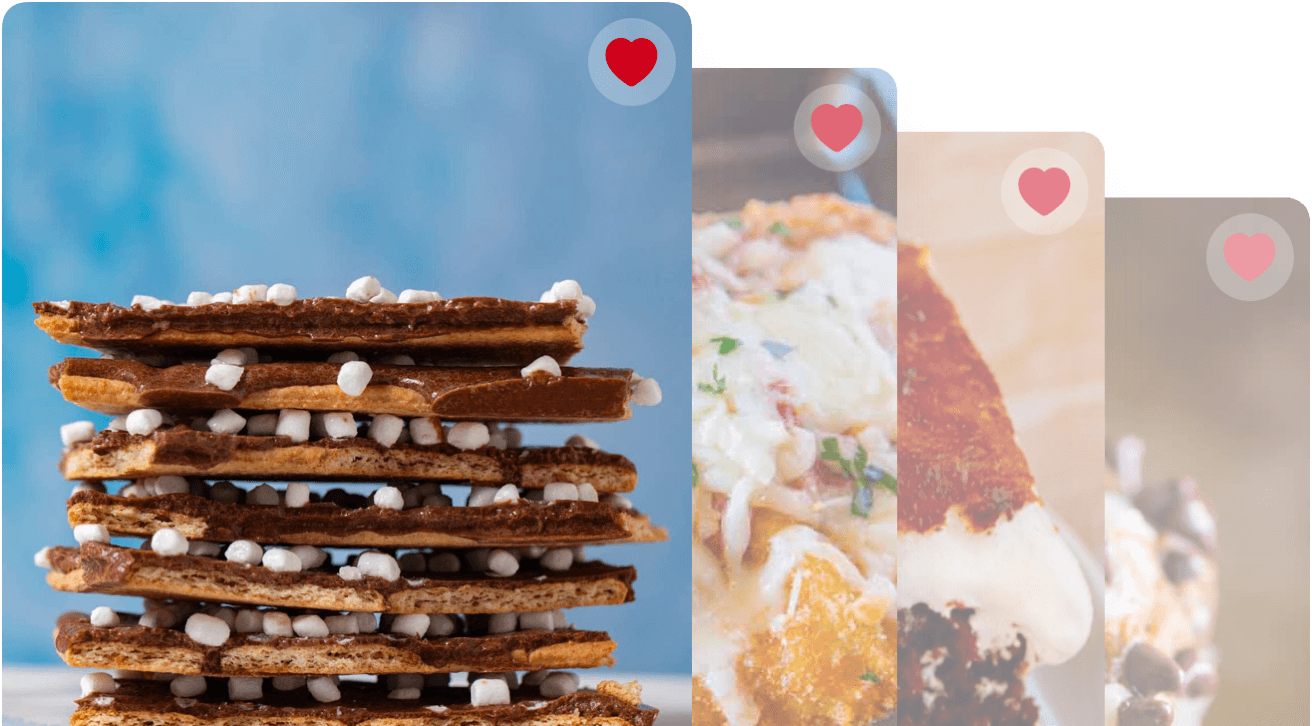 VARIATIONS ON TATER TOT WAFFLES
Potatoes: You can use most other frozen potatoes for Waffle Tots. Try sweet potato tater tots, shredded hash browns, home fries, or Potatoes O'Brien. Depending on the type you use, you may need to add more seasoning and flavor.
Seasonings: Toss your thawed tater tots in a tablespoon of your favorite seasoning blends like a Cajun seasonings, Taco Seasoning, or Ranch Dressing Mix before cooking.
Veggie Tots: Try the waffle iron method with those new Veggie Tots, like Cauliflower Tots or Broccoli Cheddar Tots, for an easy dinnertime vegetable side dish.
Toppings for Tater Tot Waffles
Loaded Tater Tot Waffles: Top like a loaded baked potato with crumbled bacon, sour cream, cheddar cheese, and chives.
Tater Tot Waffles and Lox: Spread a thin layer of crème fraîche (or softened cream cheese) over Tater Tot Waffle. Top with a couple slices smoked salmon, capers, thinly sliced red onions, and sprinkle with dill.
Tater Tot Waffle Sloppy Joes: Cut 1 full Tater Tot Waffle in half and use halves as bread for your favorite Sloppy Joes Recipes.
Tater Tot Waffle Pizzas: Spread each waffle with Pizza Sauce and top with mozzarella cheese and your favorite pizza toppings. Broil until cheese is melted.
MOST POPULAR BREAKFAST RECIPES
Tater Tot Waffle Grilled Cheese
Cook first waffle until crispy and golden brown, and set aside. Repeat with a second waffle and leave on waffle maker. Cover waffle with slices of American cheese. Place first waffle over cheese and line up grids as best you can. Close lid at least halfway, enough that the heat melts the cheese, and cook until cheese is melted. Serve Tater Tot Grilled Cheese with Tomato Soup!
HOW TO STORE TATER TOT WAFFLES
Serve: These Tater Tot Waffles are best served immediately but can be at room temperature for up to 2 hours.
Store: You can refrigerate leftover Tater Tot Waffles in a zippered plastic bag for up to 4 days. Line with a paper towel to absorb moisture.
Freeze: For best taste and texture, it's not recommended to freeze these Tater Tot Waffles. If you do freeze, place in a freezer safe bag and reheat from frozen in the oven.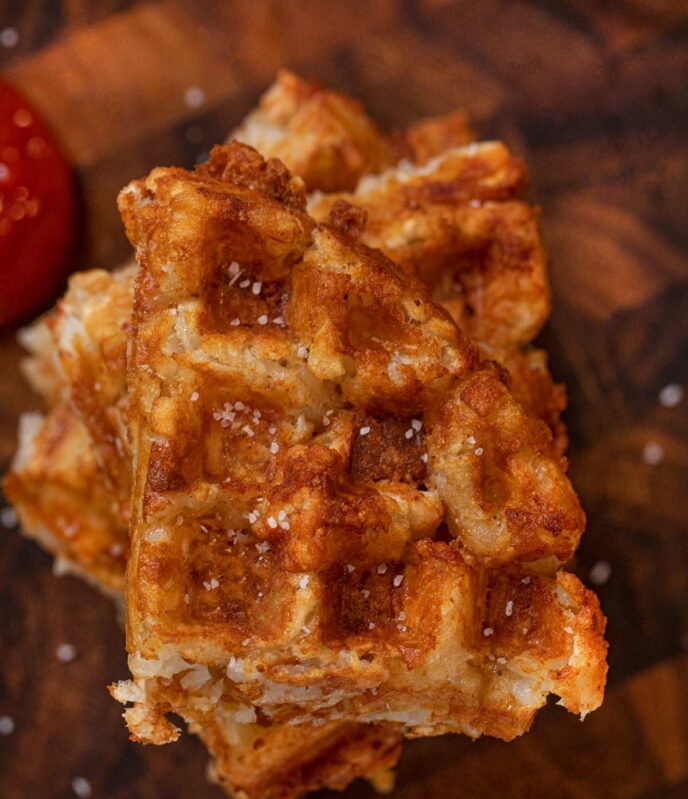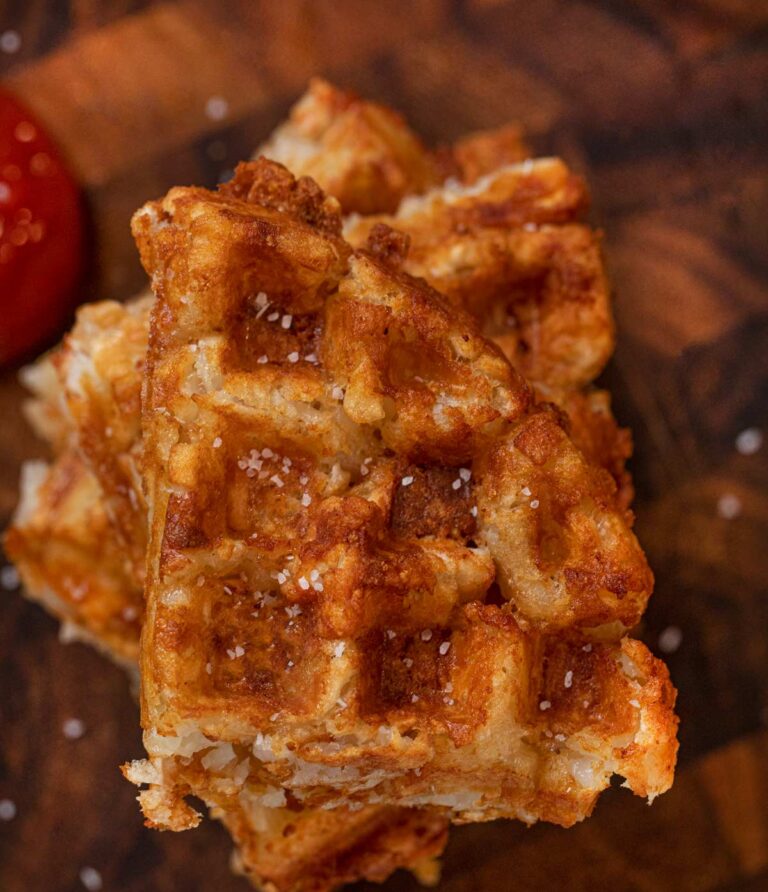 Ingredients
1

tablespoon

vegetable oil

, for brushing

32

ounces

tater tots

, thawed

1/2

teaspoon

kosher salt
Instructions
Turn on belgian waffle maker and brush lightly with oil.

Line up the tater tots tightly next to each other.

Sprinkle with salt and close and turn, cooking for 5 minutes on high heat until crispy.
Nutrition
Calories:
401
kcal
|
Carbohydrates:
57
g
|
Protein:
4
g
|
Fat:
19
g
|
Saturated Fat:
3
g
|
Sodium:
970
mg
|
Potassium:
601
mg
|
Fiber:
4
g
|
Sugar:
1
g
|
Vitamin C:
17
mg
|
Calcium:
29
mg
|
Iron:
1
mg