Cracker Barrel Hash Brown Casserole is the perfect copycat breakfast classic with shredded hash browns, cheddar cheese, sour cream and condensed soup.
Potatoes are the perfect base for a starchy side dish and if you love this recipe you should try Ultimate Loaded Mashed Potatoes or Creamy Garlic Mashed Potatoes. They're both the perfect starchy comfort food your whole family will love. Plus the bacon in the loaded mashed potatoes is just heavenly!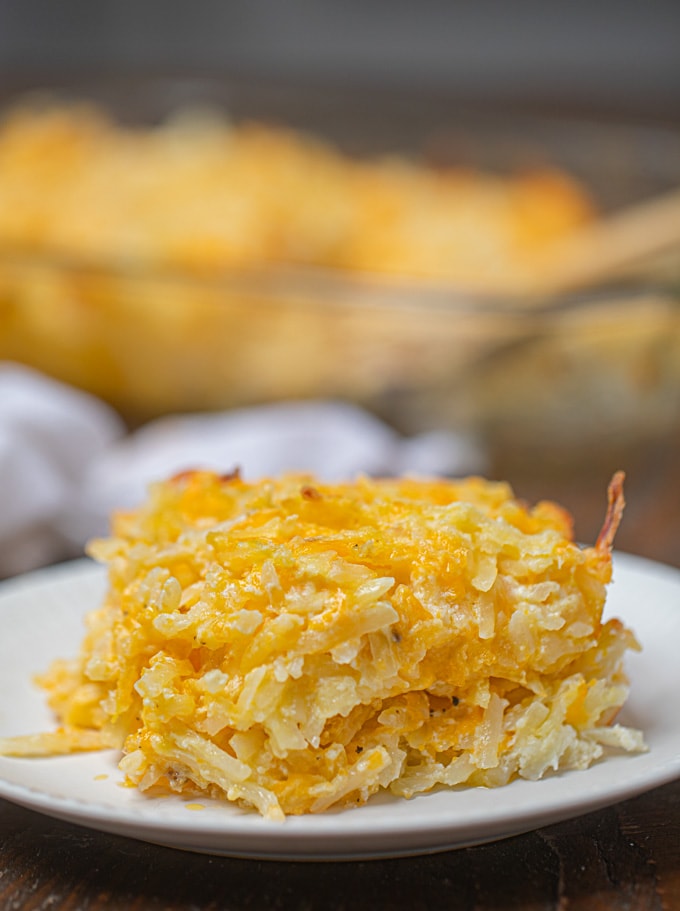 CRACKER BARREL HASH BROWN CASSEROLE
If you're craving a new main dish for dinner or looking for something fun to serve up for brunch, this yummy copycat recipe from Cracker Barrel is the perfect comfort food recipe to try. It's got a fairly short cook time and the prep is incredibly easy. We love serving it alongside Perfect Simple Roast Chicken or Classic Beef Meatloaf.
If you are looking for a dish that is the perfect blend of breakfast and dinner, you should try making hash brown casserole from this recipe we found at Cracker Barrel, which is one of our favorite late night hang out restaurants I used to love in college (it's a secret travel guilty pleasure now).
It's rich and savory and it doesn't take the whole day to prep and bake. In fact I can usually prep the entire recipe in less than five minutes and I just put the pan in the oven before it even finished preheating! This dish couldn't be any easier!
This cheesy hash brown casserole is hearty enough to serve up in a breakfast for dinner scenario, or you can serve it in smaller portions for breakfast or brunch. You can also save if for later if you're looking for a breakfast that's filling and that you don't have to make from scratch every morning. I love serving it with chicken tenders!
What to serve with Hash Brown Casserole:
HOW TO MAKE
Preheat oven to 350 degrees. Spray 11 x 14 inch casserole or baking dish with cooking spray.
In large bowl, combine all ingredients and stir together.
Spread evenly in prepared pan.
Bake for 45 minutes until the top is golden brown.
VARIATIONS ON CRACKER BARREL HASH BROWN CASSEROLE
Cheese: If you're looking for some new taste variations, switching up the cheese you use is a good way to alter the taste without having to change the recipe too much. Try using parmesan, pecorino or colby cheese.
Spices: Dust a bit of black pepper, red pepper flakes, oregano, paprika or an Italian spice blend over the top of your casserole. You can add any mixture that you want depending on the flavor palette you prefer.
Toppings: As unusual as it sounds, you can add crushed cornflakes to the top of the casserole to give it a delicious crunch without having to do extra work, and cornflakes don't interfere with the overall flavor of the dish.
Vegetarian: If you want to make this dish vegetarian-friendly, all you have to do is switch out the cream of chicken soup for cream of mushroom soup. The rest of the recipe is already meat-free and cream of mushroom soup cooks similarly to the chicken variety.
Onions: You can use a large yellow onion, but if you are craving a different or stronger onion taste, you can try using a scallion or chopped green onions. Even though scallions are a small onion, don't be fooled: they pack quite a punch.
WHO CAN WE THANK FOR HASH BROWNS?
There are a lot of similar dishes around the world, but the first time the term "hashed browns" showed up was in New York City around 1888. They showed up in a cookbook written by Maria Parloa, the founder of multiple cooking schools and a respected food writer.
The name was originally "hashed browns," but it was shortened over time to "hash browns." The word "hashed" comes from "hacher," which means "chopped" in French. "Hash browns" was first coined by H.L. Mencken, and American satirist and journalist, in 1945.
KEEPING CRACKER BARREL HASH BROWN CASSEROLE FOR LEFTOVERS
Serve: You should not leave the casserole out for longer than about 2 hours at room temperature.
Store: You can keep your leftovers in the fridge for about 4 days as long as you keep them covered in the fridge.
Freeze: If you want to keep your casserole around for longer, it will stay good for about 3 months in the freezer. The hash browns won't reheat well beyond that point, so you're better off making a new batch.

Recipe

Save

Cracker Barrel Hash Brown Casserole

Yield:

12

Prep Time:

5

minutes

Cook Time:

45

minutes

Total Time:

50

minutes

Course: Dinner
Cuisine: American
Author: Sabrina Snyder

Cracker Barrel Hash Brown Casserole is packed with cheddar cheese, sour cream and, of course, hash browns.

Ingredients

32

ounces

shredded hash browns

, thawed

1/2

cup

unsalted butter

, melted

10.75

ounces

cream of chicken soup

2

cups

sour cream

1/2

yellow

onion

, chopped

2

cups

cheddar cheese

, shredded

1 1/2

teaspoons

kosher salt

1/2

teaspoon

coarse ground black pepper

Instructions

Note: click on times in the instructions to start a kitchen timer while cooking.

Preheat oven to 350 degrees.

Mix hash browns, melted butter, cream of chicken soup, sour cream, onions, cheddar cheese, salt and pepper in a large bowl until well combined.

Spread evenly in a 9x13 baking dish.

Cook for 45 minutes until top is melted and browned.

Nutrition Information

Yield: 12 , Amount per serving: 285 calories, Calories: 285g, Carbohydrates: 15g, Protein: 7g, Fat: 22g, Saturated Fat: 13g, Cholesterol: 61mg, Sodium: 427mg, Potassium: 299mg, Fiber: 1g, Sugar: 2g, Vitamin A: 671g, Vitamin C: 7g, Calcium: 191g, Iron: 1g

All images and text © for Dinner, then Dessert.

Keyword:

Cracker Barrel Hash Brown Casserole

Save