Everything Bagel Breakfast Casserole has all the taste of your favorite New York bagel baked into an easy make-ahead breakfast for a crowd.
We love Breakfast Recipes like this one that combine two popular dishes. This one takes the famous everything bagel and combines it with an easy Breakfast Casserole. It's perfect for a holiday breakfast or family reunion where you have a lot of mouths to feed.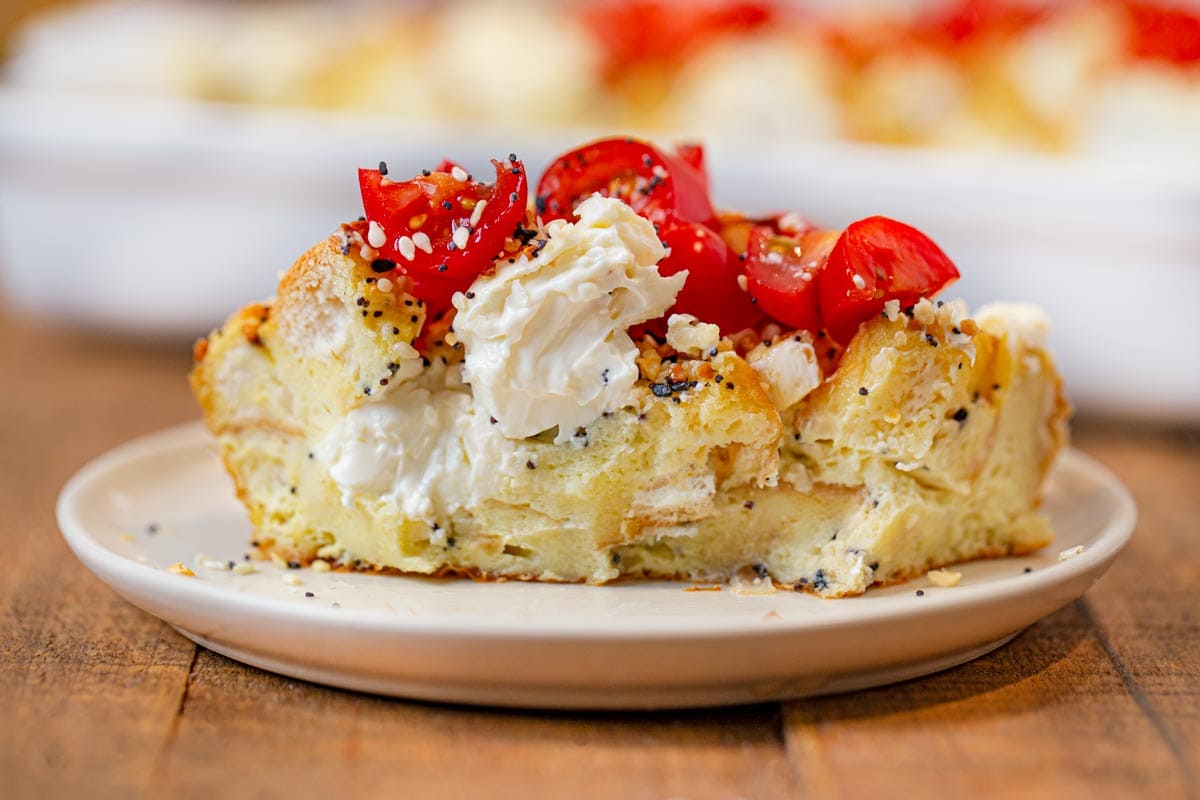 EVERYTHING BAGEL BREAKFAST CASSEROLE
If you're a fan of everything bagels, then you're sure to love this breakfast bake. It's all the best bagel toppings baked into an easy casserole. You'll love how easily the bagels, red onion, everything bagel seasoning, and cream cheese come together. Then you top it with some tomatoes and can even put out lox for the ultimate everything bagel breakfast. It's the perfect way to serve your favorite bagel as a brunch recipe for a big group.
This recipe uses a flavorful egg custard for the bagels to soak up. The custard helps the whole dish bake together into one bake where you get all the flavors in every bite. It's similar to how Sausage Egg and Cheese Croissant Breakfast Casserole turns croissants into a breakfast bake.
This breakfast casserole is perfect for the holidays, a family reunion, or big brunch. When you're craving bagels, but there's way too many people in the house to make getting individual bagels practical, this is the simple and delicious solution. The breakfast casserole is easy for everyone to serve up themselves with no mess. You can even double up the recipe if you have a really big group to feed.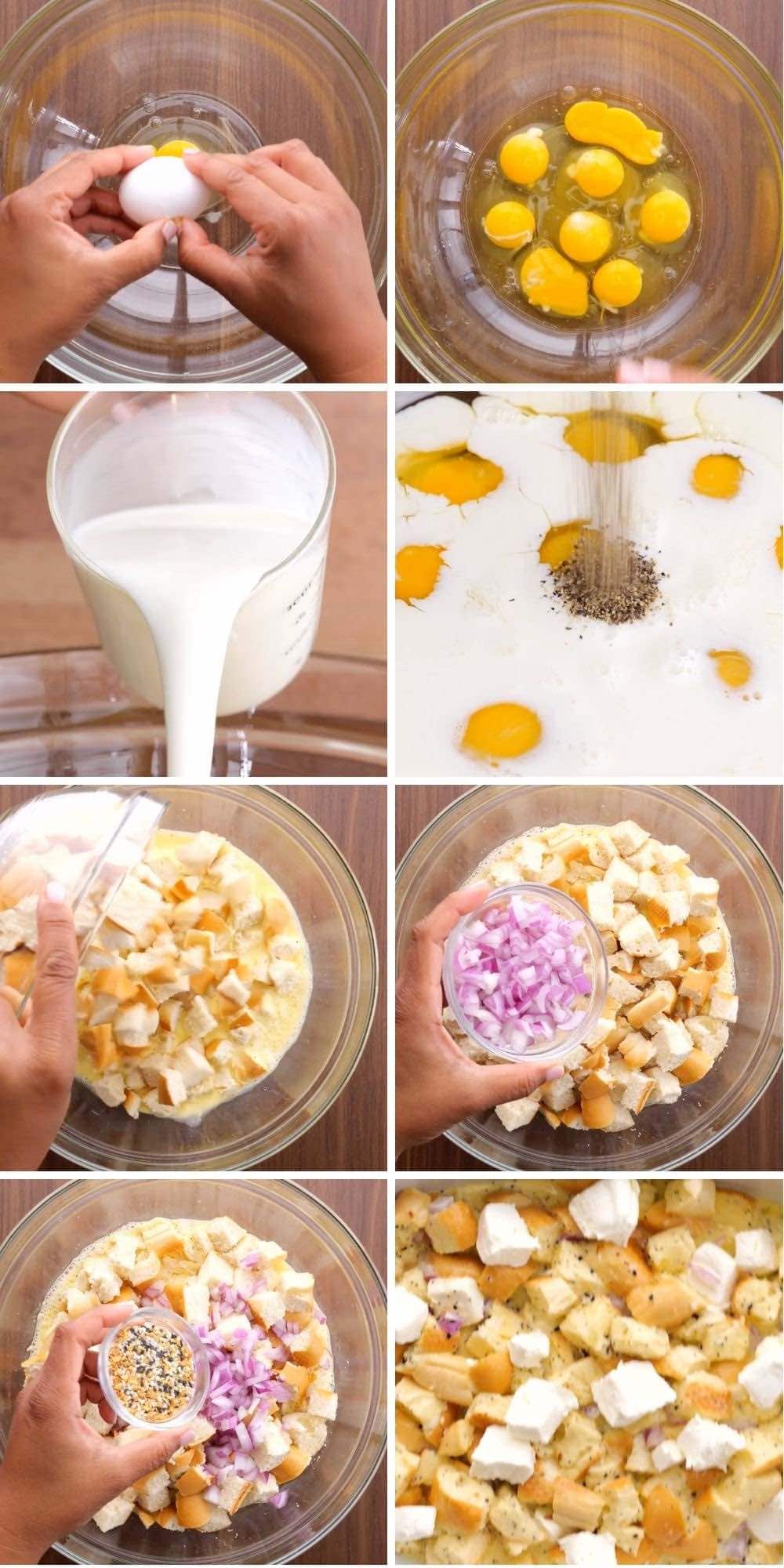 ASSEMBLING YOUR EVERYTHING BAGEL BREAKFAST CASSEROLE
When you put your breakfast casserole together, you want to make it so each bite will have all the taste of the perfect everything bagel. Here's the easy step-by-step guide to layering:
Start by whisking together the eggs, milk, and pepper for your custard.
Add the chopped bagels, onion, and everything bagel seasoning to the egg mixture. Toss the ingredients together so the bagels start to absorb the egg custard and the bagel seasoning coats everything.
Make sure to prep your baking dish with cooking spray so the casserole doesn't stick. Add half of the bagel mixture to the bottom of the baking dish.
Dot with half of the cream cheese. Arrange the cream cheese bits evenly along the top.
Add the remaining bagel mixture, then top with the rest of the cream cheese.
Top the whole thing with another tablespoon of everything bagel seasoning.
Bake until it's golden brown (about 40 minutes).
Once you take it from the oven, top it with chopped cherry tomatoes. Serve with lox if desired.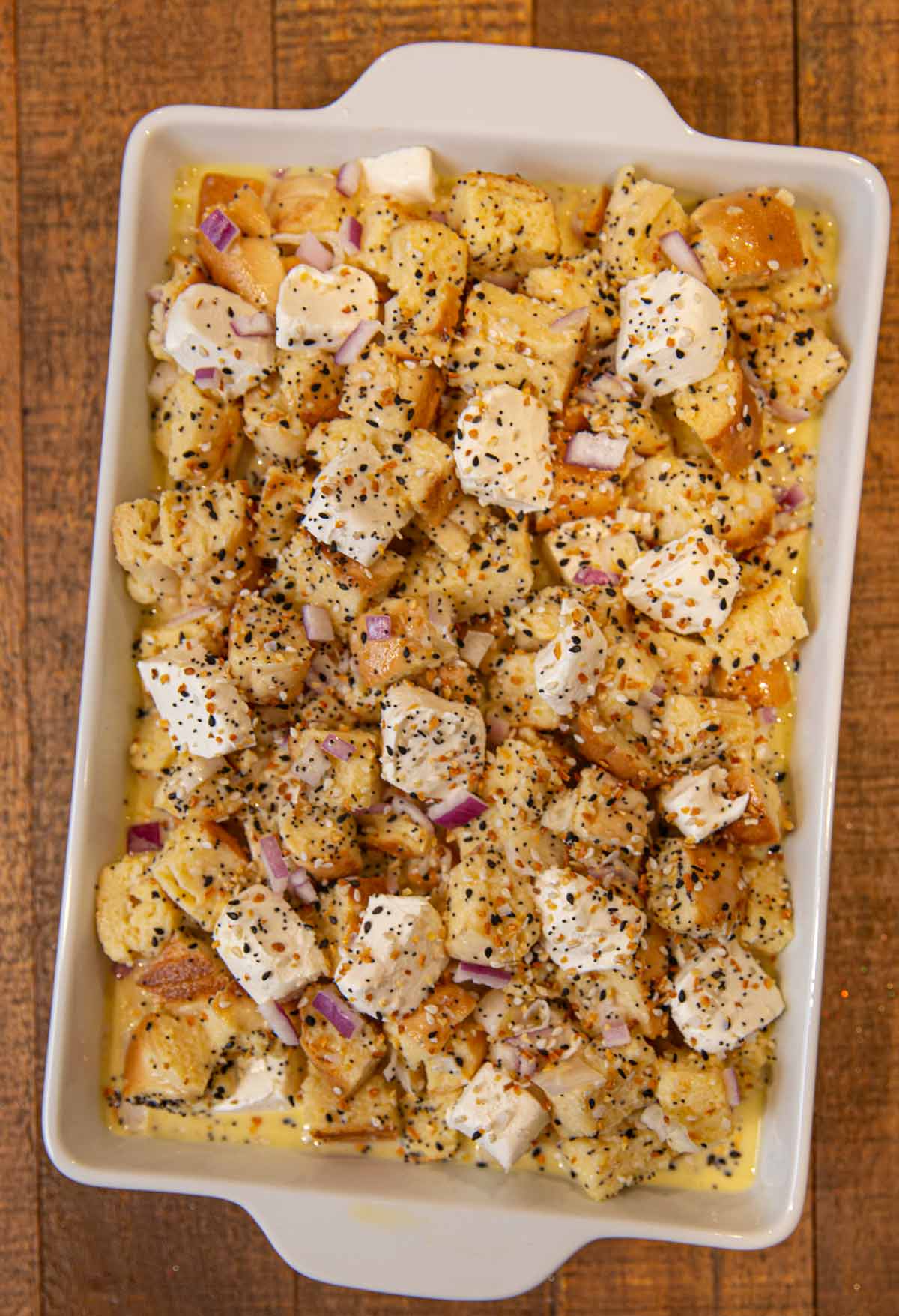 FREQUENTLY ASKED QUESTIONS
Can you make Bagel Breakfast Casserole ahead of time?
Yes! One of the things that makes this breakfast so great is that you can prep it ahead of time. If you put together the casserole the night before, then all you have to do in the morning is pop it in the oven. There will be less cleanup time, and you don't have to worry about waking up extra early.

Whisk together the egg custard as usual. Combine the bagels, onions, and seasoning in the egg custard and toss them together. Layer the bagel mixture with cream cheese, and sprinkle the remaining seasoning on top. Instead of putting the casserole dish in the oven, cover it tightly with tin foil and put it in the fridge overnight.

Bake as usual in the morning.
What if my bagels aren't old or stale? How do I dry them out?
It's best to use bagels that are a little older for this breakfast bake. If the bagels are slightly stale they'll do a better job absorbing the egg custard. If you only have fresh bagels try leaving them out overnight to dry out. You can also put them on a baking sheet and lightly toast them in the oven before add them to the egg mixture. 15 minutes at 250 degrees should do the trick.
MORE EASY BREAKFAST RECIPES FOR A CROWD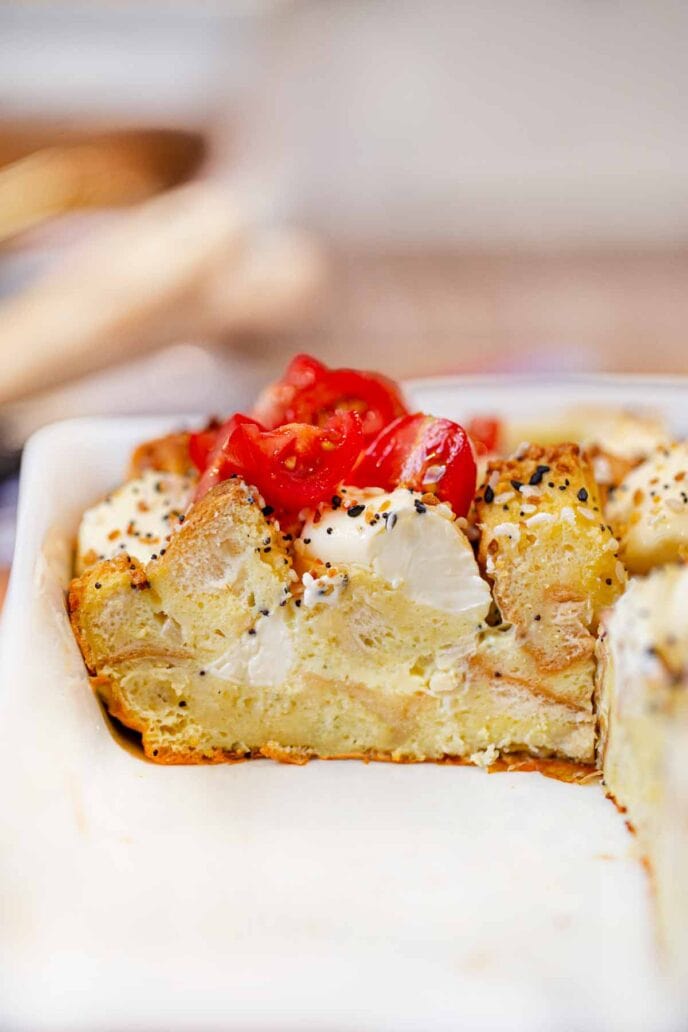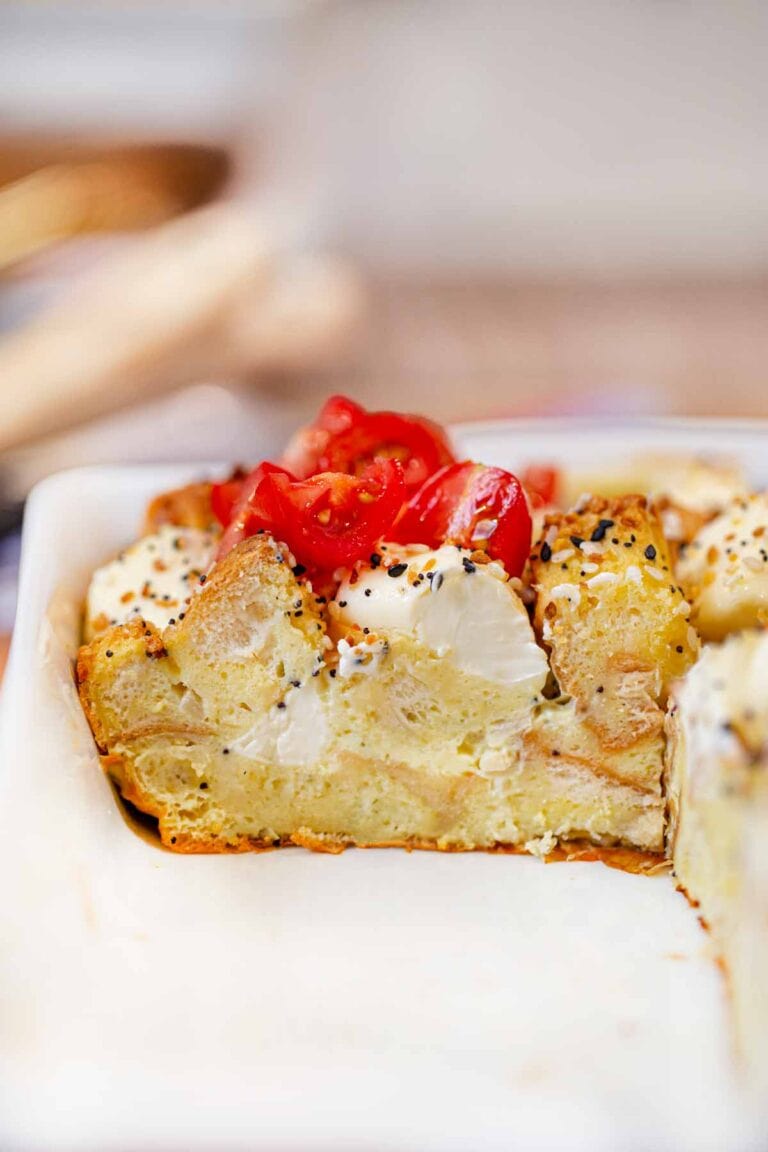 Create a free account to

Save Recipes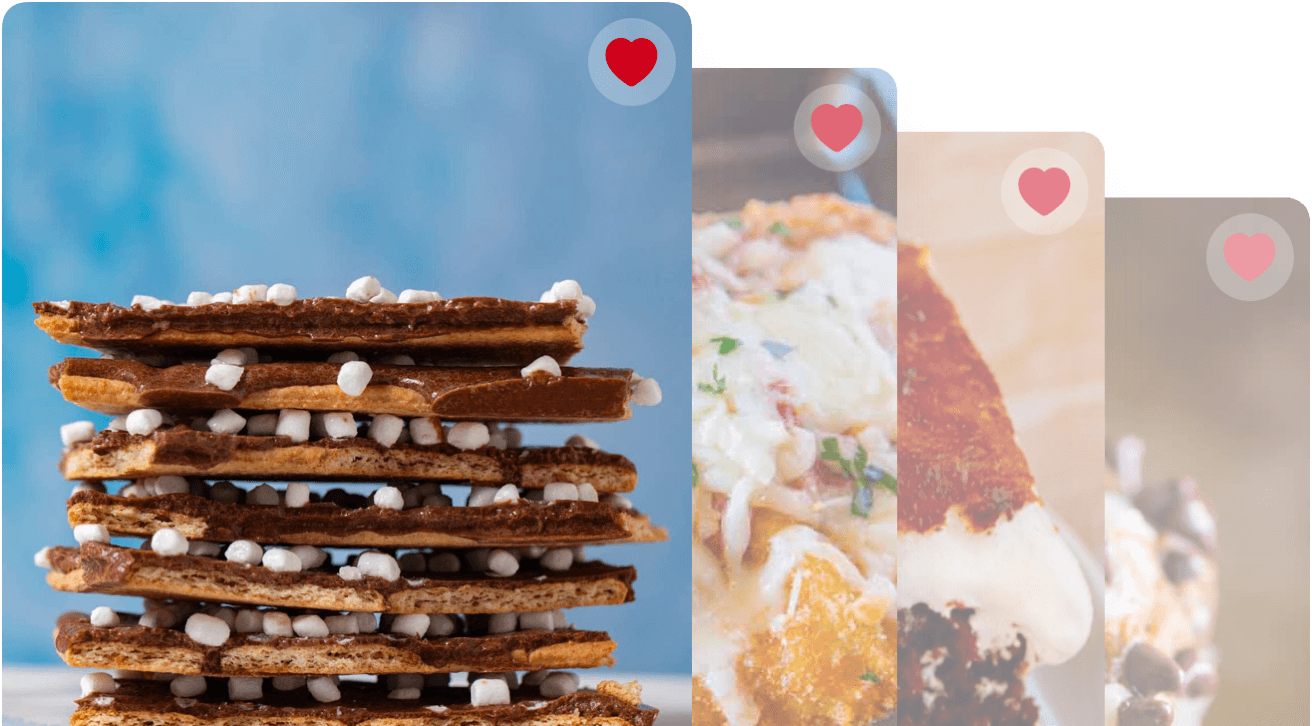 VARIATIONS ON EVERYTHING BAGEL BREAKFAST CASSEROLE
Bagels: Although plain bagels work well in this recipe, you can try using different kinds of bagels for some added flavor and texture. Whole wheat, pumpernickel, or poppy seed could be a nice way to change up the recipe.
Meat: If you want to add some protein, feel free to use your favorite breakfast meat. Try sausage, bacon, turkey bacon, or ham. Be sure to brown the meat before putting it in the casserole to make sure it cooks through.
More add-ins: You can add more of your favorite bagel toppings to this dish. Some good ones to try might be chopped bell pepper, garlic powder, sun-dried tomatoes, cheese, and pesto. You could also top your casserole with sliced avocado along with the tomato before serving.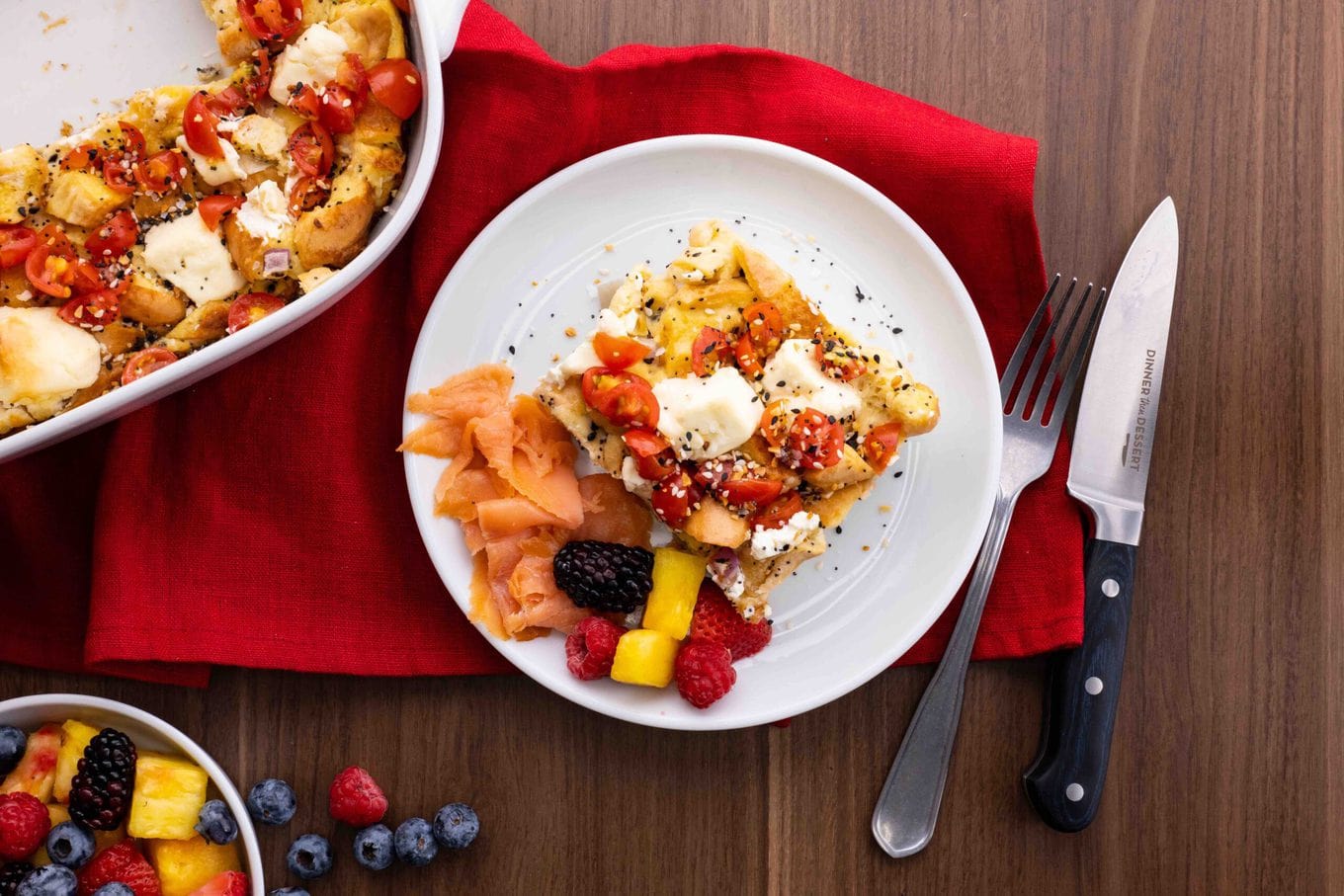 MORE DELICIOUS BREAKFAST RECIPES
HOW TO STORE EVERYTHING BAGEL BREAKFAST CASSEROLE
Serve: Don't leave your casserole out at room temperature for more than 2 hours.
Store: Allow to cool completely then store your casserole for up to a week in the fridge. Cover the casserole dish or put the casserole in an airtight container.
Freeze: You can store your Everything Bagel Casserole in the freezer for up to 3 months. Defrost the casserole in the fridge before reheating it.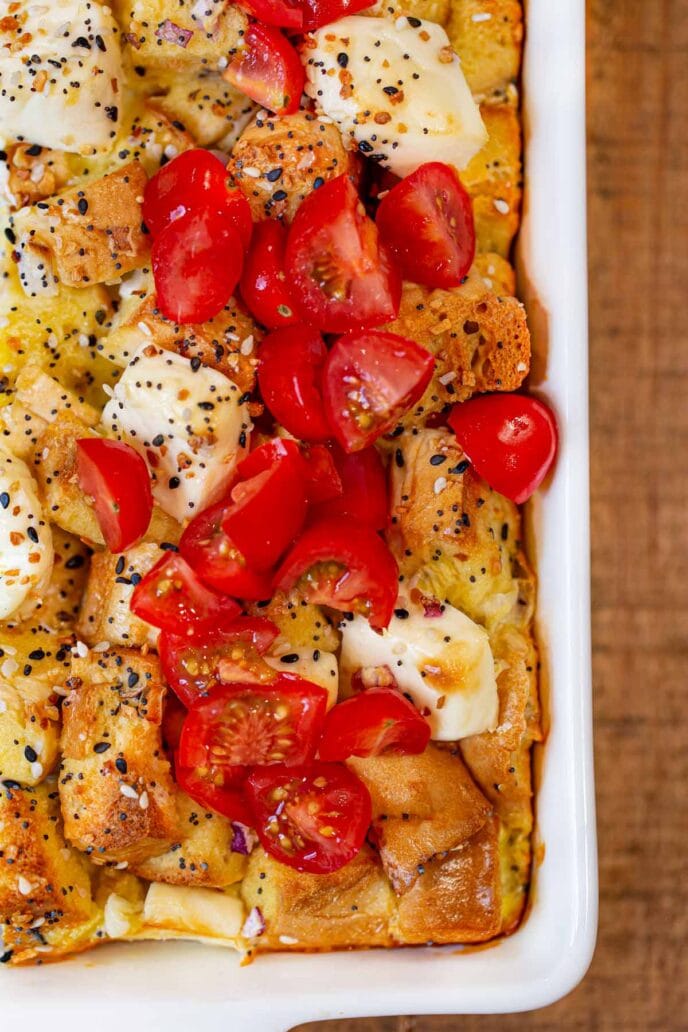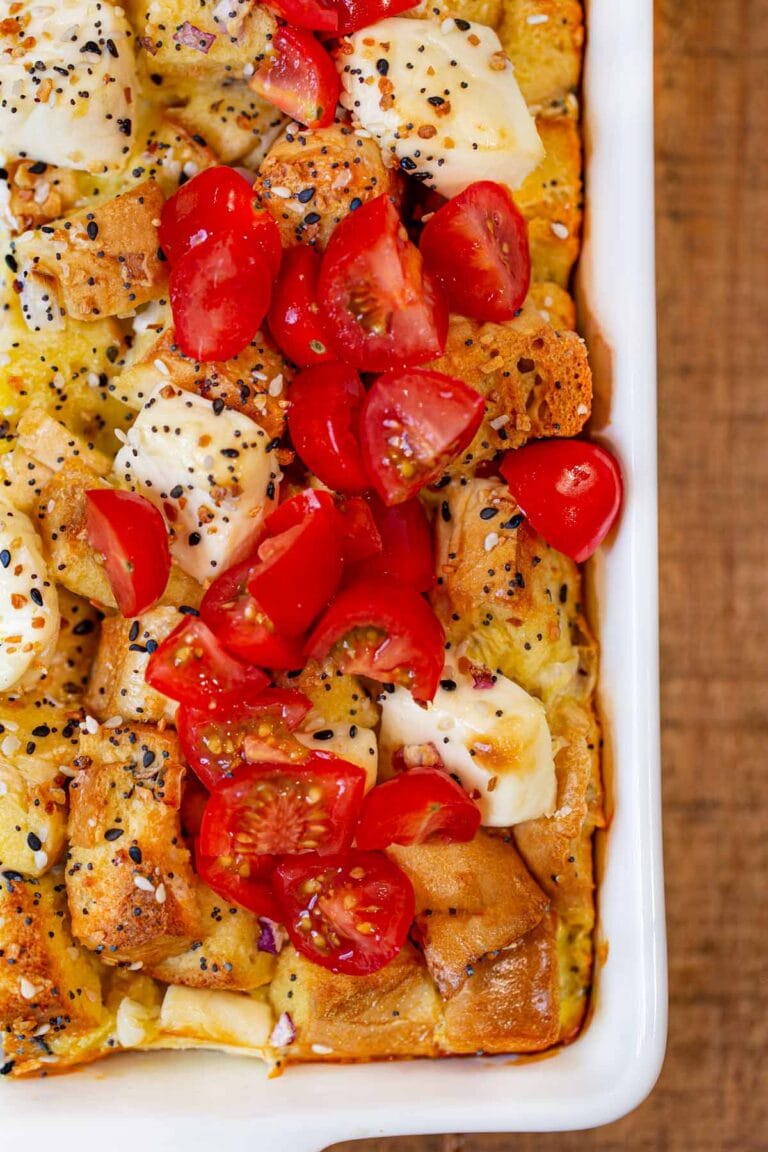 Ingredients
8

large

eggs

2

cups

whole milk

1/2

teaspoon

coarse ground black pepper

4

bagels

, (stale) chopped

1/4

red onion

, chopped

3

tablespoons

everything bagel seasoning

, divided

8

ounces

cream cheese

, cubed (24 cubes)

1

cup

grape tomatoes

, quartered
Instructions
Preheat oven to 350 degrees and spray an 8×10 baking dish with vegetable oil spray.

In a large bowl whisk the eggs, milk and pepper together until smooth.

Add in bagels and red onion and 2 tablespoons of the everything bagel seasoning.

Add half the mixture to the baking dish and dot with half the cream cheese.

Add the remaining bagel mixture to the pan and dot with the remaining cream cheese.

Sprinkle over the remaining 1 tablespoon of everything bagel seasoning.

Bake for

40-45 minutes

or until golden brown and egg custard is set.

Top with chopped tomatoes to serve.

Optional – serve with lox.
Nutrition
Calories:
210
kcal
|
Carbohydrates:
23
g
|
Protein:
11
g
|
Fat:
8
g
|
Saturated Fat:
4
g
|
Cholesterol:
138
mg
|
Sodium:
538
mg
|
Potassium:
214
mg
|
Fiber:
1
g
|
Sugar:
4
g
|
Vitamin A:
454
IU
|
Vitamin C:
2
mg
|
Calcium:
100
mg
|
Iron:
1
mg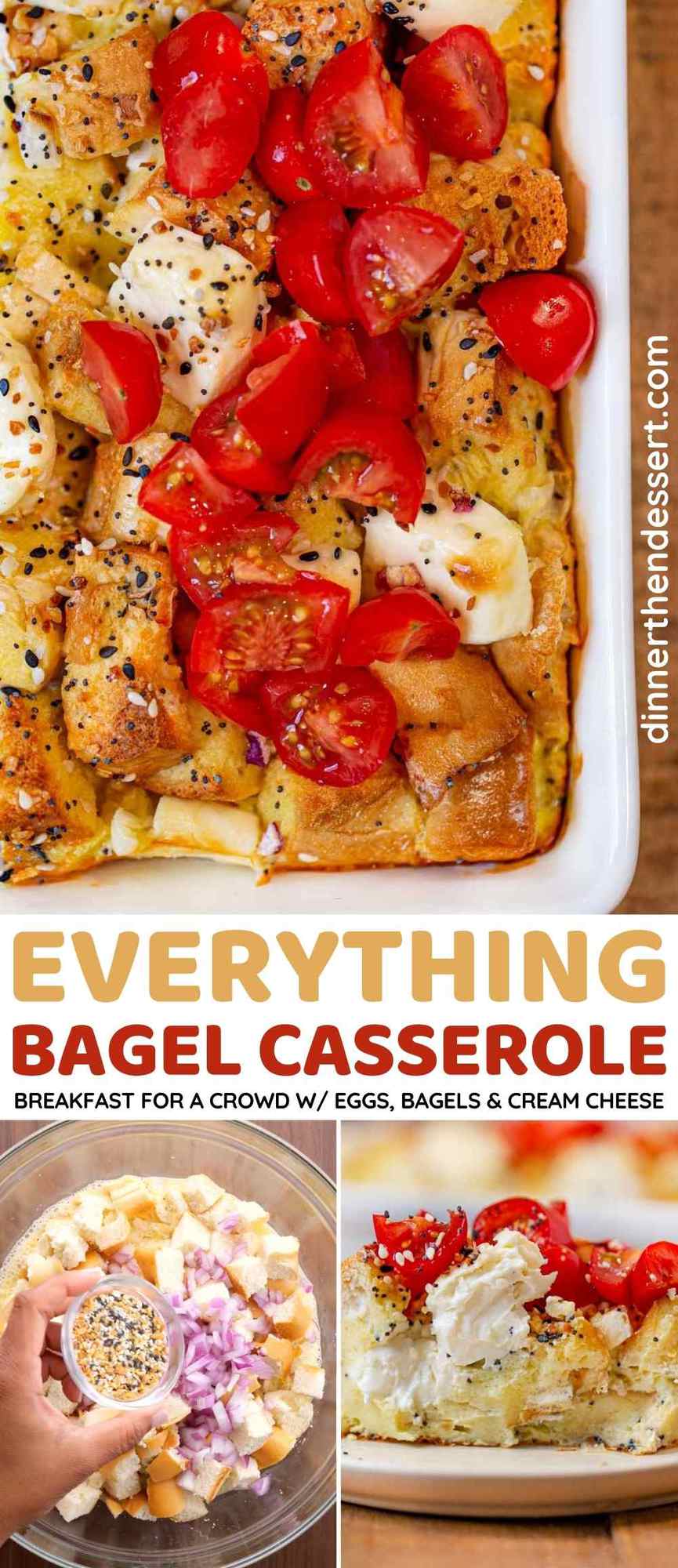 Photos used in a previous version of this post.