Ham Steak pan seared in less than 10 minutes is our new favorite EASY recipe on busy weeknights OR holiday brunch!
Ham isn't just an easy Brunch recipe for the holidays, in our house we love serving it on a regular basis all year long like this Honey Baked Ham (Copycat), or Slow Cooker Brown Sugar Pineapple Ham and LOVE using the leftovers in the crowd favorite Slow Cooker Ham and Potato Soup.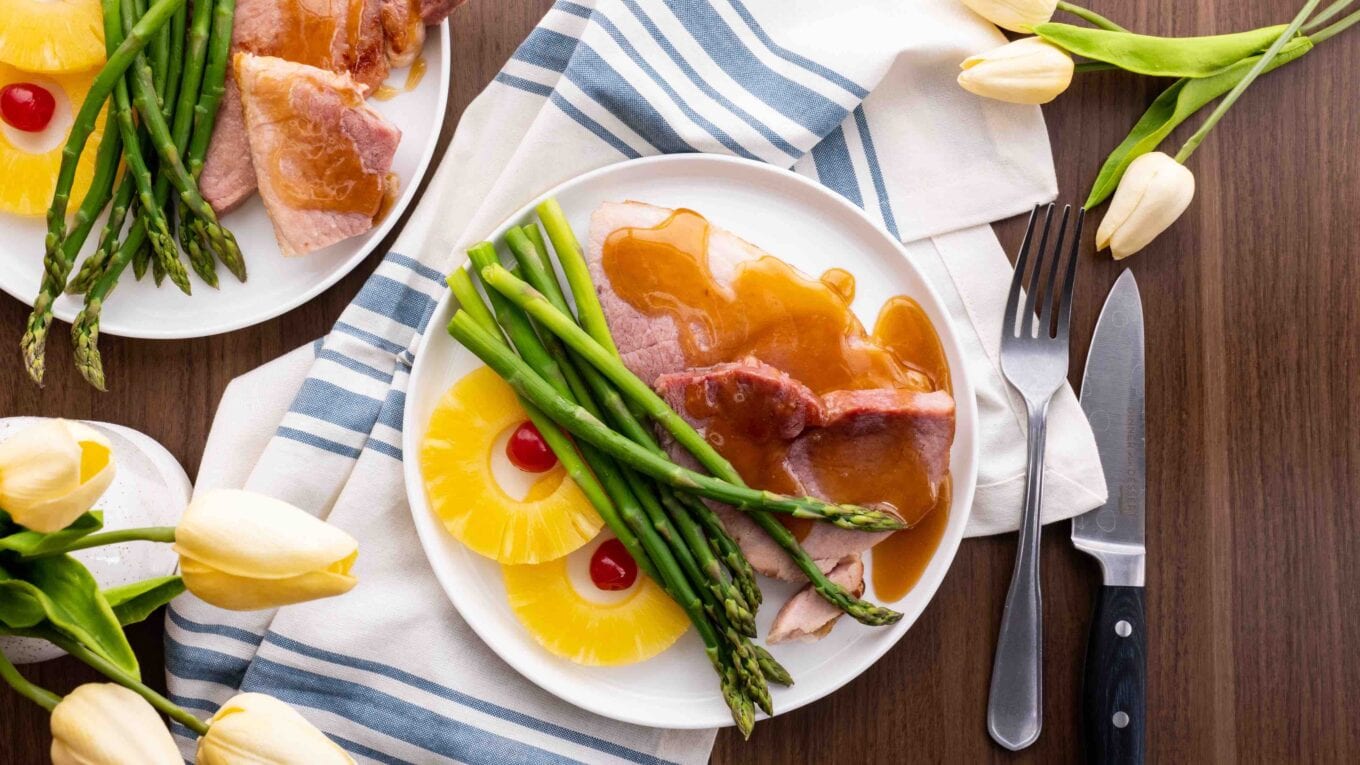 This recipe is a win for everyone as it is made with simple ingredients. It can be made as a hearty breakfast, or a quick and easy weeknight meal served with green beans. This is the best ham shortcut you'll ever use. See the delicious browned crispy edges? Yep, it's just sweet glaze made with a bit of brown sugar cooked in the skillet with butter for the win. You can even skip the brown sugar glaze mixture altogether.
Most people don't cook with ham throughout the year because buying an entire ham requires a lot of people or a whole lot of second round recipes. Buying steaks gives you just enough ham to feed your immediate family for a meal or two. If you buy the entire ham, you can always store the leftovers in the freezer until you're ready to use them at a later date.
This recipe is perfect for the cold wintery nights after a long day of work. It's also the perfect way to start a big day as it's packed with protein and nutrients.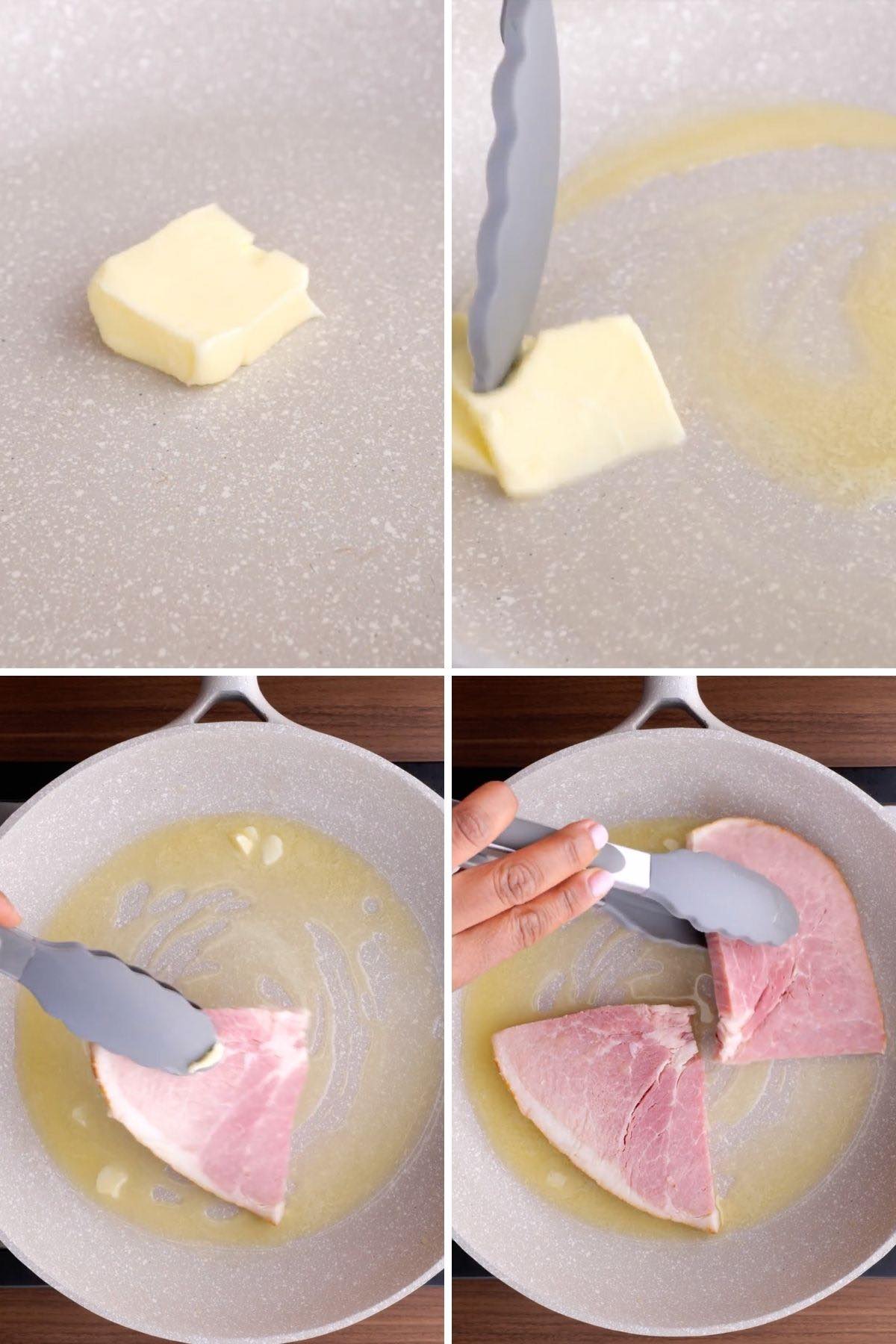 Where does Ham Steak come from?
Ham steak is just a thick slice cut from a whole roast of ham, either with the bone already removed or bone in. Bone in cuts will cost less but they won't look as neat in serving.
Ham steaks are perfect for when you don't have enough people to justify making an entire roast of ham, but still have a craving for it. They also don't cost a lot more per pound so you won't feel put off buying the smaller packages. You can also use Ham Steak for recipes that call for pieces of leftover ham, without having to cook an entire ham, like in this Slow Cooker Ham and Bean Soup or even as a quick swap in your Eggs Benedict breakfast recipe.
How to Cook Ham Steak
The process for cooking Ham Steak is incredibly easy and is ready in 10 minutes tops.
Step 1: Melt two tablespoons butter in a heavy skillet on medium heat.
Step 2: Add the ham, cooking for 3-5 minutes on each side, or until it is cooked throughly. Add another 2-3 minutes if your cut is really thick.
Step 3: To add an additional sauce remove the ham after cooking and add in 2 tablespoons of brown sugar along with a squeeze of fresh orange and let the brown sugar bubble up and caramelize a bit before serving it on the ham.
Frequently Asked Questions
What Is the Best Kind of Ham to Use?
Honestly, any of the ham cuts you get from your local grocer will be great for this recipe. If you really want to get really fancy and turn it up a notch, look for the thicker cut coppa (pork shoulder) steaks from a Berkshire hog. It's incredibly flavorful and succulent, and will please the hungriest of them all! 
How to Make Ham Steak Glaze or Sauce
When the Ham Steak is cooking, add ¼ cup brown sugar and ¼ cup of orange juice to pan. Cook for 3 minutes then remove from pan, leaving juice behind. Add 2 tablespoons unsalted butter and simmer until it thickens. This creates a delicious brown sugar glaze. 

A second option is adding fruit preserves to the ham while it's cooking, then simmer until the preserves thicken into a fruit glaze.
What Should I Do with Leftover Ham Steaks? 
There's a ton of recipes for using leftover ham elsewhere on the website here. Here's just a couple ideas to get you started. You can find more delicious leftover ham recipes HERE. 

You can chop up the ham and add it into a Breakfast Casserole the next day for a delicious meal.
Additionally, you can add the chopped up ham to Scalloped Potatoes for a deeper flavor.
Chop it into bits and add to other recipes that call for leftover ham like Chicken Cordon Bleu Lasagna.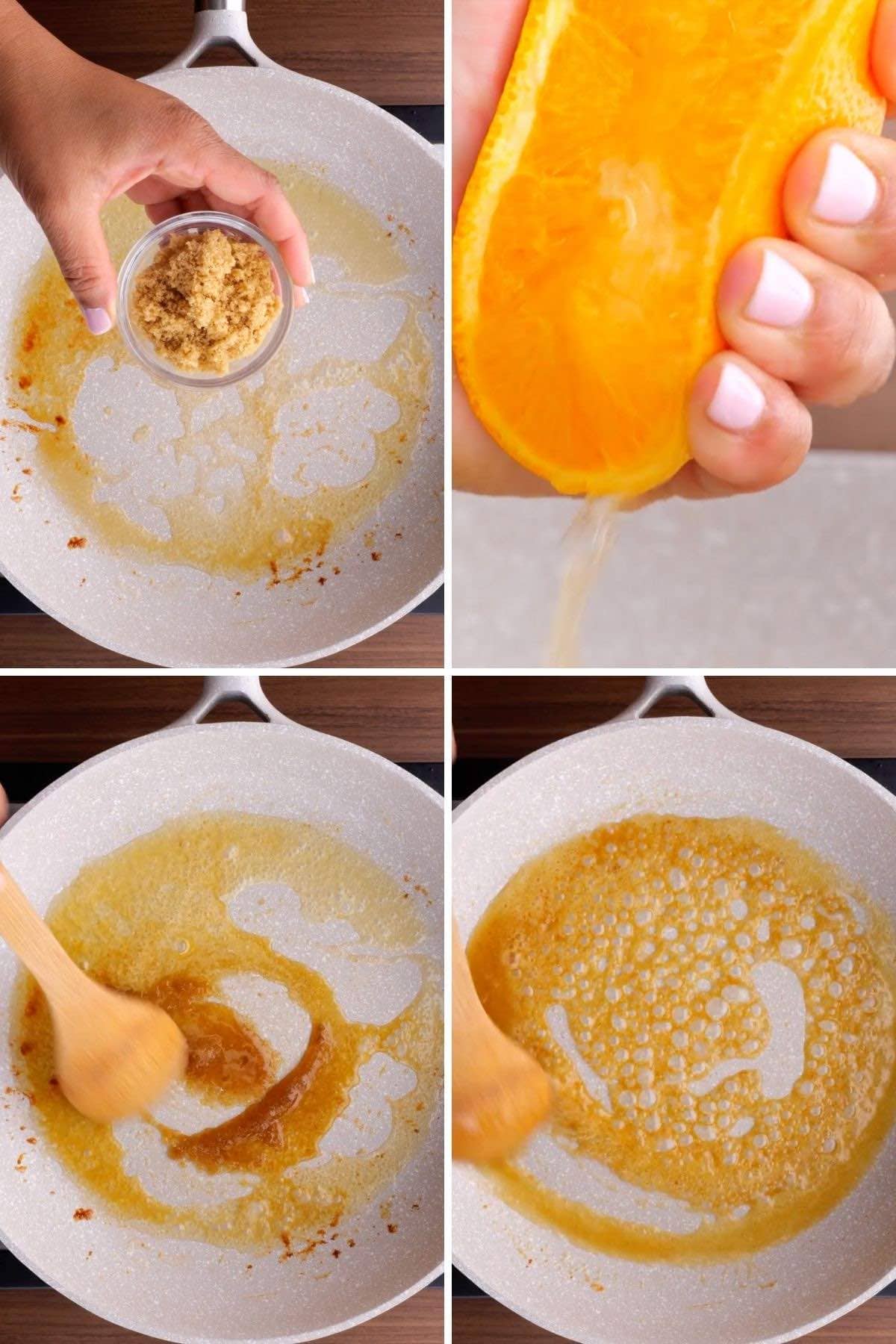 Create a free account to Save Recipes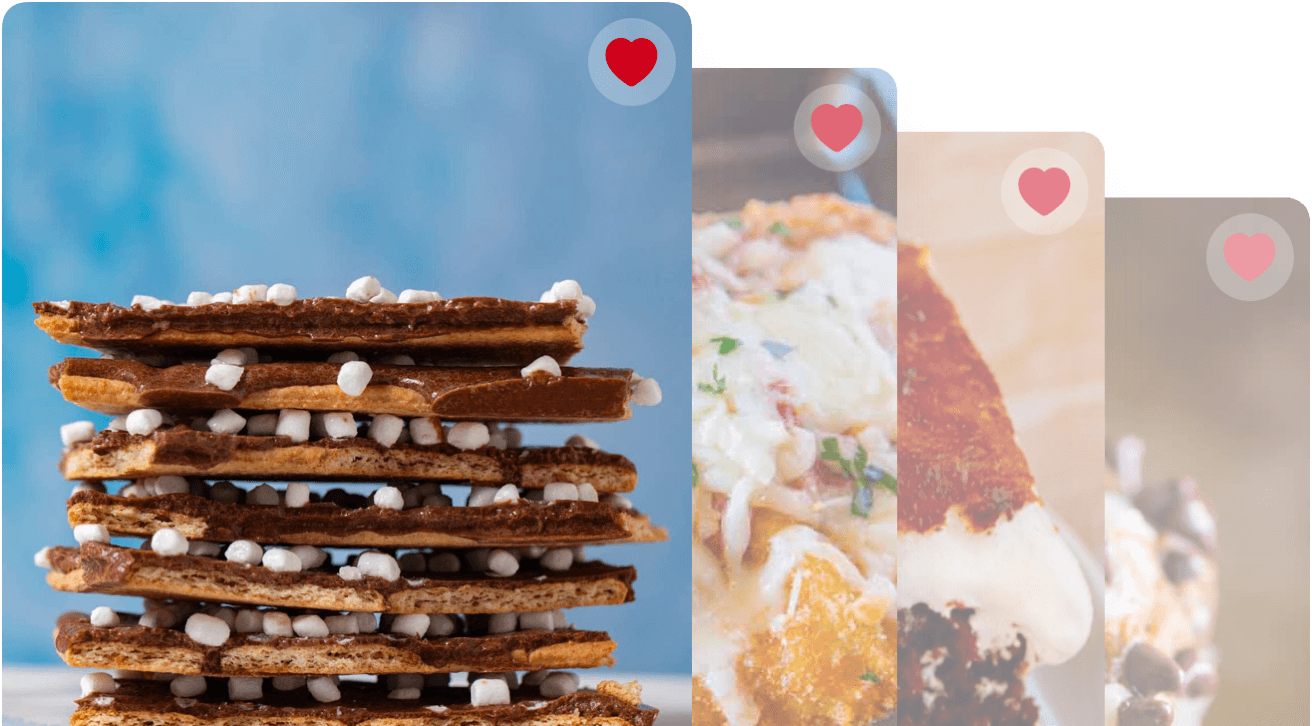 Key Ingredients for Ham Steak
Ham: When you're in the meat aisle, pick a ham option that looks fresh. They are often precut so you don't have to worry about that at home.
Brown Sugar: You can use pre-made brown sugar or make your own by combining a tablespoon of molasses to a cup of sugar and mixing it really well.
Orange Juice: For the best flavor, find the kind of orange juice that isn't from concentrate. You'll score bonus flavor points if you juice the oranges yourself!
Alternative Cooking Methods for Ham Steaks
Air-Fryer: This is an incredibly easy option because you can just set it and forget it while cooking something else. Set the air-fryer to the ham setting and just let it do the rest. The ham will need to not be covered by too much ham or it won't heat throughly. As a result, this option is perfect for one or two servings of ham.
Oven Baked Ham Steak: Bake it in the oven for an easy hands-off preparation. Bake at 350 degrees in a greased baking dish until steak is browned. You can also add potatoes and onions to the baking dish for a one pot meal, and sprinkle with pepper or mustard for flavor. Pineapple Slices are also a great addition to baked ham recipes to give them extra flavor. And they caramelize really well in the oven to bring out a deep sweetness in the fruit.
Grill: Grilled Ham Steak made on a grill pan or on a grill is also easy and takes just a minute or so on each side because of the higher heat. Grill it a few minutes on each side over the direct heat. You can also brush it with a thick glaze to add more flavor.
Microwave: For the initial cooking of Ham Steak, we don't recommend using the microwave as you'll want to cook it the traditional ways listed which give it a lot of flavor as well. Reheating it in the microwave for a midnight snack and an easy weeknight meal is okay as long as it's been fully cooked beforehand.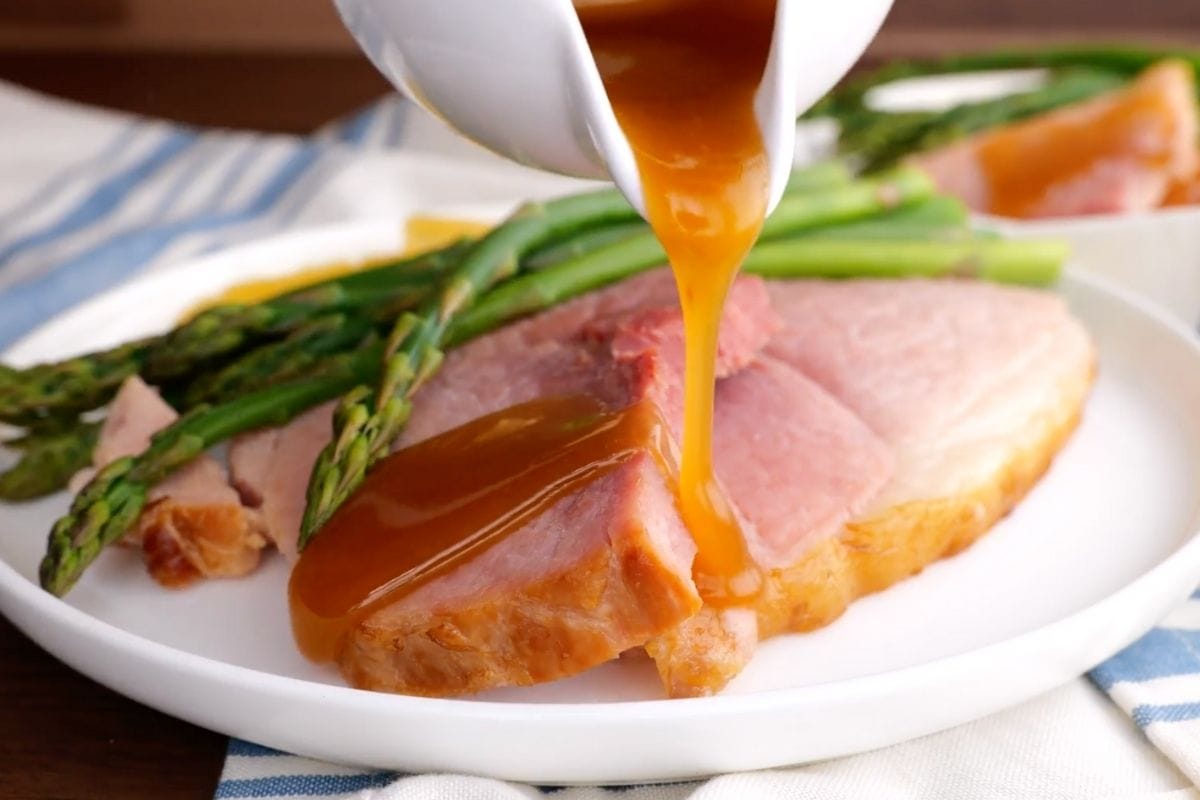 What to Serve with Ham Steak?
Pork products are a versatile meat that, because of their relatively neutral flavor (compared to a meat like lamb), can be easily paired with a lot of other foods. It is one of the most popular of breakfast meats. Serve it with homemade biscuits.
For a Ham Steak breakfast, serve with eggs cooked your favorite way. The brown sugar glaze is a nice gravy that won't spoil sweet potatoes if you serve those. Alternatively, serving with breakfast potatoes with yellow mustard to dip turns it into a classic old-world style meal.
For a Ham Steak dinner, we recommend adding one of these delicious recipes: Creamy Garlic Mashed Potatoes, Super Creamy Macaroni and Cheese and Creamed Spinach which make great savory sides for Ham Steak. Pick one of those and serve it additionally with green beans or roasted broccoli.
How to Store Ham Steaks
Serve: You can serve the Ham Steak at room temperature for up to two hours before needing to refrigerate. Keep it covered on the counter for serving.
Store: You can store cooked Ham Steak in the refrigerator for up to 4 days. Make sure that it is stored in an airtight container.
Freeze: If there are any leftovers or extras, store them wrapped rightly in an airtight container in the freezer for 3-4 months.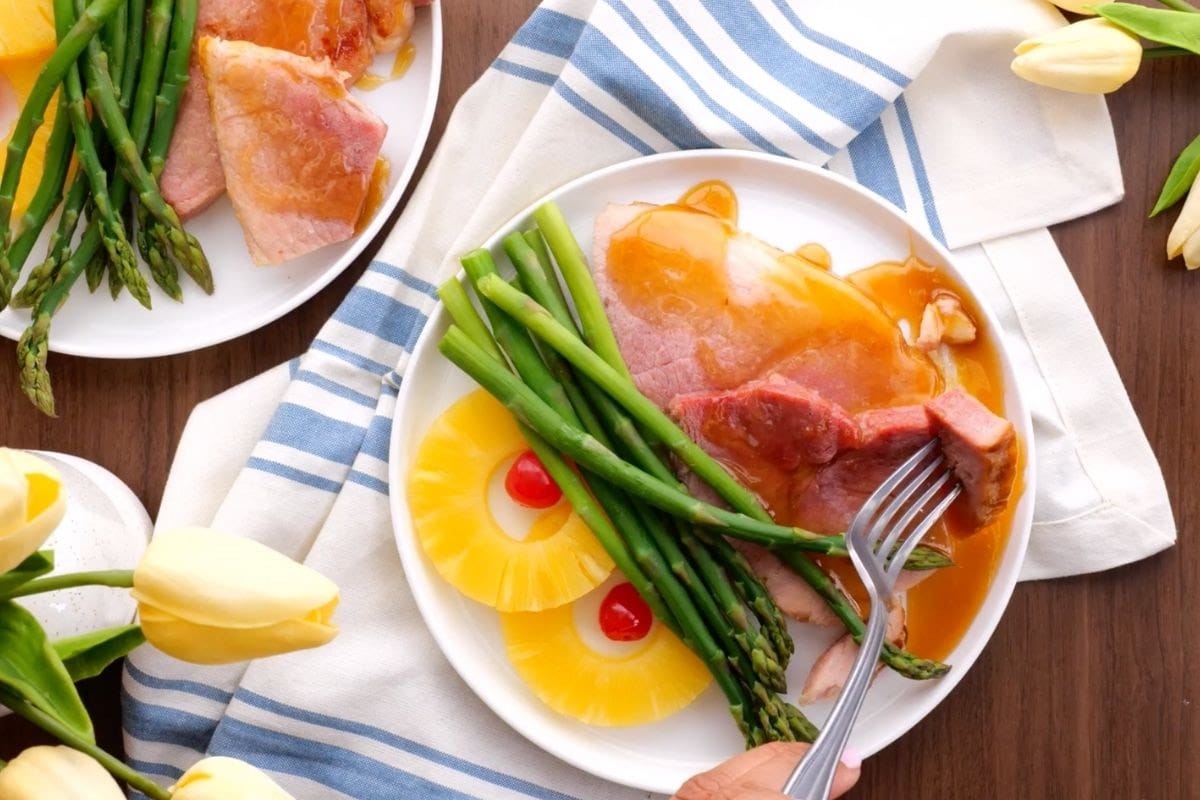 Ingredients
8

ounces

cooked ham steaks

2

tablespoons

butter

2

tablespoons

brown sugar

optional

1/2

orange

optional
Instructions
Add two tablespoons of butter to a heavy skillet on medium heat and add the ham, cooking for

3-4 minutes

on each side, or until it is cooked through.

To add an additional optional sauce remove the ham after cooking and add in 2 tablespoons of brown sugar along with a squeeze of fresh orange and let the brown sugar bubble up and cook for

1 minute

before serving it on the ham.
Nutrition
Calories:
299
kcal
|
Carbohydrates:
15
g
|
Protein:
22
g
|
Fat:
16
g
|
Saturated Fat:
8
g
|
Cholesterol:
81
mg
|
Sodium:
1542
mg
|
Potassium:
427
mg
|
Sugar:
14
g
|
Vitamin A:
425
IU
|
Vitamin C:
54
mg
|
Calcium:
23
mg
|
Iron:
1.1
mg
Photos used in a previous version of this post.