Parmesan Crusted Chicken that's a kid friendly, healthy easy weeknight meal with a crispy cheesy crust in 45 minutes and only 1 pan and 1 bowl to clean up!
Cheese crusted main courses seem like a winning dinner to me (this could be why our Parmesan Crusted Pork Chops are one of our favorite dinners) and the fact the recipe is so easy only makes this dish even more amazing.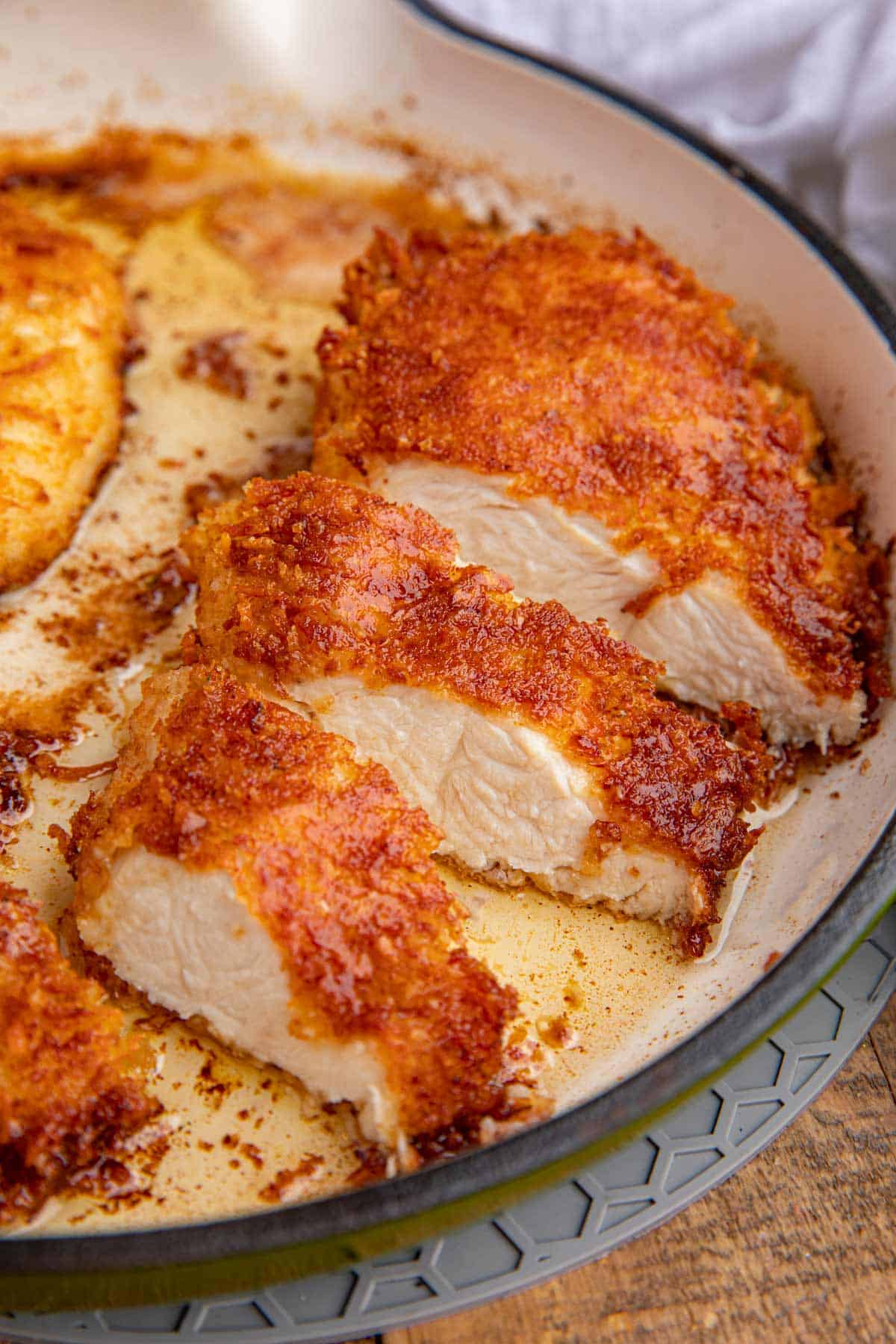 PARMESAN CRUSTED CHICKEN
Parmesan Crusted Chicken is an easier, healthier version of baked chicken than Easy Chicken Parmesan since we have less breading on the chicken. We love easy baked chicken recipes because they're healthy, cook quickly and are family friendly and this recipe is no exception to that rule!
We love serving this Parmesan Crusted Chicken with Garlic Bread, pasta and a side salad topped with Olive Garden Italian Dressing.
BAKED CHICKEN
Baked Chicken is a delicious option when you're not making a Perfect Simple Roast Chicken or Easy Grilled Chicken.
Generally when working with breading you can either bake or fry. In this recipe with the addition of the Parmesan cheese and olive oil you'll have enough fat to help brown the breading.
When baking the chicken be sure to give each piece of chicken some space apart from the next piece of chicken. This prevents the chicken from steaming as it cooks and helps the crust brown evenly.
We also flip the chicken halfway through the cooking time (this is the hardest part of the recipe). Because we have a breading and we are flipping the chicken we have to be careful to avoid any of the breading coming off.
Ingredients:
Chicken:
Boneless Skinless Chicken Breast is the choice of meat for this recipe. Make sure the chicken is even in thickness and about 6 ounces in weight. The easiest way to trim a standard boneless skinless chicken breast is to remove the tenderloin under the breast. If you still need to cut down on the size of the chicken I suggest trimming around the longest widest side of the chicken.
Breadcrumbs:
We use panko breadcrumbs in this recipe because they stay crispier longer than most breadcrumbs but you can use traditional bread crumbs in their place if you'd like. If you're using standard breadcrumbs you may want to dredge your chicken in one large egg before breading to help your breading adhere.
Cheese:
We use Parmesan Cheese in this recipe because it is a hard cheese that doesn't melt completely and easily. You don't want to swap this cheese for a different one like mozzarella or cheddar but using a similar hard cheese like Romano cheese would work.
If you use grated Parmesan cheese I'd again recommend using an egg to dredge your chicken first to help the breading adhere first.
Additions:
Lemon Zest: This adds a fresh flavor and the lemon juice from the lemon can be squeezed over the dish after the cooking is done.
Garlic: Either fresh garlic or garlic powder would be an easy addition to this recipe.
Seasoning mixes: Cajun, creole, jerk or other mixes like Italian seasoning add an easy new dimension of flavor.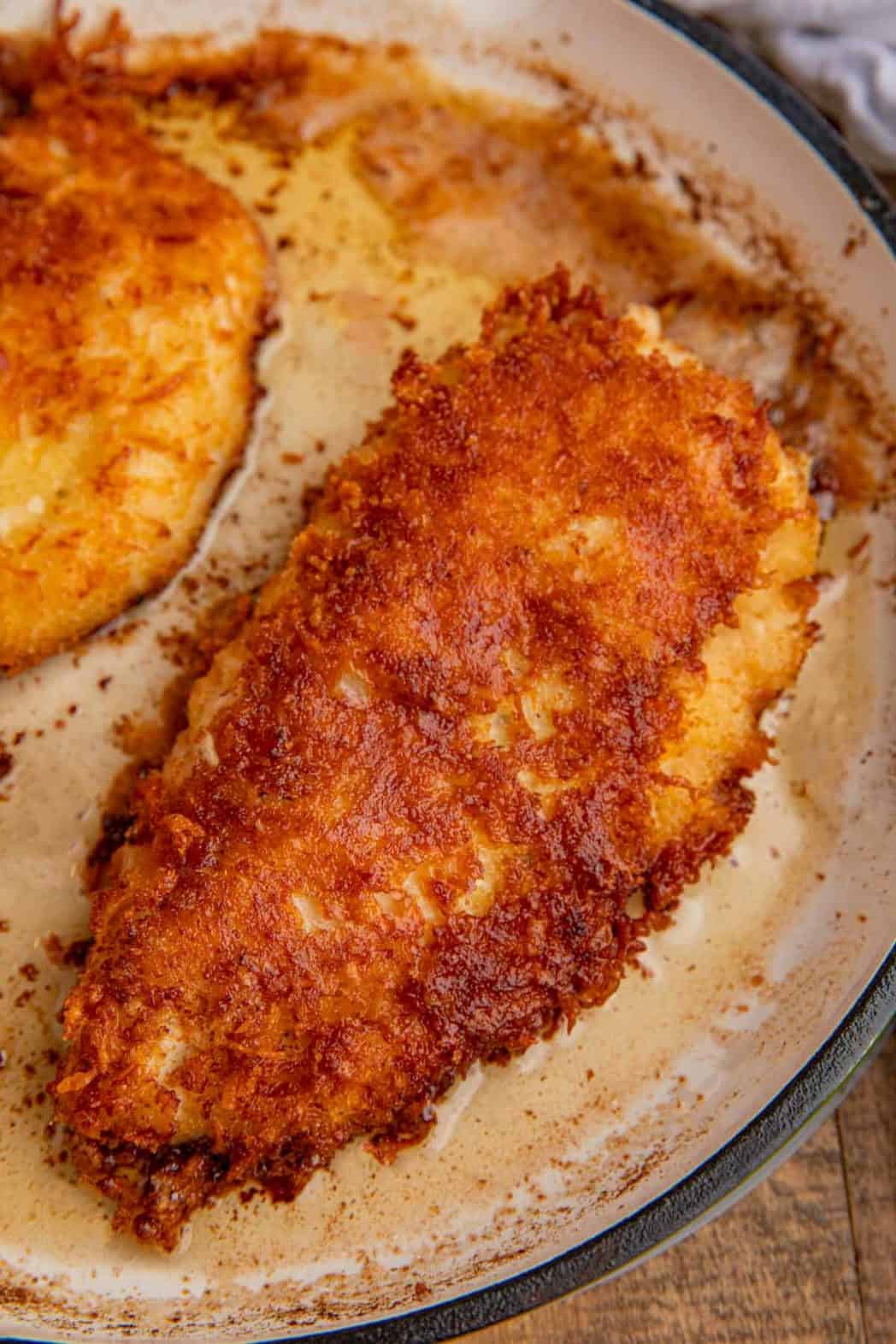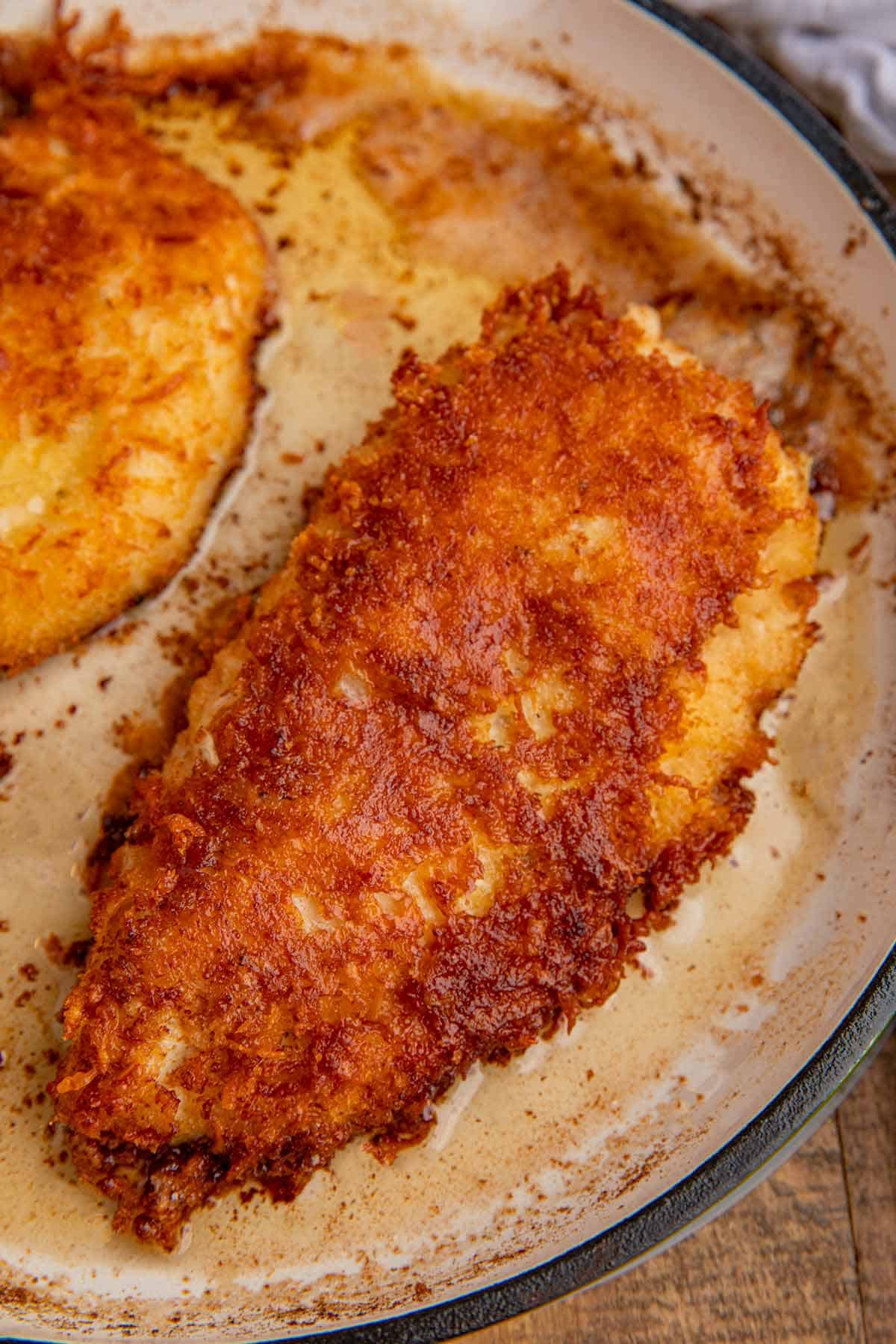 Create a free account to

Save Recipes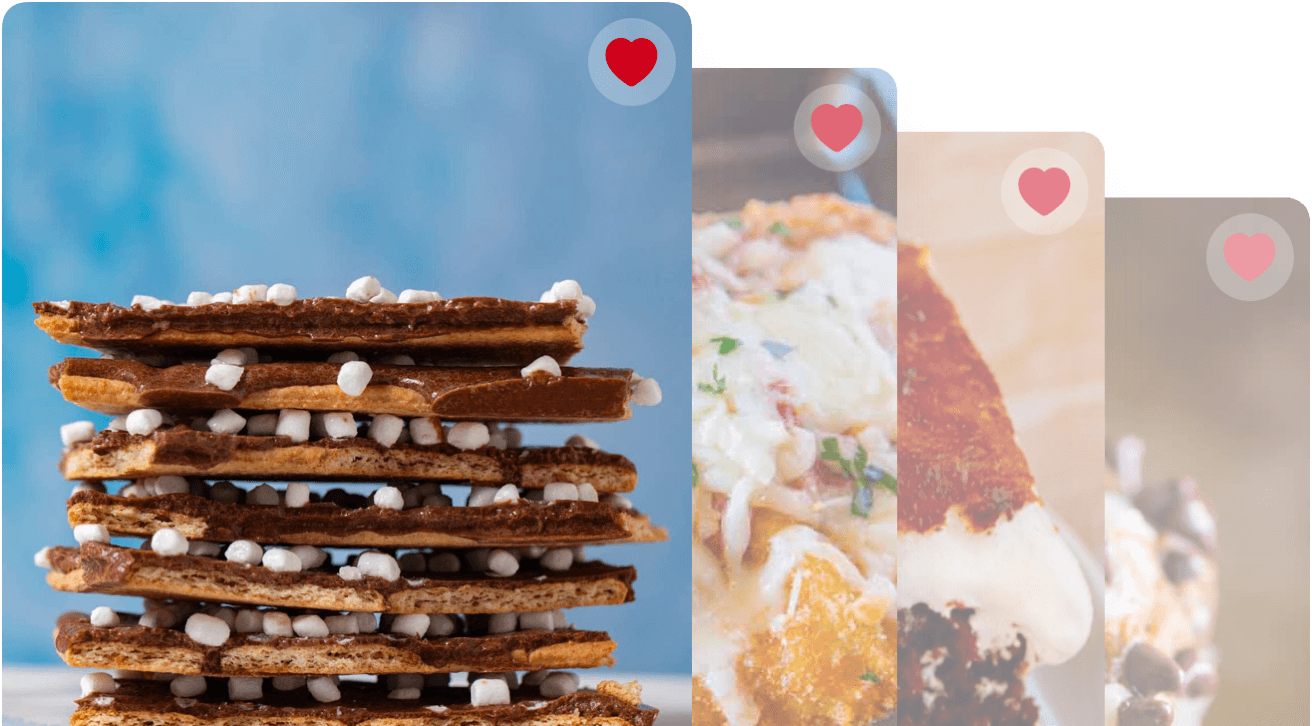 How to Make Parmesan Crusted Chicken:
Season Chicken with oil, salt and pepper.
Press into breadcrumbs and Parmesan cheese.
Place gently onto baking sheet and bake for 15 minutes.
Carefully flip chicken and bake an additional 15-20 minutes.
MORE EASY DINNER RECIPES: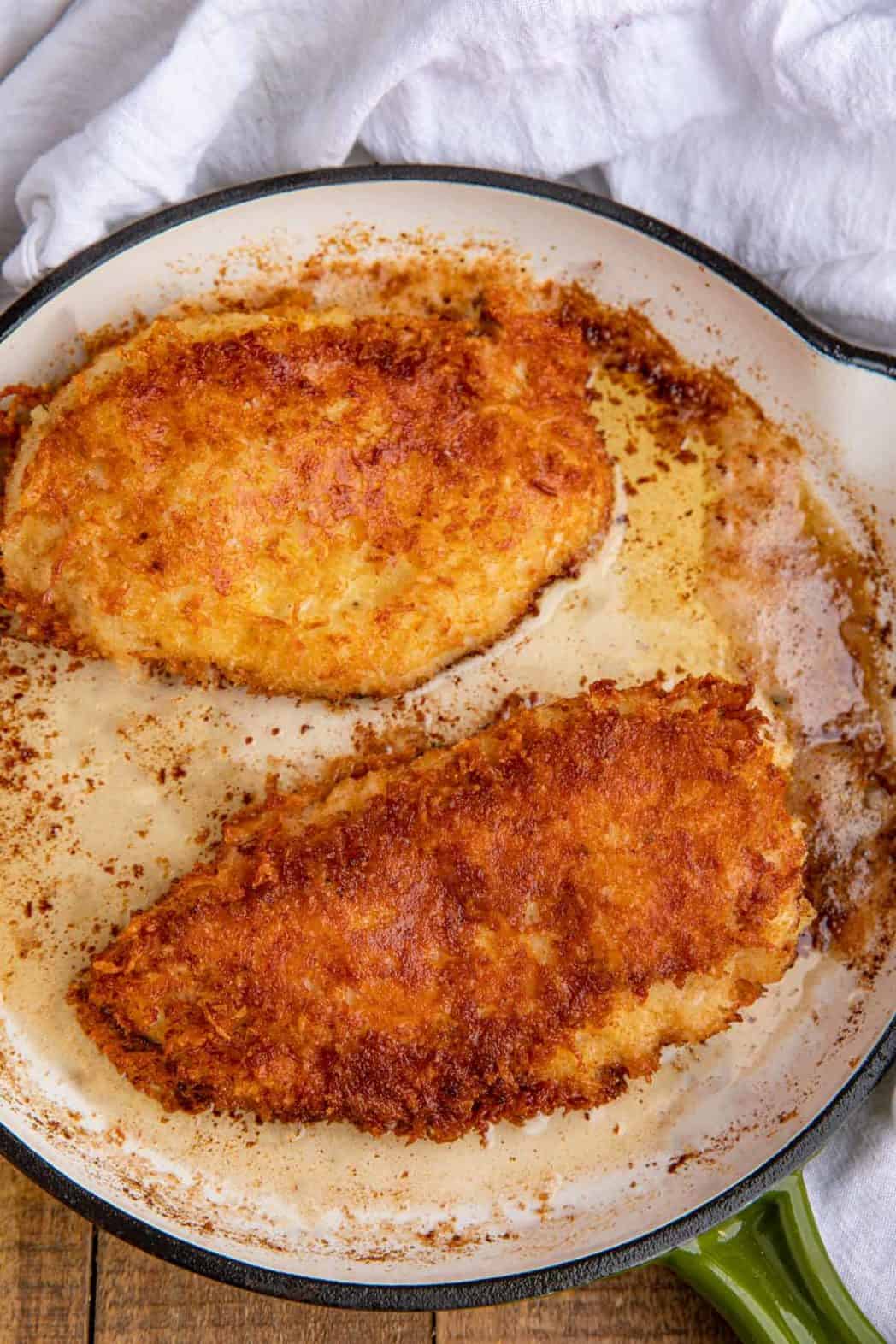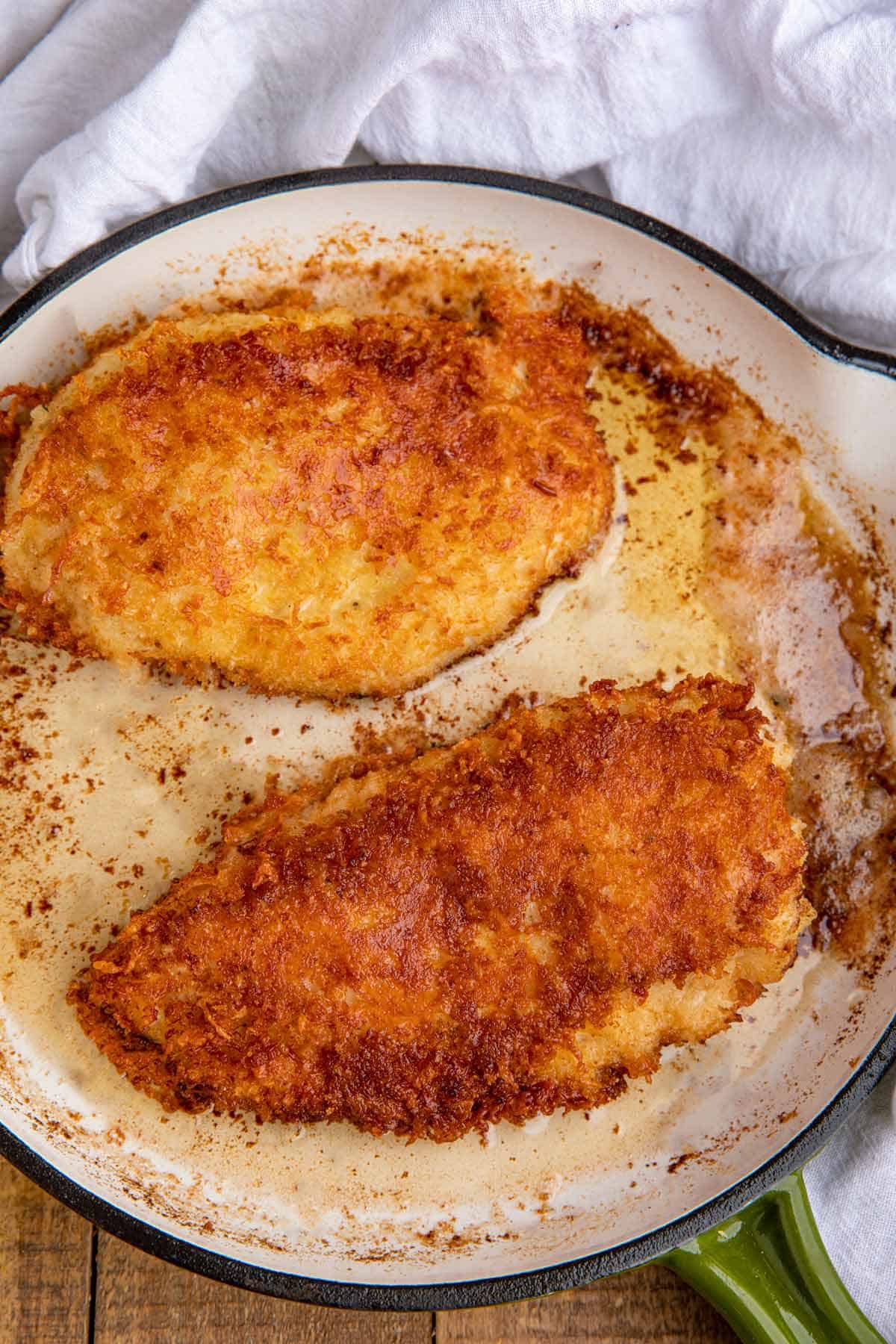 Ingredients
4

chicken breasts

tenderloin removed (6 ounce pieces)

1/2

teaspoon

kosher salt

1/2

teaspoon

coarse ground black pepper

1/4

cup

olive oil

1

cup

Parmesan Cheese

shredded

1

cup

panko bread crumbs
Instructions
Preheat the oven to 350 degrees.

Season the chicken with salt, pepper and olive oil, rubbing it on until evenly covered.

Mix the Parmesan cheese and breadcrumbs in a medium bowl before pressing the chicken into the mixture until well covered.

Add it to a baking pan and cooking for

30-35 minutes

, flipping them over halfway through cooking very carefully with a spatula.
Nutrition
Calories:
535
kcal
|
Carbohydrates:
12
g
|
Protein:
59
g
|
Fat:
27
g
|
Saturated Fat:
7
g
|
Cholesterol:
162
mg
|
Sodium:
1063
mg
|
Potassium:
889
mg
|
Fiber:
1
g
|
Sugar:
1
g
|
Vitamin A:
265
IU
|
Vitamin C:
2.7
mg
|
Calcium:
335
mg
|
Iron:
1.8
mg