Parmesan Crusted Chicken is a family-friendly weeknight meal with a crispy cheesy crust in 45 minutes! Super easy, super yummy!
If you enjoy this recipe, then you'll love the other cheesy Main Courses like the decadent Creamy Garlic Parmesan Roasted Chicken, the delicious Baked Parmesan Artichoke Chicken, or the succulent Parmesan Crusted Pork Chops, just another one of our favorite dinners!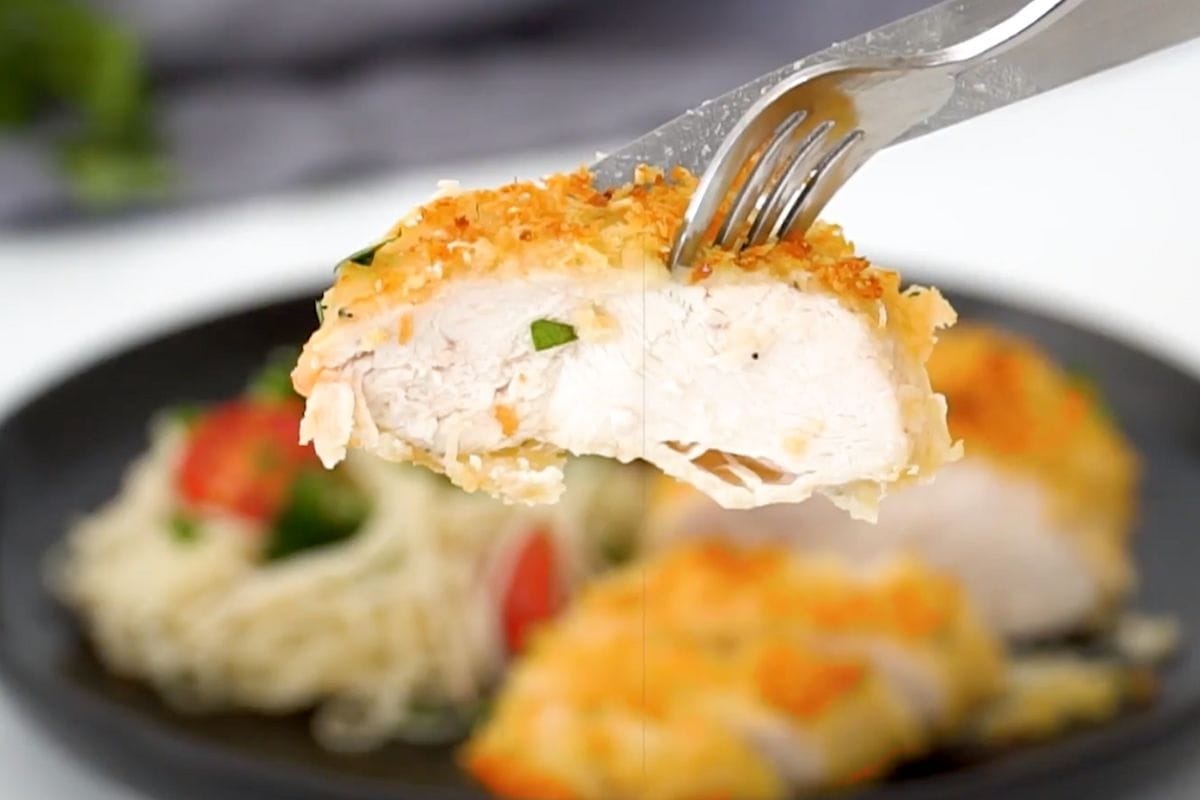 Parmesan Crusted Chicken is an easier, healthier version of crispy chicken than Easy Chicken Parmesan since there is less breading on the chicken. Everyone loves easy-baked chicken recipes because they're healthy, cook quickly, and are family-friendly and this recipe is no exception to that rule!
Generally, when working with breading you can either bake or fry. In this recipe with the addition of Parmesan cheese and olive oil, you'll have enough fat in the breadcrumb mixture to help brown the breading. It's a great recipe to impress guests and your family with. 
Below you'll find fun variations for cooking your Parmesan Chicken in an air fryer for the perfect crispy crust, as well as optional added Italian seasoning. You can also add some fresh parsley to the top as a decorative garnish when you're ready to serve. 
Since it's an old Italian-inspired recipe, you'll want to be sure to serve it with some other classic favorites. Serve this recipe one pasta with Homemade Garlic Bread and a side salad topped with Olive Garden Italian Dressing.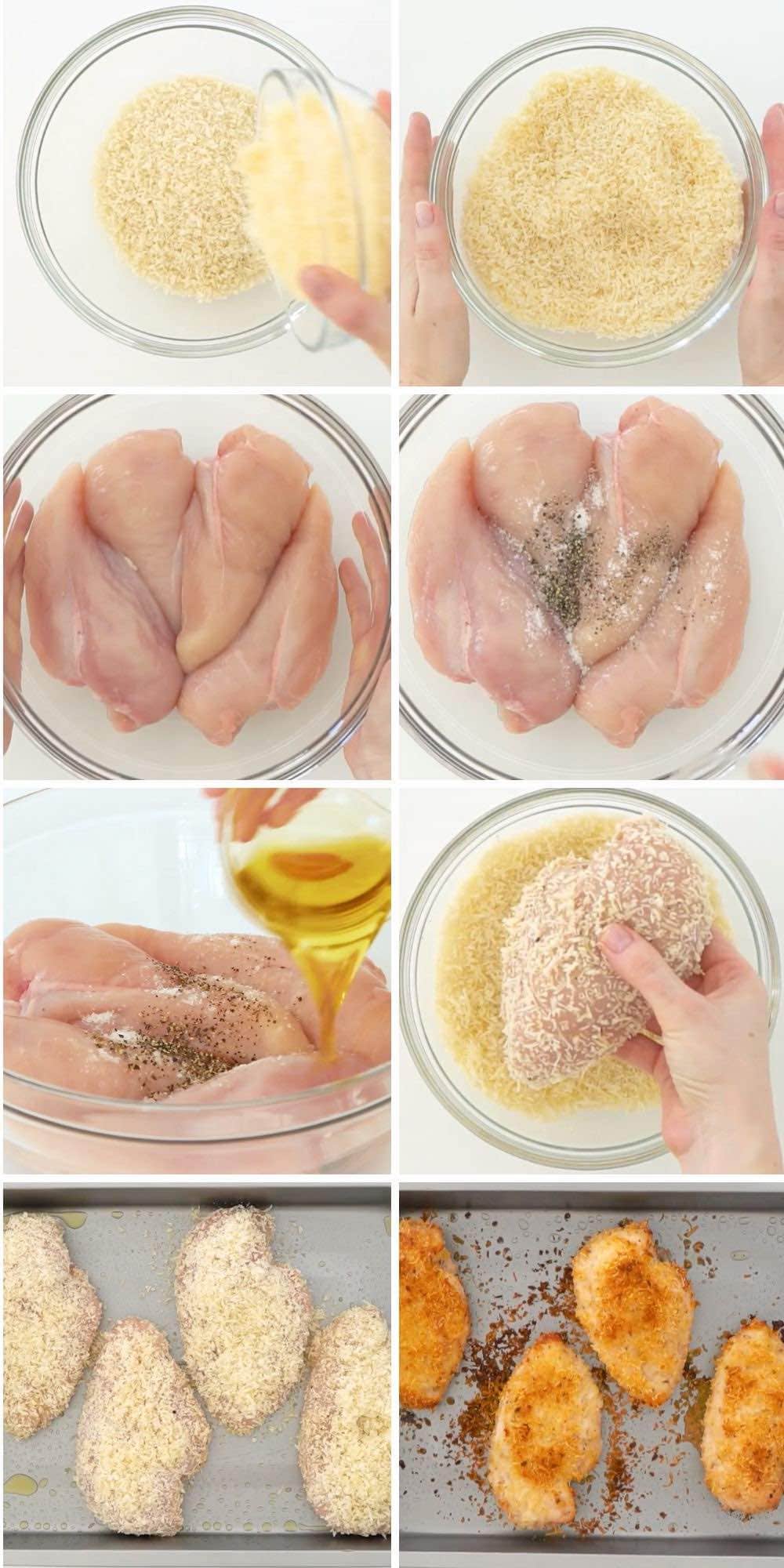 How to Make Parmesan Crusted Chicken
Making this chicken is so easy for your next weeknight dinner, and there's hardly any cleanup needed. Plus, the cooking time is under an hour! With a few simple steps and a couple of shallow bowls and you'll be serving a meal fit for royalty! Check it out!
Step One: Season room-temperature chicken with oil, salt, and pepper. The chicken needs to be thawed to room temperature before being coated to avoid the breading falling off when flipping.
Step Two: Press the chicken cutlets into breadcrumbs and Parmesan cheese.
Step Three: Place gently onto a baking sheet and bake for 15 minutes. When baking the chicken be sure to give each piece of chicken some space apart from the next piece of chicken. This prevents the chicken from steaming as it cooks, and helps the crust brown evenly.
Step Four: Carefully flip the chicken halfway through the cooking time (this is the hardest part of the recipe). Because there is breading, be careful while flipping to avoid any of the breading coming off when flipping. Enjoy when it's golden brown! Buon appetito!
More Crispy Chicken Recipes
Frequently Asked Questions
What is parmesan cheese?
Parmesan is an Italian-style hard cheese that is made from cow's milk. Actual Parmesan cheese should be aged for at least a year. 
Why is my breading falling off? 
Several factors influence the breading: chicken temperature, size of parmesan (shredded vs granulated), and of course the breading itself.

The chicken temperature should not be cool or cold. It should be coated only at room temperature. Additionally, if you're using standard breadcrumbs and/or granulated parmesan (the kind with a green lid), you may want to dredge your chicken in an egg mixture made with one large egg that's been whisked in a bowl. Coat the chicken pieces in the egg wash before breading in the parmesan mixture to help the breading adhere.
Can I bake it in a Dutch oven or cast iron skillet?
Absolutely! Instead of a baking sheet, you can use a cast iron skillet or Dutch oven which can be easily used in the oven. 

Create a free account to

Save Recipes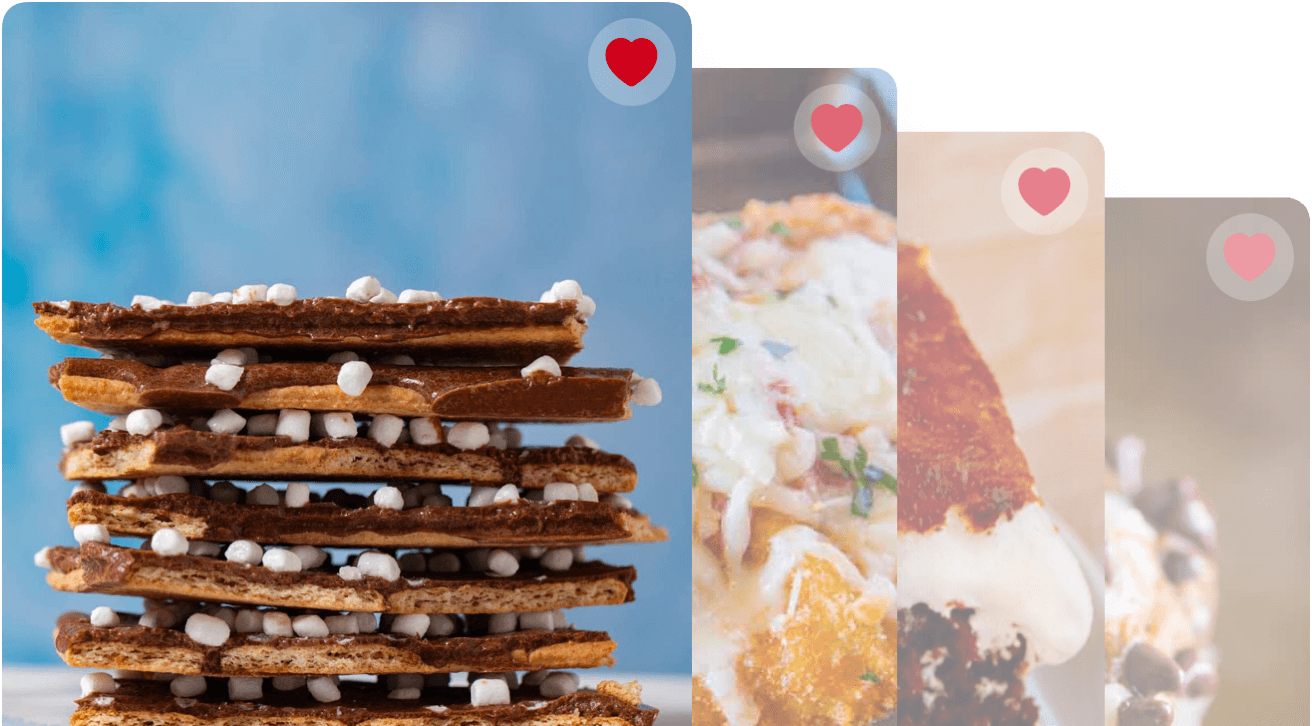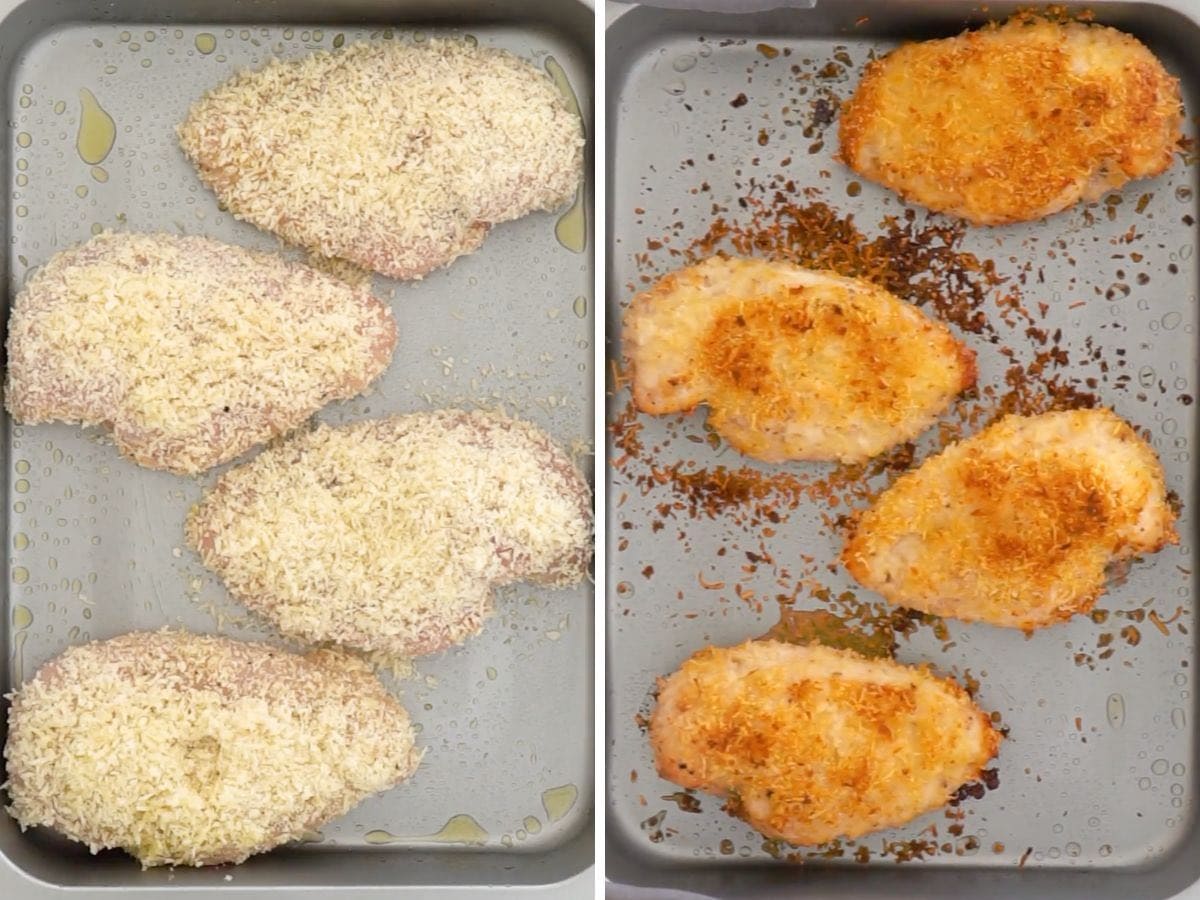 Key Ingredients in Parmesan Crusted Chicken
You can easily find all the ingredients for the recipe at your local grocery store if you don't already have them in your home panty. Check it out!
Chicken: Boneless, skinless chicken breast is the choice of meat for this recipe. Make sure the chicken pieces are even in thickness and about 6 ounces in weight. The easiest way to trim a standard skinless, boneless chicken breast is to remove the tenderloin under the breast if it hasn't already been done. If you still need to cut down on the size of the chicken try trimming around the longest and widest side of the chicken.
Breadcrumbs: We use panko breadcrumbs in this recipe because they stay crispier longer than most breadcrumbs but you can use traditional breadcrumbs in their place if you'd like. If you're using standard breadcrumbs you may want to dredge your chicken in one large egg before breading to help your breading adhere. Optionally, add some Italian seasoning for some more flavor! 
Cheese: We use Parmesan Cheese in this recipe because it is a hard cheese that doesn't melt completely and easily. You don't want to swap this cheese for a different one like mozzarella or cheddar but using a similar hard cheese like Romano cheese would work. If you use grated Parmesan cheese we recommend using an egg to dredge your chicken first to help the breading adhere first.
Air Fryer Parmesan Crusted Chicken
Making this recipe in the air fryer is super easy! Make sure the chicken is either butterflied or pounded thin with a meat mallet before you bread it. If it's too thick, the crust will burn and the inside of the chicken won't cook all the way through.
Step One: Prepare the chicken according to the recipe. 
Step Two: Line the air fryer with tin foil and place the breaded chicken on the tray. Coat each piece with a layer of cooking spray. 
Step Three: Bake the breaded chicken at 380 degrees F for 15 minutes. Carefully flip the chicken over halfway through around the seven-minute mark to cook the other side. Be sure to also spray that side with cooking oil when you flip it! 
Can Parmesan Crusted Chicken Be Made Ahead of Time? 
Yes! You can make this recipe up to 3 days in advance and store it in an airtight container in the fridge. If it's frozen, let it defrost in the fridge overnight. 
Once you're ready and the chicken is thawed, heat it up again in the air fryer or oven at 300 degrees for 5-7 minutes to let the inside heat up without burning the outside. Depending on the strength of your appliances, be sure to check on the chicken every 3 minutes to avoid burning the crust.
Variations on Parmesan Crusted Chicken
Lemon Zest: This adds a fresh flavor and the lemon juice from the lemon can be squeezed over the dish after the cooking is done.
Garlic: Either fresh garlic or garlic powder would be an easy addition to this recipe.
Seasoning mixes: Cajun, creole, jerk, or other mixes like Italian seasoning add an easy new dimension of flavor.
What should I serve with Parmesan Crusted Chicken?
You can serve this recipe on busy weeknights with pasta, maybe some green beans, mashed potatoes, or a refreshing Beet Salad, and yummy Homemade Garlic Bread! Some marinara sauce would be a lovely addition as well.
More Easy Chicken Dinners
How to Store Parmesan Crusted Chicken
Serve: Serve it hot and don't keep it out at room temperature for more than 2 hours. 
Store: Keep this in an air-tight container or shallow bowls covered with saran wrap in the fridge for up to 4 days. Reheat in the oven or air fryer to get the crust crispy again. 
Freeze: This will freeze nicely for up to 6 months. Keep wrapped in plastic wrap. Be sure to thaw in the fridge overnight and then reheat until the internal temperature of the chicken reaches an internal temperature of 165 degrees F.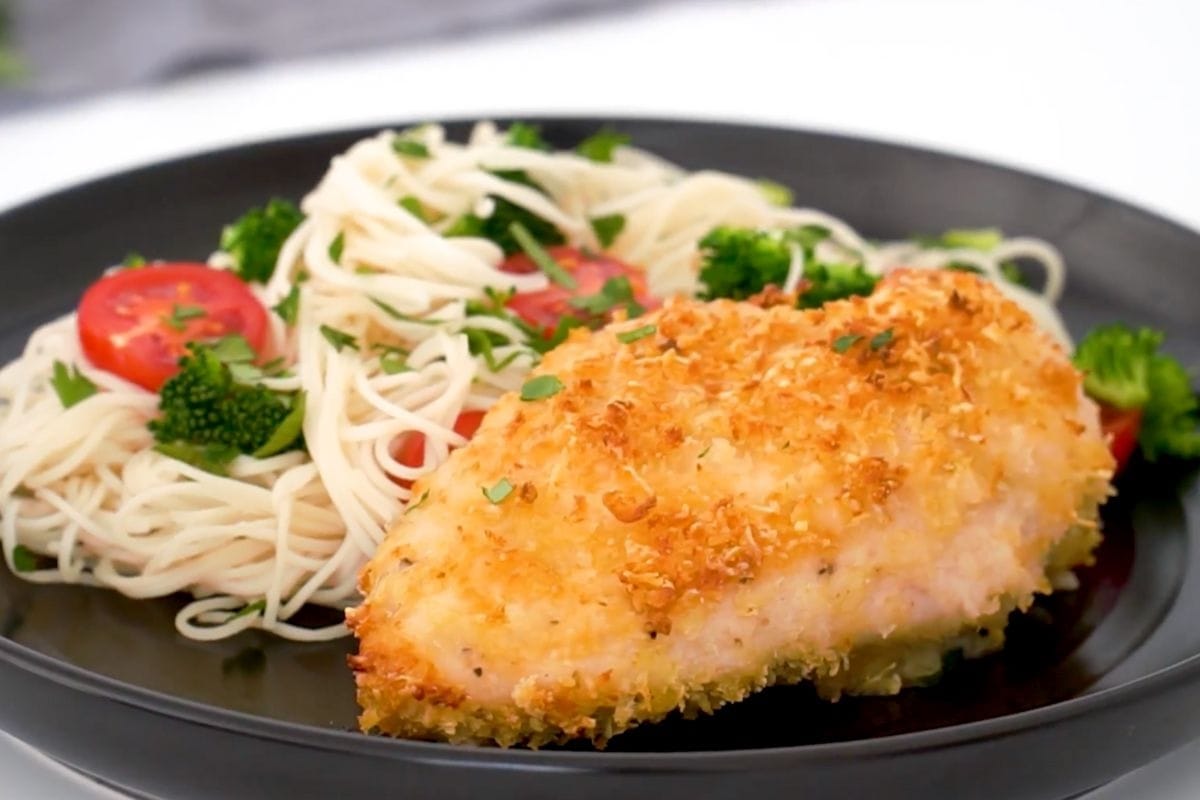 Ingredients
4

chicken breasts

(6 ounce pieces)

1/2

teaspoon

kosher salt

1/2

teaspoon

coarse ground black pepper

1/4

cup

olive oil

1

cup

Parmesan Cheese

, shredded (not granulated)

1

cup

panko breadcrumbs
Instructions
Preheat the oven to 350 degrees.

Season the chicken with salt, pepper and olive oil, rubbing it on until evenly covered.

Mix the Parmesan cheese and breadcrumbs in a medium bowl before pressing the chicken into the mixture until well covered.

Add it to a baking pan and cooking for

30-35 minutes

, very carefully flipping them over with a spatula halfway through cooking.
Optional Step
If you're using standard breadcrumbs and/or granulated parmesan (the kind with the green lid) for the crust, you may want to dredge your chicken in one large egg before breading to help the breading adhere.
Nutrition
Calories:
535
kcal
|
Carbohydrates:
12
g
|
Protein:
59
g
|
Fat:
27
g
|
Saturated Fat:
7
g
|
Cholesterol:
162
mg
|
Sodium:
1063
mg
|
Potassium:
889
mg
|
Fiber:
1
g
|
Sugar:
1
g
|
Vitamin A:
265
IU
|
Vitamin C:
2.7
mg
|
Calcium:
335
mg
|
Iron:
1.8
mg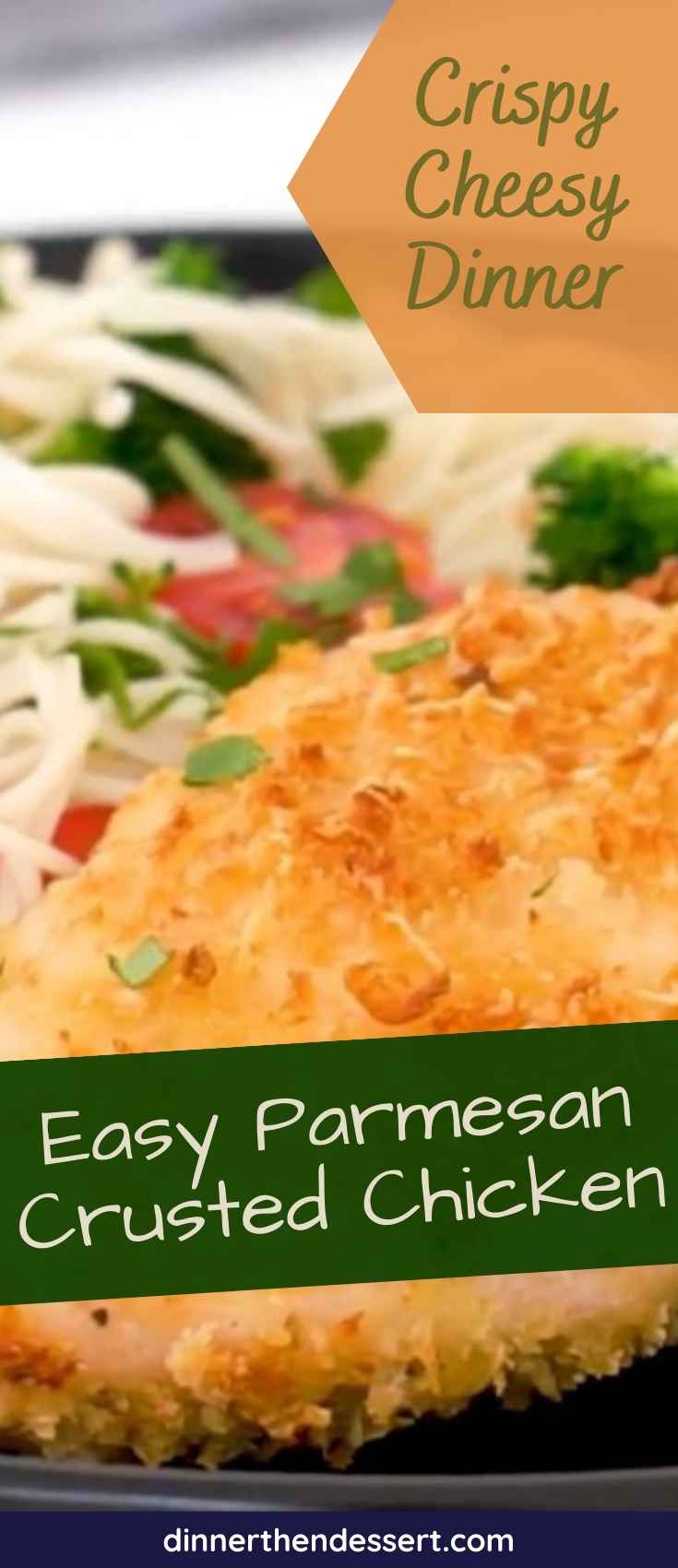 Photos used in a previous version of this post.